Written by

Edited by
Use our guide to research the best refrigerator brand for you. We vetted 19 refrigerator brands that have been reviewed by more than 21,000 customers. We also explain how to compare different types of refrigerators and what features are available.
Why trust ConsumerAffairs?
Our recommendations are based on what reviewers say.
4,246,788 reviews on ConsumerAffairs are verified.
We require contact information to ensure our reviewers are real.
We use intelligent software that helps us maintain the integrity of reviews.
Our moderators read all reviews to verify quality and helpfulness.
Compare Top Refrigerator Brand Reviews

Read 1,544 Reviews

Provides built-in and free-standing refrigerators and freezers, as well as under-counter refrigeration, wine cellars and ice machines. Sizes from 18" to 48" with many color options. Free quotes from local authorized dealers.

Read 4,016 Reviews

Manufactures high-quality refrigerators with innovative technology and energy-efficient capabilities. Available in a variety of sizes, colors and designs. Prices start around $700 and increase to over $4,500.

Chat with a ConsumerAffairs decision guide

Live agent

Read 1,931 Reviews

First became known for creating electric, motorized washing machines. Today, it makes many more home appliances, and one of the most popular is its refrigerators, which come in a range of styles.

Chat with a ConsumerAffairs decision guide

Live agent

Read 4,083 Reviews

Manufactures nearly 100 styles, from basic models to smart, Wi-Fi-enabled devices. Prices range between $1,000 to $8,000. The company is well known in the industry for its innovation and efficiency.

Chat with a ConsumerAffairs decision guide

Live agent

Read 286 Reviews

Made by the Liebherr Group, which was founded by members of the Liebherr family in 1949. The company manufactures a wide range of products and appliances worldwide, including refrigerators.

Chat with a ConsumerAffairs decision guide

Live agent

Read 13 Reviews

Designed for small spaces, with capacities between 1.6 and 7.2 cubic feet. Curtis International Ltd. is the licensed manufacturer for Igloo refrigerators. Available online and in stores.

Chat with a ConsumerAffairs decision guide

Live agent

Read 1,231 Reviews

Large department store that was founded in 1893 and headquartered in Illinois. Sells a wide variety of appliances for the kitchen, including refrigerators, and is known for its value.

Chat with a ConsumerAffairs decision guide

Live agent

Read 28 Reviews

Manufactures compact and midsize refrigerators for apartments and other small spaces. The company has been in the appliance business for over 40 years. Products are available online and at many mass market retailers.

Chat with a ConsumerAffairs decision guide

Live agent

Read 34 Reviews

Manufactures several small appliances, including refrigerators and freezers. It offers midsize refrigerators and mini fridges for small spaces. The company has been in business more than 65 years and is family-owned.

Chat with a ConsumerAffairs decision guide

Live agent

Read 2,632 Reviews

Offers a range of refrigerators in many different styles and sizes. Makes a wide range of home appliances for the kitchen and laundry room. The company is a subsidiary business of Sears Holdings Corporation.

Chat with a ConsumerAffairs decision guide

Live agent
Types of refrigerators
Top freezers

14.5 to 24 cubic feet
$400 to $2,000
Smaller freezer space than other types
Bottom freezers

19 to 24.9 cubic feet
$900 to $2,500
Slightly larger than top freezer model
Side-by-sides

20 to 29 cubic feet
$1,100 to $3,000
Equal freezer and refrigerator space
French doors

18 to 32 cubic feet
$1,500 to $4,000
Can be customized with built-in cabinetry
Compact models

9.9 to 12 cubic feet
$60 to $200
Good for small spaces
How to choose a good refrigerator
There are a lot of options on the market when it comes to refrigerators. To know which one is right for you, take a closer look at what you need. A larger family needs more space, probably — and if you do a lot of cooking, more storage space is also important.
On the other hand, you may want to choose a refrigerator based on the overall efficiency, smart features and warranty. Generally, it's a good idea to compare several models and how they function before making a choice. Look beyond the advertising to find what works best for your needs.
Ease of use

It's important to have a refrigerator that is easy to use and has the right amount of accessibility. For more, check out our guide to find the best wine refrigerator and cooler brands.

Doors and drawers: The size and weight of doors and drawers on a fridge vary. Some doors will be quite heavy, so kids might have a hard time opening them. Others are light and can swing back and forth on the hinge, but these doors can easily be left open.
Versatility: Does the refrigerator allow you to switch the side that the door swings on? This feature is convenient when a fridge is installed and the door won't open all the way because of a wall or cabinet; the door then can be switched to fit the space.
Freezer position: Most refrigerators will come with a freezer, which can be located in different positions. Bottom-drawer freezer refrigerators make it easy to reach your fresh food without having to bend over. Top-door freezer refrigerators have less freezer space and are good for people who need access to ice and small frozen foods. There are also refrigerators where the fridge and freezer are positioned side by side, making access to both very easy.

Refrigerator price

Depending on whether you're looking for a small, cost-efficient refrigerator or a large appliance for your business, the cost can vary greatly. Some companies provide less expensive solutions and others focus on making a luxury product.

Budget-friendly: There are many budget refrigerators available, whether they're tiny, compact versions or just made from cheaper materials. These cost less upfront but may have to be serviced or replaced more often. You can find cheap refrigerators for just a few hundred dollars that don't have any additional amenities or bells and whistles.
Luxury: These feature more expensive materials (like stainless steel), as well as impressive technologies, such as smart temperature, high-performing air filters and Wi-Fi.
Luxury: These feature more expensive materials, such as stainless steel, and expensive technologies, such as smart temperature, high-performing air filters and Wi-Fi.

Aesthetic appeal

The general look of the fridge is also a key factor in making a choice.

Finish: Stainless steel finishes are durable and attractive but also show fingerprints and dirt easily. Other materials, like plastic and faux stainless, can be less expensive and conceal dirt a bit better.
Depth: Depending on the space, the depth of a refrigerator can sometimes make a kitchen feel crowded. Look for one that's space-appropriate and doesn't stick out from the cabinets or wall too much.
Interior storage: Does the refrigerator have enough storage space in the body and doors so it doesn't look cluttered and messy? Some refrigerators come with adjustable shelves and storage features.

Warranties

A good refrigerator company offers warranties that ensure your new refrigerator will stay functional over time. Standard warranties included with purchase normally cover repairs and defects for up to one year, but some companies allow customers to purchase extended service and repair plans.

A refrigerator company should also be able to offer customer support over the phone or by online chat and should have certified technicians available so your refrigerator can be serviced or replaced right away when needed.

Eco-friendliness

Many refrigerator companies offer green alternatives that are friendlier to the environment.

Energy efficiency: Some refrigerator companies only sell refrigerators that are energy efficient in order to reduce the impact of energy use on the environment.
App connection: Many refrigerators have features so they can connect to an app; the apps allows you to fine-tune energy consumption.
Money savings: Customers will save money on their energy bills by reducing the amount of power needed to operate their refrigerators.
Compare our favorite refrigerators
Below, we compare standout refrigerator models by some of the highest-rated brands on our site. All prices are accurate as of the publishing date.
French doors with touch-screen hub
Samsung Refrigerator
Dimensions: 36.5" x 35.75" x 70"
Capacity: 27.7 cubic feet
Available finishes: Tuscan stainless steel, black stainless steel, stainless steel
Highlights: Fingerprint-resistant, touch screen
Learn More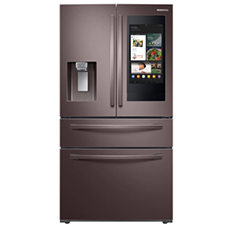 This four-door refrigerator in Tuscan stainless steel (model RF28R7551DT/AA) is one of the best options from Samsung. It's quite the modern model, with its touch-screen hub and French doors. It's about 28 cubic feet, and you do have the option of other finishes.
Choose between full-depth and counter-depth models based on your layout. Other features include the Twin Cooling Plus feature, with independent controls for fridge and freezer, and FlexZone, which lets you change settings in various areas. The price is high, which is a drawback, but for those who want true connectivity and energy efficiency, this is the model to beat.
Fingerprint-resistant stainless steel
Maytag Refrigerators
Dimensions: 35" x 35.5" x 69.6"
Capacity: 24.5 cubic feet
Available finishes: Stainless steel
Highlights: Fingerprint-resistant
Learn More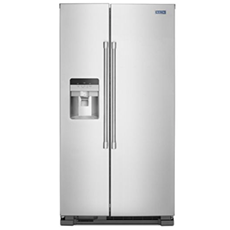 The side-by-side 36-inch-wide refrigerator from Maytag offers 25 cubic feet of space (model MSS25C4MGZ). It features an easy-to-clean design and is built to last. It has frozen pizza storage for boxes to keep them out of the way. As of publishing, its costs just under $1,700.
It also has a 10-year limited parts warranty on the compressor, which is one of the best features. Other features include gallon door bins, an exterior water and ice dispenser and a Store-N-Door ice dispenser system that helps to free up space on the shelves.
Smart French doors
Kenmore Refrigerators
Dimensions: 36.25" x 35.75" x 69"
Capacity: 27.9 cubic feet
Available finishes: Black
Highlights: Gallon doors, adjustable shelves
Learn More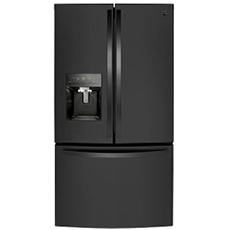 This Kenmore Smart French Door Refrigerator (model 73109; 27.9 cubic feet) is one of the best from this brand because of its large capacity and smart features. It can connect with Amazon Alexa to keep tabs on the status through the Kenmore Smart app, too.
This fridge also offers dual freezer drawers to improve organization of your foods and Cool Edge direct door cooling to keep air circulating throughout. The only drawback on this model is the limited finish option.
Apartment-size refrigerator
Avanti Refrigerators
Dimensions: 26.25" x 23.75" x 59.75"
Capacity: 10 cubic feet
Available finishes: White, stainless steel
Highlights: Adjustable glass shelves, reversible doors
Learn More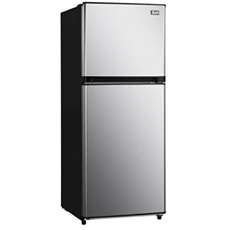 Some spaces call for mini fridges. Avanti refrigerators are designed to be as efficient as possible and compact in overall form. Its largest model (FF10B0W) is 10 cubic feet (apartment-size). It offers 2.7 cubic feet of freezer capacity, which is limited.
However, it does offer some nice features, including crispers and adjustable shelves, ADA compliance and reversible doors that have recessed door handles. The finish options are also limited, but this fridge is meant to be competitively priced and compact.
InstaView door-in-door refrigerator
LG Refrigerators
Dimensions: 34.25" x 35.75" x 68.5"
Capacity: 27 cubic feet
Available finishes: Stainless steel
Highlights: Dual ice maker, InstaView door, fingerprint-resistant
Learn More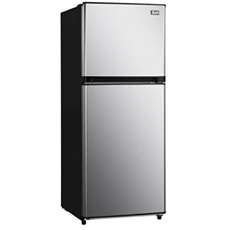 The LG InstaView Door-in-Door refrigerator (model LFCS27596S) is an excellent choice for those who want ample viewing and a lot of smart technology. The InstaView component lets you see into your fridge without opening the door. Just knock on it twice and the light turns on to provide a clear view.
Other key features include the ThinQ app, which sends maintenance tips and alerts to your phone. The Craft Ice feature is another standout feature that allows you to create slow-melting round ice for your drinks. Set the temperatures in the drawer, take advantage of all of the storage, and keep energy costs down. The drawback? It's pricey and may not be as energy-efficient as some models.
Top-freezer refrigerator
Whirlpool Refrigerators
Dimensions: 33.5" x 29.75" x 66"
Capacity: 18.25 cubic feet
Available finishes: White
Highlights: Reversible door, frameless shelves
Learn More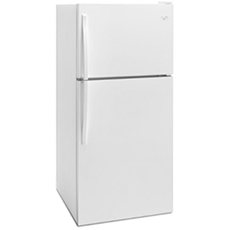 The 30-inch Wide Top-Freezer from Whirlpool (model WRT148FZDW) is the affordable option in our lineup. This refrigerator offers a lower price point because it cuts out a lot of the features and upgrades to provide an efficient and effective model.
It's Energy Star-certified, has an optional EZ Connect ice maker kit (which you have to buy separately) and includes frameless glass shelves. Durable, reliable and designed for everyday use, this Whirlpool refrigerator is priced under $1,000.
French doors with hands-free autofill
GE Refrigerators
Dimensions: 31.25" x 35.75" x 70"
Capacity: 22.1 cubic feet
Available finishes: Black stainless steel, stainless steel
Highlights: Fingerprint-resistant, energy-rated, counter depth
Learn More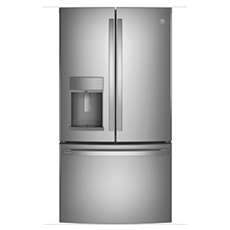 The GE Profile Series refrigerators, available with French doors, are a solid option. This is a smart refrigerator that lets you control it from your smartphone. The fingerprint-resistant stainless is a nice touch for those who don't want to be wiping off the fridge often.
The hands-free autofill is another top feature with this model, and there's an optional second ice maker for those who need it. Other key features include the TwinChill evaporators to keep sections properly controlled and the advanced filtration system. Because it's a smart fridge, it's on the more expensive side ($3,599) of our list.
Contemporary compact refrigerator
Danby Refrigerators
Dimensions: 20.4" x 17.7" x 33"
Capacity: 3.3 cubic feet
Available finishes: Matte black
Highlights: Glass shelves, ergonomic handle
Learn More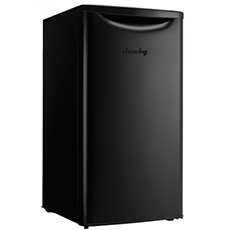 Danby refrigerators are known for their small size —they fit into most spaces, but these small units also come in fun colors, which means you can choose a bright red fridge if it fits your look.
This Contemporary Classic Compact Refrigerator (model DAR033A6BDB) is Energy Star-compliant, has a scratch-resistant worktop, has door shelving that can fit tall bottles and comes with a matte black door finish.
French door refrigerator
Frigidaire Refrigerators
Dimensions: 28.75" x 36" x 70"
Capacity: 26.8 cubic feet
Available finishes: Stainless steel, black stainless steel
Highlights: Fingerprint-resistant
Learn More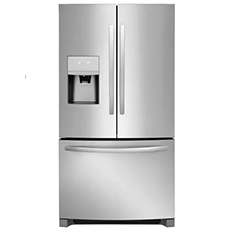 Frigidaire has a large selection of refrigerators in different styles. Check out the 26.8-cubic-foot French Door Refrigerator (model FFHB2750TS). It offers a large capacity and some nice features like Even Temp, which works to maintain an even temperature throughout the refrigerator, and humidity-controlled crisper drawers.
Another nice feature is the PureSource Ultra II water filters, which the company says remove 99.3% of lead and 99.9% of cysts from water. It's a bit on the expensive side, priced at $2,649.
French door bottom freezer
Viking Refrigerators
Dimensions: 24" x 36" x 70"
Capacity: 22.1 cubic feet
Available finishes: Stainless steel
Highlights: Air purification system
Learn More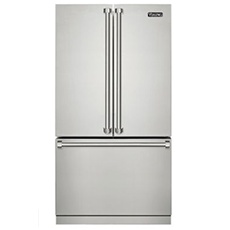 Recognized for its designer style and commercial home appliances, Viking offers a number of residential refrigerators as well. Check out the 36-inch French-Door Bottom-Freezer (model RVRF336), which comes in a stainless steel finish.
It features cabinet depth design, electronic temperature control and a premium air purification system. You also have an adjustable ColdZone drawer that allows for long-term meat storage or produce storage, two Humidity Zone drawers and a premium water filter.
Frequently asked questions
How much should a refrigerator cost?

This depends on many factors. Those that have a bottom freezer tend to be a popular option, with prices ranging from $1,000 to $4,000. French door refrigerators tend to cost between $1,200 and $3,000. A side-by-side may cost from $900 up to $2,400. However, this is a very flexible range. Older models or those with basic features tend to cost much less.
What is the best month to buy a refrigerator?

May is a great time to buy a new refrigerator because it's when most stores unveil the latest models — and discount older models to clear space. Holiday weekends are also a great time to buy a new fridge because many big-box stores offer discounts.
What is the average life expectancy of a refrigerator?

Standard refrigerators typically last anywhere from 10 to 18 years, with the average being around 15 years. Compact fridges, like what you'd find in dorm rooms, have a slightly shorter life expectancy — typically eight to 10 years.
Which is better: a side-by-side or a French door refrigerator?

There are pros and cons to both:

Side-by-side refrigerators give you eye-level access to both the refrigerator and freezer and plenty of freezer space. But it's not as easy to store larger items, and they aren't as energy-efficient.
French door refrigerators have aesthetic appeal and wide shelves, but you have to bend down to access the freezer. These fridges cost more than side-by-side models.
How much does it cost to repair a refrigerator?

It usually costs $100 to $400 to repair a broken fridge. The cost depends on the price of parts and labor and whether the fridge is still under warranty. Repair companies may charge a flat or hourly rate. To avoid expensive appliance repair bills, consider a home warranty.
Bottom line
Lots of new refrigerator models are hitting the market today. While many people think bigger is better, it's more economical and greener to purchase one that's better suited to your family's unique needs instead. It's smart to look beyond the pretty exterior to find a refrigerator that works for your specific lifestyle — we recommend buying a fridge with a strong warranty and features you know you'll use.
Thank you, you have successfully subscribed to our newsletter!
Compare Top Refrigerator Brand Reviews

Read 46 Reviews

Specializes in appliances for the home. The company, founded in 1918 by Earl Richardson and George A. Hughes, invented the first refrigerator on wheels.

Chat with a ConsumerAffairs decision guide

Live agent

Read 42 Reviews

Offers stand-alone, modular refrigerator units that can be arranged to fit the customer's kitchen space. Freedom line is designed with features like LED lighting and full-extension drawers.

Chat with a ConsumerAffairs decision guide

Live agent

Read 1,172 Reviews

Offers premium kitchen appliances like stand mixers, countertop and commercial appliances and accessories. Appliances are sold in most major appliance stores and online. Owned by Whirlpool.

Chat with a ConsumerAffairs decision guide

Live agent

Read 1,538 Reviews

Appliance company that became well-known for creating refrigerators. Headquartered in Augusta, Georgia, and sells refrigerators in a wide and varied range of sizes, shapes and styles.

Chat with a ConsumerAffairs decision guide

Live agent

Read 180 Reviews

Specializes in custom built-in refrigerators. Headquartered in Madison, Wisconsin. Has long been considered one of the leading luxury home appliance companies in the world.

Chat with a ConsumerAffairs decision guide

Live agent

Read 215 Reviews

Has offered a range of appliances, including refrigerators, since 1961. The company is headquartered in Benton Harbor, Michigan, and has multiple manufacturing plants across the United States.

Chat with a ConsumerAffairs decision guide

Live agent

Read 181 Reviews

Haier refrigerators are made by Haier Group, which is the global leader in appliances. Makes a wide range of refrigerator products and styles, including under-counter, French door and top-freezer refrigerators.

Chat with a ConsumerAffairs decision guide

Live agent

Read 1,948 Reviews

Headquartered in Fairfield, Connecticut. Has long been considered one of the leading home appliance companies in the world. Sells a wide variety of refrigerators for home kitchens.

Chat with a ConsumerAffairs decision guide

Live agent

Read 1,064 Reviews

Manufactures washers and dryers, central heat and air units and kitchen appliances like refrigerators and freezers. Has two models of chest freezers and three models of upright freezers ranging from $549 to $849.

Chat with a ConsumerAffairs decision guide

Live agent
Disclaimer
Information in this guide is general in nature and is intended for informational purposes only; it is not legal, health, investment or tax advice. ConsumerAffairs.com makes no representation as to the accuracy of the information provided and assumes no liability for any damages or loss arising from its use.
Comparing
×
You're signed up
We'll start sending you the news you need delivered straight to you. We value your privacy. Unsubscribe easily.