Consumer Complaints and Reviews

I purchased from Sears a appliance bundle. Bought a refrigerator, microwave, dishwasher and range. Spent thousands on a American company (lol). After three months my refrigerator went back. Would make ice and the ice maker made noise. Called Sears. They came out fixed it...and in the next 9 months the problem would only get worse. They have been to my house (Sears warranty service) 7 times and can't fix the problem in a brand new refrigerator I bought from them. I purchased a extra warranty for a year... Now Sears won't honor the warranty plan I paid for. Refunded my money but took 60 days to get it back. They told me they have been out there too many times and it's costing them too much money to fix.
Well... Dummies. It's a brand new refrigerator that was defective from day one. Not to mention their service is terrible. Took off days from work. They never showed up on time. One appointment was for 8 am and the guy calls me at 759 am telling me he can't make it on time and I was his first appointment. Six hours later he wasn't there. I think they hire derelicts with alcohol or drug problems. Don't count or trust Sears. They sell defective products. Don't back them up. Don't service them. Send service people who never show up on time or don't show up at all.

I have always shopped at Sears for appliances. This time was a disaster. They were being called every twenty minutes asking what is taking so long. Then they left without leveling or taking the tape off of the inside. They left a Allen wrench and said I could level it. I would never recommend Sears to anyone.

I purchased a Kenmore French door fridge in Sept., delivered as agreed. They set it up, door alarm didn't work, was told to call Repair. I set up an appointment with Repair, they called evening before to verify that they would be out. They were to call next day with a time frame, no call, I called 3 times, the last time I called, I was told that they had too many calls and would not be out. Called my salesman and told him I wanted to return fridge, since I was in my 30 days return policy, he suggested I get a replacement, I agreed to that. They brought another fridge out, set it up, same problem. I asked for the 3rd fridge, brought it out, they unpacked it, it had large dings in both top doors, returned it.
Went back to store to see what they could do for me, so that maybe I could get a fridge that would work. They offered me a small monetary compensation for my trouble and I could pick out another fridge. Was not enough to help on a fridge of comparable size and most of the same features. I will be returning this fridge. You're not able to speak with anyone that is knowledgeable about your problem when you call Repair, it's as though they are reading from a manual. What has happened to Sears standing behind their product and their service?

After the lemon fridge died I called for replacement. Was told and scheduled for delivery in 5 days. That may be acceptable for a washer or other appliance but not for refrigerator. I have lost everything in my freezer (meats, ice cream etc). Keeping other perishables with ice. I was offered no compensation and told no earlier delivery was possible. Very poor customer service.

The third service tech just left my house. He is possibly the only one that might know what is wrong with my fridge but we won't know until the part he ordered comes in and he comes back in 10 days making it 40 days without a fridge purchased 4 months ago! No one cares, no one will do anything to help us other than tell us they can come in 10 days and then they can order a part and come back in 10 days to put it in. There is no one to speak that has a moniker of consideration for the customer experience.
We got the impression that if we had the warranty you have to pay for they might be in more of a hurry to service us - enticing us with bad service to shell out more money. I am in the apartment business and we would never let a resident go 40 days without a refrigerator! Buyer beware. I WILL NEVER BUY ANOTHER SEARS APPLIANCE - EVER IN MY LIFE. I will also let the company I work for know not to purchase Sears appliances for the apartment buildings they own - 45 of them. DO NOT BUY SEARS APPLIANCES - THEY DO NOT BELIEVE IN SERVICING THEIR CUSTOMERS.
UPDATED ON 09/24/2016: Today the fridge was supposed to be repaired - the last repairman told us the other one who had been here twice times didn't order the right parts - he knew just from listening what to order. He would be back in ten days after the parts arrived. The parts arrived, he returned and installed the parts and he left and it still doesn't work. So almost two months without a refrigerator. Yes I do like eating out, but this has cost me a fortune, not to mention the food ruined by the first failure - around $300 of food. No one cares when we call - truly there is not one person who has said, "oh I am so sorry - 40 days - horrible. Let me get someone out right away."
In fact today after the guy left we called and they said "we will send him back." But they never did and I waited around all afternoon. So when we called back to say - where is he? - they said he can't come back until the light (from the other service call) comes in. Like I care about the light. I am telling you - DO NOT BUY SEARS APPLIANCES. They are a TERRIBLE, UNRELIABLE, UNCARING company! They do not know what customer service is about at all. I will never use them again and I will make certain the property management company I work with who owns 10,000 apartment units doesn't use them either. In fact I will make a point of telling everyone at the apartment associations functions I attend, and the classes I teach know NOT to use Sears.
How do I know I can trust these reviews about Sears?
633,951 reviews on ConsumerAffairs are verified.
We require contact information to ensure our reviewers are real.
We use intelligent software that helps us maintain the integrity of reviews.
Our moderators read all reviews to verify quality and helpfulness.
For more information about reviews on ConsumerAffairs.com please visit our FAQ.

When the Sears guys delivered the fridge I said the door doesn't work for me on that side. They told me if I had mentioned that to Sears they would have changed it for me when they delivered it. No one asked me what side would I like the door to open on. I assumed the delivery guys would make that adjustment for Sears when they delivered the fridge. Now they want to charge me $50 to send someone out to switch the door over!!! I think this is unreasonable when I just bought a brand new fridge from them. Lots of customers would need the door switched over.

Our refrigerator went down on August 31 2016. We have contact Sears right away gave us an appointment for Sept 1 2016, then Sears decide to call us and changed to the date meanwhile all of our food got spoiled. When we called to name an appointment for Sears to come the guy at the other end of the line said "SO WHAT IF YOUR FOOD GETS SPOILED?" Finally they gave us appointment on Sept 1 which made us wait all day. THE TECHNICIAN CAME AND FINALLY ABOUT 6:00 I found our service protection plan through my email and yes Sears we are covered. I have proof. Now we are still without a refrigerator. The part that needed to be ordered by the technician said that it going to take about 14 days. Now we have proof of agreement. Can it be possible that we can buy a new refrigerator if we are not covered? We will go buy a new refrigerator somewhere else.
I can't leave my kitchen. It's a mess. I am so tired of Sears. We have the service plan protection. You can check your record that technician found it when he came by tonight. Please Sears we need a new refrigerator and we are not waiting 14 day for the part to come. The last technician that came just added Freon. The fan is not working and also forgot to mention my refrigerator is in the middle of my kitchen Sears.

I bought model 78402 (795.78402.800) from Sears on 5/28/2008 for $2103.87. I did not buy an extended warranty because I had faith in this Sears product. On 10/01/2009 the water filter burst and I had $6691.67 worth of damage to my wood floors. I called Sears and they said it was out of warranty, too bad. On 10/01/2010 I had the plastic water line going to the refrigerator burst, causing $11,805.21 in damage. Again, I called Sears. The line was replaced by a stainless steel line. On 8/22/2016 I woke up to another flood. This time it was the cheap plastic line that comes from the icemaker/filter, in the back of the refrigerator. It had cracked and burst and has destroyed the floors, the walls, and cabinets/base. I have not gotten the estimate for repairs yet. This refrigerator is made by LG although it says Kenmore on it, I am told. This is ridiculous.
The stress it has caused is too much. DO NOT BUY A LG OR KENMORE REFRIGERATOR! DO NOT GO TO SEARS FOR APPLIANCES! They don't even care. I called for the repair as I had to turn the water line off and they said 4-5 days! I called another appliance repair company that came the next day. He replaced the line with a more pliable rubber line. I feel I should get a check for the lemon/faulty refrigerator I bought. The insurance company does not cover the appliance. I do not trust this refrigerator anymore. I also received $68.33 from LG saying the energy usage rating was wrong. This is a terrible refrigerator and wasn't cheap. French doors, freezer on bottom, ice maker in door.

No more Sears after buying a new refrigerator from them for $584 last year that stopped working 81 days after the 1 year warranty expired. The design is as bad as the operating system. When a person bends down to get something out of the lower shelf and then raises up, the freezer handles protrudes so far out from the refrigerator that you can knock yourself out after hitting it with your head. It constantly leaks water into the vegetable bins and the floor with ice forming in the top of the freezer unit. You have to check the freezer door every time after closing the bigger door to make sure that it is closed. Air from closing the bigger door pushes the freezer door open just enough to break the seal. Call Sears for a repairman and maybe they can be there in 4 days while all of your food is rotting.
I called an independent repairman who was out in less than 2 hours and charged $289 to fix the problem with the freezer fan. Sears quoted $100 just to diagnose the problem with no guarantee that they will have a part available. Apparently this is part of their warranty coverage that operates the same way if you are not aware of it. So now I have over an $873 piece of crap less than 2 years old in my house waiting for the next malfunction to happen. Talking to customer service was an exercise in futility and then they tell you to "Have a nice day." This is the most disgusting experience with a purchase that I have made in years. Don't let your friends drink and drive or buy an appliance from Sears. I've had it with them. I appreciate this Consumer Affairs site for providing a forum to present your experience with unsatisfactory products and service. It's interesting to note that there are several other complaints of the same nature as mine.

Have a 3 1/2 year old frig which is on the 2nd fix. First was a new ice maker and now just recently, a leak developing on the floor, left of the door. Customer service was a joke in helping me with any of this and now I probably will be looking at another big bill on new appliances. We had just bought new from Sears a new fridge, new stove, a new dishwasher, a new washer, a new dryer and now with this attitude and results, Sears is off my list of shopping forever.

I bought a Kenmore refrigerator and also they sold me a water filter with the fridge. I don't use the filter so I can bring back to Sears. They refused to give me credit back even I do not touch the filter. I would not buy anything from Sears. They the Ripoff Co. even for $10.99.

They always say "you get what you pay for." Not true with the expensive Elite Kenmore. You actually get a bunch of garbage backed by an even worse company. I saved for a while to get my dream fridge. Problems started literally 1 week before the 1 year warranty was up. They offered an extended warranty for 1 year that cost 35% of the cost of the fridge - that's right - more than 1/3 of the cost. I couldn't afford. $400 repair 2nd year. 3rd year anniversary (they happily told me on the phone with Sear) - literally just DIED. Dead. lost all the food.
I'm awaiting the Sears technician who will likely hose me in fees and parts to "fix it" for what will likely be half the cost. Save your money and go with another brand. This stuff is garbage. What they don't get is, this is the most important appliance in a home... It's so poorly built. I'm the chump who paid over $3K for it. Never again. I'll try another brand.

My husband and I spent $1500 on a Kenmore Fridge in May 2015. The warranty expired in May 2016 and now we are having issues with. SEARS will not stand by the product and honor the warranty at all. They are trying to charge $100 just to come out and look at it and then want us to pay for any parts needed. The warranty has only been expired two months when we started complaining and they don't care. I requested that the matter get escalated and I was advised that someone would contact me in 24 hours. TWO WEEKS later they called my house and advised my husband that there is nothing they are willing to do and for us just to make the service appt. Our $1500 Fridge is going to end up costing us $2000 and it is not even two years old. The service people are awful and insensitive.
I WILL NEVER BUY ANOTHER SEARS PRODUCT AND WILL ADVISE MY FAMILY TO STAY AWAY ALSO. This is very disappointing to me because our last fridge was a Kenmore and lasted almost 20 years. My family has always purchased Sears products and it looks like they are going downhill. I would rather pay a repair person to come out and fix my fridge then give anymore money to SEARS.

I purchase a refrigerator from Sears last month. After 2 days delivery I saw lot of dripping water inside. I thought the door not closed properly, but 2 days after that still condensate and start wetting my hardwood floor. I called Sears. Short story, 1 hour later I found the right person to talk with but he just need model # and serial #, which I don't have since I put the refrigerator in my new house 1 hour away from I live. After I got model and serial #, I called them again last Monday, and got repair schedule today (Saturday). Before they said will come between 1pm to 5pm. But yesterday they change the time between 9am to 1pm.
I woke up 7 am and drove to my new house before 9am. I tried to find out by called them to make sure the time they will come. They said will come for sure before 1pm. But at 1pm I received a phone call from the repairman, he cannot come today, and I have to call for reschedule again on Monday. What a very nice weekend!! I swear will not buy any Frigidaire products again. **!! Now I already have 3 appliances of them.

Took delivery of freezerless $650 refrigerator June 4th. By January, it was no longer cooling. Tried adjusting controls, contacted Sears, eventually got repair Feb. 26th. Told "problem with condenser". In July started not cooling again. Called Sears to ask for replacement of defective refrigerator. Though 2nd breakdown in year, and weeks without proper function, told after speaking to at least six departments "out of warranty" and we should have bought the $300 extended warranty.
They are not in the business of selling reliable appliances. They are in the business of selling extended warranties. Reasonable expectation for life of refrigerator is 10-19 years. We have a year old major appliance that has broken down twice, which they will not back. The cooling problem seems to be the most frequent complaint with their new refrigerators.
Having researched further it appears that Sears is preparing to declare bankruptcy. They have lost 1/3 of their value and closed half their locations. By buying inferior products and putting on their label, they are participating in the looting of the company while holding up a facade as long as possible to lure customers to waste their money.

DO NOT BUY KENMORE REFRIGERATORS!!! I have been a loyal Sears customer for over 55 years - All of our appliances have always been Sears because they stood behind their products. That's not the case anymore. The products are cheaply made, the service is lousy and the employees just don't seem to care or take pride in what they say or do. My most recent refrigerator purchased in April of 2013, model number 106.6215311, Sears Coldspot stainless steel with top freezer, has had its lower (fresh food) handle replaced 3 times. I paid for two of those replacements at a cost of $60 or more each time. The third time it broke Sears replaced it free. The 4th handle just broke - after just 4 months. This refrigerator is used solely by a 54 year old man who rarely even eats at home.
After several phone calls to their Parts Direct service department, to customer service "specialists" located who knows where in the world, several "chat" sessions on their service website and explaining this convoluted problem over and over again, I was just advised that all they could do for me was to send out a technician to look at the handle and the door at a cost to me of $59 for the service call. I will open the door without a handle forever before I'll pay one more cent to Sears. Not only shoddy products and horrible service, they need to coordinate their service records so that the customer doesn't have to repeat the same long story each and every time a call or online report is made. Maybe they do that on purpose so you'll get so tired of calling and having to repeat the same tale each time that people just give up. I'm just plain sad, mad and disgusted.

I bought the refrigerator about 3 years ago. The compressor failed. I called repair service and they said it would be 6 days before they could come out. I told them I had medical supplies and a lot of food in the refrigerator and all she could say was we can be out in 6 days. I asked what could I do to get faster service and she said I could not. She then indicate that I should do whatever I want. So I called another repair place and had a technicians here in 2 hours. He replaced the compressor and the unit is running fine.
I press Sears that they should pay me back because they could not provide repair in a timely fashion to save my wife's medical supplies and food. They are telling me NO because I did not use their service. The compressor, per the manual, has a warranty of 10 years. I have purchased many appliances, auto supplies, and tools from Sears, but I think it is time to say BYE, BYE Sears forever.

I used to buy all Sears appliances. Never ever again. My Kenmore 10670213410 quit defrosting, and hence the refrigerator does not maintain temperature. I called the first of June. Got an appointment 2 weeks later for a four-hour time block. Tech came on June 14th. Did a defrost and a diagnostic fee with no parts replaced, cleared the drain. 1 day later still not defrosting. Called for another appointment. Couldn't get one until June 28th. Technician arrived with no parts on the truck, did a diagnosis and defrosted (another 4-hour time block). Didn't have the part. Made another appointment for July 18th... at least 20 days before the next appointment.
July 18th the tech arrived, installed the heat probe (that had arrived about a week before). 1 day later the refrigerator is still not defrosting which means our refrigerator is not holding temperature. We call again. Tech arrives on July 27th and doesn't have the part he needs on the truck. Makes another appointment for August 4th... been going on for 2 months. We have basically had a new refrigerator that we are using as a cooler and having to put ice in the refrigerator portion in order to keep our food cold.

Purchase a Kenmore Elite Refrigerator on 5/25/2016 and on this day 6/15/2016 a technician was called from Sears Home Service and a repairperson was here within an hour. Sears outlet at this point had been informed prior to the service call regarding this refrigerator. The technician performed the test in all areas only to realize it had a Freon problem and the freezer was not getting cold.
When I bought this Kenmore it was labeled Returned Tested. Asked several salespeople the meaning. No one knew. My question: why was it returned. No one knew. No refrigerator is labeled returned because damaged and new applied to some. But full price was displayed of the refrigerator and it like you are getting a great deal. Returned Tested means used appliance according to Sal the store manager. Just deceiving consumers. Who wants to spend money on a used refrigerator in Las Vegas especially 500.00 or more. By the way went shopping for food at Costco. Had to throw away. Meat and veggies pictures to prove it.

Bought refrigerator and it has now gone on the blink twice... in 10 months! No refrigeration for 3 weeks till Sears repair person can get out to see it. 1st time it just needed levelling and I had to pay for 5 min "adjustment".

Didn't realize that at the time of delivery of our new refrigerator and new gas stove that we needed to be a policeman and ask their name and ask to see some ID and maybe even take their picture. Due to the installer piercing the water line, we now have a damaged wood floor and a partial downstairs mold infested finished ceiling. We have a sales receipt from Sears for 5 appliances with installation. One company brought out a dishwasher and microwave unit and installed. Did a great job with no problem. When another delivery and installation company delivered our two refrigerators, one with a ice maker and gas stove, now our problems begin. Neither the water line or gas line were properly connected.
First of all this company didn't even bring the new connections, which by the way were on our sales receipt and connected these two appliances using our original lines. Both of these appliances were leaking, one was water and the other natural gas. Called our gas company to determine why the gas odor thought maybe because of the new line but it wasn't. The connection wasn't tight. If we hadn't been home or on vacation, the water from the pierced water line would have flooded our 400 square foot finished family room. It is now 10 weeks later as of this writing. The delivery and installation company will not admit fault and their insurance company is waiting for this company to admit fault. Again our claim is now in its tenth week and we are still waiting.

They have so far made 5 trips to our house. The fridge is just hitting 2 years old, and they have been unable to repair it. They will not replace it because it is after all 2 years old. So life expectancy of a Kenmore 70329 is 2 years. You cannot have just any repair person work on it, you are stuck with whoever they send. So far we have spent almost 500 dollars (they charged for first visit and parts only) so that part is nice. But being down without a fridge for well over a month, with 10 days plus between visits is so unacceptable.

We bought this model 795.76202.900 refrigerator P.O.S. (made in Mexico) from Sears and I did not buy the extended warranty since my unsatisfactory past experience with a warranty on a Kenmore washing machine... The cost started at $10.00 then price went to $100.00 later after we had it repaired for minor things, and the repairman said "I'm sorry but I can't fix your machine." This model 795.76202.900 refrigerator's ice maker went bad in less than a year. Sears charges around $200.00 to put in a new one and it went bad again. I suggest that you do not buy any refrigerators from Sears.

I've cut up my Sears credit card and will not set foot into their stores again. Six months ago, I bought and had delivered a top end Kenmore refrigerator, washer and dryer. Delivery people were poorly trained. I took 4 visits before they had all they needed to stack and hook up the washer and dryer. The refrigerator delivery people began to push the fridge into place without hooking up the water. I made them stop and hook it up. I later realized they hadn't made sure it was balanced.
Three weeks ago the washer stopped working properly. Water was barely going in and then stopped. Repairman looked at it and said it was frozen pipes and prepared to leave. I told him that was impossible and found the condo handy person to try to convince him. It had to be something else and it was! He finally discovered the problem and managed to fix it. So far, so good! Four hours after he left, I noticed the ice had melted in my ice maker. That was a Thursday. Repairman came out Saturday and after almost 3 hours declared it was the condenser, ordered a new one, and said "See you in a week".
I managed to get the appointment moved to Thursday, a week after the failure. After several hours (and setting off the smoke detectors), he was done and the refrigerator seemed to be working properly. The next morning, however, I suspected something wasn't quite right. It was noisier than before and vibrated. But I went out and bought food to replace what I had had to throw out. By mid-day Saturday, it was "dead" again. I have to wait till Monday for someone to come look at it. I predict he (or she) will not have a clue as to what's wrong. Appointments are between 8 and 12. The refrigerator guys have managed to show up at 11:45 both times. I will never, ever buy Kenmore nor anything Sears again. Yes I am venting -- this is a new home -- my retirement home with all new "stuff" -- and it's becoming a nightmare because of Sears.

I see I am not the only one... bought all appliances from Sears... fridge has had to be repaired four times since christmas and it is out again. Tech coming tomorrow for the fifth time... I have a heart condition and need my meds and have not had any satisfaction. I just want a new working fridge and they keep giving the runaround. No wonder Sears is in trouble... dealt with Sears for years (I am 80) and cannot begin to tell anyone how frustrated I am. The wasted food is another story.

I purchase a stainless steel refrigerator from Sears in Key West Florida (Searstown). This refrigerator was used in a fully air conditioned home and was cleaned with SS cleaner. After four months small rust spots were noticed on the door panels and on top of the freezer door. I personally talked with the salesman that I placed the order with and he mentioned that they have had problems with that line of refrigerator rusting but not the higher end. I offered to buy a more expensive refrigerator if they took the one I purchased back. He said that he would check with his supervisor. He called me and said the supervisor could not do that and the only way I could exchange the unit was if I had purchased an extended service warranty that covered cosmetics.
I believe that if a consumer pays for a stainless steel refrigerator and begins to rust shortly after the purchase there is a problem with the product in either its manufacture or how it's represented to the public. I have literally purchased appliances, tools, etc from Sears for literally decades. After this experience I will never make another purchase from Sears.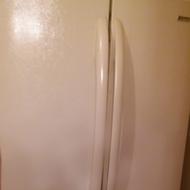 In 2009 I purchased a Refrigerator from Sears. Ever since the Thermostat or something goes out on this refrigerator every year around the same time. I decided that I should purchase. A Warranty which I have since I've had the Refrigerator. This year in 2016 Sears and their Service Technicians have reached an all time low. The 1st tech came out when my husband was at home and said "I know they don't expect for me to go behind this Refrigerator." So I called and reported it and rescheduled for another tech to come out. The 2nd tech came out and examined the Refrigerator and discovered it needed a New Thermostats and heater. He then went on his company laptop and ordered the parts that would be delivered to my home by UPS.
After the parts were delivered I called Sears. Again to schedule a service tech to come out to put the ordered parts on the Refrigerator. Keep in mind consumer this is the 3rd Service Technician. When he arrived he looked at the Refrigerator and said he could not find anything wrong with the Refrigerator and the parts that were ordered were the wrong parts. Ok, by this time I was Livid. I called Sears again and asked that they send a 4th Service Tech out and preferably a Senior experienced Tech. They then sent out the 4th tech which was the same tech that ordered the parts number (2) tech. When the tech got here he re- examined the Refrigerator and reordered the parts. The 3rd Service tech did not want to work presumably to put the parts on.
After the parts arrived at my home again the service tech scheduled himself to come out on this date which was cancelled by Sears because of inclement weather. Sears called and rescheduled the appointment. I explained that myself and my husband are working consumers and that we don't sit at home and work on Sears schedules. The tech was suppose to come out today. He never showed up of course. Incidentally this would be the 6th service tech.
Consumers this is not the same Sears that our parents dealt with. I am a 50 year old Office Manager. I know the Company my parents dealt with and the products they purchased from Sears. Consumers Sears is the bottom of the barrel in this day to purchase from. Especially a Refrigerator, particularly the Kenmore model 77302/4/6/977312/4/6/9 with the bottom freezer drawer. Buyer Beware! Sears and the products they sell will not stand the test of time. My advice to anyone that is in the market to purchase a Refrigerator do not purchase from Sears! They suck.
Updated on 2/5/2016: My 1st review revealed the failure of Sears service technicians to repair my refrigerator. Ok they have since scheduled 4 more appointments to my home and failed to show up to each and every one of them. At this point my next step is to hire an attorney.

After five service trips the past month, my $2500.00, less than 1 year old refrigerator has been declared unrepairable. Now I have been told by the Sears Resolution Hotline there is nothing Sears can do for me. I really do have a hard time believing any major retailer would treat a customer this way.

I ordered a refrigerator and ice maker online from Sears because it stated that if I ordered it when I did that it would be delivered the following Wednesday. Then they called and said they couldn't deliver it until Sat. My tenant had all her food in a cooler and I told them this wasn't acceptable, so they delivered the refrigerator without the ice maker a day later (Thursday) and told me they would bring the ice maker and install it later. The first trip out after that, they were there and discovered they didn't have the ice maker on the truck. Then the next trip they brought the ice maker and left it saying they could not install it. I called Sears Customer Service and they said they would send someone out today Monday (25th) to install the ice maker.
Two men arrived and proceeded to tell the tenant in my rental apartment that they could not install it. I still do not know why they came out if they could not install it? Very strange situation. I called Sears again and they told me if the installation department went out to install, they would charge me or they could pick up the refrigerator and ice maker and take them back to the warehouse and install the ice maker and redeliver. This is unbelievable! I was suppose to originally get a refrigerator with an ice maker, but because the ice maker wasn't available when they had promised to deliver the refrigerator, I am being punished.
When they delivered the refrigerator, they left with the glass shelves taped together in the bottom along with the drawers. They said they couldn't put the shelves in or arrange anything because they had had complaints of leaving dirty hand prints on things. I think their delivery team is lacking experience and needs upgrading in personnel. I will never shop at Sears again. I have ordered three appliances from Sears within the last five months and each time there were problems.

My wife and I purchased a "Kenmore" refrigerator in May of 2013. It was a split door on top with freezer below. We used Consumer Reports reviews to help us pick the right appliance for us. On January 14th the fridge started making a whistling noise. The next morning there was a puddle of water on the floor in front of the refrigerator. Sometime during the night it stopped working and all the items in our freezer were thawing. We quickly transferred as much as we had room for into our camping cooler and bought some ice. We called a local repair guy to come out and he showed up on Tuesday the day after MLK day and he told us that the compressor had stopped working. He could not help us get a new one under warranty so we had to call a certified Sears repair company to honor the warranty. We called that day and the soonest they would come was Friday the 22nd. One week now of living out of a cooler.
They came out and told us that the compressor was bad. Yes, we already paid $69.00 to find that out on Tuesday. They told us that they did not stock the part locally it had to come from Texas. We are in Oregon. It is scheduled to arrive here Monday the 1st and be installer then at the cost of $224.00. The compressor is covered under warranty but not the labor to install it. Over two weeks without a refrigerator. I also found out that the fridge we bought was made by LG. Kenmore stuck their name on it. LG does not have a great track record for reliability. Thank you Sears for having a service company so prompt and well equipped to back up your products. I will not be recommending Sears for any appliances in the future.
Sears Appliance - Refrigerators Company Profile
Company Name:

Sears

Website:

http://www.sears.com/