Consumer Complaints and Reviews

BEWARE. Frigidaire does not stand behind their products. If you don't buy their extended warranty you are out of luck. This ~$2600 machine has failed three times in 3 years. Installed on 1/2013, failed 7/2014, failed 11/2015, failed 10/2016. Each time it is the motherboard that has cost $500 to repair. Called the company. NO customer recovery. THEY HAVE LOST MY BUSINESS!!! I spend $5300 on a Professional line kitchen and now the refrigerator does not match. If I could have rated this product and this company with less than one star, I would have.

From day one refrigerator was making very loud noises and had no cool issues. Repair came and went several times within first year replacing defrost timer and circuit board etc... Almost 4 months later same issue. Btw inside shelf broke and handle on door. No kids here! So we had to get extended warranty being fridge temp won't go below 62f. So after waiting 36 days repair comes say freezer needs to be thawed. I bought a self thawing unit. Who takes off inside panel to freezer and blow dries it every 6 months?? So he says this is the problem. It's not allowing defrost timer to function properly. Also told I had too much food in both compartments. I live alone and wasn't much food in either so I don't buy that excuse or the others I've been told. I feel I got a lemon.
Btw RECKER AND BOERGER would not return or replace unit as Frigidaire won't either. Was told the unit has to be serviced 3 times within the first year. No wonder they take so long to get a repair person out. Needless to say I have lost between food and time off work for repairs at least 2000.00 for a fridge that cost 600.00. I got sick several times eating bad food. I'm filing complaints with the BBB and others. After reading other reviews I see I'm just another unsatisfied customers that Frigidaire has no intention of replacing my unit or do they care about my loss of food, time and money. They can't even come out in a timely manner. Will never buy their products ever. And will file a small claims thru courts. I'm asking to be compensated for my troubles which is far beyond the cost of the fridge. Very upset!!! Pass it on! Do not buy Frigidaire!!

I purchased a new Frigidaire refrigerator just 9 months ago. I am on my second set of repairs and service calls. I have a new refrigerator that has a freezer that continually defrosts (high temp) and a refrigerator side which starts to freeze. Due to the ice build-up the fan/motor makes so much noise. You cannot leave the refrigerator plugged in. So for the second time and for a week again we plug it in, makes the noise, unplug to thaw out. Plug it in, unplug. We have basically not had a refrigerator for our 3rd full week again.
Service comes out 5 to seven days after you call. They order parts, another 5 to 7 days of waiting. No such thing as overnighting parts because the contracted company by Frigidaire does not get its parts from Frigidaire. Imagine that! I suggested to Frigidaire that I feel like I have a "LEMON." They informed me that no such law exists for appliances. Now I understand that my refrigerator sounds like many others. It sounds like the norm for their refrigerators. I certainly wish I had done more research. If you are buying a new refrigerator, I would suggest a different brand. Customer service for Frigidaire is about zero!

Although I haven't had the problems that some have had I too am very sorry that I didn't check reviews on my fridge before I purchased it. I have had my fridge now for almost three years. I started having problems with it near the end of last year. At first it started to making this loud noise which only stopped when you turned it off and waited before turning it on again. During the summer of last year the ice maker would stop working unless you turned the freezer up to 6 or 7. The trouble began this year however when the noise returned and the freezer side stopped working altogether. I called Lowe's who in turn had someone come out to check the problem. There was ice build-up on the condenser coil which the tech melted away. Well that was in July and the ice is back again but this time water is somehow pooling on my food and freezing.
I called and someone is to come out tomorrow but I don't plan to have to call someone every three or four months. I would much rather have a replacement since the company knows of these problems and doesn't plan to fix them. Serial number FFHS2511LWB is a load of crap and I want my money back or a new and better fridge.

My husband and I purchased our Frigidaire Gallery French Door refrigerator freezer in March of 2011 from Pacific Sales when we had our kitchen remodeled. All of our appliances are from the Frigidaire Gallery series. All of our other appliance are in good working order except for some peeling film on the microwave. This refrigerator/freezer/ice maker has been a nightmare since we got it.
The freezer temp will randomly start raising and the ice maker stop working. I really cannot count the number of times it has been repaired and the ice maker replaced. This has occurred between 10 and 20 times. I finally bought an extended warranty because of the cost and here I am with my third fix under the warranty which is set to expire on 11/2/16. I have never in my 50 years had an experience with an appliance like this. I have a Frigidaire refrigerator/freezer in my garage that I have had for several years with no issues, but with this situation the way it is, I cannot justify purchasing another Frigidaire again. Worst appliance ever!
How do I know I can trust these reviews about Frigidaire?
611,656 reviews on ConsumerAffairs are verified.
We require contact information to ensure our reviewers are real.
We use intelligent software that helps us maintain the integrity of reviews.
Our moderators read all reviews to verify quality and helpfulness.
For more information about reviews on ConsumerAffairs.com please visit our FAQ.

My 4 year old refrigerator (out of warranty of course). The fridge part stopped cooling. I lost all my food and was told by customer service that I needed an evaporator. Stupid of me to be talked into ordering it for $99.00. Thinking I'd need the part when a repairman came I checked on the shipping status 2 days later. It hadn't even been processed. When the repair man checked the fridge he found the light bulb that came with the unit didn't turn off when the doors were closed and caused the frig to overheat. A lightbulb! A light bulb that is controlled by the computer circuit in the fridge. Now I'm spending 300 for a new computer board because of a stupid design. Thank you, Frigidaire. Next I'll try to get a refund on the part which the repair man said wasn't at all necessary.

I purchased this Frigidaire Gallery side by side refrigerator 3 yrs ago. I've had numerous problems with the icemaker. I've had several service men out to repair it but all attempts have failed. They all said that "it is the worse design to fix & next to impossible"! I've lost $$$ for I've had to leave work to be here for attempted repairs. Elite Experts came out yesterday & said it CANNOT be repaired. My Home Warranty of America will have to reimburse me. DO NOT purchase this product.

I started reading the other reviews on this site and was very sorry I didn't look at this before I bought the Frigidaire side by side Model #FGHS2631PF4A!!! All of the reviews describe exactly what I've experienced! This unit isn't even 2 years old and I have issues with the ice maker getting jammed several times a week. Spills ice on the floor out of the dispenser when it is not being used. Pull out bins in freezer fall off the track. LED display lights out or partially out. Please do NOT buy a Frigidaire Refrigerator!

Bought brand new. Broke on day 4, would not cool food. Tech came out and repaired. On day 12 broke again, same issue. Tech out again. Waiting to hear about exchanging it for another brand with Badcock (place where purchased). After reading all these reviews about how terrible Frigidaire products are, I don't want to chance it any further with this one.

In April I purchased my refrigerator, gas range and dishwasher for my kitchen remodel. All Frigidaire. Model FFHB2740PSBA. In my 4th month my freezer went out, lost all my food, my ice maker broke, and now my refrigerator side isn't working. Now my nightmare begins. This company don't care about us customers. I went through 2 service companies for repairs, 2nd opinions, pictures and all reports that they ask for deeming my appliance non repairable, and here I am still waiting for a replacement.
I'm getting the run around from Frigidaire. I spoke with 4 different corp supervisors with no conclusion. I'm very mad, frustrated and furious for them not stepping up and solving my problem and just take care of getting me a new unit. We are living out an ice chest to keep things cold. We have no freezer and it's been a month and a half dealing with this people. All I can say is I WILL NEVER EVER BUY A FRIGIDAIRE PRODUCT EVER AGAIN. And after reading this, I hope you won't too.

9-26-2016. Purchased a new Frigidaire side by side refrigerator Model # FFHS2611LWMA on 8-27-16. On 9-24-16 the high-temperature indicator on the non-freezer side started an audible alarm. I was unable to keep the temp in the 30-degree range as it appears something has already failed. Quickly rose to 60+ degrees. Called Frigidaire to report the problem and ask for a repairman to come out. They can't get anyone to me until 4 days later. Food spoiled. Money lost. No compensation. Also ice maker is extremely noisy since the day it was plugged in. Just waiting for it to go bad also. My advice to you is DO NOT BUY THIS model! It's junk.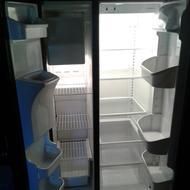 I am proud hard working father of 4. Last October during a heatwave here So Cal I decided to treat myself to a new Frigidaire for me and my family. I purchased the black side by side water and ice maker in door. It was awesome at first. No problems till now. Less than one year later and fridge is out. Frigidaire gave me a list of 3 appliance techs. I looked all 3 up online and decided to go with MyApplianceService.com. They boldly display same day service and warrantied parts. It's been a nightmare. MyApplianceService.com keeps sending me same tech and fridge is still broken. I am very positive person but this experience has got me irate. It's been a month and half Fridge is out still. The tech speaks broken English and something isn't right about him. Thru life one trip to mechanic and job isn't completed first trip I move on. I am at the mercy of this service warranty and this stupid appliance service company.
My savings is gone on our food. No milk for kids for breakfast, no groceries. This has been worst experience by far. Now I'm forced to buy a new fridge and it has even been a year. I work hard for my money and to buy the best and Frigidaire my friends is a cheap brand. 1500$ fridge. I shouldn't have to buy another within a year. I shouldn't be at nobody's mercy for cold drinks and food. This sucks. Hope this review helps anyone looking to buy a fridge... It might just be the luck of the draw? Either way I'm be late with rent and broke coming payday because this stupid fridge can't be repaired to Frigidaire & to MyApplianceService.com.

Purchase this black side by side refrigerator by Frigidaire on July 14,2016. Well within one month it only produce crush ice so the ice maker was replace with a new one! The noise upon the first was horrible knocking. Sound as if it was a jet getting ready for take off! So my guest came over and wow, the noise from the refrigerator frighten them initially, so I explain it was the refrigerator. They were amazed! I have call and requested a replacement, but the warranty only is in effect if something is broke and cannot be repaired! So I am stuck. I do not know if it is worthwhile to take them to small claims court, but I know I will not buy another Frigidaire ever in my lifetime and will not recommend this item to a dog catcher! I will be getting rid of this soon. I will lose money, but it will be worth it to get rid of this piece of junk! It is not worth the time it took a team to make! Please do not buy a Frigidaire refrigerator!

Fortunately, I took out an extended warranty with Square Deal, having had previous refrigerator problems with GE and Whirlpool. My 3 year old 1817 model has had problems since the first day. And by the way, don't blame Obama for refrigerator problems. Mine was made in Canada and has already lasted longer than the two previous refrigerators that were made in the USA.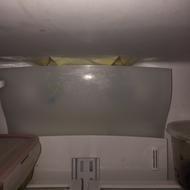 It has been over a month since I have been waiting for a solution for a damaged fridge. The light bulb burnt and melted in the inside roof of the fridge in two spots. The food became spoiled because it was so hot. First I was told to pay for a technician to come and look at it, then I was told to purchase a repair kit; however, this is completely not my fault and unsafe. Customer service has not even been responding back to my emails within the last month. This is extremely frustrating and annoying. Totally unacceptable when the company is responsible for selling a product that practically started a fire in my own kitchen. I am beyond dissatisfied with not only the product, but more so with the customer service I have been experiencing. I expect immediate attention regarding this matter!

My children are grown and out of the home. I live by myself. Soon after I bought this Frigidaire top freezer refrigerator the plastic door shelf just broke off. Hhgregg, where I bought it, told me to call the company. Frigidaire was more than happy to "sell" me a new one. I said I just bought this! Called hhgregg back and they got me a shelf and did not charge me. Soon after I notice white pieces of plastic at different spots laying in the fridge. All the support rails holding up the glass shelves are deteriorating and breaking up. I'm so disappointed a company can stoop so low to sell such an inferior product to hardworking families. Stay away from Frigidaire!

Almost NEW freezer, 15 months old, DIED last Saturday. Half freezer contents, a few hundred dollars GONE. I called FRIGIDAIRE and they gave me a date of SEPTEMBER 28th for service. Absolutely useless and cheap shoddy products.

The ice maker in this refrigerator is horrendous. The ice cubes stick and then they all fall to the ground. The refrigerator then goes on alert. If you try to stop the ice by switching to the water dispenser then water pours onto the ground. Also, I was never told when I purchased the unit, from HHGregg which I will never do again, they never told me the water did not have a chiller nor could one be installed.

I bought a full kitchen suite of appliances from Frigidaire. The refrigerator makes all kinds of noise. The control board has failed in warranty period. The plastics are cheap and flimsy. The microwave makes noises as if it's ready to break. The clock keeps going out on the microwave. These appliances are literally not even 2 years old. I bought my house brand new. The dishwasher does a horrible job cleaning dishes and like a post above, has a weird smell that covers dishes when the cycle is done. The oven is 50 degrees hotter than what you program it for. These appliances are JUNK!!! I Never in my life will ever buy another Frigidaire product and I highly recommend, that NOBODY ever buy from this company. The quality is crap. They no longer build appliances like they used to. I purchased due to the brand name, a brand I grew up with, that had no troubles in the past. Definitely research before you buy appliances.

Almost exactly three years ago, we purchased a brand new bottom freezer, French door refrigerator from Lowe's. The refrigerator is not cooling adequately. We called a local repairman. The repairman knew the cause almost immediately, as he has encountered this with other Frigidaire refrigerators owned by other customers. There is a DESIGN FLAW with the unit. The light bulbs on the inside of the unit run too hot. When he removed the cover above the light bulbs, there were two holes burned in the "ceiling" of the refrigerator case.
We understand this allows condensation to accumulate in the area at the top of the unit. While we did not purchase the extended warranty, I feel that this is a DESIGN FLAW which Frigidaire should stand behind. We will NEVER purchase another Frigidaire product again! When we contacted Frigidaire they simply said "Sorry... There is nothing we will do about it." A $1,000 refrigerator should last more than three years! It is almost as though the refrigerator is designed to fail!!! I was wrong in believing that Frigidaire was a reputable company.

I purchased a Frigidaire refrigerator from Sears 6 months ago. The unit is still not working. From day one we had issues with the ice maker. Sears says that is not their problem and that we need to work with Frigidaire to resolve the issue. Frigidaire uses contractors to deal with their warranty claims. From day one the problem we have is the same. The ice has a frozen band of ice holding the cubes together not allowing them to get through the shoot. Each time a repair person came to my house I was required to leave my schedule open for the day to accommodate the repair tech's schedule.
1st Service (took the day off to be home) Tech arrived said he had to install a new shoot, but would need to order parts. 2nd Service Tech Arrived installed shoot. The issues was not resolved and Frigidaire assigned a new service group. 3rd Service Tech canceled the day of the call and said he knew what the problem was and he would order parts. 4th Service Tech arrived and said that he ordered the wrong parts and would return with the correct parts. 5th Service. Tech arrived to install yet another "new shoot". The issue was not resolved. Again, I have no idea how they think they can get cubes that are not separated through the "new shoot".
6th Service After staying home all day the tech called me at 3 to tell me he got tied up and needed to reschedule. 7th Service They called the night before the service and TOLD me I needed to be home between 8 and 5. Yes, I have not been fired from my job yet and will take yet another day off, but I have a meeting at 12 that will require me to be gone from 11 to 1 PM. I called today to see when the tech will arrive and it's between 12 and 2, so I'll need to cancel my appointment.
I have logged hours on the phone with Sears and Frigidaire. I will never purchase another Frigidaire product again. It's not because of the defective units, but because after you purchase a unit you become nothing more than a warranty claim that they will resolve on their timeline. 6 months later the kids still can't get ice because the unit gets jammed and makes a mess 1/3 of the time. Frigidaire has refused to take this unit back. Sears has refused to take this unit back. DO NOT BUY FRIGIDAIRE or the extended warranty they try to push on you. Mod: FGHS2655PF5A. SN: 4A54319937. Lot No. 00266215.

We have a barely 3 year old Frigidaire Gallery that has had the refrigerator and freezer handles break twice, the plastic condiment holders on the inside door are cheap and 2 have cracked beyond being usable. Cost to replace any of these parts is ridiculous. Now we have a smell that is getting into our food that seems to be chemically based. I am extremely disappointed with Frigidaire and will NEVER buy this brand of anything again. CHEAP, CHEAP, CHEAP.

I bought a Frigidaire side by side refrigerator at Lowe's. It kept running and shutting off and on every 5 or 10 minutes. The person I talked to at Frigidaire on the phone said that this was normal because it was energy saving. I went back to Lowe's. Lowe's gave me another refrigerator like the one I purchased. A few months after warranty was up it quit running. I paid $800.00 dollars for refrigerator, $300.00 it fixed and $200.00 water filters and it is not working again. I have not had it for 5 years. What a rip off. I will never purchase anything from Frigidaire anymore.

Just bought a Frigidaire Gallery refrigerator FGHN2866PFDA and it makes a rumbling noise every so often that lasts 3-4 seconds. Called Frigidaire customer service who consulted with a tech and said that it was a normal noise that shows the evaporator that keeps the fridge cold stops. It had nothing to do with the ice maker inside. It is just how it is made. My Amana for 10 years and all other refrigerators I have had never made this noise. Will return this refrigerator within the 2 week limit that BestBuy allows.

I bought my beautiful refrigerator and had nothing but trouble. First it ran so loud that friends when they came over asked, 'what is that noise.' Then in about 6 months the door handle broke off. They replaced it and then 3 months later it broke again. One person uses the refrigerator, ME! Not a bunch of kids... Then the ice maker started dripping and makes a frozen waterfall from the maker to the tray. Now the plastic shelf fronts are fracturing. This refrigerator is a piece of Junk! How long has Frigidaire been making refrigerators... You could fool me. Go back to the drawing board.

We bought a $650 refrigerator when our fridge of 23 years finally bit the dust. Since purchasing it in November 2015, we are about to lose our third handle. The first two were replaced by Bemis Appliance in Yakima, our local appliance store because Frigidaire (or Electrolux) won't warranty them. We have a crack in the liner Frigidaire won't replace after only seven months and won't warranty because they insist we dropped something on it. The latest thing is that the bottom shelf got caught on something and while opening the door the hook that holds the door on snapped off. Now Bemis is giving us a new handle, and replacing the shelf, once again not warrantied by Frigidaire. Egregious quality and customer service on their part. Might behoove them to find better quality materials. We will never again purchase one of their products.

Being a first time new refrigerator purchaser we were so excited. Finally had saved enough to get the one we wanted. Unfortunately the home we were renting only had so much space for our fridge so we didn't have too many to choose from brand-wise. We did some searching and found that Best Buy had exactly what we all wanted. Side by side, ice maker, water dispenser, and the color. Two days later the fridge was delivered and we were told it would take 24 hours before we could put food in it. The whole purchasing/delivery went well, and a few weeks went by no troubles. Then it happened, my 12-year-old was getting crushed ice out of the ice maker and there were orange pieces in the glass. Husband took the bucket out of the freezer only to find rust EVERYWHERE, on the walls, the screws in the ice bucket. I was horrified.
Called customer service. Someone came out the next day, told us we had to empty the bucket once a month to make sure ice build up didn't occur? Really? Never heard of such a thing. Ok so a few weeks later after completely cleaning the freezer, removing the rust, so I thought, the ice maker jammed, so I took out the ice bucket and was disgusted with the amount of rust build-up as well as the frozen ice around the parts behind the ice bucket. I melted the ice and emptied the bucket, cleaned yet again all the rust thinking this would fix our problem. It didn't. Again called out the tech. Was a different guy this time. He said it happens and I would need to keep the ice from freezing up on the parts? What? You can't be serious? OH as for the rust, "it's cosmetic. It will happen," he said?
I owned my poor old used AMANA for 13 years. I never saw rust anywhere! OK, I thought if this is how it is going to be owning a ice making fridge then I would stay on top of it. Cleaning out the freezer twice a week is just beyond ridiculous in my opinion. Then again three months later it jammed again. Now I am thinking we got a lemon because I've done everything I was told, keeping it clear of ice twice a week, emptying the ice bucket once a week to make sure old ice didn't build up and it is jammed again. Called the tech out yet again and yet again a different guy. Finally he tells me it is a defective part. Great. Perfect. Let's just get this done. He came back two days later with the part and for a few months I didn't have any more problems except for the rusting, still having to clean it once a week...
Being a mother with 4 growing kiddos we don't have the money to spend on big appliances, and the frustration with this one has caused me to go back to my old fridge, which by the way still works great! I will never again buy a Frigidaire which is sad because my grandmother always had a Frigidaire fridge. My hope for this review is to hopefully stop someone else from making the mistake we made. We not only are out 1500 but this eyesore is still in our garage. Hubby has used it as a second fridge but as of last year the temperature gauge has stopped working so it doesn't keep anything cold. So now it is just sitting in our garage as a constant reminder to read reviews before buying something this expensive.
It also is worth mentioning that when speaking to someone at Frigidaire or trying to contact them about the situation I never received a response that was acceptable. They never acknowledged that there was ever anything wrong. In fact one time while explaining about the rust the man on the other end of the phone, forget his name now, I could actually hear in his voice he wasn't interested at all in my complaint like it happens all the time and he was sick of hearing it. Good luck. Hope my post helps.

The Ref will not cool evenly. Temp in top of ref. is 15 deg higher than in the bottom of ref. The food in the bottom of ref. freezes while to top is at 42 to 45 deg. The freezer side is OK. The unit is 4 months old. I have had 4 service reps (they are not factory trained technicians) come and look at unit. They have talked with the factory for several hours over the last month and left. I would like for Frigidaire to replace my unit with a working one but they will not do that. BEWARE of Frigidaire Warranty.

I purchased a new Frigidaire to replace one that I'd owned for 12 years. The first one was fine and I guess 12 years is fairly good these days. The new one was purchased in 2014 from Lowe's. It worked fine until April 2016, when the ice maker quit. No warranty of course, so I called a local appliance repair. The repairman knew immediately what the problem was, since the ice makers are notorious for failing due to a design flaw. He came out and replaced it as well as a module on the back of the unit. He said that he found if he didn't replace both items, it usually did not last. It's been OK for the last 3 months, but it has just started making a loud popping noise just before it dumps ice. It pops maybe 7 or 8 times and then dumps ice.
I have a feeling that it will fail again soon. If so, I will call the same repairman to see what can be done. This refrigerator was about $400 less than the one purchased in 2002, so I don't know if it is a price difference or that they are now making their products more cheaply. Either way, I am not happy with it and will not purchase another Frigidaire.

Bought this French Door Gallery in 2011. The refrigerator has been fine up to now. The Freezer door Rails have started rusting. Called Customer Service, they said they would be happy to order me new rails if I pay for them. Why not try cleaning them with Coke and Baking Soda. Why, Thank You! So buyer beware! Customer Service and Mexican made is not good.

ConsumerAffairs Research Team
The ConsumerAffairs Research Team believes everyone deserves to make smart decisions. We aim to provide readers with the most up-to-date information available about today's consumer products and services.
While Frigidaire sells a wide range of appliances, the company has long been known for specializing in refrigerators and freezers. Frigidaire headquarters are in the heart of Augusta, Georgia.
Variety: Frigidaire offers a huge variety of sizes, shapes and styles of refrigerators so it can meet the needs of many different types of customers.
Customizable doors: The doors in Frigidaire refrigerators are customizable so owners can change them to fit the needs of a family or establishment.
Online tools: The company offers customers online tools to help pick or design the right refrigerator, and it also offers assistance visualizing the look and style of a finished kitchen with a Frigidaire fridge in it.
Customer service: Frigidaire offers excellent customer service options, including online product support, manuals and multiple options for getting in contact with the company.
Availability of products: Customers can find Frigidaire refrigerators in a large number of stores, making them a convenient option no matter where customers live.
Best for Homeowners and businesses looking for a wide variety of products, or a certain design for their kitchen or office.
Frigidaire Refrigerators Company Profile
Company Name:

Frigidaire

Year Founded:

1918

Website:

http://www.frigidaire.com/