Consumer Complaints and Reviews

We purchased a Frigidaire Professional Series French door refrigerator 11/17 and needed to request a service call for the unit 11/26. The cold drawer was freezing all the contents and the switching relay was turning on and off. The initial call to customer service was not great - the customer service agent told me the relay switching on and off is normal and "that there is nothing they can do, this is normal operating conditions". The cold drawer freezing the food warranted a service call - the technician determined there was a manufacturing defect and the sensor would need to be replaced. When we asked about the relay he too said this was normal. I also showed the technician that the left side of the French door will not stay open unless you're supporting it. His response was the waterline is in the way and won't allow the door to stay open.
2 weeks later the technician returned to replace the sensor which seems to be fine. No fix for the door and no fix for the relay turning on and off (4:00 AM). I spoke with customer service again today about the relay and was once again told there is nothing they can do to fix this however they would schedule a technician to come out and look at the problems but if they didn't find any issues we would be charged for the service call. We're very disappointed with the product and the lack of service along with the lack of professional courtesy.

We have only had this appliance for 6 months and we are already on the 4th filter. At $50 Ea. At the cost for filters we could have bought a much nicer refrigerator. Glad we realized the cost of the filters. Our handle is also faulty and coming loose. Wish I would have read about this brand before making our purchase from Lowe's. I would also like to know where all these old filters are supposed to go? At the rate of replacements our landfill will be filled with these in no time. Why aren't our government officials overseeing what manufacturers are building and seeing to it they aren't producing products we can not, either reuse or breakdown waste-wise.
Humans HAVE to stop producing things that litter our planet with products we cannot dispose of. These filter should be reusable. It's all about the money. These filters require wasting 15 GALLONS!!! Of water (undrinkable) before using. That is outrageous. We have lost 4 trillion gallons every yr. For the last 5 yrs. In water from lack of rain. Not to mention countries where people are dying because they have no water where they live now. Companies need to be accountable for these things.

7/10/2016 I purchased Frigidaire professional 18.5 cf refrigerator. Did not freeze food. I called Frigidaire and P.C. Richard and after 4 Service appointments still not working as of 1/4/2017. Both P.C. Richard and Frigidaire have been unable to fix and I have lost over 134.00 in food. They just made another appointment for another service technician to come. DON'T BUY FRIGIDAIRE!!!

I bought the Frigidaire Gallery refrigerator, dishwasher and range on November 23, 2015 from Lowe's. Lowe's installed all three appliances. The refrigerator model is LGHT1846QF. In May 2016, I noticed a slight buildup of frost on the outside of the freezer compartment. The buildup was about 6 inches long and to the right of center. I called Lowe's with the problem but was informed that it was a Frigidaire problem and not a Lowe's. I went online to the Frigidaire website and found the phone number of the authorized repair company in the Louisville, KY area, which was Universal Appliance Service. After explaining the problem, a technician was sent out on June 6 2016. The technician checked the freezer door gasket and determined that there was no problem with the gasket or the suction of the door to the compartment.
I continued to monitor the situation during the summer and noticed that the frost buildup became more severe as humidity increased. I called Frigidaire and explained the problem to them. They created a work order with Universal Appliance Service and a technician came out August 19, 2016 to check the situation. It was obvious that heavy frost was building in the same location but the technician checked the gasket and determined that the gasket was sound - the suction strong. He suggested I apply a thin layer of petroleum jelly around the gasket to ensure strong suction of the door with the compartment. I did as instructed. The frost continued to appear in the same spot. By this time, I was pretty frustrated and called Frigidaire to let them know that nothing was solving the problem. They created another work order that was sent to another of their authorized service companies, Broughton Appliance Service.
The owner came out and knocked around the outside of the freezer box. He determined that the problem was due to inadequate insulation in the top of the refrigerator box. He said he would get the repair kit and return for the repair. However, he had a major accident and was unable to return for the repair. I called Frigidaire and gave them the history of my attempts to get the problem fixed. I told the customer service representative that I felt that I was due a replacement refrigerator because the problem persisted through multiple attempts to identify the problem and resolve it. I was informed that they could not replace the appliance unless the service technician certified that the unit was irreparable. Frigidaire put in another work order with Universal Appliance Service.
A third, different technician came out to troubleshoot the issue. He removed the gasket and inserted silicone caulking around the liner of the freezer door. After replacing the gasket, he told me to watch the unit for a couple days. The technician also noticed that the freezer door wasn't level so he removed the freezer screws and leveled the door. The frost continued to build but was a smaller area. The Universal Technician came back out and determined that the freezer door and gasket needed to be replaced. When the company delivered the new door, it was so scratched up that the technician said he would not install it.
I called Frigidaire and complained that the refrigerator was a lemon and the warranty was running out November 23, 2016. I was informed that I could not get a replacement until the technician certified the unit as irreparable and recommended that I get an extended warranty to cover the unit past the new appliance warranty period. By this time, I was fed up with Frigidaire. The Universal technician returned and made adjustment to the level of the door which improved the problem somewhat. I have noticed that the frost is heavier when the humidity in the house is higher. As the humidity level goes down, the frost buildup goes down. That indicates to me that there is still air flow somewhere.
However, I am tired of fighting Frigidaire. I threw away the money I spent on the refrigerator and will probably have to replace it within 5 years. I will not replace it with another Frigidaire product. In fact, I will never buy a Frigidaire or Electrolux product again. I am soured on the whole experience with Frigidaire. I feel they should have replaced the unit, without question, after the third time that one of their authorized service companies failed to totally fix the problem. By the way, I'm just waiting for something to go wrong with the dishwasher and range - it's only a matter of time because, in my opinion, Frigidaire products are sub-standard.

We purchased this French door fridge a couple of years ago and it has been a nightmare ever since! We could have had a side by side, but I fell in love with the french door feature and ended up paying double for that feature. Big mistake - the first problem we had was the freezer drawer wouldn't shut completely, and you had to really watch to make sure the seal was airtight. Many times it wasn't and things would start thawing out. Then during a storm, we had a power surge that caused the electronic control board to fail - no one rewires them, so you have to order a whole new one (almost $500 repair)! Since then, every plastic drawer in the fridge has broken (plastic fronts break and come right out), the freezer drawer has broken and ball bearings fell out all over the place, the top ice maker has stopped working, and the bottom ice maker works about half the time. It should be criminal to sell such a poor product for such a large price!
How do I know I can trust these reviews about Frigidaire?
667,311 reviews on ConsumerAffairs are verified.
We require contact information to ensure our reviewers are real.
We use intelligent software that helps us maintain the integrity of reviews.
Our moderators read all reviews to verify quality and helpfulness.
For more information about reviews on ConsumerAffairs.com please visit our FAQ.

I bought my Frigidaire side by side refrigerator. I also got extended warranty. I called the warranty department and complained about the interior panels cracking. They sent a kit and sent a technician. The kit is just TAPE to cover the cracks. I complained to customer service and to a supervisor but all went to deaf ears. The inside looks bad. I have a refrigerator that the inside is all bandaged up and Frigidaire will not do anything. They use inferior material and will not stand behind their product.
This is why American companies go under. This is why American's buy Japanese, Korean, Taiwanese and Chinese products. We Americans want to keep American jobs but not when American Companies won't stand to help themselves. I will never buy Frigidaire ever again. Their products and service SUCKS. They don't have a direct headquarters complaints department. It only shows the company just does not care. My contact number is ** if anyone cares to discuss this from FRIGIDAIRE. I WON'T HOLD MY BREATH.

I bought the fridge and had it delivered on 10/21/16. I've had 2 service calls and the ice maker still doesn't work. Frigidaire is more than happy to send service techs but they will Not stand behind their appliances. They won't let me return it. They send you to the place of purchase. Home Depot won't let you return it. Each person wants to send you to the other person. The ice maker will not make ice for 2 people after being gone all day. If I bought a car and it was a lemon... there is a law and you can return it. Don't buy anything from this company.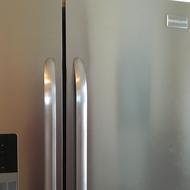 Bought the refrigerator 10-15-15, and accepted delivery 11-3-15. It quit making ice December 2016. I called Lowe's and was given the number of a local certified repairman. I talked to two different repair facilities. The second one, after checking my model, said he could repair it, but it would continue to breakdown. They do several of this model ice maker weekly, and there is a possible recall in the works. I now realize I should have googled Frigidaire before purchasing their products. I unfortunately have all Frigidaire appliances in my home.
Between remodeling, after buying this house, I didn't think of doing a search of manufacturer's products. The microwave signal keeps beeping, even after you have opened the door. The oven of the stove makes the solid surface stove top so hot, you can't touch it, after being on for an hour at 400 degrees. The stove burners are completely off. It makes me wonder if inadequate insulation is the problem. I am trying to find the recall deal online.

I bought this refrigerator for the garage. It said garage ready! I just found out it's not. Needs a heater. Installed at my expense. I would not have bought this refrigerator. If I knew that it might not work in cold weather. Even with heater. Now I have lost food and money. Why do you sell this for a garage in Ohio? Lowe's and all other stores should be told not to! I'm at a loss. Where do I go from here?

We bought the Frigidaire Gallery and they were installed in September of this year. So far, the cooktop had to be replaced, the dishwasher doesn't dry dishes, and the ice maker is broken. We have had repairmen in and out of our home, for one thing or another. The man ordered a part for the ice maker, spent more than 4 hours reading his manual to learn how to fix it, because he didn't know how. We still don't have a working ice maker.
As of last night, the light in the bottom oven does not turn off and the door catches on something. I have spend thousands of dollars on these appliances. Holidays are here with company, and I don't have a working kitchen. The company is not taking responsibility for it and said that they don't have replacement policy. I got an email from them saying, "We are sorry you feel that way, and they can't find our order numbers for the repairmen, asking where did the repairmen came from?" This is a nightmare, and I don't know what to do. The repair order number I have submitted is only one of them.

I purchased the Frigidaire Gallery refrigerator, model no. FGHT1846KR8, 4 years ago, August 2012. It has stopped getting cold; everything in it was ruined. I've waited a week for a repairman only to have him call a few minutes ago to cancel and schedule an appointment next week. I'll never purchase another Frigidaire. Junk product. Really inconvenient. I'll never purchase another Frigidaire!!

I purchased a French door refrigerator stainless steel on July 27th 2016. (My Fridge is 5 months old.) I closed on New Home on August 12th after moving all my things in. I was past the 30 days return policy at Lowe's when I found out that my ice maker was not functioning properly. I have had so far two technicians (and multiple phone calls) come out to repair it and less than a week after they arrived it continues to leak water out of the ice maker down the front of the refrigerator to the floor. It does not make ice and the fan is Frozen... Apparently everyone who buys this model has the same problem... Please don't buy Frigidaire. I wish I would have known.

I purchased a Frigidaire 26 cubic ft refrigerator from Best Buy April 19 of this year. In October the door handle on the refrigeration side came loose. Then, overnight, Thanksgiving weekend, the ice maker broke and rapidly drained water all over my hardwood floors, warping a large number of the boards. I called Frigidaire, was informed the wait time was 17 minutes, and as requested, submitted my phone number for a call back from the next open representative in approximately 17 minutes. That was 44 minutes ago. I'm still waiting... I realize I bought a low end product, and expected giving up shelves, and other amenities. That said, I still expected the product to work! Horrible product. Horrible service. Never again.

After interminable day of fighting with those crooks and sending the technician to replace the same corroded plate with another corrode prone plate, I gave up, this refrigerator is only 11 months, yes, ELEVEN MONTHS old. This is the last correspondence, see the effects in health from the corroded plates: Maybe my English is not good enough and no one in Frigidaire want to understand. Now, I am pissed off with this attitude. The technician was here and he was, is and won't be able to do anything and only replace the corroded plate for another corroded plate. I will not spend ANYMORE time with those corrupted MONKEYS, but I will enjoy my next step. Have a nice life. A VERY PISSED OFF CUSTOMER.

New fridge delivered on 05/01/14. The defroster was not plugged in and built a block of ice in the freezer. The refrigerator was failing to cool, as well. Warranty repair tech melted ice, plugged in defroster. Three broken door handles in 18 months. Just bought another set of handles, for the design flaw on the fridge door. There really should be a recall and steel reinforced handles issued to owners. The refrigerator is dripping water inside in the back and it freezes on the shelves, or containers, on the top shelf. The ice-maker is locking up and won't turn out ice. I've had Frigidaire appliances over the years and have seen a steady decline in craftsmanship. I won't buy another. It's not worth the hassle.

Our refrigerator leaked out all the Freon within 3 years. The company claims that this is rare and should not happen on a sealed unit, however, they do not stand behind their product and in the meantime all the Freon has leaked into our home and also polluted the environment, and cost a $1000.00 to fix, model number FFHS2622MSF, side by side refrigerator by Frigidaire. Please think before purchasing a Frigidaire

1 yr 2 moths old refrigerator. Yes, you read correctly 1 yr 2 months old. Repair man said a majority of frigidaire refrigerators break a no one has done anything about them. So now I have an overpriced piece of junk sitting in my kitchen. If fixed there is no guarantee that the problem will be taken care of because the repair company has seen many of other issues with frigidaire appliances. Contact frigidaire - no response. Thank you frigidaire. You may have screwed me over but, hopefully this review will be read by one person and they not buy from you.

I have never had such a terrible appliance in my life. It has already 2 broken parts (not covered because they are "cosmetic"). The ice maker never worked. The Frigidaire repairman even said to me, "It's your fault for buying a Frigidaire!" It makes strange noises as well. Awful, awful, awful!

Our four year old Fridge (model ffhs2622ms3) caught fire on Saturday. Thankfully, we were home and I was able to put the fire out quickly. If were were not at home, I don't know what would have happened. We lost hundreds of dollars in groceries, but when I called Frigidaire, they said nothing would be done since it was no longer under warranty. When I started doing more research, I found numerous stories of Frigidaire products catching fire. NEVER buy from Frigidaire - it is a hazard to your family.

I purchased a new Frigidaire Gallery Refrigerator model LGUB2642 LF4 about 4 years ago as part of a new home. I purchased an extended warranty thru the store where it was purchased. As many others have reported the icemaker in the refrigerator compartment is a poor design and freezes up. Techs added additional gaskets which worked for a while but recently the ice maker stopped making ice and the ice was melting in the tray. I pulled the refrigerator out from the wall to try to reset it by unplugging it. Imagine my surprise when I noticed the water supply line was embedded in a block of ice on the back (outside) the box. The ice was about 3" in diameter and about 3/4" thick ON THE BACK of the refrigerator. In addition an area of rust near the ice and above the ice trailed down the exterior to the floor. A refrigerator should last longer than 4 years. Frigidaire is junk! The refrigerator was registered and the serial number is 4A13301247.

Bought a Frigidaire refrigerator in 2012. Sometime in 2013 my icemaker would not make ice and the light bulb in my refrigerator made holes in the refrigerator. Frigidaire did not want to fix the refrigerator but with much conversation they came out and fix the refrigerator. Now two years later having the same problems and Frigidaire has wiped their hands on the matter. They said they would pay for 50% of the parts, well as you know it is the labor that costs to repair a refrigerator. I spent many hours researching and I found out that it is a flaw in the design of the ice maker in the top of the refrigerator that Frigidaire doesn't want to own up to. They would rather stick the consumer with the cost of buying a new refrigerator. Please Please Please do not buy any Frigidaire products. They do not take care of the customer.

Brand new fridge bought in July makes loud popping growling sounds that wakes me up out of my sleep. Repair guy says sound is normal. I don't remember the old school refrigerators making sounds like this. So much for wanted to upgrade to stainless steel.

I'm writing a review because of a bad experience with our 5 year old Frigidaire Gallery refrigerator model #LGUB2642LF. We purchased it from Lowe's on July 2011, with an extended 5YR warranty. The ice maker quit working in early 2016, I decided to get it fixed under warranty before it ended. The service company, Boston Joe's came to examine on 5/24. They also found beside the ice maker issue the back of the refrigerator was rusting out. The parts were ordered and installed 2 weeks later. Thought problem was solved... Four weeks later the refrigerator stopped working. It was all frosted up. I put (2) calls into Boston Joe's... No response. I called another service company... They came to look at the refrigerator. Service tech told me he couldn't fix it and 'ran' away...
I defrosted the refrigerator and turned off the water to the icemaker. It was fine for another 6 weeks or so. It frosted up again and again. I emailed the warranty company and told me I was out of luck because I didn't contact them directly. I thought I was doing right by calling Boston Joe's, nice! This is the last time I ever buy or recommend a "Frigidaire product".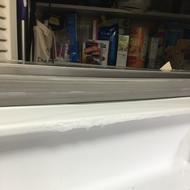 My freezer began frosting over almost immediately after purchase in February 2016. However in September 2016 the refrigerator portion became erratic with temperatures ranging from 22-54 f. I had service come out to look at both. Did their repair. Same issue. Repairs came again. Didn't fix it. Came another time. Freezer still frosting over. Cooler still not cooling off well. I have sent numerous emails and made numerous calls yet all that Frigidaire says is "the warranty is for parts and labor only," and they won't consider replacing it. I'm still under warranty but I wish I'd never purchased this product. It runs loudly and I simply don't feel I can trust it any more plus the company's service is TERRIBLE and they don't care about my satisfaction.

6 service calls in 4 years = FAIL. Model is a side by side with lower freezer, icemaker in door. Problems include ice maker not working, no water coming out, frozen bladder. Have had seal kit replaced twice. Now fridge is making a constant loud humming noise! We are ready to give up, and will never buy a Frigidaire product again.

I purchased my refrigerator with the expectation that it would last!!!! The refrigerator is 4 years old and needs a new compressor? Frigidaire has a one year warranty so it will cost me $600 to repair it and that doesn't make sense??? I will never buy another product from this company and would advise you to do the same. NOT WORTH THE MONEY!!! Even if I did spend the extra money to buy an "EXTENDED" warranty that would have cost an additional $350 - it doesn't make sense. I am very dissatisfied with this product.... Model number FFHS2611LW4...... Serial # 4A22912747. I would suggest you go back to the good old days and buy ice.... it will keep your refrigerator cooler than a Frigidaire will. PRODUCTS don't last!!! VERY SAD!!!

I live in an apartment that has a new Frigidaire refrigerator. I moved here in the beginning of this year 2016. The handle on the refrigerator fell off and I had to report it several times. Now the representative in the office is saying the handle is broken and I have to pay for it around $75.00. I plan to file a claim in small claims court after I pay for the handle. It has to be ordered. I feel I am being blamed for breaking the handle. I am angry and insulted that I am, as a tenant, being treated this way. I pay a lot of money for my rent. It is not a cheap apartment complex.

We took delivery of a side by side refrigerator in July of 2105. Since we got it the ice maker would only work intermittently. For one year the serviceman was here and replaced every component in the ice maker system. It still worked intermittently but usually only was off for a day. It now has stopped completely. The serviceman told me that since they moved it from the freezer to fresh food section there have been nothing but problems. Don't buy one unless you also want to buy bags of ice.

I needed a very small Allen wrench to tighten a screw that attached the handle on a Frigidaire refrigerator that's under 3 years old. Spoke to Customer Service and they wanted $7.71 for the wrench and $6.95 for the postage. Went to my local independent hardware store and bought the wrench for .40 cents. Will never purchase a Frigidaire product. They take advantage of their customers!

I bought this refrigerator at Menards in Poplar Bluff MO on 5/9/15 - a side by side. Had it almost a year, noticed it had a code and started getting warmer. Called and they attempted to repaired 4 times. It would last at least a month or two at a time. Called and tried to get replaced, and they said the warranty was out now and we are on our own to get repaired, also had food go bad while we were on vacation after repairman said they had it fixed. Didn't pay for that, some warranty.

ConsumerAffairs Research Team
The ConsumerAffairs Research Team believes everyone deserves to make smart decisions. We aim to provide readers with the most up-to-date information available about today's consumer products and services.
While Frigidaire sells a wide range of appliances, the company has long been known for specializing in refrigerators and freezers. Frigidaire headquarters are in the heart of Augusta, Georgia.
Variety: Frigidaire offers a huge variety of sizes, shapes and styles of refrigerators so it can meet the needs of many different types of customers.
Customizable doors: The doors in Frigidaire refrigerators are customizable so owners can change them to fit the needs of a family or establishment.
Online tools: The company offers customers online tools to help pick or design the right refrigerator, and it also offers assistance visualizing the look and style of a finished kitchen with a Frigidaire fridge in it.
Customer service: Frigidaire offers excellent customer service options, including online product support, manuals and multiple options for getting in contact with the company.
Availability of products: Customers can find Frigidaire refrigerators in a large number of stores, making them a convenient option no matter where customers live.
Best for Homeowners and businesses looking for a wide variety of products, or a certain design for their kitchen or office.
Frigidaire Refrigerators Company Profile
Company Name:

Frigidaire

Year Founded:

1918

Website:

http://www.frigidaire.com/