Consumer Complaints and Reviews

Within one week of purchasing our French Door Frigidaire refrigerator in July 2016, the ice maker was leaking. Since then, we have had a repair company out 10 times and the 11th will be tomorrow. After speaking with representatives from Electrolux for almost a year trying to get this resolved, I emailed the CEO and another bigwig whose territory is North America. I finally was offered a new unit with the stipulation that we pay over $200 for installation and delivery. This was a defect in their unit that was never fixed and we would be taking money out of our pocket to take our chances on another malfunctioning refrigerator.
After reading the other negative reviews and viewing a previous class action lawsuit, it is evident that the ice-maker defect was never fixed. We do not want to replace our defective unit with yet another comparable unit. We have been asking for a full refund, but the company refuses. I am appalled at the customer service we have received over this past year, and I urge anyone thinking of buying a Frigidaire appliance to spend your money on appliances from companies that actually take care of their consumers. What an eye-opening disappointment Electrolux and Frigidaire have been.

My husband and I thought we were buying a refrigerator that was the top of the line cause our last one we had was by Frigidaire and we had that one for over 12 years or more before it stop working, but the one we brought on September 10th 2016 has been giving us problems ever since we've purchased it. The smell coming from it is very very bad, we've had 7 technicians to come out to fix the problem but all has fail. Everyone that comes to our home smell it also. They say why don't they just replace it with a new one or take them to small claims court. They have a big hose coming out the back of my refrigerator and this not how we purchased it. I will never buy a Frigidaire product ever again.

Failed ice maker twice (Frigidaire FPHB2899LFB), failed condenser fan once, failed main control board twice! All after a year and a half. No help from Frigidaire because I did not purchase an extended warranty! Now sitting in the garage with no chance of selling even if I repaired! When I posted my comments on Facebook, Frigidaire was quick to respond with a contact number "so we can help!" What a joke! Made them look good but sorry, you should have gotten the extended warranty! I replaced with a Samsung!!! Sorry, I can't rate this a big Frigidaire ZERO. Don't buy!

Brand new Frigidaire Refrigerator broke after ONLY 4 years! It's my understanding that the average life of a refrigerator is 13 years. I bought a Frigidaire and it somehow got a puncture in the Freon line, which isn't even exposed. It turns out it's more cost efficient to purchase a NEW refrigerator than to fix this one! I am very disappointed in the life of this fridge and will not be purchasing another Frigidaire.

I bought this Gallery side by side refrigerator 11/16. I live by myself so the appliance gets gentle use. I had noticed a few weeks ago a large icicle was forming in the freezer in the area below the ice maker so decided to call Frigidaire as it is still under warranty. The person I spoke with told me multiple times it sounded like I was leaving the freezer door ajar. Please. I'm 67, I have left a door ajar, and this is not a result of that!
The appointment they gave me was today, July 6, anytime between 8 and 5 so around noon I decided to call Frigidaire to make sure someone was coming. Guess what? Their call to the repair company was rejected but they never bothered to check so no one is coming today! Now I'm supposed to wait until July 12. This is running water, folks! So I called Lowe's Consumer department who was a little more sympathetic but did nothing but confirm the July 12 appointment. Gee, thanks, Lowe's, won't buy from you or Frigidaire next time.
How do I know I can trust these reviews about Frigidaire?
826,885 reviews on ConsumerAffairs are verified.
We require contact information to ensure our reviewers are real.
We use intelligent software that helps us maintain the integrity of reviews.
Our moderators read all reviews to verify quality and helpfulness.
For more information about reviews on ConsumerAffairs.com please visit our FAQ.

March 2016, my husband and I purchased a Frigidaire refrigerator French door with the ice maker unit inside the refrigerator. Worst decision we ever made. The ice maker constantly dripped water into the small tray outside of the door. Had to have the ice maker replaced once already and had to have repair man come out again because there was so much ice buildup on everything that it quit working and now it has stopped again. I WILL NEVER BUY A FRIGIDAIRE APPLIANCE AGAIN.

We purchased a Frigidaire Gallery fridge about 2 years ago. From the very beginning the water dispenser never dispensed cold water... It was room temperature. Within 6 months the display no longer displayed all of the characters so it is hard to read the display. The grill at the bottom of the fridge broke off. The ice dispenser requires a lot of patience. The ice maker in the freezer itself doesn't shut off despite the arm lifting to alert the fridge to stop making ice. The fridge has started to make strange noises that weren't there before. For a fridge that cost us almost $2,000 I expected way more stability than this piece of crap has. I'll NEVER buy another Frigidaire product again...

I purchased at Home Depot Online Store, one (17 Cu. Ft. Manual Defrost Upright Freezer in White) in April 4th - for an old lady - she received May 2nd. Then found out it is not working. The technician came to check it out, the gas was missing from the unit. Received another one, and the second one is also not working. Everything I put it there went soft/ wrong! Called them I would like to return. They said there is no return just the technician will come out. I do not understand why I cannot return the unit if it is manufacturer default. Why should I keep it for over $800 if it is not working?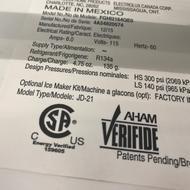 DON'T BUY FRIGIDAIRE - Have a 11 month old top of the line gallery refrigerator. Quit working, still under warranty by one month. Report to Frigidaire customer service, they schedule repair service - 5 days wait. Shows up doesn't have capability to fix it - catastrophic failure of sealed system and compressor. Call Frigidaire customer service back. They schedule another repair company - another 5 days wait. Shows up today, yep you have a catastrophic failure of the sealed system and compressor. He can fix it, but doesn't have parts - another 5-7 days he says. Frigidaire customer service unsympathetic and dysfunctional - they knew what was wrong but didn't tell the 2nd repair company. They knew the first company doesn't have capability to fix everything, but send them to anyway. No "we're sorry", no offer to help anything. Asked for customer service person's name and was disconnected.

I will never buy Frigidaire product again. Refrigerator was used in one person adult household. Low careful use on Frigidaire model FFHT1826WL0. Shelves break inspite of light careful use. Frigidaire must be making a bundle selling replacement door shelf parts.

Bought a brand new stainless fridge less than a year ago. Within the first TWO MONTHS it started making really loud noises and within a day of that, the fridge stopped working completely. Lost all our food. Called Frigidaire (who seemed to care ZERO) they sent a repairman who said this happened all the time with Frigidaire. After several visits and trials from this repairman, fridge started working again. Fast forward 3 months later and the exact same thing happened again. Lost all our food. Frigidaire sent same repairman. He came once and tried something which did not work. Came back with another part and fridge started cooling again.
And now here we are 4 months later and the same exact thing has happened again. Lost ANOTHER fridge full of groceries (we have 2 kids so fridge stays stacked) and have to coordinate meeting the repairman multiple times. I feel like we should invite this repairman to Thanksgiving this year as he is like family now. But Frigidaire on the other hand, you can suck it. Never ever evvvverrrr again will I buy anything from you, and neither will I let anyone that I know make the same mistake I did. Huge waste of time and money and they just don't care at all. This fridge is still under a year old and should be replaced but they will not do this. Horrible all around experience and product and service.

I just wanted to warn you should you be considering purchasing any Frigidaire or Electrolux products - that they have really gone downhill and would advise you NOT to purchase. Some facts below; Purchased: Frigidaire Counter Depth Stainless Steel for ~ $2400. Attached I have listed all the labor and parts replaced (items in red were replaced numerous times, Frank's Electric actually comp'd me on the ice maker a 3rd time as well as other parts). Total spent on repairs so far nearly $1700. Early this month, the ice maker and the water dispenser (interface board) failed again AND the back of my fridge is a block of ice due to poor insulation, a known defect. To make this refrigerator 100% operational, it would cost me another $200 minimum in labor + the ice maker $125, the interface board $$160 and valve $95 or another cash outlay of $603.75.
Tom at Frank's Electric has been good and shamefully comes back for the work. He says I have a lemon and that if he continues to replace these parts over and over again, they will continue to fail. I have not issue with Frank's Appliance. However, when dealing with Frigidaire/Electrolux – they were painfully polite and ABSOLUTELY NOT willing to do anything but give me 30% discount on more replacement parts! So bottom line, DO NOT purchase this brand or for that matter, Electrolux as they are part of the same company. To think I choose not to get the default fridge from my builder and instead went with this "upgrade". They resolution to the problem, continue to invest in replacement parts with a 30% discount on the parts. Illogical and pathetic.

Side by side refrigerator - Problem after my son fell after having surgery a few months because we woke up to the water running out of the ice maker for the 3rd time and he slipped because the water was all over the floor and now the refrigerator side has stopped working and the representative said that couldn't get a service request until Monday June 19, and I asked about my items that can spoil and the representative said to put it on the freezer side and I said, "Milk and fruits. That's ridiculous." I am sure that will say again that I didn't call in because they are always losing my appointments and sending inexperienced technicians. I have had numerous problems after purchasing the item within only one month and they wouldn't replace and they only want to keep patching it up and the item is not a year old yet. I am frustrated due their negligence and lack of concern.

Bought a Frigidaire Gallery fridge & it worked great for 2 months producing ice. Then it started producing little by little until it quit. Called & the repair company knew just what to do as Frigidaire is known for faulty icemakers. They had to order a new ice maker on the market they have been replacing in all the Frigidaires. Imagine that a company selling a faulty product & knowing it! Repair man came a second time to install the new unit & discovered this fridge already had the new one in place. Must be bad so he replaced it. A cube here, a cube there so we called a third time & he did a diagnostic test & everything checked out perfect.
He called in & whoever was on the other line gave some pretty stupid advice - tell them not to open up their fridge for 3 days! Ridiculous & impossible! The fridge is not opened all night & still doesn't produce ice. Buying this fridge was a mistake even though the fridge itself works great but then again no ice maker. Still in process of trying to get this resolved.

Just bought a refrigerator & dishwasher in Dec 2016. My ice maker is so noisy it wakes me up at night. Ice maker has to be turned off manually. When you open the bin to get some ice, it's so full it spills out all over the floor. Repair man came said there's nothing he can do. Called me two weeks later & said he had a new part that would take care of the problem. When he got here the part wouldn't go on. He called Frigidaire & they told him it only worked on a back mount ice maker not a side mount. Company said there's nothing they can do. Told me to bag the ice or throw it in the sink.
Cups come from the dishwasher with runs dried down the sides. He told me the water wasn't hot enough. He set the temp up on my water heater. No change. My glass mugs were clear before I used this dishwasher. Now he's telling me my cups are old or I have hard water. The runs won't come off. I think they're baked on the cups. These appliances are junk. Wouldn't ever consider buying another Frigidaire product. I bought them because my original appliances were Frigidaire & lasted 20 yrs. Now made in Mexico. They're crap!

We purchased the bottom freezer, french doors refrigerator model # FGHB2869LF4 and within 3 years the ice maker went. I read online a class action lawsuit with a faulty ice maker. I bought a sensor to fix it and still didnt work. GARBAGE! Then year 6 comes and it stopped cooling. The repair technician worked with Frigidaire support and both control boards went bad and the evaporator fan - totally $700+ in repairs. It's 6 years old! Every other fridge I had lasted more than 10 years. The repair tech told me NEVER buy a Frigidaire as they are garbage and he is always repairing them. Lastly, we noticed it was rusting in the back near the ice maker. The tech said the rust was a result of sweating because of the poor insulation near the ice maker on the fridge. I will NEVER buy Frigidaire ever again. I am replacing this piece of garbage with a Whirlpool recommended by the technician.

My husband and I bought a stainless steel Frigidaire refrigerator; french doors with the bottom freezer. We bought the extended warranty and a month after the warranty was up we started having issues regarding our refrigerator. The temperature of the refrigerator would go up and come back down and go back up and come back down like a yo-yo. When we called the manufacturer and asked if they could help us or redirect us to someone that may be able to repair this, they were not helpful and my husband and I were left to our own devices.
We phoned and had three repair guys come out to help us with this issue. We defrosted our refrigerator twice and had the computer chip replaced to help monitor the temperature of the refrigerator. We were told that this make and model was notorious for this problem. If my husband and I were told this from the start, we may not have bought this refrigerator. Now after "5" years, we are forced to look and purchase a new refrigerator and this should not be! This is very disappointing and should not be.

I bought my Frigidaire 2 years ago. It has been out of service 6 months total since I have had it. The service department keeps telling me they would send out repairman. Until A and E said it was nonrepairable. So now they are supposed to replace it or pay for it. And the warranty company keeps telling me that it is under review. Going on 2 months of not working. And no one will do anything about it. NEVER WILL I BUY THEIR PRODUCTS AGAIN.

Refrigerator was delivered 18 months ago without box. At first was working with very loud noise every time making ice. Bought all matching 3 pcs at Home Depot who takes no responsibility. Called Frigidaire as soon as it was installed and now I've had 3 technician visits and they want to send someone else AGAIN!!! Every time I need to take the day off and wait for service people to arrive during the hours window. Last weekend woke up to a very loud bang. Came down running thinking something exploded. Couldn't find any intel. I opened the of the freezer door. I saw a huge crack from top to bottom on the inside walls. Frigidaire isn't backing up their products. They defiantly need to stop the sale of this product and have better service. This is just horrible. We should all file complaint to the manufacturer. Something should be done.

DO NOT BUY FRIGIDAIRE APPLIANCES!!! 18 mos, $6500 for all 4 kitchen appliances. To date, DW was replaced after 30 days for not working at all!! Ice making issue in fridge took 6 mos to iron out and then reared its ugly head again 6 weeks ago forcing me to purchase a 1 year warranty to correct yet again!! Now the Microwave needs $387 worth of parts/labor to correct a loud, noisy fan. Wouldn't be a concern if I'd paid $861 for a 3 yr extended warranty!! WTH is going on here??? If I can save anyone from going through this BS, it's worth my rant...

We bought a Frigidaire Galaxy because old one died. Purchased July 2016 and upon delivery NEVER COOLED BELOW 44-48*. They have sent MULTIPLE repair guys changing parts more than once and still the same. We have to throw food out weekly and spent crazy amount on replacement. Now can only buy minimal and still throw out and find out today FRIGIDAIRE will NOT replace it until they spend 4800-5000 in repairs??? WTH... This is POOR CUSTOMER SERVICE and they do NOT care. I will have to take the next steps because they won't help. I do not have money to buy another new refrigerator and can't understand why they operate like this. FRIGIDAIRE PLEASE help ME and RESTORE your CREDIBILITY.

This is my second stainless steel side by side Frigidaire refrigerator, FGHS 2655PF. I have had repair men out four times because the shelves keep coming loose from the liner wall. The basket fell on top of the plastic pull out bucket at the bottom and cracked it. The last repairman said Every shelf is detaching from the wall liners because there isn't anything substantial for the shelf to attach to. He told me they aren't designed to hold much food. The shelves aren't strong enough. Fortunately this ice maker works great, but there is a cracked plastic shelf, a cracked vegetable drawer, and the bottom shelf on the door has a broken hook that attaches to the door. They also tried to sell me filters for $40 every 6 months. They also have a empty Cartridge "By Pass Filter" for $43.65. They told me those cracked & broken plastic items are all cosmetic and not covered by warranty. I think you're supposed to only hold TV dinners in the freezer, not real food.
Fortunately I have a warranty and today's repairman wrote "Broken, Can't Fix". My last one had a factory problem and after much grief & aggravation they replaced it. They were awful to deal with & wanted to give me the cheapest replacement w/o drawers. I fought & paid more to upgrade to get a comparable fridge. We need to ban together & get a class action suit!!! They are nasty to deal with and they know they are making junk. One repair man told me their appliances are made to last only 5 YEARS. My microwave door handle fell off. The screw hole where the handle attaches split and the handle fell off. I live alone and rarely use the microwave and take very good care of things. It's $80 for a new handle and $80 for a repairman. They told me to junk it and buy a new one for $225. That is their scam, to wear you down until you give up and buy a new one instead. Don't ever buy a Frigidaire! They make JUNK!!!

We bought a 26-inch Frigidaire refrigerator from Lowe's in November 2016. We did buy the extended warranty which was good. The repairman for Frigidaire has changed our ice maker 3 times due to a loud popping sound that happens a few minutes before ice drops. Tech said if he had to change again he would call Frigidaire, but from what I read they do not admit there is a problem. At night we now turn the ice maker off. We are so disappointed in this refrigerator.

I purchased a complete Frigidaire kitchen appliance suite from Lowe's in March. I have had a problem with the refrigerator making strange noises every time it goes into the cooling mode. It only lasts about a minute but is quite annoying. Needless to say after contacting Lowe's and getting a service appointment scheduled, they called to say they needed to order a part. Now how would you know what part to order if you hadn't even been in my home to diagnose the problem? BINGO! They knew by my description what it was. How Lowe's can sell appliances that have a known problem is beyond me! I have wasted 2 days on this new appliance and swear I will never deal with Lowe's or Frigidaire again!

I have had the ice maker in my one and a half year old $3,000+ refrigerator repaired three times. Still not working. Disgusted with Frigidaire. Also, bought a matching dishwasher at the same time. That only needed one repair --- so far. BUY THE EXTENDED WARRANTY or better yet, buy a different brand.

We bought our refrigerator in 2013, we paid over $1,000.00 for the side by side, from Lowell's Hardware! We have a warranty on it until 2020!! Well I don't think this thing will last that long!! Our 1st year the ice maker went out on us, had to be replaced, the 2nd. year one of the shelves fell off 3x's! Now this year 2017, another shelf fell off right above the other one that is still missing because we got tired of replacing those Plastic shelves... They're not worth a damn! This Fridge isn't worth the money we paid for it, and wish I could REPLACE the whole thing!! I feel like I've been taken advantage of and wasted our hard earned money!! It's been nothing but a headache since we bought it!! What has happened to your Product? I'll never buy another Frigidaire, NEVER! It's a piece of Junk! Model # ffhs2311pf2 & Serial # 4A33510351& Store # 2311 Terminal 8.

We purchased the gallery kitchen appliances in August 2016. On Christmas day, I was cleaning a glass shelf it shattered all over my kitchen. I was told by the company that a shelf was cosmetic and I would have to pay to replace it. Little did I know this was the least of my worries. A few weeks later another shelf shattered. I realized that everything in my chill drawer and the vegetable drawers were freezing.
They sent a repairman, he ordered a part. The part came, they sent another repairman. He said it was the wrong part, he ordered a part it didn't work. They ordered another part, I was told it was on backorder until July (this was in Jan). I called the company they said the part was available, they sent another repairman from a different company, the part didn't work. They sent another repairman, he said the problem was fixed. Now everything is freezing on the shelves. I am losing hundreds of dollars in food. I contacted the company, they are going to send a repairman from another company. Frigidaire customer service is wonderful with apologies but my refrigerator is still not working. Don't quite know where to go from here. Am awaiting the repairman from company #3.

I bought a really nice French door Frigidaire Professional Series Fridge in stainless steel. The ice maker started acting funny so I called customer service. Inside the fridge there is a sticker: "For product questions, parts or service call..." I explained that the ice maker was putting out massive chunks of ice, shaped like the bin, meaning water was filling the ice bin and then freezing. The customer service rep's response was for me to "use ice more frequently" and to "take the bin out and shake it twice a week." I told him this was a new thing and that something was wrong and I needed it repaired. At the end of the call he actually said: "I'm so glad I was able to answer your question today" and then proceeded to try and sell me water filters. I told him that actually no, he did NOT help at all, but that did not faze him.
Well, the ice maker is made of flimsy plastic and after a couple of years of dumping the ice, it has a huge crack in it (which is why the ice bin filled up with water before freezing), the flipping mechanism is broken and the sensor that tells the bin when to dump has also broken loose. So... The wires came loose from the sensor, touched water and they shorted out the main control panel of the fridge.
The repair job is almost $500.00. And we won't know until the new circuit panel is installed if any other panels got fried. Thank you Frigidaire Customer Service for NOT helping me. And a special thanks to Frigidaire for making an inferior "top of the line" product with cheap plastic parts that wear out. I will never buy Frigidaire again. Inferior ice maker design and a very unhappy customer.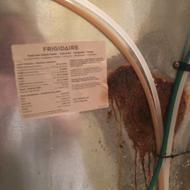 Rusting from inside out - (back of unit all rusted) 20 repair calls to fix ice maker - Horrible Customer Service - unit is 4 years old. Of course the factory warranty covered the ice maker repairs but what good is a warranty when they have to make (and nobody believes this but it's true) 20 (TWENTY) service calls to fix the ice maker. Now I pull it away from the wall to clean floor and find the backside is rusting. This time it's going to the curb - NEVER NEVER NEVER BUY FRIGIDAIRE - JUNK JUNK JUNK.

Our Frigidaire side by side caught on fire 2 nights ago, in the middle of the night. It was burning from the inside out, on the refrigerator side near the top (see pictures). Luckily my fiance had gotten up to get a drink of water. I heard him yelling and woke in a foggy haze of a wretched smell of burning rubber and heavy smoke. Jason was able to put the fire out, and thank God neither our Children, dogs, or anything else was harmed. I called Customer Service, waited on hold for an hour. After I explained the situation the rep said "Let me get you the name of a service technician in your area". I asked her "Then what? After the technician comes then what?" She explained that the technician needed to confirm the origin and cause of the fire. I then asked, "Do I have to pay for this tech visit?" To which she said, "Yes, since it's out of warranty you have to pay".
This made no sense to me. Given the techs really work for Frigidaire, why would I pay them to come out and then possibly provide a false report in order to "cover" Frigidaire. She asked if there was any other damage, I told her no, she put me on hold. When she came back she basically told me since there was no other damage, it was out of warranty there was nothing they would do. I expressed my frustration that just because we were fortunate enough and Jason woke up, and nothing else was damaged that we should still receive help. I asked to speak to a manager, and she did get a manager. The manager told me the same thing. Out of Warranty, out of luck. I am totally disgusted. We have no refrigerator, lost a whole fridge and freezer full of food, a house which smells like burnt rubber. HORRIBLE.
Frigidaire Refrigerators Company Profile
Company Name:

Frigidaire

Year Founded:

1918

Website:

http://www.frigidaire.com/