Consumer Complaints and Reviews

We bought this fridge 1 year ago. We have already been without a fridge from Oct 2016 to Jan 30, 2017 due to a drawer going bad which caused the whole thing to quit. Now it has an obstruction in the Freon lines that causes it to freeze up and not cool. It was deemed not repairable by service company sent by Whirlpool/KitchenAid, and yet they want "one more" test run. The last person I spoke with at customer service had a flippant attitude and said there are no notes. What they do is drag you along for so long, make you wait and abuse you with "tests", and hope you finally give up and go away. I will never buy another thing with Whirlpool/KitchenAid stamped on it!

Worst refrigerator (French Door Refrigerator WRF989SDAB00) ever! Even though this Technical Service Pointer was issued, it takes forever to get any satisfaction from Whirlpool. They were not pleasant to deal with when calling the Whirlpool Corporation. I had to research the problem while on the phone with their service representatives. The technician arrives and confirms that the evaporator in the fresh food section is indeed the problem but then it takes days for the parts to come in and then another appointment will be scheduled. Whirlpool does not provide good customer service. A refrigerator should last more than three years. Very disappointed and would never recommend Whirlpool to anyone.

I purchase Whirlpool refrigerator. After a year it has done nothing but give me problems. Thank God I purchase insurance for repairs. I had the refrigerator fix over 3 times. First the water and ice wasn't working so the filter had to be change. Then the ice was made and my refrigerator start leaking. The repair guy stated the fan and something else is not working. I am a single mother struggling and to spend over a 1000 dollars for a refrigerator that does nothing but give me trouble. I am totally unhappy with this product.

The most worst experience. I purchased a Whirlpool refrigerator on 27/06/2017 and they delivered me a defective one where the compressor is not working. The installation person and the dealer raised complaints but still on date I didn't receive the new refrigerator. Dealer person says that Whirlpool is the worst brand and they are not responsible in this matter. It may take 1 or 2 months. Now my feeling is that choosing a brand Whirlpool I done a suicide. No happiness in my family. Whirlpool customer care person has disconnected my call without helping me. At least now I hope someone will help me.

We purchased our refrigerator new in 2014. After only 4 years and taking meticulous care of our Whirlpool Top Mount Refrigerator, the temperature regulator stopped working - and the condenser fan rang constantly. The refrigerator couldn't get below 50, and the freezer vacillated between 17 and 30 degrees. We live in a somewhat remote area and could not find an appliance repair person to look at it. So we had to purchase a new appliance. Needless to say we did not choose Whirlpool!
How do I know I can trust these reviews about Whirlpool?
828,308 reviews on ConsumerAffairs are verified.
We require contact information to ensure our reviewers are real.
We use intelligent software that helps us maintain the integrity of reviews.
Our moderators read all reviews to verify quality and helpfulness.
For more information about reviews on ConsumerAffairs.com please visit our FAQ.

This refrigerator (French Door Refrigerator Model: WRF757SDEM) has been problematic since day one. The ice dispenser sends crushed ice all over the kitchen floor. The temperature in the upper 3/4 of the storage area and on the door is 57 degrees (it should be between 36 and 40 degrees). The item was purchased at Best Buy on October, 2016. It is still under warranty. I have had several visits by repair people and so far no fix. My friends call it a crockerator, since you can freeze food in the freezer and slowly cook food in the refrigerator section. I tried twice to get Whirlpool to pick up this thing, but so far no go. DO NOT EVER BUY A WHIRLPOOL REFRIGERATOR! They used to make good products, but no longer do.

I purchased Whirlpool refrigerator WRF992FIFM00. On December 2016. It was cost $3400 but it stopped working after 6 months. I called Whirlpool for service. Technician came. Diagnosed it and he said he needs two parts but parts are not available. So he asked me call Whirlpool for help. I did call Whirlpool three times and the problem can't be solve. Whirlpool told me have to wait at least 10 days so they locate the parts so they can send out to Whirlpool contractor for repair. They don't have another solution rather than I have to wait until parts have available. I have to thrown all my food and I live without refrigerator. So what the point I need purchase extension warranty if they don't have parts to repair. I would not recommend anyone to purchase appliance from Whirlpool.

I absolutely hate my Whirlpool refrigerator! The first day I had it, the cover to the deli drawer fell off and cracked because it wouldn't stay on. I called the company and they sent me a new one but it immediately fell off and broke also. It is just a terrible design. The plastic slots don't fit correctly and it just doesn't stay on.
Then, a few months after owning the fridge, I notice rust spots on the bottom drawer. I called the company and a rep told me to buy dishwasher cleaner and a magic eraser and use that to scrub the rust off. She insisted that it must be near humidity. I explained that my GE stove and dishwasher, along with other stainless steel in my kitchen have never rusted. The Whirlpool company provided no help whatsoever and does not back up their warranty. I would never purchase another Whirlpool appliance after this experience. Now I am stuck with a fridge that has rust stains and a broken door.

We are now on our 2nd ice maker, 2 drawer refrigerator, which was not under manufacturer warranty and it appears we are going for a 3rd!!! Obviously the parts are defective and cheaply made!!! We will no longer buy Maytag/Whirlpool products!!!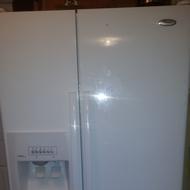 We purchased our refrigerator about five years ago and we have dealt with it freezing up constantly. The coals and vent are at the bottom of the refrigerator. I believe that is a lot of the problem. We have continuously blowed off the coals to keep it from freezing up but sometimes it's still freezes up. I do not recommend the two-sided door Whirlpool refrigerator.

I purchase a WP Fridge only unit model WRF578 18D MOO in July 2016. I woke up 3 months later and my fridge was filled with rotten food, the internal temp was 16 C 60.8 F. I phoned Sears and they had me phone WP. They tried to repairman but he phoned and told me that he could not service my fridge as he was a 3 1/2 hr and one Ferry ride away from me - He was in Whistler and I live on the Sunshine Coast. I phoned WP again and they sent someone who actually lives here. He found and repaired a small freon leak.
Four months later it happened again, the fridge was also making loud noises when the compressor started and stopped. I phoned WP again. They sent the same repairman, he ordered and installed a new compressor and topped up the freon. Sadly less than 3 months later it happened again. This time I was very firm with WP that I was unhappy, they extended my warranty for a further 6 months. The same repairman again came and topped up the freon. That brings us to this week.
On Wednesday June 14 I woke up again for the fourth time to a fridge full of rotting food. The fridge was actually warmer than my Greenhouse that day! I phoned WP. They were unwilling to help so I asked for a supervisor. She offered to pay 1/2 of the service call as my warranty had expired Jan 26/17. I said that was unacceptable and asked to speak to her Supervisor. She stated that she was as high as I could speak to, so I asked for an e-mail address for her supervisor. She instead tried to tell that I had no warranty and that they had already "fixed" my fridge 3 times and given me an extra 6 months on my warranty and offered for me to BUY an extended warranty! I replied that if my fridge were fixed I would not need a service call and that in fact my fridge had never really been fixed. She transferred me to another person.
He offered to pay for the service call. I accepted. He asked if I were happy, I said that I would wait and see after the service call on Monday. I Asked if it were the same Man, he said that violated his Privacy. I said I will see him Monday! Will he be wearing a disguise?! Kohuch (the Service guy is coming over this afternoon -Friday) my Husband left work early to be here.

Bought a Whirlpool refrigerator from Lowe's 5 months ago. Already had a repairman out two times. The refrigerator is defrosting out on the floor. We are constantly having to change towels to catch the water. The last repairman said it could be fixed and started the procedure to get an exchange since it was still under warranty, but now Whirlpool is saying they still want to fix it even after we were told we were getting an exchange. These people are crooks and put out low quality merchandise, then don't back it up. I have seen complaint after complaint on the reviews. Whirlpool needs to be put out of business.

I purchased a Whirlpool refrigerator with an ice maker exactly 2 years ago. It stopped making ice. I called a Whirlpool repairman and he said there was a leak in the freon tube. I should get a new one. I did, am trying a basic GE with icemaker.

We bought this unit (Whirlpool fridge #WRF555SDF201) in November 2016. Was so excited! The fridge looks great, love the French doors, and the freezer. It's the ice maker! It spews crushed ice all over every time it is used. It's like the setting is stuck in-between crushed and cubed. Every time it is used ice goes on floor and I have to clean it up. If a small child uses it they get ice in their face and down their shirts. I have been told from Whirlpool and Lowe's that it is in the design and they will not even try to fix it. They will definitely not replace it.
Lowe's claims they know about the way Whirlpool designs their ice makers and that they mention it to prospective buyers, but I know they did not tell me of this "design" flaw in the product before we bought it. I now simply have to deal with it. It is less than a year old and I burn with disappointment every time I use the ice maker. I am even more disappointed in the lack of concern for me, the customer. We bought 6 Whirlpool appliances at the same time from Lowe's about 6 months ago. It will take awhile but they will NOT be replace with Whirlpool or purchased at Lowe's.

I bought three appliances from Home Depot. They were all Whirlpool, a washer, a dryer and the refrigerator and they are all junk. The handle fell off the the dryer and they sent me the wrong part, wanted me to pay for another part. The refrigerator freezer ice maker does not work properly and quite frankly they just don't give a **. Stay away from Whirlpool. Buyers beware. In my opinion, their products are junk.

This is our second Whirlpool refrigerator that has the same defrost water drainage problem. I was told this newer model had updated technology, not so, actually it is worse. My older refrigerator went about 8 years before I started noticing water on the floor and this newer model is 4 years old and it started having water overflow at 3 1/2 years. Then in April we replaced the water filter and the ice-maker stopped working.
My freezer also stinks like stale water (my reason for replacing the old refrigerator plus the water on the floor). I followed a YouTube video for defrosting the drainpipe, it was very tedious, labor intensive, and time consuming and worked for 3 weeks. This is very upsetting. After spending $2500 to have such problems and my expensive $150 4-year extended warranty expired just weeks before the ice-maker went out. This is obviously a design problem that Whirlpool refuses to address since my other model was a year 2000 model and my 2013 has the exact same problem. VERY POOR customer care in addressing these design failures of both the defrost drainage (just make a larger drain port!!!) and the ice-maker.

My refrigerator & dishwasher were purchased less than a year ago. I've already had all the doors replaced on the fridge and the new ones are rusting. Discovered same issue with the dishwasher. The company doesn't seem to be overly concerned with remedying the issue. No sense of urgency or concern for the customer.

I purchased a Whirlpool Ref. It was a beautiful appliance but a piece of junk. I have had the service men that Whirlpool sends out which is Flamingo Appliance repair. They have came out six times and it still is not working. Yesterday was the kicker. They have been sending the same repairman. Yesterday they sent a new person. He came in, pushed a few buttons, got on the floor and looked underneath. He also put a thermometer in the freezer which we have been doing since the problem started. I have lost food and ice cream is not frozen, so soft like a milkshake. The repairman said that the freezer is not freezing items with sugar content in them, but yet I had meat that I pointed out to him. I would not recommend this repair company, nor a Whirlpool appliance. Just junk.

In 2013 we thought that we bought a 30 cubic foot refrigerator model no. WRF989SDAM from Appliance Direct, Melbourne, FL. Months later we realized that it was only a 27 cubic foot unit. Two months after the warranty expired the unit started failing. Called the dealer and was told that they would have the service department to call us. Never heard from the dealer again. Finally I called an independent service company. After testing the unit the technician told us that the evaporator may be leaking. They offered to replace it for a price of nearly $500 with only a 90 day warranty. Realizing that it would work at least 90 days after the repair regardless if that was the problem or not.
I decided that we did not want to spent that much money. Having refrigerator experience in previous years, I decide to add a piercing valve and adding refrigerant. Every few months I have to add refrigerant to keep the unit going. This unit has run nearly all time since the delivery. Corresponding with Whirlpool is somewhat like throwing a bottle in the ocean. I also noticed that Whirlpool has dropped the price of this unit quite a lot, must be to loss of customers. And yes I am 83 years old and handicapped and never had a problem like this to affect me so much.

Bought appliance (Whirlpool French Door Refrigerator Freezer) in 2014. The seal that closes all the brackets with screws and you had to hand guide it to close. Then the freezer got out of alignment and wouldn't close and seal. Ice built up behind drawer which prohibited the opening of freezer drawer. Wouldn't open more than 5 inches on one side and 3 inches on the other. Had service tech out. Cost almost $200. Did not get French doors repaired because the part cost over $125. Less than a year later I have to have a repairman back out for same problem with the freezer door and ice build up. Not happy.

I am writing due to the defects and flaws in my recently purchased appliances. I chose Whirlpool believing I was buying the highest quality for longevity purposes. Every appliance I own is Whirlpool or Maytag - same company. I purchased warranties and was told the warranties don't cover my issues and was basically brushed off. I am infuriated. Here is a list of complaints. Refrigerator is cracking on the inside on the inner door and at the bottom. These cracks surfaced within the first year of purchase. The warranty does not cover cracks in the inner body.
The oven/range has an exhaust that bellows out of the top of the range in a way that the smoke curls up onto the panel and discolors it. I have never had an oven constructed with an exhaust pipe in the front that pours smoke onto the range itself and into your house. The dishwasher paint has rusted off on the door as have the screws on the inside of the door. The cover panel on the cleaning dispenser of the washer has popped off and cannot be popped back on, hence the guts of the dispenser are always visible and when I go to load the cleansers the front has to pulled out from inside the dispense.
The refrigerator is also leaking from the bottom and the ice-maker no longer produces ice. This started off and on for the past 2 years. At first I thought the leak was from a near by window. No it is the refrigerator. All of these appliances were purchased in 2013, 14 and 15. New. I am 56. I have never had issues like this ever in my life growing up or as an adult. Appliances lasted forever. I am one person. How much damage could I do? None.
These are flaws in chemical compounding of the paints and materials for cracks and rust. Whirlpool was called various times and was not interested in sending a rep to verify my claims. They said all of my warranties did not cover such issues only motors. Lots of many spent in vain. I will not purchase Whirlpool again as they seem disinterested in customer satisfaction.

Whirlpool Refrigerator 36 inch #WRF993FIF. We have owned refrigerator for 3 months and both ice makers went out. Worst customer service ever with Whirlpool and their appliance specialists. Ordered new ice maker, but still broken. Whirlpool is saying it needs a new door!!! I have asked for a new refrigerator, but can't get anyone to respond. I have called 6 times being on hold one time for over 30 minutes trying to get a scheduled appointment for a new door! This is by far the worst service that I have ever received from a company.

We purchased a new Whirlpool side by side refrigerator several months ago, at a cost of over $1,000. The unit included an ice maker. We immediately noticed that cubes would get hung up in the release mechanism, and were exposed to the ambient temperature in the kitchen. Once they melted a little bit, they would slide through the opening and fall on our wood floor, melt all the way, and leave a puddle of water to damage our floor. This was frequently 2 entire cubes.
We, of course, called the dealer, who sent someone out, but he said he couldn't fix it - apparent design flaw. Although it looks like the same basic concept on other manufacturers' products, theirs works, Whirlpool's doesn't. The dealer called Whirlpool several times, but was not able to get them to stand behind their product. So we're stuck with a very substandard product. This will be our one and only purchase of anything with the Whirlpool name on it. I would strongly suggest avoidance of their products.

Brand new box so I bought some meat and placed it in the freezer. Kept it cold or partly frozen but never froze solid. Every time it went into defrost so did the meat. Found meat juice running out of freezer. Called serviceman out 5 times. He told me every time it was fixed. Finally, after 3 months it was fixed. I had to throw out all my meat but of course Whirlpool would never cover any replacements. I will never buy a Whirlpool refrigerator again. If they don't have a Q.C. Dept better than that and sell seconds as first I couldn't trust the company the next time. So sad!

Our long and tortuous experience began in 2013 and continues to this day. But I'll just give the headlines. In August 2013 we bought Whirlpool BTM French Door KFIS20XVMS11 from Lowe's. Three years later we learned that model number appeared on the attached recall notice which had been issued just days before our unit was delivered in September. Neither Lowe's nor Whirlpool notified us of this recall which described a simple repair to a part that was leaking so slowly that its effects took three years to show up in a destroyed floor and cabinet enclosure that will cost $2981 (and still rising) to repair.
We called AIG, the company behind the extended warranty provider, and they responded promptly by dispatching a Whirlpool factory authorized service technician who attempted unsuccessfully to drag the unit from its alcove over the warped, erupted floor beneath. With the refrigerator half-way out of its enclosure, the technician stopped and asked us to sign a waiver of liability. When we refused, he announced that the problem was water damage and he jammed the unit back into place, leaving dents in both doors and the freezer drawer below.
We went to Lowe's, who strung us along for several months before sending an engineer whose report concluded that the problem was a manufacturer's defect (The Lowe's engineer and his associate damaged the unit further when they forced it back into place over a floor made more uneven when they removed the pieces of rotted oak shown in the accompanying photo.). Based upon the engineer's report, which Lowe's said it had no "duty" to share, we were given a 1-800 number for Whirlpool customer service, with assurance that we would be taken care of. Although we had to start from cold without the engineer's report, Whirlpool customer service was initially very accommodating and gave us hope. For a moment, I thought we were going to get resolution. They assigned a case number and we supplied the requested documentation. That was on a Friday in March, 2017.
Monday we were surprised to receive a sternly worded notice from the Whirlpool Law Department that a clerk there would be taking over our case. We realized that we were far from resolution. Why did the Law Department intervene? We don't know. We guess it may be because they want to avoid a class action lawsuit on behalf of possibly thousands of leaky refrigerator owners (Whirlpool, KitchenAid, Maytag, Jenn-Air and Amana units were all among the affected). In any case, since January we have been monkey-in-the middle among Whirlpool's various departments, Lowe's various departments and AIG, with no progress. What do we want? We just want things back the way they were before our leaky refrigerator did its damage and before Lowe's and Whirlpool demolished our good as new looking KitchenAid refrigerator in the process of telling us they won't fix it.
Footnote: We purchased all new KitchenAid Architect series appliances in August/September 2013, including top of line cooktop, dishwasher, convection microwave, convection oven and a French door cabinet depth refrigerator. Every unit except the cooktop has required warranty service, including five expensive electronic parts replacements. Fortunately we bought extended warranty service from KitchenAid/AIG, who have been terrific to deal with on the parts replacements. I don't recommend Whirlpool appliances but if you are intent on buying them, I do highly recommend extended warranties. As for the value of Whirlpool's manufacturer's warranty, watch this space. I'll be back with the final resolution.

Bought my 5 door refrigerator from Lowe's in December 2016. Was delivered in January. Had a dent in the door so another new one was ordered that arrived in late January. From day one the dual ice makers have not made enough ice for our family. I called Lowe's to have it checked out thru warranty. The repairman came out and said "It's making ice. I can't fix something that is not broke." He suggest I buy a under the counter ice maker. What the heck! I pay over $3000.00 For dual ice makers and still don't have enough ice to supply my family.
Can't believe Whirlpool puts out a dual ice maker in a refrigerator and it can't even supply a family of 5. The repairman said a normal family size is 3. I don't know where he came from but to me that's not normal. He was from Tutor Appliance Repair and was very rude until he realized he pissed me off then he blamed it on Whirlpool. The refrigerator is beautiful but I'd rather have my old one. It made more ice than this new one does. Will I buy whirlpool again? No I wouldn't. If they can't stand behind their product and what it's suppose to do then I don't need it. Bad thing I have to deal with this one for a while until I can purchase a new and better one. If you have this refrigerator don't plan on having guest or family dinners it will not hold up for ice tea. Not to mention after dinner drinks. Model # WRV986FDEM01. SeriAL # K63817128.

Purchasing this refrigerator Model Number WRS571CIDMOO in September 2015 and now only being May 2017 the ice maker has stopped working. When I contacted Whirlpool USA they offered a warranty plan for $454.00 for one year when I purchased the refrigerator for $989.00. I told the representative, "Why would I pay that much money for one year of service when I purchased the appliance for half of what the service fee?" I now will no longer purchase anything from Whirlpool when other brands last much longer!

Whirlpool makes a beautiful product that does not last. I bought model WRX988SIBM in April 2015. Two years later the compressor is bad and no warranty coverage. Do not buy this model. It does not carry the Whirlpool 2-5 year sealed refrigeration warranty. It's amazing that an appliance that retails over $3K only comes with a 1 year sealed refrigeration warranty when Whirlpool offers it on other models. Be sure you know what your warranty coverage is before you buy any Whirlpool product.

Purchased this Upright freezer model 160NZTQ02 approximately 2 years ago. Freezer had problems maintaining temperature from the beginning. Noticed it freezing up at air vents in back of interior. Unplugged, removed contents, and let defrost by ambient temperature (approximately 4 hours). After using this method for first three defrost periods (approximately two weeks apart) I began defrosted with hair dryer, then moved on to heat gun. Bottom line is this junk won't hold temperature and freezes up every few days to a week. No more Whirpool for me.

Whirlpool Gold model WRS526SIAHOO - We purchased this refrigerator 10/2013 with all the matching appliances when we remodeled the kitchen. We moved our 1997 GE refrigerator into the garage. Now the computer board has gone out in the Whirlpool and we are back to using the '97 GE. The technician told me that he sees a lot of these boards going bad.

ConsumerAffairs Research Team
The ConsumerAffairs Research Team believes everyone deserves to make smart decisions. We aim to provide readers with the most up-to-date information available about today's consumer products and services.
Whirlpool is an American multinational manufacturer and marketer of home appliances that makes a number of different styles of refrigerators. The company manufactures refrigerators under a number of different brand names.
Variety: Whirlpool offers a wide range of refrigerators of many different sizes and styles, such as French door, side-by-Side, top freezer and bottom freezer.
Matching appliances: Whirlpool also makes a number of other kitchen appliances, such as stoves, microwaves, dishwashers and compactors so that homeowners can outfit their kitchens in matching appliances.
Extended service plans: Whirlpool offers extended service plans that include 24/7 Toll-free call support, help from expert technicians and repair/replacement as needed.
Eco-friendly and Energy Star-rated: Whirlpool devotes itself to reducing its global footprint and features products with low energy usage that are more eco-friendly than other refrigerators.
Accessories: Whirlpool provides many refrigerator accessories, such as ice trays, shelving units, drawers, beverage containers and more.
Best for Homeowners looking for a reliable, high-quality refrigerator from a reputable company.
Whirlpool Refrigerators Company Profile
Company Name:

Whirlpool

Year Founded:

1911

Address:

2000 N. M-63

City:

Benton Harbor

State/Province:

MI

Postal Code:

49022

Country:

United States

Website:

http://www.whirlpool.com/