Consumer Complaints and Reviews

Hello. We bought this refrigerator from Costco, so we can have extended one year warranty for the appliance. When we need this then we are not getting help. Our Fridge is not working from last couple of weeks. Technician came a day late to see the fridge, then order the part on the 01/03/2017, I didn't hear back from service provider till 01/11/2017. Finally I got a callback after spend an hour on the phone saying that it will take one more week. I had to call Whirlpool to expedite service and because of weekend I have to wait another 4 days to get the part.
There are 7 people living in my house including 2 yr old. We are having hard time with the food and waste of food. We probably throw away $200 worth of food. And spending money every single day on food. I have to buy every other day for my 2 yr old. Whenever I tried to call for compensation, I get transferred to different department. I am so tired with this kind of service. I would never buy any appliance from Costco or Never refer to anyone. Very very bad service.

I called Whirlpool about the refrigerator that I purchased in June of this year and nothing was done about it. My situation is that the refrigerator scratches very easily. It seems that it gets scratch only by looking at it. This refrigerator is very expensive and I not even done paying for it and this appliance looks awful!! Susan the person that I was chatting with just told me that cosmetic doesn't cover and there is nothing that Whirlpool can do about. It bothers me that paying so much money for something that it is poor quality material.

In August of 2008 I purchased a Whirlpool Amana refrigerator, Model# ABR2227FES. It worked great for exactly 6 years. In Aug of 2014, the motherboard needed to be replaced as it was not forcing a defrost when needed. I tried to get a refund on the cost of the part and labour but both were refused. In Dec 2016, just two and half years after the motherboard was replaced, the exact same problem re-occurred. Again I tried to get a refund on the cost of the part and labour but both were refused. Will I be buying this refrigerator in the future? A definite no!!!

My fridge is only 8 months old and stopped working about 5 weeks ago. They have sent repair techs out 5 times, replaced the compressor, condenser, some fan thing and evaporator. It worked for 2 days then the compressor started leaking again. I've lost 2 refrigerator full of groceries. It damaged my floor. I was unable to have family over for Christmas and I've been using a mini fridge. The Whirlpool customer service people have been no help and some have been very rude. I have no idea when this will ever be fixed. There is no way I would ever buy any appliance from Whirlpool again. Terrible experience.

We got what was a top-of-the-line Whirlpool Refrigerator about 10 years ago. It is still running, BUT all of the drawers have broken at least once and the door shelves no longer work. The replacement cost for each item is ridiculous especially considering how flimsy the items are. We decided to look at Whirlpool Refrigerators since the one we have is still running. They have changed absolutely nothing in the drawer or door design. It is all still very flimsy especially compared to the competition. I would strongly advise anyone looking for a fridge to look elsewhere, since, obviously, the quality of the interior is not a priority at Whirlpool. Avoid Whirlpool Refrigerators. The drawers and drawer shelves will ALL break since they have put no effort into fixing obvious defects.
How do I know I can trust these reviews about Whirlpool?
672,188 reviews on ConsumerAffairs are verified.
We require contact information to ensure our reviewers are real.
We use intelligent software that helps us maintain the integrity of reviews.
Our moderators read all reviews to verify quality and helpfulness.
For more information about reviews on ConsumerAffairs.com please visit our FAQ.

My Whirlpool side-by-side refrigerator is just 4 years old. When they delivered it, they noticed damage on the bottom which required them to bring me a new refrigerator. The new one had issues with the ice maker that required multiple service calls to fix. The refrigerator door always seemed a bit misaligned as it was a bit lower than the freezer door, but it closed, so I never complained. I was just tired of all the issues! During the last six months, the door started to remain ajar instead of closing completely so that we had to always be sure to apply sufficient pressure to close it tightly. I considered calling in a repair, but it was still closing so I thought I might be overly critical. As it got worse, I realized the door was defective, but one day, it just fell off completely without warning as though the hinges were made of butter!
After multiple service calls, a tech reattached the door, but I could see that it would not hold and sure enough, it is starting to remain ajar again. I have contacted the warranty company who is now saying the service tech claimed we were hanging on the door. This repair company the warranty company uses has an F rating with the BBB. Now, I'm being told it may take a couple weeks to get another repair company to give them an opinion, but the issue is clear, the door was defective and it looks like they found a way to avoid having to make good on the warranty!

In the last 6 years I have had two refrigerators each lasting three years with major repairs from day 1. I am on my 6th repair for my Whirlpool Model WRF89SDAM02 purchased in October of 2013. WHAT A PIECE OF JUNK.

We have been having white plastic pieces shoot out with our ice the past two days. We have only had this fridge for about 15 months. After reading these reviews; I am assuming when I call the service will be terrible as well as any fees for them to fix it. I sure hope it is under warranty; or I will never purchase Whirlpool products again.

Whirlpool Cabrio Washer and dryer. Bought the Cabrio Washer. Worked great for 26 months. Had to throw it away. Main motherboard went. Not worth fixing. Called Whirlpool. They offered a $340.00 service contract only. Piece of garbage. Do yourself a favor. Do not go by looks. It's junk.

I purchased a Household refrigerator Model WRF535SMBM00 on November 2013 at Home Depot which was not used but until June 2014. Awaiting finishing details on new house closing. The first year in use, I started having problems with freezer frosting, light not working, seemed like the ice produced in it, burned the light bulb. Prior to that sometimes it worked, sometimes it didn't. I started to think that it had burned, changed the light bulb. It didn't worked. After 2 months, all of a sudden the light worked, but the ice maker stopped working. What would be the suggestion to fix it, may I asked. This is very disappointing. You have a new house, and new appliances and they just don't work. And we are expected to pay for the repair! I don't think so.

I paid ~$1200 for a new Whirlpool (French door top fridge and pull out freezer bottom) 7 years ago when I bought my house. I was so excited - and the appliance has been a problem from the beginning. It has always made a very loud knocking noise - even when it was new. I was told by the technician there was nothing he could do and Home Depot wouldn't help me with it either. My freezer has gone out three times - the last time was the day before Christmas Eve 2016 (a few days ago). I lost everything for my Christmas dinner that was in my fridge because that went first.
Then when the service man came today, I was told it was the freezer that is causing the problem and everything had to be defrosted - plus they had to order a part that would take 3 to 5 days - so I'm now going to lose everything in my freezer as well. All in all with the three service calls and the food I have lost probably amounts to around $800 - $900. I am so upset and cannot get any help from anyone. So, I'm just warning you - NEVER buy a Whirlpool!

We purchased in July 2016 from Best Buy. Very nice product. Our former Whirlpool had lasted 20 years and was a work horse for our family. The new one began not freezing ice cream in November. Then, it would periodically freeze things very well and then not freeze items fully. We contacted Best Buy thinking we had a lemon. Worthless - no help. Told us to contact Whirlpool directly. The repair person came out today and told us that our refrigerator cannot be in our garage outdoors because the "energy efficiency" of the refrigerator causes it to shut off when the surrounding temp drops below 54F. Our former Whirlpool had been outdoors in our garage in that spot for 18 years, no problems.
The new models now no longer operate if the air cools down around them. What!? There is no warning information, no sales information, no way to learn this until after you shell out 1000 dollars and lose your frozen food. It is in the manual in fine print, but we didn't read the manual cover to cover when we got the refrigerator, and we sure didn't read it BEFORE we bought it. And no one at the store, nor the installation people who represented Best Buy as paid installers told me I couldn't have this outside, even though I specifically told them I was buying it for our outside "extra" fridge and freezer to replace the old one, and the installers installed it outside. Technically our refrigerator is working as it's supposed to apparently. However, I think it should prominently be noted on pre-sales materials that it must be operated indoors only (in climates always >54 degrees).
Now I have a new refrigerator that I can't use as an extra in our garage. Apparently all the new fridges are "energy efficient" like this and shut off below 54. I cannot find any info on the internet about this, or any other complaints about a similar situation to mine. How does that make any sense? Freezing is 32 so any frozen goods will thaw, by default, always, if the machine is in cool environments. Phooey on this design spec. Dumb engineers.

We purchased model #GSS26C4XXF03 which we thought it was a great buy. The inside wall cracked by the shelf at the start. The crack is now the length of the frig. We called and the only advice was that as long as it still cools it was okay. We use our old frig to get ice. It doesn't really make ice and I was told to bang on the door. I'm very disappointed and have been a long time purchaser for Whirlpool appliances over quite a few years. I will never purchase another Whirlpool appliance.

Refrigerator Model WRF757SDEM01 (Gold Series). We purchased this unit January 2016 as part of a package costing around $3,000. I have had problems with 3 of the 4 appliances (oven/range, dishwasher and refrigerator). This review will focuses mainly on the refrigerator. It is worth noting that to obtain service from Whirlpool through the 800# will challenge your patience to say the least. The first service request was 07-25-16. The repair company came out and diagnosed the problem and it took another 2 weeks for them to obtain the part and return to complete the repair. The second service request was for the same problem on 11-26-16. The service company came out and replaced the part within a week. The third service request was 12-22-16 for what appears to be the same issue. I was told that due to the holidays service would not be for six days.
I have spoken to clerks and managers. I guess I will have to continue up the ladder for resolution. I have spent at between 10 and 15 hours on calls to Whirlpool and dealing with the field service vendors. This does not take into account the inconvenience with the perishables in the refrigerator or the hand washing of dishes while the dishwasher was out of service for over three weeks.

Whirlpool refrigerator Model #GX5FHDXVY010, freezer on bottom. Ice maker broke within six months of purchase. Made loud noises, would not function to freeze ice. Turned waterline off and now use ice trays like the old days. Shortly thereafter, second unrelated problem started. Drain line started backing up and runs into the bottom of the freezer floor where it freezes into a thin sheet of ice, and then runs onto the kitchen floor. Have had the line cleaned out over and over again. Have been buying fridges for 50 yrs. and have never had this problem. Whirlpool says call a repairman and pay to have it fixed, but it happens over and over again. Whirlpool should come up with a permanent fix and pay to have it fixed. Based on the numerous complaints of this problem, this model needs a recall now.

Whirlpool Gold Class Refrigerator is not quiet 4 years old. Starting at about a year old, I had to start defrosting the freezer periodically because the freezer coil would build up ice to the point where the fan would start rubbing on the ice and making a loud noise. Then about a year ago, it started leaking water from somewhere around the water filter. The water damaged my cabinets and flooring. Then the freezer slowly started to warm up. I had a technician look at it and he determined the compressor is bad. That would cost about $900 to fix, according to him. I thought it had a 5 year warranty on the compressor and associated parts. Whirlpool is claiming this is not true. The repair costs will not be covered. I paid almost $3,000 for this refrigerator! Didn't last 4 years and caused thousands of dollars in damage to my cabinets and flooring! I will never buy another Whirlpool appliance! Buyers beware. Stay away from Whirlpool at all costs!

I bought my refrigerator model WRS49/WR151 from Courts our local appliance store in November. The side panels of the fridges gets extremely hot which make me think it can set on fire at anytime. When I contacted the store two days after purchase they made it seem as though it is something normal. I never had a refrigerator that got extremely hot that I can scramble some eggs on it. That's why I can't even rate my experience.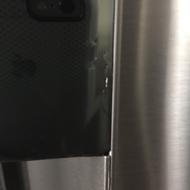 WRX735SDBM02 - I purchase this new WP refrigerator on 7/9/16 from Home Depot. It has been repaired twice already and now the front control panel is chipping and peeling away. Whirlpool says this is cosmetic. I maintain that quality construction and material do NOT simply disintegrate spontaneously. I want the control panel fixed under warranty for manufacturing defects. This NEW refrigerator cannot stay in my home looking like this, it is unacceptable to me. Their customer service refuses to do anything. This was somewhat hard to photograph due to the reflection issue.

We just remodeled our kitchen and bought a Whirlpool kitchen suite in May of 2016. The refrigerator is absolutely terrible. I have had a repairman come out and fix the same repair/problem 5 times, a sheet of ice forms beneath the vegetable drawer (We have only owned the refrigerator for 5 months). Each time the repair person has come out it costs me a day of work due to having to wait all day for the repair service that Whirlpool hires out, "we'll be there between 9am and 4pm". This morning I decided to check to see if the sheet of ice is forming again, it is. So I call Whirlpool again.
Again, I call Whirlpool and ask if I can just get a new unit; 5 repairs in 5 months on a brand new refrigerator. The reply I get from Whirlpool is always "we'll send someone out to fix it. The unit has to be deemed irreparable or a part has to be replaced multiple times." No parts are being replaced... no one knows how to fix it. I don't understand why a large company like Whirlpool would want people to write bad reviews for their products and customer service. I'm extremely irritated with how I have been treated. I just want a refrigerator that works!! DO NOT BUY A WHIRLPOOL REFRIGERATOR!!

I purchased all the appliances for my home from the Sears store in Steamboat Springs, Colorado November 17, 2016. The refrigerator stopped freezing a few days ago. I looked at my manual & there is a 1 year limited warranty. I had a repairman come out & he told me there is a leak in the "sealed system" for the freezer. He doesn't do that type of work- it is very unusual & requires a special certification. The repair would be 500 - 1000 dollars to fix. He couldn't believe my fridge was less than 2 years of lad & is having this problem. Factory defect.

Bought a whirlpool refrigerator in 2015, have had both handles replaced 3 times, the bottom pieces of the handles are made of plastic and they crack. We had to take them to a metal fabricator and have them replaced with metal to keep them from breaking. Lowe's and whirlpool know of this problem and they do nothing about it. Will not buy another whirlpool product. Very dissatisfied.

We moved to a new house Nov. of 2012 and I went to Lowe's to buy a new refrigerator. The last refrigerator we bought was a Maytag. It was a LEMON and probably had every part replaced because we had the warranty. At Lowe's I thought the Whirlpool Refrigerator would be a good choice. We didn't purchase the warranty, big mistake. After only 4 YEARS, the refrigerator is DEAD, not in working order and would too expensive to fix says our reliable repair serviceman.

We have had this Refrigerator for 3 years in December of 2016. To date, we have had to call a repairman (in February 2016) to replace a circuit board on the back of the refrigerator. That took 4 days, as the company sent the repairman the wrong parts. After that $300 repair, which we got at a discount because, the repairman felt bad that the company actually sent the wrong part. Since then we have taken it apart ourselves for several reasons: The freezer compartment filled up with a layer of ice and started to melt all over the floor, shutting the refrigerator off, (which then forced us to borrow coolers to store the food) until it could be repaired. The drain tube was completely blocked and in order to fix this problem, the tube had to be taken out and modified, according to the Internet videos we then watched. In order to make all of these repairs, the door, the shelves and baskets have to be removed, which is definitely not an easy thing to do at all.
There are so many 'hidden screws and tabs' that must be manipulated with tools and by hand to remove the doors, shelves and trays just to get where you need to be in order to make these repairs. With each repair, the ice maker and water dispenser started having problems, because, each time the refrigerator has to be shut down, it takes hours for it to 're-set' itself. Luckily my husband had the tools necessary, with videos on the Internet to assist us. However, once the first problem started, it was a snowball effect, literally. ALL of these problems have been identified by the manufacturer, however, nothing has been done. VERY POOR DESIGN!

IPod the Gold Series from Whirlpool appliances including the French door with the freezer on the bottom the induction still two ovens and glass top the microwave in the dishwasher does it cost me about $8,900 dubstep problem with it is after two-and-a-half years of using it the freezer stopped working and coming to find out that not only mine but three other ones in my account have the same problem. The sealed system for the freezer had a leak in it. I lost the freezer traffic to Whirlpool. First time around they said, "No problem we'll take care of the part." To take care of Labor. I waited a month. Nothing happened. I called them back. They said I needed to do something else so I waited for it to happen. Nothing happened. Now I call back 8 weeks later without a refrigerator my house come to find out they told me they're not doing nothing.
Well four weeks later now I'm sitting with the stove which cost me quite a bit of money like $2,000 for the induction stove. Now it's burned out the computer components. Control panels are both out. It will cost $800 to repair it. Now we'll pull. Said they will also pay for parts for that but not for the labor so now I'm stuck without a refrigerator and I don't have a stove in my house and they're saying it's okay that these very expensive piece of equipment that I bought and it's okay for them to only last 2 years. Never had a Whirlpool last me less than 10. I think there's something wrong with this picture.

I purchase two Whirlpool Refrigerators serial # wrs950siam from Western Appliance San Jose Ca Dec - 2013 and now one of them the compressor was leaking and I called the Whirlpool company. They said only warranty for one year. In the future I do not want purchase any of them make by Whirlpool.

I have called Whirlpool six times to request a replacement for a broken deli drawer in my refrigerator. I was told to throw everything away from the unit, since the whole assembly would come complete in the mail. First call: Ordered the replacement: what came was a glass shelf without a drawer or gliders and hardware. Second call: requested the drawer and remaining parts. Third call: only received the plastic drawer without any means of installing it. Fourth call: received only one side glider, again without hardware to install. Fifth call: requested a supervisor (Kimberly) who took the order for the remaining glider and all hardware. Received second glider and (1) screw when two are needed.
Sixth call: asked rep Brigitte for a supervisor and was not connected. Given the run around and told that the rep spoke with a supervisor for me and would send out a repairman to assemble the unit. I just need the missing screw. I have spent a lot of time on the phone trying to get what I need from Whirlpool and do not have time to wait for a service repairman to come out. I just cannot fathom how that many calls - with me being patient and calm - cannot produce the required items. Horrible.

Whirpool Part #WPW10564292 refrigerator handle - I am a property manager who has 264 units. We have only been open for 1.5 years and have had to replace 30-40 door handles because they crack at the top where screws are. We tried calling Whirlpool Customer Service because obviously this is a defect and she said they looked in the system and didn't see any recall or issues. We also asked for a representative from Whirlpool to stop out so we could show them the issues and she said "we have nobody in the area". We have 9 service requests outstanding that need a new refrigerator handle.
On July 19th, we ordered 3 handles from our distributor and we were told they're on back order until September 6th. When I called at the end of August to make sure we were on schedule with delivery, I was informed they are now on back order until November 5th. I just called our part rep. this morning and now they said the current part number does not exists and gave me the new part # W11026870, and they are on back order until mid or end of November. I am not going to keep quiet about this issue. We have paid $79.89 per handle on a refrigerator that is only a 1 to 2 years old appliance. I am requesting a returned call or email on what you are going to be able to do for us. This is not right or fair to a company that spent a large amount of money to have your appliances in 264 units.

I bought a Whirlpool refrigerator (dbl dr) from Home Depot and received it on August 4th. When I went to clean it I found that blood had spilled from a roast and had accumulated all around the inside of the plastic shelf seal. It was impossible to clean. Water just ran inside the seal and diluted the blood. Then, it leaked all over my kitchen. I had a serviceman here for another problem, sent by Whirlpool. He said he'd try to get them to replace the shelf. Never heard from him again.
I called Whirlpool today. Was told I could buy another shelf. Otherwise, they didn't care. Said it wasn't a functional problem. This is a definite health hazard. Whirlpool used to be wonderful. What happened? I have a dryer, washer, and water tank about to need replacing. Whirlpool won't see a dime from me. (Home Depot, either.) This has become a very bad company. I've contacted the NY Dist. Atty's office. Meanwhile, I have a fridge with a major shelf missing for the holidays and for the foreseeable future.

Purchased model WRT311FZDMOO refrigerator on Aug. 6. Took 3 weeks for delivery. All 3 door bins for this refrigerator have cracked after less than 2 months. Called customer service. They say it's wear and tear. And ask how many would I like to purchase. Looked online. Cost is 30.00 to 32.00 per bin. Can't put milk in the door bins. The cracks puncture the container. Poor quality plastic.

I have a double door refrigerator with a bottom freezer. It is slightly over 2 years old and has been in use for only 7 months of that time. We just got off the phone with Whirlpool service. They will cover the cost of the control panel and defrost control. The other one I paid to replace was only one month old and it failed again. In the time between that I had to have an Icing kit put in as the Ice maker was causing ice to form inside the back wall of the refrigerator. My first call to Whirlpool was very unsatisfactory. I ended up paying for the part and the service call.
The second call was about the ice-maker and they were aware of the problem and sent me a repair kit for the problem. I still had to pay for repair service. So far I have paid $561.62 for their defective parts and service calls. This time my wife called (while I was taking my frozen foods to my neighbors freezer for the second time) and went through 3 people before being told the part was still under warranty and they will send a new one. When we pushed for proper service we got it. We should never have had to go through all this. We also lost over $300.00 of frozen foods. Never buy a Whirlpool refrigerator!!!
Whirlpool Refrigerators Company Profile
Company Name:

Whirlpool

Year Founded:

1911

Address:

2000 N. M-63

City:

Benton Harbor

State/Province:

MI

Postal Code:

49022

Country:

United States

Website:

http://www.whirlpool.com/