Consumer Complaints and Reviews

We purchased a new Whirlpool side by side refrigerator several months ago, at a cost of over $1,000. The unit included an ice maker. We immediately noticed that cubes would get hung up in the release mechanism, and were exposed to the ambient temperature in the kitchen. Once they melted a little bit, they would slide through the opening and fall on our wood floor, melt all the way, and leave a puddle of water to damage our floor. This was frequently 2 entire cubes.
We, of course, called the dealer, who sent someone out, but he said he couldn't fix it - apparent design flaw. Although it looks like the same basic concept on other manufacturers' products, theirs works, Whirlpool's doesn't. The dealer called Whirlpool several times, but was not able to get them to stand behind their product. So we're stuck with a very substandard product. This will be our one and only purchase of anything with the Whirlpool name on it. I would strongly suggest avoidance of their products.

Brand new box so I bought some meat and placed it in the freezer. Kept it cold or partly frozen but never froze solid. Every time it went into defrost so did the meat. Found meat juice running out of freezer. Called serviceman out 5 times. He told me every time it was fixed. Finally, after 3 months it was fixed. I had to throw out all my meat but of course Whirlpool would never cover any replacements. I will never buy a Whirlpool refrigerator again. If they don't have a Q.C. Dept better than that and sell seconds as first I couldn't trust the company the next time. So sad!

Our long and tortuous experience began in 2013 and continues to this day. But I'll just give the headlines. In August 2013 we bought Whirlpool BTM French Door KFIS20XVMS11 from Lowe's. Three years later we learned that model number appeared on the attached recall notice which had been issued just days before our unit was delivered in September. Neither Lowe's nor Whirlpool notified us of this recall which described a simple repair to a part that was leaking so slowly that its effects took three years to show up in a destroyed floor and cabinet enclosure that will cost $2981 (and still rising) to repair.
We called AIG, the company behind the extended warranty provider, and they responded promptly by dispatching a Whirlpool factory authorized service technician who attempted unsuccessfully to drag the unit from its alcove over the warped, erupted floor beneath. With the refrigerator half-way out of its enclosure, the technician stopped and asked us to sign a waiver of liability. When we refused, he announced that the problem was water damage and he jammed the unit back into place, leaving dents in both doors and the freezer drawer below.
We went to Lowe's, who strung us along for several months before sending an engineer whose report concluded that the problem was a manufacturer's defect (The Lowe's engineer and his associate damaged the unit further when they forced it back into place over a floor made more uneven when they removed the pieces of rotted oak shown in the accompanying photo.). Based upon the engineer's report, which Lowe's said it had no "duty" to share, we were given a 1-800 number for Whirlpool customer service, with assurance that we would be taken care of. Although we had to start from cold without the engineer's report, Whirlpool customer service was initially very accommodating and gave us hope. For a moment, I thought we were going to get resolution. They assigned a case number and we supplied the requested documentation. That was on a Friday in March, 2017.
Monday we were surprised to receive a sternly worded notice from the Whirlpool Law Department that a clerk there would be taking over our case. We realized that we were far from resolution. Why did the Law Department intervene? We don't know. We guess it may be because they want to avoid a class action lawsuit on behalf of possibly thousands of leaky refrigerator owners (Whirlpool, KitchenAid, Maytag, Jenn-Air and Amana units were all among the affected). In any case, since January we have been monkey-in-the middle among Whirlpool's various departments, Lowe's various departments and AIG, with no progress. What do we want? We just want things back the way they were before our leaky refrigerator did its damage and before Lowe's and Whirlpool demolished our good as new looking KitchenAid refrigerator in the process of telling us they won't fix it.
Footnote: We purchased all new KitchenAid Architect series appliances in August/September 2013, including top of line cooktop, dishwasher, convection microwave, convection oven and a French door cabinet depth refrigerator. Every unit except the cooktop has required warranty service, including five expensive electronic parts replacements. Fortunately we bought extended warranty service from KitchenAid/AIG, who have been terrific to deal with on the parts replacements. I don't recommend Whirlpool appliances but if you are intent on buying them, I do highly recommend extended warranties. As for the value of Whirlpool's manufacturer's warranty, watch this space. I'll be back with the final resolution.

Bought my 5 door refrigerator from Lowe's in December 2016. Was delivered in January. Had a dent in the door so another new one was ordered that arrived in late January. From day one the dual ice makers have not made enough ice for our family. I called Lowe's to have it checked out thru warranty. The repairman came out and said "It's making ice. I can't fix something that is not broke." He suggest I buy a under the counter ice maker. What the heck! I pay over $3000.00 For dual ice makers and still don't have enough ice to supply my family.
Can't believe Whirlpool puts out a dual ice maker in a refrigerator and it can't even supply a family of 5. The repairman said a normal family size is 3. I don't know where he came from but to me that's not normal. He was from Tutor Appliance Repair and was very rude until he realized he pissed me off then he blamed it on Whirlpool. The refrigerator is beautiful but I'd rather have my old one. It made more ice than this new one does. Will I buy whirlpool again? No I wouldn't. If they can't stand behind their product and what it's suppose to do then I don't need it. Bad thing I have to deal with this one for a while until I can purchase a new and better one. If you have this refrigerator don't plan on having guest or family dinners it will not hold up for ice tea. Not to mention after dinner drinks. Model # WRV986FDEM01. SeriAL # K63817128.

Purchasing this refrigerator Model Number WRS571CIDMOO in September 2015 and now only being May 2017 the ice maker has stopped working. When I contacted Whirlpool USA they offered a warranty plan for $454.00 for one year when I purchased the refrigerator for $989.00. I told the representative, "Why would I pay that much money for one year of service when I purchased the appliance for half of what the service fee?" I now will no longer purchase anything from Whirlpool when other brands last much longer!
How do I know I can trust these reviews about Whirlpool?
763,773 reviews on ConsumerAffairs are verified.
We require contact information to ensure our reviewers are real.
We use intelligent software that helps us maintain the integrity of reviews.
Our moderators read all reviews to verify quality and helpfulness.
For more information about reviews on ConsumerAffairs.com please visit our FAQ.

Whirlpool makes a beautiful product that does not last. I bought model WRX988SIBM in April 2015. Two years later the compressor is bad and no warranty coverage. Do not buy this model. It does not carry the Whirlpool 2-5 year sealed refrigeration warranty. It's amazing that an appliance that retails over $3K only comes with a 1 year sealed refrigeration warranty when Whirlpool offers it on other models. Be sure you know what your warranty coverage is before you buy any Whirlpool product.

Purchased this Upright freezer model 160NZTQ02 approximately 2 years ago. Freezer had problems maintaining temperature from the beginning. Noticed it freezing up at air vents in back of interior. Unplugged, removed contents, and let defrost by ambient temperature (approximately 4 hours). After using this method for first three defrost periods (approximately two weeks apart) I began defrosted with hair dryer, then moved on to heat gun. Bottom line is this junk won't hold temperature and freezes up every few days to a week. No more Whirpool for me.

Whirlpool Gold model WRS526SIAHOO - We purchased this refrigerator 10/2013 with all the matching appliances when we remodeled the kitchen. We moved our 1997 GE refrigerator into the garage. Now the computer board has gone out in the Whirlpool and we are back to using the '97 GE. The technician told me that he sees a lot of these boards going bad.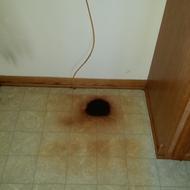 On April 17th mid morning I noticed that the freezer side was not keeping items Frozen. Everything was melting period. I then opened up the refrigerator side all the items are not as cool as they should be. I then proceeded to do a Google search to see what I should check for in regards to the freezer and the refrigerator side not keeping cool. I then proceeded to pull the refrigerator out to inspect the back of the refrigerator. When I did that I noticed there was a hot mark on my wall, as well as a huge it burn mark on my floor. I then unplug to the refrigerator do the huge fire hazard and I touched my floor and it was very hot to the touch.
I called my stepfather who is a firefighter and had him come over right away. He said we needed to take the refrigerator outside right away because the compressor had overheated and that is why it started to burn my floor. He then went to the fire station and got a heat sensor check machine, and we checked my wall and floor and we had to make sure that it was cooling down so it did not start my floor boards on fire so then we had to put a fan on it to cool it down. I then went and purchased a new refrigerator, due to this one was no longer able to be used or repaired. The refrigerator was only four years and 5 months old. For a $1,300 refrigerator it should last longer than 4 years.
I called Whirlpool the following day or two days later and regards to this issue. The only thing they could tell me is that they were sorry, this refrigerator almost started my home on fire and we have six children a family of 8. It ruined my floor and part of my wall in my kitchen and we have lost a few hundred dollars and groceries. This is ridiculous and not the first time, I read a few others having this issue, Whirlpool said they have never received any complaints in regards to the refrigerator burning the floor and does not see it as a fire hazard at all.

Whirlpool Refrigerator: Model # WRT111SFDW - We bought this frost-free frig. in Feb of 2016 and this Feb. before the year was up, it started freezing up. I called the Co. and they sent a young man to my house to fix it and he thought he had. Well 2 wks after that it started freezing again and I called the Co. again and the same thing happened again and this was after my warranty had expired. Well then this young man came out and replaced the fan and a heating rod I believe to help it to stop freezing. Well 2 days ago it started freezing up once again. I'm disabled and live on a fix income so now I've got to figure out to get me another frig. And it WILL NOT BE A WHIRLPOOL REFRIGERATOR. But kudos to the Co. and the young man for trying to fix it even though it took 3X'S and still not working.

I purchased this refrigerator in Jan 2016 and it is broken. Same with my Whirlpool microwave. I will be sure to never purchase Whirlpool again. I heard it was "Made in America." If this is the case, very sad. Quality control sucks with Whirlpool. Lost a customer for life.

We purchased our Whirlpool refrigerator in 2010. A year or two after the purchase the side walls, draws, and shelves all started to crack open. We asked whirlpool to send new parts. They sent one and that cracked also. We will never buy from them again.

Handle needs smarter design. I purchased model #WRT311FZDM00 in November of 2015, didn't install in my new home till December. I am a single senior female, so there is little wear on the fridge, unlike a family of several people and with kids. The door handle actually broke just behind the screws that hold it in place, the plastic part of it broke into a couple of pieces. The cost to replace this handle is approximately $80, which is ridiculous in my opinion. Please start making things of quality materials instead of cheap plastic, especially at a stress point of a part. Even I know better than that. All 4 of my major kitchen appliances are Whirlpool, as well as my washer/dryer. I thought I was buying quality products. Hopefully things will hold up better with the other ones.

On 9/28/16 I purchased 4 new Whirlpool appliances from Orville's Appliances in Buffalo NY. They were delivered on 11/9/16, the refrigerator was installed. The microwave, dishwasher, and range were not installed until Jan. as my kitchen was being remodeled. Both doors were dented; it took 3 months for Whirlpool to send new doors. After installation water began pouring all over, gallons of it; it took a month to get fixed. The microwave door has a large defect and the surface light does not work; it is still not fixed. Six months later it is still it fixed. I feel like I paid a lot of money for defective appliances. Whirlpool is truly a company that does not stand behind their products; they could care less about their customers. I will never ever do business with Whirlpool again. And Orville's also refused to help; it was a mistake to shop there.

I bought this refrigerator WRT111SFDW for less than $600 through Home Depot in Oct 2016; it was delivered and placed into use in late Dec. (Home Depot still shows the order as "Processing"). Had an icemaker installed during delivery. As of today I've had to call for service 4 times. The refrigerator compartment does not cool properly. Services have been through Whirlpool Service as this appliance is under warranty. Technicians are Whirlpool-approved. I have another refrigerator from Whirlpool that operates just fine. It seems as though the cost of sending repair tech's would be higher than the cost to have replaced this unit. Terms of the warranty state that Whirlpool makes that judgment; not the purchaser. Sorry I bought this piece of junk. How many service calls on one appliance is too many???

Hi. We purchased a french doors 32 cubic feet refrigerator from Home Depot in January 2017. Since day one it has not worked correctly. We have dual ice makers and neither one works. The fridge doesn't cool at all! Whirlpool sent out an appliance repair company who said they ordered the parts. It's been 2 months and guess what still no parts on order and still have no refrigerator. So after 45 or more minutes on the phone with them for the millionth time we came to the conclusion that we are stuck with a POS refrigerator! They refuse to swap the fridge out. They said Home Depot would have to swap it and it's against their policy. (That's another complaint department.) We will never recommend a Whirlpool product again. Never buy Whirlpool. They love taking our money and that's where they stop.

We bought this refrigerator (Whirlpool Model # WRF9913F1FM00) last August 2016. From day 1, the water coming out from the water dispenser was not cold at all. Same temperature as the tap water. By November, the refrigerator started to get warm. Apparently, the evaporator fan motor had to be changed according to the technician who spent more than an hour on the phone with their technical advisor to diagnose the problem with the refrigerator. After a week, the refrigerator got fixed. Not only did the refrigerator started working again, even the water from the dispenser got finally cold, too.
Now four months later, March 2016, the same problem: the fridge started to not get cold again. In addition to that, the ice would not come out from the ice dispenser and water from the water dispenser is not cold again. When my husband checked inside the door, the ice were all clumped together. They looked like they melted. And even the ice in the freezer bin looked the same. And on top of this, the refrigerator was making so much noise. The technician was just here again today.

My new refrigerator was purchased in December 2016. The black finish was scratched by the installers wiping off their hand prints. The retailer offered to replace the doors which happened two months later. The black finish scratched IMMEDIATELY while cleaning of the installers fingerprints, using a silk microfiber towel though it looks like the cleaning was done with steel wool pads. I called Whirlpool and the retailer. Whirlpool says to order more replacement doors. Ha! Ha! I have had black appliances since 2000 in another home and there was NEVER a problem cleaning them.
I do not recommend WHIRLPOOL because of this problem with the stability of the black finish. I don't have a receipt or order number because the suite of appliances was purchased by the condo association, not me personally. But I can attest to the condition of the marred finish and the ludicrous solution provided by WHIRLPOOL customer service... order more doors. I guess you'd have to do that every week after you clean the front of the refrigerator.

I bought my refrigerator model #WRV986FDEM, in October. It has not made ice in over a month. I think its very unfair to purchase a product and not be able to use it. The technician has been out here twice and the situation is still not resolved. I understand that customer service is not a strong suit of your company but I am not a customer to be taken lightly. I paid almost three thousand dollars for this piece of junk and I want it to work properly. I find it unacceptable that the technician just left and the situation is not resolved. I will be posting my displeasure on every site I can today since I had to take yet another day off to accommodate you and your inferior product. ALL I WANT IS ICE from a fridge I bought 4 months ago. In the words of our illustrious president. Very, Very BAD.

Phone calls took too long (30-45 mins each). Connection was bad. WHIRLPOOL APPLIANCES ARE **. Whirlpool appliance was poor quality, broke down and not fixable. Unable to find replacement dryer ANYWHERE that will match my existing washer stacking kit. The "loyalty" program discount is a joke.

Had the entire kitchen remodeled. We bought a Whirlpool Gold French Door refrigerator from Sears, did not buy an extended service contract. The refrigerator has NEVER made an ice cube. The water dispenser in the left door sometimes works, mostly not. The fridge freezes the food inside, temp. set at 41°F. The entire ice maker has been replaced, several valves have been replaced, a service company rep. tore the back off the fridge, found some insulation misplaced, said he repaired that. We have been very patient. Three repair companies have been sent out by Whirlpool, two said the refrigerator CANNOT BE REPAIRED. Whirlpool told me the only resolution is repair.
Whirlpool's "Customer Experience Center" is a joke, they do nothing but try to schedule another repair call. Tell you how sorry they are about your problem but do nothing to solve the problem. Carefully trained to give you the BIG runaround and nothing else. You never get the same person twice or the same city twice. Patients exhausted. Calling my lawyer. I would strongly advise anyone needing a new refrigerator not to buy a Whirlpool product. You should also check the list of other brands they make, there are several. I wouldn't buy them either. Buy a fridge made in Japan by a Japanese company. They get it right and know the Quality Process.

We bought this fridge about 5 years ago, it was the exact same model as one we bought in 2003 but everything had changed, the plastic for the drawers was a fraction of the thickness in the older model and it breaks and cracks with the slightest bump like setting the lettuce in, the frame of the door is full of cracks and the fridge keeps leaking then freezing and making puddles on the floor. The little plastic tabs for the ice dispenser broke. It is absolute garbage. The one we bought in 2003 was great clearly the company has NO integrity or desire to make a decent product. I won't be buying anything Whirlpool EVER again.

My Whirlpool Gold, Model # G16FDRXxQ06, has failed four (4) separate times. In each case I lost thousands of dollars, mostly in high-quality frozen foods. A Sears repair service representative came and "repaired" the refrigerator. In less than a year, after each repair, I had to call again. Three of these failures resulted in the loss of my food because the refrigerator simply stopped running. Unfortunately, I had been away from home for more than a week. One failure was caused by water leaking. This was apparently caused by a frozen pipe under the refrigerator. The repairman said that this was a "routine" failure for this Whirlpool model. I would like to recover my financial loss from Whirlpool. Is there a process to claim my loss? Is there a better, more reliable refrigerator?

WRF993FIFM00 - HORRIBLE. I could not believe the reviews for this fridge... so I went ahead and bought it - WHAT A MISTAKE - service guy is at my house right now - fourth time in three months... fridge froze up and all my food has gone bad.

On August 16, 2016 I received delivery of an Whirlpool under counter refrigerator that I ordered online from Home Depot. Model # WUR50X24EM. Five months later, on January 10, 2017, it stopped working, I called Whirlpool for repair. They referred me to their service company, I called the service company the same day. They had a repairman out on the following Tuesday, 1/17/17. The repairman said that he will need to contact Whirlpool to order a part. Whirlpool sent him the wrong part. After numerous phone calls no one from Whirlpool could figure out the correct part number. The repairman kept sending over pictures and information on the correct part, but this all went nowhere with Whirlpool.
On 2/7/17, I called and started yelling. I had been very patient up to this point. I was finally offered by Whirlpool a "parts research" to determine exactly which part was needed. Plus a $50 Visa card to appease me. At this point, it's been four weeks without a refrigerator and no one from Whirlpool has put any effort towards trying to figure out the correct part. On 2/16/17, I called Whirlpool again to find out if they had found the correct part. They told me that the new part had been sent to the service company and Whirlpool scheduled me an appointment right then for Monday, 2/20/17.
So today is 2/20/17, the repairman came and went, Whirlpool once again failed, they lied because the repairman came out with the wrong part that was originally sent to him when he ordered the part back on 1/17/17. I called Whirlpool and asked for a manager. They connected me with the Resolution Specialist. I told her everything and pointed out that it has been six weeks without a refrigerator. She said she will take care of it and get the right part ordered. I asked her how long I should have to wait, cause at this point I have waited long enough. She said she will have an answer by the end of this week. I don't believe her, I feel as though Whirlpool is pacifying me. I don't understand why they can't order the correct part.
I have no faith in Whirlpool that they will do the right thing or have any understanding on how inconvenienced they have made me. I have no faith to the point that I ordered another refrigerator from a different manufacturer. It will be here tomorrow between 8am-12pm. Oh, and Home Depot, they washed their hands of this a long time ago. And, I have yet to see the $50 Visa Card.

I have a refrigerator model wrs325fdam. It's not a year old and I can't believe the runaround that I am getting from Whirlpool customer service. Come one day everything in freezer melting. Call a repair person. He come out, diagnose the problems, orders $825 worth of parts for a $899 refrigerator, puts the parts in. On the temperature in the freezer reads 80 degrees. No it's order $200 more parts for this scrap metal pile. At what point do the people give a damn at the consumer, it's not like anybody has common sense. I'm going on two weeks without a ten-month-old refrigerator and four days waiting for them to figure this out. Would not recommend Whirlpool to anyone who cares about fair treatment.

We purchased a Whirlpool French Door Refrigerator in December 2016. About 3 months later the back panel was frozen preventing it to cool. We unplugged it and called customer service. They sent out a repairman, but by then it had thawed out. He told me he couldn't fix what he couldn't see, but he didn't even check it out. Two months later it did the same thing. Then he said I must have left the door open. He made me look stupid. During that year he came out 4 times until he finally changed all parts.
We kept telling customer service we wanted a new one. After going back and forth with them they finally are reimbursing us, but they charged us $300.00 because we didn't want another Whirlpool product... now we found out they have the worst ratings and we certainly had a very bad experience not to mention all the food I had to throw out because of it. They did not care at all. So please do not purchase any Whirlpool products. I would not recommend that product to anyone.

I purchased this Whirlpool Gold Series Refrigerator WRF990SLAMCO in 2012 and it cost me $2400.00 from Lowes. Worst purchase I ever made!!! I will never again purchase or recommend a Whirlpool product. I paid for extended service agreement from Lowes. Before the first year was over, ice was forming on the inside roof of the refrigerator and the whole cooling system/grid needed to be replaced. Then the cooling system went out, followed by the ice maker (PS the ice bucket container was rusted within the first year), then the whole electrical panel on the front of the refrigerator where the ice/water dispenser is.
For the last three weeks I have had water leaking out of the top of the refrigerator adjacent to the water filter. My home warranty won't cover. It is a $400.00 repair to replace the circuit that attaches from the water filter. I called Whirlpool 2/14/2017 to complain about the product. She tells me that there haven't been any complaints logged about the refrigerator. Seriously??? Read your reviews! The gal on the phone offered a discount to purchase a NEW PRODUCT! Are you serious??? Take my advice. DO NOT BUY WHIRLPOOL. They do not care about their customers or creating a well made USA product. I'll buy foreign next time!

Warranty services are trouble. For one (1) simple "washer part" it's taking over 2 months. They state it's on "back order"...while my food is wasting away. Whirlpool didn't even know what he was doing, and to the top it off, forgot to put back the part he took off!

EveryDay Care? Every day I hope the part needed to make my new Whirlpool refrigerator work again is delivered so it can be repaired. I bought it in December and since then the WRF992FIFM has had the ice maker fail and need replacement and the fan unit in the refrigerator went out 2 days later. It has been nearly a week now and I am using dry ice to keep my refrigerator cold enough to store some food. The authorized repair service did not have the part and Whirlpool is shipping it directly to me but I do not know when. No tracking info, nothing. Three days and no delivery.
Then I must call the repair service back to schedule yet another appointment to install it. Meanwhile, I am paying $13.00 to $20.00 per day for dry ice, not to mention the time I had to take off of work for three service calls - for an appliance I took delivery of on December 21st! Less than 2 months. I am finding out quickly that Whirlpool is very generous with apologies and stingy with results. I should have checked the Whirlpool FB page before making my purchase. But they sure are quick to try and sell you the extended warranty. I am developing a whopping case of buyer's remorse.

ConsumerAffairs Research Team
The ConsumerAffairs Research Team believes everyone deserves to make smart decisions. We aim to provide readers with the most up-to-date information available about today's consumer products and services.
Whirlpool is an American multinational manufacturer and marketer of home appliances that makes a number of different styles of refrigerators. The company manufactures refrigerators under a number of different brand names.
Variety: Whirlpool offers a wide range of refrigerators of many different sizes and styles, such as French door, side-by-Side, top freezer and bottom freezer.
Matching appliances: Whirlpool also makes a number of other kitchen appliances, such as stoves, microwaves, dishwashers and compactors so that homeowners can outfit their kitchens in matching appliances.
Extended service plans: Whirlpool offers extended service plans that include 24/7 Toll-free call support, help from expert technicians and repair/replacement as needed.
Eco-friendly and Energy Star-rated: Whirlpool devotes itself to reducing its global footprint and features products with low energy usage that are more eco-friendly than other refrigerators.
Accessories: Whirlpool provides many refrigerator accessories, such as ice trays, shelving units, drawers, beverage containers and more.
Best for Homeowners looking for a reliable, high-quality refrigerator from a reputable company.
Whirlpool Refrigerators Company Profile
Company Name:

Whirlpool

Year Founded:

1911

Address:

2000 N. M-63

City:

Benton Harbor

State/Province:

MI

Postal Code:

49022

Country:

United States

Website:

http://www.whirlpool.com/