Consumer Reviews and Complaints

My Whirlpool "Gold", French door refrigerator is 3 years old and just died. The most frustrating part was trying first to go through Whirlpool.com to have them schedule a repair service call. It seems that when I added my zip code and address, their program automatically changed the zip code. So an appointment was scheduled for a repair company that is 4 hours away from me. In calling Whirlpool back (another 30 minutes on hold), they again attempted to insert my address and zip code only to find the program changed it again. I got NO assistance. I finally did find someone (through Thumbtack.com) who found that one of the 3 circuit boards that tell the compressor to "cool", was bad. It's going to be 10 days before I will have a refrigerator again and after spending 2K on it, makes me angry. I will never buy Whirlpool again.

Whirlpool French Door 32 Cu. Refrigerator - Purchased refrigerator Nov 2016. Never worked, never cooled. Called Sears and was told to call Whirpool. Had to then wait 1 week for repair company to send out service tech. He determined it was unrepairable. A replacement was delivered. The replacement started flooding the interior down the back, filling underneath the bottom drawer and down into the freezer (ruining everything in the freezer) and out onto the floor. Called Whirlpool and had to wait another week for a tech. They assessed the problem and left. I was told it would be fixed within the week, that they'd call when the parts arrived. 3 weeks later, no word. Called Whirlpool, the parts were on backorder with no ETA.
Two weeks later the parts were expedited, after I called again crying, and a tech came out again to fix the flooding. Two weeks ago the fan started to make a very loud noise and the internal temperature started to fluctuate and finally settled between 55-60+. Everything was ruined, again. This refrigerator is defective. Whirlpool's customer service is deplorable.
DO NOT BUY ANYTHING FROM WHIRLPOOL!!! They don't care that they make and sell defective crap. They don't care about how much money and time you've lost because of their defective merchandise. You have to have a service repair person come out at least 3 times before they'll even consider a replacement unless the repair tech considers it unrepairable even if it never really works or if the parts take weeks to be delivered. They DON'T CARE about anything. Worst part is that I have no power or recourse. No one will help me. I was told today by the Sears Customer Relations to hire a lawyer. :( This is so wrong.

11 months after I bought the fridge it started acting up. I paid 1900 for this thing. The temp kept getting warmer and the ice maker quit working. I had to pay for a service plan. I'll never buy a piece of junk Whirlpool product in my life again and ill broadcast their poor quality to everybody in my 5000 congregation. I work to save up to buy this product and its junk. I'll end donating it. I'm very upset at this junk product produced by Whirlpool.

I am following up on a review I submitted on April 22, 2015 about a Whirlpool refrigerator with french doors and bottom refrigerator. At the time, paint was falling off from the door as pictured in the previous review. This another chapter on this story and probably the closing chapter. A few months after the paint event which I could have lived for a while, the right door hinge literally disintegrated leaving the door without support. The door seal's material is of such poor quality that they have disintegrated and the water condenses inside. The bottom photo shows hinge components that came off the door hinge on the kitchen floor. The second photo from the bottom up photo shows how the door scraped the plastic of the freezer door top trim if the door is not lifted to clear it. The second photo from top to bottom shows the door over the hinge pin if I am not careful lifting the door to clear the freezer door.
The first photo from top to bottom shows how the door remains open if not lifted so that the door magnetic seal keeps it in place. It is very hard for me to believe that a country like the United States of America treats its customers with no respect. I met my obligation to pay the amount on the price tag of this appliance but I cannot say that Whirlpool did its part of providing a basic quality product. There is no consumer protection agency in this country to protect consumers from corporate predators that have no sense of a fair deal with a customer. So here we are, being abused by United Corporations of America. I hope the future brings a different understanding of the american people on these matters. Thank you for the opportunity to express myself on this matter. Next step... buy a foreign made appliance that will support another country work force... sounds familiar.

Whirlpool WRF993FIFMOO: Refrigerator Problems: the doors do not close, both ice makers went out, The computer on the filtration will go off. Refrigerator had problems maintaining temperature since 8.12.17. The refrigerator no longer works. This is my second unit since 11.09.16. It came from nfm.com.
How do I know I can trust these reviews about Whirlpool?
881,173 reviews on ConsumerAffairs are verified.
We require contact information to ensure our reviewers are real.
We use intelligent software that helps us maintain the integrity of reviews.
Our moderators read all reviews to verify quality and helpfulness.
For more information about reviews on ConsumerAffairs.com please visit our FAQ.

This is my third Whirlpool refrigerator. The first two lasted about 20 years each, and although not fancy, they were always serviceable. This one is different.
Because of my kitchen cabinets, the only refrigerator with as much storage capacity (cu ft) as my old one was what seemed to be an almost identical Whirlpool, with the only exception being a slight difference in the ice maker. But this one is a disaster. The water/ice dispenser has been changed to one with one space only for your container. The water that comes out is warm, because the routing of the tube has been changed and it no longer goes through the chilled refrigerator space; the ice pours out so hard that usually half of it lands on the floor.
In order to operate the dispenser using anything with less than a 4" diameter, you need two hands: One to depress the lever behind your glass and one to hold the glass farther away from the refrigerator. Failure to do that results in a wet mess. After dispensing crushed ice, it continues to send small pieces flying long after I change the switch to "cubes." But that is the least inconvenience. In an apparent engineering change to meet energy efficiency, the new "refrigerator" recycles air from the freezer to the refrigerator compartment. That and other changes in the frost-free engineering have resulted in:
Uneven cooling in the refrigerator. In fact, it froze $1800 worth of insulin pens. I was advised by the Whirlpool representative that I shouldn't have put them on the shelf where the vent from the freezer spews out freezing air. Spoiled food in the freezer. Everything in the freezer develops a thick coating of ice crystals within a short time. This dries out the meat, shrinks the popsicles, and destroys the quality of fish and fowl. At this moment, I have two pork chops that defrosted in a plastic container on my kitchen counter. I bought them fresh, and now the 10-12 oz. of pork is swimming in over 1/2 c. of water.
Interior fittings are poorly made and shelves and drawers do not work easily. The allegedly "stainless" exterior is difficult to clean, and many reviewers have remarked that they find rust within a few months. I could go on. There is more poor engineering, and an array of noises filling the kitchen, but you get the picture. I wish I could trash this refrigerator and buy a good one, but that isn't feasible both because of budgetary and space constraints. The last service person who came out sighed and told me that the refrigerator was cold, and that meant that the unit was operating okay! I HATE this refrigerator and struggling with it from day to day. My hope is that no one will buy a Whirlpool ever again. I certainly won't.

Never buy a Whirlpool appliances because I bought the top of the line washing machine and after 4 years I had to replace it. And then I bought the top of the line refrigerator and after 6 years it goes out!!! I definitely will not recommend a Whirlpool ever!!! And me and my husband do construction and are asked a lot for a good appliances and we will tell our customers not to buy because Whirlpool is assembled in Mexico and their products are not worth putting in stores!!! Whirlpool is not the appliance that anyone needs so I definitely will tell everyone I come in contact with!!! Very dissatisfied!!!

Purchased fridge in November. Broke 1st time in May. Design defect that Whirlpool knew about. "Repair" was to move a part called a thermistor farther away from where ice was building up. Broke again in July. Called for service July 28th. It's now Aug 23rd. Was just told by repair service parts might be in Sept 15th. Had to throw food away twice, missed work 5 times for service calls. Repair company & Whirlpool have done nothing but lie to me. All Whirlpool offered was a $150.00 inconvenience fee. Not even close to what I've lost. Never even received that & now they won't return calls. Talked to 5 different people at Whirlpool, including "supervisors". All said they would call me back, but didn't. Keep leaving messages & they just ignore & don't call back. Still no fridge. Want my money back or a new fridge at this point.

I bought a Whirlpool model # WRF757SDEM. It has failed twice in 7 months. The top's temperature hovers at 54 degrees Fahrenheit. The freezer works fine. I had a whirlpool fridge for 10 years before I bought this one and never had trouble with it. This particular model seems to have a design flaws according to other reviews I saw on this site that read similar to mine. We are waiting on parts. This is the second time in 6-7 weeks that it breaks down.

Purchased Beverage Center WHB36S. Terrible use and care guide as instructions say just touch arrows to set temperature. Tried that and nothing happened. Called customer service and was told you had to hold arrow key in for several seconds upon which temperature light starts blinking then click set button one click for each degree you want up or down Celsius. Was told temperature light would automatically switch back to Fahrenheit once desired Celsius was reached. Not true. Called again (on hold for another long period). Told I would get a call back in 15-30 minutes. 5 hours no call back so called them again. Was told to switch to Fahrenheit. Hold the up button in until temperature light switches. Ok that worked. NOTHING in instruction manual to guide on this. Took 3 calls all with long holds to get resolved. How do companies like this stay in business?

I am very upset with this company. I bought my fridge two months ago from Sears. The fridge is leaking water and I'm having a lot of problems with the freezer and the ice maker isn't working at all. I've been trying to reach the company but they always leave me hanging in the phone and never answer and keep hanging up. I am very upset with this company. I wasted a lot of money for nothing. Please people don't buy fridges from Whirlpool and don't waste your money.

WRF993FIFM00 refrigerator is a LEMON - I bought my $3000 refrigerator just after Christmas. In seven months, it has failed three times and I have been without a refrigerator for a cumulative 7 weeks so far. Each time it failed, I lost all my food, (but not until after we'd been eating compromised food). If you buy a fridge, I strongly recommend getting a thermometer, because we learned the hard way that these Whirlpool units can just stop cooling properly and you won't necessarily notice that it is above the FDA's recommendations for food storage. Anyway, after each call they will make an appointment a week or two out for a tech to come out, who then orders the parts that take weeks to come in.
Now, my third service call in and the SAME PARTS have failed again and I am again without any refrigeration and they have no idea when the parts will be in. This has been an awful experience, and Whirlpool could not care less. DON'T buy their products, under any of their names. IT IS TIME FOR A CLASS ACTION LAWSUIT. Too many folks have spent a lot of money and have been burned by Whirlpool, not to mention becoming ill from improperly chilled food!

Absolute garbage!!! French door refrig/bottom freezer. Too much to go into. This is by far the worst product that I have EVER purchased in my life. If I was strong enough to lift this piece of ** over my head I would carry it into the corporate headquarters of these money grabbing dirt balls and throw it through the CEO's door. Amend that: I would locate "customer service" and consider them bowling pins. What a bummer; how far we have fallen!!!

If you are on this website, keep reading. You will definitely find many people that have your same problem. We purchased our refrigerator 5 years ago. Since then we have had a leak inside of it which is gradually forming mold that I have to cleanup. The ice maker and water dispenser do not function for months at a time. I just purchased 2 drawers for the same reason as the review on May 5, 2016. The tabs break off of the front panels and the panel falls off of the drawers. There's no way to pull them out. We paid over $200.00 for two drawers!
I spoke with customer service at Whirlpool and read them the 2016 review. Their answer was that you should not believe everything you read. My answer was, "How can't I? It's happening to the refrigerator I own." They just kept giving robotic answers. The conversation was that of someone that is in denial of having a problem. They don't care. Instead of at least offering a discount on the drawers, she offered me an over $400.00 one year warranty. Pathetic! Whirlpool has just lost another customer.

Bought a Whirlpool Model WRF560SMYB04 on May 20, 2015. In less than 6 months the ice maker literally fell off its mount and sprayed water everywhere. It was remounted under warranty. A couple of months later the ice maker had to be replaced as it quit working. Since May 2016 I have paid for 3 service calls to have the ice maker reinstalled as it keeps falling from where it is mounted. I contacted Whirlpool and they basically told me to take a hike since it is out of warranty... did not get the extended plan. The technician says it is a totally faulty design which is why it keeps falling. It fell again yesterday. So I will get rid of this POS and buy an LG with extended warranty. Never again will I own a Whirlpool appliance.

It has been a rude awakening, that Whirlpool is a substandard company. I have gone through 3 refrigerators under the label Kenmore, Whirlpool & 2 1/2 days ago Maytag. I purchased a Maytag 9 years ago and it is still working fine, and even cools a bit too much. Now mentioned labels are under Whirlpool; Since Whirlpool bought out Maytag in 2006, Whirlpool turned Maytag into a sub standard product company. They are spuming refrigerators with defective thermostats. Just think of it, I am one customer that have had the same issue with 3 REFRIGERATORS UNDER 3 LABELS MANUFACTURED THE WHIRLPOOL. I just called Maytag, and when I tried to make sense of the name of either Daren, Karen or Taren, ** hung up on me. I then called Home Depot online major appliances & ended transferring me to WHIRLPOOL!
My Maytag refrigerator was delivered 07/25/17, after less than 24 hours, I had to move the settings to 4 from 3 for the refrigerator. She said that if the refrigerator cools enough at 4 then there is nothing wrong! Nothing wrong! To be substandard, in my book it's plenty wrong. They have no business sense nor customer service sense. I will buy another refrigerator or appliance from any Whirlpool labels when hell freezes over! For them to accept substandard parts, probably foreign, it is not acceptable in CA nor the USA. Since; since this is a foreign owned company, I pray they will be a company not doing much business in the USA unless the measure up to our standards. Since; going forward we will make American and Buy American!

We purchased the unit in March, by April it wasn't cooling. In June it shut down. In July after 8 tech appointments and repairs. Whirlpool finally said they would refund my purchase and I should see the money in about three weeks. That would be about a week longer than the refrigerator worked. I don't have the money to just get another one so I guess the family will be without a refrigerator for another month. That means shopping every day for perishable for a family of 10. I would not recommend another Whirlpool product. This is no joke, every time I called them one of the first things asked was "Did you get the extended warranty?" Why would they ask, sounds as if they don't trust their own product either. This unit was purchase online through Sears.com. Purchase price was $2299.99. Order placed on March 4, 2017.

Purchased above refrigerator (WRF736SDAM13) over a year ago and it has been nothing but trouble. I've had service companies out 6 different times. The doors never lined up or closed properly from day one. The final and last attempt to fix was putting caulk in the seal of the doors!! Left door does not seal properly and moisture builds up on inside. I requested several times for a new one and Whirlpool refused. Also purchased microwave, stove and dishwasher. Microwave went out 6 months after using it. They had to replace a major part. At least they did this at no charge. Just the hassle of having to be home 2 times to meet service tech. WILL NEVER purchase Whirlpool appliances again. I've been using them for in all my homes in the past. STAY AWAY from this model.

We bought this fridge 1 year ago. We have already been without a fridge from Oct 2016 to Jan 30, 2017 due to a drawer going bad which caused the whole thing to quit. Now it has an obstruction in the Freon lines that causes it to freeze up and not cool. It was deemed not repairable by service company sent by Whirlpool/KitchenAid, and yet they want "one more" test run. The last person I spoke with at customer service had a flippant attitude and said there are no notes. What they do is drag you along for so long, make you wait and abuse you with "tests", and hope you finally give up and go away. I will never buy another thing with Whirlpool/KitchenAid stamped on it!

Worst refrigerator (French Door Refrigerator WRF989SDAB00) ever! Even though this Technical Service Pointer was issued, it takes forever to get any satisfaction from Whirlpool. They were not pleasant to deal with when calling the Whirlpool Corporation. I had to research the problem while on the phone with their service representatives. The technician arrives and confirms that the evaporator in the fresh food section is indeed the problem but then it takes days for the parts to come in and then another appointment will be scheduled. Whirlpool does not provide good customer service. A refrigerator should last more than three years. Very disappointed and would never recommend Whirlpool to anyone.

I purchase Whirlpool refrigerator. After a year it has done nothing but give me problems. Thank God I purchase insurance for repairs. I had the refrigerator fix over 3 times. First the water and ice wasn't working so the filter had to be change. Then the ice was made and my refrigerator start leaking. The repair guy stated the fan and something else is not working. I am a single mother struggling and to spend over a 1000 dollars for a refrigerator that does nothing but give me trouble. I am totally unhappy with this product.

The most worst experience. I purchased a Whirlpool refrigerator on 27/06/2017 and they delivered me a defective one where the compressor is not working. The installation person and the dealer raised complaints but still on date I didn't receive the new refrigerator. Dealer person says that Whirlpool is the worst brand and they are not responsible in this matter. It may take 1 or 2 months. Now my feeling is that choosing a brand Whirlpool I done a suicide. No happiness in my family. Whirlpool customer care person has disconnected my call without helping me. At least now I hope someone will help me.

We purchased our refrigerator new in 2014. After only 4 years and taking meticulous care of our Whirlpool Top Mount Refrigerator, the temperature regulator stopped working - and the condenser fan rang constantly. The refrigerator couldn't get below 50, and the freezer vacillated between 17 and 30 degrees. We live in a somewhat remote area and could not find an appliance repair person to look at it. So we had to purchase a new appliance. Needless to say we did not choose Whirlpool!

This refrigerator (French Door Refrigerator Model: WRF757SDEM) has been problematic since day one. The ice dispenser sends crushed ice all over the kitchen floor. The temperature in the upper 3/4 of the storage area and on the door is 57 degrees (it should be between 36 and 40 degrees). The item was purchased at Best Buy on October, 2016. It is still under warranty. I have had several visits by repair people and so far no fix. My friends call it a crockerator, since you can freeze food in the freezer and slowly cook food in the refrigerator section. I tried twice to get Whirlpool to pick up this thing, but so far no go. DO NOT EVER BUY A WHIRLPOOL REFRIGERATOR! They used to make good products, but no longer do.

I purchased Whirlpool refrigerator WRF992FIFM00. On December 2016. It was cost $3400 but it stopped working after 6 months. I called Whirlpool for service. Technician came. Diagnosed it and he said he needs two parts but parts are not available. So he asked me call Whirlpool for help. I did call Whirlpool three times and the problem can't be solve. Whirlpool told me have to wait at least 10 days so they locate the parts so they can send out to Whirlpool contractor for repair. They don't have another solution rather than I have to wait until parts have available. I have to thrown all my food and I live without refrigerator. So what the point I need purchase extension warranty if they don't have parts to repair. I would not recommend anyone to purchase appliance from Whirlpool.

I absolutely hate my Whirlpool refrigerator! The first day I had it, the cover to the deli drawer fell off and cracked because it wouldn't stay on. I called the company and they sent me a new one but it immediately fell off and broke also. It is just a terrible design. The plastic slots don't fit correctly and it just doesn't stay on.
Then, a few months after owning the fridge, I notice rust spots on the bottom drawer. I called the company and a rep told me to buy dishwasher cleaner and a magic eraser and use that to scrub the rust off. She insisted that it must be near humidity. I explained that my GE stove and dishwasher, along with other stainless steel in my kitchen have never rusted. The Whirlpool company provided no help whatsoever and does not back up their warranty. I would never purchase another Whirlpool appliance after this experience. Now I am stuck with a fridge that has rust stains and a broken door.

We are now on our 2nd ice maker, 2 drawer refrigerator, which was not under manufacturer warranty and it appears we are going for a 3rd!!! Obviously the parts are defective and cheaply made!!! We will no longer buy Maytag/Whirlpool products!!!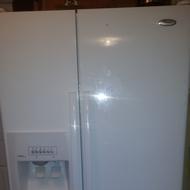 We purchased our refrigerator about five years ago and we have dealt with it freezing up constantly. The coals and vent are at the bottom of the refrigerator. I believe that is a lot of the problem. We have continuously blowed off the coals to keep it from freezing up but sometimes it's still freezes up. I do not recommend the two-sided door Whirlpool refrigerator.

I purchase a WP Fridge only unit model WRF578 18D MOO in July 2016. I woke up 3 months later and my fridge was filled with rotten food, the internal temp was 16 C 60.8 F. I phoned Sears and they had me phone WP. They tried to repairman but he phoned and told me that he could not service my fridge as he was a 3 1/2 hr and one Ferry ride away from me - He was in Whistler and I live on the Sunshine Coast. I phoned WP again and they sent someone who actually lives here. He found and repaired a small freon leak.
Four months later it happened again, the fridge was also making loud noises when the compressor started and stopped. I phoned WP again. They sent the same repairman, he ordered and installed a new compressor and topped up the freon. Sadly less than 3 months later it happened again. This time I was very firm with WP that I was unhappy, they extended my warranty for a further 6 months. The same repairman again came and topped up the freon. That brings us to this week.
On Wednesday June 14 I woke up again for the fourth time to a fridge full of rotting food. The fridge was actually warmer than my Greenhouse that day! I phoned WP. They were unwilling to help so I asked for a supervisor. She offered to pay 1/2 of the service call as my warranty had expired Jan 26/17. I said that was unacceptable and asked to speak to her Supervisor. She stated that she was as high as I could speak to, so I asked for an e-mail address for her supervisor. She instead tried to tell that I had no warranty and that they had already "fixed" my fridge 3 times and given me an extra 6 months on my warranty and offered for me to BUY an extended warranty! I replied that if my fridge were fixed I would not need a service call and that in fact my fridge had never really been fixed. She transferred me to another person.
He offered to pay for the service call. I accepted. He asked if I were happy, I said that I would wait and see after the service call on Monday. I Asked if it were the same Man, he said that violated his Privacy. I said I will see him Monday! Will he be wearing a disguise?! Kohuch (the Service guy is coming over this afternoon -Friday) my Husband left work early to be here.

Bought a Whirlpool refrigerator from Lowe's 5 months ago. Already had a repairman out two times. The refrigerator is defrosting out on the floor. We are constantly having to change towels to catch the water. The last repairman said it could be fixed and started the procedure to get an exchange since it was still under warranty, but now Whirlpool is saying they still want to fix it even after we were told we were getting an exchange. These people are crooks and put out low quality merchandise, then don't back it up. I have seen complaint after complaint on the reviews. Whirlpool needs to be put out of business.

ConsumerAffairs Research Team
The ConsumerAffairs Research Team believes everyone deserves to make smart decisions. We aim to provide readers with the most up-to-date information available about today's consumer products and services.
Whirlpool is an American multinational manufacturer and marketer of home appliances that makes a number of different styles of refrigerators. The company manufactures refrigerators under a number of different brand names.
Variety: Whirlpool offers a wide range of refrigerators of many different sizes and styles, such as French door, side-by-Side, top freezer and bottom freezer.
Matching appliances: Whirlpool also makes a number of other kitchen appliances, such as stoves, microwaves, dishwashers and compactors so that homeowners can outfit their kitchens in matching appliances.
Extended service plans: Whirlpool offers extended service plans that include 24/7 Toll-free call support, help from expert technicians and repair/replacement as needed.
Eco-friendly and Energy Star-rated: Whirlpool devotes itself to reducing its global footprint and features products with low energy usage that are more eco-friendly than other refrigerators.
Accessories: Whirlpool provides many refrigerator accessories, such as ice trays, shelving units, drawers, beverage containers and more.
Best for Homeowners looking for a reliable, high-quality refrigerator from a reputable company.
Whirlpool Refrigerators Company Profile
Company Name:

Whirlpool

Year Founded:

1911

Address:

2000 N. M-63

City:

Benton Harbor

State/Province:

MI

Postal Code:

49022

Country:

United States

Website:

http://www.whirlpool.com/