Consumer Complaints & Reviews

If you are thinking about buying a Samsung refrigerator "don't". This is the worse product ever and I regret buying it. I purchased the product in 2013 from Lowe's, they were having a sale so I purchased the refrigerator, stove, and dishwasher. I have not had any problems with the stove but the dishwasher and refrigerator is a whole new ball game. First, there are the filters (which are not cheap) you have to buy every six months to a year for the refrigerator depending on how much you use the water dispenser. Secondly, the ice maker just one day stop making ice and this has been going on for about a year as I refuse to pay almost $500 to a repairman, that the Samsung customer service (who was rude) recommended, for a new ice maker for a refrigerator that I haven't had for that long. I can purchase another refrigerator for that price (I mean it's only been 3 years. My GE appliances lasted 10 years before I had problems with them).
We even had a local repairman come out to take a look at it and he wouldn't touch it because he said that "they are too difficult to work on" and he also said that he has had several calls about Samsung refrigerators for one thing or another and that only a trained Samsung repair person would be able to fix it but they want too much money. And then there is the dishwasher that seem to always feel wet on the inside even when not in use and it has a smell that I can't describe. I am so disappointed in this product. The biggest regret of my life. So I am warning you Samsung may be good in the cell phone business but their appliances SUCK!!!! I should have just stuck with GE.

Hi I am from chennai, India. I bought Samsung side by side fridge from Samsung store here. The model is RH77J90407H. From day one I have been facing issues and now I have to deal it legally. Please do not buy from Samsung stores. Visit the store for the features and benefits of various products, but buy from other Samsung dealers who also deal many brands. Samsung store people are hopeless after sales. Dealers other than Samsung stores put customer satisfaction first and help you in getting the refund or replacement. Within one year Samsung technicians have changed water dispenser unit, compressor, PCB board and main mother board in my fridge. Beauty is my noise problem is not solved but is more now. As a bonus four of fridge trays have broken during the problem solving process by technicians.

DO NOT BUY FROM SAMSUNG. What a horrible piece of crap from a reliability perspective. Love the design and layout but... The icemaker starting leaking water, the fridge is 18 months old and I know it is out of warranty so I called a repairman (a trusted friend). He came to the house and said "oh yeah I service Samsungs for this issue all the time, at least 5 or so a week". The icemaker and the auger unit needed to be replaced, $755, WHAT almost half the price I paid for the fridge itself. I looked online and the parts are over $400 at the cheapest place.
I called Samsung and they said it is out of warranty and would not do anything to make me happy. I would call this a defect if the component is failing in less than 2 years, which according to my buddy he sees all of the time but what does Samsung care they are making a killing on repair parts on fridges that are less than 2 years old. I will never buy another product from this company and I suggest you don't either, complete junk.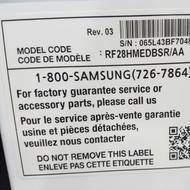 Bought the Frig from Lowe's in 2014. It started dripping water about a year in from the water/ice dispenser. The ice has never dispensed very well, and the consistency of the ice varies greatly without any adjustment of the temperate. And then a week ago a plastic piece falls out of the ice maker into my glass. It broke off of something. Now the ice maker is frozen, no more ice. I see that there have been so many problems with Samsung frigs with a class action lawsuit. I can't believe Lowe's has these lemon products on the floor. Is my model in the class action?

DO NOT BUY Samsung French Door fridges! I have almost $3000 invested in a fridge that gave little, annoying problems at first, but as soon as the VERY SHORT warranty was up, the ice maker problems got worse and worse... Dripping water out of the ice maker flapper door, slushy ice cubes, ice dams in the ice maker itself, taking 1 minute or so to drop out 3-5 ice cubes, odd noises, not making ice at all... You name it.
I tried to get a repairman, but no one returned my calls--then I discovered from several local sellers of the Samsung French door fridges, that there are so many problems with them, that repairmen don't want to repair them at all--knowing they will never solve their clients' problems. The repairmen might take the call IF the unit is still on warranty, simply because they know they'll get more and more repair calls--all paid by Samsung. Once the warranty is gone, they don't want to deal with Samsung units.
Consider this: I have a new millennium fridge and I make ice the way my Mom did in the 1950s--with ice cube trays! I think these units should be recalled--these are major expenses for a family--just like buying a car that is unsafe or poorly designed--or is an outright Lemon. Samsung's reply to me was a boilerplate letter with links pasted in to their WELL KNOWN repair bulletins... Each one I had already known about and tried! Then they linked to how to get a repair ticket started, but then repeated their warranty rules. Samsung customer satisfaction? Rate that at ZERO. If you know anyone considering one of these Samsung units, steer them away--- SHARE this post. PLEASE SHARE!
How do I know I can trust these reviews about Samsung TV?
594,379 reviews on ConsumerAffairs are verified.
We require contact information to ensure our reviewers are real.
We use intelligent software that helps us maintain the integrity of reviews.
Our moderators read all reviews to verify quality and helpfulness.
For more information about reviews on ConsumerAffairs.com please visit our FAQ.

Bought a new Samsung. Refer 13 months ago and regret it so much. In the last 3 months, rust is growing around the water/ice dispenser. In the last week, there is no water pressure. With the filter out, great pressure but when a new Samsung filter installed nothing, no water. Junk. Never again.

We purchased the Samsung from hhgregg in Appleton WI as we were remodeling our kitchen and the refrigerator # rf260beaesr has not worked from the start. For making ice, we have called hhgregg. We had the extended warranty and they told us it's not their problem. We have to work through Samsung so we have called and on 5 different occasions received inaccurate information and the tech line of Samsung the repairman came out and thought we had a used refrigerator or malware refrigerator from the assembly factory as the cables were not connected and the coil for making ice was defective. He replaced it nicely. That piece of coil lasted one day and again we called the tech line and the repairman came replacement of something else and reset the refrigerator and when we came back from our 14 day vacation it stunk in the house and lo and below - all the food in the freezer spoiled. Over 250.00 of meat.
We called them up and they said to call hhgreg and we did that and hhgreg said they have nothing to do with the Samsung as Samsung is the product and this is their problem. Now this is getting old. Since June we have been getting replacement parts and no wear as the freezer still is not working and either is the temperatures in the refrigerator and no one is taking responsibility in replacement. They said Samsung that is, that hhgregg will be calling you and replacing a refrigerator. No no not a call received.
We have called and wrote everyone name down the phone and email and faxes that they told us to go through for Samsung and guess what? Nothing is done. Now all we want is our money back, plus the food lost, and we will not buy a Samsung product ever. Example - look at the Samsung phones are blowing up. We have done everything Samsung told us to do and as of 9/16/16 we are no further ahead.
CIVIL suit - contact news and will expose both retailer hhgregg and Samsung for running false advertising and product reliability and the other thing is hhgregg in Appleton and Green Bay is going out of business. Everyone got our money but we end up being the loser. Where is the justice in customer service? Where is the responsibility for a product accountability? The refrigerator is not even a yr old rf260beaesr and I have a 5yr psp bf refrigerator warranty which I was charged 349.99. Plus the refrigerator of 1600.00. Where does this sit with me? FZ coils frozen up, defrost freezer. Heaters did not work. Def defrost control replaced, installed new main board and evaporator fa defrost sensor ordered. Need sensor, connected sensor e21 evap fan reconnect on 7-1 16.
Next visit 7-18-16 reg def holder defrost thermostat no voltage to heater from board evap fan not running. 8/26 repairman another sensor ordered power freeze and another visit from technical difficulties. No one knows what the hell they are doing in Samsung and they don't care period. They think they can run a person ragged down so that the customer will quit & they don't have to deal with getting us our money back. They don't even know who their CEO. We asked - how much does this tell you they care or know about the Samsung equipment service? So, how do we get our money back so we can buy a refrigerator other than a Samsung? Maybe Electrolux or Maytag. Going locally I can at least get service and honesty and a replacement instead of the run about from retail stores like hhgregg who is going out of business 9/30/16 and Samsung who won't replace or give your moneys back from the purchase.
Does anyone hear me out there? We faxed everything to 973 529 0543, tried 3 times would not accept faxes. Obtained a new fax # to 864 751 2882 on 9/17/16. We are calling hhgregg daily and Samsung daily to get a refrigerator. We are the customer and deserve better care than what we have gotten which was passing the buck blaming the other guy. Get some balls Samsung and take care of the customer - stand behind your name. As for hhgregg going bankrupt out of business says it all. They probably took the money and ran. Almost sounds like this with Samsung is trying to do as well.
Just replace the ref or give the customer their money back. We were the trusting people in your name and now we have no trust in that name and you Samsung did not stand behind and take responsibility. Shame on you Samsung. Someday you'll be a customer to someone else and let's see how that goes. You all will be exposed for what you are eventually.

The new hub refrigerator (with white glove service) plus black stainless double oven range plus ultra quiet black stainless dishwasher plus black stainless microwave plus Samsung's latest washer/dryer combo plus 55 inch Samsung ultra HD TV plus Samsung 65 inch ultra HD TV plus a Samsung S7 smart phone all to update our home and all purchased within one week. "Oh, you are the first buyer of the Samsung Family Hub refrigerator and you won't believe the white glove service it comes with." White glove? They came out to measure the location and said "no problem, all will fit. Second floor, no problem we have the greatest delivery team." Well, the exciting day comes. The delivery team says they will probably scratch the ref if they bring it upstairs but they will try anyway. Final measurement from the white glove guy, "all good she will fit".
The greatest delivery team bangs it up the stairs, hides the big and I mean big gauges they put in the cabinet with their moving belt metal buckets and guess what, it won't fit. We now have the white gloved Samsung Family Hub sticking half way into our kitchen posing nicely with the several gauges in the cabinet. "No problem we'll take car of it." Two days pass no call from anyone. My wife finally calls the white glove VIP team and they can't help! "You can't help, give me someone else." "No he's right, we can't help. You will have to call the store you bought it from." You are kidding me, where was the VIP white glove treatment. Go to Sears, get a Kenmore. We are trying to return all this crap as we also discovered the dishwasher too has a big gauge on the top of the door hidden from us. Even if you have money to waste, flush it down the toilet and don't buy Samsung and be fooled like we were.

We purchased a Samsung side by side refrigerator from hhgregg in September 2015. In July, 2016, the refrigerator stopped cooling. The fan was replaced under warranty. The total time from first call to completion was 11 days. Freezer worked fine throughout. September 13, 2016, same problem. After two days we called Samsung service again since we had not heard from the repair service. We were told that they didn't have a service person available and would continue to try to find one. hhgregg has been unable/unwilling to provide service. Their attempt to "put us in touch" with a service company led to being returned to the Samsung service queue. I would give both Samsung and hhgregg 0 stars if I could.

I LIVE in Costa Rica, & bought my first Samsung product 15 years ago---a side-by-side refrigerator came with a 3-year warranty. In slightly less than 3 years, the electronic display on the door went nuts. I had crews taking my fridge apart every week. After replacing the panel/circuit board/wiring harnesses/entire door, they gave up & gave me a new one which lasted 7 years. When my fridge died, so did my washer & I bought another Samsung side-by-side which came with a free washer. I LOVE BOTH MACHINES, which perform perfectly & am shocked to see such complaints about the company & its products.

Continuously freezing up water gathering in crisper and underneath crisper. Thawed fridge out. Was good for 1 week. Happens again. I have had this issue for 6 months and the fridge isn't 2 years old.

I purchased a Samsung side by side refrigerator in August 2014, Model RF217ACPHN/XAA. In April 2016, the inside iced over and began making clunking noises. I called an appliance tech who replaced a burned out coil. In less than two months, the back of the refrigerator iced over again, and the tech made another house call to de-ice. In the meantime, the ice maker stopped working. The icing has become a problem again, and the tech says he needs a "main control," which he has been unable to order. I contacted Customer Service at Samsung to inquire about purchasing the part, but have received no answer. I am now defrosting the appliance and should know tomorrow whether I need to replace it or not. If I do, you can be assured it will not be another Samsung product! NO MORE SAMSUNG FOR ME!

Samsung refrigerator model #RFG237AARS, bought in 2012. I just found out... after buying 2 water filters from two different places - Lowes and Amazon, that samsung has redesigned the water filter and they no longer fit in this refrigerator! The DA29-00003G does not work with this model. The DA29-00003B does. They don't make the 3B anymore. I am out of luck to replace the water filter! I talked to customer service and was told that I should put a bi pass cap on or redo the whole setup so I can get the filter to fit. This is a lousy company. I will never buy another Samsung product. They do not care about their customers.

We purchased a Samsung French Door Refrigerator (no ice dispenser) a few years ago (It was built in 2011). We began to have problems with water/ice buildup under the cold storage tray since last Fall. We thought we must have spilled water in the refrigerator. It kept happening with increasing frequency. It became a weekly process to remove the cold storage tray and remove an inch of ice and water from the bottom of the refrigerator. It then became necessary to remove the water twice a week to prevent water from spilling out of the refrigerator all over the floor. Several members of my family started getting sick with what we thought was the stomach bug.
We noticed that the refrigerator did not seem to be very cold although the temperature stated it was 34 degree until one night the temperature reading said 58 degrees! I called a repairman who told me the panel in the back was probably frozen and we would need to unplug the unit and wait at least 24 hours for the back panel to defrost. We began the process of throwing out food and found several moldy containers. We realized this was most likely the reason we were getting sick! We were being poisoned by our refrigerator! We immediately decided to throw it out and purchase another one! Having a refrigerator for only a few years and to have this happen, I will never buy another Samsung product again.

I need a freezer department handles for RF263AFRS Fridge manufactured NOV 2010, handles have grey plastic parts that go inside the fridge and hold handle by screws. Handle is not broken, it just cannot hold to the fridge anymore because of the broken parts on both ends. I spent 3 months looking for these parts. Called Samsung and the phone #s given by them, no one has these grey plastic parts. Wrote Samsung customer care email asking for help. They got back to me with template saying I should call their customer service (I know the phone # by heart already!). It's been a few months now the fridge is broken. I have difficulty accessing the freezer because of it.
The part I am looking for the freezer handle is actually a part of the whole freezer door and to make things a little worse, that freezer door is no longer available. Same fridge broke on month 13th, after 12 month warranty. It was making ice on the back of the fridge. Part was $170 and $150 was the labor. I am very dissatisfied with the product. It was expensive fridge and I was hoping to be able to use it for a while. Now, people from Samsung, how to find these broken parts. Please help!

Samsung model RF25HMEDBSR/AA, 2014 Sounds like I have the same problems a lot of others have had. I bought this fridge because I liked the looks of the beverage drawer, having the freezer on the bottom and my food at eye level. I didn't know the problems that were coming with it or I WOULD HAVE NEVER BOUGHT IT. I've replaced the ice cube drawer because it cracked. Ice jams behind it constantly even though I read and follow ALL instructions. Water leaks out the front and stains it up and leaves a puddle on my floor. It makes a whining noise like a puppy for the first year. The motor is loud when it kicks on. I stopped running to the window to see who pulled in the drive (no joke).
It was not easy to get a tech to my house. When it was delivered two very small guys had to struggle with it. If it wasn't so hard to get through the door I'd get rid of it. The delivery guys pinched the cord in the door. The manual said not to use it if that happens - It could cause a fire. The tech came and said it was fine- Charged over $200 for that visit. It sickens me think of the $2000+ I paid for it. After setup I had to run several gallons of water through the door by the glass full to build the pressure up to normal. I never had to do that with the last one - had pressure after the first glass.

I purchased a Samsung RF323TEDBSA three door refrigerator February 2013 and have had terrible issues with both ice makers and front door water dispenser and overall think the stainless finish is impossible to clean. The front door water dispenser always drips down the front of the refrigerator requiring constant cleaning and absolutely nothing cleans this poor quality of stainless. I have tried everything!
The bottom freezer is not working at all and will not reset. The top freezer has to be defrosted monthly with a hairdryer and reset, to get any ice. Even after those bizarre behaviors, the ice is always wet, very slow to make and drop and always mixes at least 5 or so tablespoons of water in with the ice (and again drips down the front of the refrigerator). I actually bought two of the same refrigerators for two different homes and absolutely think both are just junk. What a joke... As I thought I was buying a higher end appliance!
Just another comment, on the Samsung microwave I bought at the same time... Junk. I had to fixed the cracked plastic on the door hinge myself with a You Tube video and rubber band, just so the door would close so the appliance would work... After two years of use (mostly reheating food). I caution all appliance buyers to stay away from Samsung appliances, regardless of the model. Also, getting service without paying an arm and a leg is impossible.

We bought a Samsung French Door Bottom Freezer Refrigerator and it started freezing up behind panel in refrigerator part. It leaks water that overflows onto kitchen floor and makes your cold grocery items freeze up in back of fridge. You will have to pay hundreds in repairs and if you need questions answered about problems be prepared to be put on hold on phone and then talk to someone from India or Pakistan that you can't understand. Samsung refrigerators are nothing but CRAP and they need to be Sued.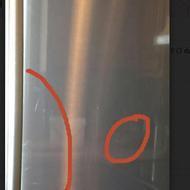 On 8/29/16 we purchased the 25 cu ft French Door with External Water & Ice Dispenser, Model Number: RF263BEAESG/AA Refrigerator in the Black Stainless finish. Delivered 9/3/16. We purchased this high end very pricey fridge, a high end matching gas range and dishwasher so we spent a pretty decent amount of money. The set was ordered from a local appliance store and was NOT a scratch & dent product. While from a distance the fridge looks fantastic, don't look too close. Under the factory packaging (plastic protective packaging & cardboard was not damaged at all) there were numerous scratches and a small dent in the upper left door. I would expect a new expensive appliance such as this would not arrive in this condition. The appliance store is closing and unable to order a new refrigerator or even just a new door. I don't need an entire new fridge, just an undamaged door.
Samsung feels it is our problem and refused to do anything about it. While waiting on hold the recorded message spoke of their commitment to customer service. Well we didn't get that, in fact just the opposite. Interesting is that we really like Samsung and have always promoted their products. This is the first issue we've had and they failed us. I would not recommend this product due to how fragile it seems to be and Samsung will not make it right. I have a beautiful new kitchen with very nice high end Samsung appliances, except for the scratched and dented fridge. Is this really what I waited for all these years? Extremely disappointed. How hard would it be to replace my door? Any other appliance store would have sent it back to Samsung and requested a replacement from Samsung. Why can't Samsung just do that for me?Thanks alot Samsung. Also, I submitted this same review on Samsung's site and guess what? They won't post it.

Bought a Samsung Refrigerator in Feb 2015. In May of 2016 the Fridge part stopped cooling and I lost everything in the top. Called Repair as the Fridge is not under warranty. The service man made 5 trips out and 2 parts and now it is Sept 7 2016 and it is making a noise so long had to unplug it. It was frozen up again in the fridge part and was not cooling up to 62 degrees even though there is ice frozen to coils. Service could not even get panel off until it thawed for 24 hours or more. I still do not have a refrigerator working. The freezer still works fine like others have said. I am getting the run around and given a ticket number and no service guy will come out (they said they can not get answers from tech support) and there is no wiring diagram as other appliances have. Do your research. Do not buy Samsung!

We a little over a year ago purchased a house full of Samsung appliances starting with washer and dryer, liking both the look and the way they worked. When we were ready to redo the kitchen we decided to purchase fridge, stove, dishwasher and microwave all Samsung. The fridge shortly after installed developed water stain in the screen of water dispenser, however since we were 1 day past the original purchase date the warranty was up and Samsung would not help us, and also said a water stain would be considered cosmetic, however now we smelled something burning and now you can see burn area around water spot in water dispenser screen. Not please with Samsung service after spending so much with a house full of Samsung appliances.

Samsung RF28HMEDBSR/AA - This has been the worst purchase I have ever made. Noisy refrigerator. It hums all day and night.

The refrigerator crispers have water in them after a defrost cycle. I was told by the factory that it is just out of warranty. I researched the same problem other people had so I could try to fix the problem. I removed the back cover and installed a short wire into the drain and wrapped it around the defrost heater because the drain line is icing up but a month or so later the same problem is happening again. Samsung refrigerators are junk and there should be a recall because this is a factory defect.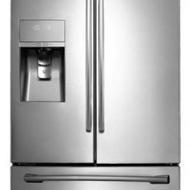 Last year, I bought the three door Samsung ref model # RF323TEDBSR. Nice ref BUT if you like ice then SAVE your money, this ice maker is slower than DIAL UP on the internet. Yes, I had the ice maker changed out. It's just very very slow dropping ice into your glass. That issue may follow all the ice makers installed in the Samsung ref. It's pointless to offer any suggestions to the Samsung Corp to look into the possible changing ice maker companies. Corporations get too big to listen to consumers in this day and time.

I have a model RF24FSEDBSR/AA. The ice maker repeatedly freezes up, requiring me to take a hair dryer and melt the block of ice that's formed around the internal dispenser. I usually have to do this about every month. Then, I usually have difficulty getting the ice bucket aligned so I can reinsert it. The owner's manual says if it doesn't line up to turn the helix on the back of the bucket 90 degrees and try again. I've tried repeatedly (and not just 90 degree turns) and haven't had any luck. I feel like I'm trying to crack the combination on a safe! The bucket sits on our kitchen counter until I calm down and regain my patience to try again. Would not get a Samsung fridge again.

I purchased 4 new Samsung side by side refrigerators about 16 months ago. One by one they have failed in less than 16 months. I purchased four for an apartment complex and it was a costly mistake to say the least. After having Samsung customer service wear me down (they won that fight) I finally just gave up. I basically threw away $6,000.00. I was dumb enough to purchase Samsung without doing my homework, but I'm not dumb enough to fix a pathetic product that won't last. No good money after bad here!!! So, I have given up on Samsung and going back to good old Whirlpool where I should have stayed in the first place. My problems were the same as everyone else's. Ice makers go bad, Blades rub on ice, motherboards go bad. It's amazing that with the internet the word never got out. I'm just trying to do my small part to save someone else $$$.

We thought we were buying a top-of-the-line refrigerator when we bought our Samsung fridge 2 years ago. Model RF263BEAEBC. French doors, bottom freezer, ice and water dispenser in the door. From the beginning, the ice/water dispenser was a problem. It leaked and water ran down the left front and over to the left side of the unit, puddling in the floor. If I selected ice cubes, I got ice cubes and crushed ice, with a bit of water thrown in for good measure. Since day 1 it has never worked as it should. We have tolerated it all this time because everything else was fine. Now, we have no ice and have discovered there is (we're thinking) no water getting to the ice maker in spite of the cutoff valve being wide open and undisturbed since installation. I have recently noticed water gathering in one of the fridge drawers. I am SO disgusted with this fridge!!! I cannot and will not recommend this brand to anyone!

I bought this model a year ago in June 2016. We had one visit from tech so far when refrigerator refused to turn on and cool. Tech came and fixed issue with electronic board. Now just over a year later I am having same problem as previous writer. The refrigerator is not cooling yet freezer is. Am attempting to contact service, but meanwhile all food is spoiling. Our last refrigerator - simple model different brand with no bells whistles lasted ten years without an issue. Would not recommend this model due to issues after only one year plus. Obviously this is occurring after the warranty has expired so it will cost money to repair.

Our 1900$ Samsung 26 cu ft refrigerator was delivered 9/10/2011. It quit working 8/30/2016. We never had problems with the ice maker, although it was slow even for two adults needs of ice. I decided no use to fix it, just go get another refrigerator. If you read reviews on any brand about four hundred people always say what they bought was the worst experience possible. Even the sales guy said refrigerators rarely last more than eight years nowadays. So my advice is spend what you are willing to replace in five years. That's how long my Samsung lasted.

I purchased the RF26J7500SR/AA Refrigerator about a month ago. The ice and water dispenser is a constant wet mess. The finish is a nightmare to keep clean. I had to purchase a product Miracle Stainless appliance cleaner to clean the doors. It is noisy when the ice maker runs. Would have not purchased if I would have known.

ConsumerAffairs Research Team
The ConsumerAffairs Research Team believes everyone deserves to make smart decisions. We aim to provide readers with the most up-to-date information available about today's consumer products and services.
Samsung is a Korean appliance company known for creating a wide range of electronics and home appliances. The company, based in Seoul, Korea, was founded in 1938.
Technology: Samsung offers wi-fi connected refrigerators, letting users keep track of fridge contents and settings remotely.
Color options: The company sells refrigerators in a selection of colors, including stainless steel, platinum, white, black and more. These options let customers choose a refrigerator color that matches their kitchen.
Additional features: Samsung's refrigerators come with many additional features, like water filters, a showcase door and more.
Warranties: Customers have the option of purchasing extended warranties to cover damage or necessary repairs over the life of the item.
Sleek design: Samsung has a reputation for sleek, contemporary refrigerators that offer a modern, clean aesthetic.
Best for Homeowners looking for high-quality, high-tech refrigeration devices, and college students in need of small, affordable mini-refrigerators.
Samsung Refrigerator Profile
Basic Information
Company Name:

Samsung TV

Year Founded:

1938

Website:

http://www.samsung.com/