Consumer Complaints and Reviews

As my husband and I upgraded into a larger family home, I wanted to leave our plain old, basic, boring kitchen appliances behind. Big mistake. We spent over $2,000 on a beautiful looking Samsung 4 door fridge only to be so disappointed. Just after a year of having it, the motherboard went. Because there are no service reps in our area we would have to pay for a service person to come an hour out of town to fix it. A local service person told us to not even bother - Samsung is apparently notorious for having their electronic components of their high end appliances break.
Now we've had 2 of our fridge shelves break. Honestly, my boring old basic white appliances lasted 15 years in my other home (and that was still when people said things "didn't last like they used to"). Also, if you think you will get any answers from Samsung Customer Service, forget about it. Their phones must be located somewhere overseas and I couldn't understand what the person was saying and I got the run around about my motherboard problems in the first place. Ugh!

Samsung fridge SR320MLS purchased 3 years ago at Noel Leeming Manukau, NZ. But after a year and a half I found out it's left and right both inner shell hook for vege bin is broken at small coin size and Samsung has replaced it to new one, it was smooth and good. But a year and a half now from replacement,
exactly same place of left and right inner shell is broken at small coin size but this time Samsung service NZ, they wants to stick some patch on both side of broken inner shell. Imagine about it I've paid $1,134 for good look stainless fridge for good fresh stuff for my kitchen but do I have to use broken shell fridge with ugly patch because of I've choose weak and wrong product, that seems like a manufacturing fault? Are you happy at all? Of course not!
Therefore I asked them for replace it to another right stronger model with extra payment but they didn't allow it for 2, 3 times so I've required for talk with NZ general service manager for and she called me for 2 times but unfortunately my battery was flat and I was at outside so again I've let them know good time to contact with me but neither G.S didn't contact me nor I'm able to speak with her through call center. It was 3 months ago until now they did resolve my claim and G.S never contact to me. How many times do I have to contact to service center??? Because of they are wrong product totally it was more than 5 times. Now I'm very sick for Samsung's after service. Please tell me something, what shall I do?

This 3 door Refrigerator started leaking just after the warranty ran out, age 1 year and 4 mo. The company refuses to pay for any repairs or parts needed even though there are already over 2000 complaints about the appliance. And, they are insisting I need to buy a 250 dollar extended warranty to cover the thing for any future repairs. I spent an entire afternoon trying to do so making phone calls to numbers they furnished only to finally be told I need to go back to Home Depot to purchase the warranty. Samsung should be sued.

Purchase Samsung, model RF266AEBP/XAA, 3-door refrigerator November, 2012. January, 2016 it started making this noise that got louder and louder. At which point it stopped cooling properly. Went online to find out it was the cool and I wasn't the only one. I called Samsung and was informed my warranty I purchased was up. Told them this was a manufacturer's problem and they needed to fix it. They said they could send out a service tech, but I would have to pay for it. I was outraged. The only thing, I replaced my GE appliances I had for 15 years never having a problem with them, just wanted to upgrade. To my dismay, I downgraded! Would not advise anyone to buy this product! Buyers BEWARE!!!

I ONLY GAVE IT ONE STAR BECAUSE I HAD TO!!! We bought our Samsung fridge model number RF263BEAESR/AA from Best Buy. We have had nothing but problems since the delivery. It consistently makes the loudest most annoying buzzing noise. We called the warranty department to have a tech, Young **, from NISI. The first order for repair was completed, by basically putting a bandaid on the hose to the condenser. This noise stopped for about an hour only to return worse. We set up for a second repair to be done. Same technician came out, took the back panel off and again put a bandaid to muffle the sound. Again the fridge made the buzzing noise, only this time it was so loud that you could hear it from our bedroom. This would be the third repair done in order to attempt to cover up a piece of ** product.
I then decided to call the customer service to speak to multiple service people all of which are foreign people, only to tell me that they need three ticket repairs, acknowledging this model has had multiple complaints for freezing up, to which the fan hits the frozen ice causing the buzzing sound. The only relief to stop the buzzing is to open and shut the door. This must be done on a repetitive basis all damn day. Who has time to open and close a fridge door to try and have some peace and quiet. The last time the technician came he said he would not create a ticket for this final repair because he wanted $80 for coming out in addition to parts. The former repairs were written up for condenser issues, and this visit he said he could not fix it due to no payment and because he did not know how to repair it.
This is poor, unacceptable customer service. We have recorded the noise along with images taken. The sound is so loud now it sounds like a damn jet plane. A supervisor at Samsung has said that we should be receiving a call to start a replacement or a refund, but due to high call volume have shut that department down for a week now. REALLY?! RIDICULOUS! Do not buy this product, nor take it if given to you for free. We will never purchase a Samsung product again and only hope that they stand by their word to refund our money. Apparently this is happening to almost every consumer who purchased this model. Get your ** together Samsung and take this off the market. When you spend this much for a product, it is under warranty, defective, you should recall it. BUYERS BEWARE!!
How do I know I can trust these reviews about Samsung TV?
607,960 reviews on ConsumerAffairs are verified.
We require contact information to ensure our reviewers are real.
We use intelligent software that helps us maintain the integrity of reviews.
Our moderators read all reviews to verify quality and helpfulness.
For more information about reviews on ConsumerAffairs.com please visit our FAQ.

Bought brand new on 8/9/2013, within the first 6 months the ice maker quit working and we could not open the ice maker. Samsung said it was due to a defective motherboard. Fridge was under warranty, they fixed it no problem. New this last week 10/5/2016 the fridge will not stay cold. It stays about 52 degrees. The freezer works fine, but the fridge not so much. Tried resetting the fridge like they said, power cooled it for 24 hours and it's still not cold.
Called Best Buy because that's where we bought it and they are usually pretty quick to repair, they said that THIS fridge has a reported compressor issue. If the compressor is bad, it can NOT be fixed and the whole unit will have to be replaced. I have to wait until tomorrow to contact Samsung Repair. Has anyone else had this issue? I am thoroughly irritated that this is the 2nd issue for this fridge, which is just now 3 years and 2 months old. Ridiculous! For the amount of money spent on the unit, this is not acceptable.

Where do I begin. We bought the fridge thinking it was a high quality product. We were WRONG!! Samsung is crap! We started having issues immediately after purchase. Don't buy Samsung. They have no respect for their customers and will not back their product. If you do, here's what will happen. You will begin to hear odd sounds coming from within. The back of your fridge will begin to freeze up immediately. You will begin a routine of blow drying your icemaker every week... and still not have ice. You will call for repairs under your warranty with a deductible of approx 100.00. You will believe they have made it right. It won't be, because the warranty won't allow the correct parts to be ordered (ask your repair guy about that). You will again have the same issues as before... food will go bad.
Have your blow dryer at the ready and your pocket book as well because now you're out of warranty time. You will pay about another 900.00 for repairs unless you agree to another warranty that will bring your cost down 50%. But then you will pay about 60.00 monthly for that warranty. You will wish you had purchased a new fridge and started over at this rate. Put your Samsung on the corner with a "free" sign on it. Or, take it back where you purchased it. They won't want it, but shouldn't they back the product they so avidly supported when they wanted to make that sale? They now tell us to buy Whirlpool. Can you say "Class Action"?

I bought a new kitchen refrigerator, stove, dishwasher and over the oven microwave. All Samsung. Do not buy this brand. I wish I would have read the reviews first. The ice maker started freezing up in the first year. We are into our second year and it still has to be defrosted every week. What a waste of money. You would think that Samsung would make this right for all the customers that have had this problem. I have family members that have the same issues same brand. Ready to take a loss and get a different brand.

Bought a Samsung refrigerator and the lifetime on it was less than 2 years. The fridge got so hot on sides and on the top that you could probably cook on it. The inside was hot and the freezer was just chilly. I tried to call service and was not able to get any help. I had a service tech come out, was charged for the service, and they could not fix it. What a piece of **. They should recall all the Samsung fridges.

I bought all new Samsung appliances about 2 years ago and have had nothing but issues with every piece from fridge to dishwasher and stove. Many issues was during 1st year with stove element going out, ice maker quit working after 1 year, dishwasher leaks, inside of dishwasher plastic parts are melting apart. Worse experience ever and will never buy a Samsung. Whirlpool was never a problem prior.

I bought my Samsung 4 door refrigerator in 2014 and extremely regretting my purchase. I paid over $2,000 for a refrigerator that started to make loud noises after one year of purchase which of course was the end date of my warranty through Samsung. I had spoke to Samsung several times about the issue and nothing was done. I had Home Service Plus which I felt was not their job to fix come out seven times deeming my refrigerator unfixable. I also had a Samsung washing machine that exploded in my basement. My house is full of Samsung products and I wish I could return them all. Very disappointed customer.:-(

Well from all the other reviews, I guess there's no need in calling Samsung customer service. I have the same problem. Came home and fridge was warm inside. It was purchased in Sept. 2013. Guess I'm just gonna purchase something else. Instead of, giving my money to repair men for no good reason. Just to have the same problem down the road. I purchased fridge, microwave, and a dishwasher. Hope the other two work for a while longer!!! LOL. Anyway if you read this before purchase, DON'T BUY SAMSUNG!! Good luck to you!

Purchased a Samsung washer, dryer and refrigerator approx. 1 month ago. On 9-29 fridge and freezer stopped working while at work, thawed out and spoiled food. Fridge and freezer will not cool. Washer is also now listed as defective due to safety hazard. Frequent phone calls to Samsung has resulted in no resolution to this issue. I am constantly being told I have to wait 24-48 hours to hear from different departments. Today, I was told I have to wait another 24-48 hours to hear from someone in Refunds and Exchanges via telephone. I asked to contact them directly but was told they have no phone number because they are a "back office department". I expressed my displeasure and asked for my call to be elevated past Executive Customer Relations and was told that's not possible, they are the highest level of customer service.
I then asked to speak to a supervisor and was told I would have to be put on an list and someone would contact me back in 24-48 hours. 2 days to speak to a supervisor? I was informed that if an exchange of the refrigerator is decided on, it would be another 15 days for delivery. This is totally unacceptable. Not only the frequent waiting for "24-48 hours" to be contacted by Samsung but I was denied the opportunity to speak to a higher level of customer service.
On the day I purchased these major appliances I spent $3000 total and now 2 out of the 3 appliances are defective. I am unhappy with the customer service I have received up to this point. They are not receptive to the issues. The time frame that Samsung is putting me on is unacceptable. It shouldn't take 48 hours to make a decision for a customer that has invested thousands of dollars in Samsung. In the meantime, I have a dead $3000 refrigerator in my kitchen with no resolution and nowhere to turn as far as customer service. This was my BBB complaint.
After filing a BBB complaint, I was contacted by a rep from the Office of President. She acknowledged my current problem with the refrigerator. She explained that she will now be handling my case and I can contact her directly. She explained she is still waiting to see the result of my issue from the refunds and exchange office and she will contact me the next day. The next day arrived and I had to call them to find out the results. I was told the request to exchange the fridge was kicked back (declined) because there are no service programs in the area. I am now stuck with a refund.
I expressed my concern for this due to the fact that I purchased the fridge on sale, and its listed on Samsungs website for $2999. I paid approx $1800 and will be losing the value of the fridge by receiving a refund. After back and forth explanations, she explained how I would be receiving a call from the refunds and exchange office... in another 24-48 hours. Today is October 6th. She said I would be receiving a call either tomorrow or Monday the 10th of October. The refunds and exchange office has already seen my case several times and even took action on it, why do they need another 48 hours to review it? So we head into the weekend once again with definitive solution.
When I hear from them on Monday, how many more phone calls will need to be waited for and how long till I actually see the refund? Once again I was told there is no higher level of CS, shes following procedures and protocols and there is no way she can expedite the call from refunds and exchanges. After expressing my overwhelming dissatisfaction with Samsung, its customer service and its "policies and procedures" I inquired how does Samsung go about getting the defective fridge from me. She informed that I am responsible for disposal of the fridge and will not be reimbursed for any money spent from doing so.
Once again, this is totally unacceptable customer service from a company of this magnitude. There is no difference between what a standard CS rep can accomplish and what rep from the Office of the President can accomplish. I still wish to pursue my complaint and speak to someone higher in this company. Customers should not be treated like this. I will no longer be doing business with Samsung and will advise friends and family of my experience as well.

We purchased a Samsung refrigerator in May of 2015. We had it 2 days and it wasn't cooling, so Best Buy brought out a new refrigerator. That worked for 2 weeks and then the freezer was not cooling. Everything melted and we lost the food. Samsung did repair it. Now the refrigerator is 2 months beyond a year of purchase and the icemaker has failed. We have had a tech here twice, he did not know how to repair it. Finally Samsung sent a tech of their own. Multiple design problems with the icemaker confirmed by the tech. We are going to have to pay for the motor in the icemaker. I don't know the cost yet as he is working on it now but he said it is not cheap. Samsung refuses to stand behind this piece of junk refrigerator. DO NOT BUY SAMSUNG!

Refrigerator started icing up in the back just after the first year was up. Got Samsung to pay for the parts but we had to pay for the service call. Now another year and a half later the same thing is happening and the service rep told us they have a fix for the first fix. We have to wait an entire week to get our refrigerator back to working order.
The parts need to be ordered and it has to thaw out to get the back panel off. Called Samsung again and this time the manager of the woman I talked to said they will not cover the parts because the warranty had run out. I have a Maytag refrigerator that we use for beverages that has run for 24 years with no problems and don't know what I would do without it. No more Samsung for us. The Samsung replaced a GE refrigerator we had for 24 years with no problems.

Had repairmen out 3 times, still the ice maker is not working. Samsung will not send a repairman again but offered to refund my money or replace. Been on hold for almost one hour now to find out what is happening with the replacement I requested. Now, after reading the ConsumerAffairs reviews I now want my money back. If I can get someone to answer the phone... Still on hold... Now I have to plug in my phone charger so my phone won't go dead. I don't give up easy. Still holding.

Making noise just after warranty runs out. Called CS their response, Tough ** out of warranty, found out it's the evaporator fan hitting ice build up, because the heater failed, common problem. Had to fix it myself. Also have never been able to get ice from maker without getting ice on the floor. Biggest piece of junk I ever bought. The 15 year old Frigidaire it replaced still works awesome in my garage. Lesson learned - no more Samsung.

Samsung refrigerators one of the worst pc of equipment one can buy and the after sales and service is just a way to fleece--- given a service number **. It's been a month after the guy took some parts out, no call nothing. This is after the fridge has been repaired 4 times in 4 years, the 1st repair within a few months.... they actually expect you to chase them. Welcome to Samsung world.

Samsung appliances have the worst quality I've ever seen. 3 of 4 kitchen appliances broke or replaced in under 5 yrs. Samsung support useless, really think dishwasher, refrigerator and microwave should all be recalled! Dishwasher never worked right, leaked, ran for hours and OVERHEATED to where I thought it would set a fire. 3 repairs tried before it got ran 5 hrs straight and door was so hot had to use a potholder to turn off. Lowe's replaced for free after Samsung refused. It was 18 months old and dishes never dried right from day 1.
RAG 257 Refrigerator ice maker broke after 1yr, replaced by Lowe's under extended warranty. Worked for 3 more years, then useless. Doesn't make ice except sporadically for no reason now and then weeks apart. 9187 Microwave started to TURN ON SPONTANEOUSLY in middle of night by 5 yrs. would run empty saying it was cooking a potato. Literally thought I was crazy until I looked online and saw numerous other reports of same thing. VERY DANGEROUS and a fire hazard. Also got TOO HOT and overruled food. Door Latch broke at same time. Had to unplug it and then replaced with GE that works perfectly! Multiple complaints of all of the above can be found online, hundreds if not thousands, quality sucks! Will never buy another Samsung appliance again!

Has anyone been able to contact and resolve issues with their Samsung refrigerators? Has anyone taken legal action? I bought my refrigerator four years ago from Sears. As I sit here typing this comment, my fabulous product is sitting over there broken! This makes the third time that the temperature sensor has failed and have lost all of my food. The second time the sensor went out, no one keeps these parts on hand and it had to be ordered from the manufacturer overseas. This ONLY took seven weeks to get here. Thankfully, I have a home warranty policy and they have repaired it.
Well, my luck has run out. The repairman who came out yesterday told the warranty company that the sensor failed causing other parts failures. Now the warranty company is telling me that my policy won't cover this because if a warrantied part causes other equipment failures, the company won't cover them. This means $338, plus the $60 service call, out of MY pocket. The first two repairmen told me that Samsung appliances are ABSOLUTE JUNK!!!! Has anyone been able to get any action from Samsung or has anyone taken any legal action? I'm in!!!

We purchased the RF32FMQDBSR/AA 4 door flex zone fridge, from Conn's furnishings, in April 2014. We didn't even get 6 months of use from it by the time the ice maker quit working. I called Samsung support, if you want to call it that. They had me go through steps to defrost it and reset the ice maker. It worked for a few weeks, then did the same thing again. I tried to get them to send out a service tech to see if there was an actual problem, while the fridge was under warranty. They would not do it. They said it just needed to be maintained by us. I got tired of the run around from Samsung, so I left it at that. We can live without an ice maker, because by the time Samsung actually wanted to do something about it, our warranty had expired. Imagine that!!!
Now, our new problem. A few weeks ago, we noticed milk and food spoiling in the fridge. We thought it had just expired or something, but it had not. The fridge was not cooling past 60 degrees. The front panel said it was 35 degrees, but when I reset the panel it showed the actual temp of 63. No wonder food is spoiling. I called a service tech myself, because I thought our warranty was out. They listened to the symptoms and didn't even send someone out. They told me to contact Samsung, as it was a problem with the sealed system, and it is still under the 5 year warranty.
So, I called Samsung. After 3 different phone calls and 3 different ticket numbers, they sent out their contracted service techs. The tech concluded, after a couple of hours of work, that the problem was in the sealed system. I asked him if it can be fixed, and he said he didn't know of anybody that can fix it, due to the flammable refrigerant they used in these systems. Now, I'm waiting on Samsung to get their head out of their collective **, and do something about this, as we've been without a fridge for going on 4 weeks now. I will never buy another Samsung product as long as I live.

Same issue as others with the fan freezing up. This is a defect and should be recalled. There is no reason as a consumer I should be tasked with ripping the cover off every week and defrosting the motor. I have thrown out at least $2000 in food over the last 2 years. I have Samsung TV's, Phones, Microwave, Dishwasher and no issues. This side by side refrigerator is a dog. I am glad there are YouTube videos to explain how to fix this hunk of junk. Two years later and $1800 wasted at Lowe's this will now be the garage refrigerator freezer.

We bought a french door refrigerator (RF323TEDBSR/AA) in August 2015; In May 2016 the fan started to make a funny noise. In June the fridge stops cooling. Freezer works fine. We called Samsung, no complaints about the customer service, however the communication between Samsung and services provider is really bad. The first one said our manufacturer warranty was expired in March 2015, but we bought the fridge in August. Second service guy came over; very pleasant guy; changed the defrost panel. It has been exactly a month that they changed the back panel, and the noise from the fan going against the built ice came back. We called Samsung again yesterday, then I decided to check some reviews. I start thinking we made a bad choice buying this product. We have few others, washer, dryer, stove and microwave not installed yet.

I also have purchased a Samsung fridge. NEVER again. I have had nothing but trouble with it. Even with the extended warranty it is a piece of JUNK. After service call, too many to count, it still don't cool and has to be unplugged and set for at least 48 hours on almost a regular basis. If you call this a good product I beg to differ. I had saved for a LONG time to be able to purchase this fridge and it not only was a waste of my time, but my money. I would NEVER recommend this product nor purchase another. Samsung need to step up and make things right for those of us that have had nothing but problems with this product!!! Shame... SHAME on Samsung!!!

My French door refrigerator started forming ice about 18 months after purchase. Warranty is only a year, which is ridiculous when you pay that much for a appliance. I checked online for anyone else experiencing the problem. Most problems were with water under the crisper drawers which I hadn't experienced. I called Samsung and the first words the service desk said were, "We haven't experienced that problem before," which I knew was bogus because every person that called them said they said the same thing. Anyway after over 2 years of emptying my freezer and getting the ice out, I finally bit the bullet and called a repairman. I wish I'd done it right away.
He took the bottom panel off the back, took out the two drain pipes for the automatic defrost, about 7"each with a rubber, flat nipple on each one. He shows me the small slit across the end of the nipple that the water drains thru and explains that if that slit gets clogged the water backs up and freezes in the bottom. It also could cause water to be leaked under the drawers in the cooling part of fridge. All he did was cut about -1/8" off of the flat ends and put them back on the pipes and reinstall them. They must just slide on because he didn't have any tools but the screwdriver to remove the panel and a snipper to cut the rubber nipple. You can use scissors for that. I could have done this myself had I known what to do. That's why I'm writing this.
Also he said to be sure to turn fridge off for 48 hours to make sure all the ice has defrosted. That's a pain, but we've been removing the ice for 2 years every 3-4 weeks. If this works, it's worth the 48 hours without a fridge. If this works, you won't hear from me, if not, I'll let you know. It was a $79 service call. It's a bad design and hopefully Samsung has changed it. My fridge is almost 4 years old. I love everything else about it.

If you are thinking about buying a Samsung refrigerator "don't". This is the worse product ever and I regret buying it. I purchased the product in 2013 from Lowe's, they were having a sale so I purchased the refrigerator, stove, and dishwasher. I have not had any problems with the stove but the dishwasher and refrigerator is a whole new ball game. First, there are the filters (which are not cheap) you have to buy every six months to a year for the refrigerator depending on how much you use the water dispenser. Secondly, the ice maker just one day stop making ice and this has been going on for about a year as I refuse to pay almost $500 to a repairman, that the Samsung customer service (who was rude) recommended, for a new ice maker for a refrigerator that I haven't had for that long. I can purchase another refrigerator for that price (I mean it's only been 3 years. My GE appliances lasted 10 years before I had problems with them).
We even had a local repairman come out to take a look at it and he wouldn't touch it because he said that "they are too difficult to work on" and he also said that he has had several calls about Samsung refrigerators for one thing or another and that only a trained Samsung repair person would be able to fix it but they want too much money. And then there is the dishwasher that seem to always feel wet on the inside even when not in use and it has a smell that I can't describe. I am so disappointed in this product. The biggest regret of my life. So I am warning you Samsung may be good in the cell phone business but their appliances SUCK!!!! I should have just stuck with GE.

Hi I am from chennai, India. I bought Samsung side by side fridge from Samsung store here. The model is RH77J90407H. From day one I have been facing issues and now I have to deal it legally. Please do not buy from Samsung stores. Visit the store for the features and benefits of various products, but buy from other Samsung dealers who also deal many brands. Samsung store people are hopeless after sales. Dealers other than Samsung stores put customer satisfaction first and help you in getting the refund or replacement. Within one year Samsung technicians have changed water dispenser unit, compressor, PCB board and main mother board in my fridge. Beauty is my noise problem is not solved but is more now. As a bonus four of fridge trays have broken during the problem solving process by technicians.

DO NOT BUY FROM SAMSUNG. What a horrible piece of crap from a reliability perspective. Love the design and layout but... The icemaker starting leaking water, the fridge is 18 months old and I know it is out of warranty so I called a repairman (a trusted friend). He came to the house and said "oh yeah I service Samsungs for this issue all the time, at least 5 or so a week". The icemaker and the auger unit needed to be replaced, $755, WHAT almost half the price I paid for the fridge itself. I looked online and the parts are over $400 at the cheapest place.
I called Samsung and they said it is out of warranty and would not do anything to make me happy. I would call this a defect if the component is failing in less than 2 years, which according to my buddy he sees all of the time but what does Samsung care they are making a killing on repair parts on fridges that are less than 2 years old. I will never buy another product from this company and I suggest you don't either, complete junk.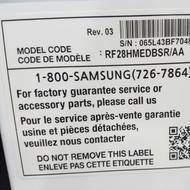 Bought the Frig from Lowe's in 2014. It started dripping water about a year in from the water/ice dispenser. The ice has never dispensed very well, and the consistency of the ice varies greatly without any adjustment of the temperate. And then a week ago a plastic piece falls out of the ice maker into my glass. It broke off of something. Now the ice maker is frozen, no more ice. I see that there have been so many problems with Samsung frigs with a class action lawsuit. I can't believe Lowe's has these lemon products on the floor. Is my model in the class action?

DO NOT BUY Samsung French Door fridges! I have almost $3000 invested in a fridge that gave little, annoying problems at first, but as soon as the VERY SHORT warranty was up, the ice maker problems got worse and worse... Dripping water out of the ice maker flapper door, slushy ice cubes, ice dams in the ice maker itself, taking 1 minute or so to drop out 3-5 ice cubes, odd noises, not making ice at all... You name it.
I tried to get a repairman, but no one returned my calls--then I discovered from several local sellers of the Samsung French door fridges, that there are so many problems with them, that repairmen don't want to repair them at all--knowing they will never solve their clients' problems. The repairmen might take the call IF the unit is still on warranty, simply because they know they'll get more and more repair calls--all paid by Samsung. Once the warranty is gone, they don't want to deal with Samsung units.
Consider this: I have a new millennium fridge and I make ice the way my Mom did in the 1950s--with ice cube trays! I think these units should be recalled--these are major expenses for a family--just like buying a car that is unsafe or poorly designed--or is an outright Lemon. Samsung's reply to me was a boilerplate letter with links pasted in to their WELL KNOWN repair bulletins... Each one I had already known about and tried! Then they linked to how to get a repair ticket started, but then repeated their warranty rules. Samsung customer satisfaction? Rate that at ZERO. If you know anyone considering one of these Samsung units, steer them away--- SHARE this post. PLEASE SHARE!

ConsumerAffairs Research Team
The ConsumerAffairs Research Team believes everyone deserves to make smart decisions. We aim to provide readers with the most up-to-date information available about today's consumer products and services.
Samsung is a Korean appliance company known for creating a wide range of electronics and home appliances. The company, based in Seoul, Korea, was founded in 1938.
Technology: Samsung offers wi-fi connected refrigerators, letting users keep track of fridge contents and settings remotely.
Color options: The company sells refrigerators in a selection of colors, including stainless steel, platinum, white, black and more. These options let customers choose a refrigerator color that matches their kitchen.
Additional features: Samsung's refrigerators come with many additional features, like water filters, a showcase door and more.
Warranties: Customers have the option of purchasing extended warranties to cover damage or necessary repairs over the life of the item.
Sleek design: Samsung has a reputation for sleek, contemporary refrigerators that offer a modern, clean aesthetic.
Best for Homeowners looking for high-quality, high-tech refrigeration devices, and college students in need of small, affordable mini-refrigerators.
Samsung Refrigerator Company Profile
Company Name:

Samsung TV

Year Founded:

1938

Country:

Korea Sout

Website:

http://www.samsung.com/