Consumer Complaints and Reviews

I purchased a Samsung French Door Refrigerator in 2009 at Sears. It keeps leaking water under the cool pantry drawer and freezes. I have already paid once to have this fixed. I was told a drainage hose gets clogged up and overflows under the drawer; defective design issue. Once again it is doing the same thing. The repair man recommended only to buy Whirlpool made in America; he said Samsung is pure defective junk!

The Samsung is the worst appliance I've ever purchased. The ice maker freezes up every two weeks and it is a known problem. I reported this problem and was told I would have to spend 485.00 to get it fixed. My fridge is now 2 1/2 years old. Samsung told me they would do nothing to fix the problem even though this a known problem. I would not buy any product from Samsung. Stay away for these products.

Purchased a brand new Samsung counter depth fridge. Ice maker continued to freeze up and eventually was unable to make ice. After two repair visits ($180) from the local company I purchased it from (someone I had dealt with for years and was an authorized dealer) I decided to call Samsung. After a few hours of problem determination (including defrosting the unit again and chipping away the ice) the issue was considered corrected. Of course a month later same issue - contacted service again and they scheduled a service call. The service tech was there 30 seconds and knew exactly what the problem was. There is a significant gap between the inside wall and ice maker allowing air into the unit. Very obviously a manufacturer defect and one they had seen many times before.
I contacted Samsung service again - explaining the issue and requesting to be reimbursed for my third service call (I'm now up to $270 on a 2 1/2 year old unit that I paid $3500 for) and was not very politely told the unit was out of service, it was not a known defect, and they would not reimburse my service call. Sad but true, worst part is they would not own up to the defect, although the tech told me they are required to report their repair fixes which they have done many on these units. They even carry a special tube of caulking with them just for these units. Good luck buying one - last Samsung product I will ever purchase!

I purchased Samsung fridge two months back and a week after delivery, I noticed a huge ice under the bottom of the drawer and water inside the bottom drawer. I removed the ice and saw the same thing the next day again and every day after that. I called the brick warranty department and they told me to unplug the fridge for 24hrs before a technician comes out to fix the problem. This surprised me as it seems they already know about the problem on fridge and I wonder why they don't fix it before it was sold.
I asked them to send me a replacement fridge for the period as the fridge is still on warranty. I have small kids and a day without a fridge is a nightmare. The representative was rude and told me that can't happen and the fridge won't be fixed until I defrost it. I'm still trying to solve this issue and I hope there is someone out here who can stop companies like Samsung from taking clients on a rollercoaster once they make a sale. My advice, don't buy Samsung. Period.

Samsung 33" refrigerator RF23HMEDBSG/AA = junk. Purchased entire package of Samsung black stainless appliances and am completed dissatisfied. Refrigerator ice maker does not work. Repair under warranty did not resolve the issue. Dishwasher does not adequately clean the dishes - may as well hand wash. The range is terrible - convection does not appear to work; cooking is an adventure as food only seems to brown. Forget about making a frozen pizza and thinking it will be edible. And lastly the microwave seems possessed - it turns itself on. Will never buy another Samsung item again. Complete crap!
How do I know I can trust these reviews about Samsung Computers and Monitors?
761,264 reviews on ConsumerAffairs are verified.
We require contact information to ensure our reviewers are real.
We use intelligent software that helps us maintain the integrity of reviews.
Our moderators read all reviews to verify quality and helpfulness.
For more information about reviews on ConsumerAffairs.com please visit our FAQ.

I bought this refrigerator/freezer, Model # RF26XAEPN43FE4BZ100091T, in latter part of March or early April 2010. The refrigerator stopped cooling on Thanksgiving evening. I had to rent a refrigerator to store all of my leftover food. Plus the other items I had in the refrigerator. It was under warranty. The repairman didn't come until the next week. It was frozen in the back. It was repaired and two other times the same thing happened. When the warranty ran out, I gave up on having it fixed. It began to freeze all of vegetables and fruits. Also, anything liquid. I called Samsung Tuesday 5/02/2017. I was told that I would have to have a technician come out and assess the problem. I called again on 5/03/2017. Silly me I thought that they were going to cover the $125.00 for the tech. I proceeded to question the person that I was talking to. He kept putting me on hold, because he could not answer my questions.
I finally asked if I could send a letter or speak to someone who could authorize payment for the tech and the repairs. I was told that my appliance was out of warranty. I already knew that. The phone person told me someone higher up will contact me. The odds of that happening are less than one out of a trillion. My icemaker does not work. The door freezes; I stopped messing with it. I just wanted to vent my frustration, so now I have. I will never buy another Samsung product. I have been unable to locate my receipt; I bought the product at Lowe's in Newport News, VA.

I purchased my Samsung refrigerator in 2015. Within that first year I had Samsung repairs visit four times due to ice maker problems. They never fixed the problem. Thank goodness I purchased the extended warranty from Lowe's. I had a warranty repair person visit over the same ice maker issues seven times. Each time I had to take four hours off of work to be home for the repair. The icemaker has been replaced along with several other components at least three times. Each time it breaks within weeks and still does not work. Not only does it not produce ice properly, it also leaks water down the front of my stainless steel and now I have permanent stains in my stainless steel refrigerator. Not Appealing!
Purchasing this refrigerator has created significant financial loss for me and my family. Not only do I have an ugly refrigerator with water stains down the front of it, I cannot get ice from it, and I have lost several hours equating to several hundred dollars of loss work having to be home each time a repair person needed access to fix it. Purchasing a Samsung refrigerator has been the worst experience and the worst purchasing decision I have ever made.

I am very disappointed with the Samsung refrigerator model: RF28HFEDBWW I bought at Sears 2 YEARS AGO!!! I had a repair person out yesterday and he could not remove the back panel inside the refrig b/c the screw would only tighten, not move left to loosen. We had to "defrost the coils in the back of the refrig" since he could not reach the coils. All food had to be removed. We hope that once he drains the built-up frost that is now defrosted that the refrig will work. Just pitiful. I will never buy a Samsung product again!

We should have read the reviews before purchasing a Samsung refrigerator and shame on Home Depot for selling them. We have had nothing but headaches from the $3500 fridge. The repairman has been here twice, another expense... And now the ice maker bin will not release. To get help answering my question online there is a $25 fee. I give up.

Samsung has a known problem with their twin cooling French door refrigerator, but refuses to help to make it right. Drain tubes on these units are undersized causing the ice maker to not work and water to leak out from under their freshness trap. We've now had two floods in our kitchen and no ice. Our appliance repair service was well aware of these problems. Our unit is 4 years old and no longer in warranty. The repair cost will be $800 to fix.

I purchased a Samsung refrigerator side by side 5 years ago & my warranty ran out. I had a lot going on here like a tornado and a lot of stress. I'm very disappointed in this appliance. Only problems. Fix the ice maker and now the problem is water underneath and ice building up on floor of freezer. And no yesterday my refrigerator part isn't working and now I have to call someone ASAP before my food spoils. My last fridge lasted 10 years I went with Samsung because I heard good things and it wasn't cheap at all!!! Now it's going to cost a lot to repair and have someone come and check it out! After this fridge I don't think I will buy another product again. I called shortly after my warranty ended and they said they couldn't help me. I would have to pay. Just ridiculous, in 5 years, so not happy!!!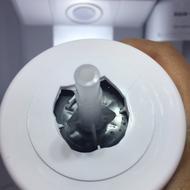 Samsung Two Sided Refrigerator (Model RS22HDHPNSR). Bought summer of 2015 at Best Buy. By early 2016, when trying to replace the water filter the first time, the filters didn't fit. The teeth of the locking system didn't even look the same. When I called to have it serviced, Samsung came out. Technician explained that the filter system has changed since the make of my fridge. He changed out the whole system as he said it should have been done before the purchase. Now today, April 2017, the filter literally popped out of the system, cracking the plastic filter head off and water gushing all over my kitchen floor. Two problems within less than two years for a fridge valued $2,000! There's no words for that!!

Let me start by saying they sent people here and did not fix it. They said they would return my money if we cut the cord and tore out the model numbers off the inside and we could dispose of the thing ourselves. Look on Youtube at the people who have a faulty design on those and they are still being sold in stores! They have a flimsy seal where ice comes down and getting air and ice is not solid but very mushy and I would tell anyone not to buy one and they can't fix it and then they ran out of repair people to send here after 4 and nobody could fix it! I hate Samsung and please do not buy one or you will regret it!

French door, small drawer with freezer in the bottom. It freezes up so you see frost thru the holes in the back of the refrigerator. Ice maker has stopped working. Hoped it was the filter so changed it. Worked a couple days and out again. Tech line no help. Obvious lack of knowledge. No repair company in our community. No call back within 48 hrs as told.

Do not buy a Samsung refrigerator. In July of 2013, I bought a Samsung refrigerator with a five year service warranty. After a simple request to the sales person at Pacific Sales I just want a dependable refrigerator. No gimmicks. She recommended Samsung. At the time she sold me a Samsung, there were already class action suits against Samsung for defective refrigerator design. Within 3 years, the Samsung failed in numerous ways.
By the numbers: 3 months without a dependable refrigerator. 3 trips to Pacific Sales to gently request the manager to get capable repair people to fix my refrigerator. 4 trips by service people to fix noise, then ice build up, the condensation (a swamp at the bottom of the refrigerator). 36 F. temperature of the inside claimed on the Samsung refrigerator control panel. 54 F. actual temperature of the inside as assessed by commercial laser thermometer, and the last service technician.
It is one problem to manufacture a defective product and not stand behind it, as happened here. It is a much bigger problem to make a deceptive thermometer which made me believe that my 2 bouts of food poisoning in 3 months must have been my fault. It was Samsung's fault. You cannot believe how much food spoiled over the 3 months. Samsung made many thousands of defective refrigerators and refused to stand behind them, which prompted class action suits. Do not buy a Samsung refrigerator.

I purchased a Samsung refrigerator less than 4 years ago. Began having problems right away with cube vs. crushed ice. Then within first year ice maker would freeze up. Almost impossible to remove ice bin on ice maker when it freezes up. Have had it repaired twice for hefty service fees. The only solution now is to replace the ice maker with the same crappy design or purchase a new refrigerator which would never be a Samsung. I have contacted Samsung several times and they have never responded. I am extremely disappointed with this manufacturer.

Our fridge is 1 1/2 years old. The ice maker is not working (slushy cubes with unit freezing up). We did not buy the extended warranty, unfortunately, but it sounds like Samsung service is not great, even for those who do. Researched the issue and found that even by replacing the unit, it is likely to have the problem recur because it is a design flaw. Samsung will not guarantee the $500 repair with a new part will solve the problem beyond 90 days. We will not buy another Samsung product.

I own a Samsung Refrigerator model RT33FARZASP/TL, purchased two and half years ago. The refrigerator bears 10 years warranty which is not cooling at all. I lodged a complaint with Samsung customer care, they sent their representative who said gas of the refrigerator has leaked out and I have to pay for the visiting charges and gas filling charges plus parts. When I said, it's under warranty, he said warranty is only for compressor. I argued gas remains in the compressor only, and if it has leaked that means the compressor is not good but he didn't accept my argument and insisted to pay the cost of repair. Gas filling will be done by them on 30.04.2017. Earlier I had been using other brands, normally they work 10-15 years flawless.

If you find beating ice off the inside of your ice maker enjoyable, this is the fridge for you. At least once every two weeks you'll find yourself with a butter knife chipping the ice away. And, don't quit until you've bloodied at least 2 knuckles. I mean who doesn't like a little blood in their ice? But wait, there's more! The water dispenser leaks constantly so you get a nice build up of water mineral in the catch basin. It really adds color to your fridge. I would go ice my knuckles now, but we don't have any ice... :(

Bought this fridge in April 2016 had ice maker replaced November 2016. Ice maker sheet if ice could not use was replaced. Now April 2017 ice maker iced over. Call again for service was told my warranty was expired but they would give me extension to have it replaced again. I called April 17 for service. They set the appointment for 4-28. They text me the name of company ticket number and phone number. Well of course no one showed up or called. I called Samsung repair service, was told the service center cancelled my appointment after I took the day off work. Well anyone that has dealt with Samsung knows they make you so mad you end up hanging up on them. So now to file a complaint with the BBB. As I've seen all the complaints they can't do anything about it. Samsung should not be allowed to sell this junk.

My new Samsung French door refrigerator (RF18HFENBSP) that I purchased from Sears in not working. It is only 4 MONTHS OLD. I called Sears and they explained that I would have to deal directly with Samsung Service. I called the 800 number and was issued a ticket number. I was told that someone would call me in 24/48 hours. That did not happened so I called myself. After being on hold for over a half hour I finally spoke to person. It will be 5 days before a technician can come and see what is wrong. That will be OVER ONE WEEK that I do not have a refrigerator. I wish Sears would have told me that they do not service the Samsung appliances. Judging from the reviews that I read (wish I read them before my purchase) I would not recommend Samsung appliances. Somebody should protect consumers from companies like Samsung.

I bought the Samsung French Door Refrigerator RF28HFEDBWW/HDPP in 2014 and the ice maker hasn't worked right since. It started out that I researched refrigerators thoroughly before buying, went to Home Depot to order and thought everything was fine. They didn't tell me that the refrigerator I wanted didn't come in white, so they changed it to one that did. It was a completely different refrigerator! I didn't know this until my old broken one was on the truck and they started to install the new one. At that point I called Home Depot and they said, "We'll return it." I didn't have a refrigerator that worked, so against my better judgment I kept it thinking it's just a different color Samsung, it should be fine.
Within weeks we noticed the ice maker wasn't working correctly. It was dripping water, inside and outside down the door. We thought we weren't closing the doors correctly, so we just kept wiping up the spills. When I wiped the front of the door, the paint chipped off because water had gone under the paint, rusted the door, and created bubbles. At this point we also saw the ice was jamming in the tray, and we had to keep breaking up the ice.
To make a long story short, 3 years and at least 6 (soon to be 7) service calls later, the problem hasn't been fixed. We did buy the 5 year extended warranty from Home Depot, so thankfully all the parts, service and even a new refrigerator door have been covered. The problem is that 3 years later, it's still not fixed, and they have replaced everything that can be replaced. The last 2 service calls, were to document that there's nothing more that they can do, and they're insisting on another because they haven't documented things correctly.
To say I'm frustrated is an understatement. I'm disappointed in Samsung as a brand, and furious at Home Depot for the run around they've been giving me. I will continue to call and have them service this stupid refrigerator until I get a new one. I will keep jumping through their dang hoops, until I get a refrigerator that works, but I WILL NEVER purchase another Samsung or buy another large appliance from Home Depot.

I have a Samsung model RF28HDEDBSR/AA, serial #06EC43AFB01664x purchased from Best Buy. It has nothing to do with them though. Samsung is the problem... We just finished paying the darn refrigerator off... THANK GOD I have a service contract with a home warranty company since the ice maker is poorly designed! So far we have had 4 repairs, 2 replacements of the ice maker unit, special sealant added all around the unit and STILL, the ice comes out slushy and the unit leaks water constantly. I contacted Samsung and, much like all the other complaints I have read, I was told how sorry they were, but that since my unit is over their warranty, nothing could be done. She was willing to contact a repair person though everything is on me from there. Again, THANK GOD I have the home warranty...
The Samsung representative stated they had no recalls nor were aware of any issues... I wonder if they check sites like this! We LOVE the unit since it is 28 cubic feet of great space. The fatal flaw is the ice-maker and I would tell anyone looking to not buy it unless you don't mind constant pulling of the ice machine unit to remove ice build-up or put up with constant calls for repairs...

Purchased the Samsung french door refrigerator RF263BEAEWW/AA at Home Depot, I also purchased for $150 through Asurion with their extended 3 year warranty on 11/2/14. Beginning on 7/29/16 the ice maker began freezing up thus it would not make ice. I called Home Depot's Claim number to begin the first of many claims through Asurion. They sent out Ben F. Login & Sons for the repair on 7/29/17. They replaced I think the Auger, they did not leave me any invoice. Then on 12/26/16 the ice maker stopped making ice again. On 12/28/16 A Plus Appliance was sent out and they replaced the ice maker motor and Auger. The Ice Maker stopped making ice again on 1/30/17, so MD Appliance came out on 2/2/17, to repair it by using caulking around the ice maker and proceeded to defrost the ice build-up with a blow dryer then left.
Then the Ice Maker stopped making ice again on 4/1/17, so Residential Tech Services Inc. came out on 4/3/17 to verify this fact as per Asurion's Lemon Law policy. Which states clearly the fact: After Three (3) service repairs have been completed on and individual product for the same breakdown or component and that product requires a fourth (4) repair for the same breakdown or component, as determined by us, we will replace it at our discretion. Residential Tech did not conduct any repair.
Then I called the manager on 4/3/17 of Asurion because I read about all the complaints on these defective Samsung Refrigerator's only to be told that this ice maker had to break down 4 times with the same exact problem before they would consider replacement as per their Lemon Law Policy. I argued that I have had 4 repairs done. This Manager claims that the December's repair had a defective part thus this repair was combined with January's repair not counting towards the so-called 4th time as per their Lemon Law Policy!
Then I proceeded to make yet another appointment on 4/14/17, and Tekniton came out to replace the Ice Maker and Auger Motor. He found that on the back of this refrigerator was full of water and leaking inside to the bottom inside the deli drawer and icing up. I then had to schedule yet another repair which took place 4/24/17. Tekniton came out again to replace the Stelian replaced ice maker and auger motor, also repaired water leak, defrost sensor and assy cover evap-ref; Aw1-12 angle-shelf. This tech. found the ice maker was starting to freeze up again but it is still making ice.
I called the Insurance company Asurion and spoke with the service manager who told me that on the 4th time, and it must be the same issue that they would send out yet another tech to verify that is indeed the same issue as before and they would consider a refund, replace etc. He lied and told me that each part is under warranty for 60-days. Meaning if this issue happens again within that 60-day time frame it doesn't count towards the 4th time. This is not stated in their policy. He claimed that the December repair had a defective part so that was not counted towards the 4th time. I'm still stuck with this defective refrigerator and each tech that has come out have all said the same thing. The ice makers are a manufacturing defect and can't be repaired.
This refrigerator due to its constant leaking is a potential fire hazard! If I end up having food spoilage or a fire because of this I will sue! Never Ever buy any appliance through Home Depot as they use Asurion as their extended warranty company and they are liars and horrible to deal with. Despite the fact that you should never ever buy anything Samsung Appliances as they are all nicely designed but have known defects and they continue to sell those defective appliances to the public! I have a horrible feeling that Home Depot or Asurion will make me be stuck with this crappy refrigerator after I spent $2,300 on it!

I bought this Samsung refrigerator RSG5FUPN three years ago and today I can testify that it was one of the worst shopping in my life (and I have over 40 years of experience with other refrigerators). It has many defects related to the quality of materials: A long crack (about 40 cm in length) was created in the inner wall of the freezer. At the bottom of the kiosk door, rust (corrosion) was spreading. The doors' color faded and yellowed. Internal shelves and covers are broken for no reason (during normal use). Drawers have places where dirt accumulates and cannot be cleaned.

Bought black stainless steel refrigerator two months ago. Thought black stainless steel meant black stainless steel, not covered with film coating that is starting to peel and I do not know what to do to stop it from peeling. Other people on internet is having same problems with black stainless steel appliances but can't find out any information how to repair.

Ice maker valve froze up. Samsung did not know what part number it was! How is that possible? Parts dept totally incompetent. Ask for a supervisor and waited 17 minutes, got voicemail. No return call. No surprise. They sent wrong part and will not allow it to be returned. I love the fridge design so I ignored other review warnings not to buy one. HUGE mistake. DO NOT BUY SAMSUNG. When a part fails, and it will, you will have a terrible time trying to talk to someone with ANY knowledge of the part you need. Totally incompetent in doing business.

We bought our 1st Samsung side-by-side fridge in late-2006. Just after the 1-yr warranty expired, the twin cooling system froze in the refrigerator side. Recommended appliance repairman literally took a knife to chip ice off of the equipment. Had to call a 2nd repairman who completed it but discovered the touch screen didn't work properly (again not covered by warranty). In 2014, bought a 2nd Samsung (4-door model). Had problem with touch screen but when repairman came, couldn't duplicate problem. Of course, after warranty expired, housing for water filter started leaving debris (white substance) in the filter & ice & water stopped. Repairman said housing was a faulty design & Samsung was working to correct the design. Then he said the touch screen wasn't working either.
After repeated calls to Samsung by me, the repairman & even my husband, the final conclusion from the manager was that they didn't have a record of the touch screen malfunctioning prior to warranty ending! So, like our 1st fridge (which we moved downstairs), we opted not to repair the touchscreen but did pay to replace the housing. This week I had repairman out for both fridges with identical problems as before. When filter housing was changed out in Sept-2015, it had not been redesigned. So... now $325 cost to repair housing & at least have confirmation it will be with redesigned part. Still leaving compromised touchscreen untouched. Cost to replace damaged parts on downstairs fridge = $505!
Now if I wasn't smart enough to learn my lesson, when our washer went out we read consumer reports that highly recommended the Samsung appliances. Purchased them, immediately had problems - fought with Samsung for weeks and finally went to Lowe's to let them know that their reputation was at stake because they sell Samsung products. Lowe's went above and beyond and graciously took care of my problems with my dryer. Since that time I have received a recall about the problem with the washer. Sorry for this long. Review but I've had more experience than I would like with Samsung and I do not believe in the quality nor their integrity. My advice to you - don't buy Samsung!

Where do we start. We purchased all new appliances for our home within the last 6 months. Within the first couple months a tech came to look at ice maker as wasn't working. Then we went away for Easter long weekend came home open fridge and it was filled with water and water dripping out. I opened the freezer at the bottom and all meat fish etc were all defrosted (frozen bananas were mush). Everything went straight into the garbage including items such as mayonnaise, etc with all the thawed out items also. What a waste of money.
We called the brick were we purchased and they were sending a tech. They said wouldn't be for about 2 days but then they were able to schedule on next morning. (Tuesday). I called Samsung also Tuesday morning, advised of what has happened as was told they do not have a replacement policy, only a repair policy. I advised fridge now smells and a Eileen advised not their problem!!! And no one will come in and clean it. She was very rude. Asked to speak to someone higher and was advised she is the highest I could go. Head office does not take calls. Advised has kids and needs a fridge asap. Again she said I would have to wait. Very rude again as I am a paying customer and when large expensive items are purchased they should last longer than 6 months.
When tech came he advised the compressor has gone. Part would need to be ordered and it looks like possibly next week before they can fix it. Unacceptable!!! Called Samsung again today. Again received very rude customer service and advised to bad. The fridge will not replaced and I will have to wait for someone to come repair it whenever they are available. No idea when. So I have a new broken down fridge and living out of a cooler with 3 kids trying to keep everything cold. What a joke... and also out over 300 in what was good food. I was passed around to 4 different people at Samsung customer service this morning.
When you buy a product there should be a policy when it breaks down. Why should I be inconvenient and have to not have a working fridge. Think twice with Samsung. I have done recent searching and was surprised of previous lawsuits against them with fridges and other appliances. People will continue to purchase these items. They get your money then you are not a customer anymore. You are a number.

WORST APPLIANCES. Big no to Samsung brand. I bought 4-door huge fridge in Feb 2014, paid $4000+tax + extra warranty. And guess what?? Repair guys became my best friends. I was told that there is recall on the ice maker and it replaced twice, still have same issues. I am so frustrated and feel like to throw this fridge out instead of placing an another service call. So no more Samsung in my house even they offered for free. Btw I have washer & dryer also from Samsung and dryer's motor was replaced in first 12 months and washer, shakes like a crazy, parts have been changed and again I am waiting for technician and 52" LCD tv was also gone in few years:( Hate Samsung:(

ConsumerAffairs Research Team
The ConsumerAffairs Research Team believes everyone deserves to make smart decisions. We aim to provide readers with the most up-to-date information available about today's consumer products and services.
Samsung is a Korean appliance company known for creating a wide range of electronics and home appliances. The company, based in Seoul, Korea, was founded in 1938.
Technology: Samsung offers wi-fi connected refrigerators, letting users keep track of fridge contents and settings remotely.
Color options: The company sells refrigerators in a selection of colors, including stainless steel, platinum, white, black and more. These options let customers choose a refrigerator color that matches their kitchen.
Additional features: Samsung's refrigerators come with many additional features, like water filters, a showcase door and more.
Warranties: Customers have the option of purchasing extended warranties to cover damage or necessary repairs over the life of the item.
Sleek design: Samsung has a reputation for sleek, contemporary refrigerators that offer a modern, clean aesthetic.
Best for Homeowners looking for high-quality, high-tech refrigeration devices, and college students in need of small, affordable mini-refrigerators.
Samsung Refrigerator Company Profile
Company Name:

Samsung Computers and Monitors

Year Founded:

1938

Country:

Korea Sout

Website:

http://www.samsung.com/