Consumer Complaints and Reviews

Refrigerator delivered 12/15. Christmas day, ice maker stopped working with 14 guests at the house (scrambled to find ice machines). Not a great idea in Florida. Called Samsung 12/26, they stated it was a Home Depot problem. Called Home Depot, they claimed it was a Samsung problem. Every 50 minutes to 1 hour, there is a LOUD pop. Sounds like a firecracker has just exploded. Contacted Florida and Georgia Attorney General's offices as well as Federal Trade Commission.

Problems with buttons falling off, ripping door seal with 3-year extended warranty (still in first year of ownership). Samsung's customer relations very poor, first of all reaching them, then proceeding with getting help for repairs to be done. Impossible really. Also quite abrupt and unsympathetic attitude from agents. I managed to make a complaint by email. They demanded much documentation which I gave. They did not follow up and the next time I tried to contact them about it, the file# no longer existed. Because they give such aggravation and are not really concerned about customer's experience, I have given up, which seems to be what they want.

Samsung RF28HMEDBSR French Door Refrigerator - Bought ours Nov. 2014 and bought the exact same one for my mother-in-law about a month later. Our ice-maker started acting up and freezing almost a year to the day after purchasing. Then lo and behold, my mother-in-law's did the exact same thing about a month after ours started (about one year to the day for her too). I did the hairdryer defrosting trick about 5 times in a two month span and had had enough... Too much work for ice, seriously! So then I got the bright idea to shut the ice-making ability off and buy bagged ice from the store and put it in the dispenser bucket. Works fantastic, except when you pay $2300 for a fridge with an ice-maker, one shouldn't have to purchase ice!
My mother-in-law has appliance guard from Black Hills and they came out and "fixed" it a couple months ago, and it froze over again (just received an email from her this morning). I feel terrible because we purchased this for her as a gift and bragged how much we loved it; that was before the problems. If anyone has a fix, please post the link here. There's been lots of theories, but I don't want to call out a repairman to temporarily "fix" what I can do with a blow dryer... ugghhh. Why no class-action lawsuit yet? The complaints are endless on their ice-makers, etc.

I have been sitting here on hold for about 40 minutes waiting to speak to a manager to find where my refrigerator is. Samsung has delivered two - and both were damaged. They tried to delivered a third which was supposed to be here two days ago. At this point, no one at Samsung knows where that delivery is; when it will be here; or even acts like they know what's going on. This has been going on for three weeks and I still do not have a fridge. This customer service is the worst - second only to Vivint Security. I am going to get my money back and I will never buy another Samsung product again for the rest of my life.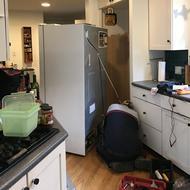 Samsung refrigerator motherboard dies... My 7 year old Samsung refrigerator died leaving a full freezer and refrigerator of spoiled food. Everything had to be thrown out and I had to get a repairman in. I was told the motherboard died. Samsung did NOTHING! Who ever heard of a high end refrigerator motherboard dying?! Beware of buying Samsung. Poor customer service as well. I will now be 6 days without a refrigerator since parts are not available locally... Seriously?!! In Washington DC? I will never buy a Samsung product again.
How do I know I can trust these reviews about Samsung Computers and Monitors?
697,568 reviews on ConsumerAffairs are verified.
We require contact information to ensure our reviewers are real.
We use intelligent software that helps us maintain the integrity of reviews.
Our moderators read all reviews to verify quality and helpfulness.
For more information about reviews on ConsumerAffairs.com please visit our FAQ.

First off, I would like to say I never take the time to write out a review regarding a item. This just shows how unsatisfied I am with my purchase. I would definitely not recommend this product to anyone. Do not buy any SAMSUNG product. The customer service reps do not offer any customer service. They do not know how to treat customers even after the crap their company has released in the recent years. Let's not forget about the blowing up of the cell phones and laundry machines.
My complaint is about their refrigerators and how I have spent over $600 trying to fix the ice dispenser. The ice dispenser freezes up and does not slide out. It seems like the fridge is leaking water and causing the entire tray to freeze. The ice cubes are not in proper ice cube form. The ice cubes look like slushy. I complained to the customer service rep and their answer regarding my complaint was "Sorry your item has passed the 1 year warranty for parts." I told the rep there are over 2000 complaints about this ice dispenser on the internet. I previously owned a GE profile refrigerator for over 17 years and never had one issue with it! The customer rep told me they do not go by the complaints on the internet for their products. I asked if they had any other solution and the rep told me once again "Sorry the product has passed the one year warranty for the replacement items."
If the company cannot offer a solution for their defective products, I will not ever in my life purchase a Samsung product. I will make sure I make this clear to all of my family members and friends. I have had this refrigerator for only a little over 2 years. Samsung teach your service reps how to resolve issues and test your products before releasing them. You shouldn't be telling your customers to fix a problem and have them pay $300 to get it fixed. Even your crappy service reps don't have a solution for your defective products. I am a very unsatisfied customer. I will have to go buy a new refrigerator since this issue is not being resolved.

I bought this Samsung Refrigerator RF28HFEDBSR/aa in Nov 2014. The freezer door handle insert failed in Dec 2016. I have spent 2 months working with a repair tech, Samsung parts, and Samsung (Lack of) Customer. This small approximately $10 part has been discontinued. The only option is to spend $389 for a new freezer door and $125 to install it. My service tech (5 star rated) reported he spoke to the Samsung techs and determined Samsung has known about this problem for several years. It appears sells products with known defects, but does not want to support the customers. He also reported there are other Samsung parts which have been discontinued for relatively new units. The scroll compressor has a 10 year warranty. What good is that warranty if the rest of the refrigerator falls apart? By the way, the local authorized Samsung service company received an F rating from the BBB.

My husband and I purchased a suite of Samsung appliances in 2012 for our new home. Shortly after the refrigerator was installed and in use, we discovered a leaking problem in the right crisper drawer. We contacted Samsung who in turn sent a repairman to service the fridge and the problem seemed to be fixed until almost a year later. We have had three (3) separate repairmen come, all arranged by Samsung to assess the same leaking issue. The last repairman to come to our home to assess the problem, took pictures and sent onto Samsung.
Samsung contacted us and said the fridge was defective and irreparable. Samsung offered us a depreciated refund of $266.30 and with this; we would have to completely empty the fridge for Samsung to pick up. The fridge cost $1,299 + taxes in 2012 and what was being offered was nowhere close to the cost of a new fridge. Letters and emails were exchanged and Samsung changed their offer to $500 but we would still need to prepare the fridge for Samsung to pick up.
We did not accept their offer as we would be without a fridge and the cost of a new fridge was a lot more than what was being offered. Samsung said that was their final offer which is unacceptable. They have admitted the fridge is defective and all we want is a replacement of a similar fridge. Nothing more and nothing less. When purchasing any new appliances or products; they will not be from Samsung. This company does not stand behind their products and their customer service is very lacking.

I purchased the fridge (RF32FMQDBSR/AA) 3 years ago through South East Steel (SES). Immediately it was evident the ice maker was defective. Problems included no full size ice cubes, leaking constantly and requiring manual defrost and reset whenever door was left open more than a few seconds, for example if loading a large grocery order. It took quite a while for SES to respond to my concern. The repairman Samsung sent, while under warranty, pierced the mechanism with an ice pick, left in anger, and it took months to receive a replacement part and installation. Problem unsolved. I then went back through SES who took so long to get a repair request to Samsung, the warranty expired.
Samsung did make the concession of sending out a repairman who said this model was known for its leaky ice maker, there was nothing he could do and to call the company periodically as it should soon be covered by a recall. I called every 4-6 months for over a year and a half to be told each time Samsung was aware of the problem and there was no remedy. Finally, the ice maker stopped working all together. I then called Sears Repair. The workman told me that this model was being replaced for any Sears customer with a long-term contract because Samsung was so unresponsive regarding the ice maker defects. He told me class action suits were pending. He did order a new motor. The second Sears technician who showed up to replace the $392 part told me it was a upgraded part for the ice maker. All problems resolved!
So if Samsung knew about the problem and upgraded its ice maker motor, why wasn't it covered as part of a recall. And why, in all the calls and queries I made was I not told that upgraded replacement parts were available. And finally since this part solved the problem reported while under warranty, why isn't at least the cost of the part covered? Total repair was $600. I am asking for cost of the part. So far it has fallen on deaf ears at 1-800 SAMSUNG I am awaiting a supervisor's supervisor call back. Wish me luck. Otherwise the fridge seems well designed and working well.

We bought our french door/bottom freezer refrigerator model # RF20HFENBC in January of 2016. Just after the year warranty, we noticed our produce bins filling with water and the back wall was freezing too. We called Samsung, were told to "level the fridge and that would take care of the problem". Well, it was already level, but, hubby releveled it. Within 10 days, the bins were still filling with water! We have read enough online to know that this refrigerator design is a lemon and a defect, so when we called Samsung, they tried to tell us that our warranty was expired, so we would have to pay the $129 service call fee! No way! We told them about the numerous complaints online, and how it's the same exact reason, so they need to repair this.
They set us up with a local repair shop called Unique Repair, along with a "ticket" for the service call, and said they would make sure to cover the cost of the service call... We had to wait 2 days to then set up the appt for the service call... When we called Unique Repair, they had NO confirmation of Samsung paying the service call fee! Since this first phone call, we have called Samsung 4 more times. Each time, it's all a new introduction. Have to explain the problem, they deny saying they would cover the service call fee. We ask for a Supervisor to get on the phone, and then, are put on hold, and the customer rep comes back and says they will once again, cover the service call expense...
Along with this aggravation from Samsung, their one and only repair shop, Unique Repair in the Chicagoland area, is just as bad, if not worse as far as customer service. They never answer their phones, so we are playing phone tag with them for the past 3 weeks too... They also canceled the first "ticket" without even telling us, while we're waiting to hear from them. When we called about this, they tried to blame us, saying they canceled it because they could not reach us to set up the appointment!
We are now waiting for yet, a THIRD ticket to be issued, and have demanded another repair place, we will not work with Unique Repair. Last night, a Rep finally said they will call us in 2 days with another repair company, after arguing with the guy for about 20 minutes, and explaining just how bad this repair place is, and that there are a bunch of negative reviews for them online too. Today, we get a call from Unique Repair asking about the new, current ticket!!!
Another call was made tonight because of this nonsense, and we were told to expect a call in 1-2 days from Samsung with a different repair place. We do not believe them, and now, are contacting ABT, who sold us this piece of garbage!
In our research, we found there are at least 2100 complaints on this design of refrigerators, since 2011. Another post said Samsung was going to recall these models as of last month (January 2017). When we asked Samsung directly about this, they said if the service person finds a part that is in a recall, we will be advised... We believe they string customers along, and lie, and do not follow through on anything they say. They do not seem to care about consumer satisfaction and about substandard refrigerator designs either.
Before buying this last January, we researched online and this brand was listed as a good brands... We are so disappointed and aggravated, and will never buy a Samsung product again. We would like to know if there is a class action lawsuit against them and these refrigerators too. We have not been able to use the produce bins, so our family of five has a cramped fridge, and it's just not right.
For anyone dealing with these issues, you can't be nice, or they will string you along. You need to be very stern and vent your anger and demand repairs or speak to their supervisor. **Also, make sure you keep a log of dates and times you call them, who you spoke to... VERY important if there is a class action lawsuit, etc!!! Post your problems on their facebook page too, but, I believe they have removed every complaint about their refrigerators, because I do not see ONE, only on their electronics. We know there are 2100 on this page alone... I have summarized what I could here. There are more irritating details I did not share because we have a long list of our dates, notes, people's names we have spoken to.

Once I bought a Samsung fridge
Its handles shiny bright
With a French door
And pullout drawer,
It seemed to me just right.
Samsung gave a warranty
That lasted one whole year
But it was the handles
That shone like candles
That made my fridge so dear.
A food – filled year had come and gone
Passed right before my eyes.
But while I was snacking,
And the handles were cracking,
I was no more the wise.
The warranty just out – of –date
Handles and doors misalign.
The quintessence?
Planned obsolescence.
Deterioration by design.
And so I called the Samsung folks
With nary a reply.
The store was gruff
Said it's my tough
You're warranty's gone by.
Repairs cost three hundred bucks.
And yes, I sure am pissed.
If you asked this guy
What appliance to buy
Samsung's not on the list.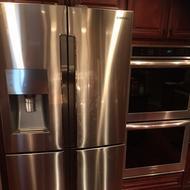 I purchase a Samsung 4 door refrigerator model RF32FMQDBSR/AA around October/November 2013. Since then the icemaker has never worked properly even after I called a technician to come fix it and constantly defrosting the icemaker because ice built up inside and it would not work at all. NOW the refrigerator will not cool down... stays around 53 degrees and that is too warm to keep milk and other luncheon meat fresh up to expire date. The worst thing is I have not had it even 4 years yet. Looking at some of the other reviews, I now see that it was a mistake to buy SAMSUNG appliances... I have a Samsung top load washing machine also and see there was a recall on some models. Anyways if it is too costly to have this Fridge fix I will cut my losses and just buy another refrigerator. I strongly feel that SAMSUNG should take responsibility and recall this model. Since that is not likely I will never buy NOTHING Samsung again.

Purchased a refrigerator both compressor and main circuit board broke after 2 years. Customer service wasn't helpful. "Executive" department told me to read the policy. They wouldn't allow me to speak with a manager. Poor product, poor service. $1800 unit garbage. I will NEVER purchase anything Samsung again.

I have approximately a three year old Samsung refrigerator. I have now been waiting 5 months for my replacement ice maker to come in from China for the second time. I just verified all serial numbers with my repairman. They once again have sent an ice maker with the numbers repair is telling them but on the wrong ice maker. I am a big ice fan. I replaced my old refrigerator because of a broken ice maker only to have a three year old refrigerator with another broken Samsung ice maker. So much for all the bells and whistles Samsung. Your product isn't worth 1 star.

French Door Refrigerator RF217ACRS/XAA - After 1 year of purchase from Home Depot, it started having issues with water standing in the crisper drawers. Well, I read the manual and thought I fixed the problem. OH NO THAT'S BECAUSE THE BACK OF THE FRIDGE HAD COMPLETELY ICED OVER! Every month I have to take it apart, after I notice my food gets spoiled, to get the ice off the coils and flush the line again! NO RECALLS ON THIS CRAP!!?? Everything has been replaced and it STILL freezes up solid!!! I am calling Samsung tomorrow because I have had it with the expensive junk they sell!!!

Samsung 4-door fridge's ice maker is junk. $2,000 Samsung fridge breaks after 2-1/2 years! I had a Maytag for 22 years and it never was serviced and was still running fine when I retired it for "peace of mind." Enter Samsung - so much for peace of mind. Ice maker began leaking before a year was up. Kept removing ice buildup. But at 2-1/2 years, the ice maker quit working. Motor was bad. Water sprayed around tray from supply hose encased in ice. Locked ice tray in place, so couldn't remove. Stopped producing ice. Service rep was good (no complaint), but cost quoted at $300 for service call and new motor. Water supply hose issue can't be resolved. Obviously, lots of ice maker issues posted here. Shame on Samsung. Can't make ice; can't make phones.

I purchased my Samsung Model RF263TEAESRAA Refrigerator on 6/05/2014 from Factory Direct Appliance in Lawrence Kansas. I have had Factory Direct Appliance repairman to my house numerous times over ice maker issues. This began just before the original year warranty was up. It quits making ice in the top ice maker, and when you try to pull it out, there are big frozen globs of ice jamming it up. My last repair was on 12/23/16 and I've called today (2/7/17) for another appointment. I noticed less and less ice coming from the top ice maker until there was no ice, and of course, when I pull out the ice drawer there is a big blob of ice, AGAIN!
Each time the repairman talks with Samsung, who agrees there is are issues with air and temperature etc. They've used some kind of adhesive to try and block air gaps, they've replaced the ice maker twice due to my fear it was ruined, struggling to make and dump ice when it can no longer do so. Thank goodness I bought the extended warranty. When that's gone, I probably should just haul it to the dump.
NEVER AGAIN WILL I PURCHASE SAMSUNG. Read all the reviews online before purchasing this refrigerator; google it, but don't read the Samsung website which gives this model a 4.3-star rating (I don't know how they possibly come up with that unless they delete all the negative reviews). Or, read it and laugh, or cry. :( I could provide a receipt but it's at home and I am not. I do think there should be some sort of class action lawsuit to provide some remedy to all of us who purchased Samsung appliances in good faith believing they were a quality brand.

Unit is now 2 years old and the ice maker compartment hasn't worked right. During the first year we had a rep out to work on it. It's a good thing we bought an additional 2 year warranty thru the store. We've had that check out 3 times now. He replaced the fan, sealed the ice maker from the fridge, now has replaced the whole ice maker compartment. Next step would be computer controls. The biggest problem is that once the ice tray is filled it grinds up half of the ice cubes. I said it's the auger design... I have 3 other Samsung units, washer, dryer and dishwasher no problems. What up?

Purchased a Samsung refrigerator RF220NCTASR/AA September 2016 In January. I experienced food poisoning and food spoilage. I bought a thermometer to check temperature and it was hovering at 42 degrees even when turned up all the way! There is no way to know how long this was going on!! Service response was terrible and I was forced to wait almost two weeks for a tech to come out and slap in a new assembly cover on Feb 1st. The next day the problem was worse. The temperature would go from 32-42 degrees in as little as 30 minutes. I still have not been able to use the refrigerator as it is unsafe and they will not come back out to service until Feb 6th. Meanwhile, I have called corporate demanding a new fridge from Samsung, hhgregg and have file complaints with the BBB, local TV stations, and newspaper.

French door bottom freezer with middle draw. Icemaker overflows, appliance repair company said there is no fix. Samsung danced around for weeks before we contacted the attorney general for a resolution. Finally Home Depot forced Samsung to buy back this paperweight. Nothing was happening until we took steps with the AG and they contacted Home Depot whom we bought this from. Home Depot was extraordinary in helping to get our refund.

We made the mistake of purchasing a Samsung French door refrigerator. The compressor died and that was verified by the one repair shop within two hours that Samsung would allow to look at it. After three weeks we are filing a consumer action lawsuit in WI. When we call customer service, they have either lost what they said they had the day before or today, they need a 7000 number, a request that has not been made in the previous three weeks. Every day they say they will have an answer in 24 to 48 hours. That answer never comes. We have a B&B so have lost business. Avoid Samsung at all costs. There is no reasonable response to consumers.

The ice maker on this is faulty, I have read several reports after trouble with ours and it seems to be a recurring issue. It makes little to no ice, freezes up, makes a horrible sound and drips water every time you try to get ice or water. It took 5 appointments all with 6 hour windows for them to finally say it was faulty. I am expecting a reimbursement check and I will never buy this fridge again.

The ice maker started jamming right away. When we called they gave us instructions on how to clear the jam ourself. I have never had a company tell me to fix anything myself. What they told me to do did not fix it. So we called and finally got them to send a service person out. He did not put a new ice maker. He just caulked around the ice bin. Within a day it was jamming again. We called to have a service person come back and fix it. When he came he put a whole new ice maker in. No help! It is still jamming and now it is gathering ice in the chute inside the door and then when the door opens ice flies everywhere.
Putting in another ice maker is not going to solve the problems we are having because the blades have too much slack in them and they go behind another blade and they hang up. We called and told them we wanted them to come and get the refrigerator and of course they refused to. The company should not be allowed to sell this kind of junk and then make people keep it. I wish we had known how bad the product was and hope everyone will beware of buying anything Samsung!

I am so utterly disappointed and frustrated with Samsung. We have a few Samsung items in my home. TV, Washer and Dryer and French Door Refrigerator with freezer on the bottom. We have hard water in my home and wonder if this could be the issue. Almost one year from our delivery of our brand new refrigerator from HOME DEPOT, the ice maker stopped making ice. When we investigated further, we noticed that ice wasn't dropping and there was frost and freeze everywhere. We began the regular ritual of using my hairdryer to defrost the ice maker.
I called Samsung. Our unit was out of warranty for 3 days. They would not make accommodations and would not bend, even a bit. Nope. Nothing. I was livid. CUSTOMER SERVICE is not alive and well in SAMSUNG. They flip the consumer off with a hand gesture and send you on your way, after all, they already have my money. NO SAMSUNG IN MY HOUSE, ever again. I will pay more for something else. I'm so happy to see the debacle unfolding with their line of tablets, phones, etc... Sorry for the consumer, don't get me wrong. I hate that company.

Samsung refrigerator problems -- I purchased a Samsung 3-door, bottom freezer refrigerator in November 2014. Five months after 12 month warranty expired the ice maker stopped working. With no warranty I decided to do some online research and discovered multiple complaints about Samsung ice makers freezing up due to condensation buildup in the ice maker compartment. I tried the "thawing with a hair dryer suggestion" and it worked. After a few weeks the problem returned. Hair dryer worked again. After 4 or 5 episodes the ice maker completely quit working. I started making do with ice trays in the freezer.
In November 2016 the refrigerator compartment started freezing up. I unplugged it for several hours and it worked for a couple of weeks but then started freezing up. Turning unit off periodically no longer worked. I finally called a repair tech two weeks ago and after inspection he determined I needed a computer board or a sensor. He suggested doing both in addition to sealing around the ice maker compartment to prevent warmer refrigerator air from getting inside causing the condensation buildup and freezing. This also explained why ice, from day one, was always wet and partially thawed at times. The tech was to return after receiving the parts but has since decided he doesn't want to work on Samsung refrigerators.

We purchased a package deal on 4 Samsung appliances in the summer of 2016. It was suggested that to update our kitchen for potentially selling it that new appliances are a must. The units that we purchased from HHGregg are VERY disappointing. The dishwasher DW80J3020US is very quiet, which is nice, but since there is no latch to lock the door, occasionally we open it mid-cycle forgetting it is on. There is no way to continue the cycle; it has to start completely over. We contacted customer service asking about this and they confirmed this. That is poor design. For the microwave model ME16H702SEB, you can't cook something and use the timer at the same time. It may seem like a small thing, but it is very inconvenient. Again, poor design. We are extremely disappointed in the quality of these units and the lack of attention to detail. They are cheaply designed. Stay away from them.

I bought a Samsung refrigerator only 6 months back from the army canteen. It is sad that it is not cooling and on complaining 3 times. Every time I complained I was told to follow certain steps... I did it... but with no respite... Finally I had the technician who checked the fridge and gave me the good news that a part needs to be replaced since it's under warranty. But my complaint is that the company checks the fridge before dispatching the product... How can this happen? I pay my hard earned money to get a refrigerator that gives problems in 6 months and does not cool... Every day I have to throw things from the fridge.

Purchased RFG293HARS refrigerator a little over 5 years ago. Exterior started rusting a few months after purchase. Refrigerator started leaking fluid about 4 years after purchase. Called Samsung and I was told that the refrigerator was not level - I checked the level and it was level. Called again to complain about leaking and new noises from the refrigerator and was told they had no record of me calling before. I was told that it was condensation and not an issue. I called Sears where we purchased it and they told me that the five-year warranty for the parts was about to expire and they told me I could purchase an extended warranty at that time.
I called Samsung again and told them to get someone at my house asap to fix it. They told me I would receive a call back within 48 hours to schedule an appointment. I never got a call from them. I called Samsung again and again. They told me that they had no record of me EVER calling. They would not be able to come to fix the refrigerator for weeks - the freezer section had stopped working by this time. I called Sears and purchased the extended warranty since mine would expire in a few days.
I have had Sears out about eight times to in the last five months to diagnose and then replace parts. Five parts have been replaced - fans, electrical board, compressor, and two other items that I can't remember. Neither the refrigerator or freezer section are working now. They found that the coolant was leaking and replaced the piece (coolant panel or whatever it is called) IN the refrigerator. They added more coolant. They were out again yesterday and was told to wait 24 hours to use the refrigerator. The refrigerator and freezer are still not cooling at all. Samsung products and their customer service are pure crap. I also have a Samsung washer that is having issues. I will never ever buy their products again. Beware everyone - stay as far away from anything made by or has the name of Samsung. You have been warned.

Samsung RFG237AARS - Don't buy a Samsung refrigerator. Mine quit cooling after 7 years. Both the Samsung factory rep and an independent repair person said the discharge lines from the compressor to the dryer, diverter valve, or the evaporator coils were plugged. Both suggest the repairs would be a hit or miss type repair and would be very costly. Both suggested buying a new refrigerator. I was also informed parts are also very hard to obtain for the Samsung and LG brand refrigerators. Samsung should recall their product! It's ridiculous that I had to buy a new refrigerator after only 7 years!!
Don't buy a Samsung refrigerator. Mine quit cooling after 7 years. Both the Samsung factory rep and an independent repair person said the discharge lines from the compressor to the dryer, diverter valve, or the evaporator coils were plugged. Both suggest the repairs would be a hit or miss type repair and would be very costly. Both suggested buying a new refrigerator. I was also informed parts are also very hard to obtain for the Samsung and LG brand refrigerators. Samsung should recall their product! It's ridiculous that I had to buy a new refrigerator after only 7 years!!

Samsung refrigerator ice-maker problem - Almost immediately, the ice-maker became inoperable and cost me a repair charge. It continues to freeze up and I have to use a blow dryer to unfreeze it. Never again will I buy Samsung anything!
Samsung Refrigerator Company Profile
Company Name:

Samsung Computers and Monitors

Year Founded:

1938

Country:

Korea Sout

Website:

http://www.samsung.com/