Consumer Complaints & Reviews

The worst service - warranty service I have ever encountered. 2+ hours on the phone and their website, and I am no further along than when I started. The service rep did not even know who does their service in SC, and will have someone in some other department call me, in 1-2 days, with who does their appliance service under warranty. WTF? The warranty service department does not know who does their warranty service? Just imagine another 2 hours of this on the phone. And still no service. There is no excuse for this incompetence, ineptitude, and overall total lack of care for their products and customers.
Fact - I will never buy another Samsung appliance for my home and will tell 10x as many people as I can of the experiences. (This was not the first, but the worst. The other calls were not good, but the problems reported were eventually fixed - the first time.) The repeated problems we had were the icemaker and some unit called an evap cover and defrost. Expensive and the same issues continued to malfunction over the next 4 years - again, repeatedly. In the reviews I read, this seemed like a very common quality problem. DO NOT BUY. My repair costs have nearly equaled the cost of the unit. In less than 4.5 years.

I purchased my Samsung French door refrigerator, model RF26HF, December of 2014. From the start the fridge was louder than my old one. Shortly after that the ice machine was producing ice at a very slow rate and is currently making ice when it wants too. We have also encountered a flap misalignment on one of the French doors. Currently, August 20, 2016, I found a pool of water at the base of my fridge, underneath the food storage bins. When I removed the storage bins I discovered a thick piece of ice the width of the base of the fridge. I also saw water dripping from the twin cooling back panel as well as coming out from the base of the door. As figured I was over my one year warranty and Samsung needed to charge me to look at the problem.
Samsung did try to blame it on a filter issue and then a humidity issue, which is neither the problem. Samsung left me with no resolution and stated a technician needed to be called in to determine the exact issue. I was not given a price because that couldn't be determined until a ticket was created. After hearing this ridiculous news, I have had enough with Samsung. After reading many many poor and similar issues with this specific refrigerator Samsung needs to acknowledge a true manufacturing problem that's affecting many families. At this point with everyone having the same issue there should be a recall in place. I will never buy a Samsung product ever again!

We purchased the Samsung refrigerator (Rsh260sh) about 7 years ago and started having to replace parts 6 months after the warranty expired. We've spent several hundred dollars for 3 fans and 2 ice makers. Now have to keep the water line to the ice/water clamped off to prevent the water dispenser from randomly flooding my kitchen. My door has rust stains down the front. Of course Samsung has offered no help except one visit from a repairman that states it's unrepairable due to the rusted door and out of warranty. #NeverSamsung!

I purchased a Samsung Refrigerator in 2013, RF217ACRS/XAA, French door. After less than 1 year one door became broken, because plastic hinge of the door. In that time, it still was under warranty. This year I have another problem, ice start accumulates in back side of refrigerator section. This summer I already defrosted it 3 times. Lady in service center told that problem is more likely in evaporator and repair will cost me $300. Sounds like I will need spend more money to keep this one in working condition. I am very, very upset. So, they use cheap plastic and cheap part, put together and after sell it as expensive unit.
How do I know I can trust these reviews about Samsung TV?
572,721 reviews on ConsumerAffairs are verified.
We require contact information to ensure our reviewers are real.
We use intelligent software that helps us maintain the integrity of reviews.
Our moderators read all reviews to verify quality and helpfulness.
For more information about reviews on ConsumerAffairs.com please visit our FAQ.

Purchased my Samsung French door fridge from Lowe's in June 2014. Immediately noticed that ice comes out very slow. After a year the ice stopped coming out at all. Could not figure out how to get the ice maker opened up so called Samsung. They told me to change out the water filter ($60) and that would fix it. I assured him the one year old water filter was not the problem but he "guaranteed" me it would fix the problem. Of course it did not. Because you know you are going to be on hold with them forever I waited several months to call again.
Now the door flap on the left side door has had a spring broken and does not close properly. Called again they finally agreed to send someone out to look at it. Need a new door flap ($80) and when I described the ice problem the tech says "oh yeah, I have fixed lots of those. Samsung knows about the problem. It costs $200 in parts." What?? I called to argue that they should pay for the parts. Getting the runaround and not getting anywhere. Worst $2000 ever spent! Never again will I buy a Samsung product.

We recently purchased all new appliances for our new home. The three door counter depth model was delivered & installed by our dealer. We quickly noticed
that the refrigerator doors were "sweating". Over three days I had contact with Samsung Customer service three times and a "service" representative once. Total time spent telling my story over and over again to people I had difficulty understanding amounted to about 2 hours. I finally became so angry that nothing was being accomplished that I told the lady I was going to hang up and let her figure out what was happening to my service request & call me back...and, if I did not hear back from her in a reasonable time period I was going to return this abomination. I did not hear from her.
I have contacted my dealer and am returning this and will NEVER again purchase a Samsung product. Having been in a manufacturing/consumer product company for over 40 years I know world class customer service. Samsung doesn't gave a clue! Not sure how they continue to sell consumer products with such pitiful follow up.

I purchased my Samsung refrigerator June, 2015. Within 6 weeks, water started leaking from under the freezer. I called Samsung customer service who attempted to give me some 'how-to' information. This did not work. For over 1 year I've tried to rectify the problem via Samsung until they finally said, "sucks to be you!, your appliance is out of warranty". I pushed the issue and was told to submit receipts, which are on thermo paper and no longer readable. It has been determined to be 'un-repairable' because there is no Samsung service repair in my area. Likely a simple adjustment needs to be done, but Samsung will not authorize repair. They tell me that I will have to send in the paperwork, all labels from appliance, the cord (plus a video of me cutting said cord), and they will review the file and send me a check... OK... let me trust that process.

Garbage. Ice maker never worked correctly. Shelves break. Door flapper broke. Freezer drawer slides blew out. Never cold enough. Freezer door handle pulled completely off. Freezer fills with 4" of ice on bottom and leaks water constantly. Ruined my floor. Threw away broken freezer sliding drawer. Always had to pull out and unplug to reset "frozen electronic controls". Wasted plenty of food. Wish I had a bomber to drop it through factory roof. Just a complete waste of raw materials and food. Such junk and a waste of money. The only good thing about it is the arched front design which makes your reflective figure look better, while standing on a puddle smelling rotten food. Will bad mouth this company until the day I die. My Samsung tv sucks too.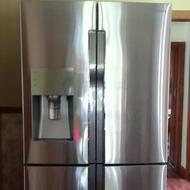 Samsung Model RF32FMQDBSR/AA. I purchased the Samsung 4 door refrigerator around 8 months ago. I follow all the instructions regarding the ice maker when I went on vacation. When I got back home again I check my owner's manual and follow the instructions with the ice maker. After 24 hours there was no ice make yet. I check the manual again to make sure I did everything I was supposed to do. Once again I waiting and no Ice. After giving it a week and having the Ice maker not making any Ice, I contact Samsung. The lady at the phone ask me for the model number, my phone, and located the account then she proceed to asked me what was the issue. I explained it to her that the Ice maker was not working that I try everything in the manual but it did not work. I also explain that I follow the instructions to removed the Ice bucket, however the bucket wasn't coming out, at all.
She ask me some questions about if the Ice light was lit up on the door and if said off the Ice maker wasn't going to make ice. No kidding Sherlock. I'm not a moron. I calmly explain to her that after a week of not having Ice I turn it off. No sense on having the feature on if is not working. She then advised me that if it was something they can't fix by phone but they needed to send a repair person then I was going to get charge for the visit. But if the repair person was needed then the visit was free of charge. I was told that a service representative was going to called me within 2 business days. She proceed to gave me the service number reference that I needed to gave the tech (**).
As she told me I received a call from the service tech to schedule the appointment. However the service tech was from Oklahoma and I'm in Pennsylvania. The tech was sorry for the misunderstanding, it wasn't his fault. I contacted Samsung again and I explain to the male representative the issue with the address and I gave him my reference number. The gentlemen proceed to tell me that my refrigerator didn't have warranty. Wait what happens in 3 days? I explained that it when I spoke with the lady that gave me the reference number my refrigerator had warranty. Well I'm not one to argue with customer service representative since they are provided a script on what to said. I told him "Just give me the tech number please." He did gave me a service representative from Reading PA.
I called them to schedule an appointment and when I gave the lady who answer the phone the reference number. She proceed to tell me I needed to provide for them the receipt of purchased, that the visit was going to be $70 plus labor and parts. I again, didn't want to argue another customer service representative. I make the schedule, however after thinking about it I cancel it. Who knows what they are going to charge me. What happen to the warranty? This refrigerator is Top Samsung Product with a cost of almost 4,000 dollars. If I'm going to paid I'm choosing who I let in my house.
I have Samsung products all over my house since I believed to stick with one company, washer, dryer, phone, microwave on and on and on. I have never contacted Samsung for service. The first time that I need service They give me a hard time, that's not good customer service. Since I'm selling my house and moving out of state soon, instead of paying a repair person I will sell ALL my Samsung electronic and start new with another company. Before you spend that much money on a Samsung product make sure they are not going to give you the runaround.

Purchased a Samsung 4 door fridge w/ ice and water. Ice stopped working properly 2x within 6 months and again at 13 months. Had to fight service at 13 months as it was out of warranty. At about 16 months inverter board blows. Catastrophic failure. Samsung customer service essentially tells me to go pound sand. Factory authorized repair diagnoses it as compressor, replaces compressor w/ new. System still inoperable. Finally local repair guy replaces inverter board and unit finally starts. Customer service is rude and surly and essentially tells you to go screw, with a 18 month old $2700 refrigerator. NEVER buy this product for both quality issues and customer service.

Samsung Twin cooling plus. My fan in my refrigerator (Model #RFG297HDRS) started making noise and then stopped working all together on my refrigerator that is only 2 years old. Samsung support claims that there are no reports of this being a problem. That is not what I see checking reviews on the internet. Wish companies took quality of products more seriously. Very DISAPPOINTED.

My wife and I purchased a Refrigerator from Samsung about 16 months ago and it stopped working. OK Things happen. I call Samsung and their answer is simple - "sorry you're S.O.L.!" ARE you kidding me? $1800 for a god damn appliance and after 16 months it craps out and you tell me I'm on my own? My wife is 8+ months pregnant and we lost hundreds of Dollars in food - worse yet nowhere else to put it and you tell me I'm on my own.
OUR WHOLE ** house has their crappy products in it; Stove, Microwave as well as this crap I'm writing about. We "were" very loyal customers but I guess you don't care about that. Their customer service is worthless. I will never buy ANYTHING with the Samsung name on it. I will Lobby my friends, coworkers and my company to do the same. You have a lot of nerve charging what you do and screwing your customers with a smile. I also had wait 22 minutes to speak to a supervisor - either they are too chicken to talk to people OR so many pissed off people call there isn't enough staff. I am a District Manager and Never do I treat customers this way, nor do any of my staff.

I had purchased Samsung Fridge Double Door RT36JSRZESP on May 15.05.2015. On 05.08.2016 the fridge stopped cooling. When registered complain service engineer who visited communicated that Compressor Pipe has leaked and thus eventually the Compressor Gas has leaked. This is not covered in Warranty.
The root cause he communicated is that locality air causes this and all the fridges in this area have same issue and the pipes needs to be replaced every year. When inquired in DWARKA area it was found that this was total bluff.

Samsung Refrigerator - Model # RF263BEAESP/AA. Purchased this new (4) years ago. Within the first year, the ice maker stopped working and the warranty covered it. Year and a half later, the replacement ice maker stopped working again (ice builds up & prevents the ice maker from making ice). Ok - I don't need ice that much. We learned the hard way that we couldn't count on this fridge to keep the meats/dairy cool enough to not spoil - so we depend on our (20+) year old non-Samsung fridge in the garage. We've lost plenty of food in the Samsung fridge because it was not cool enough - in spite of it being set to the coldest setting.
Now, just a week ago - the fan in the fridge compartment is making a loud buzzing noise - why, because ice is building up there too and hitting the fan blades. I've run the manual defrost mode several times - but it only works for a few hours before the ice comes back and the noise starts again. When we bought our home, we did our homework on each appliance. At the time, Samsung got very good reviews, so we wound up buying (4) Samsung appliances - washer, dryer, oven, and Fridge. Only the dryer hasn't needed to be repaired. I will never buy ANY Samsung appliance or product again!

Terrible terrible product. Multiple contacts with Samsung resulting in zero satisfaction. We've had cooling and water leaking problems (it's not hooked up to a water line) since day one and I've lost track of the service calls - certainly 7 or more. I hate to add up the dollars spent. We've had it for 5 years and the repair beat goes on. I've talked with 3 contractors and each of them recommended against buying Samsung appliances.

I bought a Samsung side by side Refrigerator over a year ago from Lowe's. Had lots of noise coming from it in the first week. I called Lowe's and they refer me to Samsung. They walk me through all kind of process over the phone saying it wasn't on the right setting. They send 2 tech out at different times and they didn't know what to do coming up with all kind of crap. The noise coming from the appliance gives you headaches. I spoke to samsung over a month again and no one came out yet. I was told I have to pay for the service and repairs. It not fair for us as customers to have something break down in the first years and have to come out of pocket when it cost us thousand of dollars. My house sounds like you starting up a crop duster in it. Please help us as customers. Thank you.

We purchased this french door refrigerator from Best Buy 3 years ago. We purchased the extended warranty and didn't need to use it. As soon as the 2 year extended warranty ended the refrigerator started: the temperature at the top started saying numbers that meant it was cold enough. Then the ice maker quit working & broke. The freezer door wouldn't close correctly. We called Sears Repair since Samsung gave us the run around. Sears came 4 times. We paid for new gaskets, new hinges, new ice maker, new mother board. Ice maker doesn't work nor has it since the guy left after putting it in. Water flows into the crisper drawer & floods our kitchen every so many days. UNREAL for a $2000 cost put extended warranty! I wouldn't buy Samsung again. We also have a plasma tv & sound board neither work correctly!

This refrigerator (Model RF263Teasesr) is 2 years old and nothing but problems. Water continually drips down door. Now 2 years old and the internal temperature is 55 - 60 degrees yet the control panel on the front says it is 38 degrees leading to food spoiling. Frost continually builds up in the twin cooling portion and within the icemaker. Nice looking fridge that cost $1600 and does not work. Never, never buy a Samsung fridge. Their help line is staffed by people who try to be polite but are of absolutely no help.
To make matters worse, their warranty which supposedly covers "defects in materials and workmanship" one year and five years is irrelevant. The only way to determine on the extreme off chance something is covered is if a Samsung approved repair person services it. The closest repair person is over 120 miles away - so guess how much that repair bill will be that is not covered by Samsung. I will say it again, NEVER EVER buy these appliances. Samsung stick to a phone or tv.

Our Samsung side by side refrigerator quit working and I contacted Samsung on 7/06/16. The appliance was still under warranty. However it is 7/27/16 and I am still without a fridge. First they looked for someone to fix it but no one was available in our area. So an exchange was approved but it must take forever. I have called them multiple times. All I get are apologies. Their service is the worst I have ever dealt with. Don't buy Samsung. This is the most expensive mistake I have made. Worst company ever!!!

We bought this fridge in 2014 with an extended warranty. The first year the ice maker broke and someone was out immediately to replace. Shortly after the 1st year, now into the "extended warranty" with Lowe's, the fridge maintains 44-58 degrees. We constantly have to push the power cool button to force it to cool down. I have thrown out deli meats, cheese, dairy products, etc and I am on my 6th service call. The first call, he cleaned the condenser (back of fridge). 2nd call, done nothing, said he couldn't fix it. 3rd call Sears was sent out, he replaced the thermostat, next day called again. 4th call SoCalTech came and ordered a evap cooler assy, came back 5th call and replaced it. Next day still not cooling.
6th call showed up and said no refrigerant so he filled it with that and ordered condenser fan, condenser, etc. Today still not cooling down. This morning at 58 degrees. Have to wait for Lowe's to decide to approve all these parts or maybe offer a replacement. I see over 2000 complaints on this product and at a loss as to why there has not been recalls or lawsuit for producing such a crappy product. I bought a Maytag in 2000 and it sits out on our patio at 120 degrees and is ice cold. All of our dairy, meats, etc are in that fridge. I don't want to purchase another fridge, just paid this one off but it is not looking good based on all these reviews. I won't be buying any more Samsung products either.

Less than a year freezer goes, read the reviews they said it was an issue. Bought it anyway since Consumer Reports rated it well. 3 calls to get service and the last call came with the threat of a bill if they decided the fridge was not level or it was a bad filter, mind you a Samsung filter, the second one. Call 1 - reset freezer and call us back, 20 minutes of my life gone. Call 2 - "oh yeah you also need to take the water filter out and wait a day." Got about 10 cubes in 3 days. Call 3 starts with reset freezer, I said done it 3 times already, 15 seconds. "Did you run the water when you put the new filter in?" "Yes." "Is the fridge level?" "Yep looks level." "Well if it's not, that's a problem."
I have had enough--fridge sucks, customer service sucks--that I am sure is right from a corporate book on how to get rid of service calls. Anyway in the middle of the service they finally agree to set up. They threaten a service fee if they determine it's not level enough--or maybe the filter is not right, Samsung filter...or there is an air bubble. Meanwhile 100 degrees and we're buying ice. They did suggest I remove the filter so we could maybe get some ice...huh? I paid for filter and ice cubes. Thank you. They need to stick to TVs.

I purchased my side by side fridge, model #RH25H5611SR/AA in October 2016. Mid July I noticed my fridge temp blinking. Got the manual to reset and it stated that because the temp has been changed it would take a moment for the blinking to stop. So, left it alone and when I awoke no more blinking. Two days later, July 18, 2016 the refrigerator temp is blinking again. This time I make a call to Samsung but now the now is set and no longer blinking; two days later after this it starts to blink again and I make a call to Samsung again on July 20, 2016. I'm told to unplug or disconnect the power from the unit; I do this but when plugged in 2-3 minutes later the blinking has stopped but now my temp for the refrigerator is reading 61 degrees Fahrenheit. I give this info to the customer service rep who tells me that this is okay and that the temp will drop and to use the fast cool function.
Now I got my first service call number on the 18th and at that time provided all the necessary information to the representative. On the 20th I asked if a new service call number would be given and was told that it wasn't necessary, the first service number was still valid. Anyway, the following morning the refrigerator is still reading 61 degrees. I call Samsung customer service on July 21, 2016, give this customer service rep the whole story from beginning to end only to be asked for the serial & model numbers. This info should have been in my file as it was given on July 18th. Anyway, once this info is provided again this individual wants to send me through all the troubleshooting steps I have already taken. When I explain that these things have already been completed with no resolution he wants to tell me that I will be responsible for charges if a technician is sent out.
To say the least I explain once again to this individual that the troubleshooting has already taken place and it didn't work and I need a technician. He complies but now it will take 24-48 hours before I will be contacted. Was contacted by the service tech on Sunday evening that I had to be available between the hours of 12pm to 3pm. I get a call that the tech is running late and will arrive after 3pm. He arrives & checks out the unit. He turns to me and states that I need a new compressor. He goes on to say that this is a regular problem with this particular unit. The part has to be ordered and will take approximately 3-5 days for delivery and then they will contact me for repairs.
My question is has anyone else had this problem? Is there a recall? Again, the technician stated that this is a common problem. I purchased my appliances at hhgregg and got the whole suite to include dishwasher, range & microwave. Was told that this was the top of the line appliance package. I also have Samsung washer & dryer (Home Depot). Did a little research prior to purchase but mostly price comparison but I apparently missed this site. Had I read all these reviews prior I would not have purchased all these Samsung appliances. Praying that my products don't fail but will definitely obtain some type of extended warranty to protect myself. It won't be Samsung.

I bought Samsung model RF30HBEDBSR 2 years ago. The French door, fridge on top, and freezer double drawer on the bottom with a "bonus" drawer between that can vary the temp/use. On the one yr anniversary the ice maker made mushy, crushed-only ice. Samsung "customer service" sent me the door part free and scheduled a repair guy of their choosing. NOOO. Over twice the going rate. I hired someone else.
Six months later the ice maker itself (cleverly placed IN THE REFRIGERATOR) froze over. I defrosted it with my blow dryer occasionally for the next 6 months. I tried to hire someone to evaluate/fix it and was told by the first 6 that they either don't fix Samsung fridges or never the ice maker. Huh? Finally someone let me in on a poorly kept secret (except by Samsung who believe they walk on water), their ice makers are overly complicated pieces of junk, frequently unfixable.
We replaced the entire ice maker body (part ordered through Sears) and after spending almost 2 hours melting enough ice to be able to remove the original part, put the new one in in 15 minutes. I was told that this is almost always a failure in the computer chip in this part, resulting in water continuing to flow after the tray is full... Ice build-up-hell. Cost me $154 plus the part I'd bought and weeks of 7/11 ice. Supposedly these fail between 2 months and 2 years. And all the replacement parts are just the same as the original!
Rinse, repeat. OMG! I spent $1,500 at Best Buy plus over $400 in the 1st 2 years already. I have never had to have any prior fridge need repair in 30 years! I replaced them every 10 or so years for newer "better" models. Until now... I will never ever buy a product from Samsung as long as I live. I even hated the one phone of theirs. I didn't mention the HOURS I spent trying to deal with customer service.

We struggled with a Samsung RF263 for 3 years. Finally it shut off with NO WARNING; was 50 degrees when I realized it. THIS is a major food safety issue, especially with elders who may not pay attention and have repeated bouts of diarrhea because of spoiled food! I reported this as a safety issue to CPSC. Within 48 hours I was contacted by Samsung to schedule a COURTESY tech visit - this after they repeatedly claimed the behavior was normal. He moved the sensor! Two years later I can say I am very happy with the damned thing. Had two Samsung Microwaves let the smoke out with a year of purchase. Lowe's replaced first, I threw out the second. Turns out the power transformer uses copper clad wire rather then solid. Bought a GE and NO issues.
Then there was the LED TV fiasco. Kept turning off after three years. Almost threw it out until I discovered the class action settlement where they had to to come to the home, replace the 15 cent electrolytic capacitors in the power supply with 50 cent capacitors. Turns out there was actually a business where savvy people bought up "broken" tvs and replaced the caps. Took the tech all of 15 minutes to do in my home. Samsung close engineers their products. I will NEVER buy another Samsung even though I expect this refrigerator to work for another 15 years. Want to get it fixed? File a food safety complaint with CPSC!!!

When we bought our stainless steel fridge 2 years ago I couldn't believe it. We had saved for months finally can redo our kitchen. We should of looked on the complaints. Everyone was right. 4x we had our icemaker replaced and our fridge doesn't get any colder than 38 degrees. I hate this piece of **. We had our other fridge for 20 years without one problem. Why is it products made now are junk. Will never ever buy another thing from Samsung. Shame on you Samsung.

Cost about $2800. Pros: great energy savings, LED light, very well lighted inside and good use of space. Cons: The drawers are not seamless so food, spilled juices, spilled sauces flows into the seams and will NEVER come clean. The glass shelves are not seamless and the same issue with cleaning is the result. The Ice maker worked great for the 1st year after which it continuously leaks water down the front of the door and makes a high pitch whining noise 24/7. Samsung will not warranty the ice maker. The French doors do not open all the way so it is a real struggle pulling out the drawers and shelves. Recommendation: NEVER purchase a Samsung fridge... EVER AGAIN.

We purchased a side by side refrigerator from Lowe's in Oct. 2012. Last year the refrigerator side build up ice and it stopped cooling. We had to purchase an extended warranty ($388.95) and have a subcontractor come out and repair it. At the time he said it was a known issue and more than likely it would happen again. Sure enough 10 months later we are having the same issue. A different subcontractor came out today and had to order the parts. This service tech said it was a known issue with Samsung refrigerators and more than likely it would happen again.
I called the extended warranty Samsung Protection Plus and was told the part would only be guaranteed for 30 days and referred me to the main Samsung customer service. I spent over an hour on the phone, mostly on hold only to be told by the Executive Customer Relations Department that there is nothing they can do for me. The only way we can have repairs covered is to purchase another extended warranty (another $388.95). I will never purchase another appliance from Samsung.

Bought this rf217acbp refrigerator. Looks very nice but it is a big mistake. Everyday I have to change towels in the 2 dwg they fill up with water. This has been going for many years just after the warranty was up. Called Samsung got no help. Will never buy another Samsung product. My old refrigerator was 44 years old never had any problems with it. It was a GE. The Samsung is a $1500.00 mistake.

I purchased a Samsung Model #RF30HBEDBSR/AA on 9/12/2015, it was delivered to my home 9/13/2015. The first issue I encountered was the second week of April (4/10/2016). I returned home from a 3-day family vacation and realized that my refrigerator and freezer were both not functioning. I called 1-800-726-7864 and spoke with Zakiya (Ticket #**). I informed her that my refrigerator & freezer both weren't functioning and that I'd discovered this when I returned home after a few days. On 4/11/16 at 2:45 CST I spoke to Cori & her supervisor, Hannah. I documented & reported to her that the food in my freezer was spoiled and I had a significant amount of food lost due to the refrigerator/freezer not working properly. Hannah told me to send my receipt for the food purchased that I was reporting as spoiled.
Fast forward a few days to 4/14/2016 I spoke to representative Chin (Ticket #**). I asked how and where to send receipt for spoiled food. The address I was given Samsung Electronics of America, Inc. 85 Challenger Road Ridgefield Park, NJ 07660. On 6/29/16 I spoke to Madylin (Employee # **). I was kept on hold for 45 minutes when Madylin returned I asked for a supervisor. I spoke to Supervisor Torie (Employee #**... this conversation was said to be recorded on their end). Torie told me that I was misinformed when I spoke to Hannah back on 4/11/16... My spoiled food WOULD NOT be covered. Torie's tone was very condescending and not what I would expect from someone from a supervisory position. This has been an ongoing nightmare with terrible customer service from the supervisor(s) down to the customer service agents.

ConsumerAffairs Research Team
The ConsumerAffairs Research Team believes everyone deserves to make smart decisions. We aim to provide readers with the most up-to-date information available about today's consumer products and services.
Samsung is a Korean appliance company known for creating a wide range of electronics and home appliances. The company, based in Seoul, Korea, was founded in 1938.
Technology: Samsung offers wi-fi connected refrigerators, letting users keep track of fridge contents and settings remotely.
Color options: The company sells refrigerators in a selection of colors, including stainless steel, platinum, white, black and more. These options let customers choose a refrigerator color that matches their kitchen.
Additional features: Samsung's refrigerators come with many additional features, like water filters, a showcase door and more.
Warranties: Customers have the option of purchasing extended warranties to cover damage or necessary repairs over the life of the item.
Sleek design: Samsung has a reputation for sleek, contemporary refrigerators that offer a modern, clean aesthetic.
Best for Homeowners looking for high-quality, high-tech refrigeration devices, and college students in need of small, affordable mini-refrigerators.
Samsung Refrigerator Profile
Basic Information
Company Name:

Samsung TV

Year Founded:

1938

Website:

http://www.samsung.com/