Consumer Complaints and Reviews

We purchased our refrigerator in 2012. It has been a problem since we purchased it! The ice maker on top stopped working first. Then the bottom one had so much ice in it that when I tried to open the freezer door the plastic thing inside the ice bin snapped off. Now we have water accumulating in the drawer of the refrigerator. I have read many reviews and posts from here and the Samsung website that are all the same. I do not understand why there has not been a product recall? Our model is RFG298NDRS/XAA. As many others have mentioned here. DO NOT PURCHASE A SAMSUNG REFRIGERATOR!

In approx May 2015 we purchased the Samsung RFF18HFENBSR French door refrig/bottom freezer from Home Depot. Our renovations got delayed so we did not start using it until August. I gave it one star because it looks and fits great but the following year (after the warranty was over) multiple things started happening. First no ice, then water in right crisper and water under both crispers freezing up. I went online and this has been a problem with Samsung refrigerators, many models, for years. I didn't call them because after researching they were not even returning calls to those that had warranties.
All I can say to those shopping, absolutely do not purchase their refrigerators. This is a continuing problem. I have to call a repair guy but more annoying is it may possibly be a simple fix. There is a problem with the heating coil not keeping the water from freezing in a little hole. So their fix was a metal piece that doesn't quite reach the hole too short so it wasn't a fix after all. So water freezes in the hole, then no ice, water in right crisper and water under both crispers that freezes. It also creates frost in the freezer and food in the refrigerator freezing. But now I have to pay god knows how much money for a repair guy, empty everything out of my refrigerator again.
Some repair guys are also saying you have to replace the thermostat piping or something like that. Don't buy this. I never do this but I have a refrigerator in my garage that is 12 years old and has never had a problem and Samsung although they were aware from previous models continued to just make it with the same problem knowing it still didn't fix it.

I have a nonworking 2 yr old Samsung refrigerator that has been broken for over 5 weeks. We have an extended warranty through PSEG and Samsung kept sending incorrect replacement parts, and it still doesn't work. I have called Samsung directly... didn't care. My husband e-mailed Samsung and got the same basic help. Samsung does have a record of purchase.

Add me to the 2,180 list of dissatisfied customers who own a French door Samsung refrigerator with twin cooling. We have the same problem with ice building up in the refrigerator section causing water and ice to form under the crisper trays. The compressor was replaced after 1 year but the problem keeps occurring. I question the Executive team from Samsung how they could still be selling a product for the last 5 or more years that has the same issue. If you read through the reviews and see the years it has been the same problem. Their response was, "We will send a technical out to fix it and you will pay the bill." The problem should be fixed and there should be a recall. Why would anyone invest more money in a piece of JUNK? Next step is a report to the Better Business and to make dealers aware that they are selling faulty products.

Got French Door fridge from Home Depot and just after warranty expired it started making noise... Below and behind. Called and was told compressor (which was still under warranty). Had service tech come out (cost $60) and he said valve noise was "normal"... "All fridge compressors make it"... "Nothing can be done". Still annoyingly noisy when compressor comes on. Seems am stuck with it. Next time will buy some brand OTHER than Samsung and check consumer reviews first.
How do I know I can trust these reviews about Samsung Computers and Monitors?
668,849 reviews on ConsumerAffairs are verified.
We require contact information to ensure our reviewers are real.
We use intelligent software that helps us maintain the integrity of reviews.
Our moderators read all reviews to verify quality and helpfulness.
For more information about reviews on ConsumerAffairs.com please visit our FAQ.

Same continuous issue with our Samsung refrigerator model RF28HMEDBWW. At least 3 service calls (maybe more) and now we have been waiting for 3 weeks to get the ice maker part replaced. Ice maker continuously freezes up and won't dispense ice... frustrating! Customer service is terrible. No one calls back from the service company or the warranty company to let us know the status. Waiting now to see if the part can even be ordered... maybe not available any longer, not sure. Luckily I purchased the extended warranty. We'll see what happens. I do not recommend this refrigerator.

DON'T BUY A SAMSUNG REFRIGERATOR. Six months after warranty expired, I go through ice makers, water valves, and leaks. You are free to call me at: ** if you are even thinking about buying this piece of crap!

Ice maker is in the upper fridge portion so all the ice chips that remain in the hopper melt and drip down all day long and leave water spots on everything. Worthless slim pockets in door that don't fit anything. Would love to swap it out for another.

After warranty ice maker stopped working properly. The repairman told me it's a manufacturer defect. I want my repair money back. They knew it was a problem from the get go. It's a gap where air can get in the ice maker.

March of 2015, we purchased a Samsung Refrigerator from Nebraska Furniture Mart. A month after purchase, the ice maker stop producing ice. Called NFM and was given Samsung's number. Technician came out at least 4 times, only supplying temporary relief. Technician said, "this is a manufacture problem." He said, "There's a sleeve in the back of the refrigerator that allows air to come in and with "sub-below" temperatures over freezes the ice maker, not allowing the ice make to function properly."
After calling Samsung, they continue with the troubleshooting techniques. If you are experiencing this problem, don't allow the operators to troubleshoot your issue. Demand for a service tech. Tech from NFM set the temperature control way too cold. Fresh produce, butter, cheeses in the midsection of the refrigerator was freezing. Found out the correct temperature should be set on "0" and "37". To set you must hold the numbers one at a time for at least three to five seconds. Heading back to NFM to complain. If purchasing this refrigerator, spend the extra money and buy the warranty. A home warranty plan may also help defer the cost. NOT HAPPY WITH SAMSUNG RIGHT NOW!

We bought the Samsung French doors with a bottom freezer. The ice tray went out in about a year. Three years later, the contents in the refrigerator started freezing. We had a repairman look at it. He said it would cost $1200.00 to fix it. So after four years we had to purchase another refrigerator. OMG how disappointed. We will never buy Samsung anything again.

I can't describe how horrible experience I have with Samsung product, let's begin, in 2013 I bought Samsung French door refrigerator ( RFG297HDRS/XAA) from Best Buy and I paid extra for extended warranty (which I found out it is not extended warranty. It is duplicated warranty). Now in 2016 it is broke down. I talked to Samsung few times. There is no authorized repair center close by and they had to talk to Sears Service but make long story short the estimate of repair is around $600 maybe even more for replacing control board. I recommend to stay with common brand like Whirlpool or Kenmore, Amman instead of paying more for some foreign brand which it cost a lot to repair plus they have very short life.

On December 15, 2015 I purchased a Samsung French Door Refrigerator. Less than one month after delivery the ice maker quit working, was totally frozen up from leaking water. I purchased this item from Best Buy's Pacific. The Geek Squad replaced part of the ice maker but did not remedy the program. Upon searching the internet the above was a known problem with this particular refrigerator. In fact Samsung had issued a technical bulletin on how to fix this problem. In the interim I purchased an extended warranty from Samsung. The same initial problem reoccurred in early December 2016. I took my complaint to the appliance manager at Pacific in Best Buy. He told me this was a Samsung problem.
It has now been six weeks and several visits from repair companies the ice maker has not been fixed. It still freezes up, leads water and stops making ice cubes. I was directed to the regional representative for Samsung. Keeps sending out a different repair company without results. Needless to say I am totally frustrated with Samsung and their defective product. I have asked Samsung to replace the refrigerator but upon examining a more recent model the same problem was visible. Samsung continues to sell a defective product. I will be filing complaints with the Texas and Federal lemon laws to try and rectify the above problems. Needless to say I cannot recommend Samsung to anyone.

Approx. 4 yrs ago purchased a Samsung French door fridge. Recently the mullion bar became inoperable. After reviewing possible remedies IT became obvious that a new mullion bar had to be purchased. After purchase was made at a cost of $117.74 I tore the replaced bar apart and discovered the culprit to be a spring in the lower part of the bar. This spring could be made for no more than 50 cents at any reasonably priced manufacturer. I assume that the bar is also made by the Samsung corporation so it would be to their financial benefit to develop this spring as cheaply made as it is, so that additional financial gain could be made by their sale of this bar. My advice to any, who are considering purchasing this refrigerator is "BUYER BEWARE".

Samsung refrigerator RF26X Series Model # RF26XAERS. My wife and I purchased a 26 cu ft Samsung refrigerator french door freezer on the bottom on October 12, 2011. We spent over $3,000 on Friday December 16th, 2016 the freezer & ice maker quit working at the same time. I contacted Samsung about the matter and I was informed that my warranty was expired, the refrigerator came with a 12 month warranty then we added a five-year warranty on top of that. Question is how can it be expired? It's only been 5 years total including the original 12 months that came with the purchase. I would like a full refund. Please don't buy anything from Samsung. You've been warned.

Bought our Samsung side by side in 2013 from Home Depot and took out the extended Warranty. Have have Asurion the Warranty company out here several times for the same issue. The diagnostics all run fine so there is nothing wrong with the Freezer so they would accept our claim for Lemon Law since nothing has been replaced. The ice comes out of the blower down the wall and freezes between the wall and the back. Called Home Depot. They will not do anything. I AM DONE!!

We built a new retirement home and decided to buy all new appliances. We figured we wouldn't ever need to replace them. French door refrigerator RF263BEAESR has been a nightmare. It has been serviced at least 5 times and still doesn't work right. We have to buy ice. I will never buy any Samsung appliance again. We got the appliance in 2014 around November. December was the first service call. I called and complained several times to Samsung and Metro Appliances where we purchased the item. Beings the warranty has expired I will buy ice from now on. I have spent enough money on repairs. I should have bought a good refrigerator. Never again...

Purchased over $5,000 worth of Samsung appliances for my new house - BIG mistake. 2 years in and the ice maker on the refrigerator breaks - $325 to have it fixed. Samsung offered nothing - customer service was horrible. The fan in the oven was the next to go. Again horrible customer service and Samsung offered no help. DO NOT buy Samsung Appliances!!!

Purchased a Samsung side by side in July 2015. About 4 months ago I noticed an odor in my freezer and fridge. Contaminated my food and made the ice taste terrible. I pulled everything out, cleaned every inch of it with baking soda water and put a box of baking soda in the freezer and fridge. I still have the odor. Had a technician come out because my ice maker was not producing ice and asked him about the odor. He could smell it too. He checked the drain, coils & compressor and found nothing wrong. I cleaned it out again and still have the odor. The technician said it smelled like celery. Agreed, but no celery in my fridge. I cannot keep butter or cheese in my fridge unless it's double bagged in zip locks. The smell will not go away and it's driving me insane. Should have stuck with my Whirlpool.

My husband and I purchased a new home July 2016. Kitchen had brand new appliances. We already had a repair done in Samsung dishwasher in which took over a week to get repaired. That was only after 5 uses. December 23, 2016 my refrigerator failed. Lost everything. Called the customer service at Samsung because they are brand new appliances. They should not be failing. The few people that I spoke to were not able to help get someone out. Spoke to supervisor. Got a local repair to come out that Friday to tell us what we known it was the compressor. It's a holiday weekend, company was coming and a baby in house. Samsung certainly did not see our frustrations. The guy at repair center said it will take 3 to five days for part to come in. That brings us to the middle of the week. Called repair center said it may be in Friday.
I called Samsung again today 12/27/16 and told them the issue. Basically there is nothing they could do other than wait for the part even though it will be almost 2 weeks without a refrigerator that should not have failed (in warranty repair). I asked the supervisor at Samsung if they can expedite the part. She said no there's nothing they can do other than wait. Again I tried pleading my case. I have a baby in the house and other young children not to mention it is 60 out in RI today and losing everything in coolers. They did not resolve this pressing issue or the fact that I lost too and bottom of the food in refrigerator that is worth about 300 and the food I had to replace that I lost. Their customer service is just trained to patch the problem. They sound more like counselors than trying to make their product right.

I'm now just starting to deal with Samsung and what a disappointment. My icemaker is not making ice very fast and never has filled the container. I get about a half sandwich Ziploc bag full after 3 days. The fridge is only 4 months old and I have spent almost a month of that running test that they are having me do to try to fix it. Now it looks like they want me to send a part from my freezer to them to look at on my dime. That isn't going to happen. As far as I'm concerned they can come and fix it. I don't have the means or even know if I'm sending the proper part to them to fix, Not to mention, I'm not going to take a chance on breaking something taking it apart.
I purchased this from Home Depot and shame on them. They should be held somewhat responsible as they sell this product to their customers and have been for years and I'm sure knowing full well the problems Samsung has with their fridges. I asked before I purchased it if there were any problems with this brand, and the answer I got was not a one, it is one of the best fridges they sell. I would not recommend buying a Samsung fridge to anyone and I would definitely be interested taking part in a class action lawsuit.

I bought the Samsung French door refrigerator last Thanksgiving and it has been nothing but trouble ever since. The ice maker clogs and the refrigerator will not hold the temperature I set. We have had a repair person here numerous times (bought it from Lowe's) who failed to repair it and dented my refrigerator door as well. Much food has been spoiled. And now it is Christmas and we have no refrigerator we can count on. DO NOT BUY A SAMSUNG REFRIGERATOR!! You'll be sorry!! Thank God it's winter in Pennsylvania and I can keep my food outside. Hope the raccoons don't have a feast!!

I purchased a new refrigerator in June of 2016. The refrigerator was on back order and was received on July 2016, 1 month later. Purchased online from Best Buy. In December 2016 the refrigerator side stopped working. Called Samsung, ticket made, service ticket created, local repair sent to review. Tech said parts were needed and has received numerous calls on same issue. Fans seized and no cooling.
When I purchased this refrigerator I felt it was to be a good 10 to 15 years before I would have any problems. My last fridge was a hand-me-down Frigidaire from my mom but felt I would go to a more futuristic appliance with bells and whistles. I was wrong. I have since lost over $400 dollars in spoiled groceries. I cannot use it because it does not cool. Lights are ice. I keep calling Best Buy and Samsung, and get the runaround. Samsung, ticket still open, parts in limbo. Best Buy won't accept it back since it's past 45 days of original purchase. I still owe $1,200.00 on a $1,650.00 fridge.
I wish I would have checked more reviews on these Samsung appliances. This is to warn others of what can happen to you if you do get such an appliance. Also to point out how Best Buy and Samsung support DEFECTIVE appliances. Samsung thumbs down. "Sorry can't help you," is the answer. Best Buy thumbs down. "Sorry not our problem after 45 days. Pay 3 times for service and maybe we replace it." Very disappointed with Best Buy on this enigma. Will hashtag this on Twitter and Facebook until I finish paying for it, and hopefully help some other sap from making the wrong purchase, and where NOT to purchase this item with no support or lemon law for defective products that should last at a minimal 5 to 10 years. Very disappointed.

I purchased a Samsung Refrigerator last year. I didn't get refrigerator delivered till January and the ice maker stopped making ice. When I called Samsung they told me it goes from date of purchase so it is not covered. What poor customer service and I will never purchased another Samsung product ever again. I planning to contact the Better Bureau and any other government agency to complain. How can you not cover a product that was not even delivered to my home?

Broke down in a little over a year and Samsung will not help me at all. Paid 3000 thinking higher priced was better. Never again. And Samsung won't even send me replacement parts. Nor will they return my calls. Worst experience ever.

This very expensive 4 French door refrigerator (over $3000) quit cooling within 2 years of purchase, and Samsung is non-responsive. My story sounds like the same thing others are experiencing. Samsung supposedly scheduled service with an independent contractor to come look at it and he never showed up because no one ever told him -- they dropped the ball completely. They can't be rescheduled for at least 2 more weeks. I have been receiving the same line, ("it's not my department") from Samsung for every call I make. Meanwhile, my food is spoiling and I am hoping we don't end up with food poisoning from improperly cooled food. I paid too much for this one to run out and buy another. So we use. It is apparent that once Samsung gets your money they do not care. In my experience, this is a terrible product and bad company that should stick to making televisions -- not refrigerators.

We purchased a complete Samsung kitchen from HHGregg 4 years ago when we upgraded our kitchen. We've had issues with the ice maker freezing up almost since day one, but have continued to manually defrost. Now, here's the horror story. We returned home from Thanksgiving holiday to find our house flooded! Yep, you guessed it. The refrigerator was the culprit. It malfunctioned, and the inside of the fridge was literally filled with water! We had all hardwood floors, and every one of them has to be replaced, in addition to other repairs.
Well, Samsung was quick to set up repair service through a third party contractor. The "authorized" repair person doesn't have a clue what he's doing. And, like Samsung, their customer service is the worst. I spoke to a Samsung rep again today, and expressed I did not want this refrigerator, that I wanted a new one. I got what I perceive to be the standard answer, and that's "your appliance is no longer warranted, and all we can do is to repair it for you." What kind of crap is that when you have thousands of complaints about your defective product? After reading the complaints here, I noticed a few persons recommending a class action lawsuit. We're in for sure. I'm done with Samsung appliances and after $50,000 in damages and repairs I certainly feel I'm justified!

BOUGHT SAMSUNG FRIDGE & DISHWASHER FOR A TOTAL OF over three thousand dollars. Spent 2 hours with their service rep, to no avail, with no help. Except kept putting me on hold over and over. When calling & asking for help Kept me on the phone for more than 2 hours total. The fridge keeps freezing over in the bottom and Deli drawers, Dish washer leaks and replaced both flow meter replaced turbidity sensor both sensors in dish washer at a cost of over four hundred $$ for service & parts from Samsung and repair shop. So both still don't work and repair man coming again tomorrow for the 4th time at a other service charge.
Each time on returning service call one hundred thirty five dollars each. Dish washer won't fill & leaks... and fridge drain lines still clogged, fan won't work either in bottom of fridge compartment. Bottom deli drawers fill with water. This is been going on for several weeks now. Very poor customer service. Suggest any one check out other problems before you buy, don't just take my experience as judgment. Check out other also.

Ice bucket didn't work. Two days ago they run. It didn't work. I don't have this refrigerator three months and started having trouble - lost all my food. Then the ice maker didn't work - came and put a new one in. Then the spring fell out of the ice maker changed it tell me they're coming out and never get here - don't call.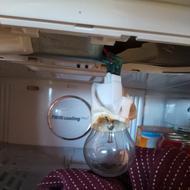 My light went out and could not get the bulb out. So I unclipped it and it was melted so I took down other light and same thing - just not as bad. Apparently Samsung has a lot of product fire safety issues. Check your refrigerator light sockets and let me know. I think this is is a huge issue and you can't tell unless you drop the lights down. It's hidden on top.
Samsung Refrigerator Company Profile
Company Name:

Samsung Computers and Monitors

Year Founded:

1938

Country:

Korea Sout

Website:

http://www.samsung.com/