Consumer Complaints and Reviews

We recently purchased a Maytag refrigerator, love it, no problems until the mystery person in my house accidentally broke the slide out door for bottom drawer. So I called Maytag, and with no questions asked they sent me a new part by Purolator! Great customer service makes everything better! Thanks Maytag.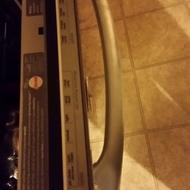 I could care less if Maytag responds as I have already advised all my family and friends to avoid Maytag products. After spending over $1200 to buy this refrigerator it took 6 months for the ice maker to failed, and it needed a control board replaced. Maytag had a great reputation; however, in the past 5 years their products are worthless. I also have a Maytag dishwasher which failed and was stuck on cancel with a flashing light. The dishwasher panel needs to be replaced and I have just decided to replace both of these products with a different brand.

It's the worst experience I have ever had with any product. I grew up watching the Maytag man as a child and thinking "that must be a top of the line product." Boy was I wrong. I went out six years ago when I purchased my new home and purchased for 1,550.00 a brand new refrigerator with side by side, and ice maker on the bottom, silver in color. It looked great, the quality was and is terrible. The freezer stopped freezing a couple of days after the first year was up. The Service department at Maytag is terrible, I called them for assistance and they were anything but helpful rude is a better word. It's been a nightmare! How could they ruin that good, or even great name of that product. Never will I buy a Maytag appliance again. I tell all of my friends as well. Oh yes so far as the leaking is concerned, my floor is damaged as well.

My new fridge iced over top to bottom. It started making horrible noise then ice maker stopped working. Called MY repairman. That's when I found out about all the ice. He told me to thaw out and he'd be back. It thawed out and then freezer went out. ALL my freaking meats and frozen food had to be thrown out. Now water keeps Flowing out on my NEW tile! Called my repairman back. He came back then informed me it was junk! He said several other customers having same issue. My daughter has the same refrigerator and it broke down just like mine! My repairman also said "a big issue with your junk was you used parts from other brands to fix!"
After reading all these complaints I can see no sense in calling to get it repaired. It's obvious we are all having the same issue. Maybe someone from your ** company could check them out. I don't have the money to buy another fridge! My 85 year old uncle with Alzheimer's lives with me and I don't want him to slip on that water and hurt himself! I think all of these complaints need to go to BBB. That's my next step. I believe you need to recall this junk or give us our money back! I need you to respond or I'm going on blast to let everyone know how you treat your customers.

About 6 years ago we purchased a new french door style refrigerator. It lasted one year and one month then needed over $700 in repairs. First you need to know I am into electronics, DeVry graduate with 30+ years experience in repairing electronic devices. The Maytag basically frosted over in the freezer and was warm in the upper part of the fridge. I called a friend who had experience fixing fridges and lo and behold we found something really unusual.
The way this machine operates is by blowing the cold air from the freezer up into the fridge. There is a fan located in the back of the freezer wall that does this. We found the fan, which was mounted in a grey box, spinning at about 2 revolutions a minute. My friend took me to the wholesale parts distributor he uses and we gave them the brand (Maytag) model (MFD2561HES) and they gave us a fan... just a fan with two wires. No grey box with fan inside... At this point I got curious, I mean WTF?!?
The grey box was made not to be opened and I had to get clever so as to not damage whatever was inside it. After getting it open I discovered the fan inside was wired to a circuit board which upon inspection was a timing circuit. This is why the fan still turned only too slow to function. The new fan was installed and my only problem with the fridge now is the ice maker, which I disconnected.
Conclusion: Maytag actually designed this fridge to break down and require hundreds of dollars of repairs AFTER the warranty expired by installing a timing circuit that disables the fan that drives the cool air to the upper part of the fridge to keep your food cold and your freezer frost free. Replace the grey box with a normal fan and you'll get years of good use out of your French Door Maytag! As long as you clean the seals regularly and don't mind buying ice to fill the tray with... The repair cost me $39 and a six pack of beer for my friend.
How do I know I can trust these reviews about Maytag?
633,951 reviews on ConsumerAffairs are verified.
We require contact information to ensure our reviewers are real.
We use intelligent software that helps us maintain the integrity of reviews.
Our moderators read all reviews to verify quality and helpfulness.
For more information about reviews on ConsumerAffairs.com please visit our FAQ.

Our Maytag ref. is not quite 4 years old and it is leaking water on to our floor. The ref. is a French door with water and ice in the door and freezer on the bottom. We have to clean up puddles of water at least 3 or 4 times a day. I see that this is not an isolated problem, as others have complained about this defect doing the same thing with their Maytag refs. Why hasn't Consumer Affairs demanded a recall on these expensive defective refrigerators to date?

Model MBF 2258XEW3. I am very annoyed with this fridge. Never will buy a Maytag again. I went to this site to see what the problem with my fridge was and read that I am not the only one with this problem. From the beginning it never worked right. Often the food in the fridge got ice crystals in them so I had to up the temp. This made the freezer not cold enough so I had to lower the temp again. This is a constant affair. Now the bottom of the freezer is collecting an ice sheet or a water bath that has to be removed every other day so that it doesn't built up or leak out. Will have to buy a new fridge. But now I am worried that I might buy another lemon.

New side by side, water inlet to ice always freezes. Had a service man out, said some tube needed to be enlarged but still freezes up.The ice dispenser is total junk. Keeps spitting out ice after glass is removed and just a poor design. Don't recommend this brand.

I want to document my experience with Maytag refrigerator model # 1958XEW1 and serial # K12947360. I purchase this refrigerator several years ago as a result of a recommendation of a general contractor who was doing kitchen remodeling work for me. After doing a brief online research on Maytag I went to Yale Electric a store in Boston to purchase a Maytag refrigerator. Worst mistake I ever made and I will never buy a Maytag product again (sad to say). This refrigerator has been leaking since the day it arrived from the store. Unfortunately for me I didn't notice the fridge leaking until after the warranty had expired (my bad). The leak was such as I could not isolate or say it was the fridge because the water would pool in an area that was away from the frig on my kitchen floor.
One day by coincidence I actually saw the fridge leak so then I knew the water on my floor was coming from the fridge. I contacted Maytag who mentioned by that time my warranty had expired, however other people who had purchase this fridge model were experiencing the same problem. Maytag said that this leak problem could be 'fixed' by changing the tubing located in the freezer section of the refrigerator to what they called a duckbill type of tubing. So I had that part sent to me and it was installed in the refrigerator freezer area. As you can imagine because I am writing this negative review that the water leak problem was not corrected and there is still water pooling on my floor from this refrigerator. I will never buy a Maytag product again and I wanted to share this experience with other potential buyers of Maytag products.

Bought a Maytag refrigerator model #MFT2673BEW10 in 2013 for $2100, the ice maker has leaked for two years. Paid for service come out and look at it, ice maker is shot, three years old, and it is junk. Tried to get help from Maytag Customer Support, what a joke. I was hung up on 4 times, and never did get any type of help except "your unit is out of warranty". Bought at the Maytag Store in Saginaw, Michigan. No help there either. DONT BUY MAYTAG!!! They are junk!!!!

I bought a brand new top/bottom refrigerator from them. 1 1/2 yrs later, the cooling stopped and had 2 repair guys come out. They replaced it with BRAND NEW refrigerator. Now 1 1/2 yrs later, the same issue is happening. ALL my food I buy goes to waste. I bought NEW so this wouldn't happen. What happened to the old fridges from back in the day! Maytag has the WORST Customer Service!!!

I called. I was told nobody else ever had that problem. She hung up. I called again. The french door is nice to look at but it does not seal properly and there is CONSTANT build up of BLACK MOLD no matter how much cleaning. It returns. There is no other design for a seal either. There are several creases in the gaskets and there is mold in all of them no matter how deeply cleaned or sprayed. The seal is poorly constructed. DO NOT BUY THEIR FRENCH DOOR... Also their ice maker shoots ice all over the floor.

When we first purchased our fridge, I was super excited. I have read the numerous reviews regarding ice in the bottom and the noise. Ours is noisy also. Nothing I can't live with. Now ice on the bottom. That doesn't work for me. A friend of ours told us the drain was plugged. Not that the doors needed to be replaced, nor does it need gaskets. All you need is a hair dryer and a man like mine who can build or fix anything (honest to God that is the truth). He took the drawers out and then removed the door to the freezer. In the center on the back of the fridge is a drain hole. Aim a hair dryer in this spot and it will melt the ice which is plugging the drain. Ours took about three years to have the water in the bottom issue.
Since we have now seen where the drain hole is, there would be no need to take the door off and the drawers out. Now, one other preventive measure. Take off the lower back plate of the fridge. At the beginning of the drain hose is a rubber nipple. There is barely any room for the water to drain. We cut the end of the nipple off in order to make the water drain better and less likely to stop up. We just snipped a bit of the end. The reason it is designed like that is to prevent air from coming into the. Just a small snip. I hope this may help some of you. Tell the Maytag repairmen how to fix it.

My refrigerator was delivered on April 3, 2016. I began calling for service July 2 when the bottom freezer door started depositing ice chunks on my kitchen floor every time we opened it. An appointment for service was made for July 18, service never showed up. Another appointment for August 3 was made and again service never came. I called the 800 number on Aug 19 again arranged service for Aug 24 after hours so that we did not have to take anymore time off work. When repair finally looked at the fridge they said the door was not aligned and did not close so the frost builds up and breaks off onto the floor. This can be fixed with a new door that can take from 6 weeks to 8 months as they are not stocked and have to be made at a factory. The fridge constantly runs and is starting to leak water through to my kitchen floor and basement ceiling tiles.
I called Maytag/Whirlpool on Aug 25 and the service agent told me the best they could do for me was extend my original warrant by 6 months while I wait for replacement part and they advised I purchase the extended warranty. The second agent named Gabby I spoke to advised me to call Home Depot where I purchased the fridge to see if they would do something for me. She would write down my concerns but had nothing more to say or do for me since the repair person deemed the unit repairable and a part has been ordered. I called Home Depot on Aug 25 and I spoke to Appliance Dept who told me the manager who could help me was off that day. He advised me to stick weather stripping around the door to seal the leaks. I said I was hesitant to do anything that may void a warranty and he agreed. He suggested I may get a loaner fridge but I have heard nothing yet. I want a replacement fridge.
When you pay $2000 for a fridge it should be worry free for at least a year? I have been reading reviews and I am wondering why this is not a recalled appliance as this seems to be a very common problem. I am sad that Whirlpool is not standing behind this product. Home Depot has been in touch with me regarding this fridge issue and the lack of customer service provided by Maytag. They are replacing the fridge on Sept 9th 2016 and taking the old unit away. Home Depot has tried to get in touch with Maytag and they have not gotten a response at all about my faulty unit.
The staff at Home Depot in Peterborough have been excellent to speak to and have apologized for the issues with getting service to my appliance. I am very grateful to them for their assistance and for following up with me in this matter. The downside is that I am getting another exact Maytag unit as a replacement so hopefully this does not start all over again. Home Depot has been a great retailer to deal with. I am very saddened to hear that even Home Depot cannot get responses from this manufacturer. I have also lodged a complaint with the Better Business Bureau.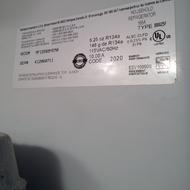 Bought a Maytag fridge model MFI2569YEM0 a few years ago. From the get-go, the ice machine would spit out ice hither and thither, mostly not into the cup or mug. Even when I held the cup up high into the dispenser orifice, I noticed it still spit out ice seconds after I released the cup, so ice cubes would spill onto the floor. Secondly, the vertical doors do not close well, and I must manually push them closed, especially the left door due to the poor design. (I noticed my neighbor's more updated fridge has a better closing door. Forgot what brand, though.) There's also rust forming on the front of the "stainless steel" fridge panel. It has penetrated through so I am unable to remove it.
Lastly, this past week I walked into the kitchen stepping in a pool of water in front of the fridge. There was a sheet of ice accumulated on the bottom of the freezer. After some research, it's likely the "nipple" in the back of the fridge that plugged up. I have yet to fix the problem, but so far, Maytag gets an F- in quality, and I will NEVER, EVER purchase any of their appliances again. I remember my parents' washer dryer lasting 30+ years. Maytag, what happened???!!!

Purchased refrigerator model # MFT2976AEMOO September 2013. First repair was 1 month after purchase. From compressor to moisture build up inside fridge. 7 repairs in the first year. Customer service disgusting. They simply don't care, and do not back their products. Work time lost waiting at home for repairs. Service men come and always have to order parts, which means 2 service calls for each problem. Our service man broke one of the drawers when removing it to do a repair which meant another visit for that replacement part. Continued to have more problems when warranty was done. Just replaced my 3 year old fridge. Could not afford to keep it any longer. Have never been more disappointed with any appliance that I have bought. Will never buy MAYTAG again. Product is inferior.

After 2 LG refs and 2 Maytag ref. fridge, I would not recommend either one. My Maytag need a new compressor. My Maytag ref only lasted for 6 years! The main circuit board failed. I decided to get a new fridge from Sears rather than going back to Home Depot. I decided to get a new fridge in Sears rather than going back to Home Depot. The extended maintenance is more expensive at at Sears. In summary, I have only been using the Sears for 3 days now. It is too early to write a review on the Sears fridge.

I bought a new Maytag refrigerator 5 years ago and it has been nothing but a headache. I've spent more than $700 getting it repaired. The Maytag repairman is no longer lonely, he's really busy. These units are crap and the company does not stand behind their products.

Maytag french door 2015 refrigerator. Not happy at all. Freezer gets rim frost on sides of pull drawers and the smell is like dirty socks when motor is running! The whole kitchen stinks???

My five year old refrigerator freezer was leaking due to a "corner filler" part left in the the freezer compartment that lodged over the drain hole in the freezer. It cost me $232.90 to have a repair technician dig it out. MAYTAG accepts no responsibility for poor inspection, workmanship or quality control and they will not reimburse my fee.

Freezer leaks water all over the kitchen floor in front of this $1900 piece of garbage. My husband disconnected the water line (for in-door water and ice cube dispenser) and it STILL leaks water. I can vaguely remember a time when the purchase of a refrigerator (manufactured in the USA) wasn't necessary more than once or twice in the average person's lifetime. This Maytag refrigerator is our second french door fridge in 5 years. The last one was an LG that had a shoddily designed and manufactured compressor that sounded like a diesel engine idling in our kitchen. Of the two, this one is equally defective but doesn't wake the dead when the compressor starts.
It has become glaringly apparent the Chinese practice something I refer to as Cargo Cult manufacturing. Google Cargo Cult and you'll understand what I mean. Briefly, they manufacture products that APPEAR to be refrigerators, washing machines, ranges, etc. However, lack of quality control and zero competition from companies that provide a well-made, quality product that lasts more than a year or two allows and encourages these slobs to continue pumping out what appear to be appliances until the consumer plugs them in. That's when the "fun" begins.

We are having the same problems with the drain clogging and bottom of the freezer filling with ice and then water all over the floor. We currently "de-ice" the freezer once a week. After paying top dollar for what is advertised as a top product, we expect better service. Especially when Maytag is fully aware of this problem. We sent an email of complaint to Maytag. Heard from them today. They would pay for the replacement part but not the labor. Most places around here charge $250.00 just to walk in the door!!! Is Maytag kidding?!?! NEVER AGAIN. Will also tell anyone who will listen to stay away from Maytag. No wonder they don't belong to the Consumer Resources group!!

We had 4 major problems with the Maytag MBF1958XES4 refrigerator within the first year which included 9 visits from the repair people and all of our food having to be thrown out not to mention days off from work to be here to wait on the repairman. We had to have a new compressor to start. Then it leaked water around the bottom of the refrigerator, next, started leaking on the inside of the refrigerator, condensation is always building on the outside of the freezer problem. It took several attempts to fix the leaks and parts always had to be ordered which meant subsequent visits from repairman.
Consumer Reports recommended this unit and one of the main reasons we bought it from Lowe's. It's amazing to me the lack of any quality in this refrigerator and the poor design which is still leading to multiple problems. This refrigerator had a $2,000 price tag which only adds to the irritation and regret of buying this product.

Purchased new Maytag Refrigerator from Manny's in Western MA. Top freezer, over $900.00. Never has worked correctly. We need to turn the freezer way up to freeze the ice cream and it forms frost all around the freezer with mini icicles hanging! But even worse... no matter what setting you put the refrigerator on it ruins your food by freezing everything. The only safe spot is in the deli drawer. I have thrown away hundreds of dollars worth of food that is destroyed because it froze in the refrigerator.
A service man from Manny's came and ordered parts. He came back and said they were the wrong parts. Now he says that the refrigerator has a problem and Maytag is trying to come out with a plan on how to fix it. I talked with Maytag (took 44 minutes to get someone on the phone). The manager in service was rude, said they don't replace food and they would work on fixing it. 2 weeks later... no calls from either place. I called Manny's and they said they should have some news by next week. In the meantime I don't have a refrigerator that works! NEVER BUY A MAYTAG REFRIGERATOR!!! It is still under warranty and I asked for a new refrigerator... both Manny's and Maytag said no way.

Purchased brand new MAYTAG fridge May 1, 2016 from Home Depot. First week after delivery the slide out freezer started creating frost all over and leaking on floor. There is no Maytag man! Home Depot said they don't have anything to do with Maytag warranty. Called Maytag and they sent out repairman from Diamond Factory Service. They ordered new gaskets for freezer (two weeks) while we clean up mess every other day. Gaskets arrive and are put on. Frost growing greater than before. Repairman comes out again and sees the freezer door and door jamb are not flush. He orders a new freezer door. Maytag does not stock them but has to make a new freezer door (8 weeks). We are chipping ice every other day from the freezer and cleaning up the floor.
I call Maytag and want a new fridge in June. They don't give replacements. Have to wait for the new door. I took straight edge and line it up with fridge and it's not flush. Must wait 4 more weeks for the new door. This has been the worst experience I have ever had with a new appliance and will never buy another Maytag or Whirlpool (they own Maytag) product again and would discourage anyone else. Also I would suggest buying from a dealer that backs up their products with their own warranty team not a chain like Home Depot.

Our new refrigerator was pissing all over the kitchen floor. We had to disconnect the ice maker after an alleged repair part was supplied. (We had to pay a plumber to install it.) It didn't work, so we finally had to disconnect all the parts related to the ice maker. Here it is July, and ice cubes would really be appreciated right now. I get angry when I see all the Maytag commercials that pop up on the internet!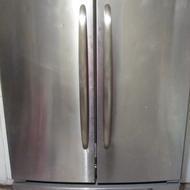 I purchased my which I thought was a stainless steel French door refrigerator in 2011 that I was getting a great product. Not even 3 months later I was using my warranty to stop the leak from my freezer now. Mind you, I paid $1500 so I got it fixed. 3 months later I called for repair again... Getting annoyed because this time the freezer came off track. 6 months later we're chopping ice chunks up to stop the leaking on the floor. This lasted until last October keeping towels and old clothes around the fridge to soak up the water. This is so embarrassing especially if you have company over. You have a pile of crap soaking up water. I am a wife and mother of 7 children. I can't afford to just go buy another fridge. This isn't fair... I spent hard earned money on that magnet attracting stainless steel fridge and Maytag could care less. I'm so disappointed and broke. Now I have to scrap it.

Purchased a Maytag refrigerator less than two years ago. Model M1txegmyb that was nothing special. Main purpose was to keep food cold/frozen. Now it makes noise and will not freeze anything. We called Maytag and they told us to take a hike or pay $469 for a new compressor on a fridge we spent $650 on. I would never buy their products again because the quality is so poor. Reading the other comments we have decided to throw the unit out at this point as we have pledged never to give Maytag another dollar.

The fridge is very loud, leaks water from ice maker, runs all the time. I have had two repairman out to try and fix it but still not fixed. It is one year old now. If I could get my $2100.00 back I would take it and run. It so loud we have to turn up the TV so we can hear it. Drives us crazy.

I had the same problem with my refrigerator that others had that the water would freeze in the bottom of the freezer then leak on the floor. Now I have to have my floor replaced because leaking. I also have to have some walls replaced because of mold. When I called Maytag they said that they would send the part but we would have to install & that they knew this part was a problem. Luckily I had the extra year warranty. How can a company get away with this? If they know that a part is failing why didn't they notify anybody? Now the damage is done & hopefully my Homeowner's insurance is going to pay for the damage. I paid $1,100 for it, 1 1/2 years. Thank goodness I bought the extended warranty. My advice is don't buy any Maytag products ever!!
Maytag Refrigerators Company Profile
Company Name:

Maytag

Year Founded:

1893

Address:

553 Benson Road

City:

Benton Harbor

State/Province:

MI

Postal Code:

49022

Country:

United States

Website:

http://www.maytag.com/