Consumer Complaints and Reviews

Compressor knocks VERY LOUDLY!! Few times a day, few minutes at a time, has Kitchen Aid out four times. Show them the video and will do nothing unless it knocks in front of them. Suspect they may be wiping their bad reviews off the internet of this problem. When it first happened we googled and found several bad reviews of this problem, now they are gone.

We purchased a new Kitchenaid refrigerator and double oven wall unit when we moved into our new home March of 2010. We have had issues with the ice maker/water dispenser not working. The temperature Not staying cold. The veggie tray "LID" fell off. Now it's dead! The repair man did not have an answer, he made many phone calls and "they've" decided "it's the motherboard", which will cost us $500 and a week to get in. Well then it started working, then it died, right now it's cooling. The Ice/water in the door was so gross - from water and ice? There's no way to take it apart to clean. After months of trying to clean the black mold out of it, I finally found a hand held steam pressure cleaner to clean it. I WANT TO SAY THAT I HAVE A 30 YEAR OLD REFRIGERATOR in my garage that's still working. It's NOT a KITCHENAID!
Then there's the double ovens, that are "self-cleaning" that's a joke. When I lock the oven to clean it, it blows a circuit and we have to call someone to fix it. The last time the guy said "I wouldn't use it". It's NEVER worked, and that was the reason I bought it. BUT I have to clean the ovens by hand because the advertised "self cleaning" was just a lie. At this point I would rather buy a refrigerator that I can rely on. I tell everyone, "Do not buy Kitchenaid. They are the worst appliances on the market."

KSC23C8EYY02 - Bought new with all other KitchenAid appliances. Thus far the dishwasher is the only appliance that has not given us problems. The refrigerator/freezer (less than 36mos. old) has stopped cooling for the second time. Their customer service folks are well trained and nice, but the product is terrible. And, if you have service done under warranty by their contracted service folks (in our case Alabama Power) don't take "Freon leak" as a problem answer and solution of replacing Freon. I am now on my second go round of throwing out a fridge of wasted food in the last 6 weeks. Only to be told it will be 6 days before they can come out.

We bought last July KitchenAid refrigerator. Seven months later we could see some issue with discoloration of the bottom door. I contacted KitchenAid service, they explained, the cosmetic of the surface is not under the warranty. I have extended 5-years warranty, but it is not cover cosmetic issue. We bought this refrigerator in Best Buy, but nobody explained about this type of issue. KitchenAid service can change this door if I will pay $500. I believe I paid a lot for this refrigerator and I am not going to pay $500 for factory non quality product.

We purchased 3 refrigerators for a business environment from Best Buy for Business and had immediate issues with the temperature. Units would get so cold as to freeze milk! Ruining employee and catering meals etc. Best Buy would not accept a return or replace the units and deferred to the manufacturer for a solution. KitchenAid has been less than helpful. Service techs cannot solve the problem and the company won't stand behind their products.
How do I know I can trust these reviews about KitchenAid?
761,264 reviews on ConsumerAffairs are verified.
We require contact information to ensure our reviewers are real.
We use intelligent software that helps us maintain the integrity of reviews.
Our moderators read all reviews to verify quality and helpfulness.
For more information about reviews on ConsumerAffairs.com please visit our FAQ.

We purchased all KitchenAid appliances the end of 2013. Let me start with the refrigerator. Not even 2 years old and the ice machine went out! And then the water wouldn't work. We had a repairman at our house almost weekly for three months. He finally got the water to work, never the ice and then the entire thing froze up. We waited for him again to come to the house. He said to put a fan on it to thaw it out. Well that worked for a week and then the entire thing went out. The repairman even said that the refrigerator we bought was a piece of junk because he has like 5 calls a week for the same one.
Long story short, we waited for another part, the part came in and the repairman said he wasn't qualified to put it in so we had to call KitchenAid for one of their people. One of their people came and took our refrigerator. They said it would take a week to fix. Well 3 weeks later and I still don't have a refrigerator! SO FRUSTRATED!!! I HAVE HAD PROBLEMS WITH MY STOVE, OVEN AND DISHWASHER! NEVER AGAIN WILL I BUY KITCHENAID!!!

I too purchased all KitchenAid for my new home. The double oven does not regular and overheats. The dishwasher does not clean well and never has, has had to be repaired already. Exhaust vent with microwave does not remove steam from cooking. Stove top has not been bad yet, knock on wood. Side by side Refrigerator what a joke. As other reviews stated the interior was not designed by anyone who works in a kitchen. I had the repair man out to fix my dishwasher and he noticed the frig was making strange noises. What nice guy to even mention it, he stated they were having problems with them, got the frig fixed for free. One year later, upper frig not working. Kitchenaid, Whirlpool, your product sucks. Come from small community but Big family, I am ashamed to state you are an American made company. Will never buy them again! Also fridge is a stainless steel exterior, did not know stainless steel could rust. Consumer beware!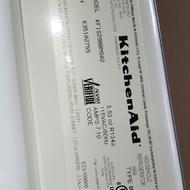 Our Failed Kitchen Aid Refrigerator KFIS29BBMS02 Ser#K35102755 - We purchased this refrigerator January 2013. The ice maker went out right away and was replaced on under warranty. Then in 2016 it fell apart. Another ice maker (Two) more actually, new control panel, new compressor. Service Dealer in Omaha tried to fix it 5 times with new parts and recharge the system. Last repair was 1-3-2017. Sent a letter to KitchenAid & Nebraska Furniture Mart in Omaha. NFM called back and said they could do nothing since we did not buy extended warranty. KitchenAid did not respond. It went hot again this week and no ice and lost frozen food for the 5th time. DO NOT BUY ANY KITCHENAID REFRIGERATORS! They told my service guy that they know they have a problem but my serial number does not apply. If I ran my company this way we would be broke with no customers. Buyers beware of KitchenAid.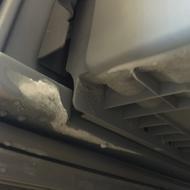 We bought this KitchenAid stainless steel 5-Door French door refrigerator at Best Buy in Nov 2016. After a couple of days of installation, we noticed the freezer frosting, so we went back to Best Buy and requested a replacement. The replacement same model refrigerator was delivered in Dec. In Jan 2017, the same frosting problem occurred. We called Best Buy asking to get it replaced again but told us to call KitchenAid because the purchase date was already over 1 month.
Called KitchenAid and asked them if we can just get the refrigerator replaced or get a refund and told them that I've read a lot of reviews about this refrigerator with freezer frosting and that KitchenAid should have known about this problem already. But KitchenAid customer service lack knowledge. All they know is schedule repairs. From here started the repair process. They've sent this repair people several times (6x) already coming up with different ways to fix the problem but the freezer frosting still persist. This last fix that KitchenAid tech support told the repair people is to replace the door and it will take 4-6 wks to get the part. It is very inconvenient. All I'm asking KitchenAid is give us a refund since it is new so we can get a good working refrigerator. But all they can do is schedule a repair.

Whirlpool/KitchenAid is a terrible company that makes terrible products. Our built-in refrigerator was one month out of warranty when the evaporator stopped working properly. Cool, no problem, we'll just order a new one and get it fixed. That was last October 2016. Flash forward to March 2017, they sent the incorrect part 3 times. Now they say they don't make the part anymore. Their solution?? Buy a new $8000 fridge from them... "Oh, but we'll give you a small discount." What a joke. PLEASE, please do not support or buy anything from KitchenAid. They will turn their back on you when their terrible products inevitably break.

My husband and I recently built a home and purchased the entire KitchenAid Pro suite for our kitchen which included a double oven, microwave, dishwasher, induction stove top and a built in refrigerator. The product was beautiful but after 4 short months of owning the products our induction stove top chipped, the sensor on the double oven failed and now our fridge is no longer cooling. We have taken countless days off of work to have a contractor come out to fix the appliances but we have come to the final straw with the fridge. Two weeks, two contractors and two refrigerator parts later we still do not have a fridge.
My husband has called KitchenAid numerous times and the customer service is absolutely terrible. You call and wait on hold for a good 20-30 minutes then once you receive a customer support specialist, they tell you to call a nearby contractor and make an appointment. Better yet, the contractor comes out and has to order the part which takes a week and you have to take another day off of work because they dont work weekends.
With all of the troubles we have faced with KitchenAid/Whirlpool appliances, I would not recommend their products let alone the company. We spent a lot of money on their products and yet we sit here for over two weeks waiting for a part to figure out if that will even fix the built in fridge. Whirlpool is a multi million dollar company and we have to wait to receive a new fridge until the contractor can determine it cannot be fixed, just a great use of our money and time.

I have owned the KBFS22EWMS model (French doors, bottom freezer) for almost five years. In the first year or so, I noticed water on my floor by the refrigerator. I then discovered that on the floor of the freezer was a thick sheet of ice that had been obscured by the contents of the freezer baskets. The repairman came out, and quite quickly fixed it. He had repaired many with this issue. In fact, a part arrived in the mail prior to his visit. The problem? A small valve or nipple that is the wrong design for the refrigerator. The repairman told me KitchenAid/Whirlpool was aware of the problem, but continued to manufacture the refrigerators using the wrong part. Stupid? I'd say so. I haven't had any functional problems with the refrigerator since, but the parts are cheaply made, the crisper drawers can be pulled out only half way, and be careful in removing the grille to clean the condenser coils - a piece will snap off in a heartbeat. Otherwise, it's great!

We bought a brand new, 48" built-in refrigerator kssc48qts02 in Aug. 2008. Two years ago the electronic motherboard had to be replaced to the tune of almost $1000. Now our thru-the-door water dispenser is leaking. Had 2 different companies look at it with the same diagnosis... 1). The water line is broken 2.) There is no way to repair the line as it is built into the freezer door 3.) The freezer door needs to be replaced 4.) THEY NO LONGER MAKE THE FREEZER DOOR!!! Come on KitchenAid, you used to make good products. What happened? The refrigerator is only 8 years old and was very expensive to begin with. Another thousand in repairs. And now they no longer make this product? MAJOR DESIGN FLAWS.

Purchased KitchenAid refrigerator in Jan. 2013 for 2,500. Fast forward to Feb 2017, freezer defrosts food overnight. Freezer full of food lost. Next fridge no longer cooling. Call local appliance repair company. Comes out same day! Informs me he is unable to repair issue and advises that it is a recall issue and provides me all recall info.
Well, calling Whirlpool customer service was the worst customer service I have ever received. After 2 calls and 2 hours later, finally got an appointment booked for a tech to come repair issue, but was told this repair would be at my expense as Whirlpool disputes the fact that this is a recall, even though I had the service point number quoted to me by a qualified repair technician. Regardless refrigerator needed repair. Was told I would receive call from agent evening before appointment date. No call. Appointment window I was given was 9am-5pm, by 2pm not even a phone call yet.
Called CS line again and was advised no tech would be coming out to my home. No sympathy at all from any agent I dealt with, in fact, found them all to be extremely rude!! Next available appointment not for one full week. Was told they will not provide any compensation! Worst experience ever. Will NEVER recommend KitchenAid to anyone nor will I ever purchase another KitchenAid appliance in the future. So disappointing.

DO NOT purchase a KitchenAid refrigerator. In the six months we've owned it there have multiple issues from damaged and dented in shipping to misfunctioning valves to a punctured evaporator coil from excessive ice build up. The customer service centre in Tennessee is a complete sham. Their response is scripted and unfriendly. DONT DO IT!!!

I purchased the French door with bottom freezer style fridge from KitchenAid and couldn't be happier. It was bought at a Scratch and Dent store, which made me a bit uneasy for any possible damages that may show up later, but so far everything has been great. Fairly quiet in our open layout kitchen / living room floor plan.
I love that it has a water spout on the inside, leaving the exterior clean without the typical water/ice dispenser eyesore. Also leaves less room for broken parts to be fixed. 8 months of ownership so far and the only thing we had to change was the water pressure on the spout. Very easy.

We bought the KitchenAid refrigerator in 2013. It was on clearance at Lowe's. Now I know why it was a great deal, because they have problems with them. As I read the reviews from other consumers, we have the same exact problem with the freezer. It leaks water and freezes on the tray after 1 year. We have to break up the ice and empty it out every two weeks. The ice maker quit making ice after three years and now I just shut off the ice maker. My husband bought me a KitchenAid mixer for Christmas 2015 and after a year of sitting on the counter I decided to use it. It literally Sucks. I have had my Sunbeam Mixer for over 15 years, I'm still happy to use it. I will never buy KitchenAid, Whirlpool, Amana Product again.

KFIS27CXWH2 - We purchased this French door style/bottom freezer style from ABT Electronics in July 2011. Within two years we had leaking under freezer under our wooden floors. We called one serviceman who couldn't detect the issue. Called ABT and they were out approximately 12 times to finally resolve the issue by installing a heater unit in ice maker which happens to be located in the upper left side of the ceiling inside refrigerator.
Never again will I purchase a unit with an ice maker in unit vs. freezer. Just after a year and parts warranty expiration - it began leaking again and thankfully I was home to avoid a real disaster and could turn off water. Yet another serviceman was out 2 days again who left stating he couldn't find anything wrong with ice maker. As of today water is not running into ice maker although we do have water in the dispenser on outside door of unit. Has anyone else had this model who has experienced the same issue? Every time I decide to replace the unit - I want to try one more time to remedy this problem.

The slowest ice maker I've ever had. KitchenAid is NOT upper-end products, only their price is upper end. Never again will I go with this brand. We did a new oven, Microwave, and fridge. All three are subpar.

We bought this Kitchenaid Superba almost 20 years ago. It is stainless steel and has maintained its appearance and durability. It is a side-by-side and not as roomy or as large as I would like, but is a great refrigerator. It's reliable and it looks great.

I purchased my first extended warranty with hesitation. Just four months into the contract I called for a repair. AIG is provider of the insurance coverage. AIG will make up ANY excuse not to pay any repairs especially if over and beyond their contract price which by the way I paid $500 for the extended warranty. NOW I am out the $500 PLUS the repair costs!!! HINT: NEVER turn off your appliance. If you do and the appliance does not work correctly when turned back on, this is considered pre-existing and AIG will not cover the repair. ANY REPAIR even though you have parts that have been replaced that broke down in 4 months after replacement and should have a one year warranty coverage! Also AIG claims you have a 45-day window to make a claim otherwise they will not cover and claim pre-existing!! And worst of all this is not even written on the contract anywhere. I'll NEVER buy an extended warranty again, especially if AIG is involved

I purchased the KitchenAid appliances because I researched their use, and got good reviews, and my prior refrigerator was KitchenAid. I have been satisfied on their durability. I always search items that I want to purchase, and read reviews to see if there are any problems.

The refrigerator is on the expensive side but has a beautiful style. I also love the two extra drawers for drinks and produce. Ice maker components are metal not plastic like other refrigerators so it is much better for crushing ice and less likely to break. Plus ice maker is on the door so it doesn't take up space on the shelf of refrigerator. However, fingerprints are a problem and there's not enough storage space on the doors.

I have owned this refrigerator (Kitchen Air refrigerator model #KFCS22EVMS2) for almost 4 years and it continually has had problems (e.g., seals around doors deteriorating). Before this I owned a SubZero for over 10 years and never had any problems whatsoever. If there had been room in my current house I would own a SubZero again. So I purchased what I hoped would be a fine quality refrigerator (the KitchenAid) to discover it is badly built with poor quality components. The question is, are there appliances that truly are quality built that are within the financial capability of the majority of people?

I purchased a KitchenAid refrigerator in April 2012 for $$$. So you know I had a Kenmore for 22 years that this KitchenAid was replacing and I actually sold the Kenmore for $50 because it still worked perfectly. I figured KitchenAid was a top of the line appliance. Ice maker went out within 13 months and after several calls I got them to cover parts and labor to fix it, but that's not the complaint here. Fast forward to 2016. In May 2016 the whole unit shut down and after several calls into CS found out it was my sealed system that went out and it was covered. It took a while to get my money back though. The day before Christmas 2016 my refrigerator went out.
Long story short, I called the authorized KA service provider to come back out and they told me it would $450 to repair (again, 3rd major repair in 4 1/2 years while the 2nd major repair in 2016). After receiving the estimate I called KitchenAid CS to talk to them about this but their systems were down and couldn't help me and told me to call back the next day. Not thinking because I had a house full of kids on Christmas break from college I figured I would call back once I got back to work this week. Once I got a hold of someone from KA she told me KA would cover the parts only which I was ok with. She told me she would call the authorized repair company and get it worked out.
I told her I already had it repaired because I had gone a week without a refrigerator anyway. KitchenAid won't reimburse a customer, just an authorized repair company. What a piece of ** company. Every time I contact KA they tell me the same thing. Appliances are meant to last forever and they never promised me that. I have another 20 year old GE refrigerator in my garage that's worked perfectly that whole time and I spent like $500 on it. This was my first and MY LAST KitchenAid/Whirlpool purchase.

I have an unusual space to fit a fridge into. The KitchenAid was the only one that I could find that would fit. It turned out to be a great value and look great as well and I'm very pleased. The interior space for a rather short fridge is awesome. The inside is very easy to keep clean and cleaning is not a favorite pastime. The stainless steel is easy to take care of and I would buy this brand again even if I was not looking for a "hobbit" of a fridge.

I've had this refrigerator about 20 years and it works fine except recently. The ice maker has been problematic. It makes ice but we have to take it out manually as the little black door does not work properly anymore and ice cannot be dispensed automatically.

Our KitchenAid Refrigerator has French doors/great design in and out. However, the dual compressors do not last longer than 3-6 months. We've had two different KitchenAid refrigerators (27 and 29 cubic feet) in five years, and both had the very same problems. The parent company, Whirlpool, replaced parts during the first year of ownership. The years 2-5 were covered by the warranty we purchased at the store (Warrantech/NSI). The problems continued through those years, yet the NSI refused to replace the fridge. The appliance store offered a replacement...KUDOS to Bray & Scarff. NOTE: I observed the techs during their visits here, and looked at the parts that they pulled from the fridge and the replacement parts were ALL PLASTIC. They were all made from Mexico, China, and other countries. They have very poor quality and Whirlpool does not stand behind their products.

It is an average refrigerator with ice bucket in the door. However, the ice in bucket always clumps. Also, it is difficult to keep dust and dirt off the grill underneath the refrigerator due to tight distance between grill and floor space. It is hard to regulate the temperature controls for the vegetable bins. After cleaning the dirt and fuzz from the grill at bottom of the refrigerator there was a noise.

I had a lot of problems with the ice maker and freezer. There are only two of us in the home and the ice clumps together, ice cubes were not clear and I get freezer burn on packages. We are told it is because we open the doors too much???
KitchenAid Refrigerators Company Profile
Company Name:

KitchenAid

Address:

P.O. Box 218

City:

St. Joseph

State/Province:

MI

Postal Code:

49085

Country:

United States

Website:

http://www.kitchenaid.com/