Consumer Complaints and Reviews

I purchased a KitchenAid refrigerator with French doors and a bottom freezer compartment for about $2,600 in July of 2013. By mid-2016, we began to experience problems with the refrigerator. There was water leaking onto the floor after water had filled the tray at the bottom of the refrigerator and had frozen. A certified KitchenAid repair person replaced the defective part. The repair person was very familiar with the problem as the company had replaced quite a number of these. KitchenAid supplied the part free of charge because of the frequency of this problem. There was a "service" charge of $125.00 and a "labor" charge of $89.00, bringing the total to $214.00.
Within two months, we had another problem, this one with the ice maker. The KitchenAid recommended company sent its technician out again. This time the bill totaled $335-$125 service, $129 labor, $75 new ice maker, and $6.37 tax. We had given the service provider the exact make, model, and description of the problem. Again, they were very familiar with the problem, but sent a technician out who did not have the part on the truck! He is scheduled to return after the weekend.
Frankly, after reading others' reviews on this site, I have to agree that I would not buy a KitchenAid product again. Why should anybody be shelling out over $500 for parts and labor on a three year old, high end, appliance? Our last KitchenAid refrigerator, which we left at our former residence, was 17 years old and had never required service of any kind. KitchenAid is apparently not interested in providing a quality product, though we're paying for one and, according to the reviews on this site, KitchenAid is not interested in providing good customer service. I'm frustrated with this refrigerator, which never produced ice as well as my old KitchenAid. I'm frustrated with the certified KitchenAid repair company, and I'm not willing to become frustrated by contacting customer service because all these reviews have all made it clear that it would be a waste of my time.

Purchased 42" built in refrigerator 18 months ago and the frame cracked so it was replaced in May 2016. 5 months later the motherboard and other parts went. Repair company that KA sent said it was like an engine going out on a new car and recommended it be replaced instead of repaired. Customer service said they won't replace. Email to CEO went unanswered. KA doesn't care about its customers and they don't build a quality product. If I could do it again I wouldn't buy KA again.

Fridge is only 5 years old. Ice maker suddenly stopped working. Repairman has been here 4 times and after time and money on labor and parts it still does not work. This is the 3rd home I've used kitchenaid appliances in but none have stopped working so soon. Not sure I would buy another KitchenAid appliance again.

Horrible fridge. Issues from day one. 1st one replaced immediately, and repeated service calls since then. Hundreds and hundreds of dollars lost on food and lost work time. Just asked Kitchenaid if I could get a different model and they said that they would not do ANYTHING for us. Bad fridge and even WORSE company. What a shame. Bought it because it was a Kitchenaid. Won't trust their products and customer service and suggest that you do not either.

This product is junk. Have had problems all along and hardly ever use. Three years old and very expensive and now KitchenAid wants to charge me $400 for a service person to come out and fix and an extra 1 year warranty. Leaks, no ICE... and more and more. Don't buy!
How do I know I can trust these reviews about KitchenAid?
609,643 reviews on ConsumerAffairs are verified.
We require contact information to ensure our reviewers are real.
We use intelligent software that helps us maintain the integrity of reviews.
Our moderators read all reviews to verify quality and helpfulness.
For more information about reviews on ConsumerAffairs.com please visit our FAQ.

On my third compressor with 2 year old unit. Lost a lot of food due to delay getting repaired. KitchenAid said they would send me a claim form by US Mail and email. So far nothing received after Twitter and Facebook complaints and calling their 800 number. The Service Tech told me these refrigerators are poorly made and essentially junk. KitchenAid has lied to me and is unresponsive. Will never buy any of their products and sending my review to everyone on my email account.

Unfortunately we have several KitchenAid appliances that came with our new house. They are all crap. In our previous house, we had a Samsung refrigerator (which cost a lot less than the KitchenAid) that was well made and worked perfectly. Even though we have a "luxury" KitchenAid model, the drawers don't fit, the ice maker freezes up regularly and the whole unit just feels cheap. Even our builder does not use KitchenAid anymore. In addition, because they are so poorly made, the company cannot afford to (or chooses not to) fix real issues when they occur. Avoid KitchenAid at all costs.

I will never buy or recommend KitchenAid products again! We have a $10K built-in KitchenAid refrigerator that is only 4 years old. It has not been working for a month! Every time (9 so far) their certified techs come it goes over temperature again a day or two later. As a result I have had to throw out thousands of dollars of food, over a hundred ounces of breast milk for my 3 month old, wasted days now dealing with Kitchen-Aid and waiting for repairs, and had to endure this beyond frustrating experience just trying to get my fridge working. They should stand behind their products and their warranties and if their certified repair people cannot fix the problem, they should replace the product. Also, their customer service does not care, is not helpful, and is sarcastic. I am done!!

When we purchased our house (new) it had all Kitchenaid appliances so we opted to put in a Kitchenaid French Door with lower freezer Refrigerator. It has gone out 4 times in 8 yrs and no one seems to be able to fix it properly. We have lost a bunch of food not to mention the work of transferring and cleaning hardwood floors afterwards. Wish we had waited a yr or purchased something else. Our inbuilt microwave died in the first six months. It took over 90 days for Kitchenaid to get us a new one and man what attitude with these folks when you called to see why it was taking so long.
Based on the interaction on the Microwave, and all of the comments I read about Whirlpools lack of responsiveness to customer complaints, we are buying a new refrigerator tomorrow, very likely Samsung (we have their top of the line washer - dryer combo and they run flawlessly) and 7 of their HDTV's throughout the house. What we aren't doing, is ever buying another Whirlpool or Kitchenaid product. And Kitchenaid is supposed to be the high-end model.
I strongly suggest you do thorough research before buying a major appliance even it it means breaking up a set or same brand in your home. I've have Whirlpool appliances before and had some of what I consider to be normal maintenance issues, but between the microwave and refrigerator, we're done with anything Whirlpool or Kitchenaid. Their stuff is junk.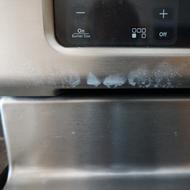 We bought KitchenAid thinking it was a good product, but it is NOT! We have had the refrigerator repaired twice in the first two years. Both times it was the same problem. Luckily it is under an extended warranty but I am worried about when the warranty ends. The stove front has discoloured three times and has been replaced three times. The replacement was not even the same colour as the original. I will NEVER buy KitchenAid again.

A really poor finish, the high level of engine noise is noticeable in the day!! And a bad customer service. On May 27, 2016 at Home Depot I bought a KitchenAid Refrigerator which at the time of the delivery was damage by the people who delivery it. I kept the refrigerator for a few days until the next delivery. The new equipment started making unusual noise. We contacted KitchenAid again who sent a technician who did not find any problem according to him "The sound is normal". Another technician was contacted since the freezer started making ice on one side not the other. He came to fix the issue, but resulted in burning the appliance for which we have evidenced of in pictures. According to him, the problem was fixed but a bigger damage was created on the lateral side of the fridge. The problem was reported to KitchenAid, who told me that another technician would be sent from another company.
The last technician came, saw the unit and said "that the problem could be resolved with an add on kit based on what KitchenAid told him because those units had several recalls and complaints for the same issue". The technician came with the accessory and this kit is not for this unit 2016. The kit is a fan that is located in the ice maker which is located at the top, not in the freezer where is the biggest problem, and the tech found more problems, filtration and dripping water in the drawers of vegetables. That waste of time and lack of knowledge and effectiveness by the representative of KitchenAid. I want a new unit or my full monetary refund. I've had the unit only for three months and it is unacceptable. I have pictures of how I received the unit and the damages made by the technicians. I have contacted on several occasions 4 time technical visits and still have the same problem. I still waiting for any answer.

KitchenAid has always had problems with their ice makers. Will never buy another KitchenAid refrigerator. Most poorly engineered freezer/refrigerator on the market. I thought I would give them a chance on a KitchenAid Architect Series ll Series Refrigerator KSSS48QT and the ice maker failed in one year, just like their other refrigerators. Repair it and it breaks within six months.

Our KitchenAid Refrigerator was delivered in April 2012 along with 3 other KitchenAid appliances as part of a renovation. In August 2015 the fridge stopped cooling both the fridge and freezer to the proper temperatures. We are now 1 year later having had 7 visits by the authorized repair company and 3 calls to the KitchenAid "expert" tech line. It still doesn't work and they refuse to declare it non-repairable. Worst appliance experience of my life.

I bought a KitchenAid refrigerator/dishwasher and stove Sept 2010 at Lowe's. There was nothing wrong with my appliances. They all worked at the time I was redoing my kitchen and but wanted all new appliances. I chose KitchenAid because I thought they were one of the top of the line products. Wow was I so wrong. I have had problems with my refrigerator, started about a year after having it. I would empty my ice bucket and could not get the door to close properly. Had them out here 3 times never got it resolved. So now I just slam it as hard as I can and it closes "nice". Well now it is leaking underneath on my hardwood floors so what's that mean? My hardwood floors is now ruined. I made my first phone call on Wednesday Aug 17 2016 and spoke to a supervisor Ben to tell me to buy the warranty and he will have someone out here on Monday.
Well that's not acceptable now he gets someone to come out on Friday 8-12 so my husband waits and no one shows up. I am at work and I am fortunate that I am able to make phone calls. I literally was on the phone for two hours trying to get this resolved to get nowhere except "I'm sorry." I appreciate the "I'm sorry" but what are you doing about it? Nothing. They blame the service that is supposed to come out and the service blames it on KitchenAid. I tell KitchenAid I will never buy another KitchenAid product again and all they say is, "I'm sorry you feel this way." Really, don't you want to keep your customers? Bottom line - don't buy KitchenAid. They don't stand behind their products.

Model KFIS29PBMS French Door Bottom Mount bought July 2013. Have had repeated problems for 3 years. Serviceman comes almost on monthly call. Nearly ALL parts have been replaced. KitchenAid refuses to own up to a bad product although I have found numerous reports online of perpetual problems with this model. KitchenAid (Whirlpool) says its warranty for one year only -- that's about all this product is good for. Serviceman replaced parts 3 times in last 2 months. He was here yesterday and I will be calling for his return again ASAP. Refrigerator ices up, leaks, fails to keep food cool, etc. etc. etc.

We purchased our KitchenAid refrigerator in April 2015. This model has 2 French doors and a bottom freezer. We woke up to a wet floor this morning, with everything thawing in the freezer. We called KitchenAid and were told about their Goodwill Repair that covers appliances purchased between 12 and 18 months ago for a service charge of $94.95. Great we thought. Then we're told they can't get anyone to our house for 5 days. Useless. We had the same problem 6 months ago, but assumed we had left the freezer door open. Not the case. I definitely would not recommend KitchenAid refrigerators to anyone, considering the issues we've had with the product itself, and the customer service.

Very expensive high end refrigerator bought. 3 years old and I just paid over $800 to get the ice maker to work again. Suppose to be high end but stay away.

We bought all new KitchenAid stainless steel appliances for our kitchen. Stove had a broken door piece - ok fair enough, we are still waiting on the new part. Fridge specs were given without consideration for the hinges so when it arrived it did not fit - poor. New fridge arrived with door overfilled so that foam was puking out from all the edges. KitchenAid makes the fridges with a greyscale side and the stove with a black side so they don't even match. Called Kitchenaid - the service gentleman arrived and agreed door should be replaced but will take minimum 8 weeks as the doors are made in Mexico. 2/10 would not buy from this company again though I thought they were supposed to be about quality. KitchenAid now owned by Whirlpool, includes Maytag, Jenn-Air, Amana and Inglis.

We bought all KitchenAid appliances when we moved due to their reputation for quality. We didn't get it. The refrigerator has leaked (a recall that we weren't notified of) and it marked our hardwood floor. The ice maker quit and now the deli door has broken off. The gas cook top hums all the time and the double oven heats slowly and cools with a noisy fan for a long time. It also snaps and pops when heating and cooling. Our dealer says this is normal. I'm writing this so people don't pay extra for KitchenAid quality that is no longer there.

We bought Model # KRFC300ESS01. Plug it in and two weeks later wasn't cooling in the refrigerator, but the freezer was freezing over, lost all of our food. KitchenAid sent out repair service, ordered parts replaced and said it was fixed and here we are 2 weeks later with the same thing happening again. Now kitchenaid wants to send out another repair service and order more parts. 3 months with no refrigerator, however we still have to make our payments. We lost 2 complete refrigerators full of food and endless amounts of money eating out. So Sad KitchenAid another American company goes down the tubes with no responsibility towards their customers. I guess the $4500.00 we spent on the full package means nothing.

I purchased a Kitchen Aid refrigerator (Model # KRMF706ESS01) that hasn't ever cooled in the refrigerator or freezer. KitchenAid sent a service tech who found no freon. Now KitchenAid refuses to do anything until they send a second company. They said the first company was not qualified to fix the problem even though they chose to send them. Now we are without a refrigerator for weeks. This is a brand new refrigerator that has never been used. KitchenAid has very poor quality service and products.

I purchased a KitchenAid French door refrigerator with a bottom freezer. It is now 3 years old. It began to leak so I called for service from the place where I purchased the refrigerator. The repair man immediately told me this was a problem caused by a faulty drain and KitchenAid was replacing the parts free of charge however they wouldn't cover the service charge. I am sure the part which is just a drain costs almost nothing but I will have to pay a huge service charge. When I spoke to KitchenAid I asked why I wasn't notified that there was a defective part before the warranty ran out so that the service would have been covered. The response was simply, "We don't do that." Their faulty manufacturing is costing me a lot of money. This is the last KitchenAid appliance I will buy.

Purchased model KFI29PCMS00 three years ago and have had problem after problems. Had to replace the compressor twice, icemaker didn't work. Freezing at the back of the refrigerator. Leaking icemaker. Fridge not getting cold, produce draws both sides broke and now... I can't get my freezer open. Each time contacted KitchenAid... no help. I can't get onto freezer!!! Bought a refrigerator from Habitat Humanity for 100.00, and it's still kicking. How did this refrigerator beat out this 3,000 dollar refrigerator? Steer clear from KitchenAid. Do not buy. Buyer be aware.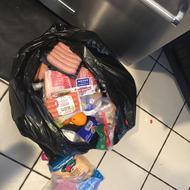 I bought a kitchenaid 3 years ago because I thought it was an elite appliance brand. Little did I know this would be the biggest nightmare. I have in the last 3 years have had the refrigerator replaced 2 times. The last was replaced in April and then has once again gone out on me. A refrigerator full of brand new COSTCO groceries completely spoiled. Over $300 of groceries and I was offered $75. To top off the inconvenience of having spoiled food with 3 children they can not fix it for another 5 days. So we are over a week now without a refrigerator and a trash full of groceries. Beyond frustrating!!! Only wishing we could just have our money returned to us or yet replace it with another refrigerator that is not the same or like the same model we have been given.

Salesman at my local appliance store said KitchenAid refrigerators are among the best. Great, paid $4000.00 for a model KRFF507ESS01. Beautiful fridge but, in just over a month it got really warm and we lost most of the food. Their warranty does not cover food spoilage. Service man comes, it's the motherboard, of course. It's faulty and they know it. Not too impressed, you would think that in 2016 they could build a fridge that works.
Updated om 10/14/2016: Fridge was good for the next two months and it died again. Another service call and the repair man said they do not have a fix at the moment. After a big fight the appliance store gave me another fridge. The fridge lost cooling because the evaporator behind the meat drawer would ice up and cold air could not pass up into the main compartment.

Bought 11 months ago. One month short of warranty expiration. Auto defrost went out. KA tech support was good but... once the Quinco repair tech with a bad attitude came out he pushed a couple of buttons and told me what the problem is then told me parts are in town, be back 2 days later. So he spent all of 5 minutes after a two day wait to diagnose the issue. He told me it was a very common issue with these models. ???!!!
Got a call the next day that parts were not in town and it will be a week now. Why couldn't the KA tech have me do the same button pushing and have sent or verified that the parts were available? He knew the model and the details of the problem so why didn't he bring the cussing parts with him! I am so tired of ineptitude. In short I am very afraid now that it will go out again or another problem will arise. I am thoroughly convinced that manufacturer's build quality is engineered to only last as long as the item is covered under warranty. This saves them about 30 cents per item. It has become so frustrating I shiver each time I think of buying anything anymore.

2 months ago, purchased new counter-depth KitchenAid from Sears. It never reached safe temp, and was 68 degrees after first week. Woke to spoiled food, and alarm beeping. Fast forward two months, and this refrigerator has turned our summer into numerous calls to Whirlpool (where you wait 45 min on hold before reaching anyone), 4 service appointments, (where you must be present at home waiting, for a 5 hour window), parts replacement, (must wait at least a week for parts), followed by still nonfunctioning refrigerator, then, start process over, again!!! We have had 3 service calls in the 2 month, now waiting for a fourth, each with major parts repair, only to still have 68 degrees, NON-FUNCTIONING, $3,000 refrigerator!!! Spare yourselves, if you can by staying clear of KitchenAid/Whirlpool. Tell your friends and family!!! I wouldn't wish this experience on ANYONE!!! They refuse to exchange or refund. Only "continue to attempt to repair"... UGH!!!

We just bought a new 32" built in KitchenAid refrigerator with french doors and bottom freezer. It is fine except that the door slams shut upon release. If the door is open and I just let go of one of the doors, it slams really hard and it's so annoying! Had someone out to look at it twice, and they said that there was "nothing they could do." That apparently they're "all that way." Has anybody else else experienced this? Paid $9000.00 and I would think that it would be able to close properly without jumping out of my skin if I don't remember to hold on to the door and gently close it!

I purchased a KitchenAid side by side with french doors and an in-door ice maker. It retailed for around $3,000 and is by far the worst appliance I have ever owned. Periodically it runs very noisily. If the refrigerator door is left open for more that a brief moment, the ice in the bin begins to melt and fuses together and must be dumped. I have replaced the ice maker four times in the six years I have owned this refrigerator. Ridiculous for any unit but especially one in this price bracket. I attempted to contact customer service to discuss the fourth replacement of the ice maker but simply received a form letter indicating that they have no obligation once the warranty runs out. With all the other manufacturers available, select from one of those!

ConsumerAffairs Research Team
The ConsumerAffairs Research Team believes everyone deserves to make smart decisions. We aim to provide readers with the most up-to-date information available about today's consumer products and services.
KitchenAid is an American home appliance brand owned by Whirlpool. The company began in 1919, and it makes a variety of refrigerator sizes and styles.
Variety: KitchenAid makes refrigerators with a range of different features, such as climate control, intuitive controls, spill-resistant glass and more.
Price: KitchenAid offers a range of prices so that customers can find the model they are looking for within the price range they want.
Features: KitchenAid's fridges come with many features, such as icemakers, French doors, side-by-side doors and bottom freezers.
Availability: It's easy to find KitchenAid's products at many retail stores, as well as on its website.
Free delivery service: KitchenAid will deliver your refrigerator to your house at no charge and install it for you.
Best for Homeowners and college students looking for a basic fridge.
KitchenAid Refrigerators Company Profile
Company Name:

KitchenAid

Address:

P.O. Box 218

City:

St. Joseph

State/Province:

MI

Postal Code:

49085

Country:

United States

Website:

http://www.kitchenaid.com/