Consumer Complaints and Reviews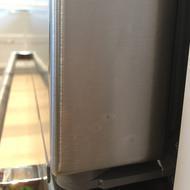 I am extremely disappointed and disgusted with KitchenAid's failure to stand by their product. I purchased a $3000 stainless steel fridge last year and my fridge is still under warranty, but because the rust is cosmetic, KitchenAid feels no obligation to stand by their expensive stainless steel product and I've been told that it is rust resistant, but not rust "proof".
They say all stainless steel can rust in certain environments. I have only used soap and water and never used a stainless steel cleaner or corrosive or abrasive product on the fridge and it is in my newly built and dry house. It is under a year old and I wonder what it'll look like in another year. Kitchenaid offered me the opportunity to extend my warranty for hundreds of dollars, but offered no repair or replacement of the rusting door panel I called them about. What kind of stainless steel exists? Low-quality stainless steel with impurities. My stainless steel Bosch range hasn't started rusting and I clean it constantly with various cleaners. Clearly KitchenAid's product is inferior and low quality.

Bought this refrigerator 6/13/12 after home power surge destroyed our other KitchenAid refrigerator Model KSC23C8EYY. We were very happy with the first one so decided to buy another, counter depth side by side. We had no problem the first year but shortly after the warranty expired, had an issue with hose connecting to freezer. After they realized it was a faulty part on the hose, they covered it. We have a wood floor in our kitchen so that also needed to be repaired. Thankfully, I decided to purchase the 5 year Extended Service Plan. We have used it three times, so far.
We discovered water accumulating in bottom portion of the refrigerator and called service plan. In April, 2017, had the drain unclogged in fresh food side. Today I pulled out bottom drawer to find the same thing happening. It also had a lot of black mold on side of drawers and refrigerator. (I took lots of pictures). I set up appointment to have repair service come out to fix clog and also to check on why mold is appearing (probably related). Extended Service plan seems very responsive so I would recommend purchasing it.

I bought the refrigerator Dec 2013 and it went out June 2017. I paid a Service guy to come and he informed me that the part had a 5 year warranty on it and I needed to contact KitchenAid. Due to the part being very expensive. I called KitchenAid and they sent someone out July 13, 2017. I had to pay another $84.00 for another service call. The service guy has been out 4 times to my house and the refrigerator is still not working. I have called KitchenAid Customer Service several times. Today when I called to complain again... I was told if I wanted to buy another refrigerator from them they would give me 20%-60% off a new one or they could set me up with another Service guy and they would waive the $84.00 Service call but I would have to pay the labor charge but they could not come out for another 5 days. I spoke with Dyondrea with the complaint department today. She could care less. I don't understand how they can stay in business.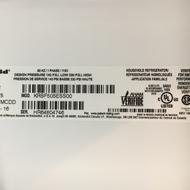 I purchased my KitchenAid refrigerator (model krsf505ess00) in Feb of 2017. I was excited because I have always loved my dishwashers. Upon receiving it I noticed how rough the stainless finish was compared to dishwasher. So first problem is it is always streaked. I have purchased every stainless polish and cleaner in the market. It never looks clean. Help!!!
Second my cheese drawer/the finish is all coming off!!! Third- the shelve on door are adjustable but, only if you remove drawers/if you adjust them from the factory locations, they hit drawer fronts!!! Terrible design. So this is a huge disappointment. I will not recommend KitchenAid to anyone in the future. Wish I could replace this poorly made and designed product. It's almost as if it's disposable and KitchenAid wants us to buy a new one after 6 months.

I have never written a review, but compelled to because my experience with KitchenAid has been so terrible. I wish it was possible to rate KitchenAid zero stars. I have had nothing but problems with my brand new KitchenAid refrigerator (model #krmf706ess01) since I purchased it in January of 2017. In the last 7 months I have had to call KitchenAid on numerous occasions. The first time I called regarding the freezer because it had completely frozen over - The drawers would not slide open/shut because it was frozen solid. There was blocks of ice everywhere and all of our food was freezer burned. A technician from one of their hired contractors came out to "fix" the problem and afterward instructed us to empty the freezer for 24 hours and everything would go back to normal. We did so - throwing away all of the freezer burned food which was probably close to $300 worth of food.
We refilled the freezer after that 24 hour period and the same thing happened again! Ruining all of my food again, and refreezing over again. At the same time, we began having problems with the water dispenser/ice maker leaking into the fridge. We called again and KitchenAid said they would send someone out. They scheduled the appointment for August 3rd - using the same repair contractor. I was given a 4 hour window meaning I had to stay home from work. August 3rd - nobody shows up or calls. I call Kitchen Aid to let them know that happened and after sitting on hold for 57 minutes, I was finally told that repair contractor needed to order a gasket and it would take 2-3 days to come in, but because of the inconvenience of nobody showing up, they would work with my schedule when rescheduling and give me a targeted time. Even though I complained about my food being ruined 2 times, nothing was done or said about that.
2-3 days then passes by and nobody from the repair contractor called. 4 days later, someone finally calls and said they had to also order an ice maker in addition to the gasket. They have not seen the leakage problem at this point, but they're ordering parts? Another 3 days passes and nobody called, so I called them. They let me know they had us scheduled for a technician to come out the next day. When was somebody going to tell me? They said they would "try" to get us a morning appointment. When I told them KitchenAid said they would work with my schedule, they just said they would try.
I immediately called KitchenAid, explained this whole fiasco all over again, and the customer service rep offered me a $125 gift card for the ruined food, and said to have the technician come out one more time, and if problems still persisted after that, they would give us the option to either replace the unit or choose another refrigerator. The next day the repair contractor came with no parts that they claimed they had ordered and were waiting on. The guy looked at the freezer, said "Wow that's really bad" and claimed we needed a new door, which Kitchen Aid would need to approve, and would take 4-6 weeks to come in. He looked at the ice maker and said he would take care of that another time.
I called Kitchen Aid immediately. The representative proceeded to tell me that they will not replace the refrigerator that their policy requires a certain amount of information and severity and our case does not qualify for a replacement as per their policy. He said the representative I already spoke to should have never promised me something that's not true. When I expressed my concerns - needing to miss work again, not being able to store food, having only $125 reimbursed even though I probably lost about $500 worth of food - his response was "I understand", but offered no real solution. The only option he gave me was to send someone from a different repair contractor for a second opinion.
So now I am left waiting on another appointment, with another technician, along with another day lost from work. The pictures I've attached don't even begin to show how terrible the freezer ended up getting - this only shows the beginning of the problem. I am unbelievably disappointed in the product and service. When you spend thousands of dollars on a new refrigerator, you expect it to work properly.
How do I know I can trust these reviews about KitchenAid?
855,731 reviews on ConsumerAffairs are verified.
We require contact information to ensure our reviewers are real.
We use intelligent software that helps us maintain the integrity of reviews.
Our moderators read all reviews to verify quality and helpfulness.
For more information about reviews on ConsumerAffairs.com please visit our FAQ.

Our KitchenAid refrigerator (Refrigerator model KRSF505ESS) did not perform in less than a year's time. It was still under warranty, but the customer service experience with the Whirpool Corp. has been terrible. Hours on the phone... Appointments made for service were canceled in the headquarters. Never checked with the repair people. It has been almost a week that I have been dealing with the problem... Never want to deal with this company again! The fridge still is not fixed!

I wish I could give KitchenAid their warranty company ZERO stars. This is the 2nd refrigerator I have gotten from KitchenAid since 2011. The first one had a compressor that broke, so after 3 painful months of back and forth with KitchenAid, my refrigerator was replaced. My newer one, the 2nd KitchenAid, has a broken fan and motor in the refrigerator (The technician explained that each KitchenAid now has 2 compressors, one in the refrigerator and one in the freezer.). The one in the refrigerator has broken. Parts were ordered and an appointment was scheduled.
The technician assigned to repair the unit was given the incorrect phone number so he could not stay. I was asked if the entire unit (freezer and refrigerator) had been defrosted... Not one person I spoke with (appointment scheduling or the first technician) told me to defrost the frost free refrigerator AND freezer units. Now I will be without a refrigerator for ONE MONTH. Totally unacceptable.

Bought all new Kitchen Aid appliances January, 2017. Refrigerator has failed 4 times since, Ice forms on the inside wall, stops cooling I have to discard all the food waiting for service to replace the same part... or another part or move a line... only to have it fail again. Last repair was yesterday 7.27. Was advised by service person it was a defective unit... as they have said every time they come out. Catch 22... if the service company states it can't be repaired... and Whirlpool repairs it.. they charge the service company for the unit. Spoke to Whirlpool representative today 7.28 was advised the unit has to be in Fail condition to be replaced. 3.16 diagnosed 3.30 repaired, 5.4 diagnosed, 5.9 repaired, 6.16 diagnosed and repaired, 7.27 came out but tech dept said move a line so Whirlpool doesn't count that as a fix. 6 SERVICE CALLS IN 7 MONTHS!!! FRAUD.

New refrigerator purchased on 5.22.2017. Barely 2 months old, but has been missing parts from day 1. A totally defective product not cooling, leaking water on new flooring, can't get help from Sears or Kitchenaid. Battle weary over this whole process... Will never buy another appliance from Sears or Kitchenaid. 4 ** service calls from diff companies, no one can fix, cannot get it exchanged and keep getting bounced back to different departments! Beyond frustrated, so discouraged about ever buying from companies that I thought were reputable. BUYER BEWARE!!!!!! Model # K71800939. I cannot begin to describe the stress this has caused! What happened to standing behind your product? I have literally spent hours on the phone dealing with this problem! I have gone back to Sears, no one wants to take care of this lemon!! ****** BUYER BEWARE **********

We have a newly built house and bought KitchenAid products. I have a gas cooktop, a double wall oven, dishwasher and a refrigerator. All Kitchen Aid. The Refrigerator has given me nothing but trouble since day one. The ice maker has not worked well, ice formed in the bottom freezer, it pings all the time and the water filter is still 100% full after six months and the door constantly opening on it by simply touching it. I really hate the refrigerator and would not recommend it. My model #KRM706ESS the serial #K63301048.

Stay away from KRFC300EWH01. Build up of frost around freezer door. Purchased from Home Depot on Warner in Huntington Beach, CA... They also appear hopelessly unable to do anything to replace the unit. Technicians come and go with glue, suggestions, and a new gaskets but the ice continues gathering like a snowstorm just swept through. I am referred Whirlpool Mfg. They refer me to the service center. The service center only services during the work week... in 5 hr windows... So they think no one works 8-5. Rotten family of products. Give me a 10 yr old fridge that works... no gadgets. This thing runs constantly... Electric bill up. I shall continue the battle. Watch the headlines!

Purchase top of the line KitchenAid Refrigerator from Sears less than two months ago. Within a month the fridge broke down and had it serviced and replaced a part of it. Within 3 weeks it stopped working. We have asked Sears for store credit therefore we could purchase another for my family. Rudely I was told to put our food in an ice chest!

I am 68 and have never had such poor service from a company. Bought a Fridge, loved it. After six weeks ice was not working. Waited two weeks to get someone to come fix. Why replacing ice maker, touched a bare wire and shorted out the whole refrigerator. Called service for replacement. Was told this fridge was back order. After talking to two people they finally agreed to upgrade to one they had in stock. Waited week and half to get new one. Delivered it but it had a large dent in freezer drawer.
They refused to leave it while I wait on new one. Waited another week and half for another one. The morning of delivery they called and said we would have to reschedule because he couldn't get a eighteen wheeler to my house. I live on a state highway with plenty of room to pull over, I have a paved driveway and a side street beside me. Trucks can and do stop. After I became very angry they finally deliver new one the next AM. Six weeks without a fridge in South Tex in the middle of summer.

I purchased an expensive refrigerator based on previous experience with KitchenAid. In 2003 I purchased a refrigerator, stove and dishwasher. No calls ever to the customer service for any problems. They lasted 14 years. That's why I went with them again. BIG BIG MISTAKE. This refrigerator Model#KRMF706ESS has been a problem since I plugged it in. I have missed almost two weeks of work waiting for technicians. I have had many service calls for the same issue and I'm still not sure if it's resolved. The last technician came out last week and within days my refrigerator is broken again. We started seeing puddles on the floor. The ice was melting in the container. We emptied container and now it doesn't make ice.
I called KitchenAid, nothing they can do, when is enough, enough with these people. There was nothing wrong with the money I gave them for the refrigerator. I purchased a new appliance and it's been nothing but a pain. They have replaced the same part three times. It still won't fix the problem. I am beyond frustrated. If I could give negative stars I would. When I contact the customer service department it's like I am bothering them and wasting their time. They are wasting mine. Customer Service is a thing of the past with their rude customer service people and they don't care now that they have my money. It wasn't working right from the start and it continues to be a problem.
I have lost faith in my refrigerator. I don't know if I could go on holidays and leave this appliance on. I wonder if anyone else is having a problem with this refrigerator. The service guy said that they have had nothing but problems with this model. They didn't test it long enough. I guess whoever buys it is a guinea pig. I would never ever ever recommend anyone to buy KitchenAid again. This is the absolute worst service. Since Day 1 it hasn't worked properly. They tell me in order for it to be replaced it has to not be cooling. A technician has to report to them that it is unrepairable and then after he does that, they send it to their engineers and then they see if they can come up with a solution. They could care less how many days of work I miss.
They are waiting for my warranty to expire so they can take me to the cleaners for the continued work I know will have to be done once it is out of warranty. That's the day they are waiting for... class action... that's the day I am waiting for. I know it's only $5000.00 but it has cost me more than that now with all the time off work. What happened to the days where companies actually cared about the customer??? I was told the first time I bought the KitchenAid back in 2003 was when it was KitchenAid KitchenAid, now it is KitchenAid Whirlpool and now it sucks!!!!

My fridge is 8 years old and on extended warranty. The compressor blew and they tell me they do not have the part to fix it. They said they would give me a three hundred dollar discount on a new fridge. Unbelievable! The cost to fix it was going o be $400.00. Not my fault they do not have the part. I will fight this until I get a replacement. In the meantime it will be up to four days for the team to get back to me. It's summer, I do not have a fridge. Never buy this KitchenAid fridge (includes Whirlpool and Jenn-Air) product. I have had many issues since I purchased it.

My parents purchased a KitchenAid refrigerator model number KRFF507ESS01 six months ago. In that time the ice maker has never worked correctly and it has been broken twice, causing them to throw all their food away. The first repair took 10 days. They are now waiting on the second repair and it has been 8 days and they cannot get anyone out here for another 9 days. They purchased a top of the line stove, microwave, and mixer at the same time. They spent a lot of money and the customer service is terrible. They have had to buy coolers and countless bags of ice to keep food in the house. I asked the customer service rep what they needed to do to have a new unit sent out. I was told, "Nothing, your parents signed the extended warranty which states repair, it doesn't say replacement." I'm sorry, but where on that warranty did it say that you were selling them a piece of crap? Very disappointed.

This refrigerator is an expensive $9000 built in KBSN602ESS00. It is a replacement for another KitchenAid of the same size. I have had 4 service calls hoping for a tech that can stop the loud, disruptive shaking, rattling noises this unit makes. It is so loud it can easily be heard in the next room where I watch tv. I have spoken to Kitchenaid numerous more times hoping for a solution.
Besides the loud ice maker filling with water, the obnoxiously disturbing loud noises from ice cubes dropping, the compressor humming loudly at two different speeds, this built-in makes a sound like metal being shaken and rattling. It can make this noise 6 times in 20 minutes. It does it in the middle of the night, during the morning, every time water is being added to the ice maker. Even if you push the ice maker arm into the off position, this refrigerator still makes the shaking, rattling noises. It wastes your time with tech appointments. What's worse is Whirlpool apparently tells techs it's a water line moving problem. Two techs have told me the noise is internal to the refrigerator.
Each tech has called into Whirlpool for a solution, yet that expensive, disruptive unit is still sitting in my kitchen. It has also had temperature control issues. Thirty-four degrees is the coldest setting for this refrigerator. It does not always maintain this temperature on its shelves though. It also has the capacity to drop the freezer to -15 F. That wasted a good portion of my day. Waiting for techs, 4 times has wasted another 4-hour blocks I had to fit in to still be left with this disturbing refrigerator. The salesman quit working for the store I purchased it from about a month after the unit was installed. A second salesperson assured me she would contact Kitchenaid. I have heard nothing back.

New appliance in Feb. 2017 has not worked since plugged. Have scheduled tech, out 2 times and no show. Finally in May someone showed up and he could not repair it and need to order parts. Parts arrived and installed and fridge still not working and water pouring out of the door. Week later another tech showed up and said he knew exactly what was wrong. He orders parts or so I thought. 3 weeks later now June 12, 2017 and still no part. Called their tech repair and they did not know when the part would be in. I doubt they even ordered the part. Called Whirlpool again. Their people did not know when the part would be in??? So I insisted to know where they ordered the part or how to call them about the part.
Finally they gave me the parts dealer. Still no part may have to locate myself. Don't buy Kitchenaid warranty. Worthless. I have a 5 year warranty may have to use as toilet paper. Purchased from Metro Builders and they have completely washed their hands of the matter. Now if I purchase a new car and drove it off the lot and the engine fell out who is going to fix it or do I drive it to Detroit for repairs. My check is made out to Metro Builders. NO ONE IS STANDING BEHIND THEIR PRODUCTS. GIVES A WHOLE NEW MEANING TO AMERICAN MADE. THEY SHOULD BE ASHAMED. They have no honor any longer $$$.

We purchased a KitchenAid KRFC704FSS refrigerator ten weeks ago. Two days ago it began to warm itself up. KitchenAid uses just one authorized service company in central NC and they cannot get to the house to diagnose the problem for over a week. KitchenAid has no suggestions other than to wait for the diagnosis. They have no complaint numbers published. Not sure if they don't care about their customers, or if they just don't want to know about problems. I will never buy another KitchenAid or Whirlpool product.

I purchased the KitchenAid Refrigerator KSF26C4XYY03 March 25, 2014. The unit is only 3 years and a couple months old. The refrigerator door pops open when closing the freezer door. The first occurrence was last summer and I should have addressed it then. This past month the refrigerator door pops open every time the freezer is shut. Called KitcheAid service to find out what it was and how to handle this. They scheduled me a service call. Did not offer any kind of warranty at that time and per conversation with KitchenAid today, they should have. Now it's too late since I have already had a service man here and agreed to service with him.
The service man told me both door closure cams were worn and that this was very unusual. He said this type of problem does not happen until the refrigerator is 10 to 12 years old. Also said that it's usually bad on one door or the other and in my case, both doors are equally bad. It is going to cost me $280 for the repair. I called KitchenAid to register a complaint with their company and see if there is anything they could do to help out with the repair. No help with a relatively new refrigerator. Won't be buying this brand again.

NEVER purchase this refrigerator (KSC24C8EYY02). We have had this refrigerator for 4 years (Paid 1500.00 for it) and it is completely freezing over. Repairman told us that there is no sense in attempting to repair this machine; that he sees this same exact issue with this same exact refrigerator and he has never been able to repair one. THIS IS A LEMON. KitchenAid just says "Oh, well."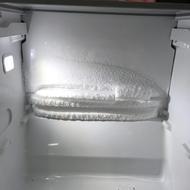 In a nutshell, the same part on my fridge (the thermistor assembly) has broken down 5 times since I bought it (roughly every three months) causing the fridge to simultaneously ice over yet not keep the food cold. I have a warranty on it, and per CA's Lemon Law, they should have replaced the fridge by now. But every time I call, they keep coming up with reasons why that it doesn't qualify for a Lemon replacement. (This latest time was that the latest repair had the same claim number because it was technically within 90 days of the last time a technician came out. By this logic, they could give me the same claim number till the end of time and never replace the fridge).
I can afford a new fridge, but at this point it's a matter of principle. I have wasted thousands of dollars in food, not to mention days of my life dealing with this issue -- and have become convinced (based on my research of other consumer complaints) that this is an issue KitchenAid is aware of and that they have knowingly foisted a faulty product & loophole-ridden warranty onto their consumers and EXPECT us to give up when they give us the run-around. I have researched lawsuits against KitchenAid and their warranty company and have been contacted by lawyers who are interested in pursuing a class action lawsuit. If you are interested in getting more information/participating in a class action lawsuit against KitchenAid, please email me.

Worst experience ever. If I could give 0 stars I would. One door stands higher than the other. The freezer screws don't even match the knob. On top of the appliance being **. Customer service is horrible. Waited for the appliance man from 8 am-4 pm to be told he will be here by 5 pm. Waste of time. Sent me 3 different handles where none of them matched. Pick any other company but KitchenAid. HORRIBLE. HORRIBLE. HORRIBLE.

Just wanted to throw my $.02 in for what it's worth. We bought a KitchenAid side by side refrigerator and have been totally dissatisfied with it right from the beginning. First, it is very loud when running. When we complained, the response was, to paraphrase, "give it a few weeks, you'll get used to it and you won't even notice it." That hasn't worked. Second, the ice maker is a joke. Very slow to make ice, cubes are small, and it won't keep up with the ice needs of only 2 people in the household. My recommendation is to trust the reviews and don't buy KitchenAid! Crappy products and crappier customer service!

We purchased a new refrigerator 2 weeks ago. The first one that was delivered was defective and after sending out a repair crew that could not fix it, it was replaced with a second defective refrigerator. After spending hours on the phone, KitchenAid sent out a repair company that stated the entire compressor and coils needed to be replaced and compared it to a new car needing a brand new engine and suggested having KitchenAid deliver us a new refrigerator. We requested that KitchenAid either deliver a brand new working refrigerator or pick up the defective one and refund us our money so we can buy another refrigerator elsewhere.
KitchenAid refused and told us they just can't help us even though the refrigerator never worked from day 1 and is under warranty for 30 days. We spent a lot of money for a brand new refrigerator and do not want a rebuilt model when we paid for a new one. We have been without a refrigerator for 2 weeks now, have spent numerous hours taking off from work waiting for delivery and repair people and KitchenAid is not willing to assist us or even offered us any kind of concessions to make this situation right. We are extremely disappointed with this company, their customer service and how they conduct their business.

DO NOT BUY KITCHENAID OR WHIRLPOOL - doesn't last 2 years. Buy old or cheap. You will be way better off. Two years ago we purchased a KitchenAid Fridge/freezer, the freezer started making a loud humming sound. We have a 5 year extended warranty. The repair man informed me that the computer inside was faulty and the freezer kept frosting up upon his FIRST VISIT. We then had to wait a WEEK for the part to be shipped in by "the manufacturer".
SECOND time he replaced "the computer". A few days later the humming sound was back. THIRD time the Tech came out he said it was not properly defrosted after he told me to use a hair dryer to defrost. He came back to "fully defrost", a few days later it frosted up again and made the humming sound (the fan hitting ice build up). They now say the replaced computer part (upon the second visit) was faulty, we now have to wait 2 more WEEKS for the part to be sent from "the manufacturer". We phoned around and the same part was in Calgary and there are 9 of the same parts.
In the meantime the FRIDGE IS BROKEN and we have lost all our food, I phoned them Saturday and won't get a "tech" guy out until TUESDAY. 4 days with 2 small kids and no. So ONE MONTH has passed upon my first visit from the "Repair guy" and the fridge and freezer are broken. So wondering what else has broken within the Fridge!! And how long can a family live without a Fridge.
We paid $2000 including the 5 year warranty and it didn't quite last 2 years. Purchased from "The Brick". I have heard this is a bad brand, and will be telling everyone about my experience. And not to buy KitchenAid or any brand Manufactured by the Whirlpool Corporation (which is pretty much every appliance out there)... Thank you to the Governments protecting consumers from the "Big Corps".

Compressor knocks VERY LOUDLY!! Few times a day, few minutes at a time, has Kitchen Aid out four times. Show them the video and will do nothing unless it knocks in front of them. Suspect they may be wiping their bad reviews off the internet of this problem. When it first happened we googled and found several bad reviews of this problem, now they are gone.

We purchased a new Kitchenaid refrigerator and double oven wall unit when we moved into our new home March of 2010. We have had issues with the ice maker/water dispenser not working. The temperature Not staying cold. The veggie tray "LID" fell off. Now it's dead! The repair man did not have an answer, he made many phone calls and "they've" decided "it's the motherboard", which will cost us $500 and a week to get in. Well then it started working, then it died, right now it's cooling. The Ice/water in the door was so gross - from water and ice? There's no way to take it apart to clean. After months of trying to clean the black mold out of it, I finally found a hand held steam pressure cleaner to clean it. I WANT TO SAY THAT I HAVE A 30 YEAR OLD REFRIGERATOR in my garage that's still working. It's NOT a KITCHENAID!
Then there's the double ovens, that are "self-cleaning" that's a joke. When I lock the oven to clean it, it blows a circuit and we have to call someone to fix it. The last time the guy said "I wouldn't use it". It's NEVER worked, and that was the reason I bought it. BUT I have to clean the ovens by hand because the advertised "self cleaning" was just a lie. At this point I would rather buy a refrigerator that I can rely on. I tell everyone, "Do not buy Kitchenaid. They are the worst appliances on the market."

KSC23C8EYY02 - Bought new with all other KitchenAid appliances. Thus far the dishwasher is the only appliance that has not given us problems. The refrigerator/freezer (less than 36mos. old) has stopped cooling for the second time. Their customer service folks are well trained and nice, but the product is terrible. And, if you have service done under warranty by their contracted service folks (in our case Alabama Power) don't take "Freon leak" as a problem answer and solution of replacing Freon. I am now on my second go round of throwing out a fridge of wasted food in the last 6 weeks. Only to be told it will be 6 days before they can come out.

We bought last July KitchenAid refrigerator. Seven months later we could see some issue with discoloration of the bottom door. I contacted KitchenAid service, they explained, the cosmetic of the surface is not under the warranty. I have extended 5-years warranty, but it is not cover cosmetic issue. We bought this refrigerator in Best Buy, but nobody explained about this type of issue. KitchenAid service can change this door if I will pay $500. I believe I paid a lot for this refrigerator and I am not going to pay $500 for factory non quality product.

ConsumerAffairs Research Team
The ConsumerAffairs Research Team believes everyone deserves to make smart decisions. We aim to provide readers with the most up-to-date information available about today's consumer products and services.
KitchenAid is an American home appliance brand owned by Whirlpool. The company began in 1919, and it makes a variety of refrigerator sizes and styles.
Variety: KitchenAid makes refrigerators with a range of different features, such as climate control, intuitive controls, spill-resistant glass and more.
Price: KitchenAid offers a range of prices so that customers can find the model they are looking for within the price range they want.
Features: KitchenAid's fridges come with many features, such as icemakers, French doors, side-by-side doors and bottom freezers.
Availability: It's easy to find KitchenAid's products at many retail stores, as well as on its website.
Free delivery service: KitchenAid will deliver your refrigerator to your house at no charge and install it for you.
Best for Homeowners and college students looking for a basic fridge.
KitchenAid Refrigerators Company Profile
Company Name:

KitchenAid

Address:

P.O. Box 218

City:

St. Joseph

State/Province:

MI

Postal Code:

49085

Country:

United States

Website:

http://www.kitchenaid.com/