Consumer Complaints and Reviews

I have owned this refrigerator (Kitchen Air refrigerator model #KFCS22EVMS2) for almost 4 years and it continually has had problems (e.g., seals around doors deteriorating). Before this I owned a SubZero for over 10 years and never had any problems whatsoever. If there had been room in my current house I would own a SubZero again. So I purchased what I hoped would be a fine quality refrigerator (the KitchenAid) to discover it is badly built with poor quality components. The question is, are there appliances that truly are quality built that are within the financial capability of the majority of people?

I purchased a KitchenAid refrigerator in April 2012 for $$$. So you know I had a Kenmore for 22 years that this KitchenAid was replacing and I actually sold the Kenmore for $50 because it still worked perfectly. I figured KitchenAid was a top of the line appliance. Ice maker went out within 13 months and after several calls I got them to cover parts and labor to fix it, but that's not the complaint here. Fast forward to 2016. In May 2016 the whole unit shut down and after several calls into CS found out it was my sealed system that went out and it was covered. It took a while to get my money back though. The day before Christmas 2016 my refrigerator went out.
Long story short, I called the authorized KA service provider to come back out and they told me it would $450 to repair (again, 3rd major repair in 4 1/2 years while the 2nd major repair in 2016). After receiving the estimate I called KitchenAid CS to talk to them about this but their systems were down and couldn't help me and told me to call back the next day. Not thinking because I had a house full of kids on Christmas break from college I figured I would call back once I got back to work this week. Once I got a hold of someone from KA she told me KA would cover the parts only which I was ok with. She told me she would call the authorized repair company and get it worked out.
I told her I already had it repaired because I had gone a week without a refrigerator anyway. KitchenAid won't reimburse a customer, just an authorized repair company. What a piece of ** company. Every time I contact KA they tell me the same thing. Appliances are meant to last forever and they never promised me that. I have another 20 year old GE refrigerator in my garage that's worked perfectly that whole time and I spent like $500 on it. This was my first and MY LAST KitchenAid/Whirlpool purchase.

We bought our KitchenAid refrigerator in late 2013. Luckily we did purchase the extended warranty, something we didn't typically do. When we were first married it seemed like we could count on a refrigerator lasting fifteen years or so, not anymore. Two years into it we started having problems. It wasn't producing enough ice, started leaking water on the floor when freezer items began to thaw. When I called the place where we bought the refrigerator (Hills Flat Lumber, Grass Valley, CA), all I got was "you'll have to find your warranty and call them". I was in the midst of a family health crisis at the time, so it was extremely frustrating. I found the warranty and took care of all that. The refrigerator was back to working.
About a month ago it started demonstrating all the same problems as before. Right before the holidays! Even though we had the warranty, it took awhile to get anyone out, and then two weeks longer for the parts. I was without a refrigerator over the Christmas holidays. Luckily the garage has been cold, so I have been storing my food out there. I finally had the guy out to fix it a couple of days ago. I called them back today to let them know that the freezer isn't the least bit cold. So... About a month without a working refrigerator. It is pretty frustrating. I've always thought KitchenAid was a good product. I still use my KitchenAid mixer that I got as a wedding gift 33 years ago. But I think the refrigerator is a LEMON!

I purchased a five-door KitchenAid refrigerator model number KRMF706ESSOO that was delivered 9/23/16. The refrigerator's top right-hand door had rust on it & the ice maker did not worked at delivery nor the day after. The ice maker has been replaced 4 times and the water valve 3 times. Today is December 22nd 2016 and after seven attempts of the service techs that Whirlpool sent to make the repairs so that we can have ice we still have no ice. Because the water has always leaking out of the Chute of the ice makers, that they keep replacing and the water valves that they keep replacing won't seal at all where the two grommets are located the water continually leaks out around the grommets and tubes that supply water for drinking and ice for the ice maker.
I have to keep towels inside my refrigerator to collect to the water that comes through the vent holes and drips on the shelves inside the refrigerator or choose to turn the water off completely to the refrigerator. Therefore not being able to have filtered water (because of the seriousness of the defects we turned the water off today to the refrigerator). The repairman had to replace the electronic control board on the drawer that has the temperature selection for your meats, cheese, etcetera because the water linkage shorted out the control panel. The water leakage at the top is so heavy that the 4 light panels were fill with water. Today when the technician took the panel off, it took three full-size bath towels to clean up the water mess. My husband and I are exhausted worrying about the refrigerator electrically shorting out.
We feel like KitchenAid company is guilty of neglect & have a defective product and unsatisfactory service technicians that they have certified and require you to use. The tech today a new company that repairs refrigerators (not the company that KitchenAid originally schedule the repairs & said that we had to use) told us that there is a manufacturer defect & there's a aftermarket kit that has to be put on this model refrigerator in order for the ice maker to work and make ice and prevent the water from leaking out of the front of the ice maker. First of all they have to put a defrost element on our ice maker!!! Can you believe that? When the tech took the back of the refrigerator off there was solid wall of ice so now we have to have a defroster on the icemaker.
Next the temperature has to be below 37 degrees in order for the ice maker to work; therefore, and aftermarket installation add-on kit to keep the cold air inside the refrigerator compartment has to be ordered and installed. The repair technician showed us at the back of the refrigerator where the cold air is leaking out at the back of the refrigerator that we never noticed before or would have considered a manufacture defect and design flaw; we were just dumbfounded at the amount of air leakage out of the refrigerator compartment to the outside of the refrigerator. There should be a class action suit against this FOR PROFIT (in my personal opinion only) driven company that would put their customers /consumers through this. Greed is rampant. We've spoken with the supervisor at KitchenAid (after not getting any satisfaction from the call center customer complaint center).
We were told that KitchenAid makes NO lemons NOR defective products. KitchenAid MAY be in complete denial or must have a phone script that they are required to read from. They voice record every conversation for their benefit. To collect all the facts and then deliver the same tired phrases "We're not going to do anything other than to replace parts." The food that I have lost they're not replacing. The seven or eight days of missed work (that I didn't get paid for) too bad there's no compensation. The time I've spent complaining taking pictures and documenting the neglect and defects and telling them has been in vain because they keep saying your only option is for us to keep sending repairmen and replacing parts; we're sorry you're having a problem.
Well if you're sorry make a decent product that people do not have to go through hell after they've spent a fortune purchasing their brand refrigerator. My money is now in KitchenAid pocket and they refused to replace my lemon refrigerator nor give me customer satisfaction thus far. I will have to keep taking off work and work with repairmen unless I resort to hire an attorney to save myself time and aggravation. I've asked them to give me a new refrigerator and they won't do it.

Just had my 6th service call in a year and a half to repair the ice maker. Because it's now out of warranty every call is costing me $99.95 plus parts and labor. This is a $3000 refrigerator and works far worse than the $600 one in my garage. KitchenAid refuses to do anything to assist so I am pursuing lemon laws.
How do I know I can trust these reviews about KitchenAid?
667,311 reviews on ConsumerAffairs are verified.
We require contact information to ensure our reviewers are real.
We use intelligent software that helps us maintain the integrity of reviews.
Our moderators read all reviews to verify quality and helpfulness.
For more information about reviews on ConsumerAffairs.com please visit our FAQ.

We bought all new appliances for our lake house from the same company we had bought appliances for our primary home (and NO it was not from a big box store but a legitimate appliance company). In 2013 we purchased KitchenAid refrigerator, dishwasher, double oven, range, microwave. The first season we had issues with the freezer draw icing shut and condensationing. Called the company. They came out and made some adjustments. Everything seemed ok. In 2014 we noticed the ice would work periodically, but then just started working. The range and microwave have never kept the correct clock time. Then late summer about a month prior to shutting the house down for the season. The freezer just stopped working.
Then wishing 14 days the refrigerator stopped working. Being the end of the season, we emptied the appliance. I have called the company that we had purchased the appliances from (which had went bankrupt and was purchased by another vendor). I have yet to receive a call from the vendor. Know I'm stuck on an island and trying to find an appliance company to hopefully repair my 3-year-old refrigerator. Unless the appliance can be repaired reasonably soon and at a fair cost I would never purchase or recommend KitchenAid appliances again.

Background: Purchased $6500 of appliances in November of 2010. Refrigerator, Oven/Cooktop combo, Dishwasher, and cabinet mounted Microwave. The only one we've not had issues with is the Microwave. Let's work in the order they are listed: 1> Refrigerator, YEAR 2 >> Freezer door would not properly close. 2 service calls later issue "fixed". YEAR 5 >> Out of Warranty. Defroster drain line plugged with ice leaving the interior of the freezer coated in ice and the automatic defroster in operable. Went online, researched the issue and cleared the blockage after two hours of work. Year 6 >> Louder than usual noise when compressor running.
Called my Appliance Technician, of thirty Years. Diagnosis issue as one or more bad springs in the compressor, allowing compressor rotor to contact the compressor housing. Contacted KitchenAid, explained the issue. Set up an appointment for the AM, two days later. Next day received phone call from the assigned Appliance Repair service saying they had an appointment scheduled for the PM next day. I explained I was told the appointment was for AM. They said no. They made it for the PM. Okay, right hand doesn't know what the left hand's doing.
Was also informed there would be a $109.00 service fee for coming out to diagnose the problem. Told them what my Technician had diagnosed. Said they would have to look at it. I asked how much the repair would be if it was compressor. They told me it would be a flat fee and wouldn't be able to quote me an estimate until THEY diagnosed the problem. I asked if the service call fee would be applied to the cost of the labor. They said no, it would be in addition to the labor.
Called KitchenAid again. Asked if the parts could be sent to my Appliance Repair Technician? They said no, they could only be sent to a certified Appliance repair shop. KitchenAid's definition of a certified shop is one that has a contract with them. Anyway. No other options, called Payless Appliance back and kept the appointment.
Technician arrives, listens for the noise, He said the compressor was running and the only noise he could hear was coming from flap/door that allowed Freezer air into the Refrigerator to keep the Refrigerator at the correct temperature. I told him that the noise he was hearing was not the same rattling I would hear when the compressor was running. He said the compressor was running and that was the only noise coming from the unit. During the diagnosis process the Technician opens the Freezer drawer and says it's not adjusted properly, and that's most likely what's causing the ice build up in the freezer. He adjusted the drawer. $109.00 later, Freezer drawer is more difficult to open and close and the noise is still there. I inquired if there would be another service call fee when the noise returned. He said, yes, there probably would be since the only thing he could hear was that door/flap noise.
Dishwasher: Year 4 > Out Of Warranty. Control Panel starts flashing codes. Called my usual Appliance Tech. He diagnosed the issue as a defective heating coil. Ordered the part and called me when it arrived and was able install it the same. When I ask for a bill, He quoted me the cost and told me to use the Dishwasher for few days to make sure that took care of the issue.
Oven: Year 1 >> Under Warranty. Cooking dinner, and the oven starting flashing an over heat error message. Attempted to the oven off, but no controls worked. Checked the trouble shooting section of the owners manual and still nothing worked. Not sure if the oven was still on, I shut off the power at the circuit breaker, waited an hour and turned the power back on. Unknown what the issue was but it has not happened again. Bottom line: $6500.00 worth of Appliances and only one of four has been without issues. Will never purchase another KitchenAid, Whirlpool or any other Appliance made by that group.

Spent $3200+ on a KitchenAid Refrigerator model KRMF606ESS00 about a year ago. We've had nothing but problems since we got it. The ice/water dispenser would stick "open" and we'd end up with water and ice on the floor. The tech that came out to fix it said that there's a known "delay" between the ice/water paddle dispenser and the computer that tells the refrigerator to dispense the water. He did replace the unit because it was sticking as well as the delay. This helped. Would have been nice to know this before ordering the refrigerator. Shortly after that was fixed we noticed that our food was spoiling prematurely and the refrigerator seemed warm. I bought a thermometer and found out that the inside of the refrigerator was around 46-48 degrees when it was set to 33. This time the tech that came out said that the paddles weren't opening to allow cold air into the refrigerator. Fine.
Ordered a part that came in in a few days and installed it. The tech cleaned out pounds of ice that had built up in the back of the unit between the fridge and the freezer when he installed this part. Because of this, all seemed well for a week or 2 until the thermometer started climbing up again. However, this did not fix the problem. This time the tech that came out said it was a gas solenoid that needed to be ordered - something about the coolant not distributing properly between the freezer and fridge. He said it would be a few days to order the part. Five days later I call the repair people again and they said they had to order the part from the manufacturer and it would still be another week or 2. Um HELLO we have spoiled food here and it is the week before Christmas. "Nothing we can do ma'am. We can overnight the part for $100. Call the manufacturer to see if they can do anything."
Called the manufacturer WHIRLPOOL who proceeded tell me that there's nothing they could do - they got the order for the part - it IS IN STOCK but they haven't shipped it yet. "Well, can you overnight it?" "That is not our policy ma'am." "What? Why not? Can I talk to your supervisor?" "No ma'am, that is not our policy. I can email my supervisor and they will get back to you in 24-48 hours." "Are you kidding me?? You don't have a supervisor?" "That is not our policy ma'am." If he called me ma'am one more time I would have jumped through the phone. So basically, screw you, customer. We're not helping you and don't care if your food is spoiling. Oh, but we're happy to take your $100+ per year to extend your warranty on this piece of crap. DON'T BUY KITCHENAID IF YOU WANT GOOD CUSTOMER SERVICE. THEY ARE THE WORST.

Ordered a KitchenAid refrigerator KRM706ESS01 just over a month ago. The refrigerator stopped working on Sunday the 20th and did not see a "technician" until the 23rd. The technician came to the house and told us we needed a part to repair which will not be delivered until the 31st and who knows when the technician will conveniently show up. Now we are out $1000 of Thanksgiving food for 18 people at my house and KitchenAid/Whirlpool offered $100 for the inconvenience, right!! I spent over 2 hours on hold waiting to talk to someone who could actually do something and when I finally was able to speak to someone they were of no help (Tim #**). Looks as though we will be out of a refrigerator for the foreseeable future. I will never buy a KitchenAid product again and will do everything in my power to spread the word of a terrible product/customer service.

Purchased KitchenAid refrigerator from Appliance Smart in Cumming, GA 2014. After one year and a day after purchase, ice maker and freeze stopped working. Called KitchenAid and could not get any help, had to pay 300 for extended warranty. Now one year later, the exact same problem has occurred, no ice and freeze has malfunctioned. KitchenAid refrigerators are awful and customer care gets a ZERO.

Regarding our 42" side by side built-in fridge. After some years it starting making some serious loud noises. Finally the fridge gave out. Repairman said he thought the motherboard had gone. OK, fair enough... just order another motherboard, right? My repairman could not find a motherboard in Canada or in the USA. It had to be order through Kitchenaid... but no problem, right?? The company is American, right??? Not so fast.
The initial timeline was 4 weeks (which is bad enough) but in the end IT WAS 4 MONTHS!!! During this time I called Kitchenaid more than once to find out where my motherboard was. They could not, or would not give me a straight answer as to any timeline to expect it. My thinking was that it was somewhere in China being created. Thank God we had another fridge in the garage but I have learned my lesson. NEVER, NEVER never will I purchase another Whirlpool product ever again!!! You would think when you pay $10,000 for a fridge a better repair experience would follow. Clearly Whirlpool doesn't give a crap. STEER CLEAR, PEOPLE!!!

I have submitted several reviews of my 3-year old KitchenAid 29CF refrigerator before. It seems on every anniversary of its purchase it breaks down in some manner. Previously, it conked out twice when control boards failed, once when the condenser developed leaks, again when the water valve cracked and did $20,000 damage to our kitchen and now, again on an anniversary, the damn ice maker has failed. I will not say anything more than DO NOT EVER BUY ANOTHER KITCHENAID APPLIANCE! I will not, nor will I ever do business with Spencer's Appliances in Phoenix, AZ again due to their complete lack of post-sale support.

We purchased this KitchenAid Household Ref. from Lowe's. 4 1/2 months of owning it there started a loud clicking noise from the back of the unit, ice built up in the veggie drawer that it couldn't shut, and water from the left side of the ref. dripping down into the two shelving parts. Once the door is open along the way the water runs out onto my floor. On the way to close MORE water runs onto the floor and then down the front of the freezer that is on the bottom. Since the issue we have had KitchenAid's preferred service AAA out of Howell MI come out for 3 different service calls. Each time I am told, "The problem is fixed and you will have no more water leaking." I have white water stains in my trays and the stain on the front of the ref. due to the leaks and sitting water.
After calling again today because it is STILL leaking I spoke with Melinda (Customer Service) with all she could offer me was at first a service call at my cost then returned with a no cost, I spoke to Tim (Supervisor for KitchenAid Tennessee office) who explained there was not a thing anyone could to but another service call. Who is going to pay for ANOTHER day off of work? This will be the 4th time I have had to take a day off of work for repairs to this refrigerator. A consumer should NOT have to clean up a water mess every time the unit is opened and the water streak down the front is not appealing. This is obviously an issue with the unit. I asked for the unit to be exchanged with the SAME unit and I was told that "You would be eligible for a replacement at a discounted price." Are you serious? I already paid the full price for this unit.
Something has to be done to not allow consumers to be buying nonworking items and costing more than the unit itself. I have bought many KitchenAid items and I will never buy again since this incident. The do not stand by the product but keep sending service people who either can't fix the problem or the problem is simply NOT fixable.

In May 2016 we bought a KitchenAid double door bottom freezer refrigerator. I have had nothing but problems with it. Purchased it a Home Depot in Brentwood which was another mistake. I have had so many repairs and now I have no ice and my food is thawing out in the freezer. Glad we bought a extra warranty but will do not buy a KitchenAid. They will not even replace it, and it is not CHEAP...

Whirlpool produces fridges under many brand names. Research and if the product you are looking at comes from Whirlpool DO NOT BUY it. I could go into what I've experience but it all boils down to what the many repairmen coming out have all said. DO NOT BUY Whirlpool fridges (KitchenAid is under the Whirlpool umbrella). They went to a dual condenser design and it's a complete fail. I have an older KitchenAid and love it. So I shelled out $2200.00 for a new one. It's a complete LEMON as per the techs, Whirlpool fridges have a bad design. Essentially, if owning one of these LEMONS now, you'll have to old time defrost it every year to keep it working.

Bought a KitchenAid model # kffs20EYBL00 in 2012. This refrigerator has given me nothing but grief since 2012. I bought an extended warranty on this refrigerator and glad I did, have had to use it numerous times. The back of the freezer will freeze up, makes this running noise that sounds like a motor is running and the upper refrigerator isn't as cold as it should be. They have had to repair this 5 times in 2012 to 2013. 2014 and 2015 probably 2 times and now 2016 we are getting repaired once again. I am very frustrated with this refrigerator. I not only have had issues with the freezer, but the shelving in this refrigerator is junk.
I have had two shelves break so far. It's just junk! I don't recommend KitchenAid anymore. Maybe in the 80 and 90's this was a good brand but not any longer. Looking at buying a new one, hate too since this one cost me of $1600.00 and 4 yrs of grief. Stay away from KitchenAid and Whirlpool. They are made by same company from what I have been told by companies I am looking at for a new refrigerator!

I purchased a Refrigerator/Freezer in 2012 for my cottage from a local dealer. Over the last year Ice has built up in the freezer floor and then there is water leakage. I would get rid of the ice build up and then no leakage for a short time and then it would start all over again. In the meantime the floor and side wall of the kitchen which housed the fridge became damaged. I called the dealer and they tried to give some things to do which did not work. Eventually we got the dealer out and they came with a new valve and installed a "P trap" drain tube. Apparently Whirlpool have known of this problem and never let any of their consumers know.
As we are on an Island it cost us a lot of money to get a repairman out to replace this piece. I called Whirlpool and they did not want to discuss it and dissuade they could have sent me a replacement but would not pay for the cost of the work to replace the valve even though they knew for years that there was a problem with this part. I will never again get anything made by Whirlpool.

Have a side by side since 2012 and have lost refrigerant multiple times. They cannot seem to fix the problem and insist their service techs come out. Service tech was useless and the problem that was fixed is broken yet again. They are now telling me I will be responsible for the diagnostic visit and depending on what is wrong, may have to pay to get it fixed. I have had technicians out more times than I can count. Also the drawers broke the first year I had it and I tried to fix them. After a while, I bought new ones, which broke again after 2 months. I am done with this company not only because the appliance is junk, but they won't stand behind their product.

My kitchenaid refrigerator would not work from day one. The cost and parts and labor are over 3,000.00 dollars and they are coming today because it is not making ice. I have tried to get help does not matter. You all wont do anything. I paid 2,600.00 for the worst refrigerator I have ever owned. Every part has been changed and something will go wrong in the next few mo. Count on that. I tell everyone I know not to buy KitchenAid. This need to get reviewed.

I purchased a KitchenAid refrigerator with French doors and a bottom freezer compartment for about $2,600 in July of 2013. By mid-2016, we began to experience problems with the refrigerator. There was water leaking onto the floor after water had filled the tray at the bottom of the refrigerator and had frozen. A certified KitchenAid repair person replaced the defective part. The repair person was very familiar with the problem as the company had replaced quite a number of these. KitchenAid supplied the part free of charge because of the frequency of this problem. There was a "service" charge of $125.00 and a "labor" charge of $89.00, bringing the total to $214.00.
Within two months, we had another problem, this one with the ice maker. The KitchenAid recommended company sent its technician out again. This time the bill totaled $335-$125 service, $129 labor, $75 new ice maker, and $6.37 tax. We had given the service provider the exact make, model, and description of the problem. Again, they were very familiar with the problem, but sent a technician out who did not have the part on the truck! He is scheduled to return after the weekend.
Frankly, after reading others' reviews on this site, I have to agree that I would not buy a KitchenAid product again. Why should anybody be shelling out over $500 for parts and labor on a three year old, high end, appliance? Our last KitchenAid refrigerator, which we left at our former residence, was 17 years old and had never required service of any kind. KitchenAid is apparently not interested in providing a quality product, though we're paying for one and, according to the reviews on this site, KitchenAid is not interested in providing good customer service. I'm frustrated with this refrigerator, which never produced ice as well as my old KitchenAid. I'm frustrated with the certified KitchenAid repair company, and I'm not willing to become frustrated by contacting customer service because all these reviews have all made it clear that it would be a waste of my time.

Purchased 42" built in refrigerator 18 months ago and the frame cracked so it was replaced in May 2016. 5 months later the motherboard and other parts went. Repair company that KA sent said it was like an engine going out on a new car and recommended it be replaced instead of repaired. Customer service said they won't replace. Email to CEO went unanswered. KA doesn't care about its customers and they don't build a quality product. If I could do it again I wouldn't buy KA again.

Fridge is only 5 years old. Ice maker suddenly stopped working. Repairman has been here 4 times and after time and money on labor and parts it still does not work. This is the 3rd home I've used kitchenaid appliances in but none have stopped working so soon. Not sure I would buy another KitchenAid appliance again.

Horrible fridge. Issues from day one. 1st one replaced immediately, and repeated service calls since then. Hundreds and hundreds of dollars lost on food and lost work time. Just asked Kitchenaid if I could get a different model and they said that they would not do ANYTHING for us. Bad fridge and even WORSE company. What a shame. Bought it because it was a Kitchenaid. Won't trust their products and customer service and suggest that you do not either.

This product is junk. Have had problems all along and hardly ever use. Three years old and very expensive and now KitchenAid wants to charge me $400 for a service person to come out and fix and an extra 1 year warranty. Leaks, no ICE... and more and more. Don't buy!

On my third compressor with 2 year old unit. Lost a lot of food due to delay getting repaired. KitchenAid said they would send me a claim form by US Mail and email. So far nothing received after Twitter and Facebook complaints and calling their 800 number. The Service Tech told me these refrigerators are poorly made and essentially junk. KitchenAid has lied to me and is unresponsive. Will never buy any of their products and sending my review to everyone on my email account.

Unfortunately we have several KitchenAid appliances that came with our new house. They are all crap. In our previous house, we had a Samsung refrigerator (which cost a lot less than the KitchenAid) that was well made and worked perfectly. Even though we have a "luxury" KitchenAid model, the drawers don't fit, the ice maker freezes up regularly and the whole unit just feels cheap. Even our builder does not use KitchenAid anymore. In addition, because they are so poorly made, the company cannot afford to (or chooses not to) fix real issues when they occur. Avoid KitchenAid at all costs.


I will never buy or recommend KitchenAid products again! We have a $10K built-in KitchenAid refrigerator that is only 4 years old. It has not been working for a month! Every time (9 so far) their certified techs come it goes over temperature again a day or two later. As a result I have had to throw out thousands of dollars of food, over a hundred ounces of breast milk for my 3 month old, wasted days now dealing with Kitchen-Aid and waiting for repairs, and had to endure this beyond frustrating experience just trying to get my fridge working. They should stand behind their products and their warranties and if their certified repair people cannot fix the problem, they should replace the product. Also, their customer service does not care, is not helpful, and is sarcastic. I am done!!

When we purchased our house (new) it had all Kitchenaid appliances so we opted to put in a Kitchenaid French Door with lower freezer Refrigerator. It has gone out 4 times in 8 yrs and no one seems to be able to fix it properly. We have lost a bunch of food not to mention the work of transferring and cleaning hardwood floors afterwards. Wish we had waited a yr or purchased something else. Our inbuilt microwave died in the first six months. It took over 90 days for Kitchenaid to get us a new one and man what attitude with these folks when you called to see why it was taking so long.
Based on the interaction on the Microwave, and all of the comments I read about Whirlpools lack of responsiveness to customer complaints, we are buying a new refrigerator tomorrow, very likely Samsung (we have their top of the line washer - dryer combo and they run flawlessly) and 7 of their HDTV's throughout the house. What we aren't doing, is ever buying another Whirlpool or Kitchenaid product. And Kitchenaid is supposed to be the high-end model.
I strongly suggest you do thorough research before buying a major appliance even it it means breaking up a set or same brand in your home. I've have Whirlpool appliances before and had some of what I consider to be normal maintenance issues, but between the microwave and refrigerator, we're done with anything Whirlpool or Kitchenaid. Their stuff is junk.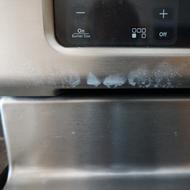 We bought KitchenAid thinking it was a good product, but it is NOT! We have had the refrigerator repaired twice in the first two years. Both times it was the same problem. Luckily it is under an extended warranty but I am worried about when the warranty ends. The stove front has discoloured three times and has been replaced three times. The replacement was not even the same colour as the original. I will NEVER buy KitchenAid again.

ConsumerAffairs Research Team
The ConsumerAffairs Research Team believes everyone deserves to make smart decisions. We aim to provide readers with the most up-to-date information available about today's consumer products and services.
KitchenAid is an American home appliance brand owned by Whirlpool. The company began in 1919, and it makes a variety of refrigerator sizes and styles.
Variety: KitchenAid makes refrigerators with a range of different features, such as climate control, intuitive controls, spill-resistant glass and more.
Price: KitchenAid offers a range of prices so that customers can find the model they are looking for within the price range they want.
Features: KitchenAid's fridges come with many features, such as icemakers, French doors, side-by-side doors and bottom freezers.
Availability: It's easy to find KitchenAid's products at many retail stores, as well as on its website.
Free delivery service: KitchenAid will deliver your refrigerator to your house at no charge and install it for you.
Best for Homeowners and college students looking for a basic fridge.
KitchenAid Refrigerators Company Profile
Company Name:

KitchenAid

Address:

P.O. Box 218

City:

St. Joseph

State/Province:

MI

Postal Code:

49085

Country:

United States

Website:

http://www.kitchenaid.com/