Consumer Complaints and Reviews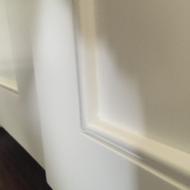 We built a new home and purchased a GE Monogram 42" side by side refrigerator that we could put panels on to match our cabinets through our builder. The first refrigerator brought to our home was broken and could not be installed. We had no refrigerator for 2 weeks until a new one was delivered. The 2nd one has issues with the doors scraping together when opened, the doors do not line up with each other when closed and the panel to access the filter, etc stuck out past the doors at the top. After a minimum of 5 appointments with technicians, the builder and installers we were told the seals on the doors would settle and eventually line up and be flush.
10 months later they look exactly the same, still scrap and the springs had to be removed from the top panel to make it not stick out. We had another appointment with a technician and were told that there is nothing they can do, these are cosmetic issues and do not affect the refrigerators sole purpose of keeping food cold. When you spend $8000.00 dollars for a refrigerator with paneled doors to match cabinetry, it is obvious this refrigerator was not purchased for the sole purpose of keeping food cold but also for the cosmetic features. We are furious with the treatment and disrespect we have received with GE and will NEVER purchase a product from them again! Buyer beware!!!

After hours of product research we purchased 4 kitchen appliances in Manitoba Canada. All 4 were scratched, bent, or dented when we uncrated them yesterday. Looks like they were damaged at the factory and shipped as is. Horrible quality control. This was an expensive purchase and we are presently trying to resolve the issues through the retailer.

The fridge I bought model PNR22LSE has been nothing but a nightmare. Control board fails, either thawing all your food, or putting it into a deep freeze. I'm on my 3rd control board (which has failed... again). DO NOT BUY GE. Absolute garbage that will waste your time.

Nothing but a night experience with GE Products. Regret my decision. They do not stand behind their product. Have had numerous issues from exploding door glass in self cleaning mode, gas leak from day one, shut done by FDNY and Con Ed. To fire on but not hot enough to cook a meal. To my refrigerator breaking down several times to many calls in 2 years and no assistance. SHOP ELSEWHERE!!

We purchased a GE profile counter-depth french-door refrigerator and had only used it for 3 1/2 months before the freezer stopped working. A technician determined that there was a leak in the "closed system" coolant and is going to have to replace the system. While we are lucky that the refrigerator is still under warranty, I am completely unimpressed with the quality of this refrigerator. We also bought a GE profile dishwasher, microwave, and range at the same time as the refrigerator. I can only hope that these other appliances are made better than the refrigerator.
How do I know I can trust these reviews about GE Washing Machines?
609,949 reviews on ConsumerAffairs are verified.
We require contact information to ensure our reviewers are real.
We use intelligent software that helps us maintain the integrity of reviews.
Our moderators read all reviews to verify quality and helpfulness.
For more information about reviews on ConsumerAffairs.com please visit our FAQ.

12 months after we moved into our new home and started using our new refrigerator, the silver strip disengaged from the long drawer at the bottom of the top section. GE sent a new drawer (after the third phone call) but we'd have to pay almost $100 for a technician to come out to fix it. The drawer cannot simply be replaced because GE built a refrigerator whose doors do not open wide enough to be able to pull drawers out to clean them OR replace them! What kind of designers do they employ??? We will NEVER buy another GE product because of bad design, bad quality control and bad customer service.

I purchased a complete set of GE appliances in April of 2014 - The GE-GFE27GMDES refrigerator's freezer has gone out and the unit is less than 2.5 yrs old. GE said that the $2500 fridge only has a 1 yr warranty - a tech came out and said I have a Freon leak somewhere. My complaint is that the unit should not go bad that quick and that there's only a 1 yr warranty. I'm not sure how much the repairs will be since they will have to trace the leak down and figure what part is defected. I was told it could be upwards of $700 depending on what part needs repairing. I hope I have better luck with the other Appliances than I have with the Refrigerator.

We also built our "dream" kitchen 5 years ago and chose GE because of their reputation, style, and perceived durability. This year, the gaskets on the refrigerator began to pull away from the door and literally shredded. $450 to replace and install! GE tried to tell us that the damage was a result of spills that destroyed the gaskets. This was absolutely not the case. Yesterday while using the self-cleaning feature on our double wall oven, we began to get an alarm near the end of the 3 hour cycle. I was unable to stop the alarm so we had to turn off the breaker (meaning that both ovens are now out of use.) The control panel and oven door were dangerously hot to the touch. The walls around the oven were hot as well. The oven was no unusually dirty, but I wanted to use the clean cycle while I was home and thank God I was... If we had not been here, I'm sure we would have had a fire.
It took 5 hours for the oven to reach a temperature that allowed us to touch the outside. When we tried to push on the controls, they literally sank into the panel as the heat had melted the inside. We are unable to unlock the door to look inside of the oven and are waiting for a service call. Less than 5 years of use and quality care on our end should not result these kinds of problems.

We purchase a GE refrigerator 9-2015. We have went the 2 refrigerator now. On the 2nd ref it's already having the same issue as the 1st one had. Needless to say I'm not happy. How would you feel if this was your refrigerator. I called Consumers Relation 9-19-2016. Still waiting for Mr. Appliance from Tyler, TX to arrive or call. I was told from my 1st Consumer Relation agent that on the 3rd issue the refrigerator it would be a lemon. Well come to find out that's incorrect per CR Dept. This refrigerator is a piece of crap... Not happy.

Both refrigerators buzz loudly on and off all day, every day. Two repair calls, can't be fixed. Dishwasher heating element melted the tub. Ge offered a discount on parts to repair the piece of junk. I now refer to all ge appliances as ge junk. Samsung, frigidaire, etc make decent products. DON'T BUY GE JUNK. PLAIN AND SIMPLE. THEY MAKE JUNK YOU'LL REGRET OWNING.

Purchased a new stainless slate side by side, July 2015. 1 month out of the GE warranty, August 2016, the fridge side started freezing everything. Even a gallon of milk and water line to the water dispenser froze. Called Lowe's where we purchased the 5 year warranty but they could not get a repairman for 3 weeks. Called GE repair and told them we would pay for the repair, but they would not come because we had a Lowe's warranty. We complained to Lowe's. They gave us a loaner - GREAT service! They pulled out the GE side by side and it was trashed.
Lowe's sent us a refund and we went back and upgraded to a French door/freezer on the bottom. Have had it for 3 days and the darn thing makes so much noise that it sounds like a helicopter. VERY dissatisfied so far. Have 30 days to try it out before calling Lowe's again. Have the entire upgrade package of GE slate kitchen appliances. Love the look and until now - no problems! What's up with GE selling this junk for such inflated prices. Very disappointed. GE is NOT what it once was!

I guess I'm lucky based on reading all the reviews that my GE Profile French Door Fridge lasted 7 years. At first the freezer wasn't working properly and the local fridge tech took a look and could not understand what was not working. It was either the freezer compressor or the motherboard. Then the fridge started breaking down. Tech guy came in a second time and said repairs for compressor is going to run into the thousands and better to buy a new fridge. I'm not buying another GE again. Any recommendations? We want a good ice maker and French Door with sliding freezer door on the bottom.

I purchased a GE Fridge in 11/2008 Model # GFSL2KEXA. 8 years later, the compressor has gone out. I also have a Maytag fridge over 20 years old that is still working and has never required major repair. I have been trying to contact GE consumer relations for assistance and their systems are down. I will never buy GE again. The repairman said the parts are made cheaply in another country. I had problems with the non mechanical parts from day one, plastic breaking. I am looking at another brand of fridge and not GE. I paid $1300 for the fridge in 2008.

GE, what happened to you??? You once were the most reliable company for appliances. Now, I am stunned by your lack of service. Have you forgotten that customers keep you in business? Briefly, our nearly new refrigerator (1 year, 2 months old, French Door, bottom freezer) was stuck on Celsius for the temperature read-out. So, we called GE Answer Service for help in setting Fahrenheit. After following their advice: unplug to reset, etc. our nearly new refrigerator is now DEAD. Dark, warm, DEAD. Says GE: "We can send a serviceman out in ONE WEEK." One WEEK. Are they kidding me? I will not only NEVER buy another GE product, but I sold all my GE stock, too. Fair warning to everyone: GE's best days are GONE. Run for the hills.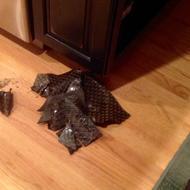 We purchased the French door refrigerator, gas cooktop, convection wall oven, convection microwave, and dishwasher in the spring of 2012. Buyers beware! The quality of these appliances is terrible and the customer service is worse! Cooktop - knob broke within a couple months. Microwave - stopped working within first year. GE tech said bad door switch. He said he would order part and return in a couple days. Several days later I received a package that included multiple parts that we did not order. Called GE, tech never came back. After MANY calls GE refunded my credit card that tech used to order extra parts. We fixed the door switch ourselves.
Dishwasher - stopped working. Pulled it out and found melted black plastic on the floor under it. Called GE. Told me to bang drain cap. Dishwasher works now. They said there is no replacement part for the melted piece after sending out tech to examine issue. Dishwasher is loud and does not clean well. Debris builds up under metal screen on bottom, impossible to clean out and it smells terrible. The pic shows the melted pieces. Their solution... sell me a new dishwasher at a marginally reduced price. Refrigerator - Stopped working yesterday! Not cooling. Working with a different repair company now.

I tried to submit review on GE site, but, my review has been moderated!!! I got brand new fridge, and it does not cool properly from day one. I have got service on time, and service man from GE provides proper service, and said it's a known issue that the fan does not work properly. If it's a known issue, why the heck does not GE provide service at first time. Then I found the bad noise generated from this fridge with horrible clicking sounds. I will need to call service guy again! WTF. NEVER BUY THIS FRIDGE.

I thought you might be interested to know that GE Appliances are no longer owned by GE. They are owed by Haier, a Chinese company. Why am I telling you this? Because I now believe this once great brand has become garbage. I purchased a GE Freezer 4 years ago and it quit working earlier this month taking all the food with it. I called GE Service and the technician that arrived told me it was out of warranty and quoted $756.02 to fix it. I only paid $749 for the damn thing new. They actually had the nerve to quote more to fix it than it cost.
The story gets worse. The technician said call GE Customer Care and since the freezer was only 4 years old, they would do something for me. I did and they offered to provide the parts at no cost but I would still have to pay for the labor. I agreed and they ordered the parts. After 3 parts orders, and visits from 3 technicians, the freezer is still not working. When I called GE Service and asked to talk to management, they absolutely refused. A low level supervisor offered to sell me a new freezer for a discount which is outrageous. So we scheduled a fourth technician visit. Well, that technician told me the freezer is not repairable. I am now forced to buy a new replacement freezer from GE.
Whenever a company refuses to connect you with management, you know they are having big problems. Hiding behind call takers is the cowardly act of a dysfunctional organization, in my opinion. So my advice, avoid GE Appliances at all cost. Chances are you will pay a lot of money, end up with an unreliable product, receive poor service, and have no recourse.

$150 rebate that the new 30" range fits where the old 30" range was. Bought a new gas range, and was promoted with a $150 Guaranteed fit rebate. Slide the old GE range out (19 years old and the gas regulator went bad. Could not buy a new regulator - because GE discontinued them.). Go to put the new GE gas range in, and it doesn't fit! The old one measured 29 & 7/8". The new one measured 30 & 1/16" so I had to pay a contractor to cut my granite countertop 3/16" so it would fit. Filled out extensive paperwork and a dozen pictures, submitted all the required documents, and they won't pay the rebate saying old was not freestanding? ARE YOU KIDDING ME! I replaced a GE 30" range with a GE 30" range.
Three days after I took delivery, my kitchen was a mess because the new one won't fit. Inconvenienced and let down to the max. "GE finding ways not to take care of your loyal customers!" So mad, going home to replace all my appliances with Samsung or Sub-Zero immediately! Do not be loyal to a company like this. Go anywhere except GE! I've had it!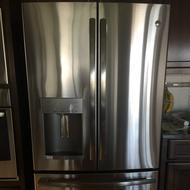 We bought a new home with GE stainless steel appliances. We immediately had problems with the dishwasher not working properly and had a technician out twice to repair that; once to install a piece to direct soap from the soap dispenser and another time to fix something in the drain system. Next came the fridge; just a couple weeks later. We had 15 service calls on our fridge for the noise it created and they did everything from a software update (which you can't do yourself), to dampening the compressor, to replacing the compressor, then replaced a couple fans and motors twice! The touchscreen on the door started going out, so they replaced that twice, and put electrical tape on the back of it because they thought that might help! Then the freezer wasn't shutting correctly so the repairman had to cut a piece of plastic off of the drawer so it would close completely thus allowing the door to close completely.
After 16 service calls, GE finally replaced our fridge! Yay! With another GE fridge; ugh. The delivery company damaged our storm door, and have yet to call us back about repairs. And the new fridge, still very loud, now leaks water from the dispensing door every time you open the door (onto our solid hickory flooring) and also inside the fridge and freezer when the door is closed; GE is sending a repairman to fix that problem this next week. Save yourself time and money by buying LG or Samsung. I worked at Menards selling cabinets and appliances and swore by Whirlpool until LG and Samsung became the best products. Do not buy anything GE.

It happened twice, every time I schedule an appointment I get a call from GE saying they have to reschedule because the tech had to go to the hospital. What a coincidence really!!! That's their way of saying we are backlogged and have to reschedule.

I bought a GE GTE18GTHWW over three months ago and it still is not working after three service calls. The freezer thaws and refreezes and is constantly dripping. The refrigerator freezes my produce. Do not buy this appliance. GE knows the problems with this model and still sells it. After three tries they agreed to replace it with a new unit. I can't tell you if it works or not because they came (hours late) with the wrong refrigerator. If you have a choice do not buy this product.

I purchased a GE refrigerator a less than a year ago. The fridge broke within a week of delivery and was replaced a couple weeks later. Even after begging for an earlier replacement because we had a newborn baby and had no backup, they refused. We had to purchase ice and use coolers for a couple weeks. Approaching the end of the warranty, the fridge creates loud noises and stops cooling. The repairman replaced the fan and stated that is all he could do. He said hopefully it will fix the problem, but no guarantees. He also stated that in his experience GE refrigerator last about 5 years. Not sure if other brands are any better, but GE seems like a waste of money and they don't stand behind their products.

We have called GE on six different occasions to no avail. When filling the glass with water and ice cubes the dispenser freezes. When this occurs the dispenser automatically and uncontrollably releases water and ice. It will not shut off and floods the kitchen. GE sends out a service representative and the representative states that there is no fix for the problem. This has occurred on three occasions. GE will not accept responsibility for their defective product.
When remodeling our kitchen I bought into the slogan "GE Brings Good Things to Life". We bought over $15,000 in matching Monogram appliances. What we have received is GE bringing nothing but nightmares to our life. We have had to replace the leaky dishwasher and now are now having to replace the inferior refrigerator. Spencer Appliances in Mesa, AZ sold us the reputation and quality of the GE Monogram Series. We will never buy another appliance from Spencer's and definitely will never purchase another GE Appliance. Buyer beware of both of these organizations.

Refrigerator was purchased new 5 1/2 years ago. It quit cooling so I phoned GE Customer service to get a repair. After being on hold for 10 minutes or so the "customer service" rep got back on the line and said, "We can't find anyone in your area that does repairs. Sorry, but we can't help you." This refrigerator cost just over $3,000 when new and this is what GE has become. I will never purchase another GE product.

Bought 3 kitchen GE appliances from Home Depot: Fridge, range, and DW. Fridge model GFE26GSHCSS and serial TD528659. After 2-3 months, as I moved into my new home, I noticed problems of noise and food freezing up to a point of some food will be thrown away. Talking to Home Depot proved futile and I could not pass the store appliances manager after many visits and calls. I could not even see the store manager. When I called GE they would send technicians from contracted companies. After 4-5 technician visits one was able to find that there is a recall on the software and fan. However, this did not fix the noise issue and the fridge air circulation was still not good enough.
Now after 13+ months and after more than 10 service calls the fridge continue to have the problem and I continue to call to have the issue fixed. At some point after the first 5-6 months I asked that GE manager to replace the fridge and she refused citing I have to go through the warranty process. I still have the fridge and fridge noise issue and I still pay for the price of purchasing it. Few times I would wake up at night on the loud noise coming from the fridge. I strongly recommend that no one buy GE Fridge and for sure not to buy a major appliance from Home Depot. They don't have the decency to talk to their customers but they do have the audacity to call inquiring on payment schedules.

Called this morning because refrigerator will not cool below 55 degrees. Was told by GE service that they had no one in our area and to call A & E Service. Called A & E and was told by someone who sounded like they were in China that they did not service GE Monogram. Monogram claims priority service in their ads and our warranty said all refrigeration parts covered for 10 years. Our unit is 6 years old. Sad what GE has become.

My husband and I built our dream house in Eagle River, WI in 2006! We purchased all our appliances from Jensen Akins in Conover! WE bought a GE Profile side by side, gas range, microwave and dishwasher, ALL GE Profile because we have only owned mostly GE products! 2-3 years ago I noticed mold growing inside the fridge, even though I clean the fridge every 2 weeks! Soon mold was growing inside my juice pitcher within 2 to 3 days, inside the produce and cheese drawers too! The water line also kept freezing up and ice was forming on the wall between freezer and fridge!
The service people at Jensen Akins have been fabulous, but each time they repair or replace parts we have to repair or replace them again in a few months!! The motherboard was replaced, condensers and thermistors have been replaced and one time when the repairman came out to address the mold issue he took the cover off in the back of the fridge on the inside, and all the styrofoam was completely covered in mold and all had to be replaced! 2 weeks ago we once again had ice forming in the fridge and more mold issues and water line issues! We have spent so much money trying to fix this darn fridge, only to learn that it will cost another $680 to replace a part that has been replaced already! WE will NOT buy another GE product, and we are switching to Samsung or LG. I was thrilled when I finally had all matching appliances, only to learn we wasted our money! Do not buy GE appliances!!!

Hello. I have reached my limits. DON'T Buy any GE products. Reason: I have a GE profile refrigerator. After 13 months it stopped working. Thinking I only have a 1 yr warranty, I was out of work no extra $ to have anything fixed. 10 days before 2yrs, I was back to work and wanted to get it fixed & purchase a new dishwasher to match the other 3 appliances. Found out it has a 2 year warranty. I called, they came, replaced part. A year later it stopped working again. Called, they came, I paid for a service call. Same part needed to be replaced.
As of today's date 1 compressor, 5 or 6 inverters and once it was on back order, why on back order, guess I am not the only person with this problem. They refuse to replace this fridge especially after they had to replace the compressor they want me to buy a new 1 at a prorated price. Why should anyone have to purchase a new 1 when I just spent $2400.00 for that 1. LEMON LAW??? So far I have gone away for a week only to come home and find water & blood on the kitchen floor 2x's. Had to change Thanksgiving once because fridge stopped working with all the trimmings for the holiday 17 family members had to relocate. YES very frustrating. It has gotten so bad that the repair man & I greet each other by first name.
GE has spent more money on repairs than they would have if they gave me a replacement 1. But all the food I have lost, they give you $50.00 food replacement. I don't know about you but that only covers 3 or 4 steaks. And with 3 growing children the fridge is filled... Tired of them replacing parts. I DEMAND A NEW REFRIGERATOR, and trust me I have asked every single time except the 1st time. And that is why I am here telling you all my experience... Good Luck!!! My last GE case # **.

I have a GE Monogram built-in side-by-side refrigerator, which does not stay cold enough for food safety. On my first service call, the technician said he needed to order a $500 part, but would have it mailed to my house for an appointment (8 am to 12:30 pm) today, Tuesday. He also stated Tuesday was his day off, so he would not be the repairing technician. He thought it was a condenser issue (again).
At 12:40 pm I called 1-800-GE-CARES and waited on hold for more than 15 minutes (my phone told me), spoke with Jasmine, who told me I was the next stop, even though my window was passed, but could not give me an idea of when that might be. She advised me to call 1-800-386-1215 where I got Demetria (after another 15 minute hold), who passed me straight to Kala with Monogram. I was told I was still next, and that the technician, Michael, was about 15 miles away. I was told Michael would personally call me and let me know when he might be coming. All butterflies and candy canes. Kala very reassuringly gave me her Monogram Hotline 800# and personal extension.
About 3:00, I got the GE Robocall, not a call from Michael, asking me to get my dogs in, as my tech was on his way. My garage door was open, and my car was there. I sat on the patio, but at 3:45 went to see if the technician was near. There I found a GE "Sorry we missed you!" sign on the door!!! My dogs (Labradors) would have barked if the door bell had been rung, plus the door was open. Plus, Michael was already 3 HOURS PAST THE SERVICE WINDOW!
I called Kala's extension, but she was "on another line, and will call you back within 24-48 HOURS"! So I called the 1215 number as instructed, and insisted they turn the man around, as I'd already wasted my entire day waiting for him! They said they would "Reach out to the Dispatcher." I was then passed to Rosanne at Monogram Hotline, who said she would call and see, but, "No, unfortunately, I can't send him back, No I can't even though it is only 4 pm (after another 15 minute hold), No, the dispatcher for your area will not be back until tomorrow, No the technician is now on another job, No I can't call him, No, I can't call you back, No, I can't schedule anyone for tomorrow without the dispatcher, No the dispatcher is not in until tomorrow at 8, and No, I can't schedule you before August 1st."
It is July 26th!!! My refrigerator is not working, I had to defrost the ice maker for the technician, and here we sit, no place for food, no chance for repair. Plus I am holding a $500 part I cannot install!!! ** I am now looking for alternative service. I live way out in the country, and have few options. I can't trust GE to schedule and keep an appointments, or call ahead or ring the door bell!!!

This Monogram GE "High End" Package came with our new Shea home. What a joke, the microwave has been REPLACED 3 times. The built in refrigerator failed last year with the lights going out and the control board fragging - thank god for a home warranty. The control board was replaced, then 2 weeks ago cooling failed again - this time it has been a wild goose chase trying to find out why it is failing. No fresh food until we bought a small extra refrigerator today. For 11,000 you would think there'd be some quality built into these appliances -- WRONG. What a piece of garbage. And to replace a built in refrigerator is no easy task.
I can't wait to rip out ALL of the rest of the GE appliances in the kitchen including the useless dishwasher. I WILL NEVER, EVER BUY A GE PRODUCT of any kind again. And to all of you flying on airplanes, you have to wonder if the GE Aviation division will start building jet engines like their monogram appliances -- that would cause quite a few headlines.

ConsumerAffairs Research Team
The ConsumerAffairs Research Team believes everyone deserves to make smart decisions. We aim to provide readers with the most up-to-date information available about today's consumer products and services.
GE, or General Electric, is an American appliance manufacturer headquartered in Fairfield, Connecticut. The company ranks as the 26th largest firm in the United States, according to the Fortune 500.
Energy efficiency: General Electric refrigerators are mostly Energy Star appliances, which means big savings for users and a 20 percent improvement over standard refrigerators.
Features: GE refrigerators offer a number of unique features, such as digital water dispenser readouts and temperature-controlled drawers.
Capacity: GE offers a wide range of storage capacities in its models, ranging from 4 cubic feet to more than 26 cubic feet.
Styles: GE has many different styles of refrigerators, from bottom-door freezers to French doors and everything in between.
Handicap accessible: Some of GE's fridges are designed to make them easier for handicapped people to use.
Best for Consumers who need a reliable refrigerator for home use and like a wide variety of options.
GE Refrigerators Company Profile
Company Name:

GE Washing Machines

Company Type:

Public

Ticker Symbol:

GE

Address:

3135 Easton Turnpike

City:

Fairfield

State/Province:

CT

Postal Code:

06828

Country:

United States

Website:

http://www.ge.com/