Consumer Complaints and Reviews

We closed on the house on Dec 13, 2016 and the GE Fridge came with the house. We had issue with water not dispensing from day one. We noticed our builder on day 1 but didn't know we have to call GE to get that issue resolved. I called in an issue for my Fridge on Jan 8, 2017 but the technician can't come out until Jan 16, 2017. The technician came out and diagnosed issue with the filter. He stated that the filter only has 30 days warranty and can't replace it for us. I called into GE Customer Cares and I have to say I must have one of the worst customer services from Victoria and Patricia. Both can't answer my question nor resolve my issue. I wanted to know if I called in on Jan 8, 2017, is my filter under warranty?

GE Monogram Freezer - In the 12 years that we have had this freezer it has broke down 11 times. Each time wasting anywhere from $300-$500 worth of food. The service tech that usually comes out to fix it even confirmed that these units break down a lot. The only thing worse than suffering the time and financial loss with owning this inferior product, is dealing with the lack of support and unwillingness of their consumer relations department to provide compensation. This is an inferior product and I advise everyone to not buy GE products.

Refrigerator Model GSL25JFXBLB has run okay except for ice maker. Several years ago I had to change electric motor assembly. Small potatoes compared to what has now happened. A few days ago I found a very small, sharp piece of plastic in my glass of ice water. Because of the plastic type it looked very much like ice. I was lucky to notice it. We thought maybe it was from a chipped glass. Several days later we found another one, and then my wife found several larger pieces in her water. Coincidentally the ice maker stopped pushing out ice. I pulled tray out, dumped the ice in the sink and let it melt. I now have seven pieces of broken plastic ranging in size from 1/8th inch to an inch and 5/8s. All have very sharp edges. Inspection of the tray revealed that about one half of the final auger loop is missing, having shattered.
The missing area appears to be much larger than the plastic pieces I have recovered. Which begs the question, where did the rest of the plastic end up. I consider this to be a very dangerous situation. Replacing the tray on the assurances of GE is out of the question. I am presently making the ice the old fashioned way and will continue to do so until buying a new fridge. I would recommend that others with this model do the same, or at the very least not use the crushed ice option. This is very bad! And goes way beyond a simple breakdown. See pictures of broken auger and plastic shards. I was going to write GE but came across this site and see that they been notified.

We purchased a GE Adora Refrigerator from Home Depot in November of 2016. We have used it less than one month having moved into our home on December 16th, 2016. The refrigerator sweats, leaks and the doors are uneven. We tried to have HD take it back but they will not. Their return policy for appliances is 48 hours from delivery. It does not matter that you did not even plug it in for a month. GE repair came out and the whole freezer door has insulation coming out of it. GE is supposed to be sending a new door. Great. We will have a "new/used" refrigerator. I spoke to GE and they also will not take it back. Literally it is a piece of junk made in Mexico. If you have to buy a new appliance, do not buy GE and shop at Lowe's. Lowe's return for major appliances is 30 days. Big difference.

The door on our three-year-old refrigerator (GBSCOHBXfrww) began sagging recently and when the technician came out to remedy the problem, we were informed that there were NO parts available for this shoddy metal pin in a plastic grommet construction that formed the hinge on the door. None. We were informed that we have to buy an ENTIRE NEW DOOR for over $400!! When we called GE to see if they could help us at all, they informed us they couldn't. Nothing they could do. A discount on the replacement door would have been the right thing to do, but, judging from all the complaints and the low cumulative score on this website, they could not care less. I have bought GE appliances my entire adult life but will no longer. Ever.
How do I know I can trust these reviews about GE Washing Machines?
672,188 reviews on ConsumerAffairs are verified.
We require contact information to ensure our reviewers are real.
We use intelligent software that helps us maintain the integrity of reviews.
Our moderators read all reviews to verify quality and helpfulness.
For more information about reviews on ConsumerAffairs.com please visit our FAQ.

I give GE products a zero stars. After saving for a long time to buy a side by side fridge the freezer stopped working after owning it for about a year. Of course the warranty had run out. After getting that fixed, 6 months later the ice and water maker stopped working. Long story short within 4 years I had the freezer worked on 7 times... On the 8th call to the worker he said there were no point for him to try fixing it because every part had already been replaced. Now the fridge part doesn't work. There are no GE workers in my area. The guy who worked on it before has retired. So now I have to spend time finding someone to work on it. GE - I do not recommend to anyone.

Purchased new GE French door bottom freezer refrigerator in April 2015. 14 months in had to replace icemaker. Now won't cool & repairman having problems finding parts. Already been down a week. Don't purchase a GE refrigerator unless you have endless supply of money to make repairs. Wish I had read the reviews before I purchased this one. Definitely won't purchase GE again.

We bought all cafe Red Dot appliances for our new kitchen 4 1/2 years ago. The refrigerator was warm in a little over a year. Of course the warranty had expired. It cost over $400 to replace the fan motor. We are now replacing the motor again. This time we are buying the part for another $100 and installing it ourselves. We thought buying the higher end appliances would give us a better product. Not true. An appliance SHOULD last longer than a year!!! I am never buying another GE product again and passing the advice to all family and friends! So disappointed!

Fridge is only 3 yr old, basic freezer top model. Started making this loud noise (the fan?) on and off continuously. Wakes me up in the middle of the night in my 1 bedroom apt. I have to shut my bedroom door because the fridge won't let me sleep! If I slam the freezer door hard the noise stops for a while. I hate this fridge! Junk! What a waste of metal and plastic! Wish I had read these reviews before I purchased. I can't believe how GE gets away with selling crap.

My first contact with GE for servicing a fridge not cooling was on 10/06/2016 (this model was less than a year old, and I had only had for a few weeks). The freezer worked great, but the defrost mechanism malfunctioned and would not keep the fridge cool. A repair person was sent out on several occasions, replaced two defrost parts. The fridge was still not functioning properly, so I was told a replacement fridge was approved and would be delivered in 5-7 days.
A week later I received a call stating it would be an additional 5-7 days. Another week later, I called to check the status and was only able to leave a message. I called again the next day leaving a message and sent the email below to the customer service department: "I have been patiently waiting to hear when my replacement refrigerator will be delivered. The last time I was able to speak with my assigned customer service advocate (Camise); she said she was not able to give me a date (it has been between 2-3 weeks since I was approved to get a replacement fridge).
I have been without a working refrigerator for an unacceptable amount of time, you can track from my first call into GE customer service on 10/06/2016 to current. I can't continue to try and store a family's worth of food in a mini-fridge, grocery shop every two days, or eat out. This has been expense, time consuming, and stressful. With the upcoming holiday weekend, I need a full size, fully functioning fridge.I tried calling Friday morning last week (12/16, 11:53 am cst) and left a message for Camise. I called again today (12/19 10:01 am cst) and left another message. I then called back at 1:10 pm and was on hold for over half an hour (and because like most people I have to work) had to hang up before speaking to anyone. I have filed a complaint with the BBB, ID **. I would like this issue resolved now. Ipt is ridiculous that it has gone on this long."
The next day I called again, email below summarizes the call: "I am following up on the email below after trying to reach someone again via phone at 1-800-386-1215 (on hold from 12:12 pm cst to 1:03 pm cst). 1:03 pm - Representative answered and after verifying name and address she placed me on hold so she could review email from yesterday. After looking through emails, found on end of last week just approved to get fridge... will not be able to get to me before 5-7 days if process today may get end of next week. Said there was missing paperwork and there is nothing they can do now. Earliest I could expect fridge delivery is end of next week. I told her that was unacceptable and I was mad, and asked to speak to supervisor, said 2-3 minutes... was on hold longer, then representative said there was no supervisor available and she could take my number and someone would call back between 24-48 hours."
I am at a loss for words on how this company continues to sell products or provide such poor quality customer service. I have been without a fully functioning fridge for almost three full months now and they do not care. I've gone through all the major year end holidays with no fridge (Halloween, Thanksgiving, now Christmas, and probably New Years). I would like their upper management to let me know how they expect a regular family to get by this long with no fridge.

One of the worst customer service experiences ever. GE, you better change or else you will be history. I bought a refrigerator less than a year ago from Appliance Smart. It's still under a year but GE says the manufacturing date is in 2014. How do I care what the manufacturing date on the refrigerator is? I bought it less than a year ago. The first time I placed a call, GE said it's under warranty and no service charges would apply. They send the technicians to some wrong address and when I called to reschedule they say that this time there would be a charge. Absolutely pathetic and extremely rude customer service from not just the first representative but also the Supervisor, Sukanda. Absolutely horrible company, product, and employees. No wonder they are losing out in such a big way to Samsung. I'm taking to Twitter and other social media channels to tell my story.

Bought Side by Side Fridge about 4 years ago. The 1st Fridge cause so much problem, GE replaced it. I think there was a deductible we paid. Can't remember. The replacement has even been a problem, the repairmen must have been out at least 5 times over the last 2 years. Now the damn thing is broke again and not cooling and food is spoiling. Don't buy this GE junk. GE used to have good products, now they sell trash. I give them ZERO stars. I won't even buy a GE light bulb. Whoever runs this company has trashed it good.

42" built in side by side - have been dealing with GE since 9/28/2016. Thought it was fixed. Repairman said it's all good! Went out and bought groceries... Same problem. Not cooling. All food went bad. Came back and said that he needed a second person. Second person did not show up! HE worked on it anyway. Said again all fixed. Nope! Same issue. I can't tell you how many hours we have waited for service people to come and then it still isn't fixed. They are now trying to say that it is not repairable. NEVER BUY GE.

Refrigerator gaskets on the GE CAFE COUNTER DEPTH unit began to tear within 2 years. Now, 6 years later, the freezer door gasket has completely cracked all the way around. For the amount of money this unit cost (as well as the MICROWAVE and OVEN) I would NOT recommend buying these. Repair parts (and/or service calls) will cost almost as much as full replacements. Oven and burner knobs blister and flake. Microwave touch panel failed within 3 years.

In 2005 I lost my home to hurricane Katrina. I lived with my husband and son in a small Katrina trailer for 3 years while we rebuilt our home. When we moved into our new home on the 3rd anniversary of the storm, I was so proud to see my beautiful, spacious, modern kitchen with matching stainless GE Monogram appliances! The very first week, I gave a birthday party for my husband and the ice cream was melted. From then on, we've had nothing but trouble with the freezer – I just replaced the door gasket and now it doesn't have the suction it used to. Ice builds up on the ceiling. The refrigerator is just as bad. No matter what I do to clean it, mold builds up on the racks, the glass shelves, around the door and even on bottles of condiments. I've thrown hundreds of dollars of food away. The shelves and vent are rusting as well.
My gas cooktop no longer has writing on the knobs or the control panel. When the first knob broke – the shaft is made of plastic that shattered – I ordered a replacement that was ridiculously expensive. Now, the rest of the knobs are glued and taped together because they, too, broke. I loved the pop-up vent because cooktop is in the middle island and I didn't want a clunky top vent. It only worked correctly about a year, is incredibly difficult to clean, and even after replacing the switch, rarely works at all now. The control panel of my double oven started to buckle before it was a year old and the seal around the window somehow allows steam, food, and liquid to creep in between the glass.
I almost forgot... I also had the matching microwave, but it caught on fire and I threw it away before it was a year old. I've had some inexpensive "off-brand" a friend gave me ever since. Thank goodness we have a very good friend who owns an HVAC business! He's at our house often. He just shakes his head when we call. It makes me want to cry every time I walk in the kitchen. I will never buy another GE product, and I hope those who read this don't either. Let my misfortune be a warning to you.

On August 29, I purchased a brand new GE washing machine and dryer. They both worked great until after the 3rd time I used the washing machine. Suddenly, the machine will fill with water; however, the agitator will not turn, so now I have a swimming pool for my clothes. I called both Lowe's and GE and was directed to the customer relations department to open a case.
A technician was sent on 2 separate occasions to diagnose the problem. The first time the tech came, he deemed there was in fact a problem, so he ordered both a motor and a lid locking switch to try and fix the issue. The second time that he comes to my home, he realizes that he is unable to fix the machine even with the new parts. He runs a diagnostic test and tells me that he is going to mark the machine as "condemned," and he doesn't blame me if I contact the store directly. He also tells me that GE often prefers the tech to work on the issue in someone's house where they have access to water, instead of in the back of a store where there is no water hookup.
Guess what, I don't care that you don't have water access in the back of a store. For all I'm concerned, you can take this piece of crap machine and fill it with water from the Chattahoochee River because it's useless to me. I once again contact GE to discuss my options, and I'm told that they have to send a tech 3 times in order to move forward. RIDICULOUS!
Not to mention that every time you call GE you are on hold for over 45 minutes before anyone even answers the phone. I call after the tech leaves my house for the second time and am told they are going to order another part. Question: If they don't know what's wrong with the machine, who is it that determines what part is needed to fix this malfunction?
Also, I am told that whatever this part is, is on backorder until the 30th. That will be nearly a month without a functioning washing machine. I'm on hold with them right now again as I type this, only after they answered an hour after I dialed their 1-800 number. I flat out told them that I want them to send someone to my house to pick up this machine and replace it with something else.
I will not continue to stay home and have my time and money wasted when they don't even know the cause of the issue. I am transferred to someone in management after 4 requests and am told basically the same thing. I let the man know that I will be blasting on social media and I will NEVER again purchase another GE product, nor will I recommend anyone else do the same. Their customer service is beyond horrible. I also advised him that I will take this piece of crap washing machine and drive it through the front window of the store if I need to. Thank you GE for wasting my time for nearly a month.

Removing ice build-up in defrost drain. Ice builds up in defrost and drain tube freezes up. This 3-4 hour process involves pulling the refrigerator away from the wall and removing all food and removing the ice in the drain tube with boiling water and a turkey baster. Added the recommended baking soda mixture. This the fourth time. This action lasts a month. There seems to be thousands and thousands of owners with the same problem. Sign me up for a class action suit because of the failure of GE to notify the public of a problem and to recommend a solution to alleviate this problem. Many have reported that repairmen generally refuse to work on this product. Some owners have report the cost of the repair as much as $800. UPSET OWNER OF A GE REFRIGERATOR. Model GFSS6KKYCSS.

My wife and I purchased a GE Profile Refrigerator and 5-year protection plan from Home Depot in 2013. The refrigerator is wearing down rather quickly. Gaskets have been repair and the motherboard failed over a week ago. Regretfully, I am still waiting for parts and am going on two weeks without a refrigerator. It sad that a product that cost so much is made so poorly. I have had issues with my other Profile appliances as well. This extended warranty covered repair is rather costly for a family of five. Eating out is expensive. I wish I never bought your product.

I purchased the GE gne25jmkbfes in Sept from a local appliance store. Have had nothing but nightmares with this fridge. In less than a month I had 5 service calls, freezer not freezing, very loud cranky sound from fridge, and finally the most horrendous odor emitting from fridge that I can't stand to open the door. After the final service call the service tech from where I bought it (who by the way have been fantastic) called the owner who in turn called GE stating the unit was a lemon and needed to be replaced. They were more than willing to deliver the new fridge. However GE wanted to send one of their "own people" since the unit was bad. The contracted delivery people arrived today but would not remove old and bring new into our century home because door needed to be taken off hinges to get thru our door (even tho they said it was a 30in.). So they left with the replacement. I spent the rest of the afternoon trying to resolve this issue.
The end result being that none of "their delivery people" was willing to take off door to get fridge in the house but that they had spoken to the store I purchased from and they were willing to deliver it (they had ask to do the exchange in the first place). The kicker being that they couldn't get anyone out to the appliance store until next Tuesday...2 days before Thanksgiving. I argued with 2 different "customer care" people that it is insane that no deliveries could be made to AN APPLIANCE STORE for a week.
When ask to speak to someone above them as I believed I was due some compensation for the missed work and grief I have been through her response was "We are compensating you, we are exchanging the unit". Excuse me...you think that replacing a brand new defective piece of ** that I paid a lot of money for is compensating me. I have never in my life dealt with such rude uncaring customer service! Thank God I purchased an extended warranty from the wonderful local store I purchased it from. Looks like if I ever get this resolved. Lesson learned...GE makes junk!!!

I purchased Refrigerator top freezer GTR128SXABS in 2015. The refrigerator was just out of warranty and stopped cooling. I paid for a service call and was told the gas had to be filled. This was done and it worked for a couple of months. Two days ago - same problem - not cooling. Called a different company and was told that the gas is leaking. Because it is a closed unit they cannot get to the leak. Advised to trash it! Will not be buying GE again.

We purchased this GE Cafe refrigerator along with 6 other GE appliances for our new custom built home. They were recommended to us by our contractor. We purchased them in a local store. The GE Cafe has a leak-proof shelf installed that cannot be removed. This shelf is not leak proof. Within one year a substance leaked onto the shelf and seeped under the glass and between the frame. This cannot be cleaned, the shelf cannot be removed and GE wants $99 to come out to look at it and then charge for parts and labor if they can fix it. We were on hold for over an hour and had to call twice. You will see by the images that it is disgusting every time I open my refrigerator and embarrassing for guests to see it. I am not recommending this product or any other GE product due to the lousy customer service. How dare they charge to replace something that did not meet their promised standard after less than a year of usage.

GE fridge model # PNR22LSEBFES - bottom drawer freezer. Fridge is 2 years old. In June of this year the motherboard went. Food in fridge was lost. Woke up today and everything in fridge is frozen solid. I can play baseball with my fruit. Have a second warranty call going in. Thank god we bought the extended warranty. Zero compensation for my lost food though. This is becoming expensive. I contacted GE and they said there is nothing they can do as it is under an extended warranty. Please do not buy a GE fridge unless you're in the habit of throwing away good food. I just want people to be aware that this is not a quality product and GE apparently will do nothing.

GE 7 yr old 3 door ref. bottom freezer. Icemaker went out 2 months ago, one month late freezer out, one month later, refrigerator out. I had two very reparable repair men come out. 1st referred by Howards in Laguna Hills where I purchased it. 2nd referred by Sears. Both would not work on it because the parts are Samsung and they won't work on these components. I called GE. Their repair was $890. And that was with 50% of parts. Why would I send money on a bad refrigerator. Repair man said this machine was crap. And they didn't charge me a dime!
GE model GFSS6KEXASS. $2500; from Howards, who doesn't do repair work anymore (wonder why). After I had it a 1 year no problems I had my company (a local municipality) buy 3, and my brother bought 1; all now have problems (theirs units are 4 yrs old). We need to get GE to stand behind their the Samsung parts. Most repair companies will not work on them. Even GE said that my repair guy Little Cesurs in Laguna Liguel is a good repair company. But they can't say the best about them!! Let's file a class action suit. Howards has my information. My salesman was Mike.

I purchased a GE Refrigerator, Range and Dishwasher. I have had multiple issues since my purchase beginning with delivery. When the appliances were delivered the delivery crew noticed a dent on the left door of the Refrigerator. They left this unit as a loaner and on the 19th arrived with the new unit, and informed me it was standard practice to just switch out the doors, which I was okay with. While cleaning the new appliances I noticed what I thought was a smudge on the glass top appears to be a defect under the glass. After spending a hour on the phone I was finally able given an appointment for a service call. This interaction was not very pleasant. This service rep was Michael, ext **.
Later this same day I was at the Home Depot and I was mentioning my issues with the new appliances, and I asked the Home Depot representative about the Refrigerator. I mentioned that they replaced the door that was dented, but the doors no longer line up. She said I should contact GE to have it looked at. I told her about the service call on the Range and asked if she thought that I could have the refrigerator looked at when they were out for the range. She said "I would call GE to confirm."
I then went home, I called GE, and spoke with a woman, who I explained the situation to. She told me it was not GE's fault or issue, and that I needed to speak with Home Depot. I questioned what she was saying and she then advised me that I would have to pay for an out of warranty service call. She was rude and not helpful. I then went back to Home Depot and spoke with the store manager who called GE. I was given the phone and a lady asked me for my phone number, my name, address and etc. She then asked for the model number and serial number. I was unable to give her the serial number because it was not on any of the paperwork I had brought with me to Home Depot. And I brought every piece of paperwork I had. She said I would have to call back later with the serial number.
I returned home and called again. This time I spoke with Jack, who was very helpful and explained the procedure, but he never asked for the serial number. He said he had all the information that was needed, already. Now on October 27th it has come to my attention that the appointment for the refrigerator repair was cancelled, for confirmation number **, by someone within your organization. I have had several unpleasant interactions with your customer service department, and you have cost me considerable time. The stress and inconvenience of purchasing your appliances and all the run around I have had to endure is incomprehensible.

First, due to the dimensions of the space I was limited to a selection. Since this model GTE18LMHBRES was the maximum height I could use without completely remodeling the kitchen, I bought it. It was the new smoky gray color vs stainless steel and it is nice and does not show all the fingerprints that stainless does. From the FIRST day, the freeze door would pop open when we closed the refrigerator door.
It was under warranty and I called for a repair. The repairman simply blamed it on some loose plastic bags near the back vent of the freezer. THIS WAS not the cause. That freezer has been empty and the freezer door still pops open EVERY TIME you close the refrigerator door. Empty or full. The magnetic seal is not strong enough to keep it closed. This is a design flaw. BAD product, bad design, bad warranty service imo. STAY clear of this GE product. I am going to try to get it fixed again under the extended warranty. IF I am successful, I will update this review. Thank you.
Updated 12/1/2016 - I promised to update my review of October 2016 after the service call. The service man arrived as scheduled and advised he would need to order a new gasket but to expect to see the same issue. He also mentioned that all refrigerators do the same thing, i.e. freezer door pops open when the refrigerator is closed. Sorry, I can't agree with that statement at all. Part received and he returned to replace the gasket. It did not make any difference. The freezer door still pops open when you close the refrigerator door. Think kids, teenagers, rustling through the freezer after school. You can imagine how annoying, in addition to the waste of energy, when you notice the freezer door is popped open AGAIN. I would never, ever recommend a GE refrigerator to anyone. Very unhappy and stuck with a lemon. Thank you.

Purchase the refrigerator 8 years ago, and have had to have it repaired 3 times! First time was because it was freezing up in the back portion of the fridge. They put in a heat probe to counter the issue. Within 2 more years, the same issue. Now it is happening again, but this time, the water through the door and ice maker is frozen and does not work either. I unplugged it and let it defrost and cleaned out all the ice. The water worked for 2 days, so, I know it doesn't work because of the same exact issue. Today I was scheduled for a service call, that I scheduled 8 days ago. Received my first call, saying the technician was on his way.
However, since I missed the technicians call 10 minutes after that, GE called to let me know my appt. was cancelled, and I had to reschedule. I tried to call back immediately, but the service techs telephone number did not registered on my iPhone and so I had to call the 800 number. After 10 minutes of automated service BS, I finally got to talk to someone. She called him and he was already out of the area. This all happened within 20 minutes!! Now I have had to reschedule! I asked the service rep why they would cancel. She said this is the first time she has ever hear of this happening. REALLY!! I WILL NEVER BUY GE PRODUCTS AGAIN! Bad service and products!!

After reading all of the horrible reviews about GE, I must say I am quoting someone else with this catch phrase: GE JUNK. Don't buy GE. Sears appliance repair charged me $150 to tell me to buy a new frig. Disappointed in both.

I will never in my lifetime ever recommend in my lifetime to anyone to purchase a GE. I am so disgusted with them that if I could I would get rid of all my GE products and change them all. They have made my life for several months a living hell with my fridge. I had to open a case with them got a person named Marie with her personal extension and never go to talk to her. I have purchased from Sears and never had the experience that I had with this company. Disgusted to the nines, I hope never to have to deal with this company again. Hate them all - on a scale from 1 to 5 I rate them a zero.

I purchased a French door refrigerator model gfss6kex. In about two years the ice cube maker broke, cost 300.00 to fix. Bought bagged ice instead. Next my freezer stops working. Repairman say 900.00 to fix and one week later the refrigerator quits. Now I have a stainless steel box in my kitchen that isn't working. In my previous experiences with GE they were of decent quality. Obviously not any more. I will never buy another GE or Samsung product and will discourage anyone from buying one. I called to talk to someone from GE CARES and was put on hold for 15 minutes, finally hung up. People don't buy GE. They are junk in my experience and what's worse they have no concern at all about your problem.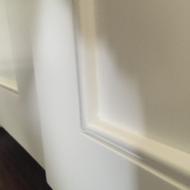 We built a new home and purchased a GE Monogram 42" side by side refrigerator that we could put panels on to match our cabinets through our builder. The first refrigerator brought to our home was broken and could not be installed. We had no refrigerator for 2 weeks until a new one was delivered. The 2nd one has issues with the doors scraping together when opened, the doors do not line up with each other when closed and the panel to access the filter, etc stuck out past the doors at the top. After a minimum of 5 appointments with technicians, the builder and installers we were told the seals on the doors would settle and eventually line up and be flush.
10 months later they look exactly the same, still scrap and the springs had to be removed from the top panel to make it not stick out. We had another appointment with a technician and were told that there is nothing they can do, these are cosmetic issues and do not affect the refrigerators sole purpose of keeping food cold. When you spend $8000.00 dollars for a refrigerator with paneled doors to match cabinetry, it is obvious this refrigerator was not purchased for the sole purpose of keeping food cold but also for the cosmetic features. We are furious with the treatment and disrespect we have received with GE and will NEVER purchase a product from them again! Buyer beware!!!

ConsumerAffairs Research Team
The ConsumerAffairs Research Team believes everyone deserves to make smart decisions. We aim to provide readers with the most up-to-date information available about today's consumer products and services.
GE, or General Electric, is an American appliance manufacturer headquartered in Fairfield, Connecticut. The company ranks as the 26th largest firm in the United States, according to the Fortune 500.
Energy efficiency: General Electric refrigerators are mostly Energy Star appliances, which means big savings for users and a 20 percent improvement over standard refrigerators.
Features: GE refrigerators offer a number of unique features, such as digital water dispenser readouts and temperature-controlled drawers.
Capacity: GE offers a wide range of storage capacities in its models, ranging from 4 cubic feet to more than 26 cubic feet.
Styles: GE has many different styles of refrigerators, from bottom-door freezers to French doors and everything in between.
Handicap accessible: Some of GE's fridges are designed to make them easier for handicapped people to use.
Best for Consumers who need a reliable refrigerator for home use and like a wide variety of options.
GE Refrigerators Company Profile
Company Name:

GE Washing Machines

Company Type:

Public

Ticker Symbol:

GE

Address:

3135 Easton Turnpike

City:

Fairfield

State/Province:

CT

Postal Code:

06828

Country:

United States

Website:

http://www.ge.com/