Haier Refrigerators
Haier designs solutions to enhance consumers' enjoyment of home at every stage of life—from university to first apartment to all shapes of family living. Each solution champions intelligence, individuality and the human drive to create the perfect home, so that each interaction with the consumer is a new opportunity to bring ease and joy to everyday life.
Consumer Complaints and Reviews

Don't buy Haier! I spent $2,200 on a large fridge/freezer unit. Within 6 months, it overheated, and I had to get a repairman in to replace some faulty units in the door. It worked fine for a little while after that, but now it has started simply not cooling every three months. Of course the continual problems started out of warranty. Everything in my fridge is currently room temperature, and although items in the drawers are still frozen, the freezer unit says the temperature is 13 degrees. Each time, it costs me $142 in service charges, plus any parts.
If you take into account all of the food that has been thrown out to date, plus what I will need to throw out now as they cannot get here until tomorrow morning, my fridge/freezer unit has already cost me around $3,000. It's a piece of ** and I will never buy Haier products again. I have also made many social media posts warning others to never buy them either. I have made a separate post about the piece of ** dishwasher that I bought at the same time and have used for a grand total of three times before it died.

Haier HRF-663 DT A2 refrigerator. Have purchased this refrigerator a huge 1 last year for 60K and now I have pay for repairs 7k as 1st year is just over. It's really disgusting after buying a product with warranty of 11 yrs. I have to pay such huge amount. Am sure it's a defective product but Haier is not ready to replace. Won't buy Haier ever again. DO NOT BUY HAIER EVER.

I purchased a Haier refrigerator less than 2 years ago and I am now purchasing my 4th refrigerator handle. We have no children at home and there is no reason outside of a defect for this handle breaking off. I'm very disappointed in the noise and the temperature control of this refrigerator as well. I will NOT buy another Haier.

We bought a Haier refrigerator 2 years ago and have nothing but problems with it. First of all, when we bought the refrig at Lowe's they did not mention that the refrigerator cannot be put in a garage because the freezer will not stay cold under 50 degrees. I had called Haier customer service and the first thing the agent asked was "Is it in a garage?" That's when I found out about the refrigerant not working under 50 degrees. So during the winter we must remove all frozen food until the warmer weather. Then recently we have been having issues with the refrigerator not staying cold. It seems the freezer is not creating enough cool air to feed into the refrig. I am actually afraid to call Haier and report the problem for fear of getting pushed off and ignored. I will not be buying a Haier product again.

My Haier mini fridge has decided to start freezing all of my food. I guess that I was lucky because it appears my fridge lasted a little longer than most of the folks writing these reviews. I did have other problems through the life of the refrigerator such as the plastic piece which keeps the freezer door attached break, so I had to super glue it back together. The freezer would also grow ice at an astounding rate especially in the humid season. Luckily, I live in Arizona and was able to bring it outside to melt off real quick. I was thinking about giving this refrigerator to someone to fix, but as I see this will be a wasteful task. So goodbye Haier, never again.
How do I know I can trust these reviews about Haier?
639,780 reviews on ConsumerAffairs are verified.
We require contact information to ensure our reviewers are real.
We use intelligent software that helps us maintain the integrity of reviews.
Our moderators read all reviews to verify quality and helpfulness.
For more information about reviews on ConsumerAffairs.com please visit our FAQ.

I bought this frig at Smith City on 6th June. Yesterday we noticed a terrible smell and the frig had stopped running cold and was running hot, everything had gone off. I took photos of the meat and stuff and sent an email to Haier with no reply. I tried to phone them several timers and just can't get through. At last a man at Smith city got through and an agent is coming next Friday, so in the meantime we go without a frig. What sort of service is this. The frig was bought in good faith.

Bought this unit 12/21/2015. Compressor stopped working. Have called Haier twice. Service was supposed to contact me within 48 hours. Hasn't happened yet. Tried tracking my repair order. Doesn't exist.

Had not owned the refrigerator 2 weeks and bottom of handle came off refrigerator. When I called Lowe's, I was transferred to Haier company. Lowe's is not allowed to service Haier refrigerators. I had bought an extended service contract on the item. Haier would not send someone out to fix it. The rep said they would send the part to me and I would have to fix it. Not the way to do business, plus, the rep was very hard to understand.

I purchased a Haier Mini Fridge a few years ago from Wal-Mart. Worked fine for the first year, but now it makes this annoying shaking sound when it's cooling that makes it a horrible idea for near where you sleep. Something is shaking so bad inside it that I am ready to take a baseball bat to it. I will never purchase another Haier product for as long as I live.

BUYER BEWARE. We purchased a Haier Fridge for our home in Costa Rica through PriceSmart (similar to Costco, etc). It was a bottom fridge with french doors that looked great. Within a year (after the guarantee expired ), the paint on the handles and edges of the doors wore off, the fridge froze food, made noises and the french door closure broke. We had repair man come out many times and have not been able to find repair parts for the french door closure. A very beautiful looking fridge but THE WORST refrigerator that I ever had. Finally giving up on it. DON'T BUY one.

I purchased a Haier refrigerator from Lowe's in Aug 2015. It is not cold & my food is defrosted. I contacted Lowe's for warranty repair & was told that Haier handles their own warranty issues & they transferred me to them. I was connected to a gentleman that could barely speak English & it took me more than half an hour to actually get to the point that I had to contact a repair company – Appliances Unlimited for a service call.
I called them & was told that they had to receive a ticket from Haier to schedule. They did call me back & said they could come 1 week from today. I explained that this is a refrigerator & what do I do to keep my food for a week. Basically, they said nothing. I called back Haier to see if there was another company for service & was told they would have someone get back to me within 3 business days. That would be a Friday & I still would not get a service call until next week. When I brought this to the rep's attention, she did not have an answer. DO NOT PURCHASE ANY HAIER APPLIANCES. I called back Lowe's to make them aware of service problems on appliances they sell & they said there was nothing they could do about it. I will never purchase any appliance from Lowe's or Haier again.

Like everyone else the freezer freezes up and fridge gets hot. What do we do just let them sell this JUNK. Lowe's should also be held accountable. They still sell product and know that it is JUNK. I will not EVER shop at Lowe's again until they drop this brand and at the least buy me $100.00 worth of food and apologize.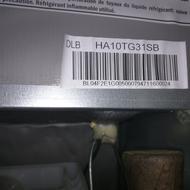 We purchased an apartment sized refrigerator in Feb 2016. After installing in our 'stationary' RV and plugging in the unit cooled the freezer to just above freezing the first day, cooled even less the second day and stopped running altogether the third day. Because of health problems involving hospitalizations and numerous Dr. visits we did not call for warranty service until April 4, 2016.
We were informed that being installed in a vehicle voided the warranty. Telling them the 'vehicle' was stationary and our full time residence was rejected. The warranty states "this warranty does not cover the following: damage from use other than household." Informing them the RV IS our household fell on deaf ears. After reading the other reviews here I certainly will never purchase another product made by Haier under any name.

I'm not one to rant online when something goes awry, but after being on the phone with Haier for the last 30 minutes; I had to share my story. My boyfriend bought me a black Haier 1.7 cu ft mini-fridge for Christmas 3 months ago. It stopped working today. I went to the user manual, and completed the troubleshooting steps provided. It didn't work. I went to the limited warranty section, and called the number listed.
The first gentleman I spoke to took all of my information, and noted that I had registered the fridge online like you're supposed to. However, he told me my fridge was not covered because it was located in my office. I told him that was not mentioned in the warranty section which I read in its entirety. I also explained to him that I was the only one who used it; that it was not a community fridge. It's in a small room with me by itself. He stood his ground, so I asked to speak to his supervisor who told me the same thing. I asked to speak to the next level up, and it wasn't until then that I was told the fridge was under warranty since I was the only one who used it. It took 3 people and 30 minutes of aggravation to get that answer. Not only that... I have to take it in myself to Smithfield which is 45 minutes away. Needless to say, I will NEVER buy from Haier again. I'm taking this straight to the dump.

My husband and I purchased a Haier refrigerator in August of 2015. Less than five months later, our food in the fridge began to stink and the kids were complaining that the milk was warm. NO COLD AIR was making it to the refrigerator section even though the freezer was full of ice and you could hear the compressor. We called Lowe's where we had purchased it. They told us that fridge was only guaranteed by them for thirty days (never told that at time of purchase).
After two more calls to Lowe's, we were finally given the contact number of Haier's. Haier's claimed that they had no service technicians in our area, but they would send one to our house in two to three days. We are still waiting - over a month later!! We have lost lots of food and are dependent on an old freezer and fridge in our garage. This company is a joke and I will never buy another thing from Lowe's since they are selling such inferior items. The booklet that comes with the refrigerator clearly states it is a "frost-free appliance" - what a lie!

Junk is too good a word to describe this brand refrigerator. I bought this fridge April 2015, around Thanksgiving, the bottom stopped cooling. It's now Feb 2016, and this morning the bottom door handle broke off. After reading comments on this thread, I realize I'm not alone. I will NEVER under any circumstances buy anything with name Haier attached to it.

I purchased a portable refrigerator in March 2015. Started using it in September and it will not come on. Also, I purchased it from Lowes. I do blame the distributor as well as the manufacturer because there are too many complaints to continue to sell these defective products. They should demand better from the manufacturer. I will not recommend nor purchase this brand ever again.

BUYER BEWARE! I BELIEVE HAIER IS MANUFACTURING A PIECE OF JUNK THAT'S DISGUISED AS A REFRIGERATOR. Like a previous reviewer, I thought Haier was a German company with a good reputation. As it turns out, it's a Chinese company and it's manufacturing a terrible product. Purchased this 20 cu ft Haier refrigerator from Lowe's for $800. I won't buy appliances from Lowe's ever again. They don't stand by what they sell.
Lowe's passed me off to the U.S. Haier customer service folks once the unit stopped cooling after just 3 months. The service folks responded quickly and arranged a repair. It took 10 days to get a Haier certified repair person to get here. When he did arrive, he basically told us that he is seeing a lot of this problem with this particular brand. Problem is, this refrigerator is not frost free. The freezer frosts up quickly and causes the compressor to stop working. Basically, there is no fix.
Consequently, we are suffering the never ending cycle of freezing, seizing up, warming and melting then slowly cooling yet never getting cold enough to keep food from spoiling once the freezer compartment frosts up. What a piece of garbage this unit is. We keep losing perishable food. This has been a terrible experience. Waste of time, effort and money. DON'T BUY A HAIER unless they address these issues and start manufacturing a better product!!!

We purchased a Haier refrigerator from Lowe's 5/3/2014. When the installer attached the plastic handle with metal screws, I heard a cracking noise, but did not see any visible damage. Then shortly afterwards, a hairline crack developed near where the metal screws attached handle to refrigerator. Then yesterday, when opened the refrigerator, the handle came off of the refrigerator breaking where the screws went through the plastic handle. I called Haier, and we could purchase a new handle. I told them that it was a flaw in the design to have metal screws through plastic that near a joint. They repeated that all they could do was to SELL me a new part, and would never admit that is was a faulty design.

BUYER BEWARE! Our company bought a small refrigerator 4 months ago for our business in Temecula. The compressor has since stopped! I called the manufacturer to report this, and I was informed that the warranty was only for 3 months for a commercial unit. Convenient right? They sent out a service technician who wants to charge $268 to put in a new compressor! I would never recommend this brand to anyone plus the company has the worst customer service ever!

I had the Haier refrigerator about 4 months and the handle broke off. I glued it and it came off again. Then about 8 months later the fridge starting get warm, and the freezer was ice cold. So I call about it and of course my warranty had expired about 2 weeks prior.

I purchased this Haier Dorm Size Refrigerator in July 2015 from Walmart. It's only been 6 months and I'm having problems with it. It freezes up with ice on a setting of 1 and the bottom items (juices or water) doesn't get cold because of this problem! It's so annoying because it MUST be defrost every two weeks. Stay far Away From this name Haier. It was my first purchase using this name and it's my last!

We have been married 48 years and have always had a Sears refrigerator. This time we went to Lowe's and bought a Haier since this store was closer. BAD MISTAKE. We bought it in November and bought the extended warranty. In June, the handle broke off, we fixed it with glue. In August, the freezer was not defrosting and the refrigerator was not keeping the food cold. It took a week to get a repairman to come out on September the 4 to fix it and in the meantime, we lost all our food. Ten days later, the freezer quit working and everything defrosted. Also the food is not staying cold. Again, a loss of food and a week before someone comes out. We have NEVER had anything like this. I do not know what the order number is. We just wanted to let the BUYER BEWARE of Haier. We should have stayed with Sears.

Same thing as most people have stated - undependable, not frost-free, freezes things if not insulated against it. Now just died with lost food going in the trash. Limited warranties stores sell are generally crap, just another income stream. What I do know is when you complain don't call the store - it's useless. In 10 seconds you can Google and find the store CEO's email and phone and go there. You won't get the CEO but the people in their office don't want someone calling there daily as I tell them I'm about to do! I got back $2,400 from Home Depot on a 4 yr old lemon refrigerator and still have the refrigerator which had an unusable door mounted ice maker. We have to stand up for today's total lack of striving for excellence!

I purchased a Haier refrigerator from Lowe's in October 2014. In January 2015 (three months after purchase), the unit began going through cycles where everything in the refrigerator would freeze. A technician came out and diagnosed the problem. A new thermostat was ordered, and the unit was fixed or so I thought.
Fast forward to July 2015 (nine months after purchase), the unit broke down a second time in less than one year. The unit was not cooling; the freezer was 40 degrees and the refrigerator was 60 degrees. The repair company contracted by Haier became difficult to work with. They would not answer their phone or return voice mail messages. They kept the refrigerator 19 days, five days after confirming that it was fixed. The unit was returned with scratches and a two inch dent in the front door.
Haier was no help in relieving my concerns that I had a faulty unit nor helping me get satisfactory service. Haier refused to replace the unit and they refused to allow me to use a different repair company. They also declined to extend the warranty, and went as far as saying the unit works with a dent. So far it is working, but based on history, I'm not confident it will last for long. Save yourself the heartache that will come if you purchase one and don't do it.

Purchased a Haier fridge from HHGregg in April, 2015. Handle fell off after 4 months. Had to send Haier pictures before they will repair fridge. What kind of stupid stuff is this. Sent pictures twice. Do not buy refrigerators from HHGregg. They will not repair it, but will refer you to the manufacturer.

I purchased a Haier Refrigerator in 2014. It wasn't our main refrigerator only a backup that we kept in the garage. The reason I purchased a Haier refrigerator was because of the freezer light and I liked the way it looked. However, a year later I noticed the freezer wasn't keeping food items cold. Soon afterwards, I noticed the refrigerator compartment wasn't keeping items cold either. I called Haier and then found a service man to come to my home and check it out. He checked it out and discovered the coolant had leaked and collected into a ball of ice. He took pictures and sent the information back to Haier. Haier said they would refund my purchase from Lowe's. I purchased another refrigerator and am waiting for credit from Haier. I would purchase another Haier product but they need to make minor manufacturing adjustments before I do that.

June 17, 2014, I bought from Lowes, a Haier refrigerator thinking it was a European product, since have learned it is Chinese. From then until 1 year later, their repairman came 5 times for the same problem which was never completely resolved. I called 6/26/2015 with the same complaint and was offered a 1 time courtesy repair. As of now 7/19/2015 the repairman will not answer my calls, 3 times Haier has said someone will call me and they haven't. Lowe's was told there was no service records available when they were going to assist me. I have a receipt but don't know how to send it in an email. This has been a nightmare, lost food.

Sadly, I agree with all of comments that I have read about poor quality, noise, etc. I bought a 3.3 Cu fridge/freezer compact unit for my college son in summer of 2013 from Best Buy. It no longer keeps items cold enough no matter the setting. Bought a refrigerator thermometer and will not cool to proper safe zone. Manufacturer will do nothing. Haier states warranty only good for 1 year. Will provide # for service but I need to pay for repairs on our dime. Have my husband's fridge from the mid 70's which still works great. We thought we were buying a more energy efficient unit, instead it is just another item for the waste. Very disappointed. Do not recommend.

Just purchased a Haier refrigerator two weeks ago. Freezer works fine but two weeks later fridge part stopped working. Defrosted everything and put it back on and still not working. I've read all these complaints and see I should have done my homework before buying this unit. I have copied all these complaints and contacted Consumer Affairs for their history and have turned the information over to my son who works for the senate. Let's see what happens.

ConsumerAffairs Research Team
The ConsumerAffairs Research Team believes everyone deserves to make smart decisions. We aim to provide readers with the most up-to-date information available about today's consumer products and services.
Haier is one of the largest home appliance companies in the world. The company began in Qingdao, China and was founded in 1984.
Affordability: Haier is well reputed for making high-quality appliances and selling them at affordable prices.
Small size options: The company offers a wide selection of smaller fridges, convenient for customers who have a small space but want a bigger selection of fridges to choose from.
Eco-friendliness: Haier offers products with Energy Star ratings, which means that they use less energy than the traditional refrigerator and are better for the environment.
Access: It's easy to locate Haier refrigerators because the company distributes to more than 100 countries.
Community focus: Haier focuses on doing good in the communities the company is based in, and it recently launched a program with the Food Bank for New York City.
Best for Homeowners and college students looking for a wide variety of products.
Haier Refrigerators Company Profile
Company Name:

Haier

Company Type:

Private

Year Founded:

1999

Address:

1800 Valley Road

City:

Wayne

State/Province:

NJ

Postal Code:

07470

Country:

United States

Website:

http://www.haieramerica.com/