Consumer Complaints and Reviews

In summary we have bought LG Fridge and the first time it malfunction in less than 5 years the formal support in Egypt came. They took the malfunction electronic card but never showed up again for more than 3 months and left us with unfunctional fridge. Last week they returned it unfixed to tell us that we have a piece of scrap metal in our home that cannot be fixed by its own company!!! It is a total failure to be unable to fix your own products in less than 5 years for the first time it malfunction. I am searching for a lawyer to sue them.

LKX31925sw french door refrigerator - Had repairs made about 6-8 times with no luck. They don't know what is wrong with it. Had several parts replaced, ice has been building up on back wall of freezer and they don't know why. 5 year extended warranty ending in Aug. 2017 and I have them returning Sat. for another time to try and find the problem. I called warranty co. and Sat. is the ONLY appt. available she could find ANYTIME. I was told about Clark v. LG Eectronics USA Inc case 3:13-cv-0485-jm-jma, I mailed claim form in on 4-8-15, nobody knows anything about it. Price of fridge was $2732.75 including tax.

Refrigerator: Model No. LFX31945ST 3-door LG Ice & Water Stainless Steel 28 Serial No. 207KRWZ0A593 purchased on 09/16/2012 from hhgregg 1321 Huguenot Rd. Midlothian, VA 23112. Contacted LG Service Department on 07-01-13 Ref: Ice Maker. 07-03-13 Service Technician came out and ran a diagnostic on unit, determined that compressor was bad and had to order one. 07-06-13 9:20 PM Contacted service center and was advised that technician was due on Monday 07-08-13 between 8:00 AM and 12 Noon to replace compressor. 07-09-14 Contacted service center about noise coming from back of refrigerator. They advised that this was normal. 08-15-14 Contacted service center about noise coming from back of refrigerator. They advised that this was normal. Unknown date contacted service center concerning error codes "er rf" on display unit. Technician scheduled to come out on 10-01-14.
10-01-14 Service technician arrived to check on noise and cooling issues. Coil and fan motor frozen with ice. As technician was removing inside grille to get to fan he broke the grille. He defrosted the ice from the fan motor and replaced the grille with one he had in his truck. Set temperature for refrigerator to +34 degrees and temperature for freezer to -1 degree. He wrote up the service ticked and charged $81.98 for the "Duct Assembly, Multi (item number: **)" that he broke plus the $120 for service call plus $4.34 tax on the replacement grille part. 10-06-14 Sent Fax to a ** in the Alabama location concerning telephone conversation in which he advised LG would reimburse me for the cost of the repair part plus the tax. Fax included cover sheet, two page service ticket and copy of purchase order from hhgregg.
10-22-14 Called service center and after a 20 minute hold to verify my status, was advised that I should hear from Alabama around November 3rd. 07-10-15 Around 4:52 PM Eastern Time, called service center and advised them that freezer was not freezing (temperature was 62 degrees and rising) and that all food in freezer had spoiled. Furthermore, the refrigerator temperature was almost 70 degrees and food had spoiled. Additionally the unit was making a loud motor noise in the rear of the unit. After trying to explain the issue over and over again I requested to speak to a supervisor. I was placed on hold for 38 minutes and 26 seconds until I disconnected the call from my cell phone, but not before I had called the service center again from my house phone.
It was only after I explained everything again that I was informed that the executive staff (supervisors) department closed at 5:00 PM and that I could not run the "Smart Diagnostic" over the telephone because all of the service technicians in their department had also gone at 5:00 PM, that I would have to call back tomorrow on 7-11-15. The service center advised me that the service warranty had expired and any service call would be $120.00 plus parts. This was mentioned on three different times during the call. I did manage to schedule an appointment for a technician to come to the house on Monday, 7-13-15 between 1:00 PM and 5:00 PM. Total time on the telephone service call was 58 minutes and 44 seconds.
7-11-15 Called the service center again and had to explain everything that I explained twice the night before. After requesting to run the "Smart Diagnostic" I was placed on hold then performed the diagnostic. After a delay they informed me that the diagnostic did not come through and we had to do it again. Once that went through I asked what it showed and was told that they did not know, that someone from the technical staff had to review it. They told me that they could schedule a technician to come out to the house on Tuesday afternoon on 7-/14/15 but there would be a $120.00 service call charge plus the cost of any parts. I then asked to speak to a supervisor and they asked me what that was about.
Finally after going back and forth with them I was placed on hold for about 12 minutes before a supervisor identified as ** came on the line. She asked what the problem was and then placed me on hold while she brought up my file on her computer. That took another 5 plus minutes. Finally after explaining everything to her about the previous night and current call she placed a one-time extended warranty on the unit and gave me an authorization number of: **. She advised that she could get a technician out on Tuesday afternoon 7/14/15 and when I told her that I had one already scheduled for 7/13/15 she confirmed it. This call was then terminated after 58 minutes and 11 seconds.
7-13-15 Contacted by service technician at 3:12 PM who advised that he would be arriving in about 20 minutes. He asked what I thought was wrong with the unit and I replied that I thought that the compressor had gone bad. I explained the temperature readings and the noise it was making. He stated that if it was in fact a bad compressor that he could not fix it today as he did not have one with him and would have to order one. He arrived at 3:38 PM, removed the lower back grill panel to access the compressor and noticed a lot of dust on the evaporator coils. I asked him if I was supposed to remove the rear access grille to try and clean the coils and he advised against it stating that it could damage the vanes on the coils.
He went back out to his truck to get his gauges and checked the compressor which he determined was bad. He advised that he was fully booked for tomorrow, Tuesday, 7/14/15 but would press his schedule and plug me in on the end of the day. He departed at 4:04 PM advising that he would call when he was on his way out to replace the compressor. 7-14-15 Around 1:23 PM service technician ** called to advise he was on his way. Compressor delivered via FEDEX this afternoon and left at the garage door. Technician arrived at 1:30 PM, completed compressor swap and departed at 3:30 PM.
06-04-16 Noticed that items inside the refrigerator were not as cold and normal that that on several occasions milk and dairy products were spoiling before the "Best if Used By" dates. The inside temperature of unit felt cool and not cold. Placed thermometer inside the refrigerator portion of the unit and began taking readings. Also noticed that freezer unit was not as cold as it should be also. Placed thermometer inside the freezer unit and began taking readings as well. Temperature settings on the panel are set the same as the technician left them on his last visit on 7/14/15. Refrigerator set to 34 degrees and freezer set to -1 degrees.
06-05-16 At 9:00 AM took temperature readings. Refrigerator was showing 48 degrees on a dial-type thermometer and freezer showing 5 degrees on a digital thermometer. 06-05-16 At 3:00 PM took temperature readings. Refrigerator was showing 50 degrees on a dial-type digital thermometer and freezer showing 8 degrees on a digital thermometer. 06-05-16 At 9:30 PM took temperature readings. Refrigerator was showing 46 degrees on a dial-type dial-type digital thermometer and freezer showing 7 degrees on a digital thermometer. 06-06-16 At 10:00 AM took temperature readings. Refrigerator was showing 48 degrees on a dial-type digital thermometer and freezer showing 8 degrees on a digital thermometer.
06-06-16 At 11:32 AM called LG toll free number (800-243-0000) received recording and sent link for self-diagnostic. Performed self-diagnostic as per link and advised to contact LG repair at (866-558-2559). Refrigerator was showing 50 degrees on a dial-type digital thermometer and freezer showing 6 degrees on a digital thermometer.
06-06-16 At 12:10 PM called LG toll free number and automated system advised they would call back within the next two hours. At 12:15 PM was connected to a Customer Service Rep in the Philippines. I requested several times to be connected to an American Customer Service Rep in the United States but was told three times that there were no US representative at their location. After my fourth attempt I was placed on hold. At 12:18 PM the Philippine rep came back on the line and advised that they did not have a US contact number. I requested to speak to a supervisor and when queried as to why I explained that I wanted to speak to a US rep and that her service center should have a number. She put me on hold again.
At 12:21 PM she came back on the line to advise she will transfer me to a supervisor. At 12:27 transferred to ** in the Alabama office. After trying to explain my issues with her she placed me on hold several times explaining they are using new software programs and have glitches. She is trying to plug in the extended warranty on the unit. She returned on the line to advise that she had scheduled the technician ** to come out between 8:00 AM and 12:00 PM under Authorization Number **. She further advised that this authorization included the service call plus parts and labor. ** also provided a direct number to the Alabama Service Center at **. The telephone contact was terminated after 50 minutes and 47 seconds at 1:00 PM.
06-07-16 At 11:15 AM received call from Service Tech who advised that he would be out within the next 15 – 30 minutes. He arrived at 11:35 and performed a refrigeration pressure check on the system. He stated that it appeared there is a leak at one of the coil joints where the copper joins the aluminum. He indicated that the High Side pressure dropped 30 psi with no movement on the Low Side and that indicates a leak somewhere in the system. He further stated that much drop could indicate only a ½ charge or less of coolant presently in the system. He explained that there was a company issue with ordering parts to have them overnighted to the customer.
Lately the parts have been shipped to him which delays service. He stated that the parts he needs will be overnighted to me and should be here NLT 10:30 AM tomorrow, Wednesday, June 8th. He has scheduled an appointment for Thursday at 1:00 PM just to be safe and at present he only has one appointment for tomorrow. If I receive the parts tomorrow morning I am to give him a call and he will work me into his Wednesday schedule.
He indicated that the job would take several hours to complete (Of note: He asked me if I was removing the rear access panel to blow out dust and vacuum the coil area. I told him that on 7-13-15 I asked him if I was supposed to remove the rear access grille to try and clean the coils and he advised against it stating that it could damage the vanes on the coils. He told me that he did not say that, that he highly recommends the customer remove the rear access grille and try to blow out the dust and debris, then vacuum the debris up, just being careful not to get near the vanes or coils.). After placing the order for the parts to be shipped/overnighted here he departed at 12:05PM.
06-08-16 At unknown time, received call from Service Technician to advise that the FedEx tracking indicated that the parts he had ordered had arrived. I confirmed that and he indicated that he would be arriving sometime around 11:00 AM. He had ordered both a refrigerator coil and the freezer coil which had arrived and be commenced disassembling the inside of the refrigerator to swap out the refrigerator coil which he felt had a small leak on one of the connections. After steaming ice off of the end or the coil he replaced it with the new one. He then checked the pressurization on the lines and said that he was satisfied with the as it did not appear there were any leaks. After checking other things in the unit he packed up and departed advising that he would check back to see how the unit was performing.
06-09-16 At 8:52 AM received a call from Service Technician, who was checking on the performance of the unit. I advised him that it did not appear to be cooling as he had predicted, that the freezer was in the teens and the refrigerator in the lower 40's. He advised me to keep a check on it and he would schedule me for the first of the week. 06-12-16 At 3:14 PM received a call on answering machine from Service Technician who advised that he has me scheduled for Tuesday, 6-13-16 between 1:00 PM and 3:00 PM.
06-13-16 At 2:07 PM received a call from Service Tech who advised he would be here within the next 10 - 15 minutes to check on the unit again. He arrived at approximately 2:25 PM and proceeded to first blow out the dust that had accumulated under the unit and on the coils which was minimal. He then began to test the system refrigerant and determined that it was not up to capacity. He then vacuumed the lines and added some additional Freon. He advised that it appeared that there was a little water in the line which he was able to purge. He indicated that the unit should work fine at this point with the cooling in the refrigerator set to 34 degrees and the freezer set to 0 degrees. I told him that I would continue to take temperature readings in both the refrigerator and freezer and if I noticed them not performing I would call him and let him know. After about 1 ½ hours of work he departed.
06-14-16 At 8:53 AM received a call from Service Technician asking how the unit was performing. I texted him back at 11:39 AM advising that the refrigerator was at 37 degrees and the freezer was at 9 degrees. At 12:15 PM Service Technician called again to advise that he had mistakenly had a parts order sent to our house and wanted to know if was OK for him to come by and pick it up. I advised that it was not a problem. He asked about the refrigerator and I advised him that I would continue to monitor the temperatures several times during the day and evening for the next few days to see if the system performs as expected and would advise him of results. He advised that he will continue to check up on it and would be calling periodically.
On 05-24-17 we returned home from an extended vacation to discover that the ice maker was not producing ice. Door was dispensing water but there was no ice in the door-side ice maker and therefore nothing to dispense. On 06-05-17 At 12:18 PM I contacted the Executive Offices in Alabama at ** to explain the issue I was having with the ice maker not working. The person I spoke with, whose name I failed to get, advised me that she would give me the number of the local service center to schedule an appointment for a technician to come out and diagnose the problem. There would be charges for the technician to come out, charges for the diagnostic, charges for parts and labor since the unit was past its one year warranty and had already been given a one- time courtesy and she was not going to issue another one. I was basically out of luck but could get it fixed through the technician with service call charges plus parts and labor.
While the service technician was very personable and professional, that is the only thing good I can say about me experience with this company. The technician even told me on several occasions during his visits that the parts "i.e. compressors, etc" were inferior and the technicians were having all kinds of problems with them. With the experience that I have had in dealing with this company, I doubt that I will every purchase anything else with the LG label.

We purchased an LG Refrigerator in 2014, Model LFX#31925, we had to replace the ice maker within 3 months. A year later we are experiencing freezing problems with the freezer as well as the ice maker not working again. The product is out of warranty and LG will replace parts such the compressor or the condenser, but no labor will be paid. My point is you pay $2500 for a product and you get less than ever. We have a 20 year old GE Fridge which works better than the LG. It appears the repair service department will need to remove our unit to fix it and we will be without a fridge while it is being repaired.
It appears globalization has done nothing to improve the quality of products. It is time we stop charging more for less, it is downright robbery to the people who put their trust in reviews which most of the time are not accurate. When I see all the complaints against LG, I think it is time to let people know. There are so many companies that LG makes appliances for as well and this should be disclosed. I must say do not buy LG, Life is not Good, their products are not worth the price you pay for them. I do not wish to hurt the distributor who we bought the unit from, they are good people, just know the product I am discussing is poorly made.

Redid my kitchen and went to BrandsMart and bought a complete LG kitchen package, Worst quality product ever. After about 2 or 3 months the fan stops working so we call Brandsmart. Worst customer service ever. They should be ashamed, the guy came out and didn't even have the proper equipment with him to de-ice the fan. My husband had to loan him the equipment. P.S. it works for about 6 months then stops working again so we call Brandsmart again. The guy comes out and resets the refrigerator by unplugging it and plugging it back it, of course that didn't work.
I call LG who sends out their own technician who said it was the motherboard. That gets replaced, only to work another 2 months. Now they are replacing the compressor and the two evaporators. I am out of manufacture warranty but LG is covering the labor cost but are giving me a hard time. I requested a new refrigerator and a refund and who knows if that is going to happen. This whole process has been like pulling teeth, I have also been without a refrigerator twice, for 3 weeks each time. They are also giving me a one time food loss credit. Don't know how much, but I think a class action lawsuit is in order, the anxiety and stress dealing with the stupid techs and the customer service is too much. I don't think I can do this a 5th time. The refrigerator is only one year old now.
How do I know I can trust these reviews about LG TV?
788,323 reviews on ConsumerAffairs are verified.
We require contact information to ensure our reviewers are real.
We use intelligent software that helps us maintain the integrity of reviews.
Our moderators read all reviews to verify quality and helpfulness.
For more information about reviews on ConsumerAffairs.com please visit our FAQ.

I have been trying to replace a broken shelf support in my 10 year old refrigerator. The part should cost about $20 and without it, the $2500 refrigerator can barely be used. I have found the part number and contacted everyone on the internet that claims to have one. One parts person told me that they had several in stock in past years but this was a high demand item and they could not get anymore. Universally I was told that the part is no longer available.
I finally got through directly to LG customer service and (after being disconnected twice), was informed that LG does not make or keep parts past 7 years after a product was made. Nor did they have a substitute for it. They said I should call any local parts companies to see if they might have one lying around. I explained that no one has this in stock and asked to speak to a supervisor. The rep took my information and assured me that I would hear from a supervisor within 1 hour. That was two days ago. I have had a problem with a different (small) LG product in the past, but cannot believe how little they support their customer base. There is no way I could recommend to anyone that they should try this company's products.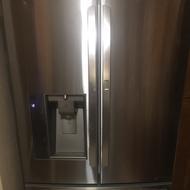 I purchased an LG refrigerator double door, bottom freezer ice maker and it's non working after only 6 months and have called repeatedly for service... it's under warranty. They first sent someone out that doesn't even work on refrigerators and now going into week 3 saying they will call in 2 business days to schedule. And the more I called it's now 3 to 5 business days just to get an appointment set which hasn't happened yet! I've thrown out hundreds of dollars in food! I never have bought LG in the past. Always stuck with Samsung and I should have not ever switched brands... lesson learned.
I feel like since they can't get a service person out here a full replacement should be in order and when I said I DID want to do a survey I was never given that call. When I told the man on the phone I wanted to make a complaint... he said, "Ma'am other than it not working what do you need to complain about?" And did not send me to another extension to even do that or take a formal complaint himself. What the heck is with this company. I will NEVER buy this brand again in any product...

My daughter and I bought a house with new appliances, (LG) the refrigerator worked for 9 months but it was three months old when we started using it. When it failed, we called LG and they said "it is out of warranty, you can hire an independent technician or hire us to diagnose the appliance." We hired someone who said it had a defective piece from fabrication. We called back to LG, they said they will repair for $400 where they will include the defective piece. I paid ($400) and they sent their technician who came and in a 5 minutes visit he said he came just to learn what was the problem, he would be back (one month already in this process). The next days we received a phone call from LG saying they wouldn't repair it because someone already put their hands on it and that we can expect $200 hundred refund (from my $400 I just paid) because the visit costs $200.
How sad, how unfair, with my daughter a young person struggling to pay her bills receiving a treatment like this one. Now she has been more than a month with no refrigerator, lost the money she paid for the first technician and again the same amount by having LG putting their hands into her account in such a way. Their only suggestion is to buy a new one. Can I expect a little of justice for my daughter? I m planning to write a letter to the CEO but I know the chances for him to never read it are higher that the opposite. I hope you can do something about it.

I spent almost $3000 on my fridge in Jan. of 2015. Last week it slowly stopped cooling, we didn't notice at first and then last Friday I realized it was barely cold. Started checking all the food and most was bad. We hadn't been home much so I looked in the freezer for the first time in a couple of days and everything was defrosted. Had to throw away 3.5 trash bags of food. I called LG, they gave me a authorized tech to come look at it, which he did on Friday. Did the unplug thing, wait hours and nothing. He came back on Sat. to tap the system to see if Freon was leaking - we only had 25% Freon running through the fridge which could also mean the compressor is bad as well. This tech was leaving to go on vacation, I decided I couldn't wait a week for him to come back so called LG to get another tech's #.
Tech 2 came out yesterday and discovered Tech 1 had illegally removed the tap after performing the Freon test and Freon had been leaking out of my fridge for 4 days! He also ruined whatever it is you connect the tap too. Tech 2 said now all my hoses are contaminated and this fridge will be a nightmare to repair, he probably will even decline the job because it could possibly mean weeks of having to come back on multiple occasions to get it fixed. Tech 2 called LG while here, documented everything with their tech support, pictures, videos everything. LG has extended the warranty for us but now they want us to have a 3rd Tech come out, has to be specific one and this company can't get out until the end of next week, we have already been extremely inconvenienced without a fridge for a week and now they want us to wait another week to get the 3rd authorized tech before they will proceed???
I called Tech 2 again today and he said he doesn't understand, he was already here yesterday, he is an authorized technician for LG and he documented everything, there is nothing else for him to do. Just today alone I have logged 8 calls with LG, takes an average of 7-10 minutes just to get where you need to be. If you want to talk to a supervisor they say one will call you back in 30 mins., over an hour later I'm calling them back because I have not received a call from a supervisor.
At this point I'm getting upset and told the supervisor I just need a new refrigerator and her response was "well that's not up to you." Very dissatisfied with the runaround I'm getting from LG, I bought 4 appliances from them in 2015 and will never buy another one because of their antiquated customer service system. Also, should I be contacting the EPA, is my fridge still leaking Freon but LG says that's ok and just wait another week?? At this point I have lost two days of work, probably about $400 of food and my stress level is through the roof!

So we bought a $2000 LB refrigerator stainless steel, French doors, water in the door, and freeze drawer. This fridge has been used literally for 2 yrs at most. Went to plug the fridge in and nothing comes on. Google this issue and it's a known issue, need to spend $300.00 on the main board. What??? Plus labor... Poor quality. Called customer service and asked for some help not free but some help and was told to pound sand!!! Oh wonder why they have crappy reviews!!!

Purchased an LG fridge about 6 months ago. Over two weeks ago it began not cooling well and progressively got worse, soupy ice cream, rotting veggies etc... Called the place we bought it from Goedeker's online. They forwarded us to LG since it was under a year old. Goedeker's made some calls but even the President Steve Goedeker said he can't do much. Unbelievable, these companies are happy to take your money but have no problem leaving you and your family high and dry.
LG has been a nightmare to deal with, the first week was wasted speaking to representatives that barely understood English. Finally request someone to come out on their website hoping that will get someone to come out and help us... After many phone calls, many lies, many conversations of no one caring (we are a family with a son under 2 years old etc... in a rural area) it's over two weeks now and not even a phone call or servicer has been sent out to even diagnose our fridge. I even found a tech willing to come out and provided LG all the info - found out later through another source that spoke to their dealer department that they denied him because they didn't want to pay him standard rates. They spoke to another servicer in our area and they didn't approve his rates either and kept trying to talk him down as well.
They have chosen to not help us and keep our family waiting to try to pay low rates to local service repair men. You'd think they've spent at least that much paying their employees to make so many calls trying to negotiate ridiculously low rates. Why not just do the right thing and service the customer??? They have put us off, delayed and delayed any kind of progress just to pinch pennies and negotiate with service repairmen to see who will take their low negotiated rates. SO WRONG. My advice NEVER EVER EVER buy LG, our fridge was a $2700 fridge and it is not working in 6 months. They could not care less. Don't buy from online places, buy at your local appliance Ma and Pa place. Someone who will actually care, and hold true to some values.

My LG refrigerator broke down over a week ago after just 18 months. I paid over $3,500 for it. I have been trying to have my case reviewed by LG for over a week now but they keep rejecting my proof of purchase even though on top of the original receipt and invoice, the Home Depot store where I purchased it from, issued an official proof of purchase letter. I spent over $7,200 on all LG appliances and I am not happy with any of them. The display on the stove broke down in the first week I had it. The washer keeps stalling when I run certain programs. The dryer routinely stops with an error message that the duct is blocked (which is bogus, we checked it on many occasions and there is no obstruction) and the dishwasher does not completely dry the dishes even in extra dry mode.
I have never before written a negative review but this company does not deserve to be in business. They do not stand by their product and use the annoying and false slogan "Life is Good". Good for them maybe. Not for the customer. Their customer service is a nightmare. All calls are answered by representatives who serve as a layer of protection so you cannot actually get through to anyone who is a decision maker. If you are considering a purchase of an appliance, please stay away from the LG brand!!! Worst ever. I owned a Samsung fridge before and it worked like a dream and was nicely designed. I kick myself in the rear end for not sticking with my gut when I made the decision to purchase the LG junk brand.

I have the same problem as Michele in Florida. Ice maker stopped and now the whole thing is not cooling. Finding someone who will work on LG is a pain. I have two other friends with LG refrigerator one has already had to replace the ice maker at a cost of $400 and the other one constantly has trouble with their ice maker. This refrigerator listed for $3500. It was the largest ever at the time. I so wish I had never purchased this refrigerator.

LG customer service is horrible. They falsely advertise promotions! I spent over $3,500 and purchased a winter LG kitchen set and did not receive my rebate. No communication was ever received until I called requesting an update. Don't believe the hype when you purchase their products.

I wished I can give a no star review to the LG French Door product. I bought them more than $3000 French fridge for less than 10 months and it stopped working. No cool, no freezer and non ice maker. First call went to the other part of the world and they did some diagnostic. Then told to wait 24 hours so everything would be ok. After 24 hours, to have to throw all the food. Called again, set appointment and got the confirmation email. There was nobody show up. Called again, they said it scheduled for two days later. When I ask why I got email reminder they said maybe the computer glitch that did by itself. It like a jokes. The world still quite not advanced in artificial intelligence yet. Now LG customer service is not sure if the service man will keep the appointment. If anyone read this review, please do not buy any LG product ever. "Do Not Spend Money and Buy Headaches."

Have had an LG French Door refrigerator for close to 5 years and it is already breaking down. Have taken great care of it, replacing all filters when needed, keeping it cleaned, just went in back of it and cleaned out any particles or dog hair and yet it just won't stay cold. In addition, it mysteriously stops making ice many times. Despite everything seemingly working. All of these issues have started 1 month after a maintenance guy from LG came by to service it. Making it seem all the more of a bad buy. Look at a different brand!

Three door LG fridge. 3 1/2 years old and broke down 6 times. Frequent canceled repair calls and many no call no shows. Have to pay labor, LG only covers parts that must be ordered, 7 days out. Who still takes that long to order anything. Then another repair call to install the parts, and another charge. Once again, you are lucky if it lasts more than a day or two. 6 months is good. LG could care less and Sears doesn't seem to care either. Perhaps a class action suit is in order. At the bare minimum it may force LG and their poor products and even worse customer service out of the market. As for Sears, they will likely be gone by this time next year. It's clear why to anyone that has worked with them.

I have been without a LG refrigerator that is less than a year old for going on over a month and a half! LG Warranty is a joke in the Bluffton/Hilton Head, SC area for repair people. I am on my 2nd repair referral from LG and they too are 'no shows' when appointments have been made, confirmed, and still 'not shown up'. LG is not respected by industry repair people and I can see why. I am at the point that they can come pick up my refrigerator and REFUND my money! HOW WOULD THEY LIKE TO LIVE OUT OF A COOLER? We too were not informed by Home Depot that they didn't have repair people in the area when we were sold this refrigerator by Home Depot and when we went back to Home Depot were informed that we would have to deal with LG Warranty Division! DISGUSTING THAT LG GET AWAY WITH THIS IN THE USA!

I never used LG products before and didn't know the pain of LG product. God was kind until I bought LG fridge. This fridge is making me cry within 3 years of my purchase though the warranty on its compressor is for 10 years. It has failed thrice in 3 months. Had the LG customer service been active to fix the problem properly, I would have thought of a mistake buying LG products. But LG service is worst than their products, they are there for namesake and to do nothing. It is almost a week time. Fridge compressor is down and I lodged complain, they are not bothered yet. I am calling LG customer services more than I call my relatives/friends and family (all put together). I know most of their employees by name. On top of that they refer me to their ASM, who has already resigned and moved :). I do not know whether it will be fixed or not and by when. I think only miracle can make it work or I will have to buy some other fridge.

This started with my ice maker quitting. After two weeks of messing with that, I find out that the freezer was not working after me and a friend got sick. This needs a major recall. This is terrible. I'm going to sue the crap out of them and Lowe's. Everyone knows this refrigerator sucks. Why is Lowe's still selling it!?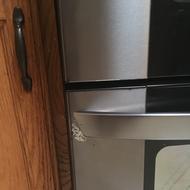 Purchased LG 4 piece kitchen bundle - Black Stainless Steel; fridge (LMXC23746D), stove, micro and dishwasher. I've noticed for the past few months that paint is peeling around the handles, borders/edges of the doors. I called LG for the fridge, I had to purchase extended warranty for 60 days for them to come out and check the fridge. Technician took pics, don't know what they going to do to repair, I'm guessing I'm going to have purchase extended warranty for micro, stove, they have same problem/issue. Anybody have problems or issues as me?
Updated on 5/19/2017: Technician came out 5/8/17, took pictures of the refrigerator. Today I called them since they haven't called regarding issue. I spoke to customer service. They said cosmetics issues is not covered. So my issue will not be fixed!!! Not only is the refrigerator, but the stove, microwave too! Call an attorney? I'm still paying for this LG bundle!! Help!!! Confirmation # with LG - **.

We bought a $4000 LG refrigerator from Home Depot 13 months ago. When we first received it, we noticed the plastic piece above the fruit/vegetable drawers was broken. A repairman said that he would order the part and return once it was received to install it. That never happened. I let it go since the refrigerator itself was functioning fine. Unfortunately, as soon as the 1 year warranty expired, so did the refrigerator and the freezer. They both stopped working. The LG repairman states that he needed to order a part and would return. He did so, but unfortunately the new part that was installed didn't fix the problem.
A few hours later the refrigerator also developed a loud noise as well as a vibration. The repairman was supposed to come back this morning, but LG called 30 minutes ahead of time to say that the repairman called in sick and they don't have an alternate repairman (even though I live in middle of LA). A repairman is scheduled to come back tomorrow. We'll see what happens. We're upset because we have had to be inconvenienced several times for a repair to a very expensive appliance that is relatively new. We have 3 kids and cannot survive without a refrigerator! I'm never buying an LG product again.

I purchased an LG ref side by side less than 2 years ago and the ice maker went out. Two weeks later the service man came out and said it was the board and not covered. A week later and the board was in and the ice maker still didn't work right. Then everything quit. So two weeks the service man came out and said the compressor was gone but the parts were covered not labor. Two weeks the parts came in and two men worked all day and it still didn't work but I was still charged. The repair man said it may have been a bad board and ordered another one. It came in but he ordered the wrong one. Now another two weeks and it is to be installed tomorrow. The service dept at Fred's said they will sell me another one at their cost. BFD just can't get anyone to show some responsibility. LG service is a joke and the people I spoke to were rude and told me too bad there is nothing I can do. Anyone want to start a lawsuit?

I called LG and they scheduled a repair for me. I took the day off from work to be home for the repair and 2 days before the repair company calls to tell me they couldn't make the appointment and that LG just tentatively schedules a service call. They never communicated that to me, kept me on the phone for over an hour waiting to get to the correct department and then had me "jump through hoops" to have the money paid for the "repair" refunded to my account. I would never buy a LG product again. In addition the dishwasher isn't worth the $1000.00 I spent on it!

Bad Service - 38 months old French Door with dual ice makers and the in door ice maker fails. It makes ice but cannot seem to get them to fall when it turns to empty without getting stuck and making a clicking noise. I called LG and they connected me to an LG authorized service center 70 miles away. The service center called the day they were to arrive and asked me how I was going to pay. I asked for an estimate and was informed that ice makers cannot be repaired as LG does not fix ice makers but only replaces them for a cost of $500. The reason that was provided is they are made in Korea. What a bunch of BS from the authorized service center. I just canceled the order for all LG products on the new home going up. I would not take the chance with their product again.

I am on my second refrigerator since my first one failed and they replaced it. Now I am waiting on a repairman to look at the new one. What a pile of crap. When you phone they tell you to unplug the fridge for 3 to 12 hours then plug it back in. How stupid is that. What if I was on vacation. Totally unreliable.

I was out of country for business when my wife tells me our 5 year old LG refrigerator stopped working. I had her call LG customer service department (India). They provided her with an authorized LG Service Center 50 miles from our house. The cost for the service center to make the service call to my home was $215 which included 1 hour of labor that would be applied to the service call and anything left over applied to the repair. It took the service center 1 week to make the service call. At 5 years my refrigerator has only a 7 year warranty on the compressor with no labor covered. The service call by the service center determined the compressor and motherboard were bad. The repairman only assessed the call for 15 minutes leaving 45 minutes toward repair. I was also told that I would have to get the parts from LG. Contacted LG for the parts and they said the service center would have to order the parts.
I went back and forth for about a week between the service center and LG. Got an LG Case Number that was offered after about the 15th call to LG. I asked for a US based LG customer service rep and was told that does not exist. Today LG offered to send the Service Center a "Part Authorization #" so that they could order the parts. I am going on 3 weeks without a refrigerator functioning in my home. I was told the Part Authorization # will take at least 3 days. The service center says once they have the Part Authorization # it will take about a week to get the part. Then another week to come out for the service repair call. If you are thinking of purchasing an LG product you are out of your freak'n mind.

After having this fridge (LG 29.6 Cu. Ft. French Door Refrigerator MODEL LFXS07265) for only 16 months there was a failure with this product and I had to throw out all the food. I called LG and they required a warranty purchase $328 dollars for 60 days before they could send someone to house for repairs. I was surprised that LG would not stand behind their product that was less than 2 years old citing that this was out of warranty. I did a look up online and noticed that error code I had was very common and other customer has the same issue, yet LG sits on their hands and continues to push this product without acknowledging a known issue with their product.
I am recommending staying away from any LG product based on LG's product reliability is one of the worst I have seen for a major appliance. Symptoms. Loud fan, water and ice dispenser stopped working and refrigeration failed. This is more of a oven now as the temp gauge shows that it is 80 degrees vs the 38 I have it set to. I am posting this review on my internal social network at work so that this is available to 350,000 plus employees at work advising them to stay away from LG.

Literally the day I finished paying for my $2800 French Door LG refrigerator, it stopped working. At first I thought it was the ice maker. Had a repair person out who reset it and said to call back in 24 hrs if it didn't work. After 24 hrs still no luck, but now I've started realizing that I keep throwing stuff away in my refrigerator after just a day or so because it's gone bad. Finally after about 2 weeks of this, I realize that the refrigerator is not cooling, despite the 32 degrees reading on the outside temp setting.
Call another repair person out after calling several that don't deal with LG because they say they're garbage and he says he can't fix it, to call LG and ask for a courtesy one time flat rate repair. I do that, he comes out, and says it's the compressor which is on back order until May 20. More than 2 weeks from now. Wonder why the part is on backorder? Maybe because it's garbage and everyone seems to have the same problem? Please please please don't make the mistake of buying these products. They are absolute junk. As are Samsung as well. These are the two all the repair people I've spoken to say to stay away from.

We purchased a brand new LG french door refrigerator (bottom drawer freezer and 2 door refrigerator with ice and water in the door). We purchased it through Home Depot for $2200 in April 2016. We researched and shopped around and felt good about the purchase. Didn't buy extended warranty - why would we... it's a brand new fridge with manufacturers warranty and solid company right?? WRONG!!!
I NEVER write online reviews. This experience is so shockingly horrible I had to submit a review. The ice in the door constantly melts and refreezes. When it refreezes it bonds the giant chunk of ice from the ice maker to the door. You need an icepick or a crowbar to then remove the ice maker from the door. Of course, as soon as you pry it apart, the entire bin of ice and melted water drops onto the floor and all around your feet. The melted ice block fills every nook 6 inches deep into the ice maker. Again, using an icepick you can chop up the ice and use your vacuum or spoons to extract all the ice.
Home Depot won't touch this. Refer you to LG Customer Service. Took multiple calls and LG over the phone told us it was our fault and we must be leaving refrigerator door open too long and were melting the ice. They told us to open the refrigerator door NO MORE THAN 1-2 TIMES PER DAY??? Finally, they sent a technician. The technician reviewed the fridge and told me LG is terrible and he sees this all the time. However, his report back to LG indicated he found no issues. LG issued report to us that we need to TURN OFF THE ICEMAKER every night before bed and empty the bin.
In the morning we can turn the ice maker back on but that we MUST USE ALL THE ICE EACH DAY OR TURN IT OFF. They claim the ice maker is so efficient and meant to make more ice than we can use because they were getting complaints it wouldn't make enough ice. So we've been turning the ice maker on and off each day - which makes us open the refrigerator doors twice a day by the way. And the problem is still there. Thanks LG!! What a waste of $2200. A waste of many people's time in your games and a ridiculous strategy. Buyers are savvy and expect more than stupid answers. A very unsatisfied customer who is also a realtor and refers people to buy new appliances all the time! Will make sure people don't buy LG for sure!
LG Refrigerators Company Profile
Company Name:

LG TV

Year Founded:

1958

Country:

Korea Sout

Website:

http://www.lg.com/