Consumer Complaints and Reviews

I think LG refrigerator owners who are experiencing repeated compressor problems should file a Class Action Lawsuit against LG for a full original purchase price refund and subsequent repair and warranty plan costs incurred for inferior product design and manufacture. Our LG French Door Refrigerator Model LMXX30776S/01 is also experiencing compressor failures. Purchased in February, 2015, the original compressor was replaced in September, 2016. Now, August, 2017 that compressor is also failing. Temperatures continue dropping in the refrigerator, freezer, and mid drawer sections even though I continue lowering the temperature set points. The ice maker is also producing small cubes at a very slow pace, and they begin melting and forming refrigerator icebergs.
My wife purchased the Warrantech Extended Warranty through hhgregg. Recently Wil, the LG repair tech from Fredericksburg, VA, was at my home to service the unit. He measured temperatures, low and high side line pressures, and voltage. He cleaned some dust from the back of the refrigerator and left. He said he could not stay and further monitor the unit because it went into the defrost cycle. He told me to call him after a day or two to let him know if I was still having problems. I called and left a message on his phone. I have not received a return phone call. The temperatures continue to drop. Refrigerator performance continues to deteriorate, and $3,000.00+ has been wasted on a extremely poor product.

Broken LFXC24726S. Same problems as described by users below. Bought 13 months ago, unit is still under warranty as I bought it at Costco. LG tech came over, said compressor is broken but could not fix as it is backordered and no ETA. Both LG and Costco refuse to replace. Let me know in case of class action lawsuit.

I bought an LG Fridge Model LSC 24971ST in October 2012. It stopped working June 2017. I made many phone calls to Customer Care (or No Care) Centre on Telephone 1-888-542-2623 continuously for five weeks but nothing was done. Finally LG got back to me and told me whatever the problem is, they will have it fixed for a flat rate of $229. I paid them $229, hoping that the problem will be solved now. Few days later an LG worker came to check the fridge, only to tell me that the fridge cannot be fixed. I would have to buy another $4000 fridge from LG. It was hard for me to believe this fridge cannot be fixed, so I called somebody else to have the fridge checked, which is when I found out that the compressor has stopped working and just needs to be replaced.
LG was trying to CHEAT me and make me buy another fridge from them. They wouldn't even return the $229 flat rate that I paid them to have the fridge fixed. After arguing with them for weeks, they finally agreed that they will have the compressor replaced at the FLAT RATE of $229 but the part is NOT available for the time being. If such a BIG company like LG fails to find its own part, why I must suffer...? Weeks passed and they could not even find their own part. Bottom line is, LG COMPANY TRIES TO CHEAT YOU. The fridge could easily be fixed by replacing the compressor (which was still under warranty), but LG wanted to CHEAT me into just buying another $4000 fridge from them. They gave me a very hard to time; for months I kept arguing with them. Never buying an LG product ever again!

I have never written a review before but this issue has me so angry I felt the need. Our fridge is 2 years old. We wanted the best for our brand new kitchen... So sadly ALL MY APPLIANCES (WASHER AND DRYER INCLUDED) ARE LG!!! I wish I had my money back. I started talking to LG about my issues in mid-July. I was given two service people in my area to work on my fridge, which was at that time freezing all the crispers to the point I can keep nothing there. The fridge is 60m degrees, crispers at 20, "chilling drawer" at 20-30, depending on its mood that day and the freezer is holding at 0. One repairman came, talked to tech services and was told then there was a service bulletin on this model. He followed the tech's advice and order a new board and a seal. (Customer service lied to me and said there was no service bulletin... told them my husband saw it and read it so they were lying about that!!!)
Waited a week for the part. He installed and left. That evening the same error showed up in the screen... E rF... again! Tech support had told him this meant a fan error. He comes back to then tell me TS wants me to shut down the fridge for 24 hours so it can "reset", which means you are really without a unit for 48 hours as it takes 24 for it to reach correct cooling temp. So we follow their request and start life out of a cooler. That seems like a very long time ago... Needless to say, the shutdown did not work. The error returned, servicemen refused to come back so I called the other name given to me. He flat out refused to come, stating he had one just like it in his shop that LG (the largest appliance company in the world), could not tell him how to fix, and he wasn't going to get stiffed by them for his effort.
I have spoken to LG several times and am currently without a fridge, have a $341 bill for the misplaced efforts on repair attempt, and am waiting another 7-10 days until they decide to let me know if they will fix or replace. I can only assume from what I have learned that LG has a product with such a problem in multiple systems that they have NO IDEA how to fix and can only hope we will give up and just go spend another $3000-$4000 on a new one!!! I have lost hundreds of $$$ in food and expense of eating out because of this.
I do not plan on giving up... I plan on turning them over to the Better Business Bureau and contacting a Lemon Law lawyer. I can totally understand that at times things don't work as designed but to tell customers they don't know what you expect is not acceptable to me. They have lost a very good customer over this whole issue. Add up in your heads, LG management, how much your top of the line appliances cost for a new kitchen and laundry room and tell me how many customers you can tick off before you wake up!!!

We purchased LG French Door refrigerator 2012. Every year we have had service. I keep paying a fortune for the extended warranty increasing the cost to over $3000.00 now. Now the compressor went last Monday, and a week later, they cannot even tell me when the part will be in, it is on back order. I explained to several people that this is our only refrigerator. We lost everything in the freezer and refrigerator with the exception of some items that fit in our outdoor camp size refrigerator. We have been buying ice, for the cooler to keep milk in the house. Today they still cannot give me an ETA on the part. This is offensive, that you pay good money to purchase the product, good money to insure the product, and then you wait and I was told it take weeks. No loaner, no replacement. I WOULD TELL EVERYONE LOOKING AT REVIEWS, do your homework, do not purchase LG.
How do I know I can trust these reviews about LG TV?
851,205 reviews on ConsumerAffairs are verified.
We require contact information to ensure our reviewers are real.
We use intelligent software that helps us maintain the integrity of reviews.
Our moderators read all reviews to verify quality and helpfulness.
For more information about reviews on ConsumerAffairs.com please visit our FAQ.

Our 2.5 year LG LSX526326S refrigerator stopped working this morning. It's blowing barely cool air and not keeping food cold... I am pretty sure we only had a 2 year warranty and spent just under $2000 for the refrigerator back in December 2014... Very disappointing.

Our LG refrigerator wasn't 3 years old and the compressor went. It was covered under a 10 year warranty through LG. 2 days after it broke a LG repairman came out and said it would be a 6 week wait for a compressor. That was unacceptable. Tried calling LG customer service a few times. And kept getting the runaround. We bought it at Best Buy. LG was telling us that Best Buy was responsible even though it's on paper that the compressor is LG's responsibility. They did not want to give me what I paid for and deserved. Either a repair in a timely manner or a replacement. After 3 weeks and help from Best Buy I finally got approved for a new refrigerator. And needless to say I did not get a LG this time around. I wouldn't buy an alarm LG alarm clock.

I bought a new LG refrigerator Model LFXS29766S from Home Depot for $2700. After only 14 months the compressor failed. The repairman said this compressor was back ordered and it will be several weeks to get a new one installed. Apparently LG has a major reliability problem with this compressor design. Thank goodness for my 25 year old Sears in the garage. It has been running well since day one with absolutely zero maintenance or repair. I will not buy anything from LG in the future.

I am having the same problem everyone else is having with their refrigerator. It broke down nearly three weeks ago. I do have a warranty which pays for parts but not repair, however all my food was bad and needed to be thrown away. Had a service man, who was very nice and helpful, who stayed for hours trying to figure out what was wrong. Finally after coming back many times he realized it might be the compressor. Had to order it thru LG which came 5 days later. Now realize I have no refrigerator at this time that works. Couldn't they send it over night delivery?
Okay, now service man puts the new compressor in and the next day it worked!! Started getting ice, went to the store to buy food and spent $200. Very happy until today one day later, I wanted to defrost my London broil, which happened to be defrosted already because my refrigerator was broken again. I knew something was up when I had a smell in my kitchen. If there will be a suit against LG I would love to be a part of it. This refrigerator was a lot of money and I'm sure everyone else feels this way too! I will never buy an LG product again!!!

We bought a refrigerator back two years ago. We didn't have it for more than two months and the compressor already let go. Then the year after the refrigerator is not making ice and the freezer is not freezing. We tried to call to get it fixed but when we bought it from is closed in our extended warranty is not worth the toilet paper on the wall. After reading all these complaints I believe LG needs to have a class-action suit against them so they recall these models and redo. It is not fair to us the consumer to have to spend all this money and have a piece of junk for the product.

My husband and I purchased a new LG refrigerator just 2 years ago. TWO weeks ago right before July 4th everything defrosted and melted in the freezer and the refrigerator went warm. I called LG warranty service and purchased a service plan. They scheduled to come July 6th. They cancelled that appointment because they overbooked pushed me back to July 11th. Five days later. This brings us to July 10th by 4 o clock I haven't heard from them with the scheduled time so I called them. I found out they cancelled again! They didnt even have the decency to call. They would not give us a date when someone could get here. We were told we would receive a callback in 1 to 2 business days with a date. We refused to accept this or hang up because they can not be trusted. Over a long time probably a hour later we finally got a date. Saturday. Another 5 days.
So we have been out a ref for 2 weeks. Tried to call someone ourselves to get this fixed. They came said it might be the fan but they are unable to get the part because LG won't give them the look up a number so we have 2 options wait another 5 days and hope they actually come or buy a new refrigerator. 2000 dollars down the drain for a new refrigerator. So beware when buying LG appliances. It's safe to say I will never ever buy an LG product again. LG corporation also did nothing. All they wanted to do is confirm our appointment. I can do that dont need them to do that for us. So stand clear of LG got sold a lemon and can't even get it fixed. Updates repair man came 2 weeks later got the new compressor and guess what still doesn't work. I am a month without a refrigerator with 2 kids in the summer. Never again will I go with LG for anything.

On June 7 of this year my saga with LG started. They attempted the first repair on my not quite two year old refrigerator (LSFD2491ST) which has an extended warranty on top of being under manufacturer's warranty. Till today there have been 6 repair attempts plus a few more diagnostic visits and they haven't been able to make it work once. Lately the technician whose name is Kevin but won't tell me his last name has become disgruntled. Has failed to show to his appointments 7 times. This means 28 hours of waiting. He has stated on his last two visits that there is nothing he can do and claims he will deem unrepairable but when I call LG they say he has not named it so.
I have asked for alternate solutions with other technicians or perhaps outsourcing to authorized service providers but they just keep rescheduling Kevin who hasn't been able to fix and has just stopped showing up. They say they reached out to him and his manager but nothing happens. The extended warranty company called Warrantech states their hands are tied since they only will use LG. I am out of patience and ideas; seems this company is stalling. This has been disruptive to my family, expensive in having to eat or order out much more often, having to wait for hours for a tech that won't show up and the anxiety that it has produced. Out of patience and idea short of a lawsuit. Anyone with experience in this?

Purchased and LG LFXS32726S a year and a half ago. 6 months after the warranty expiration (of course) it breaks down. Refrigerator stopped cooling but the freezer still works. If I paid for an extended service plan, ($500 or so per year) I could have a tech come out the next day. I called a local repair company who came out and said that the compressor had a small leak and that I should call LG since the part would still be under warranty. I contacted LG who then scheduled an appointment for 4 days later even though with a service plan I could of gotten service the next day. Service tech texted he was on his way, my daughter was home and did not hear him knocking. He never texted me to state he was outside. Just left. I texted him numerous times to see what his progress of arrival was and no response, I called various times and left messages and no response.
I contacted LG customer service who said my ticket was still open (at 10:00 am, tech we found out had come over at 8:34 in the morning). Waited longer and then was told at noon that the call was cancelled because he could not reach me. Funny his first text came in just fine to let me know he was on his way and when I had not heard from him and contacted him numerous times there were only crickets to be heard. Called LG customer service and was given the runaround. First I was given a number to follow up with that was supposed to be where the LG tech was being dispatched from. Called the company, this was a one man show with no employees who did not have a work order sent to him for our repair. Waste of time and aggravation there.
Then with 20+ minute wait times on additional calls to customer service to just be told, "call this company and see if they can help, we have no appointments available this week to reschedule you" and when I asked for a supervisor... 40 minutes later I finally got one. My daughter in the mean time Contacted LG on Twitter and was given phone numbers of repair companies to call. Great customer service right? Here we are a week later with no diagnosis still and now as I am reading many more people are having the same problems. Finally got the repairman to contact me after speaking to the supervisor which was promising and he apologized and stated it must of been a problem with his phone and that he would be there first thing before 8:00 am the next morning. I personally waited for him and called him when he was late. He returned the call after 9:00 am to state he had family problems but was on his way.
He then shows up just to tell me that the fan was frozen and we needed to disconnect the refrigerator and let it defrost. Hmmm when I checked online someone had the same errors and mentioned that it was a refrigerator fan that needed to be replaced so I spoke to my husband and daughter who had by then made a secondary appointment with another LG tech because we were not sure this one was going to show up after yesterday's fiasco. Lo and behold we got a third opinion, they agree with our diagnosis and changed the fan and now it is working again.
One week and $429.63 out of pocket later so far (btw found fan only cost $80.00 online but we did not know how to install) hopefully this fan will last another year and a half so we can get money to buy a new NON LG refrigerator to replace this one! NEVER again will we purchase an LG product. I really thought I was getting quality and value for my money and now we have learned to do even more research before buying pricey appliances like this in our future.

Bought this French door LG refrigerator in May 2015 model number- LFXS307668. Paid 3200.00 for it. Leaking water on the floor, not cooling, all food ruined. Been through much of what the others have noted. Run around from LG. Told by a certified LG repairman he has received at least 30 calls this week with the same issue- freon leak, compressor, evaporator, etc. Huge cost to repair. Quoted 700.00 for labor only, no warranty after 90 days from repair and it can easily take a month to get parts as they are backlogged. What a money pit! Wish I would have read these reviews before purchasing. NEVER buying an LG product again. There should be a class action law suit against this company. Read somewhere that some Kenmores are made by LG.

I bought an LG refrigerator with two doors side by side and two freezer doors underneath from Best Buy at west farm mall in Farmington, Connecticut three years ago. The new fridge price was $2,100. Last month the fridge stopped working. Do not know what the problem is. Reading all the reviews with the same problem, I was wondering if I should even call the repairman and spend and lose additional money on this lemon of a refrigerator. If anyone is filing a class action law suit, please let me know.

Purchased in Spring of 2015, and just before the year warranty went out, the ice maker quit working. After a week or two we got that fixed, and while waiting on that repair, my son's LG refrigerator stopped cooling and he was having major issues with getting it repaired b/c it was out of the year warranty (purchased Fall of 2014). Because he was having so many issues, we decided to buy the LG Extended Warranty, just in case, and it was over $500. So now we're in for over $3000 for this refrigerator. FYI, my son junked his after several months b/c he could not find anyone who could/would work in it or even figure out what was wrong with it!!! THEN just this past month, July 18th we returned home from a week's vacation and the refrigerator had stopped working, so we were up until late throwing out over $500 worth of food and cleaning a nasty refrigerator.
My husband called them immediately and started the process of getting the repairs made using the LG Extended Warranty. It took him three calls to just get to the right people that might could help us, and they said it would be the end of the week before anyone could JUST look at it! Well, those folks never called the day before, as promised, so my husband starts calling again. Finally someone showed up on July 28th, but guess what? It's a sealed system and LG wouldn't let them work on it. My husband has spent hours on the phone going from person after person up the chain, and finally on August 2nd he got a supervisor that admitted that they had no one in the State of Louisiana that could even work on our refrigerator!!!
We are waiting for a call by 2:00 today to see what they are going to do about the situation, to fix or replace... oh, and the LG Extended Warranty will only reimburse us for $250 of our food, not to mention we've had to eat out much more and buy a smaller refrigerator just to keep a few cold food items in! LG is a JOKE, both their refrigerators and their LG Extended Warranties!!! STEER CLEAR OF LG REFRIGERATORS!!! I'll let you know what happen when we hear back from LG.

I bought my LG French Door Refrigerator in December of 2014. It cost over $3000 and I was told by the salesman at Home Depot how GREAT the linear Compressor is. I noticed on Sunday that the ice was melted and the temperature was rising. I found my LG information and called Customer service. I was told the earliest they could come out was 4 days later. They also told me that he could not "uninstall" the fridge. It had to be moved out of its slot so he could access it, and it had to be unplugged. I was also told that the compressor was under warranty, but the replacement would be 375-425 PLUS state tax.
Well, after 4 days, I had to throw away all the food that was inside. Probably another $200/300. The guy came out and told me that he would order the parts, but my "cell service" was bad so he couldn't tell me if they even had the compressor in stock. He told me they would come out the next day, unless the part isn't available. Which, reading the forum, looks like it's 5 weeks out. Terrible product. The Sad thing is, that I'm a Realtor. I have caused at least 5 or 6 clients and friends to buy an LG fridge because, the compressor has a 10 year warranty... as if that does any good. I'm a single Mom, and I feel like I have to earn my money twice. Once to kill it and bring it home, and again to make sure it doesn't fly out the window. I'm angry, Frustrated, and defeated.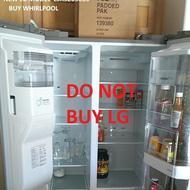 Like thousands of other LG Refrigerator victims my new LG model LSXS26366S died. I had to throw out over $200.00 worth of fresh food, spent another $1000 on repairs. I called LG speaking to call centers overseas trained to kill you with kindness as they provide no help. Then had to pay a local company to look at it, the technicians said "I hate to tell you you're screwed sir, a sealed system failure." Compressor. Then LG on the 4th day arranged a company that showed up in the 1970 tiny pickup truck, they do not accept credit cards cash only- "yup sealed system failure that will be another $89.00 bucks". $1,100 to fix it.
The Federal Trade Commission is allowing LG Electronics USA to continue to rip-off Americans. LG is aware of their defective compressors & systems. I was told they are back ordered in Korea, could be 2 months before parts become available. A Class Action Lawsuit must be filed to protect Honest Americans from this company. Furthermore - If your large retail chain store is selling LG appliances - YOU ARE RIPPING OFF Your customers.

I purchased the LG refrigerator in June 2016 from Home Depot. The compressor failed July 2017. Fortunately, I had purchased the extended 5-year warranty through Home Depot; however, the on going saga of trying to get the unit repaired is unacceptable. It took nearly 10 days to get repairman to the house to diagnose the problem. There were no compressors anywhere within the United States to replace the defective compressor. The compressor was back ordered with a promised delivery date 10 days after the repairman had diagnosed the problem. I expected the compressor to arrive by August 3rd. I was recently informed that it would not arrive before August 17th with a possible installation to occur within 1 to 3 days after that date! This would be over a month to get the refrigerator repaired.
In discussing the problem with the repairman, he informed me that he is seeing numerous compressor problems with the LG refrigerator. Home Depot, although not acknowledging a problem, was good enough to offer a small refrigerator to provide some form of unit for us to have in the interim. I suspect that they know that LG has a major problem that is being 'swept under the rug'. This is a problem that needs further investigation.
I honestly want Home Depot to take the unit back, so I can replace it with another brand. It was the top of the line LG refrigerator, in which I paid nearly $3000. Compressors should not fail within a year's time, and if they do, there should be replacements available in less time than a month. Clearly, LG has some sort of defective design with their refrigerator compressors. As I have investigated the problem online, I noted that there has been at least one class action suit against LG refrigerators in the recent past. I believe that this issue is potentially lining up for another class action suit.

Another pricey LG appliance with a failed compressor at 23 months. At least a month waiting for parts. Ice maker shut off, water valve leaked after the fridge was taken by the repairman and ruined our kitchen floor, and leaked through to basement ceiling and damaged that as well... We were gone for 3 days. Add to that the food that spoiled when the compressor went toes up, and we have learned a very, very expensive lesson about LG refrigerators, and from the comments here, we are not alone. Repairman indicated ours was the 26th compressor failure he has had this year.

LG side by side refrigerator liner compressor - Just 1 year and 7 months, no cooling, warranty, just a year. I called LG, the compressor has a warranty for a few years, but a technician and diagnostics fees more than $300 plus more parts as needed. If you call for some companies, nobody wants fix LG. "$1500" WASTED. Buy another brand. I recommend to everyone don't buy LG.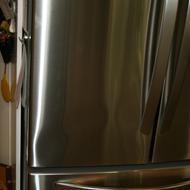 I have contacted LG 4 times and they have never called me back. My fridge over time seems to have slowly gotten these dents... bumps... I am not sure if it is from suction of the fridge. Or if there is a space behind that is not solid (I have no idea) but this ABSOLUTELY WAS NOT done by us. We take VERY good care of our stuff... My mother had a fridge that basically did this same thing over time. When I called LG they said it is cosmetic and they will not help me. I do not like the look of this obviously, so I asked them to at least give me a price on a new door. (both sides if you can see are dented. 3 dents on one door. 1 on the other just above the linear emblem) They still have not gotten back to me on this either. DO NOT BUY THIS FRIDGE...

We have 5 LG appliances bought in 2011. Washer piece of junk. Today refrigerator shut down. Went back and forth with LG people. Very dissatisfied with their products even after a repairman said washer was deteriorating. Recommend not to buy their products. Wish I didn't.

Refrigerator and freezer intermittently warm up (not defrosting!). Refrigerator compartment goes to 60 degrees and freezer to 40 degrees (contents thaw and melt). Refrigerator less than three years old! Called LG (plan to be on hold forever!!). Had to pay upfront for service contract as some of my system components are still under warranty (would not schedule my appointment until credit card cleared). $362 upfront for one service call. Cheapest plan available. Authorized service dealer that was sent showed up two hours late to a four hour service window (waited 3/4 of day for technician to show). Technician never got a tool out, didn't measure a temperature, didn't remove a panel, never looked behind refrigerator. Unable to diagnose a problem. Worst service experience I have ever had!
Called LG again (did I mention to plan on being on hold forever!). Explained my service experience and asked for a supervisor to help me. Said supervisor would call in next three days; no one called. Called back asked for supervisor to please call me. They promised a call in two days; no one called!!! Called a 4th time and spoke to an LG consumer affairs person. They were no help. Told me to call original service technician. I then cancelled my repair contact less a $100 diagnostic fee. Strongly advise NEVER buy an LG refrigerator. They are unreliable and their technical support is horrible if you have a problem.

July 8th called LG. Paid for extended warranty. Needless to say my refrigerator still is not fixed.:*( When I asked to speak to management was told 3-5 days! Like my refrigerator so sad. Single mother of 5 with 2 little ones in 100 degrees heat eating out of a cooler. I see some want to start a class action lawsuit, please contact me if you do!! Scam LG.

After just having bought my first home, I really wanted to splurge and buy a nice big beautiful $3,400 stainless steel refrigerator as a center piece. But buying this expensive LG LMXS30776S was one of the biggest mistakes of my life. At just 2 years the thing is broken and will no longer cool. I came home one night to find that all of the ice in the ice maker had melted and puddled onto my hardwood flooring and all of my food was spoiled. Completely dismayed that my refrigerator is now cooling at 60F I called LG. They sent a tech out and he diagnosed a failed sealed system. To have a failed sealed system in 2 years is truly, truly remarkable. But you then think to yourself, "Well that's ok though, sealed system is under warranty right?" NOPE! The parts might be covered by warranty, but the LABOR is not. And apparently sealed system is a specialty repair service and I was quoted at $850-$1100 on the low end JUST OF LABOR.
And then you think to yourself, "Well Jesus, that's unbelievably expensive," so you call LG and ask them why they are selling $3400 refrigerators that don't even last 2 years? What kind of product quality are they really putting out? And they don't back up their own products? We work hard for that kind of money and consumers deserve quality assurance for their purchase. Agent very reluctantly escalated my case and I was eventually granted an exception to cover labor under warranty as well, but now here's the most interesting part.
I called their authorized service provider to come back out and fix it, now with a warranty exception code but they flat out REFUSED to come back to work on the thing because apparently LG has stiffed them multiple times on warranty repairs. So LG is not only stiffing their customers with cheap and faulty appliances but they are also stiffing their own authorized service providers on warranty reimbursement to repair their cheap and faulty appliances. But you could figure that would happen if so many of them break right? It's not good business for LG to repair everything they build.
So at this point, it has been 1 month since I've had a working refrigerator. There are literally only two service providers in my area that can fix sealed systems and are authorized to work on LG (a huge amount of service providers don't even want to work on LG, so let that be the giant red flag for you.) But of these two service providers, both of them refuse to do any warranty work for LG whatsoever. I guess I wouldn't want to either, if I wasn't getting paid for my work. I have been in contact with LG daily about this, asking to give me a real solution, but they just keep giving me lip service and lists of more and more service providers, all of which are completely out of the state and can't even come here because they are not licensed outside of their own state. I've gone through 20+ service providers that LG has given me and it's the same story over and over. "We don't service your area, we aren't licensed in your state" etc etc.
I tried explaining this to LG repeatedly but they either don't listen or don't care. Or perhaps they already know, but they just give you an endless run around with no real solution. The last agent I talked to just bluntly told me I'm SOL. So ask yourself this, what good is a warranty if their own company won't back it up? What good is a warranty if no service provider will accept it because LG is scheming them out of their money too? At this point I can either pay $1200+ for parts and labor out of my own pocket and reinvest back into this terrible piece of garbage that I am confident will just fail again in the near future or I can just take this thing out to the backyard and blow it up and buy a different brand. And really, in full and total honesty, I'm much more inclined to do the latter. Because I will never trust my food in this thing ever again, even if it gets fixed.
I will never trust LG again. I'm now just far too ashamed to even have the LG symbol in my household now that I know the truth of this company. Yeah, you're sitting there reading all these reviews because this is a big purchase for you, just like it was for me. And you're thinking to yourself, "This poor guy, he just got unlucky that his broke so early, but mine won't be like that and even if mine does have a problem, I have this great LG warranty right?" You don't.
LG is proven to have cheap and faulty products and they have proven that their warranty is completely meaningless because THEY HAVE NO INFRASTRUCTURE TO REPAIR IT ANYWAY. You're better off buying 30 mini refrigerators for the same price and then just replacing them as they break throughout the years... But the truly sad part is... You won't need that many because one cheap $100 mini fridge will still last significantly longer than any giant shiny piece of junk you buy from LG.

Horrible experience. We need to have a class action lawsuit against LG for the defective products, poor customer service and incompetency. Just as we approached our 2 year mark with this refrigerator (nearly two months now), the freezer stopped producing ice and the cooling system stopped. Since we were out of warranty and only approved service providers in my area could do the repair, we were convinced into purchasing an out of warranty contract for $500 before we could get anyone at LG or their insurance company to assist us. We waited nearly one week before the service provider came out to diagnose the issue. When he left, he told us it was the compressor and that he would need put in an order for its replacement.
Another week went by and the compressor was finally replaced. However, the refrigerator barely got cool and the freezer, although it produced ice, was not keeping the items like ice cream frozen. Again, we needed to have the service provider return and he concluded that the refrigerator may be leaking freon and damaging the compressor. He also thought it was the fan. The repair company and us have been going back and forth with LG's insurance claim department who refuses to replace the refrigerator until all repairs are exhausted. We are now waiting nearly two weeks for a replacement compressor but this is going to be the last concession that we are making. If this next compressor does not work, LG can be rest assured that they will be replacing our refrigerator (without any depreciation factor).
We have lost a ton of food and continue to live out of ice coolers in the scorching hot weather. We cannot afford to continue to eat out or buy food on a daily basis with not care or concern from LG. They kept us waiting for hours and have made promises to call back and still no sense of urgency. Clearly based upon the reviews on this site, this is a known issue of this LG product which was rated to be top of the line. We will never purchase anything LG ever again. They clearly are not experts in this market and moreover any technology... All they seem to do is copy from other experts and spend no time with R&D or testing before rolling out products to the market.
LG needs to get out of the business completely and we will not stop until we have a satisfactory resolution. We cannot exist with a young infant in our household without a working refrigerator. Our old GE refrigerator lasted nearly 20 years and this LG not even 2 years. We should have known from the first time we got the first delivery. It did not go well and blew all the transformers outside my house. That should have been our warning of what in store for us. Very, Very dissatisfied with this product and LG customer service experience. :-(

Refrigerator broke in 4 years. No cooling. It costs at least $338 to schedule a repair service from LG. I hence got a local technician to check it, but he detected bigger issues with compressor and other parts. I hence scheduled LG technician to come in. He did not touch the unit, since a non-LG technician had opened it earlier. LG voided the entire warranty on the unit!!! Bad customer service and it seems to me that this is LG plan to void warranties by keeping a high service fee. Thus when you get a local repair guy to check the unit out, they have an excuse to void the warranty. This is bad practice!!! Do not buy LG, but American brands instead.

When you pay $3000 for a refrigerator, you do NOT expect it to break down within two years... I bought the LG LFXC24726S at Mrs G in July 2015. In July 2017 the refrigerator stopped cooling, no ice or no water. Even with the extended warranty it was two weeks before svc was available... The day of svc... The svc man could not move the refrigerator to put the part in... And now they want $120.00 extra to send a second guy to help the one guy to move the refrigerator. What nonsense! The refrig should not have broken DOWN!!! LG doesn't own it. Mrs G doesn't own it... Jersey Appliance service doesn't own it. I have a BROKEN UNREPAIRED $3000.00 LG refrigerator that is only TWO YEARS old.

Poor quality. Drawer fronts break, electronics have gone haywire, display on door lights up randomly, door ajar buzzer sounds randomly, water hoses on rear of cabinet spray water everywhere, doors won't stay shut. In a word LG refrigerators are junk.

ConsumerAffairs Research Team
The ConsumerAffairs Research Team believes everyone deserves to make smart decisions. We aim to provide readers with the most up-to-date information available about today's consumer products and services.
LG, formerly known as Lucky Goldstar, is a Korean appliances company. The company, based in Chaebol, South Korea, has been in business since 1947.
Storage options: LG refrigerators come with different drawers and doors in a variety of configurations to offer customers the best storage options available.
Door-in-door: LG sells door-in-door refrigerators. These are refrigerators with an extra door connected to the other door to grab snacks easily or keep things more organized.
Energy Star: LG's refrigerators are Energy Star certified, so they use less energy.
Accessories: The company also sells convenient accessories for its refrigerators, such as replacement water and air filters.
Customization: LG's refrigerators can be customized so that homeowners can fit them into different sized spaces.
Best for Homeowners and college students looking for a refrigerator for everyday use.
LG Refrigerators Company Profile
Company Name:

LG TV

Year Founded:

1958

Country:

Korea Sout

Website:

http://www.lg.com/