Consumer Complaints and Reviews

My LG refrigerator model LRFC21755 continuously has ice build up at the bottom of the freezer. LG says to defrost the freezer but this fix only lasts for about a month. You shouldn't have to defrost your freezer every month. LG has not been much of a help in resolving the problem.

We bought a $3,000 LG refrigerator 4 years ago. A few weeks ago, it failed -- an error message about a motor. I checked and found that the very refrigerator model had been the subject of a class-action settlement over the defective product. LG NEVER NOTIFIED US about the class-action suit, and the settlement has now been closed. LG's response to our problem: "You are now out of warranty and a repair will cost about $350". This is truly a vile company which sells defective products. (We also had an LG TV die after five years.) Buyer beware!!

MY EXPERIENCE HAD BEEN HORRIBLE! HERE'S WHAT HAS HAPPENED. Called hhgregg where I purchased refrigerator in March 2016. Leak started August 2016. The phone menu automatically routed my call to LG Customer Service. They said they don't repair damage to home but will repair refrigerator. They made an appointment to send an LG technician in two days. I had to call a water damage company in the meantime because water had leaked through the wall into a hallway and a bedroom. Water was under tiles and was squishing in the carpet. The LG technician finally came. The refrigerator was moved from its niche in kitchen. The technician discovered the problem. He said it was a defective valve in the ice maker. He said they're (LG) going to hate this but it's on us (LG). Called customer service again. Customer service representative, finally agreed to give us a claim number and gave us a number for Product Liability.
I kept calling that number but no one ever answered and no one returned my calls. I finally got another number from customer service rep. Bottom line is the estimate to repair and restore is around $6225. They said they will pay $4224. I cannot get my home repaired for that amount. My refrigerator is still sitting in the middle of the breakfast area and the ice maker cannot be hooked until the repairs are made to my house. The defective refrigerator caused all the damage and LG should pay the full cost of the restoration. The Product Liability department has been very disrespectful and rude to me, a customer who purchased one of their products. Does anyone know who I should call at LG to resolve this issue.

Purchased a refrigerator model #LRFC21755ST - plastic drawers and shelves cracking and hinges falling apart in fridge and in freezer. Customer service referred me to support in Philippines where 2 agents told me they had limited internet and could not access parts I needed. Back to "customer support" who told me they no longer had an owner's manual and gave me the number of an authorized service agent (Service on Site Long Island) who said he was no longer in the area and working for LG in California. When I expressed my frustration he asked me not to involve him... SO, frig falling apart, no manual, no customer support. I do not recommend LG products.

Refrigerator model LMX 28988ST - The manual for the appliance states that all sealed components are covered by a 7 year warranty for parts. Our freezer failed and on calling LG, we were required to pay $195 under their "One Price" program for all parts & labour associated with the service call. The technician deemed that the part was not repairable and that the entire appliance has to be replaced. LG now claims that the paperwork side of this takes 10 business days to resolve and we will only get a "Prorated" value of the appliance. To me, it's simple - a part covered by warranty must be repaired, replaced, or the consumer otherwise kept whole. One thing is certain - I may be forced into a replacement LG unit, but is the last LG product of any kind I will ever buy.
How do I know I can trust these reviews about LG TV?
610,392 reviews on ConsumerAffairs are verified.
We require contact information to ensure our reviewers are real.
We use intelligent software that helps us maintain the integrity of reviews.
Our moderators read all reviews to verify quality and helpfulness.
For more information about reviews on ConsumerAffairs.com please visit our FAQ.

We bought our LG refrigerator and stove. It has a stainless steel kind of finish on it. We have had several stainless steel stoves and refrigerators. None of them had a bad cheap finish as this new one. What kind of horrible finish is this? When we get a glass of water and some water leaks down on the finish, you can see it and it doesn't come off. We have tried all sorts of products made for stainless finishes. Nothing seems to work. If you have a nice kitchen and you want some appliances that look good and clean, never buy one that has this finish. It makes our kitchen look unkept. The appliance is good except for the finish. And I see this and am saddened that they make a good product, and put a cheap finish on the appliance. I have extended warranty, but the warranty doesn't cover a bad finish.

LSFXC2476S - Purchased from a local appliance dealer not a big box store a complete suite of LG Studio appliances and within 7th month the freezer has frost all over and ice laying in base floor of freezer compartment. Upon calling for service they say, "Warm air getting in. Must be bad gaskets." Really in 7 months and open 2 times a day? Then, "Is it level?" I say, "Really are you kidding me?" Then they can't find a service person in a 14 mile radius and they will call me back in 3 to 5 days. If I were sick and wait 3-5 days I might be dead by. Don't they think the food will be spoiled in there by then and will they pay the allotted $400 for food spoilage?

Today I had a refrigerator delivered based on the information given to us by THEIR own employees. They stated that there was no vendor in our city that would be able to repair a sealed system leak. We were just about to have the 4-year old LG fridge removed and the new one installed that I couldn't afford but had to buy when they told us that Sears was able to send someone out to repair it under the warranty. We had already waited a week for them to do the right thing and needed a fridge. They were unapologetic and they REFUSED to do the right thing and reimburse us for the LG fridge under the warranty was we were told would be done. So we now have an LG fridge waiting for repair after 9 days sitting next to the SAMSUNG that we had to buy as we could wait no longer for LG to come through. They make crappy products and their customer services is inept and inefficient and they don't stand behind their warranties.
They want you to have a hard time using their warranties so that they don't have to stand by them. CROOKS - like I've never seen before. DO not waste your money on their junk. Their customer service is on a level of incompetence that I have never seen before and I hope never to again. STAY AWAY - buy any brand other than LG. It's better to use an ice chest than to buy an LG product. Garbage!!!

Bought a brand new LG refrigerator. Loaded it up with food. The next day freezer food was soft and food in the fridge was all rotten. Tried to save the freezer food and turned the freezer to maximum cooling. The next day all the food was rotten and the whole house smelled like garbage. Best Buy switched the refrigerator but said to call LG to reimburse for the cost of food. LG was very unapologetic. Service is very poor. I called three times and was put on long holds to wait to talk to the supervisors. The customer care refused to pay for the cost of food. I had easily $400 worth of food in there. LG hung up the phone on me twice. I am regretting buying this refrigerator.

My french door refrigerator Model #'LMXS30776S was purchased in May 2015 and in July it started to make a terrible noise and I called LG and they said most likely there was ice on the fan. A few weeks later it started turning off and I would have to restart it. I called LG and they said I needed to get a technician to look into it. I had someone come out who said I needed new sensors and a new evaporator cover and it would take 3 days to get the parts in. 4 days later I called and they told me the parts are not available and I had to call LG directly to get the parts.
I called LG. They quickly set me up with a $300 extended warranty repair plan and set up a technician to come out. This guy also said I needed new sensors and fans. One week later, they could not get the parts and said they were not available. The warranty company refunded my money minus $100, saying that parts were not available. Based on CA Civil Code Section 1793.03, parts must be made available within 7 years of any major appliance. I just spoke to a supervisor in the corporate office who after 30 minutes on hold said that the parts are available and she is transferring me back to the warranty repair company to get set back up on the plan. LG has been incredibly awful with this entire situation and I have heard from their own technicians that they rarely honor a warranty even within the first year and said to never purchase an LG appliance. I agree.

I purchased an LG Refrigerator Door-in-Door in December 2015. On September 14, 2014 I woke up to water all over my kitchen floor due to ice melted in freezer. First thing was to use troubleshooting guide. Did all resets suggested with no results. Called LG and went through all that again with them. Was told to reset and wait 24 hrs then check and call if not cooling. Needless to say this did not work. I lost a freezer and refrigerator full of food. All spoiled. Following Saturday a repairman came out and said that compressor was gone. They ordered a compressor on September 22, 2016. Today is Oct. 10, 2016 and I still have no resolution.
I have made many calls both to LG and the place supposedly responsible for repair with no satisfaction. I have never encountered such poor customer service in my life. I just walked around my home and realized that I have 3 LG TVs, a Blu Ray, refrigerator, and microwave. Therefore it is obvious I have spent a lot of money on LG products. I now see that the company does not stand behind its products so I will not purchase any more of their merchandise. As I looked through the reviews I see that I am not alone. LG MUST NOT CARE ABOUT THEIR CONSUMERS. So as customers we need to let them know that there is no excuse for such poor workmanship or service.

This frig was bought Dec. 2006 for $1349. Several years ago, upon opening frig the plastic cover over the light bulbs had melted and fallen down. Terrible smell and it had turned light bulb black. Last night noticed that butter from butter compartment was as if it had been in microwave. Melted in my hand. The light bulb left on was across from butter compartment.
Just realized that there has been a problem with lights not turning off when door closed. Also several years ago one vegetable drawer broke off and had to reorder part. Now also 2nd shelf is totally falling apart. Plastic is brittle. It is only 2 people in this household and this frig has not been abused in any way. I hope there is some compensation for this as I am just really irritated. From my reading LG knew about this problem in 2005 and 2006 and continued to sell this unit.

On 9/15/16 a repairman came out to check my refrigerator and told me it was my compressor. Was gone to put the order in. (9/16/16)... Short story long process. On 9/29/16 repairman stated part was ship... Never heard from repairman. I call LG. Keep you on hold for 10-15 mins. Then they tell me my claim is being review. It will take 5-7 days. It was submitted on the 28th. But the repairman said it was ship on the 29th. Who's lying or they working together. 10/7/16... Call today. Check on the status of my claim. Waiting on the other 15mins. Came back on the phone to tell me they reject my review because they ship the compressor. I ask him if know they ship my compressor why was it in review. He said he didn't know. As of today still no compressor and we living out of a lil' small office refrigerator and a cooler for ice. Something gotta been done with LG. With all these complaints somebody help us!!!

LG Refrigerator purchased on 12/20/15, model LSXS26326S, serial # 509MREN07916. It has problem with condensation and moisture since purchased, but did not asked for warranty work done until Aug 2016. From 8/22 to 9/23, we have gone through 6 failed repairs and 3 failed attempts to get a new replacement. During this 4 weeks duration, we have to take 6 days off and wife gotten sick due to the food of this LG refrigerator. Customer Service supervisors lied about qualifying for a replacement after 3 failed repairs, lied about cancelled appointment, lied about calling us back after checking with repair person. Repair person lied about recommending a replacement if the 5th visit failed, lied about filing a replacement claim on his 6th visit.
LG does not care about our time off or wife getting sick. They will not tell us how many more failed repair attempts we have to go through in order to get a refund or replacement. They do not care that I have already filed a Voice of Customer VOC complaint (VCN **) with LG, online complaint with the Better Business Bureau, or online complaint with Pissed LG Consumers, and soon many other. This foreign company does not care about American consumers.
8/22/16 LG sent a local repair shop that claimed the fridge gasket is ok and made the left side of fridge 1/2" higher than the right side. 8/26/16 LG technician to re-level the fridge back to its original shape and order a new gasket. 9/2/16 LG technician replaced the gasket and realized that was not it, and order new rollers and door. 9/9/16 LG technician replaced new rollers and claimed the door is good. 9/12/16 called LG customer service supervisor and was told it takes 3 failed repairs to qualify for a replacement. 8/26-9/9 is considered the 2nd repair.
9/14/16 I spoke to the LG tech prior to his arrival, he said he would recommend a replacement if this attempt does not work. This time, he applied heat to gasket and adjust rollers. 9/16/16 LG customer service supervisor claimed that the 9/14 appointment was cancelled. He said that he will checked with repair and call me back. He never did call. But he did say the technician has to report the fridge as non-repairable to tech support in order to get a replacement.
9/17/16 called LG customer service supervisor and was told she has no authority for replacement and would not say what qualifies for a replacement. I told her about wife getting sick. All she cares about was contacting LG immediately if she gets sick again. No, I will call the lawyer 1st. 9/18/16 left text message to technician asking him to file a non-repairable claim. Not responded. 9/19/16 left a phone message to technician asking him to file a non-repairable claim. Not responded. 9/20/16 filed a Voice of Customer Complaint with LG. 9/22/16 spoke to the LG tech and was told that he will process the replacement paperwork on 9/23 and that he needs to see the purchase invoice paper.
9/23/16 after LG technician made copy of the purchase invoice, he spoke to LG. Apparently, he got talk into not giving me a replacement until he tries replacing the door. The same door that he ordered on 9/2 and claimed that the existing door is good on 9/9. He completely changed his story about recommending a replacement and would not tell me when exactly this trial and error game will end. He will only say if the door does not work, he will try something else.
What confidence should I have in the LG technician after failing 5 tries? When is it going to end if LG is such a worthless and untrustworthy company? Am I being unreasonable to ask for a replacement after 6 failed attempts? LG's Customer Service is completely clueless. They have no common sense and not caring at all about the feeling and the inconvenience of the customers. LG wants returned customers? Not a chance! If the reputation of LG is less than the cost of my defective LG refrigerator, what more can I say but to do free advertising for them.

Bought a new LG refrigerator for 2900.00 on 09/06/13. Already had to replace compressor recharge it. LG paid for part but labor 275.00. Worked fine for 2 weeks then condenser went out. Another 175.00. 3 weeks later ice maker out. Another 195.00. Lost about 400.00 worth of food. So if anyone looking for another refrigerator don't buy a LG. Nothing but a boat anchor.

We purchased the LSXS263265 refrigerator a year ago and it has already stopped working. First the freezer went and leaked all over the kitchen hardwood floor and then an hour later the fridge stopped cooling. Beyond disappointed in this brand. We bought this model due to the extra large capacity but unfortunately the product just did not last.

I purchased an expensive LG French door refrigerator. The compressor is guaranteed for 10 years and in just 3 years it has gone out. No authorized repair person in our area so the repair person started the lengthy process of getting authorization to repair my refrigerator and have a compressor sent to him. After more than a week, LG said there was a typo on the authorization and it needed to be started again. Another 3 days and he received an email. He attempts to order the part after waiting on hold for more than 40 minutes. The part is on back order. Refused to say for how long but when I called the parts department myself they said it was at least a month before they even get them in stock to start filling orders.
The executive department now says it all starts from the date the order was placed so it is too soon to do anything further. Refuse to put in writing the date the part is expected. They say they aren't required to do so. LG has made an inferior compressor, many, many going out, and then have the worst customer service I have ever experienced. I have never had a bigger runaround in all my life. In the meantime, I have no refrigerator, just a huge expensive piece of something in my kitchen.

After spending $3,500 - before tax - on LG French door with beverage fridge and bottom freezer, 14 months later, the compression is shot. Thank goodness we bought the extended warranty. But, repairman cannot get replacement compressor for at least 19 days; that's just to get the part into US. So, repairman made recommendation that a new fridge be sent to us. LG though, refuses to talk with us about if approved, when will be delivered, etc. LG says "Talk to the repairman," and he says he doesn't know anything until 3-5 business days - until LG makes determination.
Meanwhile, I have to try and feed 6 year old, 90 year old, and two adults, without a working refrigerator. More salt in the wound? Consumer Reports ranked this particular LG frig model as 2nd highest. I even researched and still got clobbered. Repair person who contracts with Sears said Samsung and LG are bad makes, regardless of what model. He recommended Whirlpool. Live and learn.

Please do not buy the LG 400+ ltr double door refrigerator even if it is given free. In a bargain hunting, I purchased a double door digital control LG 420 ltr refrigerator and it was buying a huge pain and trouble for me and my family. With almost Rs. 51,000/- paid through my nose the refrigerator is a horrible experience from the month I purchased. The computer chip got burnt out in 13th month and replaced at my cost of Rs. 4300/-, the compressor had to be replaced in 14th month. Compressor again replaced in 17th month. Even after 2 repairs at my cost the compressor makes heavy noise and the customer support has not been able to set it right even after making payments for service. The quality of the refrigerator is completely below par and in an attempt to cut cost the LG has severely compromised on quality.
The customer support is horribly bad and an opaque management. You dare it and make any attempt and you do not get a caring attention. Just rhetoric and evading answers. I have lost thousands of rupees worth goods due to the machine abruptly stopping in the middle of the hot summer. I now seriously repent having purchased this refrigerator to save some Rs. 2000/- against its competitor and today hove lost more than Rs.10,000/- in repair and maintenance in just less than 2 years. Add to this the constant tension of the machine going off when we are out on a holiday, it have never been peace of mind ever since we purchased this refrigerator.
Contact me at ** to hear my pains and wish none of you go through such horrible experience. Please do not look at LG refrigerator if you love your peace of mind. Even today if you want to see the problem of high noise compressor, please call and visit us. I only wish that no one else's hard earned money should be wasted in buying a bad product of LG double door digital control refrigerator.

I bought model LFXS30726 for 2700 dollars 12 months and 2 weeks ago. Originally I was happy with it. It quit working last week. LG customer service said it was out of warranty and suggested a repair service not located anywhere in my state. I called a reputable local repair person who stated all their refrigerators are causing terrible repair needs and that the company will not assist them because they are not authorized repair service. As I said, there are NO authorized repair services in my state. I had to pay 300 dollars on my new expensive fridge and untold inconveniences only to call him back the next day because it stopped working again. Needed to replace the fan and then the computer board. This is such a piece of junk! I called LG to complain and all I got was a person who could not speak English intelligibly located in the Philippines. He refused to give me a person to call in the US. I will never get another LG product!

I bought this refrigerator 7/21/2014. One year later, approximately 3 days outside the warranty, we had the circuit board and fan system replaced under LG warranty, in 8/2015. Now again, 1 year later 8/2016, we have the same problem with the refrigerator. I called LG and they basically said it's not their problem. This company does not stand behind their product. I could understand if it was a different problem but it is the same problem diagnosed by the same repairman who repaired the refrigerator in 2015, one year ago. This refrigerator is just 2 years old and cost 2300+ dollars. I will junk this piece of crap and buy another reliable brand. I will never buy LG again on any of my appliances. THIS COMPANY DOES NOT STAND BY THEIR PRODUCTS; CONSUMER BEWARE!!!

Last Christmas we bought an LG French Door Refrigerator. This past August it started making a noise. My husband called LG. They sent out a repairman and he said that it was not defrosting. He opened the back of the refrigerator, it had a chunk of ice which was making the noise. He replaced the computer board and stated that would fix the problem. On September 7 I noticed the freezing section was not cold. With a temperature gun my husband noted that the temperature was only 32 degrees and according to the computer setting on the refrigerator it should have been 0 degrees. From this point on our nightmare started.
Another repairman come out at 8:30 Thursday the 8 in the morning and stated that it need a computer board. It was replaced a second time. At four o'clock that afternoon my husband check the freezer. It only registered 32 degrees. From this point on it has been a series of phone calls to LG customer service. My husband even talked to a supervisor on Monday the 12 who stated that the last repairman sent in a recommendation that the refrigerator should be replaced. After more phone calls to LG they now says that they will fix it for a third time. We are at our wit's end. We called hhgregg where we bought the refrigerator from and of course their help was minimal. If and when our problem is fixed, I will not recommend LG products to no one.

I bought a slightly used LG Refrigerator model # LFXC24726S. Had it for 3 months, still under warranty. Lost all of its refrigerant, spoiled the food inside. LG would not warranty the fridge because I did not have the original receipt. Called for repair, unrepairable (internal leak). Ok I get it "never buy something that you got a great deal on because if it's too good to be true it is a piece of junk". After dealing with the LG customer service department in the Philippines for three weeks I finally gave up and went out and bought a North American made fridge. So pissed at myself and LG Canada for buying someone else's junk. Although I did learn something after researching LG appliances. They're all junk and they have you and your money when you purchase one. I'll take a used car salesman over a LG appliance salesman any day of the week. You suck Lg.

I bought an LG Refrigerator from hhgregg with a 5 year warranty from WARRANTECH and the refrigerator is 2 years old and needs a new door because it is warped and therefore nobody will fix it. Hhgregg (losers), Warrantech will not fix it (losers), and LG will not fix it (losers). Do not buy from any of the three companies!

We purchased an LG French door fridge, stove and microwave in April 2016, by August 2016 the fridge no longer worked. We have been living out of coolers constantly having to buy ice for the past month. Spending lots of money eating out because I can't go grocery shopping. 2 techs have been out for repair, but have yet to fix the compressor which they both say is out. It is now September 2016 and I still have no working fridge. We paid $2583.50 for a fridge that lasted 4 months.
After reading other people's experiences here I now know that I have wasted a big amount of my money as I have had the same experience with Lg customer service. Long waits on the phone, no type of care or concern about having a customer fridge less for a month now, even after I told them we have a son who's medication must be refrigerated. No compensation offered whatsoever. None given when requested either. Their customer service line is horrible. They do not care about their customers at all.
I have never reviewed any product because I have never had the need to do so. Everything always works just as promised. We had our previous fridge 12 years without a single repair made to it (kenmore) only replaced to this LG because kitchen was remodeled and wanted a new look. BIG MISTAKE - we made with our choice. Do NOT waste your money. LG products are NO good. Stay away.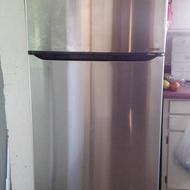 Me and my husband recently bought a LG fridge. Remind you not cheap $1,000. Bought this frig on Aug 15. Received on Aug 30th 2016 and it is here Sept 9th. My fridge took a crap on Sept 5. Calling the company. "Oh rest it by unplugging it or reset coldness inside." Did this 3 days in a row. My food in the fridge is no good. I have kids and a baby here. Called for service. 2-5 business days for a repair company in my town to make a date to come fix it. BS. I want my damn money back plus money for my electric bill to bring in a mini fridge to keep my now rebought food. I'm so damn not happy. In my opinion I think it's time for a Attorney. I will NOT lose out of $1,000 for a crappy fridge I can not use.

My boyfriend and I ordered a LG fridge online on June 25th for $1804.13. It was to be delivered on June 30th. My boyfriend left work to meet LG at our house. Two men took the fridge off the truck and out of the box and the back was damaged all smashed. My boyfriend told them we did not want that one and they took it back. LG never contacted us to when a new one would be delivered. I called them (on hold too long) and they told me they could not get another one here until July 11th. I couldn't believe it, I asked why so long and LG said that is the next date a truck could get to my location. I thought since it was their mistake maybe they should go a little out of their way for a customer, but no, there was nothing they could or would do. So 12 days without a fridge. We had to use a cooler just for water, milk and half for our coffee, buying ice constantly.
We went out to eat a lot, which is really expensive. It was a nightmare! I called LG again and complained to a Manager/Supervisor and had to go through about an hour on the phone explaining the story over and over until I finally could get them to connect me with a supervisor and he was not very helpful but he finally said once the fridge was delivered LG would send me a check for $100.00 for my troubles, but I had to call back once the fridge was delivered. I asked why I had to wait and he stated that is their policy. I think they want you to forget about it once you get your new fridge. Well I didn't. I called back and asked for the same Supervisor, I did write down his name, Jerold. After being on hold again and explaining my story again to 2 different employees, I finally talk to Jerold and he said they will send me a check in the mail. Now it is Sept 6th and no check came in the mail.
I called back LG asked to speak to Jerome, they couldn't get me Jerome, said they have a lot of Supervisors located all over and I would have to speak to whoever picked up my call. I was on hold for 20 minutes. A woman answered. I asked if she was a Supervisor, she said yes then she asked me for my phone # and put me back on hold for 5 min. She came back on the phone and said she didn't see my order. I then told her the whole situation and said maybe she should have asked me what the issue was before she put me on hold so quickly. She told me that there was no Jerome that worked there. I said it was the same # that I previously called, twice. Then I told her that the order was under my boyfriend's phone # and I have the order # and the model # and sku #. She wasn't really listening, but looked up my boyfriend's # and asked for the model # and said she saw no order for us.
I couldn't believe it. The new fridge is in our kitchen that they delivered. I yelled at her, I just couldn't get over the way they treat customers. So I went on the computer and had a live chat on their website. The woman on the computer found the order under my boyfriend's phone #. Maybe they should find a better way to keep track of orders (maybe by the order #) but she said that she had spoke to the woman, Supervisor, that I just got off the phone with and there is nothing they could do for me. Then said that they do not have a Jerome that works there and they do not give back any type of reimbursement or refund for bad service or unhappy customers. It is not their policy. I guess it not their policy to keep customers happy. It was their fault I went without a fridge for as long as I did. It was their fault I had to spend a lot more than I should have on food for two weeks, after giving them One Thousand Eight Hundred dollars.
I think LG Supervisors do it on purpose, tell you to call back once the fridge is delivered, wait for a check in the mail, all tactics to make you give up. Well I didn't give up and it got me nowhere. LG also tried to say it was a Home Depot issue. Well Home Depot connected me to them, and why did a Supervisor from LG, Jerome, say he would send a check in the mail. I called Home Depot and they said they wouldn't do that, they would have reimbursed some of our payment. I have never been this angry but we spent a lot of money and hassle over this, and it is not over $100.00. It is about the way I was treated.

Wife wanted new appliances so we went to Hopeless Depot and bought LG. What a mistake. Bought a french door refrigerator. Within 2 months the ice maker went out. LG came out and installed a new ice maker and all seemed fine until the other day it went out again. Now everything is out of warranty and the ice maker went out again. I called LG and they gave me the number to 3 repair companies and they all told me the same thing. 90 days on the ice maker, no warranty. Fridge is a year and 2 months old. I have the old KitchenAid refrigerator in the garage that works like a champ. 25 years old. So to add insult to injury the turntable motor on the microwave is going out. It is the same age. 14 months old. I won't even bother calling them - I'll just let everything fail. Do not buy LG - they suck. Their stuff does not last. Get KitchenAid.

Purchased 5/2015. Compressor broke down in 12/2015. Took authorized service rep over a month to repair. Mainly because the first service rep sent could not repair the refrigerator. The 1st week of 8/2016, compressor broke down again. Again, the first two authorized LG service rep sent could not do the compressor replacement work. Sent the 3rd service rep on Aug 29th. As of today, Sept. 3, 2016, still waiting for service rep to receive replacement part expected on Sept 12, 2016. This is the refrigerator's third compressor in 14 mos. All repair service techs have expressed that LG refrigerators have a going compressor problems. My experience has been besides having a bad LG product, their warranty service is horrible.

This refrigerator is the worst piece of crap I have ever purchased. Don't get sucked into purchasing one of these. It breaks down constantly and all my food is ruined. I have so many repair bills, I could have purchased a new refrigerator by now.

ConsumerAffairs Research Team
The ConsumerAffairs Research Team believes everyone deserves to make smart decisions. We aim to provide readers with the most up-to-date information available about today's consumer products and services.
LG, formerly known as Lucky Goldstar, is a Korean appliances company. The company, based in Chaebol, South Korea, has been in business since 1947.
Storage options: LG refrigerators come with different drawers and doors in a variety of configurations to offer customers the best storage options available.
Door-in-door: LG sells door-in-door refrigerators. These are refrigerators with an extra door connected to the other door to grab snacks easily or keep things more organized.
Energy Star: LG's refrigerators are Energy Star certified, so they use less energy.
Accessories: The company also sells convenient accessories for its refrigerators, such as replacement water and air filters.
Customization: LG's refrigerators can be customized so that homeowners can fit them into different sized spaces.
Best for Homeowners and college students looking for a refrigerator for everyday use.
LG Refrigerators Company Profile
Company Name:

LG TV

Year Founded:

1958

Country:

Korea Sout

Website:

http://www.lg.com/