Consumer Complaints and Reviews

Last January 2016 we had a new Stainless Steel L.G. Fridge installed. Well within less than 1 year the stainless steel doors on the fridge are already pitting. After contacting L.G. I was informed they don't cover the doors (considered cosmetic) and if I want the doors change I would have to pay the expense of the doors and shipping. This is what I call crappy warranty and customer service and now I would never ever recommend buying any products from L.G. simply because they weren't willing to assist in resolving my problem. As a matter of fact their e-mail response back does not allow you to respond back to them so in order to respond back you have to go back through their e-mail website and start all again, a deliberate set in hopes to make customers go away.

The reefer we bought is a clone of the French door bottom freezer machine that we have had at another house for several years. We especially like the ice maker built into the door and not using volume in the reefer box. We purchased the floor model from the Kona Lowe's. The day after our kids left Kona, I noticed that my Cheerios milk was not quite as cold as it should be. There was a heavy frost build up in the refrigerated section and that section would only get to about 42F. The freezer and ice maker were working just fine. The folks at the warranty call center are polite and on the surface appear to be helpful, but after we hung up I feel like my issue dropped into a Black Hole. It sounds like that they could be located on the sub continent. At first they told me the machine was not in warranty because it was manufactured several years earlier. A copy of my receipt cleared that up.
It seems that LG only has 1 authorized repair dude on The Big Island and when I called in the first week of August he was in AL for reefer school. Upon his return, I tried to contact him by phone and text to set up an appointment to have hands laid on our machine. With daily attempts on my part, sometimes several times a day, he only responded twice. I went back to LG customer service with my tales of woe and they located a repair dude in Kona and I contacted him. Several days later, he laid hands and then he contacted LG for the warranty parts. However, when LG put him on my job, they did not provide him with a Repair Authorization number. Without a RA#, he could not order the warranty parts. Since he is a one man shop and had other business to handle, I took up the battle to get the RA# to him.
It appears that the Customer and Warranty service desks at LG are not connected electronically to the folks that issue RA#s. When I started my quest for the RA#, I was told that one would be issued in 24 to 48 hours. After 48 hours and no RA#, I called again and was told that they would have to walk to the "back room" to check on the progress. After their "trip" to the back room, I was told that another 24 to 48 hours would be needed. I then asked for the supervisor, and was connected to a lady that sounded like she could be in AL, where LG America is located. A RA# was sent to my Kona dude and he immediately ordered up the part, but he informed me that LG was notoriously slow in shipping parts. He was correct. I think that they walked the part to Kona rather than using a USPS flat rate box that gets things from MD to HI in 4 days or less.
The part arrived, an appointment was set and the part was installed in less than 20 minutes. This was 2 months and 2 days after my first contact with LG. During this time, we could keep some stuff in the reefer, but not milk. Me not having Cheerios 5 days a week did not make me a cheery person... About mid way through my phone marathon with LG, I went to their "Contact Us" link on their web page and sent them a message listing my woes and displeasure with their Customer Service. They replied and asked if I would like to participate in a forum. I said, "Sure", and was immediately informed that the forum was not longer available. There has yet to be a follow up to the "Contact Us" issue.
I was expecting a post repair message asking to rate their service. It has now been almost 2 months since the service and the only thing in my Inbox for LG are notes telling me that they want to sell me an extended warranty... As nice as their machinery features and pricing are, their Customer Service has turned us off to looking towards LG for future appliances. I hope that you never have to call that 800 number that ends in 0000.

I order a part (freezer fan) for my refrigerator (7 years old) on 10-21-16 and is in manufacturer backorder until according to LG, 12-31-16. After several calls to LG customer service (first call answered from Philippines) without answers. Today I call LG parts. They transfer me to east coast parts authorized store (NOT LG) and they gave me the 12-31-16 date. When I ask why take too long she said because the refrigerator is old and they do not stock parts from discontinued models. Sears sold 750 of this failing fans. That means they have a quality problem with the product and should have stock to resolve the inconvenience. Recommendation STAY AWAY FROM LG PRODUCTS.

We have a 5 month old refrigerator that has not been cooling since 11/15/2016. A tech named Jerry came on 11/16/2016 and told us that he will need to call a supervisor for assistance moving the refrigerator in order to repair it but he will call us back that afternoon. (By the way, it's on rollers. My husband and I were able it with no issue and I'm 7 months pregnant.)
We did not hear back from Jerry until a week later on 11/21/2016 even after multiple voicemails. When we called customer service for assistance because we couldn't reach the tech we were told that there was nothing they could do until the following Monday. We went all weekend without a refrigerator and had to throw out ALL of our food. When a different tech finally showed up on Tuesday 11/22/2016 we were told it would be another week (after Thanksgiving) before repairs could be done. Now we have to wait until 11/28/2016 (please remember that the refrigerator stopped working on 11/15/2016).
In the meantime I have no way of storing milk for my two-year old who's been eating fast food every day because we have no way of keeping food cold. I called and spoke with corporate supervisor LeeAnn who was extremely unhelpful and rude. She told me I'd just have to wait a week and didn't offer any solutions or to help us a bit. From the second she came on the phone, she was argumentative and acted as if I was inconveniencing her. We've had to call all of our family and cancel Thanksgiving. I understand that it's Thanksgiving week and that getting someone out to repair the refrigerator might be an issue; however, we actually called the issue in a week before Thanksgiving. If something had been done then we wouldn't be in the predicament!

We bought our refrigerator as an appliance set with stove and dishwasher on 4/24/2014. The model #LFX32945ST, our delivery date was 6/20/14. We did not buy extended warranty at that time. It began to slowly breakdown Nov. 2016. First the ice started to melt down onto floor, then everything in my refrigerator began to go bad then finally everything in my freezer started defrosting. I had to buy bags of 40 lb bags of ice, put everything in 3 coolers to stop from going bad. We had to go out to eat diner everyday. LG offered an extended warranty for $463.00 one repair visit including parts and extended for 1 year for one more breakdown. They said if they could not repair they would give us depreciated value of the refrigerator. Dependable Appliances who was contracted by LG to do the repairs came to my house 11/16/16.
When the appliance repair man came to my house after waiting 5 days for his arrival he didn't even look at the back of the refrigerator. He told me since it is just over 2 years old and nothing is working in the refrigerator it really should be replaced. He told me he would put that in my report that I needed a replacement and it could not be repaired. After waiting 3 days for them to call me I decided to call Dependable to find out that no replacement was coming and that they were ordering a part. They could not tell me when it would come in. Three days before Thanksgiving we decided to cancel the warranty and just buy a new refrigerator after reading nightmare scenarios online and on BBB. I pray that my LG dishwasher and stove to crash also. Keeping my fingers crossed. Never again.
How do I know I can trust these reviews about LG TV?
633,474 reviews on ConsumerAffairs are verified.
We require contact information to ensure our reviewers are real.
We use intelligent software that helps us maintain the integrity of reviews.
Our moderators read all reviews to verify quality and helpfulness.
For more information about reviews on ConsumerAffairs.com please visit our FAQ.

I turned in a Warranty Claim on my LG French Door Refrigerator which LG denied, their reason being that because when the serviceman came out he could not duplicate the problem. It was very obvious that the water had leaked underneath the refrigerator on the left side damaging my wood floor on my new home that I had just moved into on June 9, 2016, the refrigerator had been ordered online from Sears and hooked up by Sears servicemen.
The water damaged wood under the refrigerator was found when the refrigerator had to be moved for some touchup painting behind the refrigerator. There is nowhere else the water could have come from except the refrigerator. There had been a rotten egg smell in the appliance for about 2 weeks, but there were was nothing rotten in the fridge, I even switched out the filter and put charcoal in the fridge... It finally dissipated after about 2 weeks. I told the repairman about this and he said a water line possibly got stopped up and then it released the water. The problem is he didn't put that on his report, he just put that problem could not be duplicated.

Don't buy an LG refrigerator in Anchorage, Alaska! No service company in Anchorage will do LG sealed system warranty work. When our 5.5 year old LG refrigerator (model LFX21976) stopped cooling and freezing, we called an Anchorage technician to come check it. He determined that it had a compressor failure which is a sealed system issue a warranty item. He called LG to establish a claim. The LG contact ran through a diagnostic and told our tech to first replace the inverter control (not a warranty item). Our tech refused, telling LG that he was not going to charge us for work that he knew was not the problem. He persuaded the LG contact to record our claim as a sealed system (compressor) issue. Our techs company refuses to do sealed system warranty work for LG.
When we called LG to confirm the warranty repair and find out who would do LG warranty work, we were given 3 names. One was the company we originally contacted. The second advised that they too will not do LG sealed system warranty work. Only the third, located in Palmer, AK, would do the work. He charges a $35 travel fee for the hour drive to Anchorage. Having no choice, we made an appointment. He confirmed the sealed system compressor problem. Because we would be traveling, he took our refrigerator to his shop so he could work on it there when the part arrived. We expected the work to be completed when we returned.
When he contacted LG to have the part shipped, he was told to replace the inverter board and main PCB not warranty items. He did this work without contacting us. He said he had to go with what LG said even though he and LG had both been told that the inverter board and main PCB were both functioning correctly. When we returned, the Palmer tech said, "Good news." It wasn't what he thought and it did not cost as much as the warranty work would have. It did cost $438.95. He brought our refrigerator back in a few days but advised not to plug it in until the next day so the fluids could settle. We plugged it in; it did not cool or freeze. The same problem we originally reported.
When he came back several days later, he concluded that it really was a sealed system compressor problem. It then took more than two weeks to get the part. He did the repair. The refrigerator again works. But the warranty only covers the part, not the $450 labor. We were without use of our refrigerator for two months and paid for unnecessary work. A 5.5 year old refrigerator should not fail! Based on other reviews maybe we were lucky to have it work that long! But the lack of service companies willing to do LG warranty work is reason not to buy an LG refrigerator in Anchorage, Alaska.

On October 21st, our LG Model LMXS30776S/00 Refrigerator that was less than 2 years old stopped working. When I called LG Consumer Relations at 800-243-000 they took down our information. They then discussed their LG Premium Care Service Plan with us and provided us two options to get our fridge fixed. Option # 1, $450, Option # 2 $350. Option # 1 covers you for 1 year and the Option # 2 is for 3 months. We go with Option # 2. It is supposed to cover the labor and because the compressor broke that is covered by warranty by LG for 10 years from date of purchase. They set us up with one service repair company in our city, then call us a few days later to say they assigned it to another service repair company in our city. Turns out the second one is the only authorized LG repair in our city. They schedule an appointment, the earliest date, November 14th.
On 11/14 the owner comes out and says the compressor is broke and the seal system has been contaminated and he will need 6 parts to fix this. On 11/15 the repair place calls me and says the LG warranty department will not authorize the fridge to be fixed. They are going to get another repair place to come fix it. On 11/16 after not hearing from the warranty division of LG (which is outsourced), I call them. It took 34 minutes before someone answered. They explain to me and say the repair company told us they cannot fix the fridge. I say that is a total lie. The guy then paused. I said I have spoken with them multiple times and they told me you would not authorize them to repair it because you now do not want to pay the labor cost. So LG sells us on the warranty program, but then when they find out the labor cost almost 3 weeks later, they refuse to pay it and tell us we will reimburse the $350 to you.
So not only did our less than 2 year old fridge break, they do not honor their warranty programs that they sell to the consumer. I was transferred back to LG Customer Care and waited on hold 45 minutes. I never spoke to anyone again. I tried calling on 11/17 and they say wait times are too long, call back. I then proceed to do a live chat. They push me back to their 800. Long story short, DO NOT buy LG. However, you have to be careful, because LG makes refrigerators for Kenmore and others that are sold in Home Depot, Lowe's, and Sears to name a few.
LG does not stand behind their products. One local repair place in my city said they dropped LG because LG did not honor the warranties. They said do not buy LG and Samsung Appliances. So our options are to buy a new fridge, or pay someone over $800 to repair our less than 2 year old LG refrigerator. So, we paid $2900 for the LG fridge and now it will cost an additional $800 to get it fixed or we have to spend in the $1,000's to get a new one. I have never in 40 + years experienced such bad customer service with a product. I will never buy anything that LG makes or has made for another company. They do not stand behind their products. Their customer care representatives are terrible. Thanks LG. You lost a customer and hope many more after they read this for life.

We bought a new LG French door refrigerator model LFX28978ST from Sears. The refrigerator is under warranty - 7 year for sealed system and 10 yr linear compressor. We had enjoyed the refrigerator until it stopped generating any cool air in Jun 2016. We had contacted LG support, and LG technician came out 6 times to fix the same cooling issue. Every time the fix only lasted 2 days to maximum 10 days. The LG technician had been telling us the cooling issue is not fixable; however, LG corporate insisted it's fixable. LG corporate also said they will continue to fix the issue with no consideration on the number of attempts! Anyone with common sense agrees 6 attempts is more than enough to prove it's not fixable!
When we suggested there is lemon law to protect consumers from repeated same issue; LG corporate said the law does not apply to appliance. LG corporation does not care about customer satisfaction and does not honor their written warranty. It's unfair for consumers to take this nonsense from big corporation. Where is accountability? Never buy LG again.

I have a refrigerator out in the garage that is almost 30 years old and it is in better condition than this 5 year old LG, French door, freezer at bottom model. Within the first year the crisper drawers lost their wheels and by the second year they were cracked and falling apart. The latches that hold the door broke off in the second year and the cold storage drawer fell apart the next year. I have a new refrigerator coming tomorrow to replace this piece of crap. Don't waste your money on LG appliances.

We purchased a $3000 LG refrigerator in August of 2015, Model LFXS30726S, and it is a horrible design. It fails completely every 16 weeks. The fridge seems really nice, but 4 months later, it failed on Christmas Day. Frost builds up around the fan and doesn't properly defrost, causing it to fail. LG serviced the unit for the first 2 Failures, and now it has failed again. 3 times in 14 months. Lucky for LG, their warranty is for 1 year, and now they will not service or repair the defective unit.
This design was flawed from day 1! It just takes 4 months for the fan to wear out. And each time we have to borrow a spare fridge, move all of our food, and wait for service. They even had a service bulletin regarding this issue, and so they replaced the back inside panel which was supposed to fix the problem. Guess what... it did not help at all. DO NOT BUY LG Refrigerators! THEY EITHER DON'T KNOW HOW TO DESIGN PROPERLY, OR THEY DON'T TEST THEM. I am filing a complaint with the Dept of Trade and Consumer Protection, under the grounds that the fridge did not live up to its intended purpose: Keeping food cold.

Bought a $2000.00 refrigerator in 2014, three repairmen came out to look at it and said it is a leak in the cabinet and can't be fixed. They said to call LG and tell them it's a lemon. It's been almost 3 weeks and a lot of money for repairmen, loss of food, no fridge and still no satisfaction from LG. They keep pushing me around from one person to another. Even though these were authorized repairmen from them, they tell me to call someone else and I have to pay labor again. My repairmen said this happens a lot to LG fridges and LG knows it. This company is making inferior products, scamming consumers and making more money on repairs. If anyone has any ideas for my situation, please help me. LG never has called me once with so much as an apology. I want this FIXED! For any new consumers looking for an appliance...don't buy LG.

I purchased a model LFX8968 refrigerator from Home Depot. Within the first year I had to spend $170 to have a heating element put in the bottom of the unit so it would have frozen water build up in the freezer section (bottom drawer). For the last year and half, the French door which holds the ice maker leaks all over the floor, the ice reservoir melts all the ice cubes together and jams the ice dispenser. Home Depot will not stand behind the product and after hours with LG customer service, I've given up. LG customer service has actually hung up on me three times and I was respectful - no yelling. Tell your friends and even your enemies not to buy a product with the label LG on it. Never have I been so disgusted and beaten down than working with Home Depot and LG.

Waited all day for repairman - and he cancelled and didn't get around to notifying me. All this to repair a 3-year-old fridge that has been nothing but problems. LG appliances and service suck! Buyer beware.

Terrible product. Compressor not functioning after only 18 months. Calling the service line is a joke. 40 minutes on the phone with two different agents, neither of whom spoke very good English. After all was said and done, it will cost me $348 for a service call which can only be done by their service techs. Absolutely pitiful product, Model LMXC23746S/00. I built homes for 40 years and never had to deal with a malfunctioning appliance this quickly. My suggestion: never buy LG. Stick with Whirlpool, Maytag or Electrolux.

Purchased the whole 4 appliance package from Lowe's back in 09/13/2016. Of course 14 months later after warranty has expired the ice maker on the bottom of my new refrigerator stops working. Great! Repair guy just left after I was charged $238 for the repair. Mind you it took him less than 3 minutes to put a new ice thing in. What a sham. You pay almost $4000 for LG appliance and don't expect them to stop working in a year. Beyond pissed. It sucks. Might as well just bend over.
Why don't these major companies warranty their products better? You know why is because they know they will break. LG is banking that your appliances make it through the 12 months then they can repair it. Well you should have bought the extended warranty? Really? I could barely afford the appliances and they want me to pay more to insure LG's faulty products? Really? I'm insuring LG? How messed up is that? LG refer LFX25973ST serial number 505TRJL34580.

Seriously 2 yr old fridge and compressor goes out. Lost food. Ok stuff happens but then they tell me have to order part and might be able to get back Monday. REALLY a whole week. Horrible product, horrible service. PLEASE don't waste your money on LG products!

I had the misfortune to purchase six LG appliances. In the past two years, I have had 2 repairs to my refrigerator, 2 repairs to my stove, 1 repair to my washing machine, and my microwave had to be replaced. Presently, my products are still under a warranty, however, LG Repair service have refused to come to my house, again to fix my stove. DO NOT BUY LG PRODUCTS!!!

LG LMX225964 French Door refrigerator - I wish I could rate this product as a minus 100. I have never made a worse appliance purchase and will NEVER buy LG again. This French door refrigerator is less than 6 years old (purchased from BrandsMart) and for the last 1 1/2 years I've received Error IF every couple of months. This means the ice maker fan is frozen (AGAIN) and I have to remove all food from the refrigerator and freezer, put it in the garage refrigerator, and thaw out the unit. Although this process is reminiscent of an older, simpler time it is more than aggravating.
I would replace the ice fan assembly but that part is no longer available and there is no replacement part (so much for making repair parts available for 7 years). LG lost a large class action lawsuit on a number of models having a similar problem, but alas my model was not included. (The law firm that handled that case is Callahan, Thompson, Sherman Caudill LLP, http://ctsclaw.com.) This may be the weekend I finally test-drive the sledgehammer on this poor excuse of a refrigerator.

I did not look up reviews before I purchased this refrigerator, I wish I did! On the upscale price of closer to the $3000 mark, I feel I got a lemon. I loved the look, style, features, and all the different slide out drawers and compartments. I was sold! This is everything I could want in a refrigerator. Then came the disappointment... In the first year, it was getting ice build up on the inside of the refrigerator. Repair said it some kind of software problem, wasn't programmed correctly or something. It is the second year I have it, it will be in November 2016 two years old. Not working again, repair tech says this time the compressor is SHOT!!! REALLY that is the heart of the unit, in two years.
So it is under warranty for the part but not the labor. So it will cost $450 to fix. On Tuesday they were supposed to expedite the part. It's Saturday and I'm still waiting. I thought expedite meant send it NOW! I wrote a few emails to LG, they responded, "We're sorry for your troubles and inconvenience. We have sent your concerns to complaint dept." Blah blah blah. Won't ever buy another LG product.

We purchased a $2,100 stainless steel French Door LG (Kenmore) model 795.71603.012 refrigerator from Sears just over five years ago. The unit lost its ability to keep the contents cold. Today the technician informed me that it would cost almost $1,000 to replace the compressor, condenser plus repair leaks. In addition, the technician detected a Freon leak at the point where the Freon enters the freezer and that leak cannot be repaired because it's buried in the chassis - the tech suggested it was time to buy another refrigerator.
This is the second time the compressor has failed in five years. My previous GE refrigerator lasted me 14 years when I sold it in working condition. LG refrigerators designs and parts are significantly flawed and need to be addressed. Too many complaints describe the same problem and other complaints describe a substandard product sold as a premium product. Considering the number of complaints, LG (Kenmore)'s attitude of "too bad you're out of warranty" should be confronted with "too bad here's a class action lawsuit" for selling a flawed, low quality, junk products.

Recently purchased an LG TV through Best Buy- and the TV broke after 5 months of owning it. Reached out to Customer Service, who was more than condescending with us, and required us to have a technician come out. We scheduled with their 3rd party technician who could not come out for 2 weeks, and then canceled the day for our appt. Called LG Customer Service back, and spoke to another very angry and rude supervisor who then told me it would be another week - and it seemed like they really didn't have any empathy for our situation. When asked if I could fill out a customer survey- she said "I'm it" that wasn't a relief. I would never suggest a product from LG, or even their customer service was beyond atrocious.

We purchased a brand new LG refrigerator in July of 2015... At the time I did a fair amount of research and reviews on the brand and the model (French Door, Bottom Freezer), and all reviews were over 4/5 stars. We paid $2400 for a device that lasted less than 18 months. Fast-forward 13 months later (conveniently 1 month after the "we cover everything" part of their warranty ended), and the fan began to make a loud noise. A few days later, our fridge was no longer cooling, and on the digital panel we received a fan motor error code.
We had purchased a 5 year major appliance warranty from Lowe's... After 3 repairs in one weekend (each time the fridge went about 2 hours prior to it producing the same error code), followed by a separate service provider who had to order parts (and hasn't returned in over two weeks), we still do not have a working refrigerator. LG is a PoS company producing horrible quality appliances -- each service provider told us to never again buy an LG or Samsung appliance... They're made to last "up to" 7 years, but many appliances don't even make it two years at this point.

I purchased this LG refrigerator LFC20770ST/01 on 4/14/2013 and it has been leaking lately. About once a week, there is a cup of water on the floor that I have to wipe off. Today, I reached on the bottom shelf of the refrigerator where the freezer basket is and felt a sheet of ice on the bottom. A friend asked me to defrost the ice and clean the tube that connect the bottom pan. I don't get it. Why do I have to do this? I used to defrost my refrigerator in the 1980s as a kid and we are in 2016 and LG is still using the same technology?! I promise you LG, I will never ever buy a Korea made product again as long as I live.

LG will not stand behind their product. I purchased this $1,595.81 refrigerator with an extended warranty 5 years ago. In all fairness the warranty expired 4 months ago but I found out from the repair man that this was a bad model that is no longer made by LG. There is a leak in the "Sealed System" which is built into the chassis. LG designed a poor product. I asked for some type (any type) of a credit toward a new refrigerator. I've never had a refrigerator (with repairs) that lasted less than 20 years. A product that last 5 years is unacceptable. Especially if was due to poor design on LG's part. I currently also have an LG Microwave, Dishwasher. Bottom line is due to poor service they have lost a customer for life.

I spent $2379.00 for my LG Fridge Model number LFX21976ST/02. I have had it since 2011. Not long compared to every other refrigerator I have ever had. It had been a total piece of junk since I purchased. The ice maker never works. You have to unplug the door to the ice and chip the ice as it never comes down. The french door closure has broke and it a nightmare. It has to be closed in a certain order or it remains "open". The only problem is, there is no indication it is open, so I have had spoiled food on at least 4 occasions. Now I find out the Compressor has gone out. In 5 years??? I live alone and it's not opened and closed constantly. I will NEVER buy a product from them ever again. In fact I'm throwing out this one and just going to get a new cheap one.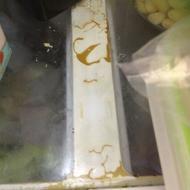 Beware LG french door fridges where the bottom shelf cannot be cleaned nor removed. My LG fridge that I bought almost 2 years ago (GR-L218ASL) has a bottom shelf that cannot be cleaned between the plastic and glass... it's very unsafe (unhygienic) and is a design fault which LG thinks I should pay for. Customer service bad... no integrity, customer is not right and case manager who told me he was the head of LG John, who I can only imagine was Mr. Juno Cho (supposedly) wasn't concerned about bad reviews. So here we are, they will occur everywhere I can find to place them to make other customers aware. Do not buy LG.

My LG refrigerator model LRFC21755 continuously has ice build up at the bottom of the freezer. LG says to defrost the freezer but this fix only lasts for about a month. You shouldn't have to defrost your freezer every month. LG has not been much of a help in resolving the problem.

We bought a $3,000 LG refrigerator 4 years ago. A few weeks ago, it failed -- an error message about a motor. I checked and found that the very refrigerator model had been the subject of a class-action settlement over the defective product. LG NEVER NOTIFIED US about the class-action suit, and the settlement has now been closed. LG's response to our problem: "You are now out of warranty and a repair will cost about $350". This is truly a vile company which sells defective products. (We also had an LG TV die after five years.) Buyer beware!!

MY EXPERIENCE HAD BEEN HORRIBLE! HERE'S WHAT HAS HAPPENED. Called hhgregg where I purchased refrigerator in March 2016. Leak started August 2016. The phone menu automatically routed my call to LG Customer Service. They said they don't repair damage to home but will repair refrigerator. They made an appointment to send an LG technician in two days. I had to call a water damage company in the meantime because water had leaked through the wall into a hallway and a bedroom. Water was under tiles and was squishing in the carpet. The LG technician finally came. The refrigerator was moved from its niche in kitchen. The technician discovered the problem. He said it was a defective valve in the ice maker. He said they're (LG) going to hate this but it's on us (LG). Called customer service again. Customer service representative, finally agreed to give us a claim number and gave us a number for Product Liability.
I kept calling that number but no one ever answered and no one returned my calls. I finally got another number from customer service rep. Bottom line is the estimate to repair and restore is around $6225. They said they will pay $4224. I cannot get my home repaired for that amount. My refrigerator is still sitting in the middle of the breakfast area and the ice maker cannot be hooked until the repairs are made to my house. The defective refrigerator caused all the damage and LG should pay the full cost of the restoration. The Product Liability department has been very disrespectful and rude to me, a customer who purchased one of their products. Does anyone know who I should call at LG to resolve this issue.

ConsumerAffairs Research Team
The ConsumerAffairs Research Team believes everyone deserves to make smart decisions. We aim to provide readers with the most up-to-date information available about today's consumer products and services.
LG, formerly known as Lucky Goldstar, is a Korean appliances company. The company, based in Chaebol, South Korea, has been in business since 1947.
Storage options: LG refrigerators come with different drawers and doors in a variety of configurations to offer customers the best storage options available.
Door-in-door: LG sells door-in-door refrigerators. These are refrigerators with an extra door connected to the other door to grab snacks easily or keep things more organized.
Energy Star: LG's refrigerators are Energy Star certified, so they use less energy.
Accessories: The company also sells convenient accessories for its refrigerators, such as replacement water and air filters.
Customization: LG's refrigerators can be customized so that homeowners can fit them into different sized spaces.
Best for Homeowners and college students looking for a refrigerator for everyday use.
LG Refrigerators Company Profile
Company Name:

LG TV

Year Founded:

1958

Country:

Korea Sout

Website:

http://www.lg.com/