Where your solar savings go the furthest
Which states are best for going solar?



Written by

Edited by

Key takeaways
Connecticut, Arizona, Florida and Alabama residents can pay off solar panels faster than those in other states.
Kentucky and Kansas have the lowest upfront solar panel costs.
The highest yearly solar savings are in Hawaii ($1,758 per year); after 10 years, these savings could pay for three years of in-state tuition at the University of Hawaii at Manoa.
Saving with solar
Solar technology has become a prominent trend in renewable energy. Solar panels allow households to generate domestic energy in a sustainable, controlled and cost-efficient manner. As resources deplete and costs rise, the traditional electricity market becomes increasingly unstable, prompting many to consider alternatives. Experts forecast that renewable energy will provide 24% of the U.S.'s electricity generation in 2023.
In this study, we determined which states offer the most financial benefits for going solar. We compiled our rankings using the average cost of a solar energy system and average annual energy consumption data per state. We then compared the savings between traditional and solar-generated power.
In which states might it take someone the least time to pay off the cost of switching to solar, and who can save the most money by doing so?
Thinking long term
Switching to solar energy is a great choice for many in the long run. It's normal to hesitate, however, because of the costly upfront investment and lengthy payback period. Here, we estimate how long it takes to pay off solar panels in each state.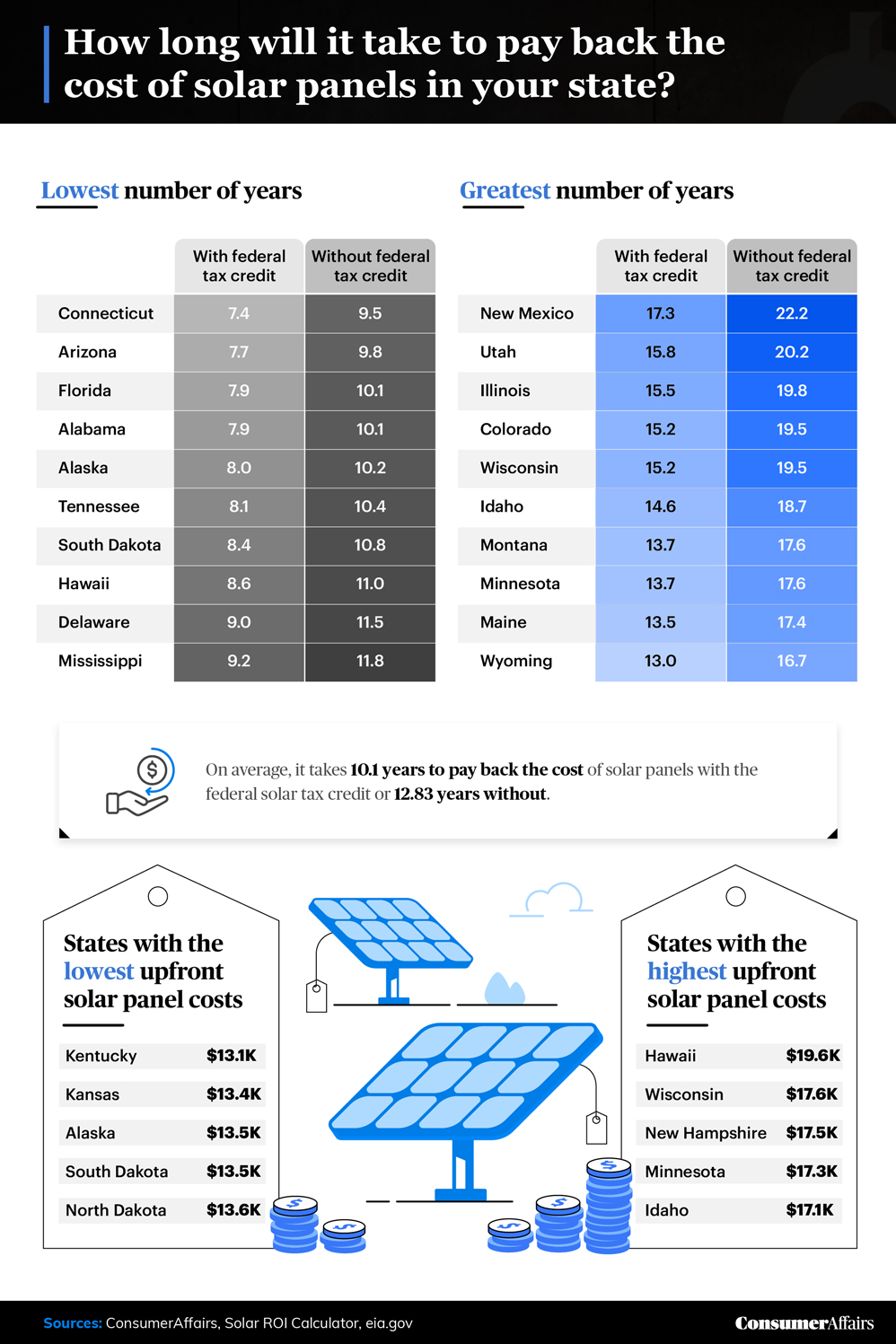 In recent years, qualified taxpayers could apply a significant federal tax credit toward solar photovoltaic (PV) system purchases. This credit enables homeowners nationwide to pay off their solar panels more quickly. On average, it takes about 10 years to pay back solar panels with the federal tax credit and nearly 13 years without it.
Connecticut, Arizona, Florida and Alabama residents could spend the least time paying off solar panels — all less than eight years. With the shortest repayment period of all the states, solar power in Connecticut proved to be a worthy investment. Meanwhile, New Mexico, Utah and Illinois residents could spend the most time paying off solar panels (ranging from 15 to more than 17 years).
As for the upfront cost, Kentucky ($13,100) and Kansas ($13,400) residents enjoy the most affordable options. Hawaii and Wisconsin residents may need to make the largest initial investments, with average costs of $19,600 and $17,600, respectively. Despite the expense in Hawaii, however, residents of these islands can pay off their solar investment faster than those in many other states by using the federal tax credit.
When budgeting for a solar switch, remember to factor in additional costs for setting up and preserving your solar system, including labor and maintenance work. Although the costly investment may sting at first, the yearly household savings can be significant.
Sustainable savings
By accounting for households' energy consumption, we compared the costs of solar power and traditional power to estimate yearly savings per state. Let's find out which states benefit most from solar energy.
The longer your home has solar panels, the more money you can save. We accounted for each state's average yearly energy usage and solar and non-solar electricity costs to estimate savings for up to 25 years. In the first year, Hawaiians enjoy the most savings ($1,758), while New Mexico residents see the least ($731). Despite New Mexico's low ranking, its solar industry is growing, and the switch to solar is becoming increasingly more common there.
After 25 years, Hawaiians' energy savings could grow to $43,952, effectively paying off the highest startup costs and then some. Hawaii's current energy costs surpass those of every other state; because the islands don't generate enough natural gas, they import supplies from the mainland, leading to a significant upcharge. Like many others, the state has granted a 35% credit to encourage people to switch to solar, making it more rewarding than ever for Hawaiians to go green.
Opportunity for more
Solar savings can mean the ability to use these funds for other endeavors and pleasures. How can people enjoy their solar savings in different states?

After ten years, homeowners who switch to solar energy will likely receive a significant amount of cash from their savings. Nationwide, these savings range from $7,305 in New Mexico to $17,581 in Hawaii. In the next section, we present specific products and experiences you can afford with your solar savings to make these amounts feel tangible.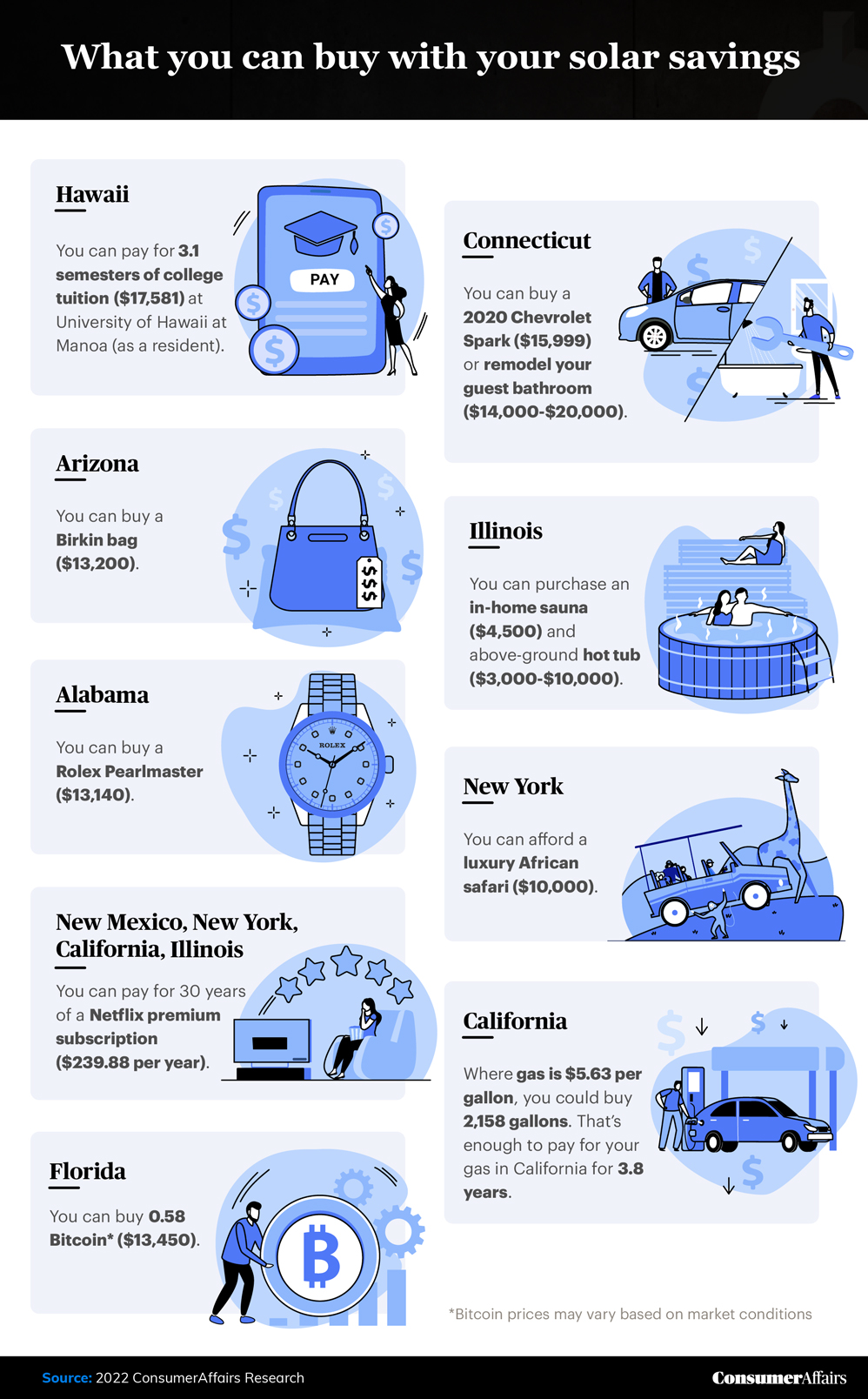 Hawaiians can afford more than three semesters of college at the University of Hawaii at Manoa with their solar savings. In Connecticut, households can use their savings to buy a 2020 Chevrolet Spark or remodel their guest bathroom. Residents of Arizona (which came in third in savings) can purchase a chic Birkin bag. Florida and Alabama trailed closely, with residents having the opportunity to invest in 0.64 bitcoin or buy a Rolex Pearlmaster watch, respectively.
No matter your state's ranking, there's a lot you can do with your solar savings — like going on a vacation. In the many states generating close to $10,000 in savings, families can enjoy a week-long cruise, for instance, or go on an African safari. Others might use their savings for everyday necessities: Californians can save enough to buy nearly four years' worth of gas today (2,158 gallons).
In New Mexico, you can treat yourself to a 30-year Netflix premium subscription ($239.88 per year). Luxury home upgrades also become more accessible for many solar-powered homeowners: Illinois residents can relax in a new in-home sauna and an above-ground hot tub with their savings. No matter how you unwind, solar savings might help you afford it.
Double the rewards
Our study illustrates quantitative data to help you decide if switching to solar is right for you. It can be a gratifying change that both reduces your carbon footprint and saves you a ton of money. That savings can alleviate pain at the gas pump, help with home repairs or pay for some luxury items on your wishlist. Wherever you live in the U.S., solar panels are likely to be a lucrative long-term investment.
Methodology
We used state-level data on upfront solar panel system costs and average energy usage data from the U.S. Energy Information Administration. We then used a Solar ROI calculator to estimate how many years it would take to pay off the cost of solar panels. Next, we determined the difference between yearly state-level solar and non-solar electricity costs to determine yearly solar savings.
About ConsumerAffairs
We provide the resources and recommendations you need for all of life's most important purchases. Feel confident in your decision-making with the help of the ConsumerAffairs team.
Fair use statement
Do you know someone considering making the switch to solar energy? Feel free to share this article with them — we simply request that you link back to our findings and that your purposes are noncommercial.
Did you find this article helpful?
|
You're signed up
We'll start sending you the news you need delivered straight to you. We value your privacy. Unsubscribe easily.