Do solar panels increase home value?
Yes, thanks to the increasing demand for sustainable living



Written by

Edited by
Find Solar Energy Companies near you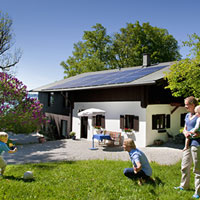 Beyond providing clean energy and helping you save money on your electricity bills, solar panels also appeal to many homebuyers, increasing your home's value on the real estate market.
We'll walk you through how solar panels can increase your home's value, including tips for getting the most out of this investment and estimates for what kind of return you can expect from adding solar panels to your home.
---
Key insights
Solar panels are attractive to potential buyers and can add significant value to your home.
While an investment in solar energy can pay for itself over time, it likely isn't worth it for the increase in your home's resale value alone.
You can maximize the value of your solar panels by properly maintaining them and taking advantage of government tax credits or rebates.
FAQ
Do solar panels increase property taxes?

In some cases, solar panels can increase property taxes. Depending on your location and the laws in place there, installing solar panels may increase the value of your property, which could mean an increase in property taxes. Prospective solar panel owners should contact their local tax assessors to get more information about how this might affect them.
Do bigger solar installations increase home values more?

Generally, bigger solar installations can increase home values more than smaller arrays. Larger installations typically generate more energy, leading to greater utility bill savings for homeowners and possibly qualifying them for additional incentives or credits.

Still, not every buyer likes the look of solar panels, and larger installations may be considered an eyesore. With that in mind, you may want to avoid investing in an overly large home solar system if you do not plan to stay in your home long-term.
Do solar homes sell faster?

Homes powered by solar energy may sell faster than those without. A study by the National Renewable Energy Laboratory reported that, on average, homes in California with solar energy systems sold 20% faster than similar homes that didn't have solar panels.

Solar panel systems are becoming increasingly commonplace across the country, so prospective buyers may even be expecting them when searching for their next homes. That said, all buyers may not view solar panel systems favorably, which could negatively impact offers. Make sure you understand your local real estate market before installing a solar energy system.
Can solar panels hurt the resale value of your home?

Solar panels can sometimes hurt a home's resale value rather than help it. Large-scale arrays might not be viewed positively by some potential buyers because of how they look.

Giuffria, the Connecticut real estate broker we spoke with, told us that one of the main factors that can reduce a home's resale value is having solar panels on the front of the house or otherwise visible from the road. A solar home's resale value can also decrease depending on the age and condition of its roof under the solar panels and whether the buyer will be subject to a maintenance contract or other commitment.
Did you find this article helpful?
|
You're signed up
We'll start sending you the news you need delivered straight to you. We value your privacy. Unsubscribe easily.