DIY solar panels: pros, cons and installation guide



Written by

Edited by
Find Solar Energy Companies near you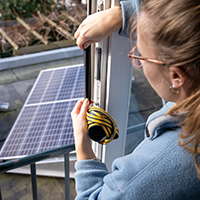 Many homeowners have begun to consider switching to solar energy as a friendly option for the environment as well as their bank accounts. However, only a select few have the expertise and do-it-yourself spirit to install their own solar panels.
We'll explore the benefits and drawbacks of DIY solar as well as what you need to know before you dive in.
---
Key insights
DIY solar installation helps you cut costs — most homeowners save up to 10%.
However, DIY installation is better suited to small-scale projects than whole-home conversions.
Installing solar panels may require professional help or special permits, depending on where you live.
When not installed properly, solar panels can pose safety risks and cause roof leaks.
FAQ
Is it legal to install your own solar panels?

There's no federal law preventing DIY solar projects. However, some cities and utility providers require that solar panel installations are completed by licensed professionals. Others may ask that you apply for one or more permit(s), which may impose other restrictions.
Do you need to be an electrician to install solar panels?

Whether you need an electrician to install solar panels depends on which state you're in. For safety purposes, some areas require people installing solar panels to have proper certifications and licenses. Regardless of the legality, if you don't hire a professional, you will need extensive knowledge on how to safely complete the wiring.
How much do DIY solar panels cost?

Solar panels cost an average of $3 to $5 per watt. However, if you DIY, expect to cut 10% off of your final bill since you don't have to pay for labor. This number only includes solar panels, but you'll also need to factor in the costs for batteries, inverters and other equipment.

» MORE: How much do solar panels cost?
Did you find this article helpful?
|
You're signed up
We'll start sending you the news you need delivered straight to you. We value your privacy. Unsubscribe easily.