What is an off-grid solar system?



Written by

Edited by
Find Solar Energy Companies near you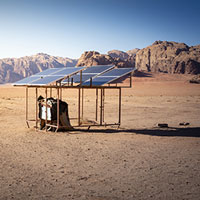 Across the globe, commercial and residential areas have begun transitioning to greener energy solutions. If you're thinking about making the eco-friendly switch, outfitting your home with a solar panel system is an important step. Although there's some debate about which types of systems work best, the right fit for you ultimately depends on your house and location.
There are three major categories of popular solar systems: grid-tied, hybrid and off-grid. Here, we'll focus on the benefits, downfalls and pricing of off-grid systems to help you decide.
---
Key insights
As their name suggests, off-grid systems run independently from the power grid and store energy in a solar battery for later use.
Off-grid solar systems are more costly than grid-tied systems because they require additional components.
Off-grid systems are a good choice for those who don't want to rely on a utility company or experience blackouts.
Did you find this article helpful?
|
You're signed up
We'll start sending you the news you need delivered straight to you. We value your privacy. Unsubscribe easily.