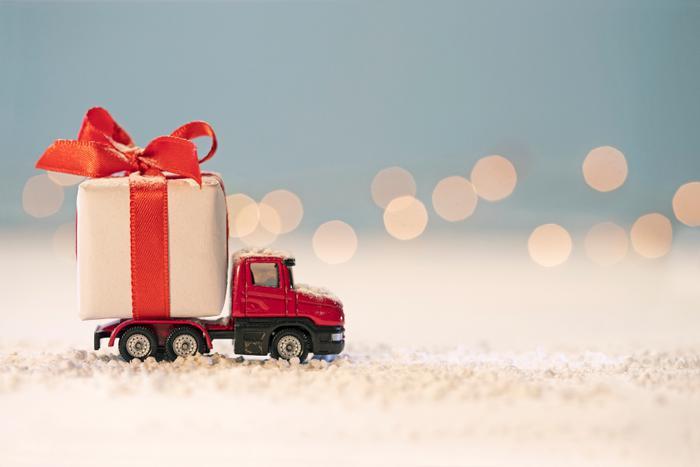 Though there's plenty of time to order holiday gifts online without fear of when they'll show up, that anticipation will start to build in the coming weeks. 
To help offset some of those anxieties, Saks OFF 5th has rolled out a new feature – Guaranteed Delivery Date. Rather than showing a vague window of when an item will show up on your doorstep, or having shoppers wait until their order ships to know when it's really coming, the company will now show shoppers precisely when their order will arrive. 
"Before Guaranteed Delivery Date, SaksOFF5th.com customers were presented with a standard delivery time frame for each item, regardless of destination, which meant items shipping to New York, Seattle, or Hawaii all had the same shipping period of three to five business days," said Shivi Shankaran, COO of SaksOFF5th.com.
"With our new logistics capabilities now in place, we're able to analyze all of the many factors that go into estimating a delivery date, such as where the product is, where it needs to go, who can help us deliver, and provide a concrete date for when customers will receive their package based on when they order. By introducing a customer-centric approach to our delivery experience, we're making it easier to shop with Saks OFF 5th than ever before." 
Shoppers will be able to view their guaranteed delivery date once they're in the checkout process. Their shopping cart will highlight the date of delivery, as well as the price of shipping for each shipping method.
However, shoppers will also see a countdown timer – they must complete their order before the timer runs out in order to lock in the original guaranteed delivery date. 
The company reported that while most orders will fall under the new Guaranteed Delivery Date, not all will. For those that don't, there will be an estimated delivery range for when the package will be delivered. 
Additionally, should a package be delivered after Saks' Guaranteed Delivery Date, customers are eligible for a refund for their delivery charge. 
Shopping becomes more efficient
With this new feature, shoppers will know immediately whether the item they have their eye on will arrive in time, or if they should start looking for backup options. 
Saks OFF 5th worked both internally and with Shipium, a shipping and technology company, to make their estimated delivery dates as precise as possible for every single item. The company has also started working with more delivery carriers to improve the delivery process and allow shoppers to get their items as quickly as possible. All of these efforts, the company says, combined with advancements in technology and fulfillment centers have made it possible for Saks OFF 5th to improve its delivery date process. 
The company also believes that more accurate delivery dates will improve its delivery efficiency, as well. With the holiday season underway, it estimates that shoppers will have as many as three additional days to place their order and ensure a Christmas delivery date. 
There will also be even more ways to ship deliveries this holiday season. Shoppers can expect to have more options – such as Next Day Delivery and Expedited Delivery. The Guaranteed Delivery update will be available for all delivery options, and they will also show the costs associated with each choice.