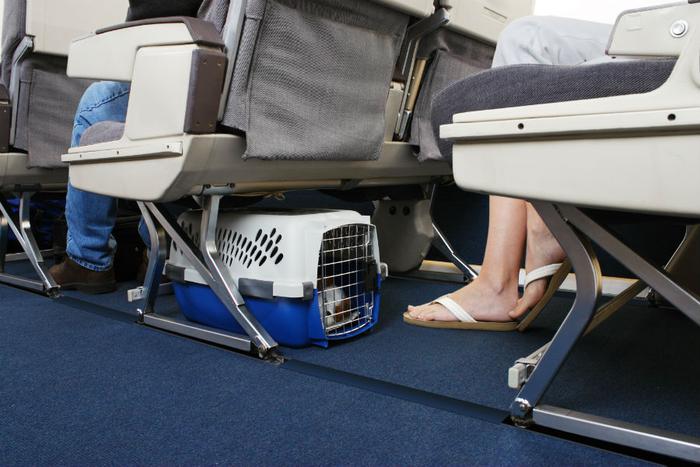 After nearly a year of testing out its service and emotional support animal program, American Airlines is refashioning its policies and procedures.
"The goal of these changes is to protect customers who have a legitimate need as well as the team members who work every day to keep all customers safe," the airline said in a news release. The new changes will be effective for travel starting on April 1.
Complaints about service and emotional support animals have doubled in the last three years. The extremes of in-flight situations -- biting, urinating, or defecating -- set off a maelstrom of policy changes as major U.S. airlines wrestled with finding the perfect way to handle the situation. Even airports got on the bandwagon, going to the extent of creating pet-relief stations and roaming space for pets to frolic.
Miniature horses?
American laid out its new credo -- some with direct consumer implications:
American supports the rights of customers, from veterans to people with disabilities, with a legitimate need for a trained service or support animal. Unfortunately, untrained animals can lead to safety issues for team members, customers and working service and support animals onboard aircraft.

American surveyed 10,400 team members and 18,000 customers about these issues and used their feedback to enact these new policies. The results of this survey, along with additional comments from the airline, were submitted to the U.S. Department of Transportation. The airline's comments focus on a variety of pet-centric issues ranging from the limitation of species to how it will handle itineraries that include "code-share" partners.

Effective for travel on or after April 1, a traditional service animal may be a dog, a cat or, in some limited circumstances, a miniature horse. Emotional support animals are limited to either a dog or cat only; a customer may only bring one emotional support animal onboard aircraft.

American will require a Veterinary Health Form, along with immunization details, for emotional support animals. Details regarding all of these updated changes and forms, as well as the advanced notice and pre-clearance policy, are available here.

Animals under four months of age will no longer be permitted to travel as service or support animals. Animals under this age usually have not received the necessary vaccinations that protect team members and customers.
What's next?
It's too early for consensus on whether American's new plan will stick or if it's just another step in toward finding the perfect groove.
If the last year is any indication, other major airlines are likely to follow suit and implement changes from the experiences they've encountered with their new policies.
If the question of service or emotional support animals impacts you as a consumer, it's always smart to get caught up on the current policy of the airline you're flying with. If you're flying internationally, policies and the required paperwork can vary greatly from what domestic carriers and the U.S. requires. As an example, foreign airlines are only required to recognize service and support dogs at the present time. One good resource ConsumerAffairs found for international pet travel policies is BringFido.com.
Fliers with pets are always wise to check with the Federal Aviation Administration's (FAA) to review its latest updates on the matter. You can find the FAA's current stance on the situation by clicking here. The agency has also produced this video to give consumers a broad overview.