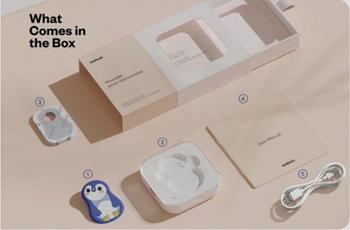 BearCare is recalling its rechargeable Walnut Wearable Smart Thermometer, an over-the-counter rechargeable device intended for continuous chest temperature monitoring of children ages 0-6 years.
Users have reported suffering injuries, including skin burns.
The device may be failing if users observe any substance leaking from its exterior, any corrosion near the smart sensor on the back of the device, diminished battery life, or connectivity issues with the Walnut App.
Additionally, a sensation of warming or heat at or near the site or redness and irritation on the skin are also signs of that a device is failing.
The recalled product, which can be identified by its silicone exterior resembling a cartoon penguin, (1) contains a thermometer unit, (2) base station, (3) adhesive strip, (4) user manual and (5) charging cable as shown in the accompanying photo.
The Walnut thermometer, model number WT20 and lot number 20221115W002, was sold from December 2022 to April 2023, by Amazon.com, Walmart.com, and www.walnutcares.com.
What to do
Consumers should immediately stop using the product if any of the above signs are observed.
Consumers desiring a full refund may return the product to:
BearCare, Inc.
80 Davids Dr. #200
Hauppauge, NY 11788
Consumers may contact the firm at recall@walnutcares.com for a prepaid shipping label.