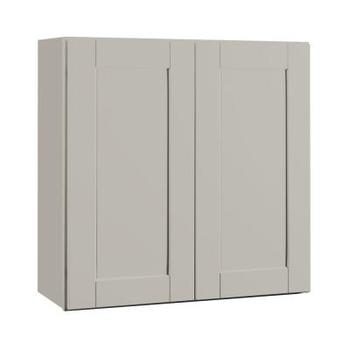 American Woodmark Corporation of Winchester, Va., is recalling about 235,000 Continental Cabinets and Hampton Bay Kitchen Wall Cabinets.
The cabinets can detach from the wall, posing an impact hazard.
There have been 90 reports of incidents involving 111 cabinets partially separating or detaching from the wall. No injuries have been reported.
This recall involves Continental Cabinets Kitchen Wall Cabinets with model numbers CBKW3018, CBKW3030, CBKW3036, CBKW3612, CBKW3630 and CBKW3636.
It also involves Hampton Bay Kitchen Wall Cabinets with model numbers KW3015, KW3018, KW3030, KW3036, KW3612, KW3630 and KW3636.
The model names and numbers are printed on the product packaging or purchase receipt.
The cabinets were sold in white, brown, gray and natural wood and range in size from 30 to 36 inches wide and 12 to 36 inches high.
The recalled cabinets have a stamp on the back of the cabinet showing "BP300 KW1" or "BP300 KW2" and a date stamp of February 2022 through September 2022.
Because the manufacturing and date codes are not visible once a cabinet is installed, American Woodmark will supply a free repair kit for any of the recalled cabinet models purchased from February 2022 through March 2023.
The cabinets, manufactured in the U.S., were sold at Ace Hardware, Allied Building Stores, Cimarron Lumber Supply, Do it Best, House Hasson Hardware, HD Supply, True Value Company, and Wurth Wood Group nationwide, and The Home Depot stores in Connecticut, Delaware, Florida, Georgia, Indiana, Massachusetts, Maryland, Maine, Michigan, North Carolina, New Hampshire, New Jersey, New York, Ohio, Pennsylvania, Puerto Rico, Rhode Island, South Carolina, Tennessee, Virginia, Virgin Islands (U.S.), Vermont, Washington, DC and West Virginia. and online nationwide.
The cabinets were sold from February 2022, through March 2023, for between $80 and $265 depending on the cabinet model.
What to do
Consumers should immediately stop using the recalled cabinets and contact American Woodmark for a free repair kit which includes two brackets with aesthetic covers and screws. Assistance with the repair kit installation will be provided upon request.
Consumers may contact American Woodmark toll-free at (888) 273-7896 from 9 a.m. to 5 p.m. (ET) Monday through Friday or online at https://continentalcabinetry.com/recall or https://hamptonbaykitchens.com/recall for more information. American Woodmark is contacting all known purchasers directly.