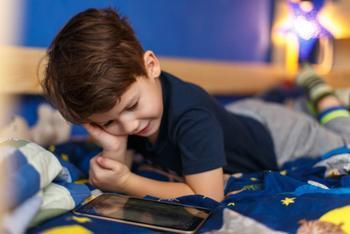 From instilling an early love of books to making sure Junior has a basic understanding of numbers, parents often do all they can to make sure their little one is ready for kindergarten. But could too much screen time hinder kindergarten readiness?
To find out, researchers from New York University tracked the kindergarten readiness of more than 800 students. Findings from the study suggested that kids, particularly those from low-income families, who watch more than a few hours of television a day may be less ready for kindergarten.
"Given that studies have reported that children often watch more than the recommended amount, and the current prevalence of technology such as smartphones and tablets, engaging in screen time may be more frequent now than ever before," said Andrew Ribner, the study's lead author.
Poorer children most affected
For the study, Ribner and his colleagues tested kids' thinking, memory, social-emotional, math, and literacy skills. The researchers found that watching TV for more than couple of hours a day translated to lower skills, especially among low-income children.
Kids whose families were at or near the poverty line saw the largest drop in school readiness from watching more than two hours of television. Conversely, the researchers found no link between school readiness and television viewing in high-income homes
The team suggested that parents heed the American Academy of Pediatrics' TV viewing guidelines, which currently state that parents should limit TV time to less than an hour a day for children aged 2 to 5.
Different circumstances
Circumstantial differences may help to explain the varying strength of the association between TV time and lower school readiness across incomes, the researchers hypothesized.
For example, affluent parents may have more time to watch TV with their children and to explain and discuss the content. Additionally, kids in higher-income homes may watch more educational programming and less entertainment.
"Our results suggest that the circumstances that surround child screen time can influence its detrimental effects on learning outcomes," said study co-author Caroline Fitzpatrick, of the University of Sainte-Anne in Canada.
The study was published in the Journal of Developmental and Behavioral Pediatrics.