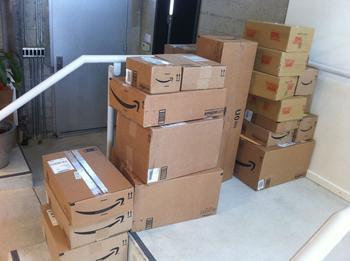 The online rivalry between Amazon and Walmart is continuing to heat up.
In an announcement made Tuesday, Amazon said that it will be offering a 45% discount on its Prime subscription service to shoppers who receive government aid from welfare or food stamp programs, a move that experts say takes aim at Walmart's key customer base.
"We know when people try Prime they love it, because they save time and money with low prices on millions of items, unlimited access to premium videos and music, and fast, convenient delivery," said Greg Greeley, vice president of Amazon Prime. "We designed this membership option for customers receiving government assistance to make our everyday selection and savings more accessible, including the many conveniences and entertainment benefits of Prime."
How to qualify
To qualify for the discount, consumers will have to provide a valid Electronics Benefits Transfer (EBT) card, which is used by state welfare departments to issue benefits. Customers will be able to qualify for the subscription every 12 months up to 4 times, but the subscription cannot be bought with an EBT card. Members are free to cancel the service at any time and can sign up for a free 30-day trial here.
After qualifying with their EBT card, new members will be able to take advantage of unlimited free shipping on qualifying Amazon purchases, as well as numerous Amazon Prime services, including Prime Video, Prime Music, Prime Reading, and Prime Photos.
Other benefits of the subscription include exclusive Audible channels, a free pre-release Kindle book every month, a Twitch prime subscription, free same-day delivery options, and free two-hour delivery options under Prime Now.
Catering to lower-income customers
The cost of the service, which is typically $10.99 per month or $99 per year, has been reduced under the program to $5.99 per month. It's Amazon's latest move in an effort to cater to lower-income customers, many of which might otherwise prefer Walmart.
Previously, the company created its $10.99 per month Prime offer – an alternative to paying $99 per year -- and said that it would start accepting food stamps for its grocery items, according to a report from The Verge. The company also recently lowered its threshold requirements for free shipping to cater to a wider base of online shoppers.