Southwest says its drink prices are still competitive, but consumers who must drink mid-flight have a cheaper option
03/02/2018
|
ConsumerAffairs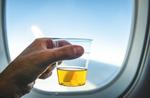 Southwest Airlines' "$5 Happy Hour, every hour" is no more. The U.S.-based airline, which has long offered some of the cheapest prices on cocktail and beer selections, is raising its menu prices $1 to $2, though the changes won't apply to consumers who are part of Southwest's frequent flier or drink coupon program.
An airline spokesman defended the price increase, telling USA Today that its drink prices are still competitive. The airline has not raised its drink prices s...
More
The limited-time sale covers flights originating from across the country
10/11/2017
|
ConsumerAffairs

By Christopher Maynard
Christopher Maynard is a New York-based writer and editor who ... Read Full Bio→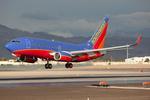 Travelers planning holiday flights will want to move quickly on Southwest's ultra-cheap deals happening now through Thursday, October 12 at 11:59 p.m.
On its site, the airline says that travelers can book one-way trips for nonstop domestic routes for as little as $49, but longer trips across the country or to destinations outside the U.S. can cost upwards of $150. The sale features flights originating from nearly 100 destinations, including major airports like Atlanta, A...
More
Sort By