The limited-time sale covers flights originating from across the country
10/11/2017
|
ConsumerAffairs

By Christopher Maynard
Christopher Maynard is a New York-based writer and editor who ... Read Full Bio→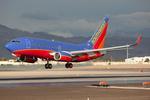 Travelers planning holiday flights will want to move quickly on Southwest's ultra-cheap deals happening now through Thursday, October 12 at 11:59 p.m.
On its site, the airline says that travelers can book one-way trips for nonstop domestic routes for as little as $49, but longer trips across the country or to destinations outside the U.S. can cost upwards of $150. The sale features flights originating from nearly 100 destinations, including major airports like Atlanta, A...
More
CEO Gary Kelly says introducing one would be a 'huge mistake'
01/30/2017
|
ConsumerAffairs

By Christopher Maynard
Christopher Maynard is a New York-based writer and editor who ... Read Full Bio→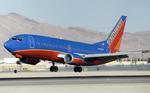 It used to be that airliners strove to out-do each other in providing amenities to passengers. But in an ironic twist, many carriers have begun taking away flight perks to lower the ticket price.
No-frills fares has been a growing trend in the airline industry. Delta was the first to hop on board with the idea when it revealed its Basic Economy fare, which lowered ticket prices in exchange for no seat assignments and ineligibility for complimentary upgrades and same-day ...
More
Sort By