The airline says no one was hurt on the Chicago to Newark flight
05/03/2018
|
ConsumerAffairs

By Mark Huffman
Mark Huffman has been a consumer news reporter for ConsumerAffairs ... Read Full Bio→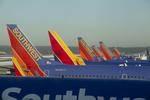 Southwest Airlines flight 957 made an unscheduled landing in Cleveland Wednesday after a window in the passenger cabin cracked.
The flight, from Chicago to Newark, landed safely. The airline said there were no injuries and stressed that it was an "unscheduled" stop and not and "emergency" landing.
"There are multiple layers of panes in each aircraft window," Southwest said in a statement. "No emergency landing was declared. The aircraft maintained pressurization, and the ...
More
The airline cancelled 40 of its flights on Sunday
04/23/2018
|
ConsumerAffairs

By Mark Huffman
Mark Huffman has been a consumer news reporter for ConsumerAffairs ... Read Full Bio→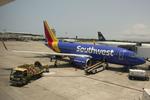 Travelers returning home on Sunday on Southwest Airlines encountered a few delays as the carrier cancelled about 40 flights for engine inspections.
In a statement, Southwest said the flight disruptions were the result of its decision to step up its ongoing engine fan blade inspection program, looking for signs of metal fatigue. An engine blade separated from an engine in mid-flight last Tuesday, killing a passenger aboard Southwest Airlines flight 1380.
"We have minimized...
More
Sort By