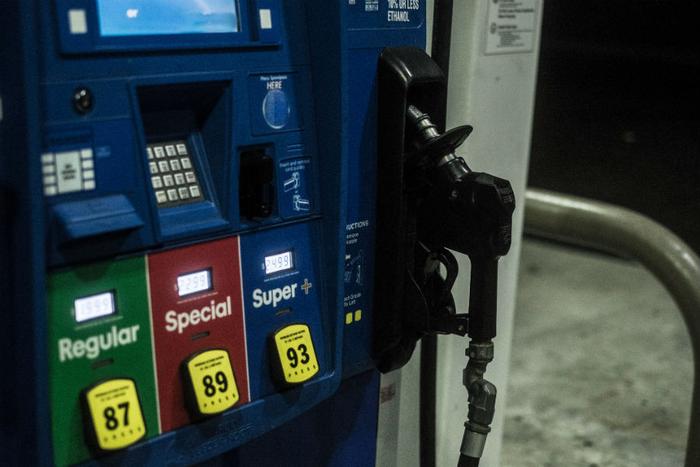 With economic concerns sending oil prices tumbling, motorists are continuing to get a break at the gas pump. Prices fell once again in December and are still going down in January.
The AAA Fuel Gauge Survey shows the national average price of regular gas is $2.25 a gallon, down three cents from last Friday. It's 13 cents lower than a year ago.
The average price of premium is also down five cents from last week, at $2.84 a gallon. The price of diesel fuel has finally fallen below $3 a gallon, to $2.98.
Government figures about oil supplies are in short supply due to the government shutdown, but the oil market is flashing signals of a global economic slowdown. Crude oil is trading below $47 a barrel, meaning refiners are producing motor fuel for less.
Nationwide trend
Falling prices have been fairly uniform across the country. Hawaii is still the most expensive state for gasoline, but it's now tied with California thanks to that state's hefty gasoline tax.
Ohio has seen a large drop in gas prices thanks to a gas war in some parts of the state. At the start of the week, GasBuddy's head of petroleum analysis, Patrick DeHaan, reported that five stations in Columbus were selling regular for $1.49 a gallon. The statewide average in Ohio is down nine cents a gallon in the last seven days.
Elsewhere, price dips have been more moderate. Missouri retains the title of cheapest gas with a statewide average of $1.82 a gallon, four cents cheaper than last week. Eleven states now have average gas prices under $2 a gallon. Only four states have an average price over $3.
The states with the most expensive regular gas
These states currently have the highest prices for regular gas, according to the AAA Fuel Gauge Survey:
Hawaii ($3.34)
California ($3.34)
Washington ($3.07)
Alaska ($3.05)
Oregon ($2.93)
Nevada ($2.92)
Arizona ($2.65)
Connecticut ($2.60)
New York ($2.60)
Utah ($2.58)
The states with the cheapest regular gas
The survey found these states currently have the lowest prices for regular gas:
Missouri ($1.83)
Oklahoma ($1.91)
South Carolina ($1.92)
Alabama ($1.92)
Texas ($1.92)
Mississippi ($1.93)
Ohio ($1.93)
Louisiana ($1.94)
Kansas ($1.94)