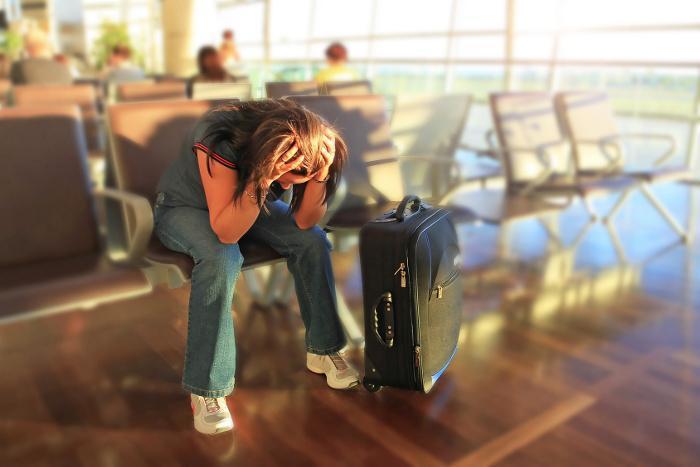 If this holiday travel season traffic continues to grow in numbers like the rest of 2022 has, travelers who haven't flown since the pandemic lifted should be ready for changes that they might not have seen before.
Here are some possible wrinkles and ideas that ConsumerAffairs found that may be worth considering. It may be worth printing this out and using it as a guide as you plan out your holiday air travel.
Flights might be packed to the gills. "Flights will all be full so if sitting together with family and friends is important, ensure you have seats reserved," Sandra McLemore, travel TV host and industry expert told ConsumerAffairs, adding an extra warning that it's unlikely you'll be able to switch on the day of travel without asking another passenger.
AirlineRatings' Geoffrey Thomas said that if you want more comfort, seating-wise, consider buying an exit row. "It is an excellent investment and not only gives more comfort but reduces stress levels," he said.
Drop off your luggage ahead of time. One of the little known tricks of the trade for seasoned travelers is that you actually check your luggage ahead of time!
"If you're able to do this it can help cut down the amount of time you need to spend in the airport, potentially avoiding some queues. Alternatively, if you can opt just for hand luggage you can reduce any wait times even further," Laura Lindsay, Skyscanner's trend and destination expert told ConsumerAffairs. 
For a complete list of airlines that offer this service, click here.
Prepare for delays
Pack a ton of patience for the airport. McLemore says travelers should arrive at the airport 2-3 hours earlier than normal if they don't have TSA and/or CLEAR* membership. Lines will be long, less experienced travelers and people with special needs will take longer to maneuver through the airport."
*CLEAR is an airport security membership platform that helps passengers get through security faster at these U.S. airports.
Some U.S. airports will be especially busy over the Thanksgiving weekend – among them, Atlanta, Las Vegas, and Charlotte. Hopper offers a list of the 10 busiest airports and the 10 that suffer the most disruptions. You can find that here.
If you can, avoid checking luggage. In her opinion, McLemore thinks that a carry-on offers faster movement and less chance of your items going astray.
However, for those who need to check a bag or are concerned that they could lose or misplace something while traveling, ConsumerAffairs recently found something called PingTag, "lost and found" QR code stickers that can go on things like luggage so if a bag gets lost, anyone who finds it can scan the code and contact the owner.  
App up! Mary DeSpain, President at Destination CLEs told ConsumerAffairs that travelers should be sure to have their airline's app downloaded. You'll be able to use it for boarding, baggage tracking, getting immediate updates, etc.
Check-in online. "Checking in online can really save time on arrival at the airport. Online check-in is obligatory for some airlines, but even for airlines where it's not, it's usually an option," Lindsay said.
"If you've already checked in online, you can completely avoid the first check-in queue at the airport, going straight to bag drop or security. You'll also be able to choose your seats in advance, snagging some extra leg room or a window seat before the other passengers get the chance."
Keep an eye on the sky
Watch for weather changes. Putting on her weathercaster hat, DeSpain added that if a traveler sees bad weather coming, they should call their airline immediately to see if they can make changes to their itinerary.
Travelers can check on whether their flight is on time or stuck somewhere else because of bad weather at FlightAware, ConsumerAffairs go-to site for flight snafus.
Check how long the lines are in advance. "You can always check the airport's website for information on whether the security lines are longer than usual," noted Mercedes Zach, a travel expert at ASAP Tickets. "To save time, check in online or at a self-service desk at the airport whenever possible."
Thomas added that if you're flying with a low-cost airline, you should consider buying priority check-in and boarding.
"Saves long queues which can be very stressful. At some airports, you can also buy security on departure and customs on arrival priority lanes," he said. "Worth every cent!"
How to get through security faster. Zach also told ConsumerAffairs that some locations and airlines may still require masks or even proof of vaccination, so it's smart to take that documentation with you just in case. 
Skyscanner's Lindsay added to dress for success – in the security line! "You'll likely have to take off your coat and belt before walking through the security screening, as well as some shoes, like boots or high heels. The more you prepare before passing through security, the faster the process will be," she said.
Speaking of security checks, are you enrolled in TSA PreCheck?
Having TSA PreCheck can save a lot of time. In fact, during October 2022, 91% of PreCheck holders waited less than 5 minutes.
"We always encourage travelers to enroll in TSA PreCheck to facilitate a more seamless experience," a spokesperson for Airlines for America told us.
Just so you know, PreCheck comes at a price, but TSA just discounted in-person enrollment and renewals to $78 and online for $70 for 5 years – so that needs to be considered if you don't plan on flying frequently.
But, lucky you, one airline industry watcher has found seven ways around TSA Pre-Check fees, as well as Clear and Global Entry.
"Currently, there are nearly 50 cobranded airline, hotel, and other credit cards offering up to $100 in statement credit reimbursement for the application fees associated with Global Entry or TSA PreCheck," said ThePointsGuy's Caroline Tanner.
"This credit is typically available every four to five years, though you should check the terms for your specific card for the exact frequency."
Pack your own snacks
Bring some snacks if you want to save money. Airlines are still charging for seemingly everything short of going to the bathroom. Yes, water, coffee, tea, etc. are still free, but you'll pay dearly if you want some snacks. If you want to save money, bring your own snacks.
The TSA allows travelers to bring everything from bread to yogurt onboard. Some items have to be under a certain size, but with a little advance planning, you could put together some to-go bags for everyone in your group.
Prepare for flights to be delayed or canceled. "Delays and cancellations are a fact of life any holiday season, but we could see more of them than usual this year as airlines adjust their schedules based on demand, and as they struggle to find qualified workers in some cases," Scott Keyes, founder of Scott's Cheap Flights told ConsumerAffairs.
"Remember, though, if the airline significantly alters your schedule, you can get a full refund or request that they accommodate you on another flight. It's easier for the larger airlines to do the latter, as they have interline agreements with other airlines," Keyes added. 
One important thing to note, however, is the airlines that haven't agreed to rebook a traveler on another airline with which it has an agreement at no additional cost when a cancellation or delay of a flight is "controllable" (maintenance or crew problems, cabin cleaning, baggage loading, and fueling).
According to the Department of Transportation's dashboard, Allegiant, Frontier, Southwest*, and Spirit have yet to agree to that rule and anyone flying on those airlines should be aware of what they can and can't expect in a delay or cancellation. Airlines for America offers a comprehensive guide on the matter, as well. 
And, if you do get in a jam with a cancellation, there's AirHelp, a fee-based service that can offer advice to travelers regarding cancellation and other rights.