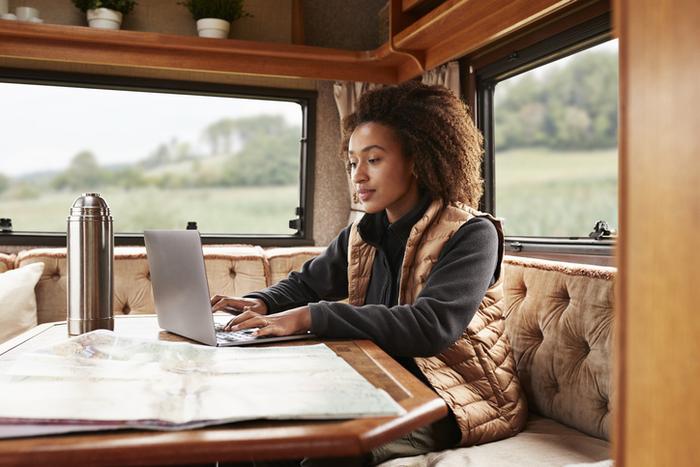 Because of the airline industry's holiday collapse, some wannabe travelers might be thinking of other options to get to their vacation destination. Bus? Train? Renting a car? RV?
On the surface, they all seem expensive and, in fact, can be. But one travel blogger who went the RV route insists that when gas, accommodations, meals, etc. are figured into the equation, renting an RV may offer more upside than most people realize.
"This topic of airline travel fees vs the cost of an RV road trip came up after I, along with many others, experienced the stress, panic, and cost of travel this past holiday," Megan Meade told ConsumerAffairs."
"After our flights to and from the Midwest were canceled the night before we had to leave, our plan of catching a cheap flight turned into a hectic rescheduling for some much more expensive tickets and the loss of a day on our trip. This got me thinking, how much would it have cost us to just take our RV and make a road trip out of it?"
Meade said that thanks to some online tools like the U.S. government's fuel trip calculator and tips from blogs on calculating the price of an RV road trip, she was able to get a good idea of just how much her 1,200-mile trip from the east coast to the Midwest would set her back. She said she took everything she could into account, including a one-night stop at a campground each way, a high-end estimate on the price of gas, and tolls. 
When it was all added up, Meade said that while the estimated cost of gas seemed off the chart – like $840 – everything added together was about the cost of one to one-and-a-half airline tickets. 
And Fido rides free!
One plus that Meade brought to our attention is that she was able to avoid the cost of boarding – or shipping – her dog.
That factor alone saved her around $350, making the savings for this trip far more considerable, she said.
"In total, the cost of an RV road trip would have cost in the ballpark of $1,000-$1,200. This is $600 less than what it cost us to fly, including the additional expense to leave our pup behind," was her takeaway.
"These savings alone are enough to make me strongly reconsider flying for our next trip, but one day when kids are added to the mix, we will definitely be skipping the stress of airline travel and embracing the life-long memories that come with family road trips whenever possible."
RV parks are all-in on upgrades, too
Meade apparently isn't alone in using an RV for her vacation transportation. All told, more than 70 million Americans did the same in 2022, 10 million more than they did in COVID-heavy 2021.
To meet the rush, campground owners are finding they need to up their game, too, if they want to stay in business. On top of natural add-ins like wi-fi, sustainability, and environmental impact to meet the expectations of the younger, more diverse traveler, Steve Mwan at RVPlusYou says campground owners are being nudged to find unique overnight options that might appeal to demographics who've written off  RVing as old-fogey stuff.
"For the road-weary traveler who has spent too many nights in a cramped RV, onsite lodging can be a welcome relief. Getting creative with your accommodations is a clever way to appeal to a wider range of campers," Mwan said.
"People are increasingly interested in unique or unusual accommodations, so you can add options such as cabins, yurts, teepees, tree houses, or vintage trailers. You can even include bio-domes or hammocks for those who want to soak in the stars."