Prime members continue to rack up perks at the grocery store chain
08/08/2018
|
ConsumerAffairs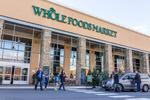 Since acquiring Whole Foods last June, Amazon has been sweetening the deal for Prime members with various discounts and perks.
Now, Amazon has announced curbside pickup at Whole Foods locations for Prime members. Those who spend the $119 per year on a Prime membership can shop Whole Foods' entire store either on the website or the Prime Now app, and their groceries will be ready for pickup in just 30 minutes.
Customers will be charged a $4.99 fee to have their orders read...
More
The company had apparently allowed vendors to sell a baby onesie featuring a burning cross, among other products
08/07/2018
|
ConsumerAffairs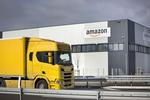 Amazon says it has pulled neo-Nazi and white supremacist products off its site, several weeks after a member of Congress questioned the retail giant about why the products were available in the first place.
The Action Center on Race and the Economy issued a report last month describing items on the site that appeared to be marketed to hate groups, such as a baby onesie featuring a burning cross and a noose costume that makes the wearer look as though they have been lynch...
More
Sort By