Job listings for 'Amazon's first grocery store' were posted on Monday
11/11/2019
|
ConsumerAffairs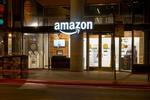 Amazon will continue to expand its brick-and-mortar footprint through the addition of a grocery store that will exist as an alternative to Whole Foods and Amazon Go, CNET reports. 
Four job listings for the grocery store were posted on Monday for "Amazon's first grocery store," which is set to open in Woodland Hills, California in 2020. The company has leased a 35,000 square-foot location that was previously a Toys 'R' Us. 
Amazon was rumored to be working towards the ope...
More
Consumers who use the service can have groceries delivered within two hours
10/29/2019
|
ConsumerAffairs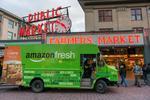 Amazon announced on Tuesday that it's giving Prime members free grocery delivery through its Amazon Fresh service, which previously cost $14.99 per month. 
The food delivery service is currently offered in 2,000 cities, and Amazon says "even more cities" will get the service in the near future. Prime members who use it get fresh groceries -- including produce, meat, snacks, and household essentials -- delivered within a two-hour window. 
Going forward, the service will be...
More
Sort By