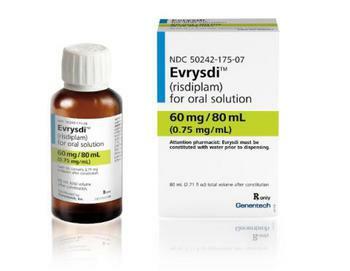 Genentech of South San Francisco, Calif., is recalling about 14,000 bottles of the prescription drug Evrysdi (risdiplam).
The bottles can leak due to a fit issue between the press-in bottle adapter and bottleneck. If the bottle is leaking, there is a risk of drug exposure by contact with skin or eyes.
Prescription drugs must be in child resistant packaging that prevents children from gaining access to the contents as required by the Poison Prevention Packaging Act.
The firm has received 26 reports of leaking bottles. No injuries have been reported.
This recall involves bottles of the prescription drug Evrysdi, a prescription medicine used to treat spinal muscular atrophy (SMA) in adults and children 2 months of age and older.
The recalled 100 mL amber bottles have "Evrysdi (risdiplam) for oral solution," the dosage and "NDC 20242-175-07" on the front of the bottle labels.
The medication, manufactured in Switzerland, was sold at select specialty pharmacies nationwide as a prescribed medicine from August 2020 through the present. The price of the medication varies based on health insurance terms and other factors.
What to do
Consumers should immediately store Evrysdi in a safe location out of reach and sight of children and inspect the bottle for any leaking. If it is leaking, contact Genentech for a free replacement.
Consumers can continue to use as directed, as the leakage is not anticipated to affect the safety or efficacy of administered medicine.
If Evrysdi gets on the skin, wash the area with soap and water. If it gets in the eyes, rinse them with water.
Genentech is contacting all known purchasers directly.
Consumers may contact Genentech at (800) 334-0290 from 8 a.m. to 8 p.m. (ET) Monday through Friday or online at www.Evrysdi.com and click on the "leaking bottles safety information" banner in the middle of the page for more information.