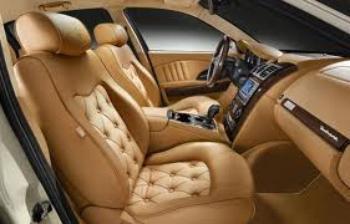 When you think about it, 100 percent of the time you spend in a car is spent sitting down. So the fact that automakers would be putting more effort into making seats more comfortable should come as no surprise.
A study by J.D. Power and Associates find that vehicle owners have noticed the improvement. Satisfaction with seats is increasing, even among owners of compacts and subcompacts, which have been known in the past to skimp a bit on seating amenities. Seat satisfaction among compact and subcompact vehicle owners averages 7.5 points on a 10-point scale, which is significantly higher than the 2008 study, as are ratings for seat material conveying an impression of quality and seat styling.
Great expectations
"Owners have high expectations for their vehicle, and purchasing a smaller vehicle doesn't mean they want to forego amenities, especially regarding seats," said Mike VanNieuwkuyk, executive director of global automotive at J.D. Power and Associates. "A vehicle's interior has been growing in importance to vehicle owners, and seats are paramount to driver and passenger comfort."
The study finds that consumers now rank interior comfort as the second most important reason for selecting a particular car.
"Automakers are doing a good job of recognizing the importance of seat comfort and quality, identifying suppliers to provide the best seats available and integrating them into the vehicle," said VanNieuwkuyk. "That's evident by the steady increase in seat satisfaction since 2008."
That may be one reason -- that and the rising cost of gasoline -- why consumers are increasingly buying smaller vehicles. Market share for compact and subcompact models has grown to 35.4 percent in the first seven months of 2012 from 32.0 percent during the same period in 2008. At the same time, 27 percent of new-vehicle owners replaced their vehicle with a smaller 2012 model.
What consumers want
Just what makes for a comfortable automobile seat? Believe it or not, headrests and armrests figure prominently, according to J.D. Power. Simple and easy to understand controls are highly valued and have a significant impact on owner loyalty and satisfaction.
Other highly-prized qualities are memory seats, seats that are heated, cooled or ventilated, and adjustable sliding rear seats or adjustable reclining seats. Only 30 percent of current owners say their cars possess those features for 90 percent say they would like to have them.
In addition, the majority of owners who have fold-down rear seats, heated seats, power lumbar support or height-adjustable seat belts in their current vehicle indicate they would want these features again in their next vehicle.
So while engine performance, ride, color and styling all remain important features of a car, it appears consumers are growing more pragmatic about what really matters most.
"Seats are a constant touch point for vehicle owners, and is central to providing a comfortable experience," said VanNieuwkuyk. "Owners clearly are looking for more features and comfort from their vehicle seats, and it is evident there is an opportunity to raise the bar."