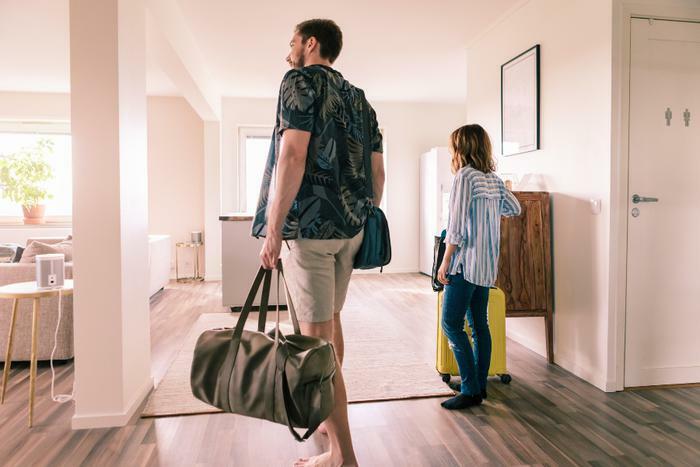 Consumers have lots of options when it comes to travel lodging. In addition to the multitude of hotels and motels, short-term apartment and house rentals are growing in popularity, boosted lately by a desire to travel after facing restrictions linked to the coronavirus (COVID-19) pandemic.
What both Vrbo and Airbnb offer travelers are additional space and more privacy than a typical hotel. In some cases, a traveler may pay the same or less for an entire house or apartment than they would for a nice hotel room.
The business models of the two companies are similar. Neither owns the properties they book. Instead, they act as the agents for property owners offering their homes for short-term rental. They collect "transaction" or "service" fees and provide a platform that consumers can use to select and book properties. While Airbnb properties may include a portion of a private home or apartment, Vrbo says it limits its offerings to entire houses.
Customers posting reviews at ConsumerAffairs found a lot to complain about with both companies. But a reading of the reviews posted so far in 2021 suggests that many of the complaints have more to do with the individual property owners than either company.
However, Vrbo gets a 1.1-star rating based on 344 reviews and ratings, while Airbnb scores 3.6 stars based on 1,527 reviews and ratings. Does one company perform better than the other? According to our reviewers, Airbnb has an edge.
Customer service
What appears to be the biggest knock on Vrbo is the company's customer service; the issue was mentioned often. The platform, which is owned by Expedia Group, says customer service has always been a point of emphasis but concedes that it has faced recent challenges in that area.
"In the past year, customer service volume has been unusually high due to the pandemic and an influx of requests and questions related to cancellations and refunds," the company said in an email to ConsumerAffairs. "We continue to ramp up the phone lines and field requests as quickly as possible. We've also enhanced our self-service tools significantly over the past year and encourage customers to use the Virtual Agent chat feature on our site to manage their bookings."
We reached out to Airbnb for input to this article but had not heard back by the time of publication.
We searched for reviewers who had used both services and found Iyonna of Newark, New Jersey. She told us there wasn't much difference between Vrbo's and Airbnb's properties. However, she gave the edge to Airbnb's customer service department.
But Matilda, of Houston, had a bone to pick with Airbnb's customer service. She told us she was unable to get into her rented home and couldn't contact the host. She said she contacted Airbnb's customer service.
"They aren't able to contact the host and let me know they will reimburse me," she wrote in her post. "It's 8 pm on a Saturday and my family has nowhere to stay. I'm sent a link from customer service to find another host that can accommodate me, no one can."
Consistency could be an issue
David Fiorenza is an associate professor of Practice at Villanova University who developed and teaches a course called Economics of Tourism. He says most travelers are not only price-conscious but also fickle.
"Most consumers like consistency and at the least want the new experience to be equal to the last experience, if not a better experience," he told ConsumerAffairs. "Older travelers may not have a comfort level with Airbnb or Vrbo if their experiences in the past have been with a travel agency or group travel."
Marla -- a reader from Mount Hermon, California, who had generally nice things to say about Airbnb -- agrees. She suggests that some of the people complaining about bad experiences might have unrealistic expectations about what Airbnb and Vrbo offer.
"It is not like the hotel circuits, and the hosts are not wealthy business moguls (as a rule)," she wrote in a ConsumerAffairs post. "This is more like a hostel situation since 9.5 times out of 10 you will be sharing a bathroom with several other rooms but you'll sometimes also have things like a full kitchen, food that the host brought or someone else left, and free washer/dryers."
Fiorenza's advice to travelers is to think about their budget and desired experience before they book. He says Airbnb is good for those on a budget, since you may be booking a spare room. Vrbo, he says, is better if you are looking for a private vacation home.
About our reviews
ConsumerAffairs verifies all reviews before they are published, and we require contact information to ensure our reviewers are real. We use intelligent software that helps us maintain the integrity of reviews, and our moderators read all reviews to verify quality and helpfulness.