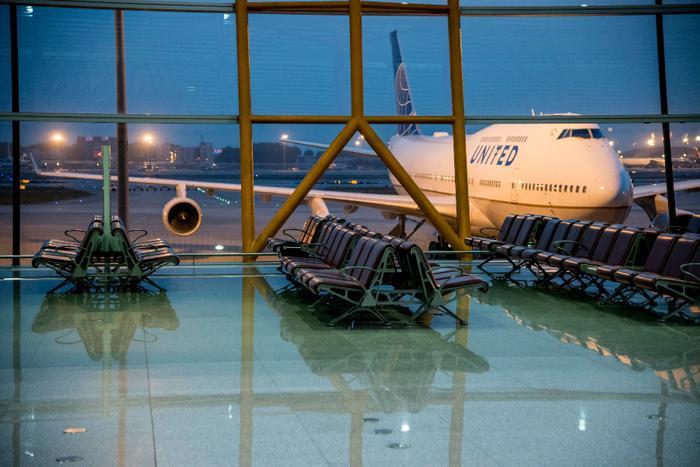 United Airlines is keeping its foot on the safe-to-fly accelerator with the trial of a "COVID passport." 
The airline announced on Wednesday that it plans to try out a digital health pass as part of a pilot program that it hopes will speed up a safer opening of its international routes' borders, as well as get more travelers feeling confident about global travel.
The move follows the airline's recent move of giving passengers rapid COVID-19 tests. Cathay Pacific is also reported to be engaging with a set of volunteers to test this on certain flights in its route network. 
Say hello to CommonPass
United's effort will use the backbone of the CommonPass system, "a secure and verifiable way to document" a traveler's health status as they move from country to country. The advantage that CommonPass will bring United is that it cuts time and red tape in having to prove a passenger's wellbeing. Not only can the system work for airlines and immigration screening, but airports and other travel industry stakeholders as well.
In United's first trial with CommonPass on Wednesday, volunteer passengers on a flight from London's Heathrow airport to Newark Liberty in New Jersey who had taken a coronavirus test from a certified lab at least 72 hours prior to traveling, logged those results on the CommonPass app on their smartphones.
Those passengers were also asked to use the app for other screening measures like a health declaration the country they're flying into might require. Once a passenger has completed all the necessary data, the app creates a unique code that United staffers and border officials can scan and verify.
United's also going the extra mile to make sure its efforts are observed and chronicled. It says that both the Centers for Disease Control and Prevention (CDC) and the U.S. Customs and Border Protection will be waiting for passengers when the flight lands at Newark.
Not a silver bullet
Thomas Crampton, chief marketing and communications officer for the Commons Project, told MarketWatch that many of the required COVID-19 test results are shared on printed paper from unestablished labs and written in languages foreign to the people in charge of inspecting and verifying the results. 
"Today we demonstrate that you can document COVID status in a certified manner across international borders in a privacy-preserving manner," Crampton said.
But one analyst is skeptical about posturing the CommonPass app as a silver bullet -- at least for now. Sandy Morris, equity analyst at Jefferies, said neither COVID testing nor vaccines are a perfect solution. 
"However, the combination of rapid testing, vaccines and the CommonPass digital health pass could offer a way forward," Morris said. "The open question is how fast a digital solution like CommonPass can be deployed. Our guess is it will be rapid."
CommonPass said that if its trials work out as they hope, it will go for full scale deployment of the framework at the beginning of 2021 with more airlines and more international routes.