---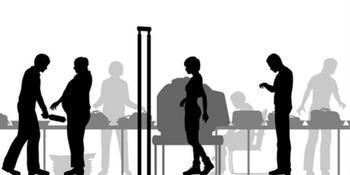 The Memorial Day weekend came and went without headlines or viral videos about excessive waits to get through airport security. There were still extended waits at some airports, but nothing like the breakdowns that occurred the previous week.
While things may have temporarily improved, Transportation Security Administration (TSA) officials say there will be no quick and easy fix. TSA, Congress, and the Airlines have blamed one another for the mess and passengers seem to blame all three.
"Blame is great but it doesn't solve anything," said Guy McHendry, an assistant professor in the Department of Communication Studies at Creighton University.
A communications expert, McHendry has studied the delays at security checkpoints as a communication issue. He says he's observed several problems.
Failure to communicate
McHendry says TSA has very little communication directed at consumers who rarely travel by air. When confronted with security procedures, their lack of understanding of what is expected from them can slow things down.
He notes that TSA has blamed passengers, in part, for the bottlenecks since they aren't prepared when they reach the checkpoint. But whose fault is that, he asks?
"Seasoned travelers have it down to a science, they do it so regularly," McHendry said. "But there's another segment of travelers, arguably a larger segment, that doesn't fly very often and, therefore, they see security as an interruption and inconvenience and they don't always understand what it is they're supposed to do at a checkpoint."
Things that could help
McHendry says clearer statements of the expectations, better signage, and a cheerful TSA screener walking lines and providing helpful reminders could help move the process along. Better communication, he says, might also reduce the number of prohibited items that show up at checkpoints, contributing to delays.
Finally, McHendry says better TSA internal communication might help morale and slow the turnover of personnel that has contributed to staff shortages.
"TSA has to ask itself why people are leaving and what the impact will be," he said.
Another possible reason for the security bottlenecks may have its origins in drills conducted late last year. TSA officials carried out a number of operations in which people purposefully tried to get prohibited items through the security lines.
Officials were chagrined to find that it was relatively easy to do. Early this year TSA screeners expanded their screening duties to ensure no banned items made it onto the aircraft.
---