---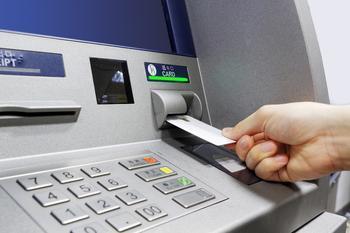 Automated Teller Machines (ATM) have become so common that there is an entire generation that can't remember going inside the bank to cash a check. Most of us trust these machines without giving them a second thought.
New research from FICO, an analytic software firm, suggests that this trust could be misplaced. It reports the number of ATMs compromised by criminals rose 546% in 2015. The total number of compromised ATMs was the highest ever recorded.
ATMs can become compromised when a criminal installs a "skimmer" over the machine's key pad. When a consumer keys in his or her PIN, the skimmer captures the number, giving the criminal access to the consumer's bank account.
The scammer might also install a tiny camera that can record the debit card number and PIN.
Quick hits
While the number of compromises rose sharply last year, the research found that the compromises didn't last as long, either because they were discovered, or more likely, because criminals reduced the time spent harvesting card data in an effort to reduce risk. T.J. Horan, vice president of fraud solutions at FICO, said it appears criminals are taking a "quick-hit" approach to ATM theft.
"They are moving faster to make it harder for banks to react and shut down the compromises," Horan said in a statement. "They are targeting non-bank ATMs, which are more vulnerable — in 2015, non-bank ATMs accounted for 60% of all compromises, up from 39% in 2014."
A non-bank ATM is one you might find at a convenience store or public place, like a sports stadium.
In the past, FICO says ATM compromises tended to be concentrated in urban areas. That changed last year, with the scam showing up in small towns and rural areas, spread across the U.S. Horan says ATM operators need to be more aware of tampering but so do consumers.
What to do
"To protect themselves from this kind of fraud, cardholders should be more vigilant," he said.
Consumers should inspect an ATM before using it. If it looks strange, or has a very different interface than experienced in the past, it is prudent to go to another location. If you complete a transaction and suspect it has been compromised, be sure to contact your card issuer.
Check bank transactions regularly to look for unauthorized withdrawals. If your bank offers text or email alerts for suspicious activity, make sure you sign up for it.
ATMs for the most part are reliable and secure ways to get cash, but that safety and security shouldn't be taken for granted.
---