Norton Security (formerly Norton Antivirus)
Consumer Complaints and Reviews

I paid Norton for about 7 years, the only time I need assistance it took my 2 days trying to contact somebody to really help me, the employees Santosh, Lyzajenn, Charmil, Bhupendar, Ankush, Simram they never help me at all. My computer is worst. Bad service.

I had a crash despite being a Paid Subscriber to Norton Security Premium, and Norton ID Protection Elite on March 6, 2017. On that day, 8 debits appeared on my bank statement all unauthorized by me. In essence, my checking account was hacked leaving me with no $$ and a negative balance. I had been unable to go to my bank until the 18th due to being sick and heavy snows. The bank is currently checking these unauthorized charges.
When I contacted Norton chat tech, I got paid my paid subscriptions back but in such a half-assessed fashion. I also told the chat rep about the unauthorized debits and gave the rep the name of the site. The twit spent a few minutes checking out the details I submitted and said, "That's not from Norton." Of course not, I clearly stated it was from "...." I ended the chat. What the heck is Norton Protection Elite all about? Have had problems before with these clowns but this on top of a hack bank account is beyond belief. I would not trust Norton to wash my dishes. Now I know why Norton does not participate in ConsumerAffairs - a bunch call centers overseas.

I was very upset when I got an email from Norton Security saying they charged my Debit Card 96.00 dollars for Internet security. First of all, I did not have auto-renew on. Second, they charged me more than double the price I could have found it for if I would have looked for it myself online. Third, they did this with no warning or permission from me 20 days before my Internet security even expired. Fourth of all, I was lucky that I even had the money in my account. The only reason I did was because I had just got my tax return. I will never use their service again. It is companies like this that I even need internet security for in the first place. To hell with them.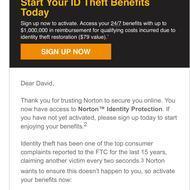 2 times in the past Norton Security Anti-Virus Software (up 5 computers) charge me $89.99... without my permission. I called wasted 3 hours on the phone and even got my bank involved on 3 way conference call to get my money the same day. I'm not waiting 15 days, Norton is worst company to do business with... for what! Software. They are borderline fraud. You don't charged people without their permission at the time of the sale. Even the BANK told me they have issues with this vendor charging unauthorized payment on customers... and their ruthlessness on paying customer back. I hate Norton. Now I have to cancel my debit card again!!!

Norton charged four subscriptions to my same five computers. When I found out they refused to credit me. I was on the phone for an hour with "Neil" in the Philippines who did NOTHING FOR ME! Do not use Norton and especially do not use anyone in the Philippines. Demand to talk to someone in the U.S. One hour waste of time, no solution, and stuck being ripped off due to no more time. This is why my friends all say never use an offshore customer service center. AVOID NORTON AT ALL COSTS. USE ANY OTHER SECURITY.
How do I know I can trust these reviews about Norton Security?
718,469 reviews on ConsumerAffairs are verified.
We require contact information to ensure our reviewers are real.
We use intelligent software that helps us maintain the integrity of reviews.
Our moderators read all reviews to verify quality and helpfulness.
For more information about reviews on ConsumerAffairs.com please visit our FAQ.

This the second year in a row they charged me $94 for an auto-renew on an anti-virus policy that I have cancelled at least once. It even got so bad that I cancelled my credit card (btw, a good way to get rid of MOST auto-renew services that you don't want, but NOT Symantec!) Somehow, Symantec tracked down my NEW card through American Express. (Thanks Amex! And btw your cancellation will be coming very soon as well.)
The only positive experience I can take away from this, if you can call it that, is that on the third annual cancellation attempt (i.e. just now) I actually was quickly connected to a rep, he was pleasant and processed my order promptly. Of course, he couldn't help himself into trying to pitch me on a discount they have if I want to continue with the service. Uhh, are you kidding me?? No thanks.

I cancelled Norton Security and auto renewal on 8/02/2013, however Norton's auto renewal kept right on billing my PayPal Card for three more years. I asked for a refund and am still waiting. This is unethical business practices and borders on fraud. Other reviewers of Norton on ConsumerAffairs have had similar experiences. Unfortunately, Norton comes install on most computers and offers a free trial period, which entices consumers to give it a try. What consumers have to remember is, that Windows also has anti-virus protection, so why bother with Norton. Norton is like a virus, you can't get rid of them.

When you subscribe to Norton they automatically put you on automatic annual renewal and I was billed for $139.41 while the current advertised price for the product is $39. They make it very difficult and time consuming to cancel. Such a shame because they have a good product and I would have been a lifetime customer if they did not resort to such unethical business practices.

Norton virus is a thief. This is the second year they've gone into my account and take out money to renew my subscription without my consent. Here is what happens, you buy their product and you don't click their little box that tells you to "click here if you want us to renew you automatically next year." When your subscription ends, they send you an email letting you know that your subscription is about to end. Ok, thanks for the reminder but you disregard the email because you don't have the money or you are not ready to renew.
Well, it doesn't end there. They go into your account, again, "WITHOUT" your permission, renew your subscription and renew it at the highest costing product they have. I reported them to BBB last year, and they did it AGAIN this year. Why is BBB not protecting us from these thieves; these lowdown, dirty, unscrupulous, unethical and questionable business practices that has got to stop.

Most of the calls go to the Philippines. Some of their Agents do not speak English well, are slow, not well trained, have an attitude and some lie just to get rid of the call. This is a reflection onto Symantec. Is this the type of service a customer has to endure for over ten years??? I will of course not review the service!

I just wanted to comment on people who don't know how to set up their antivirus programs and then say bad things about them. Adjust the setting that says Remove Infected Folders to ASK ME and then when you're prompted you can choose at that time. Beware, when it's set to remove folder it might be a windows program folder and then your operating system will have to be reloaded. By default it won't remove folder. This is good. I have been testing antivirus antimalware programs for years on multiple computers and the paid version of Norton with all the settings adjusted right and turned on works best with the paid version of Malwarebytes with all the settings adjusted right. There is no one program that gets it all as of yet that I've found.
My biggest complaint with Norton is when you go to renew they want to charge way more than I paid before even though I am a repeat customer buying family 10 packs for years. The auto renew should always be turned off after you enroll. Log back in with fresh browser page and turn auto renew off. They all Lie and overcharge. I do recommend Norton if set up right and used with Malwarebytes paid if set up right. IF YOU'RE LOOKING SOMETHING PERFECT YOU NEED TO TALK TO JESUS CHRIST. This is my experience.

Worthless garbage. After a full scan, it removed my mail INBOX completely because it found a malware in an email from 3 months ago. I had 2 years of emails so it didn't even quarantine it. It just removed ALL emails instead of one attachment. Get something else. Tech support is worthless.

I called both companies on 9-22-2016. One said I had 1000 problems and one said I had over 10,000. Both wanted me to paid $199.00. I said "no!" I already subscribe to Norton antivirus and the carton does not say what it does cover! Both said it does not cover these types of problems. Clearly states what it does. Bought at Costco. Also covers 10 machine computers or iPods or iPhones "premium" etc.
Both wanted $200 to fix. One for only my laptop & 6 months. The other is for one year. Is this fair to consumers or pushing sales instead of just helping me? In the past Norton did not charge just to help. My computer (laptop) was not working properly. That is why I called them and "both took over control of my computer" because I needed help but not to buy. Thinking they would help, I gave them permission to both on the control of my laptop. It is converted tp windows 10 system.
Today, I went to Microsoft sales and repair in Cerritos Mall, in Ca. The repair person did a diagnosis and found NO viruses & NO malware or Kernel issues or app stoppages! One or both websites showed me the above issues to scare me into buying, but I didn't. The Microsoft company made me realize that the other websites were trying to sell me more product that I did not need to buy. Nothing wrong with my computer! Thank you Microsoft. The two websites are not consumer friendly (like me). I felt like I was being forced to buy their additional product and they want me to pay for help on a Norton product! I said NO way!! They need to be looked into on this practice. Please. Thank you.

I recently bought a HP all in one then purchased the Norton virus protection plan. When I put in my product key it would not load it. It says that the product key was good but the computer was not right. This computer is new with Windows 10. I contact their gurus, they were trying to fix it but then they tried to say that I needed to spend another 300 dollars to Microsoft to fix it. This is hwy robbery.

I have been using Norton Antivirus for over 10 years. I was very upset to see that I had an automatic renewal for my antivirus for $93. When I purchased it last year it was $59.99 and they are advertising it online right now for $39.99. Not only was I informed that this was for the Deluxe package (which I did not have or want), but my antivirus was not even due for renewal for another month. They have no right to take it upon themselves to upgrade my original order without my consent. Where they get $93, I don't know, because the Deluxe package is regularly $79.99 and is on sale right now for $49.99. When I called and complained they refunded me some of the money, but I will not be doing business again with Norton.

I began to deal with an extreme cyber harassment and defamation online thanks to Twitter, Marketing and advertisement companies, have been continuously been hacking into my computer and stealing photographs and reusing them. Using images of a friend that died many years ago, family members and myself, under insulting online companies. In the UK which are one of the most Racist and Discriminant countries in the EU have been worst. Government websites, medical official websites, complaints websites have all participated in this abusive, demeaning and extremely insulting online hate campaign. Sadly Norton are participating in this. I've been trying to use their secure browser and all of my searches are completely irrelevant or personal insults.

Received bill for $117.69 for Norton renewal. Did not authorize this charge. When I called the number for Norton on my Visa bill, I got an automated telemarketing sales pitch for everything from DirecTV, auto insurance, life alert, etc. etc. and could not get a live person on the line. I disputed the credit card transaction with my credit card company and reported Norton to the California State Attorney General's office. Received IMMEDIATE response from Atty General's office and credit to my account. Norton rep left message on my answering machine that "you automatically agree to yearly renewal on account unless you opt out when you purchase this software." I will never do business with Norton again due to their sneaky business practices.

Norton scammed me out of $96 and change for a subscription renewal that was supposed to include 25 GB of backup. They just tried to charge me more when I questioned why I was not getting it.

On 13 July 20.16 I received a threat notice of a Trojan.cryptolocker. I contacted support for Norton via chat and allowed a person from call center in India to help. I was advised the threat was removed yet the following days experienced many issues with my pc. I was no longer allowed to log in at all on my computer. If it were not for my access to my MAC to research the issue this pc would have become useless to me. This pc would begin to boot and simply power off. Over and over this happened until I learned, on my own, to reboot in safe mode, which did not always work, and follow internet instructions, not provided by Norton, did I get this pc to load to windows.
I stayed logged on because I only was using this pc to watch videos on Youtube only. If I powered off or logged out I was shut out. My original administrator login was no longer useful in starting the pc. If it were not for the fingerprint scanner I probably would not ever been able to use the pc again. Today I began to experience more issues and tried to go right to Norton and noticed all Norton icons and links were absent. Blah, Blah, Blah. Norton has greatly disappointed me and now falls to the category or trust as McAfee. If it were not for Malwarebytes, this pc would be in the trash. $1200 worth of crap because of Norton.

I did not realize that the Norton Internet Security on my laptop, (which I DO NOT USE), was on auto-renew. (Their emails went to my spam folder, so I did not see them.) I called in to Norton customer service to cancel the renewal and get a refund once I saw the pending debit against my account. The rep basically called me a liar and told me to stop talking. Then, he proceeded to try to tell me that I had to keep it and he would only give me 50% of the purchase price back. Considering: I had not really used the laptop since I took my bar exam in July of 2015; it is now July 2016 (a year later); and I have another laptop, surface, and desktop that I use consistently, why would I pay almost $100 to secure something that does not need to be secured? After he finally initiated my full refund, I asked to speak with his supervisor.
First he would not transfer me and insisted that I wait for a callback. I told him he could just place me on hold until one is available; it did not matter how long. He then put me on hold and after a few minutes, disconnected the call. While Norton may be a popular company, not all of the products work efficiently (i.e. Norton Wi-Fi Privacy Secure VPN for your mobile device). Furthermore, if you have an issue or want to stop using their product, the company does not have the best customer service. I could possibly understand if I was rude to the representative, used profane language, yelled at him, etc. However, I did not. Therefore, his behavior was completely unacceptable. I would caution purchasing a product when you may or may not receive any necessary assistance. There are several other products that can safely secure your electronic devices. Please do your research before making a purchase with any company.

I bought the Norton Security on or about July l, 2016 for five computers. When I installed it on the first one it had me call the company. When I did the man for the company said he would need to go in my computer and do some work to it. After he did for about a hour he installed it. The second computer the same thing about I need to call the company and he said he would need to fix it for a cost of $99.00 so I did. The third one the same thing, call the company. This time the man said it would be $399.00 to fix it. I told him to cancel the whole thing and give me credit for the $99.00 I paid for Norton and the $99.00 I paid for the man to do something to the other computer. Now when I use my computer I get a read out that says "Error" and reinstall Norton. What a MESS.

I've been a Norton (Symantec) customer for well over 20 years and the one compliment I can give them is that their products work. I've used their antivirus for over 20 years and never gotten a virus. Now that that's out of the way, let me explain why I entitled this Consumer Affairs entry "Unethical and Unscrupulous." You guessed it... It has to do with their automatic renewal feature. Now, despite not being aware and, if memory serves me correctly, specifically not signing up for auto-renewal, I somehow managed to enroll? So, today they billed me a whopping $89.99 for my two-computer licensure? I thought this was a huge jump from what I normally pay, so I stopped the automatic payment (which took 25 minutes because of course they don't provide you with any cancellation number or anything). Then I googled their current products.
My question to them "I can get the same product (different name but same capabilities, same 5-computer coverage) for $49.99 on their website. So, why were they billing me --- their repeat customer of 20 years -- $89.99? I thought they would want to know this. Perhaps there was an error? After a 45-minute discussion with a manager, all I can say is "I was wrong." They KNOW it's not fair, but they are just hoping the consumer isn't aware. Sad...

I have purchased Norton Security on the Norton website last year in Nov 2015. I was told to be wary while purchasing Norton because they have an automatic renewal policy. I made my payment and purchased Norton but the Automatic Renewal policy statement appears in such a way that people will not be bothered to read it because it just looks like an ordinary terms and conditions like it appears on every website when you start downloading a software. For eg. terms and conditions if you download itunes or photoshop and Norton's automatic renewal policy statement should be designed and highlighted in a better way so that it warns the customer that they will be billed once the subscription expires.
I have checked that McAfee has highlighted the automatic renewal policy in a better way and it is easy to contact their customer service department whereas it is very difficult to contact Norton Customer service. I have heard that even if you google search 'Norton Customer service phone number' you will get a list of fake Norton scam phone numbers. This leaves a great deal of inconvenience to the customers! Ultimately getting cheated by Norton.
Luckily I have been cautious while purchasing Norton and it was difficult to turn off the automatic renewal, but finally I managed to do it. But what about those customers and many people who are not tech-savvy who are not aware that Norton is robbing money from their bank accounts to automatically bill them every year? That is a great concern! Norton should give a choice in the form of a tick mark in a box whether you want automatic renewal or you don't want automatic renewal.

Have used tech support twice and both times they tried to charge upwards of $99 for their service. They always go to WordPad to put info in. Always find problems with the computer. SCARED of what they can put on my computer. Won't use my computer until I can remove them. Finding a different virus provider.

I have been a subscriber to Norton for a least 18 months and have had good service and performance. Sunday 5/30/2016 my Norton antivirus software would not open to allow me to scan my computer. I contacted Technical support and received a real Smart... Technician who proceeded to inform me that my problem was not with the Norton software but with my computer because I don't take my computer in for its yearly check up. After a few rude remarks by me I requested to be transferred to another tech but all I got was that the other tech would tell me the same thing. I became so frustrated with the service I hung up and removed Norton from my Mac Computer. Not sure if I will even load it back on again or renew my subscription.

I have used Norton Security for several years and am not disappointed with the technical aspect of the service. However, I am very disappointed with the customer service. I received an email on May 9 stating that my subscription was to run out on June 13, but not to worry it would automatically be renewed. I had not signed up for auto renewal and was not happy about this. I figured I have a bit of time to deal with it or make up my mind to renew. But on the 24th of May I received yet another email stating the money had been take from my account for another years subscription. So not only had I not signed up for auto renewal, giving permission to access my account but they did so 3 weeks prior to the end date of my subscription.
Really?? Poor business practice! It did take a bit of Phone juggling and patience but I got through to a customer service rep who said that he did understand and proceeded to justify the actions of Norton under the guise of convenience. And that yes, because I had renewed my subscription annually on the May date in the past that the company just went ahead and 'renewed for me'. Wrong Answer. Have terminated my account altogether and will Not use or recommend Norton in the future.

On March 16th, I signed up for what I thought was a free 60 day trial of Norton. With a rep on the phone with me, we decided my computer was not able to load the Norton as it had major issues. I thought the rep was going to cancel the free trial but she did not. I contacted them by email several times and never got a response. On May 2, 14 days before trial was up, Norton took $84.79 out of my acct which resulted in a $37 overdraft fee. The bank told me that they took another $84.79 that day. I called Norton and I thought it was take care of but when I called the bank they told me they only reversed one charge. I called Norton and was hung up on 3 times! I was told I would have to pay $100 to cancel something I never signed up for!!! Please help!

I ordered the Norton Security software because PCMag rated it highly. I tried to install it several times but always came up with the same error message (even after following Norton's instructions). After an hour and a half of being frustrated, I contacted them for a refund. The first guy hung up on me and the second guy told me to go through PayPal (since I purchased through them) to get my refund because we don't do that. What has happened to this company??? I have used them in the past and was willing to give them another shot. I even had a technical issue a few years back and they got everything resolved right away. Needless to say I Will Never Use Them Again! Period!

In 2009 I replaced my Windows based computer with an iMac. The old PC was off to the land fill. I did not install Norton on my iMac. Since then Norton security has helped themselves to about $90 a year of my money even though I never approved this auto renewal. I am not sure how they even got my credit card number as I don't think I had the card they billed it to this year back in 2009. I took it up with Capital One but they sided with Norton since they are in cahoots. The best they could do for me was not bill me next year. We will see when January rolls around.

I have been using Norton Security for several years with no problems. Went to renew my security and ordered 1 x 3 Yearly Subscription and got an email informing me that the order had failed so when reviewing my order in the email they had charged me 2 x 3 Yearly Subscriptions which would explain why the order failed. Called customer service to fix this as I did not have enough money for this to transfer go through and has left it pending in my savings account. Told me they wouldn't be able to do anything as it was on hold and had to let it process the order (which was not going to happen anytime soon due to there is not enough money in my bank) and if I wanted to cancel it I would have to go through my bank.
So I had to call my bank to cancel the transaction but to cancel the transaction I had to cancel my card. Luckily I can use my phone to make withdrawals and payments. For a mistake that was caused completely by them and telling me there is nothing they can do to fix it except for me to cancel my card is absolutely infuriating. To say I'm disappointed is a major understatement especially when I have been a loyal customer for several years.

Shelley ElmbladFinancial Software Contributing Editor
Shelley Elmblad is a freelance writer with years of experience covering small business, personal finance and tax software and mobile apps. Shelley's goal is to help others choose the best software to run a small business, track personal finances and save money. More about Shelley→

Norton Antivirus has been protecting computers since 1982 and was purchased by the software development company Symantec in 1991. The Norton Security division offers antivirus and other security solutions for home and business.
Works across devices: Norton Security works across all PCs, Macs, smartphones and tablets, but you will have to upgrade to the deluxe or premium version to protect multiple devices. Annual subscriptions range from $59.99 to $89.99 across three versions, and discounts are offered for the first year of protection.
Norton Power Eraser: If you suspect that traces of malware remain after scanning your computer, you can use the Power Eraser to restart your computer and then dig even deeper to detect the most aggressive malware.
Strong anti-phishing: Norton uses several layers of security to detect fraudulent websites that try to steal your personal information. This stops identity theft.
Award winning software: Over the years, Norton has been awarded by PC Magazine as a top choice in antivirus software. Awards were granted after thorough testing.
100% guarantee: If Norton Security can't clean a virus from your computer or device at any time during your subscription, you will get your money back.
Best for Individuals and businesses.
Compare Antivirus Software
Norton Security (formerly Norton Antivirus) Company Profile
Company Name:

Norton Security

Year Founded:

1995

Address:

350 Ellis Street

City:

Mountain View

State/Province:

CA

Postal Code:

94043

Country:

United States

Website:

http://us.norton.com/