Consumer Complaints and Reviews

Equifax simply refuses to correct my inaccurate credit report no matter how much I call, dispute or send documentation proving their information is inaccurate. Not only is this illegal, but it's unethical, shameful and reeks with corruption. Everything this company does, every policy they enforce, the "customer service" they provide and the interface they direct you to only leads to create dissatisfaction, confusion and stress for consumers whose livelihoods depend on the financial information they report. Equifax has cost me thousands in interest fees because they simply refuse to report accurate information. They have refused to remove a 9 year repossession from my account; they refuse to remove a collection item that does not belong to me, they refuse to provide documentation for an account that was Verizon's fault and not mine and they also refuse to report open credit card and loan accounts in good standing.
If the information is good, they take their sweet time reporting it. If the information is negative, it instantly appears on your report and if you don't pay it off in full, it is almost impossible to get them to remove it. Experian and Transunion both had the same misinformation that Equifax had, but they promptly investigated and removed the negative marks once I provided documentation that the information was false or had exceeded the 7 year mark. Every step in the process from accessing, viewing, printing and managing your report with Equifax is nightmare.
This is why they are terrible: Customer service is outsourced to people who cannot speak English well enough to understand complex financial jargon or advanced speech; Customer service is primarily automated and when you do get a human they are rigid and discourteous; The Equifax credit report (when printed) is complex, confusing and saturated with useless information that does not aid in understanding the report (I printed a 90 page credit report from them with only about 15 entries. The majority of the information was just filler information that could have been omitted).

I finally decided to check my credit and discovered there was a mistake. Using CreditKarma.com I filed a dispute with Equifax regarding the problem. All they did was put a comment on my credit report. So I signed into Equifax and noticed they had an erroneous address and was using a last name I had not had since divorce in 2008. Apparently the collection company I was disputing was reporting in my prior name and sending collection letters to someone in Bismarck North Dakota. I then went deeper into the dispute via the Equifax file and learned they sent an 18 page report to the person in North Dakota that included my former name(s), my prior addresses and some I did not recognize, my date of birth, my social security number and all personal information.
I called their fraud department and learned that I was reaching the Philippines and being told I didn't know what I was talking about. I asked to speak to the US and I was told they do not have phones. After some persistence and telling them with President Trump they would soon be out of a job, (LOL) they transferred my call to the US. Finally! I spoke with the person and learned I was not reaching Atlanta GA but an Equifax call center in Nevada. They did admit they sent my personal information to North Dakota, we did what we needed to, to protect me and when I asked if I have trouble where HOW DO I REACH YOU AGAIN? She stated that I just need to call the fraud department that will connect me with the Philippines and immediately ask to be transferred to the call center in the United States where they are helping me and that will get you out of the Philippine call center. Good luck everyone I hope this works for you.

A few years ago someone opened a line of credit using my name when a card offer was sent to his home in error, because we share a first name, middle initial and last name. It must have seemed like a windfall for him. His year of birth, addresses and overdue payments are now listed on my Equifax account. Attempts to file disputes both online and by U.S. Mail have failed to result in a reply or effort at acknowledgment. Pathetically, I was informed during a recent online attempt that the correct information I was sending did not match their records and so my request could not be processed. If I could register this review with no stars, I would.

I have been unable to access my Equifax information online, particularly regarding the lifting of a credit freeze. No problems whatsoever with Transunion or Experian. Equifax has no record of a prior address where I lived for OVER 2 years. After hours on the telephone with the credit freeze department, I finally found what I hope is a fix, and hopefully it might help others with similar circumstances. Seek out the Equifax PERSONAL SOLUTIONS DEPARTMENT. Take good notes and always ask for a Confirmation Number regarding your issue. In my case, they discontinued the old credit freeze and issued a new one, sending a new PIN to my current address. If this doesn't work, I'll update in the future.
Equifax has been a continuing problem for me and two of my grown children. My son was told by an Equifax representative, that he hadn't given the representative his correct name. To which my son replied, "It's my name! Don't you think I would know my own name? The name that's on my birth certificate!" The irony of me not being able to access my account online is that my wife has had no problem accessing hers and we live together. Meaning, she has had the same addresses that I've had. Equifax has our previous address correct on my wife's but not mine?!? Absolutely NO problems with the other two Credit Agencies: Transunion and Experian. Extremely frustrated!

My data was breached and the retailer has told me I could have all 3 credit bureaus set fraud alert at no charge yet I find this requires a charge from Equifax. I cannot find a way around it on their website and refuse to signup for this and then cancel it... especially after seeing the other recent complaints posted.
How do I know I can trust these reviews about Equifax?
697,993 reviews on ConsumerAffairs are verified.
We require contact information to ensure our reviewers are real.
We use intelligent software that helps us maintain the integrity of reviews.
Our moderators read all reviews to verify quality and helpfulness.
For more information about reviews on ConsumerAffairs.com please visit our FAQ.

I don't know how credit companies rely on such bad company, I have been having problems since 6 years and not being able to fix. I faxed over 4 times, called over 6 times, mailed all the documents, requested to remove a bad note in the system. I even called the credit company to make updates, but Equifax remove the note and few month later the note comes back. I'm frustrated and angry that I can't do anything. I'm under their mercy. This system is bad. Really bad. Someone somewhere should close this company down. Very bad phone service. Very bad service.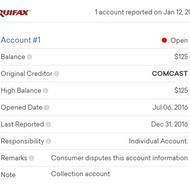 I had for more than 12 years had Comcast at my home for a very modest fee of between $15 and $45 per month. I got this special as part of my job as an apartment manager for referring new residents to Comcast and distributing their literature. When I left this job I continued to reside within the same community as I prepared to move to Port Orchard to care for my father. Comcast required as I was no longer going to be recommending them and distributing their literature to close my old account and open a new one. This was not too difficult as I was changing homes anyway.
When I started my new service I WAS CRYSTAL CLEAR that I would only be residing in the Spokane Valley for about 4 months as I closed out my other affairs. The salesman asked me three times about their one year special and I repeatedly told him of my very short stay and declined so much so that he actually started to make me angry as he hyped his services in complete disregard to what I was saying. After about 5 months I vacated the apartment I had been staying at and returned my equipment to Comcast main office on Division. Imagine my surprise when the clerk I dropped my equipment with asked how I would be paying for the remainder of the year. I explained my previous exchange with the seemingly deaf high pressure huckster salesman who despite being told three times NO to his one year special had promptly taken it upon himself to evidently sign me up anyway-or so I was told.
I had the paperwork given from my sign up and showed it to him asking him to show me where I had signed for this one year, he was unable to find it as the page described only the equipment. I had paid my bill just two days before returning my equipment and so I pulled it up on my phone and showed him that as well. He acknowledged that I currently had no outstanding balance but would be subject to a cancellation fee for not going the full year. I asked again please show me the document I signed showing I accepted their one-year special and he could not furnish it. He got his manager whom reiterated the same thing at which point I again asked for the document showing my agreement to this one year contract. After several more minutes of their attempted coercion to get me to pay I left.
This is where it gets comical. About two weeks after my move and I am now living in Port Orchard I get a call from a Comcast representative. He inquired why I had cancelled my service and if there was any way to get me back. I again explained my initial sign up and my equipment return issue. I told me then the account shows no such agreement and that was Comcast's way to get me to stay with them rather than cancel. When I asked why he would be so forthcoming he explained that he does not work for Comcast but is a vendor hired by Comcast to bring customers back. I thanked him for his honesty and told him if Comcast were in Port Orchard I would consider them again based on his honest interaction. Keep in mind I had more or less been a Comcast cheerleader for 12 years and most of those had been positive ones. He thanks me and said he would make a note on the account and that he showed a zero balance due.
After more than three months more Southwest Credit began calling. They threatened me with garnishment and ruining my credit. Again, I told my story and denied the debt as being valid. I asked for paperwork proving the debt was a valid one as required under debt collection regulations. I was promptly told there was no such requirement. They have contacted me several times since with the same threats and my request has been made each time. THEY ARE REQUIRED TO FURNISH ME INFORMATION PROVING THE DEBT VALID.
Finally, after being unable to reach resolution I disputed the debt with Equifax. They denied my claim again without furnishing any proof the debt was valid. I filed a second dispute. This time I pointed out the fact that the invalid debt was also a violation of Comcast's settlement with the FCC. The FCC said it received over 1,000 complaints from customers, who said Comcast charged them for premium channels, cable boxes, DVRs or other products that they never ordered. In many cases, the FCC said, customers expressly told Comcast that they didn't want the add-on options, but they were charged anyway. Complaints also describe how customers spent "significant time and energy to attempt to remove the unauthorized charges" and get refunds, the commission said.
The complaints spurred the FCC to launch an investigation nearly two years ago. This agreement states, Under the five-year compliance plan, Comcast must begin sending customers special notifications every time a new charge or service is added to their bill. The company also has to add a way for customers to easily block the addition of new services or equipment to their accounts, according to an FCC press release. Comcast (CMCSA) was also required to compensate or address complaints from customers who have disputed charges, and it will be barred from referring an account to collections or suspending an account that has a disputed charge.
This is the second time this has been disputed under the law and my rights. Not only is Comcast specifically forbidden from sending this disputed charge to collections I am due compensation for the erroneous charges to begin with. These repeated disputes are an example of why. Despite multiple attempts to file a complaint online Equifax has made the online process impossible to complete. I have now wasted more two hours of my time disputing something that violates the specific FCC resolution. It appears at this point that Equifax is complicit. MY REQUEST IS A SIMPLE ONE FURNISH PROOF AS REQUIRED BY LAW THIS IS A VALID DEBT OR REMOVE IT.

Equifax refuses to correct an inaccurate as well as erroneous item they put on my report, stating the FI which made the error needs to contact them. However, that FI has done so in 2012 in addition provided me with a letter confirming the same. I have faxed Equifax the follow-up documentation to their HO in Montreal. I dropped off all relevant info back in 2012 at Eq office Toronto (in person as well). I have called and requested an escalation of the matter min 10 times back in 2012. This was ignored/dismissed again and again with the words it is the FI that needs to correct their report which brings me back full circle. BMO has already done that yet another FI has just advised me for a job search. They are still seeing this item on there, it has not been removed.

I echo another complaint registered on this site regarding unfreezing one's credit. I do not believe I was ever issued a 10 digit PIN number. Apparently the ability to lock and unlock credit used to be an Equifax owned and controlled amenity. After spending hours, literally, on the phone with some lunatic at Equifax, I learned that this component of their services has been given to an unrelated third party company. Despite the fact that when you call the applicable numbers, everything says you are calling Equifax. Assuming this longwinded moron is correct, Equifax has nothing to do with this company. All of this is super shady and pretty scary given the amount of information about you that these companies have.
I tried to unlock my credit and was not successful. The process is so overly complicated, cumbersome and insecure. The websites and web pages don't work. After hours trying to find contact numbers and then calling various numbers and multiple crazy automated systems with frequent disconnects, I was not able to complete my transaction, I missed out on a deal, and my credit is still locked up. From what I am reading I will have to send various documents and correspondences via mail, along with money, to get it unlocked and get these people to go away forever. It is all so shady that I am going to do it because I have no choice, then I am immediately getting LifeLock. This company is so shady. Read these reviews. I read several and they are accurate. This is one scary and questionable operation. Stay away is my advice.

My credit score has been great except for a delinquent account that wasn't mine and I disputed it with Experian, TransUnion and Equifax. Equifax wouldn't delete it saying it was my account while Experian and TransUnion has deleted it because they investigated and found it was not mine. I called that delinquent acct and they do not have my social security on that account, told me to just dispute it with the 3 credit bureaus. What do I do with Equifax saying it is my account???

I had to freeze my credit report but between the length of time that passed and my move I somehow lost the PIN number to unfreeze the report. Trying to verify my identity to get a new pin was overly complicated. They were not specific about what information I was missing and took multiple tries before I finally got it right. And then the website says to enter the 10 digit PIN to lift the security freeze but there is no box to enter the PIN into. They make it impossible for you to unfreeze your credit report.

These guys have a super shady phone system. When you call for your free credit report, you can't just get it. You have to navigate a maze of listening, pressing buttons, listening, pressing buttons. Yes I know this describes a normal call center but it is intentionally long, boring, and if you mess up at any point you have to start over. Also, it takes about 20-30 minutes each time and at the end they have a bunch of options that require you to pay for services but it doesn't tell you that you have to pay until you select the number then it asks you for your payment info. Your only option is to hang up and try again on another 20 minute call. I'm willing to bet that 95% of calls are from people wanting their free credit report so they could make the system easy but then they wouldn't make profits from tricking and manipulating people!
I am going to copy this problem to the Fair Trade Commission and suggest anyone else who has experience with Equifax's shady business tactics do the same until they are forced to change. They are REQUIRED BY LAW to provide you with a free credit report and they make a TON of money from the fact that they sell your report to other people and businesses, and even back to you, plus all their shady ways of signing you up for services you don't really want or need.

Our livelihoods depend on these companies who act with impunity and answer to no one. There needs to be regulations governing how they behave. For example, mailing all of one's information is not secure or efficient way to place or lift a freeze or get a report. These companies have no regard for the trouble they cause by having wrong information on a consumer and the delays they cause. There needs to be accountability.

Have obtained two reports from them, which show that I have indeed missed several payments. 11% of noted companies reported 2 payment periods missed. True. Problem? This stays with you for 6 years. This is Equifax's own policy. Legislation indicates that even with a bankruptcy they only keep on file for 6 years so why does a $130 missed payment stay for 6 years. There is no good answer. They refuse to acknowledge anything at their end is wrong. So even though in the last 40 years I have only had 6 missed payments, they their program decides my credit drops for upper 800 to 653? How does that happen. Crooks.

Equifax was trying to get me to pay for my free credit report by doing what they have done to many people. They put bogus questions so that your answers are "none of the above", then refuse to give you your free credit report, claiming that your information does not match. This causes people to think that there is fraudulent activity on the credit report, and causes people to pay for the report in order to address the fraudulent activity. Unfortunately Consumer Affairs will probably block this post like they did the last post.
Here is how I got Equifax to give me the free Credit Report that they owed me: I went to Equifax.com and clicked on "Dispute info on credit report" down at the bottom of the page Where it asks for a 10 digit confirmation number. I put all 9's as 9999999999 then filled in all the information. In the text I told them that if they did not want a lawsuit that they should give me my free credit report, and remove any fraudulent activity. After a few days, I got an e-mail in response to the matter. Following the link in the e-mail got me a pdf with their response and credit report. Included in my credit report that creditors can read is my statement to them, but they changed it to all caps, and removed all of the periods. LOL.
So now every creditor that pulls my credit report will see the following: "Unless you are wanting a lawsuit I'd recommend you get this matter taken care of immediately send me my free credit report immediately and remove all fraudulent accounts from my credit report. If this matter is not resolved in good time I will be filing a law suit for your fraudulent activities." So if Equifax is playing the same game with you, try filing a credit dispute like I did.

How can this company continue to show that I owe a debt when I sent them copies of WRITTEN PROOF that the debt was resolved? Thanks to their terrible, inaccurate, and SLOW resolution process, my credit score has been impacted by a debt that isn't valid. Deeply frustrated by this.

Equifax ignored my email regarding cancelling my report. I requested a report for my credit card around 14 Months ago, I got the report and send them an mail clearly saying that: "I do not want your company to check my credit anymore." Now after 14 months I found that they ignored my email and keep charging me each month for 16 CAD for the past 14 months! I will never use this company and absolutely never recommended them.

Try cancelling the $16.95 charge on your account. There's nothing on the website to let you do it, and I ended up being transferred to three different numbers - each one telling me that the one they were giving me would be the right one. Then the guy on the phone tries to tell me to get an updated score now and call back to cancel since I still had two weeks on the account. I told him not a chance. The whole thing is a scam. The monthly billing for a product I never wanted in the first place and the labyrinth of calls and waiting on hold to cancel the damned thing. I can't believe reputable banks like Scotiabank promote this company. They tarnish their own image by doing so.

I had to cancelled my Equifax this morning because I received an email on 9/30/2016 stating that my subscription will automatically renew for another 12 months for $50. Please see the partial email: "We're letting you know your subscription will automatically renew for another 12 months on October 30, 2016, and $50.00 will be charged to your credit/debit card on file, unless you cancel your subscription before October 30, 2016."
I received an alert from my credit card that my account will be charged $149.50 for the same service that was told to me would only be $50. The operator 'Keissa' who I spoke to this morning at 6:45am told me she see no such email was sent to me and if I want to cancelled I will have to pay for one month service and I can dispute the charge with my credit card company.
I have been with Equifax for many years and had I been told ahead of time that the new fee would applied I would have take appropriate measure and make a decision on if I wanted to stop my subscription before the deadline, this way I would not incurred any additional charges. I feel this is wrong and I will do everything in my power to make sure I am not charge for canceling my subscription.

For the past 18 months I've had the runaround with Equifax trying to get them to correctly report my credit history and credit cards. My TransUnion credit is excellent correctly reporting my 6 credit cards and length of credit history. Equifax is reporting me at fair and only reporting two of my credit cards. I'm sure my credit history of only a year when I've had credit since 1983. This is affected me getting a good interest rate on car loans and my husband had to get a mortgage on his own as Equifax's incorrect reporting affected our interest rate on a house by 2%. I have confirmed with all credit card companies that they do report to Equifax so that is not the problem. How do I get them to correct my credit as letters and phone calls have not worked?

How can a credit bureau not have a customer service line? All I got is a repeated automated system that looped me around and around when I need to speak with someone to lift a freeze account! Not only I did not put a freeze hold on my account, secondly, I can't speak to someone about it. They only provided with a mailing address to send in my inquiry by mail! #thisis2016fyiequifax!

I don't understand how a company that is supposed to be highly credited by any institution for having my credit rating could be so unprofessional and unorganized. I have tried to get my credit report in so many ways and not one of them worked BUT I AM BEING CHARGED TO MY ACCOUNT. Their website is absolutely horrible. Apparently my credit card information cannot be verified yet they somehow got into my account to charge me. If any one needs a credit report, please use another institution. This is definitely not a professional company, even their customer service operators are clueless. How are they still a business I don't understand. After my experience I don't trust them with such delicate information ie. SIN NUMBER. Why would anyone trust a company that can't even get their online service to work properly? It is easier to shop online from a clothing store than to buy my credit report. SO UNPROFESSIONAL!

I called to cancel my account with them because I was not happy with what was provided. They say they update your score but they don't. Their website is not user friendly. The day I call to cancel my account, they charge my bank for another month then tell me that my account will be canceled on 11/27. If I wasn't happy with your service in October, I'm not going to pay to be unhappy with it again in November. Of course all of the supervisors were busy. I tried using the Equifax secured messaging and emailing them. All saying they can't do partial refunds. I'm not asking for a partial refund. I am asking for a full refund. I called and canceled on the same day you debited my account for the monthly fee. Equifax is not out for your best interest. They are in it for the money. Don't be scammed by them. Their website does not offer what they say it does.

Two times I have been told there are no products associated with my account. When I call customer service, they say there is a security issue and I must fax in documents. This has happened twice out of 3 months of membership. Their customer service staff read from a script and do not offer to help you, nor do they provide information. Although you can not use the product they will not reverse the charge. Here is their message: "Equifax Customer Service. No Products Available. We apologize for any inconvenience, however, we are unable to log you into our system at this time. Please contact our Customer Care department at Equifax Customer Care or 1-877-47GUARD (1-877-474-8273), 7 days a week between the hours of 8:00am - 3:00am Eastern Time Zone and we will assist you with resetting your sign-in information."

When you apply for a loan say title loan or credit card. You allow that company to do a credit check. They in turn have a credit bureaus or other that do it. Well I found out of the three Equifax refers your information to other financial services without your request or consent. Which in my case caused multiple hard inquiries that I never applied for. There's one particular company over the past 1/2 years I've got about 8 inquiries. They continue to recheck it over every few months damages your credit every time. I've got over 12 in the last year 7 months, only 5 I know are ones from two. I've got a loan - 1 for a credit, 2 I denied. The rest I didn't.
They also are allowing a company to fraudulent report 171.00 dept that I never could use the service because they refused me help to hook the connection up to work. I called, asked for help. They told me no they don't provide service like that anymore. I told them on a recorded line "cancel it now." I can't pay or hire someone to come over to set your equipment up to use to my computer. Pay 260 for service to be set up with them but pay a different service to hook it up then them for way overcharges for no customer service or technical service. Poor business. I told them when I seen it in was illegally billed that I'd file a complaint. No one has stood up to them. I need some backup. 2010 was telling year. I just seen it reported this year when I checked my score.

It's funny that I came to them seeking identity protection and to be able to monitor my credit score. However, in the end they were the biggest threat to it. I subscribed for 2 months when I felt my SSN was compromised. At a month and a half in I attempted to cancel my subscription and even deleted all my payment info before hand as double measure to ensure I would not be billed again. Well... I received an email stating I was billed AGAIN. How? They don't even have any payment info to go off of. Apparently when my call was escalated to a supervisor (the first rep said he could not help me and only tried selling me more product after I told him I don't want their service any longer. He also talked very condescending saying I was repeating myself etc)... He said the only way to get my money back for the last month was to dispute it with my credit card company.
I ended the call telling him how stupid it is that they sell a product to protect our identity which is in part connected to our credit score... yet I have to dispute a charge and damage my credit just to get my money back. HOW DID YOU EVEN CHARGE ME?! Equifax had no payment info to go off of and yet STILL they somehow KEPT my payment info after I deleted it and recharged me. Doing the opposite of your intended purpose = Broken. Keeping your credit card info when you delete all traces of it off your account = The REAL identity thieves.

I just asked them to get a report with my credit score. The guy on the phone doesn't understand English pretty good. He just memorized the script of the product. I was clear I wanted a score with the report but still he gave me the wrong report. My brother bought that report for $14.95 yesterday and both of them in less than 12 hours wanted to sell me that report for $17.95. They sucks. They don't have customer service. If a customer tell you you have the offer you gave it to them not sell them what they don't want then charge them for it and for the correct one too. I wouldn't recommend them for anyone. If I don't get what I want how my friends will get their's???

Equifax is the most unprofessional service I have talked to or tried to talk to. They do not understand or speak English very well. They obviously only know their script which is to sell you their product. I am having a problem with fraud and do not want to pay them to make sure they are not putting fraudulent information on my acct. They should be held responsible for the information they put on mine or anybody's account.

Rating for Equifax Canada. I loathe dealing with these people, first trying to get through their menu is awful and when you do get through they can barely speak English and are always trying to sell you more of their garbage. TransUnion is much more better to deal with and their website is crisp and more user-friendly.

Paid online to get updated score and report. There was only one item listed. I was told that I would have to provide all of my account info including credit cards and details. Also to contact each financial institution to have them update Equifax info. I told them that I paid the amount to retrieve info not to have to gather info for them. Kept getting transferred to different departments in Philippines and India of which I could not understand. Absolutely no resolution at all.

Barbara FriedbergPersonal Finance Contributing Editor
Barbara Friedberg, MBA, MS is a former investment portfolio manager with decades of financial experience. Friedberg taught Finance and Investments at several universities. Her work has been featured in U.S. News & World Report, Investopedia, Yahoo!Finance and many more publications. More about Barbara→

Equifax is one of the three biggest credit bureaus in the United States. They work with over 800 million consumers and 88 million businesses worldwide. Equifax has grown from a consumer credit company into a multifaceted information company.
Equifax Complete Premier: This subscription product provides three-bureau credit scores, provides alerts about suspicious activities and helps monitor your credit and Social Security number. This product is also available in a family plan.
Credit reports: Consumers may choose from a credit report from Equifax or a credit report from each of the different credit reporting agencies.
Fico products: Equifax offers a Credit Score Watch program which monitors the consumers FICO score. Their Score Power program includes a personalized score explanation and score simulator.
Credit report assistance: Equifax assists consumers in obtaining their free annual credit report and disputing information on a credit report. Additionally, individuals may request a fraud alert and place a security freeze on their report.
Credit education: The Equifax educational portal informs consumers about credit scores, credit reports, credit monitoring as well as identity theft protection.
Trusted: Equifax is one of the major credit bureaus and has a highly regarded reputation.
Best for Victims of identity theft, consumers who have a major upcoming financial decision and consumers who need monitoring.
Compare Credit Report Sites
Company Name:

Equifax

Year Founded:

1899

Address:

1550 Peachtree Street, Mail Drop 65

City:

Atlanta

State/Province:

GA

Postal Code:

30309

Country:

United States

Website:

http://www.equifax.com/