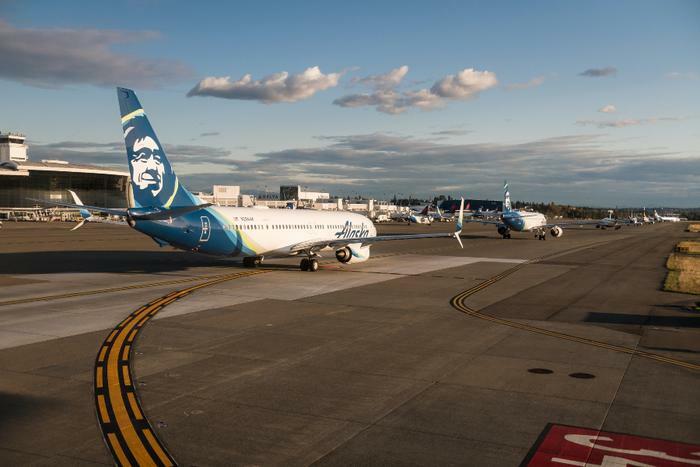 The latest case of an overheated cell phone aboard a jetliner could have ended badly, but timing helped prevent tragedy. The device only began overheating and spewing sparks once an Alaska Airlines flight from New Orleans to Seattle had landed.
A spokesperson for Alaska Airlines told reporters that a cell phone belonging to a passenger aboard flight 751 started to overheat and give off sparks just as the plane landed at Sea-Tac Airport. The flight crew placed the burning device in a specially designed battery containment bag to prevent it from causing a fire.
However, the cabin was reportedly filled with smoke, causing the crew to order an evacuation. Aircraft doors were opened, and slides were extended down to the runway. Passengers were then directed to slide out of the aircraft.
The evacuation was not without incident. The airport reported on social media that two people were taken to a hospital for treatment of minor injuries. The other 127 passengers and six crew members were transported to the terminal.
Lithium-ion battery dangers
The incident underscores the potential danger of electronic devices that are powered by lithium-ion batteries aboard commercial aircraft. Had the incident occurred 20 minutes earlier while the plane was in the air, the results could have been different.
As far back as 2005, the Consumer Product Safety Commission (CPSC) was cautioning consumers about the hazards that could be created by their cell phone batteries. The agency explained that the lithium batteries used to power cell phones pack a lot of power into a small space.
These batteries are more sensitive to physical stress than alkaline batteries found in toys and flashlights, and they need to be treated with more care. Because of several close calls aboard aircraft over the years, the Federal Aviation Administration (FAA) has enacted rules covering the shipment of these batteries and devices that are powered by them.
"Damaged or recalled batteries and battery-powered devices, which are likely to create sparks or generate a dangerous evolution of heat, must not be carried aboard an aircraft (e.g. carry-on or checked baggage) unless the damaged or recalled battery has been removed or otherwise made safe," the agency said on its website.
FAA gives safety tips
Devices containing lithium metal batteries or lithium-ion batteries, including but not limited to smartphones, tablets, cameras, and laptops, should be kept in carry-on baggage, the FAA says. If these devices are packed in checked baggage, they should be turned completely off, protected from accidental activation, and packed so they are protected from damage.
These events are more common than you might think. The FAA has reported at least 18 such incidents, before this latest one, so far in 2021.