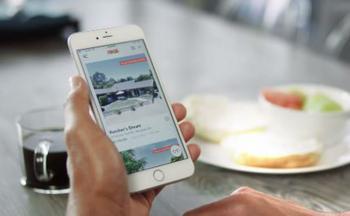 Technology has taken the reigns of many positions once held exclusively by humans. From self-checkout lanes to automated phone operators, tech-driven interactions are becoming commonplace.
But could an app really do the job of a real estate agent? Bay area real estate investors Amit Haller and Ami Avrahami, the founders of a new app named Reali, think so.
After a complicated experience in the real estate market, the two aspired to create a new way to buy and sell homes. Instead of relying on the help of a real estate agent, their app lets users handle each step of the home buying process themselves.
Works with your schedule
With Reali, prospective home buyers are left to their own devices -- literally. But Haller and Avrahami believe that's a good thing. The app cuts out the middleman while still allowing buyers to tour homes and access on-call help.
To start, buyers submit their mortgage pre-approval paperwork on the app. After documents have been verified and approved by a Reali employee, users can get started sifting through available houses.
If a particular house piques your interest, you can schedule an "on-demand open house." And rather than being met at the front door by a real estate agent, you'll have the ability to unlock the door yourself.
Bluetooth beacons
The app enables users to remotely unlock the door and take a self-guided tour of the home. Bluetooth beacons placed throughout the house may be helpful in answering a buyer's questions and highlighting important features of the home. 
These "info beacons," combined with the ability to chat with a Reali expert through the app, should do the job of answering any questions. From there, users can decide whether to pass on the house or submit an offer through the app.
Reali lets buyers conduct the bidding on their own. It also alerts users of counteroffers and gives them the opportunity to respond immediately. "It's a broker in your pocket," Haller told Business Insider.
Flat fee
Reali charges a flat $2,950 administrative fee. At close of escrow, 2.5% of the selling price gets returned to the buyer as cash back. On a $1.7 million property, the company estimates that buyers would get back around $40,000.
The app is primarily geared toward those who can afford to pay that much for a home, but this may change in the future.
Reali is currently only available in select San Francisco Bay Area real estate markets, but the team says it's working on making it available in other cities and states within the next year.