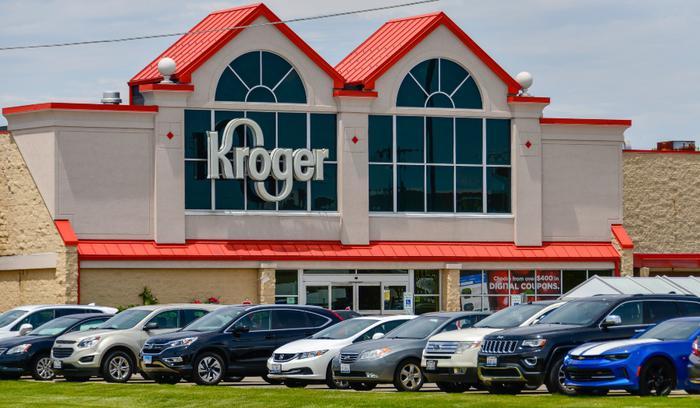 To combat the hit Kroger is taking from items passing through its self-checkout stations without being scanned, the country's largest grocery chain is bringing in an artificial intelligence (AI) firm to help solve the problem.
While the domestic restaurant industry continues to rebound and is seeing sales accelerate at near a 4 percent clip, major grocers are seeing the curve trending the other way and at double the speed. One industry watcher calculates the losses to grocers in the billions of dollars.
Kroger felt it had personally seen enough of that red ink. To help stem that tide, the company is bringing in Irish AI company Everseen to try and halt the losses it sustains when shoppers and store employees alike either mistakenly or intentionally fail to scan items during checkout.
Shoppers take note
Going forward, shoppers in some 2,500 Kroger stores can expect an extra eye watching their checkout process. Everseen's system employs cameras to spot when a shopper fails to scan an item, then quietly lets a store employee know. At that point, the employee is supposed to intervene -- in what looks to be a friendly manner -- before the customer picks up their bags and walks out without paying for the merchandise.
Kroger is not alone in trying to make sure it gets paid for what the customer has in their cart. Sam's Club also uses computer-vision systems, and Walmart recently experimented with eliminating traditional checkout aisles as a way to reduce friction and clogged-up checkout processes. The COVID-19 pandemic has also had a hand in the situation thanks to stores rerouting customers to self-checkout stations to help maintain social distancing from store employees.
In interviews with Wired, Walmart workers familiar with Walmart's loss prevention programs said their top concern with Everseen was false positives during the self-checkout process. These employees say Everseen's computer-vision regularly misreads innocent behavior as possible shoplifting, which only frustrates customers and store workers while leading to longer lines. 
"It's like a noisy tech, a fake AI that just pretends to safeguard," said one worker.