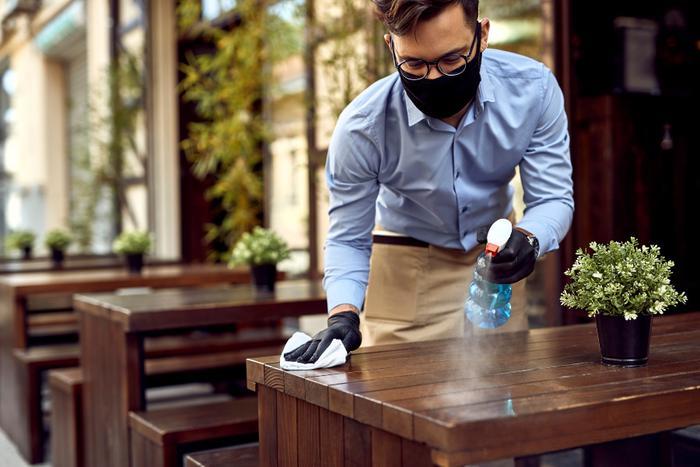 Restaurants have suffered terrible losses during the coronavirus (COVID-19) pandemic, but a new report suggests that the worst may be yet to come when the weather in most of the country turns cold.
A study by The Freedonia Group, a market research firm, says outdoor seating has helped full-service restaurants mitigate COVID-19 losses, but these establishments face the prospect of losing at least some of that revenue source when the temperature plunges.
The study also suggests that the market for many restaurant supplies will be greatly reduced as restaurants curtail operations or close completely. 
It predicts a reduced need for disinfecting products, including surface disinfecting wipes and liquid disinfectants and sanitizers. Restaurants will also need fewer single-use foodservice products -- including containers and lids, beverage cups, sleeves, service ware, and bags and other flexible packaging.
Limited indoor dining
The arrival of fall and the coming of winter may coincide with an increase in coronavirus cases in much of the U.S., making it more difficult for restaurants to reopen their dining rooms. These establishments that have reopened are limited, in most cases, to no more than 50 percent capacity, making it harder to be profitable.
The National Restaurant Association recently reported that nearly 100,000 restaurants had closed during the pandemic, either because they shut down permanently or closed for the foreseeable future. Nearly 3 million restaurant employees are still out of work.
According to the survey, 40 percent of restaurant operators think it is unlikely that their restaurant will still be in business six months from now if there are no additional relief packages from the federal government.
New York City will continue outdoor dining
Despite frigid winter weather, diners in New York City will continue to be seated outdoors. Last week, New York Mayor Bill de Blasio announced that outdoor seating would become a permanent, year-round feature.
Before the announcement, outdoor dining in the city, which began in July during the second phase of reopening, was scheduled to end on October 31. Indoor dining, on a limited-capacity basis, is scheduled to resume in New York this week.
Many restaurants that hope to extend the outdoor seating period, or make it permanent, are planning to add industrial-strength heaters to their outdoor dining areas. Some are enclosing their heated dining areas in a tent, which almost makes it an indoor space -- a move that may be questioned by health officials should cases of the virus continue to spike.
Despite difficulties faced by full-service restaurants, fast-food chains have been better able to adapt to more drive-thru and delivery business. Pizza chains like Dominoes and Papa John's have actually thrived during the pandemic because their delivery business model was already in place.
But Pizza Hut has not taken part in that prosperity. The company recently announced that it is closing 300 restaurants. A spokesperson for parent company NPC International said "a substantial majority" of the locations targeted for closing have dining rooms.