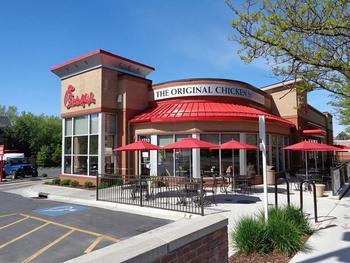 When consumers want to eat fast food, they would prefer to find a Chick-fil-A or a Subway. The two restaurant chains emerged as favorites in the 2016 Temkin Experience Ratings, an annual ranking of companies based on a survey of 10,000 U.S. consumers.
McDonald's and Burger King were at the bottom on the heap. The two burger chains tied for last place among the 100 restaurant companies rated on consumers' experience.
Baskin Robbins, KFC, and Domino's joined them as the only other restaurant companies failing to earn at least a "good" rating from consumers.
Overall, the fast food industry finished second among categories of companies in the survey. Despite the strong finish, however, the industry lost ground from last year.
Industry slips five points in a year
Fast food restaurants averaged a 71% rating on the Temkin experience scale, but that was down five percentage points from 2015.
"The fact that Chick-fil-A can stand out, year after year, for its customer experience amid such tough competition is really impressive," said Bruce Temkin, managing partner of Temkin Group.
Chick-fil-A has differentiated itself in the marketplace with a quality menu and service beyond what's provided by the typical fast food outlet. For example, after placing an order a customer takes a seat and a Chick-fil-A staff member brings the food to the table.
Ken, a ConsumerAffairs reader from Delaware, recently posted a glowing review of the restaurant chain
"I travel for business about three days a week and stop anytime I see a Chick-fil-A," Ken wrote, "The place is always clean, they employ lots of energetic young people and the food is always fresh and hot."
Beating the average
Other chains earning a rating above or equal to the industry average include IHOP (74%), Little Caesar's (74%), Arby's (73%), Taco Bell (73%), Hardees (73%), Dunkin' Donuts (73%), Pizza Hut (72%), Dairy Queen (72%), Starbucks (71%), and Wendy's (71%).
Temkin quizzes over 10,000 consumers each year to compile performance rankings for 294 companies across 20 industries. In addition to fast food chains, consumers also evaluate airlines, banks, health plans, hotel chains, and cellphone providers, among others.
Not only was Chick-fil-A the highest-rated fast food restaurant for the fifth year in a row, it's score of 78% put it in third place when compared to the 293 other companies in other industries. Subway's score of 75% gave it an overall ranking of 12th place.