'Start Small, Save Up' is designed to help cushion unexpected expenses and help consumers strengthen their financial profile
10/23/2019
|
ConsumerAffairs

By Gary Guthrie
Gary Guthrie covers technology and travel for the ConsumerAffairs news ... Read Full Bio→
Paying taxes is a buzzkill for any consumer. First off, you probably don't have a good idea of what the amount due is going to be. Secondly, if you do owe taxes, you're probably going to have to tap some financial account to pay it. 
For some consumers who may be short on funds, another expense -- such as rent or a car payment -- might have to wait until they're able to recoup their money. 
Enter the Consumer Financial Protection Bureau (CFPB). The agency is pioneering a ...
More
Those who fail to accurately report their income could face fines and jail time
07/29/2019
|
ConsumerAffairs

By Sarah D. Young
Sarah D. Young has been a columnist for a blog ... Read Full Bio→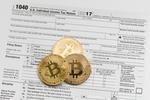 Throughout the month of August, the IRS will be sending out warning letters to roughly 10,000 taxpayers reminding them that earnings from cryptocurrency trades must be reported in federal tax filings.
The agency said it found the names of taxpayers known to have a cryptocurrency trading account "through various ongoing IRS compliance efforts." 
"Taxpayers should take these letters very seriously by reviewing their tax filings and when appropriate, amend past returns and p...
More
Sort By