Identity bandits are lurking out there, and the IRS warns consumers to protect their personal data
02/27/2019
|
ConsumerAffairs

By Gary Guthrie
Gary Guthrie covers technology and travel for the ConsumerAffairs news ... Read Full Bio→
America's annual visit from the taxman is less than two months away. With sweeping tax law changes in effect, the impact on the taxpayer has the potential to not only be stressful, but interesting. Many consumers will be looking to see which typical deductions will make it through the new filters and which ones will be automatically rejected.
To get the U.S. ready, the Internal Revenue Service (IRS) has created the Tax Time Guide -- a series of resources to help taxpayer...
More
The IRS has processed fewer returns than at this point last year
02/12/2019
|
ConsumerAffairs

By Mark Huffman
Mark Huffman has been a consumer news reporter for ConsumerAffairs ... Read Full Bio→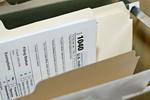 Taxpayers were supposed to pay less in taxes in 2018 under the latest overhaul of the tax system. But so far, federal income tax refunds don't reflect that.
New data from the IRS show that returns are lagging the pace of last year's filing -- not surprising given the government shutdown. But the refunds that have been sent out so far are about 8 percent less than at a similar point last year.
Refunds to date have averaged $1,865 compared to $2,035 for 2017 returns. On the...
More
Sort By