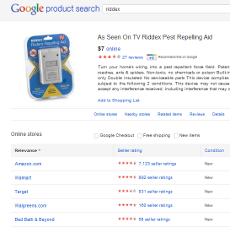 Hey, President Reagan had Star Wars, why shouldn't you have Riddex? If you believe Google Product Search, a seemingly miraculous product called Riddex Plus Pest Repeller will "repel rodents, roaches, ants & spiders" with no muss, no fuss.
Way back in 2003, Riddex marketers agreed to settle Federal Trade Commission charges that they made unsubstantiated claims about the effectiveness of their electromagnetic (EM) and ultrasonic pest control products but that doesn't seem to be slowing down Riddex today. 
Just enter Riddex and Google Product Search will assure you that this fine example of American engineering will: "Turn your home's wiring into a pest repellent force field. Patented digital pulse technology repels rodents, roaches, ants & spiders."
Not only that, it's "non-toxic, no chemicals or poison" and to top it all off, has a "built-in nightlight" and is "easy plug & play," just like your Windows computer. What? No trash compactor?
There's also this disclosure: "This device complies with part 15 of the FCC Rules. Operation is subject to the following 2 conditions: This device may not cause harmful interference, and This device must accept any interference received, including interference that may cause undesired operation Made in China" [sic]
Well, that certainly cleared up any remaining confusion. And just in case there's any doubt, Google Product Search gives Riddex 4 1/2 stars.  On a scale of 1 to 5, that's pretty good, so one might think this thing must really be the answer to rodent infestations.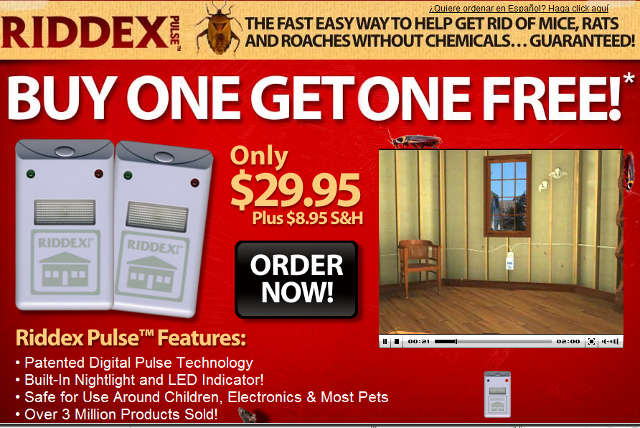 Does it really?
But does it really do that? Amy, of Columbus, Ohio, doesn't think so.  
"The Riddex product does not get rid of roaches and mice. I asked the company for a refund and didn't receive it. I lost $227.10," she told ConsumerAffairs.
Neither do the other consumers we've heard from.  Oh, and by the way they say the moneyback guarantee doesn't work very well either.
"This product does not work at all," said Denise of Bronx, NY. "The commercial for this product guaranteed that it would work. However, if it didn't," said Jerrod, of Brooklyn, NY.
Jerrod had bought not one but two of the devices and thus, is doubly annoyed: "I bought a 2-year extended warranty on this garbage product. I called the company requesting my money back. I was told that the 30 days had expired and in order to obtain new devices, I would need to send in $18 per unit," he said.
And then there's Roberta of Mount Sinai, NY: 
"I ordered online 2 sets for $59.90 to go to the same address. I was charged a shipping fee of $35.80 instead of the advertised $8.95. The customer service number is a machine that does not resolve problems."
FTC report
The Federal Trade Commission was pretty skeptical too when it tried to rid the world of Riddex.  Its report alleged that Riddex made unsubstantiated claims that:
their electromagnetic pest control products repel, drive away, or eliminate mice, rats, and cockroaches from homes and other buildings in two to four weeks, and drive them away by sending a pulsating signal throughout or altering the field around the electrical wiring inside homes and other buildings; and that they act as an effective alternative to, or eliminate the need for, chemicals, pesticides, insecticides, exterminators, and pest control services;
their combination electromagnetic/ultrasonic pest control devices effectively repel, control, or eliminate mice, rats, cockroaches, rodents, insects, spiders, silverfish, and bats from homes and other buildings, and upset nesting sites of mice, rats, and cockroaches within walls, ceilings, and floors by using the products' pulse or electromagnetic technology through the household wiring;
their ultrasonic pest control devices effectively repel, drive away, or eliminate mice, rats, bats, crickets, spiders, and other insects from homes, and eliminate the need for toxic chemicals, poisons, or traps; and
their pest control products are effective within an area ranging from up to 800 square feet or up to 2,000 feet, depending on the model.
Riddex is the brainchild of
Global Instruments
, based in Trenton, Missouri, and its president, Charles Patterson, who are busy peddling not only Riddex but also a line of products called "Pestacator."
No more primetime
Now, let's be honest.  It's not surprising that a product like this would be advertised on late-night infomercials and sketchy cable channels.  But here we have some of the supposedly greatest names in no-evil-doing retailing -- not just Google Product Search but Amazon, Walmart, Target and Walgreens -- selling a product that stretches credulity beyond normal margins.
We've asked some of the retailers mentioned above about this but, as our inquiries are normally ignored, don't seriously expect to hear from them.
As for whether the thing works -- well, other than the comments  from consumers who say it doesn't, we checked PhysicsForums.com and found comments like these:
"About ten years ago we tried a similar product. When I saw a spider making a web directly over the ultrasonic transducer, I took it as a clue that they don't really do much."
"My in-laws have the little pulsing clickers all over their house. They still get mice. It would seem the best rodent protection is of the feisty feline variety for them."
"I had something similar in my kitchen for roaches ... and when I finally gave up on it serveral had nested and died within it. Perhaps the pulse needs to be tuned to more country music frequencies. Then again, I would starve and die since I would never return to the kitchen."
Meanwhile, consumers with a serious pest problem might want to call a reputable pest control company.