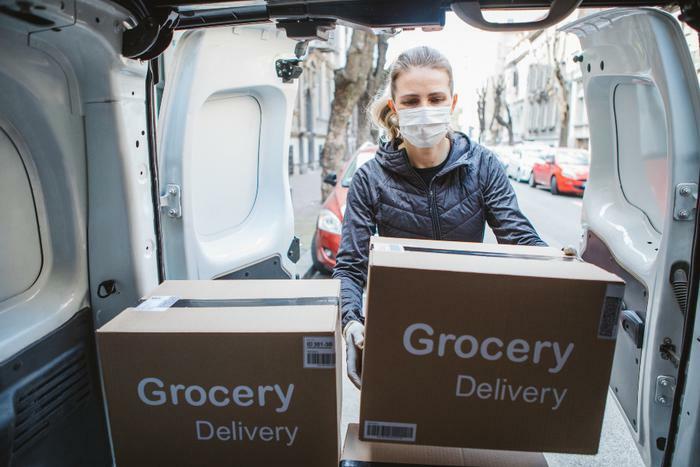 Walmart has added some serious muscle to its same-day grocery delivery program. On Monday, the company announced that it's expanding the store-to-door option to 3,000 stores -- giving 70 percent of the U.S. population access to this time-saving convenience.
To stimulate consumer buy-in, the company is waiving delivery fees on orders of $50 or more when customers enter the promo code "Delivery" when they check out online. Walmart typically charges $7.95 or $9.95 for delivery, depending on how quickly a customer wants their order delivered.
Same-day delivery is also a key component of Walmart+, the company's $98-a-year membership program that gives online shoppers unlimited fee-free deliveries on orders over $35. It also delivers other benefits like fuel discounts and mobile scan-and-go.
The delivery service battle heats up
Until 2020, most of Walmart's attention had been on same-day store pickup, which is now available from close to 3,700 locations. But the COVID-19 pandemic has changed everything by creating a demand -- and battle -- for delivery services. Walmart had little choice but to try to put itself in the driver's seat and keep Amazon, Kroger, Target, Albertsons, and others at bay. 
"As Walmart's store delivery approaches parity with pickup, the company will be able to market increasingly flexible same-day fulfillment to its shoppers — a key to retaining loyalty as experts predict long-term sustained growth for online grocery shopping," commented GroceryDive's Jeff Wells. "These store-based e-commerce services also provide a potent weapon against Amazon, which maintains a fraction of Walmart's store count."
Although Walmart scaled its home delivery quickly, it wasn't without growing pains. "The company relies heavily on last-mile services to complete its deliveries, and it's had trouble holding onto these partners, with Uber, Lyft, Deliv and Skipcart having backed out of tie-ups with the retailer. Walmart declined to sign on with Instacart, the most popular third-party online grocery platform, until just recently," Wells said.