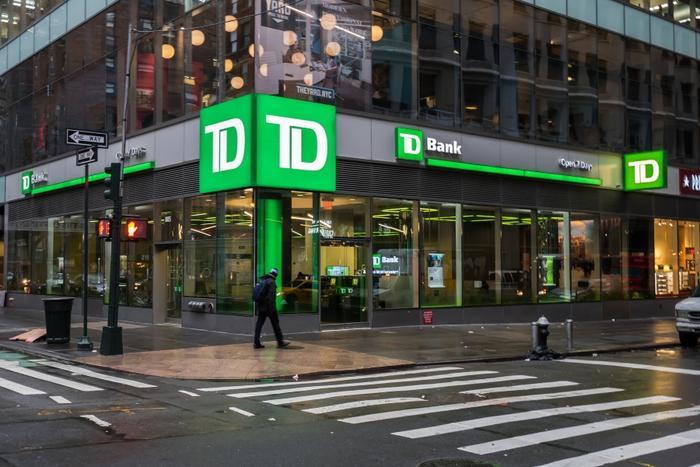 What's America's highest-ranking bank for customer service? A bank based in Canada.
In its 2019 ratings of eight major banks, J.D. Power and Associates gave Toronto-based TD Bank the highest marks for customer service. TD Bank edged out Chase, PNC, Capital One, US Bank, Wells Fargo, Bank of America, and Citibank, in that order.
J.D. Power cited convenience, seamless digital banking services, and strong checking account offerings in putting it at the head of the pack. The survey, now in its third year, tries to measure the customer experience with all retail bank product lines for eight national banks in the United States that account for 50 percent of total domestic deposits. 
Among the factors it considers are channel interactions, deposit accounts, credit accounts, investment accounts, convenience, and problem resolution.
'Rooted in convenience'
TD Bank won big points with J.D. Power researchers for its consistency when it came to giving customers a good experience.
"The core value propositions of national banks are rooted in convenience and providing consistent customer experiences, across all accounts and interaction channels," said Paul McAdam, senior director of Banking Services at J.D. Power. "As national banks strive to serve a wider range of customers' financial needs, service consistency across all lines of business is foundational to the development of customer trust and strong relationships."
TD Bank earns mixed reviews for consumers posting at ConsumerAffairs, but it has plenty of fans. Alan, of Doylestown, Pa., says he's used the bank for the last five years without a problem.
"I can transfer money from my checking account within TD and to non-TD banks," Alan writes in his ConsumerAffairs post." I love their mobile check deposit service... Very convenient! I pay almost all of my bills with their bill pay service. Their staff is mostly courteous and they are open more than my other local banks."
Branch and online customer satisfaction
TD Bank operates more than 1,200 locations on the East Coast. J.D. Power said the bank excels in both branch and online customer satisfaction.
"Being recognized for ranking highest in customer satisfaction by J.D. Power is a tremendous honor and a testament to our efforts to provide legendary experiences for our customers," said Greg Braca, President and CEO, TD Bank.
Braca credits the bank's "customer-centric focus" with helping to set it apart from its competitors.