Capital One
We're on a mission for our customers—bringing them great products, rewards and service. We're here to listen and to help!
Consumer Complaints and Reviews

I am traveling in Africa from the States. Lost my wallet due to my being stupid in Joburg. ALL MY FAULT NO QUESTION. I have a credit card and a separate debit card with Capital. The day I lost the cards I called them up.. I have no phone and use skype and notified them... then the problems began. They wanted to send new cards to the States... I was in Joburg headed for Cape Town so I wanted cards sent there. They could not comprehend what was going on and made me jump through hoops to even send the cards out. I answered more questions than you can believe and passed every test they threw at me.
They being intelligent sent the cards to me on a street but with only my name and street name, no street address. That caused problems with FedEx. Took 4 days extra to straighten that mess out. Debit card was simple to activate, credit card now 18 days and they refuse to activate due to possible fraudulent usage, card has not been activated and never used so how can there be fraud on it?
They won't tell me because of possible fraud, well if you don't tell me how can I fix it? They want all sorts of info, including some things I do not have as I am not in States but on vacation in Cape Town. Gave them photo of my passport with me holding it next to my face so they could see photo and see me... Nope not good, told them I have debit card from them and sent photo of debit card and passport... Nope no good, they want something with my address in States like drivers license ... stolen with wallet so I do not have it.
I have my AIG TRAVEL INS WITH MY NAME AND HOME ADDRESS... NOPE NO GOOD... Gave them copy of credit card bill showing name and address all charges and fact the stolen card was paid in full no disputes, all paid in full... Nope could be fake.. So look up my acct here is new cc number... no! At now a couple weeks in and cannot talk to them during the day due to 7 hour time difference and them not open till 8 am.. 3pm my time so all calls made after dinner lasting an hour plus every time. Combine that with internet that keeps dropping out and then I have to call back.. Sometimes internet down for hours, and fight all over again.
You have to submit docs to the ia and email doc they send you and if you navigate to bank website and take a screen shot their site will not accept it. So I take screenshot, take my camera, take photo of screenshot, upload to ipad and send it that way. Any docs take 3-4 hours plus to upload and that's only if internet does not disconnect. It usually does so it has taken a day to send a photo. I call and fight them every night and all I get is more and more frustrated as nothing I do is good enough. Now I have told them easily 100x I am in Cape Town, yet they say they called and cannot reach me at my home... You ** idiots I am in Cape Town South Africa, do you have any idea where Africa is, it is not in US.
Now they want my ss card. So again, first off I have not seen my ss card in years, I have no need for it and it is not accepted for ID anywhere and you're warned to keep it safe. Now even if I knew where it was I would not take it with me overseas and if I did it would have been stolen with my wallet. So night after night my stress level climbs to a crescendo and I start screaming at them to tell me what the problem is so we can get it straightened out but they refuse.
Now it is Sunday morning and they will not open until Monday morning EST time or 3 pm Africa time so I cannot talk to anyone for another 24 hours unless I talk to "Debbie or John or Robert" in India... who keep telling me they are a supervisor and I tell them I need to talk to their superior and they say they are the boss. To which I say give me USA and they say closed till Monday.
In the meantime my automatic payment to health insurance co has bounced as well as payments to heating company, phone company, and cable company and I cannot give them new card number as CAPITAL ONE REFUSES TO ACTIVATE IT UNTIL I PROVE WHO I AM BUT SINCE NOTHING I GIVE THEM IS ANY GOOD unless they tell me what the issue is I cannot fix it and until I fix it they won't tell me anything so I cannot fix anything. Once I fix the problem they will gladly tell me what the problem is... MORONS!!!
So from Jan 25 to today Feb 12 I have called them good 25 times and half the time skype disconnects so I have to call and start from scratch. Never in 59 years have I dealt with anyone so ignorant and horrid in my life. To call this customer service horrid is a massive understatement and if I knew who to report this to I would in a heartbeat. At this point I ABSOLUTELY HATE CAPITAL ONE.

I had applied for a credit card with very good credit score, well it won't happen with this company! I was denied... Not sure how because I read what you need to have to qualify and I was in those limits. I have other credit cards with very good limits and never have issues and these guys (CAPITAL ONE). They preach online, commercial ads, emails, and whatever else for advertisement spending billions of dollars telling everyone how important it is to HAVE your credit report and to apply for their best card. How can you when they only cares to the rich and wealthy? How can you apply when there is false advertisement on the website and they are proud to do this? You will approved in 60 SECONDS. This bank needs to have a large surprise audit done. It's okay Capital One. Enjoy sleeping around. I'll build my credit with some other company and never use you again!!!! If possible I will give you "0" STARS.

After our account being delinquent, Capital One had placed us on a 3 month hiatus, and earlier this week we received an email letting us know our charging privileges had been reinstated. A few days later we attempted to use the card with no luck, and we're confused as to why this happened. Around 9pm we called Customer Service (love that they always have someone available 24 hrs!).
The call was answered by a Customer Service rep named Anna, who was an absolute joy to work with. She was very clear, professional, answered all questions I had while also giving me any additional info she thought would help me. As we only had my card and my husband couldn't locate his, she arranged to have him mailed a new card and new cash advance pin- waiving the $16 fee and advancing us for 2-3 day shipping. One of the most pleasant phone conversations I've had with anyone in Customer Service. I don't know if all their reps are as great, but Anna gets 5 stars for sure!

I been a Capital One customer for almost 4 years now and have a credit limit of $25k+. I have ALWAYS made my payment on time with no issues, but one day my card was declined and I called in to see why and was told my account was restricted. They told me they made a business decision to closed my account due to "expenses not within their guidelines". I ask "what transactions are they referring to?" I use my credit card to pay bills, grocery, gas, etc. The rep said he could not give me an exact answer on the specific transaction but the company made this decision and it's final and could not be change.
I was so upset that I was being punished for being an honest and loyal customer and now my credit score dropped because of them. I asked the rep "Is it because I pay my bill on time each month and they weren't really making interest off me so they decided they just didn't want a customer with such a high credit limit?" The rep just kept repeating that it was a company decision and it was final. Such a frustrating experience... I will never recommended anyone to get Capital One ever again!

Capital One is allowing accounts to be open without proper information. I do not have any accounts with this institution nor will I ever. This is troubling as I am in the process of refinancing my house and the lack of due care and due diligence from Capital One is causing me problems. I have credit and personal monitoring and about every two-three months Capital One allows a new account which requires me to contact them and my real financial institutions to resolve the fraudulent account. Capital One will open accounts with minimal information.
How do I know I can trust these reviews about Capital One?
696,839 reviews on ConsumerAffairs are verified.
We require contact information to ensure our reviewers are real.
We use intelligent software that helps us maintain the integrity of reviews.
Our moderators read all reviews to verify quality and helpfulness.
For more information about reviews on ConsumerAffairs.com please visit our FAQ.

So I called Capital One to make a payment for the full balance on the card. The guy named Zach informed me that he was recording our conversation and that the full amount would be taken from my checking account leaving a zero balance and no interest would be charged for paying within 30 days. A week later I called capital one just to be told that Zach had only withdrew the minimum payment; leaving me with all the interest... I do believe it was all intentionally done just to make more money for Capital One... Very upsetting. Will not use capital one card again.

Capital One has been a nightmare for years, I have been encouraged by family to not close my account because it is the longest standing account I have. SO I paid it to $0 and just left it opened. I was recently contacted by them and offered 0% interest for 12 months on new purchases so I gave them another shot. They honored the no interest for ONE month then hiked it to 24.9%. When I spoke to them they said there was never a 0% offer extended to me. And couldn't explain anything even though clearly it was honored for a month. I was told it was my word against theirs (AGAIN) and that there was nothing they could do.
During the course of the convo I was transferred to the "chat supervisor" who got increasingly rude and nonhelpful. When I requested to be transferred to his supervisor he told me he did not have one. I asked for any supervisor above him and he refused. It took 47 minutes (I have the WHOLE conversation saved with time stamps) of him straight out refusing to transfer me, give me his ID number or ANY way to contact someone above him. He got caught in a lie in the end of our conversation and when I called him on it he relented and suddenly remembered his supervisor's name and ID number but still never did provide a contact number or email for a supervisor for me to submit a complaint.
I am disgusted with them and just put in for a balance transfer to Discover. I'm grateful to leave but very bothered that they can keep doing this to people (In the last 5 years with them I have had 7 inaccurate late payments reported, I've fought with them and gotten the charges reversed but with EVERY instance I have had to appeal to the Credit Bureau and provide proof that they messed up YET AGAIN to get it off my score.) I wish there was somewhere within Capital One to file a complaint.

Capital One is the biggest con artists around. They charge you for fees that go against their own rules. The cutoff time for deposits is 9:00PM daily. These ** will charge you overdraft fees when you put the money through the ATM before the 9PM cutoff time. Even though your receipt shows the money is available and current as a positive balance, these con artists will play games and deliberately manipulate the deposit times online to purposely show you overdrafted your account. Have 3 ATM receipts that show prior to 9PM I had a positive balance, put money in the account before 9PM cash to cover a negative balance. These ** charged me $70 for 2 overdrafts charges claiming I had no money in the account and yet I was able to withdraw funds directly off the same account that so called had the negative balance.

I have been a customer with Capital One for over 12 years. In November 2016 and December 2016 I noticed payments not charged being made to my accounts. The totals were several hundred dollars and I only owed under 100 dollars on watch one. This was not anything that I had done so I disputed the payments. I first called Capital One and they said there was nothing they could reverse. "Please talk to your bank". So I did and within 24 hrs my charges were credited to my checking account because I did not authorize them and these payments were then marked as disputed and returned due to fraudulent activity.
When I called them the next day I asked them if they could see where the charges were coming from. They said... "oh you called the department yesterday and made these payments." I seriously never called to make payments and had auto debits for the min monthly payments. So I asked for them to send me a new cards and they did... So 30 days passed and 500 dollars worth of payments to Capital One hit my checking account again!! This is 3 days before Christmas this time. I am not happy. So I call them again they say... "oh it's coming from your checking account information not your debit card," which I had just cancelled twice over last 30 days.
At this point and several phone calls got Cap One and my bank to resolve this continued annoying problem! So I finally get the charges flipped, pay the regular payments and only to find out all of those disputed payments that I didn't owe were added to my balance and now I owe them! Oh and let's not forget... They said they closed my accounts because the payments were disputed. I was in the process of rebuilding my credit and almost to a decent score and then this happens. I'm now sending all of this to the credit bureaus to dispute the closing of my accounts and also the balance owed. But closing my accounts for something that is not my fault!!! Unreal. Good luck everyone! I hope you were not looking to buy a house like me!!! Now my score had dropped and I have to dispute which can take up to 6 months.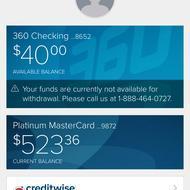 I opened a checking account with Capital One bank and the next day they decided to do an internal review and close the account and not give me back the money I deposited. They gave me some lame excuses of why they decided to continue the banking relationship. They are a bad bank. They will take your money and keep it. Anyone that applies to get a checking account do you not do it. This bank is a crook and a rip off. They are nothing but problems. Now my fiancé and I have lost $40 and have to pay a $25 fee to put a stop payment on a check because they couldn't deny the account in the first place.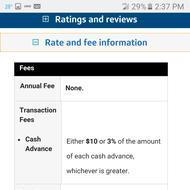 I've had this card 2 years with no issues. Last month I saw a membership fee and was confused, because I know I have a $0 annual fee, one of the reasons I chose the card. I didn't do anything at the time, but checked it today and found that my feeling was correct, that there was no fee and is stated specifically with no asterisk or superscript next to it, no fine print. So I call and speak to a representative and she tells me that there is a membership fee and she can waive it once, but never again. I said, "no, there is no annual fee, I don't ever want it appearing on the bill." She got hostility with me telling me that's the way it is and I will be charged here on out. She put me on hold and while waiting I doubted myself on the no asterisk or fine print so I hung up, went over my papers again and verified I was right, again.
So I called back and got the same response from the next girl, after getting hostile I told her to just cancel the card, because I'm not playing their games. She then transferred me to her supervisor who said the same thing, that maybe it was a 'promotional offer.' I said "I don't care what you call it, it stands as I signed it." The card still has the same exact details today as it did when I signed my agreement, I matched my papers with their existing online details. All of the girls I talked to were extremely rude and not once did they ask about my papers or if they could see them.
I asked if there were an email address I could send pictures of my documents to and they said they have their own papers, and then said verbatim, "what was on the agreement when I signed it may not be what is on it now." I said, "so you guys can change fees on it at any time, because my papers also state that that won't ever happen." She denied saying along those lines. That's exactly what she said. This company is criminal and I would strongly suggest everyone steer clear of them.

I loved Capital One and have an account with them for many years. All customer service that I spoke to by phone or in person are outstanding service. They help me a lot in my financially and very dependable company for me. The Banker at Carrollton, Old Denton Road are very nice people and helpful. Thomas and Obaldos. The environment is very nice and clean and no too much line once you go inside the bank. I love the service and last week Saturday someone help me and gave me a credit of over $200. Wow. That never expect. Thank you so much. I forgot his name but this Banker worked at Carrollton Old Denton. Even I called 800 number all are very helpful to help me to resolve any issue. For me Capital One is the best bank I ever have in my life and it's a blessing to be partner with you. Thank you for taking care my account and very satisfied with your service.

I'm so disheartened by this complaint. I have had this account for almost two years now NEVER NOT ONCE been late on a payment. I opened this account to rebuild my credit and now this company has takened that away from me. I decided to pay off my remaining balance of $530 and made a payment through my bank account giving them my route number and account number. They ran payment and it went through. Two days later I checked to make sure payment was processed and it says my payment was returned. I immediately called to find out why my payment was returned. The representative told me my bank account was invalid. I said let's double check to make sure my bank account number is correct. It wasn't it was off by ONE number so we corrected it and gave them the corrected account number and processed payment again.
Today I check my account to make sure again it cleared and my account said restricted!!! I called immediately and they told me because my payment was returned the first time they closed my account... It didn't matter that it was because my account number was off by one number it didn't matter there was money in the account to cover it... It didn't matter I have paid on time for over two years. She said nothing mattered. So I asked to speak to her supervisor. Supervisor said there was nothing she could do and that she would explain this to the case worker.
I have been penalized for a payment being returned bc they had the wrong account number not because the payment bounced or there was no money. I'm so disgusted over this and heartbroken because I've been working so hard on working on my credit making sure all payments were made on time and paying off my credit card. The only answer they can give me is "there is nothing we can do about it".

I called Capital One to send an additional card for my son. A card was sent but the same time a fraud case was opened on an account. 4 phone calls, 4 types of documents were uploaded from my side to prove that I am what I am. After 14 days more requirements to prove my identity. Not in USA currently but working on contract in China. All my requests to communicate over e-mail were ignored. All documents what are eligible for the rest of world not good enough for Capital One. If you try to make a purchase outside of USA be prepared to deal with fraud case and spend hours to deal with them to prove that you are what you are. They are asking you to provide you all info about your travels outside of USA and in additional time could not exceed 30 days. WTF?!!
Had problems with this bank before. Same issue. Used card in Shanghai and was declined. Fraud case right away. Took one year to resolve the problem since they would not accept any documents unless I appear in bank personally. Easy to get a credit card bank but the most horrible bank when it comes to deal with any problems. Most of the time they create problems by themselves. Experience dealing with this bank is the most horrible I ever experienced ever. Never again deal with this bank.
Cancelled 3 cards with them as of today. Think twice before you deal with them. Too much harassment, 0 customer service or care about customers. Happy I don't need you Capital One anymore! Have enough money to spend from my banking account or open a credit card with more prestigious bank. Just to finish it, my previous conversation with one of people in Fraud Department finished with a promise that I would be compensated for all troubles and phone calls. Did it happen? NO!!! 0 customer service and 0 interest in customers. NOT MY CREDIT CARD BANK ANYMORE!!!

I have been a Capital One customer for probably about 10 years now. The interest rate has spiked up to 23.15% (CRAZY). My minimum payments hardly took anything off the principal of the card; so I called to see if I could get a better interest rate (after years and years of paying this amount). And they were not willing to work with me at all. I got automated messages on the online chat saying "Sorry, nothing is offered at this time." When I told them I will likely change carriers to a bank with lower interest rates they said "I will be right with you." I waited about 4 minutes and received a message saying "I haven't heard from you in a few minutes, are you still with me?" What the heck?? I played around with automated messages for quite some time before I closed the chat, and now seeking a new credit card carrier. Terrible customer service!

I was required to make a $500 secured deposit to get a mastercard. After using this card for a while they told me that my payment record is good and I am ok to upgrade to a non secured visa card. After trying to return/Refund my $500 deposit for 2 years now, they can not find it. How come they can report us for a bad credit to trans union etc. But we can not do anything to them? Anyone???

I was really excited to get the venture card after all the great buzz about it. When it arrived I went to activate it and was surprised to see that there was ALREADY a fraud issue (although nobody ever told me what it actually was, and the card had obviously never been used by myself or anybody else). I was on the phone with a customer service rep who asked me to upload a photo of my drivers license and email it to them, so I did. I heard nothing from them for weeks until I got a bill for my un-activated card. I called again and spoke with a very rude woman who said that she wanted me to now email a picture of the front and back of my drivers license and social security card. She still would not tell me why they were making it so difficult to activate, and also would not tell me why they hadn't contacted me regarding the issue for over a month now.
When I told her that I was uncomfortable sending these documents over an email, she just laughed at me and told me if I wanted better customer service I should call during 'normal business hours'. So that's exactly what I did. When I took an afternoon off to call again, this representative told me that because it had taken so long (for them to remember to contact me) I would either need to send them now my drivers license, social security card, AND proof of residency, or I would need to reapply for the card and start this torturous process over.
Finally I get a hold of a supervisor and he tells me he will resolve the issue, only to get a call a few days later back at square one with the issue. They forgot to do their job and now they want me to clean it up... AGAIN! The supervisor that I spoke with the last argued with me and spoke over me telling me that it's my fault that I had to upload the documents so many times and that if I wanted to talk to someone else that again I would have to call during normal business hours (even though they called me on a Saturday). This is a joke, and a waste of hours and hours of my time. Spare yourself the headache and DO NOT get this card!

I got a phishing scam in my inbox from someone with a disposable gmail address claiming to be Capital One. Clearly the goal was to sign into his fake site so he could get my credentials and clean me out. Fortunately, not only am I smart enough to see this coming from a mile away, but I don't even have a Capital One account. So, as you do when you get phishing scam Emails, I contacted Capital One per the instructions on their website. Of course, the address they tell you to send fraud reports to is dead. Called the call centre, didn't care. Emailed the CEO himself. He fake bounced my Email back. How do I know he received it and fake bounced it? Because I can tell the difference between a real bounce and a fake one.
So, tell me this. Why are they so intent on not finding out about these phishing scams? A legitimate company would want to know about scammers cleaning out their clients' accounts like this. Well, the answer is simple. THEY'RE IN ON IT!! That's right. They commission phishing scammers who are not officially part of the company to commit these scams, and then remain willfully ignorant. In exchange for being explicitly asked to scam their customers and turning a blind eye, the scammer gets to keep a cut of the money, and sends the rest off to Capital One. Officially, that was a rogue scammer, and CO knew nothing about it. DO NOT BANK WITH THESE CROOKS!! THEY WILL HIRE A PHISHING SCAMMER TO CLEAN YOU OUT!!

I had applied for a card to help my credit score to possibly get a house one day, well it won't happen with this company! I was denied... Not sure how because I read what you need to have to qualify and I was in those limits. They preach online, commercial ads, emails, and whatever else for advertisement spending billions of dollars telling everyone how important it is to check your credit report and to apply for their best card. How can you when they only cater to the rich and wealthy? How can you apply when there is false advertisement on the website and they are proud to do this? This bank needs to have a large surprise audit done but we all know this company is sleeping with the federal government so they will just get away with it. It's okay Capital One. Enjoy sleeping around. I'll build my credit with some other company and never use you again like you use the federal government!!!

Capital One bank recently bought out Maurice's Credit card owned by Comenity Bank. While with Comenity Bank I made all payments online and was enrolled in paperless statements. Capital One bought and switched over from Comenity on December 28th. I only found this information after logging into my online account to make a payment and the website was closed with a message reading "Capital One has bought out Comenity and you will receive a new card with new payment information in the mail". I have yet to receive anything by email or by paper mail and just received a phone call from them to collect a payment that was due and a late fee had been added.
I was furious because the original website was shut down and had no access or information as to what the new website was to set up my online bill paying. Capital One is horrible and I will NEVER have any credit card that it funds!!! It just concerns me that if this happened to me what other customers were jeopardized in the buyout!

Writing this review to report how crappy the customer service is at Capital One and how unfriendly the website/online agents are. I was reviewing my account and saw that a disputed amount that I filed a dispute for was re-billed to my account. Tried to access or respond to the merchant's response, but the Capital One site do not provide that opportunity to their customers. Accessed the online account specialist s/w Selena and then passed on to Paul, both of whom were not very helpful and after writing back and forth about my issue, I was asked to call the dispute #, which could have saved me some characters/time, if I was just told that from the beginning. Called the dispute#, s/w Len who obviously needed more training and cannot understand correct English or how to answer a customer's question effectively.
I told her the issue with being doubled billed by the merchant on the same day, for the same product. Advised rep (Len) that I have a tracking # for the package I returned and I wanted to recoup the shipping costs paid to return item. She went around the world telling me about a link she would send me and I need to write phone & case # on my uploaded document. Now, correct me if I'm wrong if the link is being uploaded to my personal account, should Capital One already have my phone# and the case#??? Len indicated that it was because they receive a lot of documents. So, if a link is given to me to upload something to my account, why in the hell would I be concerned about how many other documents Capital One receives, unless this link is general link used by all reps and they need this information to determine which case the information belongs to.
If this is the case, then my personal information is not private and possibly sitting on someone's desk in a pile that can be compromised. This chick was clueless, asked for a supervisor, s/w (Kai) who helped but still provided excuses for the rep's lack of understanding. This was my worst experience with Capital One. Not sure if I will continue to have a open account with them. Poor customer service is my pet peeve. Not going to deal with it, as I am the one making the payments.

I am dissatisfied with Capital One and their customer service in dealing with fraud. A payment was made out of my checking account to a Capital One account using their automated phone system. When I called to report it, they told me they could not research the issue and I had to take it to my bank. I talked with 3 different customer service reps and a Supervisor and they pushed me off to my bank. But they were very quick to let me know that I had a payment due in 4 days. Never have I had a credit card company tell me that they had no way to research my issue, especially when I had the date, amount and 16-digit code used when the payment was made. It was like they got their money, so who cares where it came from.

I have tried to get into my credit card account, electronically. However, when I try to do so, Capital One says they need to verify that the account is really me, and promise to send a 6 digit code to my email. The code never arrives, so I cannot get into my account, electronically. I have called them several times, asking for help. The last call, they promised that the problem would be solved. However, now when I log into my account electronically, they only say they will deliver the 6 digit code to my cell number. My cell number is in Italy, and their system will not take this cell number. I have contacted Capital One over the last 2 weeks, with this complaint, and nothing has been done to solve the problem. In fact it has become worse. What can I do to get Capital One to solve this problem. Could you help me out here. I am at my wit's end. In advance, thank you for your help with this problem. I look forward to hearing from you soon.

Capital One Credit Card - I tried to arrange travel through their site. I booked a trip. I wanted to make one change to one leg of the trip, which I couldn't do online, so I called within 24 hours of booking. They were closed after 7 pm PST so I could not reach anyone. I tried 3 different phone numbers. Monday was Martin Luther King day. I didn't have time to call until after hours again so I called the next day. They said they could not help me because I was after the 24 hour change window or waive the fees. IF I had called on Monday, they could have helped me.
I tried talking to the agent and her supervisor, Patrick (who did not even know how many hours difference the time on the East Coast is vs the West Coast). I then got a voicemail from another manager, Mary, who said she couldn't help me. I tried calling her back and she refused to speak with me. Horrible customer service. I will be changing credit card companies!

I've told this company numerous times that I was having a problem. I've always pay my bill because one I just got the card I've paying my bill and the payment always got screwed up. I finally get the payment to go through and to find out they cancel my account. WTF!

I have been with Capital One for about 4 years and have never had a problem till now. All of a sudden last week both my accounts were closed without any warning or explanation. I had just paid off one of my cards the day before and was planning on using that card for household expenses. When I call customer service the first time I got a very rude representative. The next call I spoke to a supervisor who informed me that the reason my account was closed was because of a returned payment on December 28th.
While I had her on the phone, I look at my account and lo and behold there are payments POSTED for December 28th for both accounts. When I tell her this she calls my bank and ask to know if there were any returned payments on this date while I'm on the phone. The bank representative proceeds to tell her that there were no returned payments and that she can see where the payments in question were in fact paid. After that I was told that it would take 7 to 10 business days JUST to hear from a manager if they would reopen my account!
Before she gets off the phone she tells me that there was a returned payment back in SEPTEMBER that could have triggered this... ARE YOU KIDDING ME??? So now I'm pissed because they are trying to make up and find anything they can to keep my account closed. So I call back today to talk to a manager and not only does he tell me that some committee has said they were not going to re open my account, but the reason being is because of the same reasons that I have PROOF are FALSE!!! I have never dealt with such unethical behavior from a financial institution in my life!

I had this account opened with a merchant that I RARELY used but ALWAYS did my payments on time. I moved my residence in 2015 end and MADE SURE that I updated it in my online credit card profile. I got my account closed early 2016 and even called the company to confirm that it was closed. Everything was fine UNTIL ONE DAY when I applied for a mortgage, and TURNS OUT it's affecting my credit score, according to my profile, the payment was late by 120 days so ACCOUNT WAS CLOSED BY CREDITOR?? When I called Capital One to ask about this, the agent mentioned that A FEW CENTS WERE PENDING???
I DID NOT GET ANY INTIMATION THAT I HAD A PENDING PAYMENT. NO CALL, NO EMAIL, NO MAIL. The agent said that the mails kept bouncing back from my old address? Then was any effort taken to contact me about my FEW CENTS pending before reporting it to the collections agency? After putting three months of interest the amount was $1.84… Seriously Capital One??? Moreover, I was told that the supervisor would call me back in 24-48 hours but no call received in two weeks yet. Wish I could rate negative.

Associates working in physical branches are educated to either (1) tell people that there is no limit to mobile check deposits when you open a business account, or (2) tell people that they can initially mobile deposit up to $10,000 on a 30 day rolling average into your business account. I was told number "1" when I went to open a business account. After opening an account and depositing approximately 8500 in checks that day, I was unable to mobile deposit a $7000 check or even a 3200 check to pay my employees approx 30 days later. I was out of town on the west coast and had no physical Capital One bank to go to deposit my funds. We could not pay employees before the holidays! Thanks Capital One!
When I got back to NYC I went into a branch with the $7000 check and the teller said to me: "Oh you could have deposited this through your mobile." I let her know that this was not possible and that they need to stop telling people a false limit of 10,000 unless they actually give it to them. You would think that this limit would improve after a few weeks, maybe months? Nope!!! 2.5 months later and my limit is $3800!!! I can't deposit ANYTHING without going to a branch. BAD FORM Capital One. Customer service does NOTHING when I call. It is a sham! I am closing my account as soon as possible.

My experience with Capital One was great until I had to file a dispute after being ripped off by a 3rd party travel Agency. The people in Capital One dispute department mislead me and also lied to me several times. They are unorganized and in the end it appeared to me that they were on the side of the merchant which is unfortunate. I submitted all of the documentation they requested which showed that I had clearly been defrauded by this company. They didn't even read through it or submit it. Every time I spoke with someone in their dispute department they would tell me something that completely contradicted what the last person told me. Words cannot describe my level of frustration.

I am currently going through a divorce and am going through my accounts to make sure everything is in good standing. My ex-wife was managing this account before and I was surprised to find out when I called that it was delinquent. They said, "No problem... Make this payment and call back in the morning after the payment has posted and we can issue you a new card (Because I wanted to cancel the card my wife had and get a new one)." So I did. Then I went online and found out they had just quoted me the minimum payment and I saw that there was a higher balance on the account. So I paid the remainder off. Then I called back this morning and they informed me that the previous person had lied to me in order to receive a payment and that they cannot in fact issue me a new card and that I now have an open account with a zero balance that I can no longer charge to...
Then what is the point of having this account! Well they can't advise me to close the account. Agent ID #** is the agent that lied to me. Then I asked to speak to a supervisor so they transferred me to a senior account specialist named Jason and in the middle of his introduction they hung up on me after being on the phone for 40 minutes and getting transferred around to 4 different people. Horrible company. Illegal collection practices. Terrible customer service.

Beverly HarzogCredit Cards Contributing Editor
Beverly Harzog is a nationally-recognized credit card expert, consumer advocate and author. She's appeared on Fox News, CNN Newsource, NBC New York and more. Her advice has been featured in The Wall Street Journal, USA Today, Money Magazine, CNNMoney.com, The New York Times, Kiplinger, Real Simple, Time.com, Family Circle and much more. More about Beverly→

Capital One, a Fortune 500 company, is one of the most recognized brands in America. It is one of the nation's top 10 largest banks and has locations primarily in New York, New Jersey, Texas, Louisiana, Maryland, Virginia and the District of Columbia.
Travel rewards: Capital One offers great rewards on flights that can be redeemed anytime, with no blackout dates. Use miles for tickets, hotels, rentals and more.
Credit builders: Capital One has a specialty in helping customers establish or rebuild their credit with credit cards targeted to those with fair or poor credit.
Secured credit card: This is one of the most popular secured cards on the market. Capital One sometimes offers a cardholder a partially-secured card, which means that the customer gets a credit limit that's higher than the deposit.
Cash back: A few of Capital One's cards offer unlimited cash back on every purchase, and this feature is available on both consumer and business cards.
Spark-branded small business credit cards: There are rewards cards for cash back and airline miles. Capital One also offers corporate credit cards.
Clear and concise website: This company does a good job being transparent and explaining the rates, fees and rewards for its credit cards.
Best for Consumers and business owners who have good-to-excellent credit who want a rewards credit card. Also, consumers who need to build credit or repair bad credit. They also offer commercial corporate cards.
Capital One Company Profile
Company Name:

Capital One

Year Founded:

1988

Address:

1680 Capital One Drive

City:

McLean

State/Province:

VT

Postal Code:

22102

Country:

United States

Website:

http://www.capitalone.com/