Capital One
We're on a mission for our customers—bringing them great products, rewards and service. We're here to listen and to help!
Consumer Complaints and Reviews

Opened Kohl's account this past summer, Capital One is Kohl's creditor. Received letter a couple months ago from Mike **, Capital One Executive Office, informing me they were closing this Capital One credit card account. Reason: "We have observed activity on a past or present Capital One account that is not consistent with our expectations of usage for personal, family or household purposes." Had a balance of $580 from household purchases, don't know what was wrong with expectations for usage. Called Kohl's, said they would call back, never did. Wasn't going to charge anymore at Kohl's anyway, so didn't think much about it.
Received another letter from Capital One Saturday, March 18, 2017, stating they were closing my Saks Fifth Avenue account that I have had for 32 years and 8 months, for same reason as Kohl's cancellation. Had $5,300.00 limit on Saks account. High balance was $2,800 a couple years ago, have paid it down and owed $53.02 as of today, March 21, 2017. Called Saks Saturday after receiving letter, could not give reason for closure. Called Capital One and was transferred back to Saks. Went through this process 3 times Saturday, with no explanation from anyone.
Called Saks credit today, March 21, and was transferred to Capital One again, spoke with 2 different departments today, the last being the Executive Office. Told the rep I have checked all 3 credit reports as of yesterday, FICO scores being 763, 758, and 757. Zero collection accounts, no times since negative on any account. Credit usage 28%, 30%, and 30%. No public records. I am livid at this point. Could not get an answer as to why account was closed, she just quoted the reason that was given in the letter. Went back and forth with her for 10-15 minutes, but she would not give me an answer. What on earth did I do wrong???
This was my oldest account and have never been late with one payment to Saks. Capital One took over as creditor from HSBC five years ago. They didn't close account when they took Saks credit over but they close account now 5 years later. I requested for the account to be re-opened, but she said it could not be done. Nothing derogatory on any of the 3 credit reports. What is Capital One doing???

I have always paid the loan amount and additional amount. I also make two payments a month. The loan payment amount is only 191.98. I will always pay 200.00 plus I will pay the additional 50.00 to 70.00 to cover whatever % interest that has accumulated for both payments. So in short I am paying a minimum of 500.00 a month on a loan with a payment of 191.00 a month. However, the non-transparent loan will keep you from seeing how the payment is distributed. This is a red flag. Books are not a new thing and payment statements are not new, therefore there should be no issue in transparent loan payment documentation. I would say a financial industry that does not have full disclosure is in need of a audit. No bank is too big as Wells Fargo and FINRA. That is my next avenue.

In 2016, I had fraud charges on my cc. After days of this person making these charges, it maxed out my cc. I had to let Capital One know about the fraud charges because they did not catch it until my card was maxed out. The charges negatively impacted my credit score, but they assured me that once the investigation is resolved, that my credit would be fine. They resolved the investigation, but my credit did not recover. Now, over 8 months later, that dispute still places a flag on my credit and I was made aware of this when I tried to refinance my home. Capital One told me they need to file a new dispute to get rid of the old one. Seriously? After months of dealing with this, I finally just cancelled my card because Capital One obviously doesn't provide any kind of protection for their customers.

If I could rate them negative stars I would. I had a zero percent interest rate on my Capital One credit card, and had my account set for automatic payments to be withdrawn on the 20th of each month. In December, I lost my checkbook and had to cancel that account, as well as open a new one. While this happened, Capital One issued the automatic payment to my old account and the funds were rejected even though my bank assured me that recurring payments would still go through. Two days later, I went online to make a payment that would cover my tuition cost. The information available online indicated that the minimum payment posted for that month and no messages or notifications were issued to me regarding the funds that were rejected. At that time, I also changed the information for my automatic payment account.
Unknown to me, however, Capital One canceled my auto pay because of the rejected payment that I was NEVER notified of (although the phone rep claims that they issued a letter 2 days after the payment would already have been considered late). Because I had no clue that my auto pay was canceled, I did not think about it again until my credit score declined. Because this is the only card I use, I logged in and sure enough, there was a notice at the top of my account stating that I had missed payments. Of course because of this, my zero percent interest suddenly went to 24%. I did not receive any phone, e-mail or snail mail notification prior to logging into my account. I figured, I would contact customer service and they would immediately see the error, and send a corrected report to the credit agencies. Boy was I wrong!
The first chat representative did not seem to understand what I was trying to tell him and told me that I would have to contact the credit agencies myself. I found this to be against all good customer service standards and asked for contact information in order to have Capital One recognize their error and resolve my account. The second person I spoke with was very helpful and assured me that I did my due process in maintaining my account and that she would issue a dispute and it would be taken care of.
About three weeks later, I received a letter stating that Capital One was not going to correct the information because the payment was late. Well no duh the payment was late! It was late because of the chain of errors that occurred regarding my account. I called and got nowhere with the phone rep who then transferred me to the rudest supervisor possible. This person was not helpful at all and would not listen to anything I said or acknowledge that errors occurred on their end. If Capital One promotes people with zero customer service skills to a supervisory position, I would advise everyone to sell their stock in this company immediately.
Anyway, the bottom line is, Capital One conveniently ensured that I had a late payment that turned my zero percent interest into 24%, they damaged my credit and my issue is still not resolved. This company should be investigated for fraudulent practices, their front line staff trained and empowered to provide problem resolution and their supervisors thoroughly screened for customer service skills and fired if they cannot provide adequate service. WARNING: DO NOT OPEN AN ACCOUNT WITH THIS COMPANY. I cannot wait until my balance is paid off so that I can cancel my account.

I have been a Capital One cc holder for at least 7 years and up until now everything was fine. I generally don't carry a balance so I am actively making my monthly payments on time and I pay in full. Since we got the card we have paid out of one specific bank, but about 8 months ago we started using a new bank account to pay. By default Cap One selects the old bank account when making a payment. About 6 months ago I accidentally did not change to the new account when making my payment and of course that caused an issue. I called and followed their instructions to remedy the issue. Well I did it again this month, I realized that I did it again... Long and short, Capital One cancelled my account. I called, spoke to the customer service rep, the supervisor and the manager. Did not matter, they still cancelled my account. Because I failed to select the right bank account in the online banking app. Urghhhh.
It was not a financial issue as my payment was not even due. As soon as I realized what I did, I made another payment from the right account the next day. Did not matter. They cancelled my account. I am sure the spirit of the rule that they used to cancel my account was focused around people not making payments on time, not for someone who simply did not change their default account when making an early payment.
How do I know I can trust these reviews about Capital One?
720,415 reviews on ConsumerAffairs are verified.
We require contact information to ensure our reviewers are real.
We use intelligent software that helps us maintain the integrity of reviews.
Our moderators read all reviews to verify quality and helpfulness.
For more information about reviews on ConsumerAffairs.com please visit our FAQ.

As many of the reviews on here, mine is very similar. I had two Capital One accounts since 2014. Both were always paid on time and paid off often throughout my history. I never had one payment returned, or over limit on either one card. This last month, I made full payment to pay off one of the cards, so that I could use the card to purchase 2 International Airline Tickets. I made payment on a Monday.
By Thursday, nothing showing on my card as a crew, but the payment does show "completed" on the website. I finally called to find out what the issue was, and Capital One told me that my payment was on hold until it was cleared by my bank. I explained that I had never had a hold, that I needed to purchase the tickets by a date specific and also that the bank I paid with I have always used. The bank I used, did not show the payment yet as posting, but there was more than enough money in the account available for the payment I had submitted.
I gave it another day as Capital One stated that they would/should release the hold by the following day, same issue occurred. I called back and was now told that my payment was returned insufficient funds on the bank. I called my bank with Capital One on the phone to verify what they were saying. My bank stated no payment was submitted or returned at that matter. The Capital One supervisor was so not helpful. She just listened and then once my bank confirmed there was some kind of issue, I was told that they would have to research further.
The next morning, I looked online at my account to see if the payment was credited, or rejected, or what status it was in. There was a red writing indicating that my account was on restriction. I called Capital One as I had never seen this on my account, I was told that the account was in process of being closed out. I was advised that because my payment was returned, that I was not in line with their agreement, and despite being a stellar client for nearly 3 years.
How on earth were they cancelling me? I received no response, no supervisor was available and I was essentially told it is what it is and a letter was sent. I could not believe it and they even tried to run my last payment through my bank again, which I had stopped payment on through my bank. I checked again on a final note and they have elected to cancel both my cards I had. Since they have closed, they will get the minimum payments each month. I am still in shock just by the manner of trust (little or none), their lack of explanation, and most critically lack of professionalism to just close my account without any notification. I would absolutely caution you not to apply and be trustful of them in any capacity. Had I been out of the US with my credit card and it had been closed, I would have been in a real fix. So disappointing! BEWARE!

I had a lot of problems with Capital One 360 before, so that I don't use it for banking business anymore. I have only invested in 5 year CD that has been locked for a high rate. CO 360 has been paid interest on time until today, blaming the storm, and again telling me that it would be paid at the end of the month. As soon as I mentioned my intention of CFPB filing, I was told that it would be paid at the end of the day for sure, and then I was paid right before 12 AM. No other banks pay interest at the end of the day. I have been watching this beguiled bank carefully for so long that it didn't come as a surprise.
Folks, you can't be too careful with financial institutions these days. It's as if they were in business for stealing money, nothing can surprise me anymore after dealing with several online brokerages and banks. CFPB is the solution for banking problems. CFPB is amazingly efficient, fast and enforceable that banks are scared of it. Don't hesitate to file a complaint through CFPB. Sadly, lawmakers are trying to dismantle CFPB by defunding. Even though, I can't even put my money in the bank without CFPB's backup in this country nowadays. I have tried to support CFPB by writing senators and spreading words, I encourage everybody do the same. We need CFPB, period.

The customer service team management team and security team are very rude. I have a bad learning disability and didn't know I couldn't use the Capital One 360 app to cash my cousin's employee check from his job. He had no other way to cash it at that moment and he owed me for cleaning his yard. Well Capital One locked my account, told me to have my cousin cancel check but he wouldn't cause it's a hassle so I had to pay him what was left of the check and no have nothing except funds capital one won't release. I don't know what to do. My mom usually helps me but they refuse to speak to her. I really need my money. It's 200 dollars. I have drs and meds to pay for. I need help please. Thank you.

I had made a payment like usual on my account and almost 5 days later I noticed every time I tried to use my Capital One card it was declined. So I called the company and they said when they tried to get the money from my account it came back insufficient funds, so we called the bank and the payment was schedule for the 21st of the month and come to found out the money was taken out the 23rd and the funds was release. I mistake on Capital One side. Ok fine, next this month, I paid my card in full once again on the 8th and on the 9th the funds was taken from my account. And my Capital one card doesn't show it was paid, doesn't show that a made a payment, anything. So when I called in to find out what was happening they bring up the 23rd payment and try to make it seem like my fault, saying, "We have to contact your bank." I told her, "It's the 11th, the payment was posted the 8th and taken out the 9th, I'm pretty sure you can see it."
So my credit card is on hold again, this is so inconvenient for me. I told them this is the 2nd time and if this happens again I do not want their services. They used to be really good, I never had a problem until last month. Now it seems like every time I make a payment I'm having an issue. And I hate the fact they keep saying, "You have a history of insufficient funds," because you all guys messed up. It makes me mad. I told the supervisor everyone make mistakes and you all are penalizing me for theirs. We they can just correct it. Customer service sucks, very nasty and rude reps, not helpful at all, and the supervisor is the same way. They make the company look bad.

A man set up a fake email address, obtained some personal information and established a Capital One credit card in my name in October 2016. I initially mistook this for an account I had requested 5 1/2 years ago and used it for a minor amount. Capital One sent statements to the fake email address, accepted information from this man with no appropriate verification and approved his expenditures of approximately $11,000. Since they never sent the statements to me which showed the purchases I have no idea what he bought or the exact amount. Capital One contacted me saying they suspected fraud. One of his purchases was sent to me in error so I was able to obtain the erroneous email address and the cellphone number for this man. I provided this information to Capital One. I wrote them more than once and indicated I was agreeable to paying the nominal amount I charged.
I have talked to them on the telephone. On two occasions the representative of Capital One could not be understood because of a language barrier. On three occasions I was to be transferred to their fraud division but the transfers never went through because their fraud division lines were so busy. Limited research indicates that Capital One ranks high if not number one as a litigious institution. They have been anything but cooperative in resolving this issue. Institutions like Capital One contribute to the widespread problem of identity theft with their lack of discovery, cooperation and good business practice. I would discourage anyone from dealing with them and only wish I could given them less than one star.

I got this credit card because I was going abroad-it was recommended to me by many people. There are no charges for international use, and you get miles for the money you spend. The two times I interacted with customer service, the experience was amazing. They were very friendly both times, asked how I was doing and made everything easy to understand. I was able to get everything I needed worked out quickly. I have never worked with such positive customer service! The only problem I have with Capital One is that the website is a little bit difficult to navigate. Other than that, They are Wonderful!

I am frustrated beyond belief with Capital One as a company and their customer service is unacceptable. About three months ago I received a pre-approval invitation in the mail and applied for the card and in transit they continued to send me pre-approvals and I did fill them out believing they, yet have been a type of different credit card. Long story short I ended up holding three MasterCards from Capital one whom approved all three and whom originally sent me all of the invitations. I didn't go out and seek them because I do have poor credit but I am not going to lie of course. I always look for another opportunity to get back on the right track as it applies to my credit. While holding these three cards I have made all my payments and have paid way more than the minimum payments. Of course I am now trying to build my credit and use this new opportunity to my advantage.
Well 5 days ago the hammer dropped through Capital one and they RESTRICTED my first account. They RESTRICTED it right after I made a payment. Was confused when I saw this on my account and called customer service and they informed me there was fraudulent activity on my card and someone in a different department needs to talk to me but they were not available at that time. OK so I gave them the best contact number and waited for a call. Four days later no calls from this department and a few callbacks from me and still no resolve as it applies to the restriction.
Now just today all accounts are restricted and still no call back so of course I called back again today. The same song and dance but now this time she claims that they are now investigating maybe a possible computer glitch where some people may have been approved that should not have been approved and give them 48 hours to get back to me for an explanation. I told the lady that it has been way past 48 hours and is this time going to be the time they call back for real and she still repeated the 48 your time limit. I am just so pissed off but really don't have a recourse and if they don't allow me to use these accounts no more then they will be stuck with the balances because I am now going to treat them like they treated me and will tell them I will get back to them based on my timeline.
It is not a good business practice they are doing as it applies to issuing Credit cards and then giving their customers no service. I am so mad about this and feel as though I was set up to once again hurt my credit and be left holding the bag. Could someone help me out there with some advice it would be greatly appreciated. Thanks but Capital One BLOWS!!!

I've been a customer of Capital One since 2012 and never was late til last year. I was late two months because I was having some financial difficulties. I called Capital One and ask if they could help me get back on track. The representative said, "Yes we can help and Capital One has a program that can lower your monthly payments and restrict your account until you get back on track." I said, "That's great. Let's start this program." So I've been making my monthly payments on time and lowered my balance significantly and was now my card will be unrestricted.
I called Capital One and asked when will I be able to use my card again. The representative said that it permanently restricted and once you have a zero balance your account will close. I was what???!!! That is not what I was told. I was so upset. The representative said, "We sent the program's disclosure to you." I told her I never received that disclosure. She said, "Sorry, but once it's closed we can't reopen it and you'll just have to reapply and see if you get approved." I felt like I was misled. I will never open a credit card with them again. I think the situation was handled poorly and unprofessionally.

I opened a secured credit card account with Capital One bank and after more than three months in good standing. One of my credit card payments did not go thru and they ate the secured money. After I made a more than the monthly required payment, closed my account, said I would need to reapply and there was nothing they could do. RIP OFF... I will pay them their freaking 11.00 and call it NEVER call me again. Why would you close an account in good standing? Ate my $500 security deposit and said have a nice day pretty much. So ** You, Capital One... They are a bad. They do not stand for the consumer. They will take your money and keep it. Anyone that applies to get a secured account do not do it with them. This bank is a crook and a rip off. They are nothing but problems. Never again!

I changed my email on my Capital One charge card. Just like Todd's complaint, the Fraud Department called and suspended my account. To reactivate they wanted copies of social security card, driver's license, and a utility bill. No way was I sending them this. I then went to the Capital One branch and we called together. Still said I had to send these things. I cancelled the card. I called and spoke to a fraud manager and asked how I should have changed my email. He could tell me nothing. This is ridiculous. Thanks Verizon. If you had not dropped email service I would not have had this problem.

I had a payment due on my Capital One credit card which was due on the 14th of the month. I made that payment (early) on the 2nd day of the month. Then, when I had a little extra money, I figured I would make my payment (early) for the following month on the 17th. Two payments within 15 days. Well, when I contacted their Customer Service and inquired as to why I was still showing a payment due for the 14th of that following month, they stated that it had been applied to my balance but I had paid it too EARLY so it had not been applied to cover THAT payment.
What a scam! Had I not contacted them and just gone about my life thinking I was being a good consumer by paying my payment EARLY, they would STICK me with a $28 LATE FEE. Their customer service and very deceptive practices led me to post this review. Take note of this if you are considering opening an account with them. This type of practice penalizes you for paying early and gives them the opportunity to collect supposed late fees even though you already made your payment. Consumer beware!

I have always been skeptical about credit cards but I must say Capital One has been the best credit card company I have always had. The best customer service experience, they have always made any issues I've had right. I highly recommend this card. I have the venture card. I do pay an annual fee for this card but I get 5 times that back just in the rewards I receive. Any credit card has its high interest rates. To avoid this pay your card off monthly. Think about it. You buy food, gas or whatever. Use your card for all your purchases and pay your card off. I love it. Right now I can get $300 free money just using my card for 6 months or get rental cars, hotels, even free airfare.

I have a Capital One credit card that I rarely use. In the last two years I haven't used it at all. I gladly pay the annual fee. My last "statement" went to my junk email folder that only had my annual fee on it. I didn't see it and received a late fee. I gladly paid the late fee and the annual fee. I tried to talk to customer service to ensure that this would not show up on my credit report. I don't have anything negative on my credit report and I wanted it to stay that way. They told me there is nothing they can do and now I have a "late 30 days" on my report. I informed them that I wanted to close my account so they are refunding my annual fee and $17 in rewards. So basically I received a "late payment" on my credit report for money that I'm getting back anyway. They could have continued getting an annual fee from me for doing nothing if they would have just worked with me a little bit. They had no concern about closing my account.

Won't roll over my IRA. I contacted them several times requesting form to roll over IRA. They told me the receiving institution is responsible for the paperwork. The receiving bank sends in the request. Capital One immediately sends me a form to have filled out and submitted. On top of that they charge me $75.00. Run from this bank. They steal your money.

In December you guys notified me that someone opened a credit card with my SS# and DOB. In January I filed a police report to investigate this since I had a pretty good idea who did it. The local police submitted a written request to your fraud department for documents to investigate. The officer was sent enough information to bring in a suspect for questioning and they confessed. He has been waiting over 2 weeks for a copy of the online application the person filled out so he can go arrest this person. I have called your fraud department several times without getting any help. So, my question is what do I need to do to get your fraud department to work with my local police to arrest this person? You say you take fraud seriously, but that has not been my experience.

I have had this card the six months and have paid in full every month from my husband's business account. He called in and played their game. The first month verified get to allow payment. Six months later they froze my account due to fraud suspicion. I told them I not only have used this account from beginning and that it was already obeyed but I use and pay off several times a month. They claim they need approval to unlock my card and at the same time wanted to pay my remaining bill on my card so I went and got a Wells Fargo Account thinking ok they do not need college degrees. Here is a account with only my name and they say they can not use that one. Now this bank is a joke and a headache. Beware.

I've had a Capital One 360 account for quite awhile. My husband, who is a British national, was coming over to the United States as we were getting married and he was to go for citizenship. He saved $1300 and transferred the money into my account. I didn't want any issues with mistaking spending the money so I called and attempted to have another savings only account set up. Pay attention to the fact that my English fiancé was able to transfer money.
Ok, long story short. My husband is here in the states, we're getting ready to start filling out a load of paperwork. I go to check account and surprise, surprise no money. I made several calls attempting to find out where the money went and couldn't get a straight answer from anyone. We then tried to put money into my account to purchase a plane ticket so I could return to Europe with him and on 3 different occasions were unsuccessful even putting money into my account. I was told my account didn't exist yet every month my disability check goes in unscathed. This company nearly destroyed us.

Capital One is a terrible company with no regards for customer services. My wife had three credit cards with them and she simply wanted to change her email on her profile update. However when she did so the cards were suspended until she sent them a copy of her driver's license, phone bill, and social security card. When she tried to find out why she had to send these items she was made to feel like a criminal. She ended up sending the requested items and after three days they finally decided to start her review to allow her to change her email. Sad thing is is that I have two credit cards with them and will never use them because of this situation. We will pay her accounts off and also never use the cards again.
I have credit cards from literally 12 other companies including AmEx, Chase Sapphire, Discover, etc. this company must think they don't have to be concerned about their customers and can treat them like crap. My wife could have just closed the accounts and opened new lines of credit cards, but she felt like she should do things the right way. So pathetic, I will tell every person I can about how terrible this company is, and how they treat their customers.

I received six fraudulent charges on my card by a company ($1000) using one shipping ticket and charging twice to my card on three different times, by changing shipper name three different times. I called Capital One and wrote letter explaining and showing the shipping tickets were the same etc. CAPITAL ONE DID NOTHING, DID NOT PROTECT ME, DENIED MY CREDIT BACK TO MY CARD. The worst card ever. Do not apply. Do not use. You'll be sorry. Tell Jennifer and her Dad in the commercials to quit ** America.

I have officially opted out of receiving any credit cards offers. If I want a card I will contact the company I choose. Capital One continues to send me invites about twice a month! I read their paperwork and it has a way to stop their offers. So I call the number and it wants my name, address, etc. Then it asks for my Social Security Number. Wait... they don't need that to stop mailing me their card offers. They are trying to trick me into applying for a card! Scammers! Wonder how many people fall for that?
I had a Capital One card about 20 years ago. My 1st credit card. They told me the fastest way to build my credit with them was to spend close to all $100 of my credit limit and pay it in full for 3 months. The first month I spent about $80. Then they added the monthly interest charge, which took me over the $100 limit so they charged me an over limit fee. For three months I called them and told them that they could not consider the interest they added as my spending. They apologized and removed the overcharge fee. I got sick of their clearly borderline illegal charges and lies. I paid them off the 3rd time and called to cancel my card. Oh, they were so sorry about my problems. They wanted to give me their $1000 no hassles card. No late fees, no overage charges etc. I said no way and I will never trust that company again!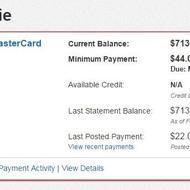 Simply put... HATE IT! Hate that I even applied for an unsecured credit card with these crooks. They are the worse... literally. The fees? OH MY FREAKIN' GOODNESS... OUTRAGEOUS! If you do not pay off the whole balance each month (because PLEASE don't leave a lingering balance) you'll only be paying towards the fee itself and not the principal. I can't wait to pay off this balance that I owe so that I can permanently shut their behinds down. I'm sick of them to the utmost because they are a highway-robbery type of credit card to have. DON'T APPLY WITH THESE PEOPLE/COMPANY!... unless you love only paying toward that never-gonna-go-away fee each and every month that's tacked on. You've been warned.
Now my other three unsecured credit cards - Chase Slate, Discover and US Bank? Love them with a passion and like nobody's business, especially Chase. Chase has been treating me o' so right in all honesty - I'm enjoying my $2,000 credit limit with them, and plus they allow you to keep track of your Experian credit report on your profile with them.

My problem started in 2014 after attending a Real Estate seminar guru named Armando Montelongo. I had a great credit score, life was going my way until 2014 after joining Armando Montelongo Real Estate course my life went downhill fast. The promise from AM seminar They promised within 90 days we would be doing a house flip and the money would pay off the credit cards and all other money I used to enroll in the course and that they would send a mentor to my area for 3 days to do that flip, the course cost me my life savings to the tune of almost $50,000.00. They said, "Call your credit card companies if you don't have enough money to join and ask for a credit increase," so I did. It's 2017 and NO HOUSE FLIP, so I'm out $50,000.00 and ruined credit. I Called Capital One asking them to help me go after this scam artist.
They said no they couldn't do that. It had been over 3 months. It was in the 4th month that I called. My life was ruined. Broke and bad credit and only a part time job. Now they want to take me to court and sue me. We had our first hearing in court this week, looks like Capital One wants to go to trial. I told them it's not that I don't want to pay "I Can't". I have more month than paycheck, and with my credit ruined no way to borrow the money. These scam artist know how to play the game when it comes to these credit cards because it seems AM Real Estate led me along for 4 months and it wasn't until the 6th month I knew there wasn't going to be a House deal. I turned this Scam artist over to the State Attorney General office but so far nothing so the guy continues on scamming folks. My advice to all STAY AWAY FROM CAPITAL ONE AND ARMANDO MONTELONGO REAL ESTATE SEMINARS.

I had a terrible bad experience when I want to close my account in Capital One. I went to branch and the branch guy took over 30 minutes to contact their back-end office for releasing my account. Then the back-end office guy asked to fax a document to them. I did it immediately. But I could not go through that number again. Each time it will take at least 30 minutes to go through that number. After two weeks, I went to the same branch again and they said that they did not receive my faxed document. So I faxed again but after I called that number, the back-end office guy said it was not the document they want and asked me to call back on next Tuesday. What ** of this kind service is!!! I totally lost patience to this bank and I suggest you guys never open account at this trash bank.

I was recently scammed by MICROSOFT IT SUPPORT LLC. I contacted CAPITAL ONE within two hrs after scam occurred. Telling CAP ONE it was not a legit company. So they reversed the charges at first. I received a letter saying that if I wanted to open a dispute I could. So I went to Bank of America, stating that, MICROSOFT IT SUPPORT LLC, was in fact a scam. I sent 19 pages of documents stating how they are a scam. I just received a letter. From CAPITAL ONE.Saying that they're not approving my documents and that I have to pay for the scam. My boyfriend tried putting the charge on his Bank of America card. But they didn't accept it because they knew it was a scam. I explained all of this to CAP ONE. I said why didn't CAP ONE realize this? I have been with CAP ONE for 18+years. My credit score is over 800. This is tragic to me. And CAP ONE does not care!!!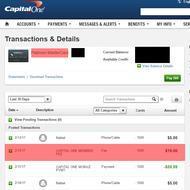 Capital One does a lot of false advertising!!! I just discovered that Capital One have charged a member fee amount for my platinum credit card. If you go to their website you will see that $0 fee is advertised. However, do not get fooled. In the terms and conditions there is a fee and without notice you will get enrolled in a credit card with no benefits and on top of that you will be paying a fee!!! I will definitively fill a complaint in the BBB.

Beverly HarzogCredit Cards Contributing Editor
Beverly Harzog is a nationally-recognized credit card expert, consumer advocate and author. She's appeared on Fox News, CNN Newsource, NBC New York and more. Her advice has been featured in The Wall Street Journal, USA Today, Money Magazine, CNNMoney.com, The New York Times, Kiplinger, Real Simple, Time.com, Family Circle and much more. More about Beverly→

Capital One, a Fortune 500 company, is one of the most recognized brands in America. It is one of the nation's top 10 largest banks and has locations primarily in New York, New Jersey, Texas, Louisiana, Maryland, Virginia and the District of Columbia.
Travel rewards: Capital One offers great rewards on flights that can be redeemed anytime, with no blackout dates. Use miles for tickets, hotels, rentals and more.
Credit builders: Capital One has a specialty in helping customers establish or rebuild their credit with credit cards targeted to those with fair or poor credit.
Secured credit card: This is one of the most popular secured cards on the market. Capital One sometimes offers a cardholder a partially-secured card, which means that the customer gets a credit limit that's higher than the deposit.
Cash back: A few of Capital One's cards offer unlimited cash back on every purchase, and this feature is available on both consumer and business cards.
Spark-branded small business credit cards: There are rewards cards for cash back and airline miles. Capital One also offers corporate credit cards.
Clear and concise website: This company does a good job being transparent and explaining the rates, fees and rewards for its credit cards.
Best for Consumers and business owners who have good-to-excellent credit who want a rewards credit card. Also, consumers who need to build credit or repair bad credit. They also offer commercial corporate cards.
Capital One Company Profile
Company Name:

Capital One

Year Founded:

1988

Address:

1680 Capital One Drive

City:

McLean

State/Province:

VT

Postal Code:

22102

Country:

United States

Website:

http://www.capitalone.com/