Consumer Complaints & Reviews

Horrible experience!!! They received my payment and have been sitting on it for 5 days, not posting to my account, yet has the audacity to call me several times to let me know my payment is LATE!!! I was transferred 8 times (going through 2 "supervisors" and 6 customer services reps) and no one could figure out WHY it has not been posted to my account. I have been a customer for 7 years and have never been late with my payments. My payment was received on 7/22/16, today is 7/26/16. Still the payment sits and I get collection calls and more charges on my account. I got a ton of "I'm so sorry... I do apologize" blah, blah, blah. So here's to 2 and half hours spent on the phone. I will NEVER get back and of course no resolution to this. I just have to sit and wait while they tack on more fees and penalties all the while they have my payment.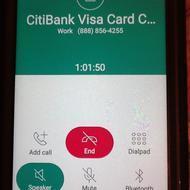 Our Citibank Visa was hacked and someone charged $1500 to it in one day. When we discovered it and tried to call Citibank Visa's Customer Service call center, we were put on hold over 30 minutes the first try, and over one hour the second try and nobody would answer. (See picture below for documentation). This is TERRIBLE Customer Service. When we finally got through the NEXT DAY their excuse was they had taken on Costco's credit card service and couldn't keep up with the call volume. That is no excuse. If they were going to take on Costco they should have anticipated a much higher call volume and geared up to handle it. There is NEVER a good excuse for Poor Customer Service... only lame excuses.

I had a credit card with Citibank for many years, with a very high limit. My credit score is excellent (814). Nevertheless this company closed my account without any warning whatsoever, which will have the effect of lowering my credit score by affecting the credit to debt ratio. When I contacted them by phone, a foreign sounding individual told me that it was for my "protection", as I hadn't used the account for 25 months. Really? When a credit card company is worried about a customer protection, they usually contact the customer before taking such drastic action. I also contacted them by email, after which they closed my online access, essentially shutting me off.
Conclusion? The actions of this company seem to be expressing a hostility towards the public. I had a large debt with them and paid it off within a year, and this obviously did not make them happy, as they could get no more blood from me. Stay away from these arrogant parasites, they have no integrity and the customer service is non existent at best, and more like a slap in the face.

I set up a senior account for my elderly mother over 3 years ago. She is on a low fixed income. I was told there would not be a monthly service fee as long as we had followed the guidelines for this type of account (which we have). Every few months Citibank sneaks in the monthly fee. I call them and they take it off after I have been on hold and argued with them. This has probably happened now about 8 times. The last couple of times they have assured me that everything is fixed and it will not happen again. Well it has and once again I was on a chat line today. I am so done with Citibank!! Will be closing out this account and going elsewhere. The monthly fee is not a large amount but it adds up and they are dishonest!!

Stay completely away from this company. They do not answer the phone, and do nothing to help their customers. I have tried at least 8 numbers and Sat on the phone more than 1 hour each. They only pick up if they think you want to get a card. I would rate this company as evil.
How do I know I can trust these reviews about Citibank?
554,940 reviews on ConsumerAffairs are verified.
We require contact information to ensure our reviewers are real.
We use intelligent software that helps us maintain the integrity of reviews.
Our moderators read all reviews to verify quality and helpfulness.
For more information about reviews on ConsumerAffairs.com please visit our FAQ.

This company is insane. Hire more people or go out of business already. Four hours to report a stolen/lost card! That's absurd.

Terrible, such an international bank. We were made to wait over an hour on the phone, but couldn't found my mom a Mandarin interpreter!!!

Very very poor customer service. Was charged $25.73 late fee for a payment due on July 3 and I paid on July 1. Tried to get fee waived but was only put on the phone merry go round with calls to the Philippines who did not understand the English language. Fee is not important but the manner of their extremely poor customer service is a problem. I have been an outstanding customer and always pay the total amount monthly to avoid charges (maybe why they are acting ignorant). Don't really care because I have other accounts with Citi which I will be closing out. Wish I could give zero stars or negative stars! BEWARE of this unethical and shyster business.

If I knew the customer service hold times would be over 90 minutes I would have never applied for the Costco Visa Anywhere card. I suppose its partly my fault for not reading reviews of the customer service. Hopefully this will help others make a decision not to use Citibank for any of their needs. So far its been 1.75 hours waiting for an agent. BEWARE.

Citibank credit card declined a transaction for absolutely no reason. I immediately tried to call and hang up after 90 minutes on hold. I called back and I'm already on hold for 23 minutes and still no answer. This is beyond bad service. It is adding insult to injury. I am a customer for 30 years and never missed a payment. Citi is probably going to say I am a bad customer to excuse their unacceptable behavior. They are just a very bad bank. Checked their website and there is no message suggesting a problem. By the way I'm am now still on hold so we are already at 90 + 30 minutes. We must impose minimum service standards to these banks. They are getting worse than airlines.

After waiting several weeks and never receiving my new Costco card from Citi, I decided I should probably figure out what was going on, since I had a balance on my AMEX. I first logged in to American Express and found the Costco AMEX was no longer an available selection for me. No worries, I'll check with support. A prompt came up that said, "Chat with a representative." Great, works for me - clicked it, and within 10 seconds I was chatting with a rep who answered all of my questions, got me the contact info for Citibank and thanked me for being a customer with AMEX. Wow, that was great support... now to call Citibank.
Call in to the all too familiar auto menu and after failing to have any options that fit me, I kept saying, "Representative... Representative... REPRESENTATIVE!" Third time was a charm and finally started being transferred to a rep. After the first 10 minutes, I start looking over their website. Surely they have a chat option like AMEX had, right? I mean, they are a big company. Nope, only the phone number I was calling. So continue to hold for another 10 minutes, and at the 20 minute mark I put the phone down on speaker phone. Another 13 minutes goes by and YAY! I finally get to talk to someone. No worries, I've just been holding for 33 minutes!
My time has finally come to inform the rep that I am concerned that I never got my card and that I was pretty sure a payment should be due to SOMEBODY, and AMEX told me it wasn't them. He asked if I had my Citibank card number... yep... ummm, guess you didn't catch that part about, "I'm calling because I never received my card" huh?! So we go about looking up my info the alternate way. I give him my social. Great, checks out. Birth date? Yep, it's a match! Address? Yes sir, that's what we have on file here.
Phone number? I explain to him that I have had several phone numbers over that last few years, so we begin the guessing game. My three most recent cell numbers? Nope. Wife's number? Nope. Work numbers? Nope! At this point, I'm a bit frustrated. "Can you at least give me the area code to help me know which number you have on file??" No, apparently that is a security risk. I mean, EVERYONE knows my name, birth date, SOCIAL SECURITY NUMBER and address! You are right, buddy!! The one thing that NO ONE would know is my PHONE NUMBER!!!
So I get transferred to an account authorization specialist... yep, a... what??? Well, I can tell you that I have no idea who or what that person is, because I was on hold for ANOTHER 30 minutes and finally just hung up. I figured I would just try again later, which I did. I actually made a bet with my wife. I bet her that I could run into town (15 minutes way), pick up dinner and be back to the house before someone answered. Sure enough, when I got back home over 30 minutes later, I was still on hold.
Round #2 - went through the same verification process, only guess what?! He didn't even ASK me my phone number!!! Are you telling me that one guy can help me without, and one guy is super Nazi about it?? I was able to make a payment over the phone and requested my card to be sent to me. Once the card gets here (IF the card gets here), I will use it to set up my online account, pay off whatever my balance is, then cut up that card and re-enact the "printer scene" from Office Space on this card. I'm very disappointed that Costco went with these guys when they clearly don't have their act together. I thought that maybe it was just me, but after reading several other reviews, I'm sure that I will never be doing business with Citibank ever again.

I believe Citibank is gone, done. I have been trying to contact them for days, on hold for over 45 minutes, even local banking centers don't answer phones. Website is down... What is going on with Citibank? Is it under hostage? Take over? I'm not paying my bill. This is wrong. Look into this fast!

I am so disappointed when Costco transfer from amex to Citi. I got a big problem after few days. My account was locked and I tried to call them. I waited over 1hr but I didn't get any response. Waited and waited. After 1 hr, I talked to someone and they said they didn't know because he couldn't do anything with my problem and asked me hold phone to talked to others and never came back. Then, I tried to called again and they said they had difficult technical and stopped my call. So, now I cannot do anything with my account.

I have provided proof the items were damaged, refused shipment, returned to the shipper and Citi still refuses to remove the 1246.00 charge from my account. The customer service is terrible. I would not have another card from them.

I always update my address with all my businesses and creditors when I move. I recently moved to another state and my credit card with Citi was not set to expire for two years, so I thought I was safe. While I am in limbo staying in another state staying with family while trying closing on a house, Citi decides to send me a new card out of the blue to my old address. I never got it, and they canceled my existing card, so when I tried to use it, it would not go through.
After a few weeks, the house closed, so I had a sure address. I try to update my address, but I couldn't because I needed the new card, which I did not have. I also had a credit on my account of $53. When I told them what happened, they closed my account and absorbed my $53 credit!! They then tell me it is my responsibility to update my address, like I don't know that!!! But I had to KNOW what my address was going to be before I can update it, plus I had no idea they were going to randomly send me a new card while my current was still good for another 2 years! I never want to do business with these people again!!!

My new husband added me to a Credit Card Account he had, for the purpose of purchasing a dishwasher and school uniforms for his children. Because Citibank had access to my Social Security Number, they decided to add me to the total existing debt and trashed my Credit Score, too!!! I don't even have a card with my name on it. It's not my debt! I gave a Department Store Credit Card to my step daughter with her name on it as an Authorized User. They do not have her Social Security Number and IT IS NOT HER DEBT....my banker told me this practice is ILLEGAL and someone should be fired... this is NOT my first experience with Citibank and it's UNSCRUPULOUS PRACTICES but it certainly will be my last...

Worst customer service experience ever! The dispute was over credits owed to me and not issued. They will hold your money 30 days before giving it back to you. No other business does that. Credits are due when issued just as bills are due when received. I WILL NEVER do business with Citi again including at Costco. It's a shame that Costco decided to do business with these losers.

Two months of miscommunication from numerous "customer service" agents including providing me ATM's locations that do not allow for a deposit, only withdrawal... Best part was possessing ATM with a clearly printed CID number on back that did not jive with 16 digit acct. number on front of card (this error prevented any online/electronic transaction; in person swipe transactions still worked however). This Citi administrative error cause me 7 days with no access to $25k in account, as overnight replacement card promises were never delivered (yes, 7 days to get a replacement card). "Customer Service" agents said that I would be able to use old card until new one arrived... That was wrong, checking account was "suspended".
They said only way to access money was with checks that were provided to me... So I wrote "checks" which then proceeded to "bounce", not due to insufficient funds, but due to checking account, including checks being frozen (Thanks for the merchant fees Citi.) and I am still waiting on Citi to get back with my reimbursement for those fees. Better yet... Today I learned that I have daily and monthly limit with online deposits!!! They do not want $$$. My daily limit for check deposits is $500! Got it raised to $1000 but only $3000/mo. I have a check for $3887.10 and asked "Customer Service" agent what I should do with check? Her response, "go deposit it at another bank."

Back in 2008 Citibank, for no explained reason or advance notice closed our accounts. We called and they said they didn't know why it happened but would issue our replacement cards as soon as possible. We received the cards and when activating them they failed. Called Citibank back and was told there was fraudulent activity on the account and it was closed but they would issue new cards to fix it. Received the cards and activated. Used for a few months then again they were closed with no notice. Citibank apologized and offered to re-issue the cards. By this point our credit was impacted showing we had short-lived account activity. We swore off Citibank at that time.
NOW Costco has brought us back into the hades. Right in the middle of our move across country. During the move, the AMEX cards were terminated and we could not find the Citi-issued cards. Called Citibank and they confirmed that weekend was the cutover and had to go through a hassle of getting another card issued. That card could be sent to "an alternate address" being our new address, but we could not update our address until that card was received, activated, and an online account set up with it. Received it next day, and went to Costco only to find out Citi reported our cards were stolen and changed our account number. This caused the Costco membership number to change, but the card was encoded with our old account number. Received the new Costco member number from the warehouse. Changed our address on the website and contacted Citi back.
Customer service rep said they received notice from Costco to terminate and re-issue cards and they were sent out the day before. I asked what address, and they sent it to our old address. I had her look and verify our new address is in their system, so she said she would cancel the incorrectly mailed card and send out a rushed corrected card to be delivered in 2-3 business days (over 4th of July). Then asked about my wife's card and it was sent to the old address as well. Since she's primary she had to talk and told them to get it overnight-ed to us at the new address. Unfortunately though she is primary, she doesn't have a cell number under her name so they can't issue her card per instruction. Said it's going to take about 3 weeks to do an independent investigation to confirm she is who she said she is.
This week, was expecting the card Tuesday or Wednesday for my side of the account but didn't arrive. Called Citi AGAIN and was told they mailed it out yesterday so we should now get it in 7-10 business days. I asked why wasn't it FedExed out like I was told and she informed me they had a lot of cards to rush issue and they can't rush issue and FedEx cards at this time. Petitioning Costco to drop Citi ASAP!!! It was much better when Costco had control over the cards and accounts. Having it outsourced to Citi is causing many people to consider dropping. I just can't justify the economic damage that Sam's Club does to go with them again. Suggestion: If you have an account with a Bank or Credit Union you like, check into any Visa rewards program they have. You may be able to get a comparable 4%/2%/1% reward similar to the Citi Visa, and your bank's Visa will be accepted at Costco. This is what we are doing to ditch Citi again!!!

I have been a customer with Citibank for 18 years!! I know this since when I call for some issues the overseas customer service representative always states that. Unfortunately, Citibank overall fees, customer service, and the financial institution itself has been looking its appeal and level. I can see like so many members I will too have to switch to another bank. They're ripping us off to hold our money and trying to dictate how much you can take out, clearing of checks, full checks longer, etc. I can see that this one time big bank will either be merging or bankruptcy in the near future. They all are not great! Not any interest. I sometimes consider reverting to under the mattress or safe. Just that the technology world we live in to do most transactions you are pushed into online, cards, cell phones, etc.

Citibank cannot handle Costco. I haven't had this hard time adding just a credit card to my account so I can pay it. This is ridiculous and looks like Citibank got more than they can handle. I miss American Express. I think I am going to cancel Costco and switch to Sam's Club.

Unfortunately Costco (a great company) has made a huge mistake switching from Amex to Citibank! I spend over $40,000 per year at Costco for our business and personal needs. I have excellent credit and excellent payment history for over 28 years and Citibank will not approve me for a card? Of course no one will tell you why so I patiently wait for the mailman to deliver their response in the mail which has already been over a week. I did speak to the local rep for Citi and he told me that they have an algorithm that dictates who gets approved and who doesn't. He also told me that he could do nothing and that they are heavily regulated, BFD, so does all of the other credit card providers out there!
I have never been turned down for a credit card and Costco will lose. I am quite certain that many other loyal Costco customers will have a similar experience. I also wanted to mention that when I called the Citibank number set up exclusively for Costco I was greeted with a recorded message that said I should call back later due to extremely long hold times.

I have been on hold trying to speak to a representative for hours at a time for the past week. I am not calling about a Costco issue. I want to set travel plans for being out of the country soon. I then tried this online and the system said it was "temporarily unavailable" even after I was already logged into my account.

Citibank decided to cancel a checking account I have without giving me notice or me giving authorization. A week after account was closed I had to move money into that account because my other active account with Citibank had fraudulent checks written and ACH debits that were not authorized coming through. At this time all this is happening I am in another country with no access to money except from the Citibank account. Citibank refused to open the account they closed leaving me with no access to money and stranded in another country. They continued to allow more fraudulent activity to come through my open account. All they had to do was open the closed account so I could move my money over and they refused to help me. They didn't return my calls, hung up on me when I did call and couldn't care less I was stranded with no money in another country. HORRIBLE BANK THAT DOES NOT CARE ABOUT ITS CUSTOMERS.

I'm so disappointed that Costco switched from Amex. American Express has wonderful customer service. Citi has hung up on us three times (so far). We can't even get the card registered to pay our bill.

After being a Citibank MasterCard holder since 1980, tonight, June 24, 2016, my card was denied twice at a local supermarket that I have patronized since 1989. When I contacted Citicard (after more than a 60 minute wait on my phone), I was told that the issue didn't exist with Citicard, but rather with MasterCard. MasterCard, upon phone contact, told me that the issue was with Citicard updating their server at 6 pm Central Time. When I called Citi, the rep denied it was their issue and told me that the denial came from MasterCard. MasterCard patently denied the blame and returned it to Citibank. Hm... Citi then moved the blame over to the merchant who owns and operates the supermarket in the town of 3,600 where I live. Ok, I am personal friends with that merchant. Me-thinks we're playing the blame game.
Finally, Citi offered me a $10 credit on my account (which, by the way, is paid up-to-date). Let's see. Ten dollars will restore my credibility with that merchant who now thinks I don't keep my credit card account paid: I think not. Another call to Citi connected me to a rather rude rep who told me that the Citibank server was in the process of a system update at 6 pm Central Time Zone on a Friday evening. Ok, no one is using their Citi credit card at that time of evening? Seriously? A quick check of a complaint website revealed that many, many people were experiencing the same issue at the same time. In fact, when I called the Citi phone number, a robo-voice proclaimed that the web server was "down" and that calls should be directed three or four hours later. NEVER did Citibank alert its customers of the update issue. Not at all.
After another call and another 60 minutes of being on hold, the rep said that the issue was actually based on a denial from the merchant. Aha! Nice try! The merchant herself is a personal friend. Did she deny my credit card??? Not even close! Speaking with her personally, that was not at all the case. MasterCard affirmed that the issue was the responsibility of Citbank. Citibank, and no one else. Finally, Citibank assured me that my credit card was "good to go." Awesome! How about my reputation in a small town and the impressions left on the six grocery patrons standing in line behind me when I had to use my bank debit card to pay the bill instead of my MasterCard?
Of course, I am considering terminating my account with Citibank. By the way, Citi sends out weekly emails offering ways to consolidate credit card debt. I have no credit card debt. Nor do I intend to have any ongoing debt. Does this corporate entity care in the least about this issue? I doubt it. If I cancel my credit card, would anyone in their corporate infrastructure care? No! This is yet another example of corporate America feeding on the American consumer. Credit card convenience? Yes. Banks caring in the least about their customers? No!
So, Citicard's pat response was to offer me a $10.00 credit for my "inconvenience." Amazing! I am stunned at the number of ways that money can be applied. Maybe I can take my dog to the vet and apply it to a pedicure. I am sure as quite certain it won't be able to do much more than that. Opinion statement: Citibank cares little for its patrons. Get a Citibank MasterCard if you too would like similar treatment.

If I could give this business 0 stars I would. I've had fraud on my accounts multiple times. Each time it's a hassle to get my accounts straight. The last time someone stole my account information through citibank they made me change my account. After they gave me a new account (supposedly no different than my old account) no one told me I had to switch my ThankYou points to the new account within 60 days. This caused me to lose all the points I accumulated and then to add insult to injury the new account they gave me was basic checking which apparently doesn't acquire Citi points. So the whole time I thought my points were adding up using my card I was getting nothing. This company is absolutely ridiculous. You pay all that money to get poor service, security and false advertisement.

Being with Citibank for more than 10 years and today I found very disappointed with Citibank. Their representatives will trick you to upgrade your account and promise you for promotion credit that you will never get. After keep calling Citibank for more than half year and the final result is "WE CANNOT GRANT YOU the PROMOTION WE PROMISED". Good job Citibank but I think I have to stay away from you!!!

I opened an account at this branch about 7 years ago. Recently, I request a debit card for my wife. It took 3 visits to this bank to complete this issue. I complained to the bank manager, a young lady. She did not solve this problem instead insulting me by saying I can take my business to another bank. So when the bank sent me a survey form asking what I think when I visited this bank and I said it is terrible, the manager was very rude. So today after I deposited 900.00 into my account, the manager invited me to her office. She told me that she will close my account at this branch in 30 days (there were no discussion before this). I have done nothing wrong with my account. 7 years never have an issue with my account so why the manager can close my account? Currently I am receiving my retirement check from the government. I also have a safe deposit box, prepaid, can she close my account?

I have a IRA account with Citibank and ran into to an issue where I needed to withdraw it. After 3 times filling out the application for the withdrawal and speaking with rude CSR agents that were not properly trained on how to do their job or the process, first I was told that the application needed to be notarized. Did that and it was sent back missing marriage and divorce documents for the third time. Took care of that and sent it back for this last time and now was told that it was processed and the funds will be sent overnight. We shall see.
All 3 times being told a different thing each time, escalated asking for a supervisor. Waited for a week with no call back from a supervisor, very unprofessional customer service. I work as a CSR for a cell company and I don't understand how these people stay employed or how Citibank stays in business treating customers like they do. I have had bad customer service in the past but this company takes the cake and should re-evaluate their agents and retrain on how to handle customers and escalations.
These agents don't know how to do their job. They lie, and state that there are no supervisors on site during the weekend. Being in the business myself I find this hard to believe. They just want to get the customer off the phone without any resolution, and again terrible service. In short I will be closing my account with Citibank and posting on social media not to do business with Citibank to all my family and friends. This is the WORST service that a company can provide and yet they are still in business. This is the biggest issue in America. With jobs so scarce and outsourced to foreign countries how will it ever be better for the American consumer?

Barbara FriedbergPersonal Finance Contributing Editor
Barbara Friedberg, MBA, MS is a former investment portfolio manager with decades of financial experience. Friedberg taught Finance and Investments at several universities. Her work has been featured in U.S. News & World Report, Investopedia, Yahoo!Finance and many more publications. More about Barbara→

Founded in 1812, Citi is a leading global bank with approximately 20 million customer accounts in more than 160 countries and jurisdictions. Citibank works to provide consumers, corporations, governments and institutions with a broad range of financial services and products.
Services and products: Citi has a vast array of services for individuals, businesses and governmental institutions. Their products include banking, credit cards, lending and investing offerings. The Citi services include online banking, account alerts, bill pay, eBills, money transfer, Popmoney® and more.
Locations: Citi is organized around four geographic regions; Asia, Europe/Middle East/Africa, Latin America and North America. The company has offices in most every major city in the world.
Credit cards: The Citi credit cards include Visa and MasterCards across most segments including low interest, balance transfer, rewards, no annual fee, cash back, business, student, travel, secure and more.
Mobile banking: The Citi mobile app allows consumers to keep track of their banking transactions, move money, pay bills, email funds and more. The interactive, graphic displays help customers manage their spending and saving.
Security: Citi offers online and mobile fraud protection, identity theft solutions, overdraft protection and the highest level of asset defense.
Special offers: Citibank offers customers an array of lending, banking and credit offers that are regularly updated.
Best for U.S. citizens, global citizens and travelers looking for banking services for any situation.
Compare Banks & Credit Unions
Basic Information
Company Name:

Citibank

Address

100 Citibank Drive
San Antonio, TX 78245
United States

Year Founded:

1812

Website:

http://www.citibank.com/