Consumer Complaints & Reviews

I have called Citibank at least 6 times to try to resolve a disputed charge. Two times I could not even get through. The four times I did get a person, they either transferred me to a dept that was not open, and no one called me back as the message stated, or the person I talked with promised to research the problem and get back with me - and NEVER did. I can't tell you how frustrated I am with this company. I am going back to the best service there is - American Express.

My American Express card was taken over by Citibank after the change however Citibank has not still issued me a credit card but keeps harassing me for payment with calls at odd hours. I tried to resolve the matter at the Costco Citi Kiosk where they tried to issue a temporary card which was unsuccessful as their printer was not working. After repeated phone calls begging them to issue me a credit card so that I can set up a payment they just do not listen. They say, "We will take the payment over phone," where I am supposed to handover my bank details to anybody and they will take the money from my account. They shuttle me around with different reps each saying the same thing. Is there any suggestion where I can resolve this? Should I make the payment on the phone without my credit card details?

I don't even want to give them one star. It has never been so complicated to open a new account... New account services is horrendous! I can't wait to close my account but since I can't use my account I can't close it. I would never bank with them! TD Bank and Chase are the way to go. Do not waste your time with the horrible condescending customer service they provide!

I opened a Citigold account earlier this year for a re-fi of my home. Citi was running a promotion of $300 if you deposited and maintained a minimum balance for 30-days. I deposited my money and did not touch it for 30-days. On the 45th day I called Citi to see if I need to initiate anything to get my $300. I was informed it was an automatic deposit that would occur in 60 to 90 days. Fast forward 90+ days, I called Citi to find out when the $300 would be deposited. I was then informed I was not eligible for the promotion because I was not target marketed for the promotion, even though I opened my account at a branch that was advertising the promotion, and the representative at the branch, signing me up for my account said I would be getting the $300 after 30-days. I got the runaround with Citi and I finally closed my account and took my money elsewhere. I will never do business with Citi again.

I have had a Citibank credit card for several years, but have not used it in over a year because I prefer the rewards from another credit card. I haven't used it, so I never go online to check my account and had not received a monthly statement from them. Well, when I checked my credit score recently, I found a collection/delinquent account ding on my report. Apparently, a yearly subscription had been charged to my Citibank card and no statement was emailed or mailed to me for several months. They just let the account keep going and building interest, put a bad report on my credit without notifying me. I spoke with a customer service representative and he didn't have any explanation. In fact, the company showed no remorse or accountability for their actions. I would really like to see how many people this happens to! They're unethical!
How do I know I can trust these reviews about Citibank?
576,064 reviews on ConsumerAffairs are verified.
We require contact information to ensure our reviewers are real.
We use intelligent software that helps us maintain the integrity of reviews.
Our moderators read all reviews to verify quality and helpfulness.
For more information about reviews on ConsumerAffairs.com please visit our FAQ.

Citibank is authorized to make monthly withdrawals from my account to pay my credit card. I've noticed that they withdrew more than they were approved for. I contacted the toll free number speaking to someone in Manila who did not understand what the problem was. I asked to be transferred to a US operator who informed me there was nothing she could do to replace the funds. She offered me a credit but I needed the funds in my account to pay my bills. I went to their office to speak with someone and they referred me to the toll free number. I contacted an attorney to sue for bank fraud and was informed that it would cost more to present this case than what I was owed.

I have 2 accounts since 1990 and the service is HORRIBLE now! They carry over interest for 2 months even if the balance is zero. They no longer stand behind customers with disputes either! My payments have been changed to auto pay, which I did not authorize and they say it's just the systems error. From this point on, I will only use my Chase credit cards.

Citibank refuses to properly credit my Home Depot account. I've sent proper documentation twice via fax and they won't acknowledge receipt of my documentation. They refuse to dismiss interest charges on my account due to citibank mishandling my account. Citibank sent my account to a collection agency by the name of client services, Client services stated that the information they have shows a credited payment to my account. I can't get proper help from citibank.

It's the worst credit card that I've had in my life. I registered at Costco and week came a debit never explained to me and doubled twice before I could pay. I hate it when they treat me that way. With American Express I never had any problem and with this I've never used it and I've had to pay two surcharges unexplained.

I would like to cancel the complaint it has been frustrating but I found some people at Citibank who are being very helpful.
Original Review
Unhappy with Citibank. My wife passed away in November 2014. She had a bank account in her name only. The old atm card is no good anymore and Citibank refuses to give me a new one and refuses to give me access to the account. I am the sole heir as we have no children. Citibank told me to go to town hall and they would give me something in writing saying I was the heir to the estate. I did that and they told me they could not help me. What is Citibank going to do, keep my money and spend it. I am entitled to this money.

I have been a Citibank customer for over 22 years. As of the last 3 years or so, their service has gotten progressively worse. I have had multiple fraud attempt on my account and had my account blocked and suspended due to these transactions which were no fault of my own. However, this isn't the reason for my complaint, as Citibank was usually pretty good about catching fraudulent activity, warning me and stopping it. I recently made an airline ticket booking with my Citibank MasterCard bankcard. Citibank texts me questioning if this was a valid transaction, to which I replied yes by text message. I thought everything was ok, but was suspicious because I never received a confirmation from the airline. Turns out Citibank had deducted the ticket fee, not once, but a total of 3 TIMES from my account!! (total of about $2800) even though I had yet to receive a confirmation from the airline which I never did.
Long story short: The airline said they never received payment, but the money was missing from my account for OVER 10 days and I was seriously overdrawn on my checking account and thought my pending rent check would bounce! After this experience I decided to close my account and withdrew a sum from my savings account from the teller at the bank which I promptly deposited into my new bank account. When the new account called Citibank to verify the cashier's check, some IDIOT at Citibank told them it was not a valid check number, so again I had to spend my time & effort to sort out that mess! Now I hope the story is finally over since I have closed the accounts! Never again will I do business with Citibank!

I received a phone call while I was at work in high school. Keep in mind, I was not of legal age to be able to get a credit card. The Citibank rep calls me demanding money, and I said as nice as possible that I do not have a credit card. He persisted to say I do and told me I have an authorized user card for my mom too. I told him I was at my high school job and never applied for a card, and again have no idea what the heck he is talking about. Come to find out, Citibank allowed my mother to do a paper application for a card, making me the main account holder and her an authorized user. They NEVER checked my age or identification to ensure my identity, nor hers obviously and I was not old enough to even get a card as I mentioned. They slapped the debt on my credit report for years! I had not even graduated high school and had debt!
My father had passed of cancer during this time, my mom got us evicted multiple times, I was working and paying the bills for my lowlife mother, she had just stole the death benefits for me from my father passing. I found that out at the Social Security office, and she has Social Security numbers that are for people who have passed already, had used false birthdays for jobs, been fired from a job for theft from them, amongst other court issues and lawsuits on her period. Yet they were coming to me, an underage high school person to pay debt that I did not do. First off she should be in jail, and the rep who allowed my application to be approved should be jobless and or sued. I finally had enough and told them they need to contact her or be speaking with a lawyer I'll get.
Once I received ANOTHER letter in late 2014 from a collections office Citibank sent the debt too. They left it up to me it seemed, to have to tell them where this fee for the woman was and anything I knew about her. I did so in the letter I responded to them with via email. Only then have I not heard a peep from the collections company. I am still trying to see if they have anything on my credit report giving me negative marks. I am beyond pissed at Citibank's unprofessional nature and make a quick dollar attitude. What they carelessly did has hurt me royally, and leaves me terrified everyday to be placed in harm's way because of another person like my mother and them. It is flat out wrong and illegal what they both did. If I could take them to court for what they did to this day, I would.
My father had died of cancer the same year too, and I found out my mom had been doing other illegal things...this was devastating for me as a young high schooler. My mother even got confronted by her boss from the job she got fired from for stealing and manipulating the system that she was getting assistance to survive from. She admitted she did this to me with the Citibank card and the card itself was in a jar in her bosses' office. She played it off like she had a debt problem and they put her in credit counseling classes. The damn card is in the jar. She admits what she did, and I tell the collections people this and they still harassed me. Beyond devastated and extremely upset, and suffered and even to this day do for so much. Her response when asked by her boss why she did this to me, "Yeah I did it. What else do you want me to say?" Citibank's response to this and the collections people...absolutely NOTHING!

All their phone numbers are directed out of the country. It is difficult to understand the heavy accents. I get a different response each time I call to find out why I have to pay 29.99% APR for the last 5 years. Wasn't Citi bailed out by the government at one time? First they told me my credit limit was over by 2 dollars and they can't view my account to see what options I have to lower my APR.
So I paid them $3 dollars over the phone so they can view my account. They put me on hold. She comes back to tell me it takes 24 hour for the system to show I am current. While I am talking to her I look at my account online and see my payment of $3. is showing and I am under my limit again. Are they serious? Is there any kind of consumer protection for this scam of a bank? They say if you are late with one payment your APR will go into the 29.22% range.
I have not been late in a year yet I seem to never qualify for a reduction. I am constantly trying to get out from under the balance owed but I can't afford to pay them off. I hardly use the card. Yet my balance never gets lower. I charged a $15 in food which put me over my measly credit limit by $2. I have a low limit because I wanted the card for emergencies only. I needed expensive car work done 3 years ago. The card was paid off 4 years ago. Still the same balance. This is the worst bank and should have never been allowed to continue when they failed before their bailout.

I was on hold for more than 15 minutes and finally hung up. Tried again and again more than 15 minutes! I was passed around three times. When I did reach them and at the last person she was rude like it was my fault. They don't answer the phone! In total I spent more than 45 minutes out of a busy day just to protect myself and report I was going to be on vacation in another part of the country. SO the "call us with any questions" is IF you have nothing better to do with your time... Plus there is NOWHERE on their site to discuss this problem. I won't be using this card again. Discover answered right away and was polite and helpful. After all I was only trying to do what they say and tell the company of my travel plans!

I have received the worst service ever from this bank. Their website is flawed and hard to use. Their phone system misreads your numbers and then decides the same numbers are ok after all. Their customer service representatives have such bad language skills that they are transposing the numbers of my deposits. This is a BANK, you just can't use someone who gets the numbers wrong. The phone help is ignorant of almost everything I would need to ask about. On top of all this, there isn't a single Citibank branch in Michigan. I started an account as an expat in 2007 because my company recommended it. I have only used the account when absolutely necessary and still been disappointed.

Had issue with my account called to have it sorted. I used my granddaughter's cell due to the low volume issues of my house phone. Partway through the call I became confused and asked a family member to complete the transaction for me. After both myself and my family being put on hold and yo-yo from rep to rep for over an hour, I demanded my account be closed. Company refused to close my account and they stated they could not fix the first issue because the IT department closed for day while I was on hold. Unbelievable. After several phone calls and handing over of wide range information, company is refusing to close the account. Is that even legal?

Interesting that all these reviews have one star. When is Citibank going to wake up and do something about the lack of customer service. I wouldn't even give it one star but had to in order to get the review in. Every time you call "customer service" (that's an oxymoron) the wait time is AT LEAST one hour. You almost have to take a day off from work to resolve an issue. Now, you wait at least one hour to then speak to someone who CANNOT help you... that is always a different department.
When you write a letter, for the fourth time but what choice do you have, and they promise to call you back... Guess what? They don't. So you have to constantly keep on top of this while the hours of your time just keep racking up. Then, when they tell you a dispute has been resolved (of course not to your satisfaction) and you dare to ask based on what data they arrived at that conclusion, no one can tell you! Imagine that... they resolved it but don't know how!
To say I am disgusted with the lack of service is an understatement. Once this entire issue is resolved I will be cutting all business with this bank and I hope all of you do, too. Maybe when they start losing business by the truckload they will finally figure out that something needs to be done. All these high powered executives making a phenomenal salary cannot figure out this basic business concept!!! When you complain about the wait time they say they are getting an increased call volume from Costco. Quite honestly, I do not care. And here is a novel thought... increased call volume??? Then increase your staff. Simple. Whatever your issues are, do not pass them on to the consumer. Or you get one star ratings and letters like this.

I was attempting to make a purchase at a Walmart and was declined. I called and was told that they declined me because I ordered another card for my wife. I was embarrassed and feel that Citibank owes me more than an apology. Cheryl the manager did not care to understand my position. I am so disgusted. I don't know if I should continue to use this card.

I guess I can call Citimetal instead of Citigold. 2 years ago I had a discriminatory experience with an financial adviser which was changed after I requested because she said she doesn't call me she calls only account with higher investments but nothing ever happens to their employees so they can treat customers as they wish!
Now the issue with a Citigold mgr and after I called on July 29th and was told that an area mgr will call me within the hour - never happened (and I told them I was calling from Italy). I called back (from Italy) after 6 hours. I was told the person that suppose to call left for the day (I have the name of the person). After I got upset they say, "We try to find him" (what a gimmick). I requested to be contact by his superior which I don't believe he never will. I already was told once that my account was too small. Citigold is Citigold so they contact more often larger depositors is that correct? If this is the case they should change to Citigold, Citisilver and Citibronze correct? Or is a discrimination correct?

I sent a money order payment that was cashed by Citibank and not deposited to my account. Because they were always slow in posting payments to my account it was 2 weeks before I realized that they had made the mistake. I had to pay the money order company for a copy of the cashed money order and forward that to the bank. They let me know that they have the verification but they are taking their time depositing it to my account while they are investigating what they did with the money, which is not my problem. I just want my money back. In the meantime my credit rating has dropped because of the payment not being made.

Horrible experience!!! They received my payment and have been sitting on it for 5 days, not posting to my account, yet has the audacity to call me several times to let me know my payment is LATE!!! I was transferred 8 times (going through 2 "supervisors" and 6 customer services reps) and no one could figure out WHY it has not been posted to my account. I have been a customer for 7 years and have never been late with my payments. My payment was received on 7/22/16, today is 7/26/16. Still the payment sits and I get collection calls and more charges on my account. I got a ton of "I'm so sorry... I do apologize" blah, blah, blah. So here's to 2 and half hours spent on the phone. I will NEVER get back and of course no resolution to this. I just have to sit and wait while they tack on more fees and penalties all the while they have my payment.

We were Costco AMEX customers for over 15 years with not ONE complaint. We have now been Citibank customers for barely ONE month and have had to call customer service 5 times and have received no resolution or answers. Problem #1 - When the card was activated the balance information did not roll over and AMEX access was turned off. So for over 2 weeks we had no access to see charges or balance information even though a balance was due. I called customer service and they told me "I had to understand that they had a lot to do with rolling over the new customers and they didn't know when I would be able to see my actual charges... but that I should pay the bill.
The company had over a year to prepare for the Costco roll out - when the card was active we should have received access to all the historic charge information immediately. This was especially problematic for us because we were in the middle of a home refi and not having this access forced us to push closing escrow off for a month costing us over $3000 in lost savings.
Problem #2 - We pay the entire balance of our credit card off each month so we don't accrue interest charges. We tried to do this with Citibank online and an error message popped up. I called customer service again. Was disconnected twice. Then put through to the wrong tech support for general Citibank customers who could not help me to finally be transferred to someone who was supposed to help me who did not. This rep told me that "to pay your current balance vs your statement balance you must call customer service" - you cannot do this online even though the website has a button to select that says "pay current balance"... Frustrating.
So after an hour on the phone they processed the payment and the account showed a 0 balance. Then 2 days later we get charged $66 in interest. We called customer service again and they said "we don't know why that charge would have gone through. We will credit you that amount back in 30 days when your next billing cycle happens" Why not credit me now? Why do I need to wait 30 days for you to fix your error? Frustrating again.
Problem #3 - Online at Citibank website the payment goes through and we see a 0 current balance. Hooray! Only to find that one day later the website reflects a $661 balance but only details $121 in pending charges... I again have to call customer service and wait for over 30 minutes for them to tell me "I don't know why you have a $600 balance because I only see $121 in pending charges detailed on the site. Is there anything else I can do to help you today?" The bank doesn't know what charges make up the $600 balance they want me to pay. Yesterday the balance was 0. We made $121 in charges (including pending charges) since then and today the balance is $600 and no one can explain why. I expect transparency in banking and knowledgeable customer support.
After another 48 minutes on the phone another supervisor is supposed to call me back within 30 minutes. I'm not optimistic that anyone will actually call. We are cancelling our card and going back to AMEX. Since COSTCO no longer accepts AMEX we will also be doing less shopping at Costco. So disappointed by Citibank and Costco for partnering with such an unprofessional banking organization.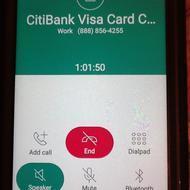 Our Citibank Visa was hacked and someone charged $1500 to it in one day. When we discovered it and tried to call Citibank Visa's Customer Service call center, we were put on hold over 30 minutes the first try, and over one hour the second try and nobody would answer. (See picture below for documentation). This is TERRIBLE Customer Service. When we finally got through the NEXT DAY their excuse was they had taken on Costco's credit card service and couldn't keep up with the call volume. That is no excuse. If they were going to take on Costco they should have anticipated a much higher call volume and geared up to handle it. There is NEVER a good excuse for Poor Customer Service... only lame excuses.

I had a credit card with Citibank for many years, with a very high limit. My credit score is excellent (814). Nevertheless this company closed my account without any warning whatsoever, which will have the effect of lowering my credit score by affecting the credit to debt ratio. When I contacted them by phone, a foreign sounding individual told me that it was for my "protection", as I hadn't used the account for 25 months. Really? When a credit card company is worried about a customer protection, they usually contact the customer before taking such drastic action. I also contacted them by email, after which they closed my online access, essentially shutting me off.
Conclusion? The actions of this company seem to be expressing a hostility towards the public. I had a large debt with them and paid it off within a year, and this obviously did not make them happy, as they could get no more blood from me. Stay away from these arrogant parasites, they have no integrity and the customer service is non existent at best, and more like a slap in the face.

I set up a senior account for my elderly mother over 3 years ago. She is on a low fixed income. I was told there would not be a monthly service fee as long as we had followed the guidelines for this type of account (which we have). Every few months Citibank sneaks in the monthly fee. I call them and they take it off after I have been on hold and argued with them. This has probably happened now about 8 times. The last couple of times they have assured me that everything is fixed and it will not happen again. Well it has and once again I was on a chat line today. I am so done with Citibank!! Will be closing out this account and going elsewhere. The monthly fee is not a large amount but it adds up and they are dishonest!!

Stay completely away from this company. They do not answer the phone, and do nothing to help their customers. I have tried at least 8 numbers and Sat on the phone more than 1 hour each. They only pick up if they think you want to get a card. I would rate this company as evil.

This company is insane. Hire more people or go out of business already. Four hours to report a stolen/lost card! That's absurd.

Terrible, such an international bank. We were made to wait over an hour on the phone, but couldn't found my mom a Mandarin interpreter!!!

Very very poor customer service. Was charged $25.73 late fee for a payment due on July 3 and I paid on July 1. Tried to get fee waived but was only put on the phone merry go round with calls to the Philippines who did not understand the English language. Fee is not important but the manner of their extremely poor customer service is a problem. I have been an outstanding customer and always pay the total amount monthly to avoid charges (maybe why they are acting ignorant). Don't really care because I have other accounts with Citi which I will be closing out. Wish I could give zero stars or negative stars! BEWARE of this unethical and shyster business.

If I knew the customer service hold times would be over 90 minutes I would have never applied for the Costco Visa Anywhere card. I suppose its partly my fault for not reading reviews of the customer service. Hopefully this will help others make a decision not to use Citibank for any of their needs. So far its been 1.75 hours waiting for an agent. BEWARE.

Barbara FriedbergPersonal Finance Contributing Editor
Barbara Friedberg, MBA, MS is a former investment portfolio manager with decades of financial experience. Friedberg taught Finance and Investments at several universities. Her work has been featured in U.S. News & World Report, Investopedia, Yahoo!Finance and many more publications. More about Barbara→

Founded in 1812, Citi is a leading global bank with approximately 20 million customer accounts in more than 160 countries and jurisdictions. Citibank works to provide consumers, corporations, governments and institutions with a broad range of financial services and products.
Services and products: Citi has a vast array of services for individuals, businesses and governmental institutions. Their products include banking, credit cards, lending and investing offerings. The Citi services include online banking, account alerts, bill pay, eBills, money transfer, Popmoney® and more.
Locations: Citi is organized around four geographic regions; Asia, Europe/Middle East/Africa, Latin America and North America. The company has offices in most every major city in the world.
Credit cards: The Citi credit cards include Visa and MasterCards across most segments including low interest, balance transfer, rewards, no annual fee, cash back, business, student, travel, secure and more.
Mobile banking: The Citi mobile app allows consumers to keep track of their banking transactions, move money, pay bills, email funds and more. The interactive, graphic displays help customers manage their spending and saving.
Security: Citi offers online and mobile fraud protection, identity theft solutions, overdraft protection and the highest level of asset defense.
Special offers: Citibank offers customers an array of lending, banking and credit offers that are regularly updated.
Best for U.S. citizens, global citizens and travelers looking for banking services for any situation.
Compare Banks & Credit Unions
Basic Information
Company Name:

Citibank

Address

100 Citibank Drive
San Antonio, TX 78245
United States

Year Founded:

1812

Website:

http://www.citibank.com/