Consumer Reviews and Complaints

There are two issues related to this Citi product: Although with this account, Citi supposedly waives the 3% fee for withdrawing money from a foreign non-Citi ATM, they, in fact, do not. In simultaneous tests with Citi versus NY Mellon, Citi keeps the 3% and NY Mellon refunds it within hours. The exchange rate normally charged in making purchases or ATM withdrawals in foreign currencies is the Interbank rate +3%. Citi charges between 22% and 25%. They have claimed that this is because of the ATM owner or the vendor. However, simultaneous tests with Citi vs. NY Mellon showed NY Mellon only charged 3%. Citi will not disclose to me their foreign exchange policy and the Terms and Conditions utterly obfuscate the policy. If you spend a lot of time overseas, as I do, this kind of gouging behavior seems nothing short of criminal. The fact they hide the particulars is especially bad. This policy makes them 10's of millions annually, I am sure.

In November 2016 I filed a fraud claim against a company in California. The person who took my complaint Lia, gave me Case number **. She incorrectly charged the wrong company, Ali-express with fraud. A few days later when I found this out, I called Citibank and talked to Darnene who I reported this error to and again named the company for which the fraud complaint was intended. Darnene assigned me case number **. I assumed at this point that now Ali-express would be paid since they were not the company I filed the charge against. I received a letter from Citibank asking if I wanted to drop charges against Ali-express in March, 2017.
I spoke to supervisor Kriscoph who said to ignore the letter since he could see I had informed Citibank of the error in November, 2016. I then started having a problem with Ali-express with an inability to use my debit card. I assumed the problem was that Citibank had not informed Ali-express that there was no fraud from Ali-express on the card, not that Ali-express had not been paid. I reported this problem to supervisor Johnny ** on 8/03/17. He said it should be cleared up in one week. I made contact with customer service that I was concerned that Johnny did not give me a reference number and that he would not send me an email confirming what he would do.
Ali-express should have been paid in November, 2016 when I reported the mistake that Lia, a Citibank employee. There was a lack of correction of the problem by Darnene, another Citibank employee. I made this complaint to customer service and was emailed that it is my fault not Citibank's fault. This strikes me as a lack of integrity from Citibank and unethical action. If the company had followed through with my problem and corrected its error in November, I would not be dealing with this 9 months later. I have been told it might take 3 more months to correct the problem with Ali-express. It is Citibank's fault my inability to buy from Ali-express for months into the future and months past.
Contacting the executive response unit was another exercise in futility. The response I received stated: "Mr. **, please accept my sincere apology for the inconvenience you described surrounding the use of your debit card with Ali-Express. Our goal is to ensure that all of our clients are provided with the highest level of service and we regret that you found cause for dissatisfaction under any circumstance."
Then ** | Client Liaison | Citibank Executive Response Unit Citibank Client Services | 100 Citibank Dr., San Antonio, TX 78245 | (: 1-866-336-7285| stated that the case was closed, despite the problem with Ali-express not resolved and possibly not going to be resolved for months to come. I was not even provided a reference number for resolving Citibank's mistakes. Now ** of CitiBank refuses to respond to my emails. If Citibank reads this, do not send me a letter or call. I am out of the country. Contact me by email.

Who would do this and not CALL their customer? This is poor customer service. I cleared my account and had an 85.00 balance in my checking. I went out to eat at a restaurant and found my card was blocked for a check that was PAID for. No one called and the bank will be closed on Monday. I also have a Bank of America account and have never EXPERIENCED service like this. I am changing my Direct Deposit account. Thanks Citibank.

Here is everything that happened. I had a Citi Forward card getting 5 points, but that got changed. I signed up for a Premier card in 4/16, expecting bonus points. I called in May to confirm I will get my points, they told me no, and that they have the right to deny the points. I cancelled the card because I didn't want to pay the fee. I left the issue alone, but recently saw the new offer for Citi Prestige. I signed up for the Citi Prestige. I called in to confirm they will give the points, they said no again. I pushed the issue, and they said that because I closed an account in the last 24 months, I don't qualify. I said I didn't get any bonus points on the Premier card and explained the issue. They told nothing they could do.
I researched online, and confirmed the terms. I decided to cancel the Prestige card, and called back. I canceled the card, and while on the phone the lady informed me that they can check back to what happened with the Premier card, I said that would be great and probably makes sense not to close the account. I got an email the following day that the account had closed. I got a call back today, they had reviewed the recording, back in May, and confirmed I was misinformed, but now that the account is closed, I couldn't get any points.
I asked if the points offer for the Premier could be applied since I was misinformed, and I'm happy to spend money on the card. The person wasn't able to help me but transferred me to a supervisor. The supervisor informed me that they should not have told me what had happened in the past, that he would look into it and call me back. He called me back and explained that the offer I signed up for didn't have an annual fee, and in turn, no bonus point offer.
By this point I am done, I have a major issue with the following: Phone support told me that I should have gotten the points, and I didn't get them. Phone support told me I don't get points because they can decide who qualifies or not. Phone staff told me I didn't apply for the correct offer to get the points. I also don't think that open or close an account should void people from 24 months of opening an account. It should be based on what points they got. I requested a fresh start, new card, new offer, with none of this history through their Citi Facebook, was told nothing they could do.

Have automatic withdrawal from my checking to pay Citibank equity line monthly. Recently requested due to new employer to stop auto withdrawal as employer mailing paychecks. They placed a note in my record, but failed to place the actual stop. Consideration is they felt I probably had enough money and they wanted it whether it was in my plans or not. They have offered to pay the overdraft fees they caused, but my reputation is tarnished for not being astute enough to know that this would occur as far as the bank and creditors are concerned.
How do I know I can trust these reviews about Citibank?
882,235 reviews on ConsumerAffairs are verified.
We require contact information to ensure our reviewers are real.
We use intelligent software that helps us maintain the integrity of reviews.
Our moderators read all reviews to verify quality and helpfulness.
For more information about reviews on ConsumerAffairs.com please visit our FAQ.

I got a letter from Citibank regarding my Home Depot credit account. It had my credit card information on the letter. However, it was addressed to me at my son's address. I have never lived at my son's address. The letter was about me being enrolled in a Balance Protector program that I may not have consented to. What kind of place is this? They send my credit card information to my son's address. Who else did they send it to? They enroll me and supposedly charged me for a program that I didn't authorize. Someone needs to investigate them. No wonder there's all kinds of banking fraud happening nowadays. I called and no one there knew anything about what I was telling them and had no idea how my address could have gotten screwed up with my son's address. They even said I didn't even have an account with them -- even though I have a credit card in my hand with the same number as the letter. This is just wrong.

I've been with Citi, for almost 3 decades, I've recently experienced losing my job after 35 years. I asked my local manager Bernice to look into reducing my loan for six months, from 338 to 170 or so. She said no. Even after I turned in all my bills which add up to almost 3500 a month just to survive. Instead my note was moved to some RUDE person named ** (at marbach & 410). ** said I wouldn't answer, although I kept leaving messages, I made a payment at another Citi, on both accounts Mr ** said I never did. I faxed him the copies, he said OH (no he understands). So at last conversation. Mr ** said "ok now I see," and I explained. I'll be there august 29 or 30, he said ok. Now the 22 of august my wife broke her arm. Citi ** has called almost 10 times. Geez wtf is wrong with this guy??

I will say one thing. I spent over $4,107 to pay off that credit card that was only a $1,500 credit limit. When I was 18 I opened up a credit card, could not afford it, was jobless. Now that I had a job I paid off the credit card and two sums totaling up to 4,000 $100. Now I just get something in the mail after paying everything off saying that Citibank which is also known with Sears is trying to charge me again $4,100. This is BS. I think I may actually take you guys to court.
How dare you send me a letter. After 2 months of me paying you off you put another collections with the same amount on me. Get some people that know how to do their jobs and train people so that way you will not have to worry about this again. I'm talking to you Sears and Citibank. Very P.O. right now. Worse BS company I have ever gotten a credit card from. Warning beware going to my bank tomorrow. Thank God they have all the withdrawals training. Take me to collections, put it on my credit and I guarantee you I will sue you. I paid this debt. This debt is paid in full. You need to look up your past payments.

Citibank credit card is one of the most cheated. They will tell something & do something else. They have offered me credit card on my birthday & convinced a lot to me by such good offers, but I haven't got 50% offers. Offers gave by them was: Credit Card is totally free. Once you will get credit card, till two months, "No interest" will be Introduced. Above two statement was false, I thought for two months it's free, so I can use it. When I started using credit card, just for the 1st month, no interest came to me while in second month, they started putting interest. When I spoke with Customer Care Staff, no one responded properly. Staff will not sort-out the problem, they will start explaining their policies.
Current Problem: 07 August, 2017 - Last day of minimum due which I paid more than the minimum due amount. On 16, August, 2017 I cleared all the dues in the credit card. The total outstanding amount was "0" but still they have added interest like 18% GST tax + 40% Annual Tax = 731.62. When I called to customer care, again she started explaining their policies & she said "you have to pay this amount as it is out of bill cycle." Without using credit card, why they have added this much tax on 0 amount. This is such a **. I told the customer care lady, please transfer the call to your Senior. She started asking: "What you will talk? Why do you want to talk?"
At the end, she said, "they all are busy in the other calls. I'll right back to you." But still I didn't get any calls in 3 hours as I was waiting for it. I told her to close my card even though I have 3904 Redeem Points, convert it into cash & balance the amount 731.62 & close the card, she told "it's your loss only, the closure team will call you," still no calls came for that also. Staff is so Lazy, they will not resolve the customer's problem.

I was very upset when Costco switched from AMEX to Citibank. I had an AMEX card for over 25 years and always found them to be very consumer friendly with an excellent website and great benefits like travel, etc. Right away the Citibank card was difficult to read. They seemed to hide information on purpose and I decided I would only use it at Costco because I am forced to use it there. Unfortunately last month I used it for a little more. My balance was $2550 and change. I made a payment of $2500. $50.00 shy of the total balance.
Then I notice I was charged interest (nearly 15% at that) on almost the entire balance, about $2300. When I called to ask why I was told that if you don't pay the balance in full, even by one dollar, you are charged interest on the full balance - NOT JUST THE UNPAID BALANCE. I would think this would be illegal but I guess our politicians being friends with the banks and such make sure it is not illegal. So now for sure I will only use this card for the food and gas I buy at Costco. And I will make sure I NEVER take out a Citibank card of any type. There are at least a few better banks out there. So this is my story and cardholders BEWARE!

We have been with Citibank over 35 years. They have never let us down in any way. We have savings, checking and two credit cards with them. Their customer service is top notch.

This bank does not help at all to their clients, with the programs available, to refinance the house. They just said, "Sorry you don't qualify, that program is not for you," even if the client has the tools that said he does qualify. They keep us from one department to another and nobody wants to help. I had experienced this trying to get help with the HARP program. This is one of the worst bank I ever had done business. Also their personnel doesn't return your call when we leave message. And we have to keep calling for hours and days just to hear the same answer and no options at all. I have months trying to get help with them and nobody wants to work with us. It looks like they practiced that to have the client lose their properties.

Everyone of the bank's officers for the twenty plus years I have been a customer, all without exception have provided guidance and effective use of their services for my needs.

In March 2017 I took advantage of a CITI promotion incentive that required an account to be opened, and the funds to be kept for 90 days. After 90 days, CITI would make a 1% deposit to the account. Seemed like a good idea at the time, but turned out to be a nightmare when trying to make a withdrawal. Had visibility of the deposit for approximately 3 days after opening account and then had no visibility or access. Follow up inquiry response "Would not have visibility until debit card issued". PIN info for my wife arrived in mail which had been mailed 3/07. Called CITI and was informed that card had been mailed, but I had not received. Another card and PIN sent on 3/25 via overnight. Received box of checks with all documents located on bottom of box underneath checks. Did not plan to write any checks so just put box aside. My error!
Thirty days after CITI incentive deposit made, had a need to write check. Check refused because I had not activated the account (Instructions to do so were in bottom of the checkbook box, beneath checks.) Did not find out there was a problem until I noticed on my online statement at my other bank. I was assessed a penalty fee for the refused check. Checked the instructions and found that I needed to activate the account through the automatic activation. Called and went through the steps and got the little robot transferred me to customer service. Turned out that transfer is to their "New Accounts" department, who only maintain
normal business hours M-F. Finally got through to Customer Service who informed me they couldn't help as I had to go through the "New Accounts" department.
Called "New Accounts" on Monday and informed that no signatures were on file. Retrieved signature form from the checkbook box. Only one spot for signature, but both my wife and I signed and faxed to CITI in TX. Week later account still not activated. Called Customer Service again and was informed that activation had not taken place because there was only one signature on the form. I told them that wasn't true, but would fax again. Took the signature form (no new forms are available for download and have to be mailed by CITI) and blocked off my wife's signature and faxed. Modified the form so that only my wife's name and signature appeared on the form and faxed. Waited a couple of days, still no activation. Called CITI again! Rep researched and said "OOPS", "Wrong signature form was provided as form needed TWO signature blocks". They would mail me the correct form. The two I had faxed were not acceptable.
Finally, just gave up and paid the $17.50 wire transfer fee and transferred my funds to another bank and closed the CITI account. Each attempt to call CITI required being on hold for 15-20 minutes before I could speak to a rep. Tried the chat line which was of little help. Very frustrating!!! I definitely do not recommend using Citibank.

I would like to share a recent experience with a Citi credit card account ending in **. Issue in short: "In July I had made an airline ticket purchased for $1050.00. However, the trip to India was then cancelled because of personal health issues to my dad. The airline then refunded $600.00 because of cancellation from $1050.00 that I paid. So Now I have a CREDIT balance of $600.00 on my account." The account charges were paid in full and I had a $0.00 balance.
So the story of a frustrated customer starts something like this. I called Citibank Customer Care (CCC) stating that there is a credit balance on my account which I would like to be refunded via a check (so I can pay my dad back for the money he paid me to pay the bill). First I was told by the rep that Citi does not refund any credit balance on the account and it will zero out once you start using the card and have a balance that reaches $600.00 (strike1).
Issue Escalated to an account manager. The lady stated that she will be happy to refund the money via a check and I should have the check in 5-7 business days (make sense). Then I get a letter in the mail stating that Citi cannot refund the money and I will have to call CCC if I had any questions. Obviously I called and I started back to square one. Again I was promised that the issue will be rectified and guaranteed that the check will be in my mail box in 5 day. (strike2)
After not receiving a check in 7 days as promised. I called CCC again (strike3) and had to repeat myself all over again and now I am on account manager # 3.
She stated she can process a ACH debit directly into my checking account in 24-48 hours (yayyy). We did a 3 way call with Chase and she verified all my personal account info incl routing number and account number. Was told, "You will have the money in the next 2 business days." Well come find out after 3 days I still do not have the money. SO I call again and of course I have a different rep and was told I cannot talk to the manager that had promised my ACH debit. So the saga continues with another manager # 4.
Come find out the $600.00 were processed by CITI but the funds went to a different account and a different customer which no one had a clue of who that person was. Then I was told NOW I have to wait till the funds are reversed from the wrong account that CITI deposited the money and then I have to wait for another 48 hours (per process) to get the ACH debit in my account (didn't know CITI was this broke that they have to wait for a refund to refund). As of this day the ACH has still not hit my account and by now I have spoken to 5 account manager and the office of the VP and still awaiting a response on my money. Everyone I spoke to felt "sorry" and said "believe me I know exactly how you feel" (really I bet you do). This is just a DISGRACE to the entire CITIGROUP as a whole where issues like this are never given the right attention and you customers end up closing their account.
Like I said I still do not see the funds in my account as of today. NOT A HAPPY CUSTOMER AND CANNOT WAIT TO CLOSE MY ACCOUNT (ONCE I RECV MY FUNDS). I am not sure if anyone will respond to this but I can be reached at ** if anyone has the time from your office to contact me. NEWSFLASH: Your mission statement "Citi's mission is to serve as a trusted partner to our clients by responsibly" needs to be changed.

I have been a Citibank Diamond customer for YEARS. This year, we moved across the country and in the chaos I missed (for the FIRST time) my monthly payment. I noticed the error a few days later and called in and made the payment over the phone. A few weeks later, I get a letter in the mail that I activated a penalty Apr of 29.99% by missing my monthly payment date. I called in and requested a courtesy reinstatement of my previous Apr and Citibank refused. I shredded the card, took my business to Discover and forgot all about Citibank and their nonsense. Today, several months later, I get a letter in the mail, that YAY, they have increased my credit line significantly!
So, being the realist that I am, I get Citibank back on the phone... "So guys, what's my APR?" Yeah, it's still at 29.99% and I was "welcome" to submit an application to have my account reviewed if I wished to. The rep actually told me their credit department is "equal and fair to all" when assessing the penalty APR's and they apply to all customers. Clearly the rep was a liberal. I politely explained to the unqualified rep that if Citibank has a customer for 6 months who's late it is not the same as having a customer for 6 years that's late. He disagreed with me! I replied with "Well, as far as I'm concerned, I have an established good standing long term relationship with Citibank. The guy who's been with you for 6 months is a much higher risk than the customer who's been loyal for years.
Citibank will be losing good, qualified, reliable customers left and right by throwing long time customers under the same umbrella policies as those who opened their accounts mere months before. I will certainly NOT be using my new credit line increase with that ridiculous Apr attached and I feel so sorry for the people who don't have the option to discontinue use and who get stuck in that disgusting position." Citibank showed their true face over the course of this incident... And it is not a pretty one. I hope everyone leaves Citibank and does business with more honest, courteous and reputable companies.

Seniors who expect to have a POA at some time should RUN! I have been POA for several years for my aunt. I can't so anything. I can't get statements, tax info and I can't get Investments to transfer money into her checking account to pay her nursing home bill. They insisted a pay to overnight the 5th POA to New York and 2 weeks later, no one has done a thing. The investment guy says he wants to send her a letter but he doesn't know her address and won't take it from me. This bank has been sending the statements to the same retirement home for 18 years. I gave the investment guy her phone number but he insists on calling a dead line. He won't answer the phone when she calls. Charging her for this incompetence is CRIMINAL. This abuse of the elderly needs to go public,

Without proper investigation or even any attempt to justify transactions, Citibank sent us letters stating they were closing ALL of our accounts. The fact that our business account had a 10 year history with them was not even taken into account. Apparently loyalty and relationships with customers means nothing to them!

After my husband filed Chapter 7 Bankruptcy we have received a letter from the Vice President of Citibank G. Goldberg (CITI P.O. BOC 790040 St. Louis. MO 63179-9819), who stated that he sold the account to the "investors" Sherman ** LLC c/o Resurgent Capital P.O. Box 10497 Greenville, SC 29603 and they will attempt to collect the money. Mr. Goldberg says that he follows the law and that he is not going to violate any provision of the United State Bankruptcy law, but now the new "investors" will start to "collect" the money. I found that Citibank had a lawsuit for the same reason during 2015.
Also I found in Internet a similar agreement with these type of "investors" so they will start bother us for 6 months, and if they don't collect the money they will request their pay back from Citibank. I copy this agreement and I have it. For me this is a way around to violate United States Bankruptcy Code. And I am curious if this a private company looking for a way to go over the government rules? You know how we call everyone who wants to go above the government. The word describing this type of activity starts with letter "G" as the name of the vice president G. Goldberg... Any advice? Thanks in advance.

Was approved for a Shell a Exxon and Home Depot credit card in May. Went to use Shell card in July, did not work. Call customer service and was advised all 3 cards were closed. When asked why, stated had too many credit inquires but they approved them and I had not had any other inquires since. They're crazy company. Not trustworthy. Someone should shut them off. They discriminate very badly. I will be praying for the people that make the guidelines for this company.

I would not recommend opening any accounts at Citibank. Citibank was running a $400 promotion to open an account if you deposited $15,000 and kept it there for 3 months. I went in to open an account at a Citibank branch within one day of seeing the promotion online. When I walked in to open an account, the first words out of my mouth were that I was opening an account because I saw the $400 promotion online. The banker and I literally talked about what a good deal it was. We also talked about how soon I would need to deposit the money to earn the promotion amount and how long it would take for the bonus money to hit my account.
I opened an account that day and kept 15,000 on deposit for well over 6 months and never got any money. At about the 3 month mark, I called Citibank customer service to figure out what was going on and they said it would take a little while longer for the promotion money to hit my account. When it didn't hit my account a month later, I wasted an hour going back into the the branch I opened my account trying to figure out what happened and they couldn't even find the original promotion. Conveniently, the person who opened my account was no longer there. They filed an inquiry to Citibank's national bank and I got a response that I didn't fit within the guidelines of the promotion because of the timing, which is just not right considering the discussion the banker and I had. I would not recommend doing business with Citibank, especially at this location.

Citibank issues credit cards on behalf of Best Buy and other retailers. I had two of them. One was an NTB card and the other a Best Buy card. I paid off the NTB card in full and plan never to use it because it is a Citibank card. I had a dispute with Best Buy's Geek Squad where I was lied to and made to spend on fixing my machine where I finally had a machine that was returned to Windows 7 when it had Windows 10. On their advice I also bought a wireless card which I was told was not necessary. I opened a dispute which is not being resolved as Citibank does not want to commit in writing why the dispute was resolved in Best Buy's favor.
Citibank keeps giving me harassing phone calls and what is most frustrating is that the person who calls is not aware that a dispute has been filed nor has any idea what the transaction was about. One caller told me I should have returned the "product." Another kept chastising me telling me I should have filed a dispute, when I had filed one several weeks ago and I have kept repeating the issue to the every person who calls from Citibank. I have requested a three way call with Best Buy and Citibank to resolve the issue. I have yet to hear from them. The Order number I am putting in is the Best Buy Order # which relates to two disputes filed with Citibank.

Does it have to be a nightmare and stressful situation to open a simple checking account? Several times I've waited to receive my new account package which was assured to arrive in the mail 7 to 10 days! When I called to see the status my account was never found! That should have been indication this place is a joke! I had to go into the bank to complain to manager my experience which he was understanding! After over a month I received bits and pieces of checks but no card! That was another can of worms! Another 7 to 10 days! Today I find out that the $4500 that I had deposited Mon now Thurs! Due to server difficulties accounts won't be accessible till this weekend! That's funny. They're closed on weekends! Citibank you'll be closed permanently!

I wish zero stars was an option. I switched from a local bank to Citibank because I travel internationally and needed a bank with international locations. The customer service at Citibank is terrible. The people are helpful when you eventually get to speak with them but the bank consistently provides insufficient staff to handle customer needs. Every single time I go to the branch I have to wait 10-15 minutes to see a teller and 30-60 minutes to see a banker.
When I call on the phone my branch automatically forwards their phone to the national call center which is terrible. You have to talk to a machine that does not recognize anything you say, that tells you things you already know or don't care about and that cannot answer your question. Before you are able to speak with a human being it is 10-15 minutes and then that human being has to put you on eternal hold to answer your question.It feels like they just do not care at all about the customer. When I banked with a small local bank I never had to wait more than a few minutes when I went into the branch and when I called on the phone they were able to help me.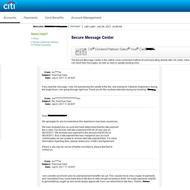 My payment was 10 days late. I advised Citibank that I was unemployed and benefits ran out. After sending message to that effect, they responded with the charge was valid and would not be waived. I explained that I wasn't questioning the validity but requesting courtesy to waive late payment (customer for almost 10 years). I was advised by a heartless SOB that it is against their policy to positively assist their customers. Funny thing, Synchrony Bank was able to waive the fees from both of my Walmart cards and my Kohl's card and Capital One even assisted me with reversal of TWO late fees because my unemployment ran out just before their due date. That leads me to believe it is Citibank's rules and not those of the banking industry.

I have been working for my company for 18 months. My salary has been processed the same way in all that time. Last month, Citibank did not process it. Citibank said it was the fault of my employer. My employer confirmed that it has been processed exactly the same as usual. They showed me the details. Citibank could not confirm what had happened, only they could not process my salary in the allotted time, so it was rejected and sent back to my employer. My employer said that they have not received it.
I called Citibank, they said that they could not confirm whether they sent it back. WTF! Now they said it was sent back and that it will take 3-4 days to reach my company. I asked them what happened, they refused to tell me. They said that the department dealing with this matter knows, but cannot divulge this info. Whilst all this is happening. I cannot pay my rent, bills and direct debits, so I'm living off my credit card in a hotel. I've complained and asked for compensation for the emotional distress caused. I'm lodging a formal complaint now with a lawyer.

I recently had fraud charges made on my credit card. They were flagged but somehow I wasn't credited for both of the fraud charges made. I called a week later to find out why and if now I would have to pay since my credit card payment is due this week. The man who didn't speak clear English repeated himself 4 times without answering my question. He also got disconnected with me for about 2-5 minutes and laughed when I told him and said his computer was restarting and the screen was flickering.
I was already frustrated about not being credited but now this had just turned into an obnoxious phone call that was absolutely no help. Because he said "hopefully I'll get my money back" and told me to call again in another week if nothing changed. I'm very very unpleased with this service and with this credit card company. Is it so hard to hire American customer service representatives for American customers? And to find good people to help honest customers who have always paid on time. I cannot believe the treatment I received today and will be considering leaving this credit card company and taking my business elsewhere.

A few days ago, I inquired about the status of a check issued by Citibank and the reason why the recipient had not received it after five (5) days. As a result of my inquiry, the agent (located in the Philippines) decided to put a stop payment on this check without my authorization. His actions had resulted in additional charges due to a returned check by the recipient's bank. I may be closing my Citibank accounts in the near future.

Firstly, I've been a customer at Citibank for about 4-5 years now. Let's start off by saying for such a large company their ATMs and bank locations are pretty spread out. Especially compared to Chase. Secondly, another comparison to Chase, when you lose your card they are unable to issue a new card immediately. You have to wait for it to be mailed in. Chase lets you get your card instantly, right then and there. So it's possible to provide that service and Citibank's own personal choice not to. With fewer locations, you would think they would be able to afford to saddle them with the proper printing machines.
And finally, the magnum opus of ** that this bank has put me through. The one where they put a block on my account because a check bounced. Basically, my boss gave me a check for an account that is closed. So Citibank took it upon themselves, without making any attempts to reach out to me first, to put a block on my account until the check bounces. They KNOW it's going to bounce. But apparently I have to wait for it to do so. Which is **. Fortunately, I have a second account and still have access to the funds in there. But what if I hadn't? It's been a week since the check's deposit and they basically still haven't granted me access to my account. This isn't good customer service. This is ** service.

August 2016, almost a year ago I discovered that the fraudulent activity on the Citibank credit card was set up to pay by minimum payments from my business checking account with Wells Fargo Bank. Wells Fargo identified the thief with his name and address and notified Citibank. My Wells Fargo account was closed to prevent any future fraudulent activities. When Citibank stopped receiving minimum payments they reported me as delinquent causing my FICA score to go down from 800 to 619.
Since last August I have been trying to deal with the Citibank; I sent them notarized affidavit, filled out hundreds of documents and have talked to several incompetent people from the Citibank. Till this day my credit is ruined by them. I have not seen any progress but bunch of PR generic messages which are typically generated after my tweets or FB comments. I finally wrote a complaint to the California attorney general Let's see if that office pays a little more attention to regular people, like me??? In a meanwhile, I will go to any means in order for my credit rating to be corrected. Not only I was a victim of the theft but also victim of the Citibank neglect.

Barbara FriedbergPersonal Finance Contributing Editor
Barbara Friedberg, MBA, MS is a former investment portfolio manager with decades of financial experience. Friedberg taught Finance and Investments at several universities. Her work has been featured in U.S. News & World Report, Investopedia, Yahoo!Finance and many more publications. More about Barbara→

Founded in 1812, Citi is a leading global bank with approximately 20 million customer accounts in more than 160 countries and jurisdictions. Citibank works to provide consumers, corporations, governments and institutions with a broad range of financial services and products.
Services and products: Citi has a vast array of services for individuals, businesses and governmental institutions. Their products include banking, credit cards, lending and investing offerings. The Citi services include online banking, account alerts, bill pay, eBills, money transfer, Popmoney® and more.
Locations: Citi is organized around four geographic regions; Asia, Europe/Middle East/Africa, Latin America and North America. The company has offices in most every major city in the world.
Credit cards: The Citi credit cards include Visa and MasterCards across most segments including low interest, balance transfer, rewards, no annual fee, cash back, business, student, travel, secure and more.
Mobile banking: The Citi mobile app allows consumers to keep track of their banking transactions, move money, pay bills, email funds and more. The interactive, graphic displays help customers manage their spending and saving.
Security: Citi offers online and mobile fraud protection, identity theft solutions, overdraft protection and the highest level of asset defense.
Special offers: Citibank offers customers an array of lending, banking and credit offers that are regularly updated.
Best for U.S. citizens, global citizens and travelers looking for banking services for any situation.
Compare Banks & Credit Unions
Company Name:

Citibank

Year Founded:

1812

Address:

100 Citibank Drive

City:

San Antonio

State/Province:

TX

Postal Code:

78245

Country:

United States

Website:

http://www.citibank.com/