Consumer Complaints and Reviews

Citibank issues credit cards on behalf of Best Buy and other retailers. I had two of them. One was an NTB card and the other a Best Buy card. I paid off the NTB card in full and plan never to use it because it is a Citibank card. I had a dispute with Best Buy's Geek Squad where I was lied to and made to spend on fixing my machine where I finally had a machine that was returned to Windows 7 when it had Windows 10. On their advice I also bought a wireless card which I was told was not necessary. I opened a dispute which is not being resolved as Citibank does not want to commit in writing why the dispute was resolved in Best Buy's favor.
Citibank keeps giving me harassing phone calls and what is most frustrating is that the person who calls is not aware that a dispute has been filed nor has any idea what the transaction was about. One caller told me I should have returned the "product." Another kept chastising me telling me I should have filed a dispute, when I had filed one several weeks ago and I have kept repeating the issue to the every person who calls from Citibank. I have requested a three way call with Best Buy and Citibank to resolve the issue. I have yet to hear from them. The Order number I am putting in is the Best Buy Order # which relates to two disputes filed with Citibank.

Does it have to be a nightmare and stressful situation to open a simple checking account? Several times I've waited to receive my new account package which was assured to arrive in the mail 7 to 10 days! When I called to see the status my account was never found! That should have been indication this place is a joke! I had to go into the bank to complain to manager my experience which he was understanding! After over a month I received bits and pieces of checks but no card! That was another can of worms! Another 7 to 10 days! Today I find out that the $4500 that I had deposited Mon now Thurs! Due to server difficulties accounts won't be accessible till this weekend! That's funny. They're closed on weekends! Citibank you'll be closed permanently!

I wish zero stars was an option. I switched from a local bank to Citibank because I travel internationally and needed a bank with international locations. The customer service at Citibank is terrible. The people are helpful when you eventually get to speak with them but the bank consistently provides insufficient staff to handle customer needs. Every single time I go to the branch I have to wait 10-15 minutes to see a teller and 30-60 minutes to see a banker.
When I call on the phone my branch automatically forwards their phone to the national call center which is terrible. You have to talk to a machine that does not recognize anything you say, that tells you things you already know or don't care about and that cannot answer your question. Before you are able to speak with a human being it is 10-15 minutes and then that human being has to put you on eternal hold to answer your question.It feels like they just do not care at all about the customer. When I banked with a small local bank I never had to wait more than a few minutes when I went into the branch and when I called on the phone they were able to help me.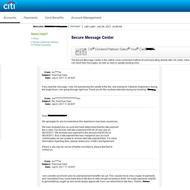 My payment was 10 days late. I advised Citibank that I was unemployed and benefits ran out. After sending message to that effect, they responded with the charge was valid and would not be waived. I explained that I wasn't questioning the validity but requesting courtesy to waive late payment (customer for almost 10 years). I was advised by a heartless SOB that it is against their policy to positively assist their customers. Funny thing, Synchrony Bank was able to waive the fees from both of my Walmart cards and my Kohl's card and Capital One even assisted me with reversal of TWO late fees because my unemployment ran out just before their due date. That leads me to believe it is Citibank's rules and not those of the banking industry.

I have been working for my company for 18 months. My salary has been processed the same way in all that time. Last month, Citibank did not process it. Citibank said it was the fault of my employer. My employer confirmed that it has been processed exactly the same as usual. They showed me the details. Citibank could not confirm what had happened, only they could not process my salary in the allotted time, so it was rejected and sent back to my employer. My employer said that they have not received it.
I called Citibank, they said that they could not confirm whether they sent it back. WTF! Now they said it was sent back and that it will take 3-4 days to reach my company. I asked them what happened, they refused to tell me. They said that the department dealing with this matter knows, but cannot divulge this info. Whilst all this is happening. I cannot pay my rent, bills and direct debits, so I'm living off my credit card in a hotel. I've complained and asked for compensation for the emotional distress caused. I'm lodging a formal complaint now with a lawyer.
How do I know I can trust these reviews about Citibank?
823,111 reviews on ConsumerAffairs are verified.
We require contact information to ensure our reviewers are real.
We use intelligent software that helps us maintain the integrity of reviews.
Our moderators read all reviews to verify quality and helpfulness.
For more information about reviews on ConsumerAffairs.com please visit our FAQ.

I recently had fraud charges made on my credit card. They were flagged but somehow I wasn't credited for both of the fraud charges made. I called a week later to find out why and if now I would have to pay since my credit card payment is due this week. The man who didn't speak clear English repeated himself 4 times without answering my question. He also got disconnected with me for about 2-5 minutes and laughed when I told him and said his computer was restarting and the screen was flickering.
I was already frustrated about not being credited but now this had just turned into an obnoxious phone call that was absolutely no help. Because he said "hopefully I'll get my money back" and told me to call again in another week if nothing changed. I'm very very unpleased with this service and with this credit card company. Is it so hard to hire American customer service representatives for American customers? And to find good people to help honest customers who have always paid on time. I cannot believe the treatment I received today and will be considering leaving this credit card company and taking my business elsewhere.

A few days ago, I inquired about the status of a check issued by Citibank and the reason why the recipient had not received it after five (5) days. As a result of my inquiry, the agent (located in the Philippines) decided to put a stop payment on this check without my authorization. His actions had resulted in additional charges due to a returned check by the recipient's bank. I may be closing my Citibank accounts in the near future.

Firstly, I've been a customer at Citibank for about 4-5 years now. Let's start off by saying for such a large company their ATMs and bank locations are pretty spread out. Especially compared to Chase. Secondly, another comparison to Chase, when you lose your card they are unable to issue a new card immediately. You have to wait for it to be mailed in. Chase lets you get your card instantly, right then and there. So it's possible to provide that service and Citibank's own personal choice not to. With fewer locations, you would think they would be able to afford to saddle them with the proper printing machines.
And finally, the magnum opus of ** that this bank has put me through. The one where they put a block on my account because a check bounced. Basically, my boss gave me a check for an account that is closed. So Citibank took it upon themselves, without making any attempts to reach out to me first, to put a block on my account until the check bounces. They KNOW it's going to bounce. But apparently I have to wait for it to do so. Which is **. Fortunately, I have a second account and still have access to the funds in there. But what if I hadn't? It's been a week since the check's deposit and they basically still haven't granted me access to my account. This isn't good customer service. This is ** service.

August 2016, almost a year ago I discovered that the fraudulent activity on the Citibank credit card was set up to pay by minimum payments from my business checking account with Wells Fargo Bank. Wells Fargo identified the thief with his name and address and notified Citibank. My Wells Fargo account was closed to prevent any future fraudulent activities. When Citibank stopped receiving minimum payments they reported me as delinquent causing my FICA score to go down from 800 to 619.
Since last August I have been trying to deal with the Citibank; I sent them notarized affidavit, filled out hundreds of documents and have talked to several incompetent people from the Citibank. Till this day my credit is ruined by them. I have not seen any progress but bunch of PR generic messages which are typically generated after my tweets or FB comments. I finally wrote a complaint to the California attorney general Let's see if that office pays a little more attention to regular people, like me??? In a meanwhile, I will go to any means in order for my credit rating to be corrected. Not only I was a victim of the theft but also victim of the Citibank neglect.

The phone customer service is HORRIBLE. I TOLD Citibank I was traveling and to PLEASE NOT BLOCK MY CARD WHILE TRAVELING. Well lo and behold they blocked me like eight times, and usually at my most dire and desperate moment. The worst bit is because of them, I was stranded without any money in a major city. I begged and begged for them to release the security hold so I wouldn't be stranded and what did the customer service agent do? He hung up on me. HE HUNG UP ON ME. I literally had a nervous breakdown in the middle of the city when on the phone with this guy- a full panic attack... BEGGING the guy to please just release MY funds. HE HUNG UP ON ME.

Back in July, 2011 we had open up the custodian account for both of my children checking and saving at CitiBank as same time we also open all our account and there were never a account service charge to the kids' account during those years. We did see some months was charge and it was waive and taking out and some that was no charge but starting back in 2016 the bank starting to charge from the custodian and in same it drain out the kids' account money in there and these are kids that save for the college money. We never did receive any of the statements during those charging months not until the bank send us notice that we need to deposit in the custodian accounts so that the services fees can be clear, that is when we found out that years of been open both of our custodian account has the bank been stealing from my kids account.
Make the matter worse that they are not will to work and refund our children money back and in same even challenge of my caring for my child money and their saving. Again these checking and saving account are custodian kids' account underage and I am teaching them to save their money from Birthday, Christmas, New Year and more that we gave them to deposit to save up for their future and here there bank been stealing from them every month for the past 6 years at $30 per month in 12 month equal to $360 per year and in 6 years that is the sum of $2,160.00. All this done to the kids' account whose are now just turn 12 and 14 years of age.
I has been try to reach out to Citibank and none seem wanting to help. I then close the checking accounts from both kids and now to them the account is close to preventing the account to be charge this coming month and by this Citibank are not will to help claiming the account been close and nothing they will or can do. I do not understand since the kids saving is still active and all out our banking are all still operating. I am reaching out for help calling and asking for help for both of my daughters to help get their money back from crook Citibank charge on Custodian.

I am an 800 plus credit customer that travels extensively. Citibank decided because they made a mistake they would suspend the privilege of using their card while I was on business trip. What an embarrassment and hassle!!! Despite calling them twice they had no sympathy for their mistake!! Appears Costco made an error switching from American Express. Might cancel Costco too! Sam's Club looks like they are seeking members and might actually appreciate customers that pay their bills.

Have spent 1 hour of my valuable time on a phone with Citibank, Citibank hired customer service from Philippines. Staff from there DO NOT HEAR AND DO NOT UNDERSTAND WHAT CUSTOMER SAYS. I called 4 times talked to 4 different Reps, problem was not resolved. I lost a business contract because was not able close transaction. Very low-quality customer service. Citibank saving money by hiring people from overseas who do not provide good service (Except saying every single moment ''Sorry mam'') that's all what they can do. On long run Citibank instead of saving will be losing money by losing clients. I will be closing my account and will be moving to another bank. No need extra stress by dealing with their overseas staff.

Was on a business trip in Washington DC, made two purchases from a trusted and reputable parts dealer in Canada over the phone. An hour later I receive a call back that the first purchase went through, second was declined?! On a card that is three weeks old that has a very high credit limit no less. I switched to this card for the AA points as I will be traveling more often on AA now and for this reason and this reason alone I chose Citi. I call the number provided when I logged onto my account and was told that I must provide a phone number that is different than the one I registered with on the application. Given I work from home, travel frequently and have no use for a home phone, that one phone number is all I have. They said someone would need to call me back and that the security hold will need to stay.
I call back and ask to have this escalated to a supervisor. After being on hold for 40 minutes, I was promptly hung up on and had to call back a third time. 30 minutes later I am told someone will call me back in the next 24-48 hours. Fast forward 48 hours, no one calls so I call back and am told someone will definitely call me back today. Did someone call me back, no. It took me calling back in at 5:00PM on Friday and demanding to sit on hold to speak to a supervisor to finally speak to someone about my issue and the issue it seems is that I only have one phone number?! That number is paid for by my employer (huge perk for me) and as such the phone not being registered to me is the issue given they can't verify who I am because I don't have a number.
Forget the millions of ways I could do this if I wanted to defraud them, forget the fact that I read them off every card, transaction and financial document in my credit report and that I was calling from a registered employer number for the company I work for, they did nothing! If you are a high earner, travel frequently for work and get perks like having your phone paid for by your employer, good luck because you will spend more time on the phone with Citi than you ever will with your employer, family, friends or clients for that matter! What a farce.

I was charged $25.65 for being late on a bill of $7.41. The payment was made before it was due but was not posted until 1 day after the due date. The first person that I spoke to tried to be helpful but was unable to have the charge waived. However, the "supervisor" that I spoke to was arrogant, ignored what I had to say and was generally unpleasant. I have been a customer of CitiBank for at least 20 years, and have never encountered this type of behavior. Additionally, I was told that I could not redeem the dividend rewards that I have earned in using the card. Great way to do business!

I long for the days when banking was not such a chore. I have been a Citibank account holder for 11-years. Each year the services and availability of full branch locations decrease each year. The restrictions imposed are more cumbersome and app services are doing nothing to make up for the lack of branches in my area (Northern VA, outside of Washington, DC). Now, I must admit, when it comes to fraudulent matters, Citibank is quick to respond. However, for more routine matters, I feel there is a lack of continuity. While the new training initiatives regularly allow for the representative to falsely administer platitudes of empathy, the words feel empty and lack any regard for the matter on hand.
Yesterday, I tried to make three purchases online using my debit card. Each time my card was declined. For one of the transactions, I did receive a fraud text alert. When I called Citibank to inquire as to why, they reiterated how there were no blocks on the account and it was sufficiently funded to cover each/all of the transactions. I knew this, but why was the card declined at three different online merchants?
When the service representative offered to sit on the phone, while I called each vendor to identify the problem, the rep was not helpful and only pointed out facts that were already known quantities. I did concede and called one of the vendors. When the card was once again declined, the Citi service agent was obtuse as to finding solutions. I wish that I had at least more positive experiences to speak to when it comes to my banking experiences with Citibank over the past 11 years.
Sadly, the only positive is that what they lack in service and meeting advanced banking needs, they make up for in global ATMs. Let me add, I am not one with exorbitant amount of money. I work and I live, sometimes things work out where I can do more. In the meantime, I want the organizations that I am using to work just as hard and demonstrate their commitment to me with service that exceeds every time. God knows I am charged enough by Citibank for you to do something besides use my monies as added revenue to the bottom line. The banking and finance industries have changed so much, since the 2008 financial crisis. Currently, banks are taking money to show profitable growths. The everyday citizen is forced simply to pick the lesser of the few evils that exist.

I have maintained an account with Citibank for years. My credit rating is high seven hundreds or low eight hundreds most of the time. My card had a $14,000 credit line with nearly 14% interest, I maintained no balance on the card because of the interest rate, I have several cards with far less interest. Today I got a letter saying they had canceled my card due to lack of use! I guess if I am not paying them their 14%, they don't want me. My credit rating will now go down due to the ratio of available credit to debt. They have damaged me due to their greed. If there are any lawyers out there who see an opportunity to teach the banking industry something, contact me.

I opened a checking account online and deposited my paycheck through ATM. In spite of my company's bank clearing the paycheck I deposited, Citibank's policy, holds the funds for 10 days. Unfriendly supervisor said this is a policy based on a new client's relationship with Citibank. What a way to establish a relationship with new customers?! Now I'm stuck and all my bills has to wait. Albeit they have the cash, by holding it, they made money out of my own money. I read most of the reviews here by other customers. Got me worried. Customer supervisor said my money will be available on Wednesday, 5/10/17. What I'm afraid of is that like the other customers, they will block my card &/or account without informing me. I'm closing my account as soon as I get my money back and will spread by word this very wrong practice of Citibank.

I've been using Citibank for about 2 years and it really wasn't until over a year in did I begin to encounter issues. Mostly with the online website. In terms of using the card I've had fine experiences with no issue. It's just the online website. First issue was in mid-2016 when suddenly I was locked out of my online account even though all my information was correct. I went through the verification process online and password reset service for hours before I gave up and called. The reset system would never send the verification code and just kept looping me through menus. Turned out they suspected fraud and locked the online account? Well, why not have a message that appears saying to call them in the first place? Every message I encountered prior to that implied the problem was my fault such as incorrect name/password. Didn't bother to ever call me or send an email alert that they had fraud suspicions the entire time.
The sad thing is I hadn't logged in to Citi for months because I wasn't using the card much. So I could have potentially been sitting on a fraud problem for months the whole time with no notice had I not logged in on a whim that day and found myself stumped with the issue. Second issue goes right back to the online website. For whatever reason I faced yet again, another login problem despite my password not changing for a long time. The reset password function didn't work on Google Chrome and pressing the reset button did nothing. Loaded nothing at all. I had to try again and open up Mozilla Firefox, this time it worked. However when I get to the verification process where they want to send a code to my phone OR use my security questions. Oh, suddenly the security questions can't be retrieved and I'm forced to use the phone call. Okay, fine. Ask to be called and not texted.
The phone call never comes! I tried 3 times to get it to call me. Then out of anger I tried the stupid text method. Guess what? Text never came either. This is the exact problem I had before when I was locked out due to fraud. When I called, you damn well guessed it. They locked my account again due to suspected fraud and yet again for months I wouldn't have known because I rarely ever log in only every couple months to download monthly statements. No prior call or email alert.
I could have potentially been sitting on fraud for months once again. The real kicker in it all; nothing was found fraudulent on my account either time. I have no idea what I'm spending or doing to trigger them to lock my account every couple months but it wasn't like this in 2015 when I opened the account. No employee I speak to seems to know what I'm doing to trigger fraud lock either. Only in the past year has the online website been really screwy with me and I'm tired of it. Had I just been told to call them upfront to unlock it, it might not be so annoying to have to play the online verification game for 10 minutes prior, even if the reason I'm locked out in the first place is bogus.

Worst banking services. In 11/2016 I lost debit card, called and had replaced within days. Forward to 1/2017 when payroll deposited in account. I tried to withdraw rent $$ and ATM declined. It took me over an hour and 4 calls to customer service to get unblocked and my money. Issues with ATM withdrawals continues every payday from 1/2017 - 5/2017. Every payday I had problems and many calls to get my money... Then rep began (2/2017) stating it was occurring because of security issue and account flagged. I questioned why and I never had any issues. Always told "We can't give you that info, it's policy". Upset I've been as never receiving any info about security issues on my account but told otherwise without answers is disturbing.
Tonight I called as payroll came in and I noticed (viewing online bank acct) that huge overdraft deducted. I asked rep for info and was told that deduction applied on 5/5 (purchases made 5/2 and deposited immediately from account), and additional for non Citibank ATM usages. I pulled receipts and told rep that purchases done 5/2 and deposited that day per my online app, and records show 2x usage of non Citibank ATM (2 x $2.50) not 8 x they charged. Told now that Citibank does show on online app deposited day of but actually if payor doesn't deduct next day, it's put back into your account until deducted (could be 3-5 days later), that I should call every few days to check actual balance (not online application).
As for ATM issue, rep stated Some locations AREN'T actually Citibank contracted and I went to one that wasn't. WRONG (all 7-11 stores are Citibank contracted). I advised I've been using this Citibank ATM inside 7-11 for 3 years, and I know it's contracted, and I have to call every month to get this fixed. Rep was rude and placed me on hold, then hung up on me. I'm withdrawing all $$ in morning and closing my account. Never dealt with such horrible reps and have had to go thru hoops just to get my $$.

I receive a credit card solicitation about once a week from Citibank, and have for about 8 weeks. I have written at least three times, telling them to quit sending me their solicitations. It feels like they are harassing me.

I received the fraud alert warning - just voice message. I was trying to reach the number provided. Waiting for last 45 minutes. No live connection. For last one year, I am ending up spending at least 30 to 45 minutes for simple issues too.

Paid account in full on due date 4/14/2017. Citibank deducted from my account that day and sent receipt reflecting zero balance. New billing period started 4/18/2017. I was charged 30.00 interest on a zero balance. The lackey mumbled something unintelligible to justify. Even said if he were me he would also see why this made no sense. Which it did not. This is called STEALING. CITIBANK IS RUN BY CRIMINALS, THIEVES AND LIARS. THE SAME JACKASSES WE ALREADY BAILED OUT. Don't do business with these cheats. You too will have your money stolen sooner or later.

Not only does Citibank charge a fee for foreign transaction, they block the card when I travel abroad. I am a physician that does a fair amount of international travel. In China while buying flowers in a very large establishment, the card got refused! Flowers??? The morons at Citibank have not figured that card thieves don't use the card for flowers??? To add insult to injury, their truly idiotic process alert you by email! Great! Half of the world use Gmail and of course Gmail is not available in China! Excellent system! Anyone at Citibank travels?
During another trip in Russia, similar story: email requesting a phone call! No kidding! Does Citibank not know you are traveling? Those airport and airline purchase are no indicators? I will cancel the Costco Citibank and go back to Amex that had a clearly superior system and excellent customer service. The cashback from Citibank is not worth the hassle of dealing with their primitive system!

Folks If you have a Citibank account & for whatever reason it was under a balance that did not meet the requirement, there is a fee you will be charged. If you meet the criteria after you were charged, the bank kept charging me the service fees until I called them only to find out they had made an error. Usually don't check my bank account details but glad I did. Citibank customer service was incompetent & took her 30 minutes to figure the error. Citi at its best... NOT.

So I missed one payment due to my son being born and in the NICU for 10 days. I paid 2 days after my due date and asked to waive the fee, obviously because of family matter. Their manager ultimately would not waive the fee despite that I have had no late payments. Guess a perfect record does not matter with them. Will be closing my account. Just terrible.

Applied for a Citibank card, was immediately turned down no explanation. Called customer service, was hung up on twice and then transferred to an auto line giving absolutely no good reason for being denied. My rating is above 700 and I clear 48000 a year. I have several different cards from Amex to Discover all paid on time and never maxed out. What a crock.

We found a promotional offer of 400.00 if we opened an account and deposited 15,000 within 30 days. The process would then take 90 days to deposit the 400.00 promotional offer. We started our application October 17, 2016 online because we do not have a branch near us. We sent in application, but they were not able to verify myself (wife) since it's a joint account. I thought it might possibly be my expired DL, because they were asking for a picture ID. My husband sent in the picture ID via fax.
A few days later Citi came back saying that they could not view DL ID. I called to ask if I should fill out new application with new DL? (Thinking the expired DL was the reason for the issue.) The representative said that "It didn't matter, you will still be eligible for the promotion either way." So, I sent in another application and closed current one that I started in October. Well, same issue. They still need DL picture even though I updated my old one. Okay... so I send it in again. I made sure Citibank would be able to see DL picture. Now, waiting game. 90 days until I receive the 400.00. NOPE! They send W9 to fill out. They made sure to explain to me that these needed to be turned in, in order for me to receive my promotional offer of 400.00, if not, it will be withheld. I receive this W9 with a line for one person's name and information. They said write in the primary card holder name information and send it in. Okay, did that. Rejected!
The rejection letter says, "You have two people on the account." Well, they only sent one paper to list ONE person, so after complaining this bank sends me 5 different W9 packets. Hmm... okay. So I put mine and my husband's information on the W9's. Send it in... all on my dime. Mine was accepted, his was rejected. I call Citibank to get information as to why. They say, "Put name the same as it is on your tax paperwork." Oh great! So, I call 10x and during those phone calls asking about the W9, you couldn't say that? So I send 3rd W9 into Citibank. I heard nothing back. Apparently it was accepted. I call for my promotional offer on 4-18-2017. Citibank says "You should have received it already." Citibank put in an investigation. The investigation team comes back DECLINED promotional offer.
Citi says I'm 2 days late from promotional period. Application supposed to be received by 11-15-16 and mine was received on 11-17-16. Right, because I left 15,000 in an account to sit there for no reason. Disregard the fact I started this October 17, 2016 and, I was told starting a new account would be perfectly fine. I would still be eligible.
But, the supervisor I spoke with today says he could see that I wasn't eligible, so he doesn't understand when I call to do the wire transfer that I wasn't told that I wouldn't qualify. Who transfers large amount of funds to get an expired promotion? That's right, someone that was being told I would get the promotional offer of 400.00, not expired. Funny thing is, the supervisor said that representatives cannot tell you that you (customer) won't get promotion. I'm guessing Citibank is having people bring large amount of funds to use for a short period and screwing over their customers. Wait. I'm not guessing. They are. STAY AWAY from CITIBANK.

Do not open a Best Buy account. I did 18 months same as cash. I was unable to open an online account to pay my bill. I was forced to drive to the store to make monthly payments day or two late. I have paid more in late fees in the past 6 months of having my card, then toward to principle balance. After 5 months I was finally able to set up online bill payments. After paying 37 bucks each month for late fees.

CITI is the most terrible bank I have ever seen. I want to make a large purchase in a store. So I call Citi to raise my debit card limit. It takes me 2 hours and 3 phone calls. Such a efficient company. Zero star!!! Gonna cancel my account right now.

Barbara FriedbergPersonal Finance Contributing Editor
Barbara Friedberg, MBA, MS is a former investment portfolio manager with decades of financial experience. Friedberg taught Finance and Investments at several universities. Her work has been featured in U.S. News & World Report, Investopedia, Yahoo!Finance and many more publications. More about Barbara→

Founded in 1812, Citi is a leading global bank with approximately 20 million customer accounts in more than 160 countries and jurisdictions. Citibank works to provide consumers, corporations, governments and institutions with a broad range of financial services and products.
Services and products: Citi has a vast array of services for individuals, businesses and governmental institutions. Their products include banking, credit cards, lending and investing offerings. The Citi services include online banking, account alerts, bill pay, eBills, money transfer, Popmoney® and more.
Locations: Citi is organized around four geographic regions; Asia, Europe/Middle East/Africa, Latin America and North America. The company has offices in most every major city in the world.
Credit cards: The Citi credit cards include Visa and MasterCards across most segments including low interest, balance transfer, rewards, no annual fee, cash back, business, student, travel, secure and more.
Mobile banking: The Citi mobile app allows consumers to keep track of their banking transactions, move money, pay bills, email funds and more. The interactive, graphic displays help customers manage their spending and saving.
Security: Citi offers online and mobile fraud protection, identity theft solutions, overdraft protection and the highest level of asset defense.
Special offers: Citibank offers customers an array of lending, banking and credit offers that are regularly updated.
Best for U.S. citizens, global citizens and travelers looking for banking services for any situation.
Compare Banks & Credit Unions
Company Name:

Citibank

Year Founded:

1812

Address:

100 Citibank Drive

City:

San Antonio

State/Province:

TX

Postal Code:

78245

Country:

United States

Website:

http://www.citibank.com/