Bank of America
We are official Bank of America reps, here to help, listen & learn from our customers.
Consumer Complaints and Reviews

Bank of America is going down the drain. They keep getting worse every single year. I have dealt with horrible customer service that would talk over me and end the conversation about them taking my money through the ATM and then it took my money saying that there was an error when I deposited the $3,900 and they only credited 300. The customer service tells me that "An ATM machinist will be going out to the ATM to fix it and give you your money." So I go and sit there for 3 hours and nobody comes. So I called Bank of America back and they said that they would not be able to give me my money back. They are not allowed to do that. And then I was on the phone for an hour and a half waiting for app manager to tell me what I need to do. And I have to fill out a claim and wait until three days for them to review this and confirm to get my own money back.
This is the most outrageous thing I have ever dealt with with a company. How do you take somebody's money and tell them that you can't have it back and it's not in their account. Those the most outrageous thing I have ever dealt with with a bank. For them to expect you to trust that you are going to get your money back and that they are doing the right thing is outrageous. I have lost all trust in Bank of America and will tell everybody I know of this experience. This is unreal and the experience overall is horrible. I would not recommend Bank of America to anyone anymore.

My mother wrote a check to my account to pay my rent. I then purchased a cashier's check to make the payment. Days later after the check had been cashed, Bank of America then put a hold on my mother's original check sending my account negative. The hold was set to be released in less than a week, but it never happened, and my mother never received her money back. After that I was blocked from viewing my balances for my credit and debit accounts and a hold was placed on all of my banking. When I called to find out what was going on, I was transferred multiple times and finally an incredibly rude customer service representative told me that my accounts had all been closed. Specifically he acknowledged that there was nothing I could do and that they would be closed immediately. Just yesterday I was told that my accounts are all still open, my credit cards have been billed for late fees and I'm completely astounded.
When I called again just now, no one apologized to me or explained to me what was going on. They originally only let me know that my credit account was still open and then after being transferred and me doing some prying they let me know that my checking account was also still open. When I went to inquire further I was again told that they couldn't do anything about it. So here I am, with no active cards or any way of viewing my accounts and balances, still being charged fees. This is truly insane and no matter who I've spoken to in the company no one has told me what is actually going on. I've since looked into customer reviews and seen thousands of stories just like mine. This is class action lawsuit worthy. This bank needs to be closed.

DEBIT CARD SCAMMED. FRAUD FRAUD FRAUD. We contacted BOA for 3 weeks and have been told nothing but lies. BOA does everything possible NOT to pay. The risk department and customer service gives you the runaround and never told us the process. We were told that the account had be closed. My son was told his direct deposit would be mailed out to him in a check, they lied. BOA did not close the account. They left the acct open to take the direct deposits to clear the balance caused by FRAUD. $1200 TAKEN BY A STRANGER AND THE BANK TAKES MY MONEY.

I started out at Glendale Federal Bank about 28 years ago, taken over by Barnett Bank, taken over by Nations Bank, now Bank of America for about 20 years now. I have NEVER had a problem with this bank, I have never been charged any outlandish fees. I am a premier customer and I get an additional .75% back on my BofA Visa card for a total of 1.75% on everyday charges. If you run your accounts properly they are a FANTASTIC bank. Best bank in the USA. What I read about most complaints is from people who screw up their own accounts then blame the bank, is that the American way?

I am SOOOO lost on where to begin. Due to my husband's torn ankle, he is in constant pain especially standing in a factory for 10 hrs a day! It didn't really start to bother him until these last 6 months. So in order to help my husband with some of our bills & finances, I posted a Babysitting Ad on Craigslist. I have a copy of that innocent, true & sincere posting as well. I was just thinking 10-20 hrs a week (if that), even 5$/hr... Just SOMETHING to help my husband & I's TERRIBLE financial situation.
I had NO IDEA about how these scammers do what they do... until recently, that is. I have all the text messages saved along with the UPS PRIORITY MAIL envelope showing from California. I had NO IDEA how much she was sending. All she told me was that she needed a sitter for her son and that they would be moving to my town and with some of the money she sent me, I was to apparently put deposit down on their new complex here in La Salle County, Illinois. I am in Peru, Illinois. This is the kind of stuff you see on AMERICAN GREED; NOT in my little "Rinky-Dink" small town!! Needless to say, Bank of America held the check and on the deposit slip it says that the check seemed FRAUDULENT so they would have to hold it for at least 10 days to verify its authenticity. I called them to ask them why now we are OVERDRAWN $1,500!!
The worst part is that my husband and I were LITERALLY COUNTING on our tax refund; checking EVERY DAY... which is why after 10 days, it showed our balance at $2,650. We were ELATED, SHOCKED, AMAZED, etc. I thought it was an answer from the Lord above since I prayed and prayed for some relief money wise, and then this SCAM happens and my husband & I are TOTALLY Broke now with NOTHING!
When I called Bank of America, they explained to me that that was why they didn't charge us overdraft fees, etc. WHAT??! I just don't know what to do! I don't know where to turn to. I truly need help in any way possible. My husband & I had been promising our landlord that we would be caught up with our rent & pay AT LEAST ONE payment on my car for fear they could take it from us at ANY TIME! I have no experience with attorneys or lawyers so if you could do something to help my husband & I not get EVICTED or LOSE our ONLY vehicle, I would probably just cry from sheer RELIEF! We have been NOTHING but stressed out and worrisome 24/7 & with each day that passes, our landlord is getting less & less patient & understanding. I TRULY AM afraid we will be thrown out with nowhere to go and COMPLETELY broke on top of it all!
I just CANNOT believe this happened to us! I entrusted that a bank would know if a check was good or not, especially since they held it for 10 days! I told them that that check should have NEVER gone through then! They have snubbed me off, and won't refund even just our income tax return!! I also don't want this to happen to ANYONE ELSE! Especially the elderly who may get taken for all they have!! What can we do to stop this and make it better?? I called my local newspaper, The News Tribune and they told me to contact you, so that is what I am doing. I am really not counting on even getting a reply, let alone help, just because you are a VERY BUSY Company, an IMPORTANT one at that!
I have pictures of the check that was sent along with the UPS envelope from CA. If you think we can do ANYTHING, PLEASE feel free to email me at **. Thank you so much for your time as I know it is limited since you are such a busy business. So I TRULY appreciate you reading this message. I got more info, so perhaps I will get the chance to talk with you. Hope to hear from you as soon as u possibly can get back to me. Thank You Again So Much!
How do I know I can trust these reviews about Bank of America?
721,363 reviews on ConsumerAffairs are verified.
We require contact information to ensure our reviewers are real.
We use intelligent software that helps us maintain the integrity of reviews.
Our moderators read all reviews to verify quality and helpfulness.
For more information about reviews on ConsumerAffairs.com please visit our FAQ.

I was a Bank of America account holder (checking) for approximately one year. Recently, I deposited a check from a customer related to my business, and a direct deposit. There was a hold on my account for $345.00, and my deposits totaled close to $900.00. Bank of America credited both deposits as scheduled and then without warning, took the money back and held all funds for no reason. I was furious.
I went to the local bank where I opened the account and spoke with the manager that opened the account for me. He acted real ornery and stated that he couldn't help me with the issue and to talk with the "RISK" Department. I did so from his phone, as he refused to call and investigate himself. I spoke to a "Danielle" in the "Risk" Department and she vaguely stated that my check was on a "VERIFICATION" hold and would be there for two weeks. This was not what I was told by a previous bank representative that originally told me a few days. Furthermore, this Danielle, stated that I needed to read page 20 of the Customer Agreement packet. When I read it verbatim to her, there was nothing describing or legitimizing the actions that took place with my account. When I brought that to her attention, she stuck to "talking points" and did not offer any concrete or rationale explanation.
The bank manager stated that they were in the process of closing my account, which was fine, as I felt Bank of America was a poorly run bank in the first place. However, them keeping my hard-earned money was unwarranted and illegal. The purpose of this write-up is to warn potential customers of this illicit activity that the bank does to its customers. I've especially been concerned about the reviews from Hispanics, ** customers, and other minorities. They can expect a lawsuit from me and I will look to join with others who have had the same experience. BEWARE OF THIS BANK and review other reviews before banking with them!!!

I have been with BOA since 2004 - with excellent credit scores and on time payments. Surprisingly on Feb 24th 2017 at 0808 am as I had stopped on my way home to do a deposit towards a payment to my credit card (Apparently a new feature) introduced to me by Chris **, a relationship manager at the local branch in Chapel Hill. To my greatest dismay, the machine did not complete my transaction nor returned my monies. I received a slip urging me to call the number and report to claims. Despite me following their instructions and doing exactly what I was asked to do, and compounding to the many trips to the branch and phone calls - I still have NOT had any resolution.
Initially I was informed it will take 24 hours for the machine to be reset, then later it was 7-9 business days, then 5 business days and till this minute up to 3 months. He even added, they need to review videos of me doing the deposit. How long does it take to see a video of a deposit that took me less than 3 minutes to do an ATM transaction. Does this sound reasonable to anyone? Until this second, I have received ZERO answers to my claim. Today I was told by Chris at the Branch that only $400.00 was found as over deposit in the ATM on the said date; not saying it was mine - however, not knowing whether it pertained to me or another customer waiting to complain.
I am disgusted, nauseated, sick and upset. I never knew a huge conglomerate of a financial institution will set up a faulty machine to collect monies from hardworking citizens. This is sad, sad, sad - I am horrified by this. Till this minute no one, no soul has contacted me from BOA to inform me of any claim/dispute developments. I need answers, and most of all want my monies back.

I had a account with BoA, a checking and a savings. I had it set up that every month I would transfer so much into my savings. On March 11, 2017, I tried to go online to see what my balance was. I couldn't sign in and when I did, I continued to get a message that my account don't exist. So I called the number provided. I was told that my account was in the process of being closed. I told them that my paycheck was suppose to be deposited. The bank rep named Aletta (always get a name) and she said that they can closed my account anytime they want without giving a reason and when I opened my account I signed a document stating that. So I went a branch and talked with Dominic (Bank Rep) and he called the risk management department. They said that I would not receive my funds between 10 to 15 days.
On Monday, March 13, 2017, I went back to the branch and talked to Bank Rep Moe. I explained to him what had happened. He said "Let me talk to my bank manager." The bank manager refused to assist and Moe called and talked to Bradley in Risk Management. Once again they refused to give a reason and said that they can closed your account anytime. I looked a the agreement and there was nowhere on this agreement that you are to sign. Plus it never said anything about send your money to you between 10 to 15 days. Moe said that my paycheck was returned on Monday, March 13th.
Later on Monday March 13, Leslie from the collection department contacted me and ONCE AGAIN, I explained my situation. Leslie said that she sent a email to Risk Management to find out why my account was closed. Then she told me that my paycheck was rejected and sent back to my employer on Friday. Now I have been given three different day of when my paycheck was returned. Monday evening Jason from the BoA that monitors Social Media contacted me and once again I was given another BS story line about my paycheck returned.
On Tuesday March 14th I contacted Leslie because she said to call her for she will give me an update. First the Risk Management dept would not answer the email and that she would reach out to them again. Then Leslie asked me to hold and then proceeded to hang up on me. Sooner or later BoA will fall and they will fall hard for how they treat people. Still waiting on my paycheck. BoA don't care about nobody but themselves and they will deceive and lie to make themselves like they are for their customers!!

I deposited a check at about 12:30 p.m. on March 6, 2017. I checked my account the next day, the money wasn't there. Then I noticed that I had $14 in the bank, but they charged me a overdraft fee for a credit card charge of $4.19. So, I go to the bank to find out what's going on. They put a hold on both the check and the cash that I put in the day before. I asked how they could put a hold on cash, and the woman admitted that they made a mistake. But they put a 7 day hold on the check. That check cleared a week ago from the man's account that wrote the check. Here it is, 8 days later and the money still isn't in my account. So, it makes me wonder, am I dealing with a bunch of thieves at BOA? Where in the hell is my money?

Don't ever use this Bank. They charge me more in interest fees than my regular payment. Then when you call them they will take off about 300 off your next payment but then add it onto the next payment. BIGGEST RIP OFF. CAN'T WAIT TO GET RID OF THIS CRAP!!! Never use this bank.

I have many issues with BoA, but the biggest is when I write a check to someone like the Gardener and they go to the same branch I bank with and are told they can not cash the check because they don't have an account there. Unless they want to open an account with my check, then I got to go get the cash to pay him. Come on BoA it's my money not yours. They do this often, but not always, I guess it's up to the teller, maybe they get a bonus for new accounts?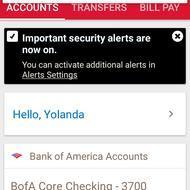 So I messed up my routing number and or account number this year while filing my taxes, in return they sent me a check. I deposited it into my BOA account VIA mobile app. That same night I went to see if my funds were available only to see my account said negative 888,888.88. I was like, what in the world. Needless to say I reached out to BOA right away! No one can tell me anything. Be mindful this was Friday 3/3/17. Today is 3/7/17 and my account is still saying -888,888.88 and although my funds may be available today the "fraud" may not be removed for another day or two so I may still be locked away from my money until 1-3 business days! Like really?
On top of the insult to injury I was also told my account would be closed and that they don't have to give me an explanation as to why they're closing my account. So despite the fact that I've been banking with them for about 3 years now and despite the fact that I have a car loan and a credit card with them they're making this decision to close my account. I'm in fear that a settlement that's almost 6 figures big may try to process through their bank in the middle of this madness. I've reached out to my lawyer gave them updated information to another bank I utilize in the hopes to catch it before the transfer attempt takes place but they're hurting me and my family at a very fragile time with no regard to us whatsoever.
I don't understand how they stay in business when they treat their customers this way. I'm mad I ever banked with them and am actually pissed I passed up Citi and Chase for them, I do have 3 other bank accounts to use but didn't. Bye BOA no love loss here! I just hope I can get my Tax return without an issue and I also hope the 2 pending deposits don't hit their bank before I can close this account 100%. As far as I can see they erased me like I never even banked with them. After reading other complaints I'm scared they're going to try to take my money and run.

I typically get paid every Monday. This particular week, my employer paid me on Friday so that I could pay a bill that was due. Anytime I go into my local branch to make a deposit, they always recommend using the ATM because it's faster, and it would save me time by not waiting in line. I started doing this, and haven't had an issue... until today.
Today, I deposited $400 cash in the ATM. The ATM would not accept one of the bills ($20 dollar bill) and returned it. After retrieving the 20, the machine then returned my card and ended the transaction but kept the other $380 of cash. It gave me no credit for the deposit. I immediately called Customer Assistance. I sat on hold for 10 minutes, and then the CSR had to transfer me to the fraud department. After sitting on hold for another 5 or so minutes, the next CSR got on the phone, and had to then transfer me to the ATM department. After sitting on hold for another several minutes, I got the on the phone with the correct CSR. I was then told that my claim would investigated, and that it would be resolved within 10 business days.
The CSR was able to see that there was a transaction malfunction in that particular machine. He was able to also see on my account that I deposit the exact same amount of money every week. I was told that the $380 could not be credited, and he literally said "I appreciate your concern and frustration, but sometimes this is just how it goes". Seriously... that's the response I get? If I spoke to my customers that way, I would be fired immediately.
They literally said their policy is in line with federal requirements that investigations are required to be resolved within 10 business days, and that crediting my account pending their investigation is not part of their policy. I asked for a supervisor, and he basically said they don't have to credit my account, therefore they won't/can't per their policy. Per my policy, I will not do business with any company that does not value their customers.
Once my hard earned money is returned to me, I am closing my accounts, and taking my business to a credit union. I realize that the pittance I earn and keep in their bank is not even a drop in the bucket of their overall business... but at least Credit Unions value hardworking middle class folks like me. I know a Credit Union will not offer all of the online luxuries that BoA can, but those luxuries are useless when they lose your money and do not care.
At some point, we as a populace have to start holding these large national banks accountable in the same way that we are individually. The Supervisor said all he could offer was an apology... to which I explained to him that "apologies" carried no currency value, but I would try to see if my debtor will accept "I'm sorry" as a substitution for currency.

If I could give Bank of America 0 stars I would. This bank is the worst. I put the wrong pin number at the bank and I was still able to get my money. Then I went to a store to buy something, I put the correct pin number and it didn't go through. That doesn't make sense at all!! This bank is full of **. It takes forever to get
a representative on the phone and they don't even call back. They give wrong information. Bank of America needs to shut down immediately!!!

Bank of America placed a 10-day hold on my payment because I paid a different amount than I usually do (the balance of the account vs. minimum payment). I had made the payment on Monday, it cleared my credit union on Tuesday, and I made payments using the credit card. On Thursday, I called them because there was no available credit even though I hadn't reached my limit. I called them to no avail. I closed my account.

I have been a Bank of America customer for a decade now, in Albany, Oregon. This past year they closed the local branch and NO LONGER have ATM available within our city. Causing many overdraft fee. They are unwilling to remove these even though it is 99% due to unavailability on their end. Making an avalanche of other financial issues. They have hour long wait times to speak to an agent, with no resolution. That's what is called, "THEFT BY A BUSINESS", no access to ATM or TELLERS. Dangerous highways to the nearest banking center makes adding funds impossible. I think Albany, Oregon customers need to be reimbursed all overdraft fees due to bank fraud. Making it impossible for non-driving, sick, old, and poor people to use their funds and bank machines seems undeniably WRONG.

Please never deposit any coins with Bank of America. Now in the new system they have to ship out your coins before transferring the fund back to your account. They do not count your coins before shipping out. The last two times I went to deposit my coins they cut me short. I'm make sure I count 3 times before taking it to the bank. The first time it was like a nickel short and this time $3.70 short. I suspect someone is taking my coins before shipping them out.

Today I went to the Elm St, Westfield, NJ branch to make a deposit. I went through the drive through. The deposit was for $54,346 and I was given a deposit slip for $346. I'm not sure whether to chalk this up to human error or to chalk it up to fraud!

I am a small business owner. I was sold credit card processing thru a sales person Jaduious ** at 804-515-2973. He told me my rate was 1.67 0/0 and that was it. I went line by line over the contract with him. He assured me no matter what card I took the rate is the same. Well after my first transaction of approx 21k I was charged over $2300.00. I didn't think I had a partner. I called the salesman and he never returned my calls. I called customer service department and they said they would have a manager call me back within 24 hrs. What a joke. A week later I got a call from a manager who said Jadiuous made a mistake and they are not willing to make a adjust. STAY AWAY FROM THIS COMPANY.

I got a check from my insurance company progressive due to a accident I had, I put the check in Bank of America on the 1/12/17 so I can pay for my car, bank of America close the account without any notice. Now I can't get my car. They told me I had to get prove from progressive. They give me the letter that am the person they issue the check to. I bring the letter to a local bank near me. They fax the letter to Cindy **. She told the teller in the next 24 to 48 hour they would get back to me. Up to now. I call them every day asking about my check they told me they send it to the back office. Right now I need my car for work so I can feed my family. My job even threaten me about fired due to my attendance all because of my car. Today is the 2/09/17 and I need my money.

Bank of America failed to update my mailing address and billing preferences, as provided. Therefore, when you moved across the state, we did not receive our statement/bill. I received a call from BofA, notifying me that they had not received our payment. I made the payment on the spot, and again had to instruct them to update our billing info. They acknowledged they did not update our preferences, as we previously requested. Yet they still proceeded to report us as a Late Payment on our credit report. They are now refusing to remove the negative information that is negatively affecting our credit. LOSERS!

I have put up with the high fees for years now but today was the last straw. My balance never actually reached below $0 yet I was still charged with an overdraft protection fee ($12) plus they took money out of my savings (almost $15) to "cover" an overdraft that wasn't even existent at the time. Now I get hit with another $10 fee because they withdrew from my savings!
I called them to ask why and the lady basically said that if one of the processing transactions went through that it would have been a -$2.10 balance. But it's still processing! Nowhere did it show that I was at a negative balance. I knew I had over $200 being automatically deposited last night... So before there was ever a $0 balance, there was over $200! If you bank with BOA your money is leaking out like a sieve. I will never bank with this horrible corporation again. Now that I read up on how bad this company actually is, I will be recommending to everyone I know, the same thing... Take your money and leave.

I opened a new account with a different bank that sent Bank of America a notarized letter to close the account and transfer funds. Of course they didn't do so. I acquired over 500.00 in fees for the account that was suppose to be closed that they never closed. Really, really angry now. They say that they wouldn't close the account. The letter gave the bank legal notice to work on my behalf.

The customer service agents are not ready to help when you are in trouble. The entire system is failure. I do not know how this country still keep doing business with them. Really ** people always trying to cheat customers money. Simply following computer they don't have brain at all, no sense too. I deposited the check. After 24 hrs the money was available to spend, but two days after they are pulling back money from my savings account. This is totally ridiculous. Now they say that cannot collect the check. Really stupid people.

Don't use this bank if you are gonna send/receive, PayPal, or buying online stuffs, they charge you the overdraft fees up to 4 times/day $35 each. NOTICE: they give you no time to deposit the money, they charged me 3 times $35 in a night (I got $4k in my bank, for some reason all my money was transferred to another account). Other banks like Wells Fargo or Chase will give you 3 days to deposit the money.

On 2/1/2017 I got an alert from Bank of America that my checking account was below the limit I set on my account. I noticed 2 payments still processing and went and withdraw cash from another account and deposited into the account. After the transaction I obtained a receipt that showed the cash amount I paid into the account and my current balance. Surprising the next morning the 2 processing transactions, which were still processing 3hrs after the cash deposit, cleared, the cash deposit shows processing and BA charged my account $35 overdraft fee. I called the customer service on this regard was told, they cannot do anything about it. If the transaction is still processing can the bank charge overdraft fee, since the customer made cash deposit into the account while the transaction is still processing?

I manage a small business and EVERY SINGLE TIME I get paid by a client, I am charged a $15 transfer fee. That's not all! I also get charged over $35 every single time I get paid by an international customer + the other $15 transfer fee. How is one supposed to make money when your bank is literally eating it all up. That's not all! If you get on BOA, expect to spend at least an hour and a half on hold on the phone with them if you ever want to get anything done.
That's not all! Automatic bill pay is not easy to set up -- it's how they get you and charge you those fees they do so love. You have to fill out a bunch of paperwork in order to set up automatic bill pay. If you're a digital type like me, you have to go in person to one of their horribly run branches to set this up. I can't tell you the amount of times I've made appointments far in advance only to be told I have to wait hours at their branches. When you do jump through all those hoops to set up automatic bill pay, don't expect it to work for another 5-6 months because, hey, we're all about the fees! PLEASE DON'T PUT YOUR MONEY WITH THIS BANK. It'll be the biggest mistake of your life.

Purchase Protect Via Credit Use- I purchased 12/23/2016 a cell phone 5S on eBay and it turned out to be defective. The battery inside was ready to blow up and we were instructed by Apple iPhone company to remove it ASAP. I contacted eBay seller trying to resolve to no avail. Tried going through eBay return no way because I removed the dangerous battery they say it is not in its original condition. PayPal same thing and Bank of America denied my dispute as well. I have been a long standing customer of Bank of America and since they were not willing to assist in this in any way I said to close my account.
They were heartless and uncaring. I tried to find a corporate number and they hide behind Customer Service number. Even the CEO Brian T. Moynihan's supposed number is the same Customer Service number. Their corporate filing uses the same number. To me they do not want to deal with the customers who make them what they are, Wealthy! I am not done I will tell everyone of my experience with them and will never have anything else to do with Bank of America or their affiliates, which some of us know who they are too.
Update: 1/27/17 I revisit eBay resolutions dept. and finally got them to understand the danger involved with the cell phone battery. They promptly refunded $120.50. So I thought I would try to appeal to BOA's conscience and spoke with several people and eventually elevated to a Joel who stated he would reinstate my card. He proceed to ask me for my financial income yearly and other personal questions. I asked you are not dipping in to my credit report are you? His answer was no. Joel stated it would take approximately 24 hours for it be active again.
On 1/31/17 I received a call from someone in the Collection Dept named I think Adel who was following up on my complaint with the BBB. He informed me that my account is closed permanently. He was going to see what he could do and get back to me. Today being the 2nd of February 2017 I tried calling various numbers till I finally reached someone named Doran not sure of spelling. Doran listen and forward me to Shea who forward me to Sear. Keep in mind that every person I spoke to I had to retell my story even though I asked the to inform the people that they were forwarding me to so I would not have to repeat myself.
So now Shea was unaware of why I was calling and again I told my story again. Now Shea basically tells me that there is nothing they can do. It would have to go to the Credit Department for approval and dip into my credit again! At this point I decided to forget it, it just is not worth dealing with a business who does not care about the customer who has made Bank of America who they are today. In the last 6 months I charged and paid off in full well over $10,000.00 and I am or was a great customer. These guys just don't care. Too Big to Fail sound familiar... or is it Too Big and don't Care. Concluding: Paid off the account early and am no longer interested in doing business with Bank of America or any affiliates under their umbrella.


My 17 year old was a victim of fraud on her Bank of America checking account. I am jointly on the account which was set up 2 years ago when she was 15. We received no notification of the fraudulent activity, but rather the account was closed and daughter's information was sent to Chex systems. I asked them if this was the normal process for fraud without doing any investigation and they said yes. I have filed a police report, as well as a report with the FTC. Because Bank of America has sent the account to Chex systems my daughter is unable to get another account with any bank. I am still in the process of trying to get this situation settled. Bank of America's customer service has been awful to say the least.
Compare Banks & Credit Unions
Bank of America Company Profile
Company Name:

Bank of America

Company Type:

Public

Ticker Symbol:

BAC

Year Founded:

1992

Address:

100 North Tryon St

City:

Charlotte

State/Province:

NC

Postal Code:

28255

Country:

United States

Website:

http://www.bankofamerica.com/