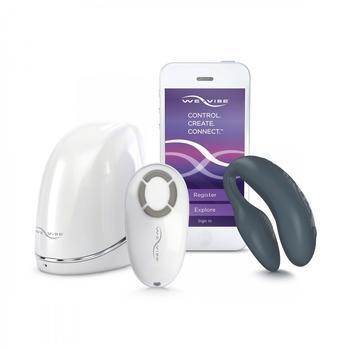 Standard Innovation, an Ottawa-based company, has agreed to pay a $3.75 million settlement over allegations that its We-Vibe vibrators secretly track and record user information, according to Courthouse News.
We-Vibe vibrator models have been sold since 2014 and feature the ability to connect and be controlled by users' smartphones through the We-Connect app. However, lead plaintiff N.P. accuses the device of recording information on how it's used in real time and transmitting it to servers in Canada.
"While the We-Vibe device gives a unique way to intimately communicate and interact, Plaintiffs allege that Standard Innovation also programmed – without its customers' knowledge or consent – the We-Connect application to collect a substantial amount of information about its customers' usage habits," the suit states.
Collecting "intimate details"
N.P. claims she bought the $130 We-Vibe model without knowing that it recorded her most "intimate details. . . including the date and time of each use, the vibration intensity level selected by the user, the vibration mode or pattern selected by the user, and incredibly, the email address of We-Vibe customers."
Preliminary approval of the class settlement was granted on Monday by U.S. District Judge Virginia Kendall. It solidifies an agreement that Standard Innovation will pay $3.75 million to a settlement fund that will provide restitution to the approximately 300,000 consumers who bought the product and the 100,000 who used the linked app.
Those who used the linked app will receive approximately $500, while those who simply purchased the product will be paid around $40. The agreement has not yet stipulated how much of the settlement fund will be paid to the class counsel.
While Standard Innovation has not admitted to any wrongdoing, it has agreed to destroy any data that it collected through the product and will revise its privacy policy.
What to do
Editor's note:  This story is about a class-action lawsuit. If you are among the class of consumers described in the suit, you may eventually be eligible to participate in whatever compensation the court awards, if any. Unlike what many people think, you do not "join" a class action -- you are either in the class covered by the action or you are not. 
Often, consumers included in an award do not need to take any action, as the defendant is required to contact them directly. In other cases, the court and the attorneys who brought the case will issue instructions when the case is settled.
Please note that under our Privacy Policy, we cannot provide you with the names of other consumers who may be similarly affected. 
Please see our Class Action Guide for more information.