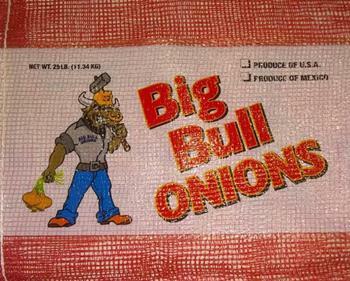 ProSource Produce of Hailey, Idaho, is recalling whole raw onions (red, yellow, and white) shipped from Chihuahua, Mexico, from July 1, 2021, to August 31, 2021.
The products may be contaminated with salmonella.
No onions marketed through ProSource have tested positive for salmonella.
The recalled products, whole raw onions (red, yellow, and white), were distributed in Alabama, Arkansas, Arizona, California, Colorado, Connecticut, Florida, Georgia, Idaho, Illinois, Indiana, Kansas, Kentucky, Louisiana, Massachusetts, Maryland, Michigan, Minnesota, Missouri, Mississippi, North Carolina, Nebraska, New Jersey, New Mexico, New York, Ohio, Oklahoma, Pennsylvania, Rhode Island, South Carolina, Tennessee, Texas, Virginia, and Wisconsin, as well as Ontario and Quebec, Canada.
They were shipped to wholesalers, broadline foodservice customers, and retail stores in 50 lb., 25 lb., 10 lb., 5 lb., 3 lb., and 2 lb. mesh sacks; and 50 lb., 40 lb., 25 lb., 10 lb., and 5 lb. cartons, by the following distributors and/or under the following brands:
Big Bull, Peak Fresh Produce, Sierra Madre, Markon First Crop., Markon Essentials, Rio Blue, ProSource, Rio Valley, and Sysco Imperial.
What to do
Customers who purchased the recalled products should not consume them. Instead, they should discard or return them to the place of purchase for a full refund.
Consumers with questions may contact the company at (208) 928-4959, Monday through Friday, from 8 am – 5 pm (MDT).