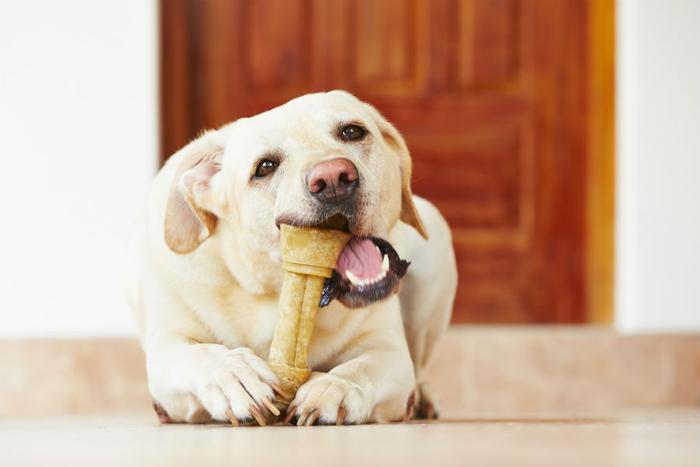 Following reports of 68 pet illnesses and 15 deaths caused by bone treats, the U.S. Food and Drug Administration (USDA) is warning pet owners that bones can pose serious health risks to dogs.
While you may be aware that it's not safe to give your dog a real bone (a pork or poultry bone, for instance), even store bought bone treats can be dangerous for dogs to chew on, the FDA says.
The agency said it received reports of moldy-looking treats and bone treats that splintered when chewed by the dog. A variety of bone treats -- including treats described as "Ham Bones," "Pork Femur Bones," "Rib Bones," and "Smokey Knuckle Bones" -- were listed in the reports.
Potential risks
Unlike many butcher-type bones, "bone treats" are processed and packaged for sale as dog treats. Before hitting store shelves, the products may be dried through smoking or baking, and they may contain ingredients such as preservatives, seasonings, and smoke flavorings.
However, bone treats can cause potentially serious health consequences in dogs, including blockage in the digestive tract, choking, lacerations in the mouth or on the tonsils, vomiting, diarrhea, and bleeding from the rectum.
"Giving your dog a bone treat might lead to an unexpected trip to your veterinarian, a possible emergency surgery, or even death for your pet," said Carmela Stamper, a veterinarian in the Center for Veterinary Medicine at the FDA.
A fully cooked large beef long bone comes with less risk, but your dog should be supervised and the bone taken away once it fragments," Dr. Sarah Nold, staff veterinarian at Trupanion, added in an interview with ConsumerAffairs.
Keeping your dog safe
While pet experts don't recommend stuffing your pet's stocking with bone treats, there are other toys and treats that are safe for dogs to chew on; some even have the added benefit of helping with dental health, Nold explained. She recommends knowing what what kind of chewer your dog is before buying toys.
"If you know they rip apart stuffed toys, stay away from those so that your dog doesn't ingest any stuffing," she told ConsumerAffairs. "Toys made of harder material, like rubber, are great for dogs that like to chew."
"These toys are less likely to break apart and splinter, making it easier for your pet to chew safely for a longer time. Small pieces should still ideally be taken away from your dog, unless it is a treat that is highly digestible."
Another option, she says, is giving your dog a toy that allows you to hide an edible dog treat inside. To keep your pet from fracturing their teeth, make sure chews are soft enough to indent with your thumbnail.
For safety's sake, always supervise your pet with any chew toy or treat. Additionally, be careful when throwing away bones -- especially if you've got a dog who might be tempted to nose through the trash can when you're not looking. Pets who sneak bones from the trash could be put at risk.