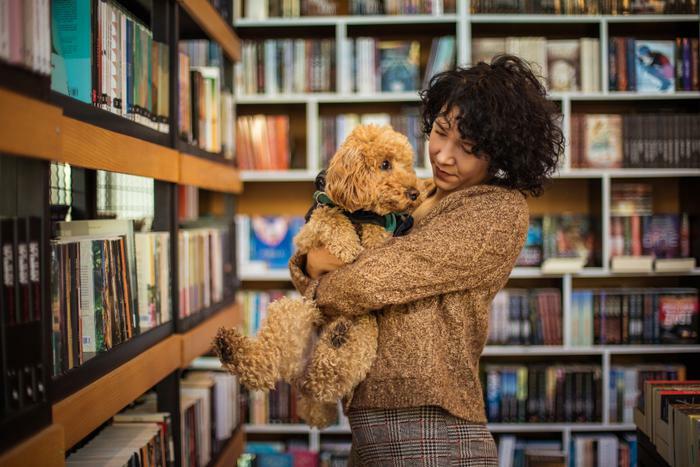 Many college students struggle with stress and poor mental health, and it can be difficult to find effective ways to be mindful and productive. Now, a new study conducted by researchers from Washington State University explored the role that therapy dogs could have on college students' stress levels. 
Their findings showed that petting therapy dogs was beneficial for college students' overall stress levels, and it led to improved planning abilities and general thinking skills. The researchers explained that these findings are particularly important because the benefits of interacting with animals stayed with the students for more than a month. 
"It's a really powerful finding," said researcher Patricia Pendry. "Universities are doing a lot of great work trying to help students succeed academically, especially those who may be at risk due to a history of mental health issues or academic and learning issues. This study shows that traditional stress management approaches aren't as effective for this population compared with programs that focus on providing opportunities to interact with therapy dogs." 
Managing stress levels
For the study, the researchers divided over 300 college students into three groups that focused on different stress management skills. Some of the students interacted with therapy dogs, while others participated in lecture-based stress management classes. To see how effective these interventions were, the team evaluated the students' memory and organization to see if there was a noticeable change.
The results showed that students had the best outcomes when they were given time with the therapy dogs. As opposed to students who were taught about stress management in a classroom environment, those who got to interact with the dogs had stronger thinking and concentrating skills for as long as six weeks after the initial four-week study. 
By interacting with the dogs in a relaxed setting, the students were able to tackle their stressors from a different mindset. While the dogs didn't change anything going on in the students' lives, it helped put them in a more positive space to tackle the things that are typically stressful or overwhelming. 
"You can't learn math just by being chill," said Pendry. "But when you are looking at the ability to study, engage, concentrate, and take a test, then having the animal aspect is very powerful. Being calm is helpful for learning especially for those who struggle with stress and learning." 
Choosing the best interventions
The researchers hope these findings change the way that universities go about addressing the topic of stress management. While workshop-style sessions aren't designed to increase students' stress levels, the researchers explained that being lectured about stress isn't the best approach. 
"These are really important topics, and these workshops are helping typical students succeed by teaching them how to manage stress," said Pendry. "Interestingly though, our findings suggest that these types of educational workshops are less effective for students that are struggling. It seems that students may experience these programs as another lecture, which is exactly what causes the students to feel stressed. 
"If you're stressed, you can't think or take up information; learning about stress is stressful!" she said.