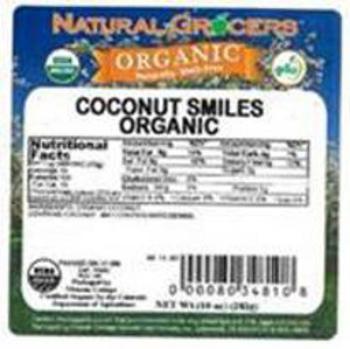 Vitamin Cottage Natural Food Markets of Lakewood, Colo., is recalling Natural Grocers Coconut Smiles Organic.
The product may be contaminated with Salmonella.
Six illnesses have been reported.
The following product, packaged in clear 10-oz. plastic bags, bearing the "Natural Grocers" label and packed-on dates prior to 18-075 (Mar. 16, 2018), are being recalled:
UPC Code

:

8034810
Description: Coconut Smiles Organic
Packed on date: ALL PACK DATES PRIOR TO 18-075 (Mar. 16, 2018)
The recalled product was distributed to 145 Natural Grocers stores in Arkansas, Arizona, Colorado, Iowa, Idaho, Kansas, Minnesota, Missouri, Montana, Nebraska, Nevada, New Mexico, North Dakota, Oklahoma, Oregon, Texas, Utah, Washington and Wyoming. Consumers can find the specific locations of the Natural Grocers stores in those states at: https://www.naturalgrocers.com/storelocations/store-directory/.
What to do
Customers who purchased the recalled product should return it to the store for credit or refund.
Consumers with questions may contact the company at 303-986-4600, ext. 80531, Monday through Friday 8 a.m. – 5 p.m. (MST).